New Age Islam News Bureau
28 Sept 2013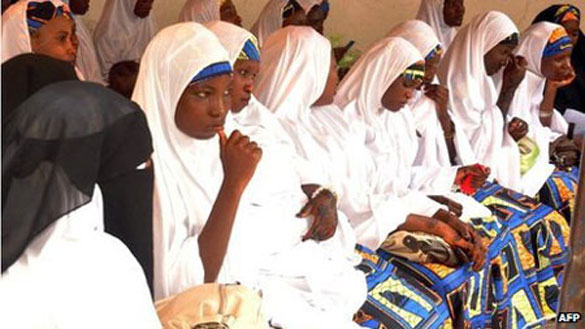 Photo: Kano state organises mass weddings
----------
• Nigerian Women March for Help to Wed in Zamfara
• Yet another Girl Abducted, Fourth In a Month; Teachers Protest in Tripoli
• Women Shooters Train In Hijab for Championship in Iran
• Enforcing Modesty on the Poor in Sudan
• How the Taliban Sent More Girls to School in Pakistan
• Muzaffarnagar: Riot-Hit Women Warn Police Not To Harass Innocent Men
• 3 Schoolgirls Abducted, Assaulted, Killed In Pakistan
• Saudi Women Launch New Campaign to End Driving Ban
• The 'White Widow': A Muslim Convert 'Rebel In Search Of a Cause'?
• GCC Plan to Tackle Employment Of Unskilled Women
• Malala Honoured At Harvard
Compiled by New Age Islam News Bureau
URL: https://www.newageislam.com/islam,-women-and-feminism/new-age-islam-news-bureau/report-exposes-sexual-abuse-of-uk-minorities/d/13736
------------
Report Exposes Sexual Abuse of UK Minorities
September 28, 2013
GAVIN O'TOOLE
Farhah was just 12 when her older boyfriend raped her, took compromising photographs of his victim - then began blackmailing her into having sex with his friends. By the time she was 13, she was regularly being plied with drugs and alcohol so that scores of men could force themselves upon her, sometimes for money.
This case of sexual exploitation of a child would be shocking enough in any society, but the fact that Farhah (not her real name) has a Pakistani background and these crimes took place in the UK heightens the impact of her story.
Her tale and stories of other girls litter the pages of a ground-breaking report that lifts the lid on a major taboo among minorities in the UK and exposes how authorities are failing one of the most vulnerable sectors of society: Asian and Muslim girls.
The authors believe they may have identified a problem that is far more prevalent. They are now calling on the government to undertake more research into sexual exploitation by gangs and groups among minorities - and to ensure that a review of children's services now underway does not overlook the special risks faced by girls in these communities. "This report challenges the stereotype that child sexual exploitation is a racial crime in which Asian offenders target white girls only and Asian girls, Muslim girls, are not being sexually exploited," said Shaista Gohir, the author of the report published by the Muslim Women's Network UK (MWNUK).
"Our report proves beyond doubt that they are being sexually exploited."
Unheard Voices: The Sexual Exploitation of Asian Girls and Young Women, recounts a litany of crimes by paedophiles against girls aged on average 13 to 14 - and punctures a potent myth that in recent years has steered British media reports and official responses advancing a narrative solely about organised groups of Asian male offenders preying on white females.
Sue Berelowitz, Britain's Deputy Children's Commissioner, said the "extraordinarily courageous and important" MWNUK report confronted these myths head on. She said: "The stories of some of the victims in this report are amongst the most shocking I have encountered, and never again should anybody doubt that Asian and Muslim children are not as at risk of sexual abuse and exploitation as other children."
Unheard Voices indicates that Asian girls may, in fact, be even more vulnerable to exploitation by sexual predators because they are less likely to report abuse for complex cultural and social reasons.
Organised exploitation
Crimes against children have risen up the British political agenda in recent years and a major two-year inquiry into Child Sexual Exploitation in Gangs and Groups was launched by the government in 2011 and is due to report in November.
Its interim report found that 2,409 children and young people were confirmed victims of child sexual exploitation in gangs or groups between August 2010 and October 2011. The inquiry said that between April 2010 and March 2011 16,500 children in England were at high risk.
The report examines organised sexual exploitation by gangs and groups in the UK's Asian and Muslim, Hindu and Sikh communities - Pakistani, Indian, Bangladeshi, Somali and Afghani - but also notes the involvement of white offenders.
Some of the victims include Imaan, abused from a young age by her father and then her Quran teacher; Aisha, sexually abused at six then later groomed for sex through the internet; Safa, raped by an uncle at the age of 14 then handed around his friends; Nazia, hooked on heroin by her boyfriend then prostituted by him; Hasina, who was 10 when she was sexually abused by an older boy then lured into having sex with a network of youths; Parveen, who was 12 when her stepfather's brother and his friend blackmailed her into having sex with them and their friends.
The report highlights occasional complicity among other women who turn a blind eye to this crime for fear of bringing shame and dishonour on the family. Gohir said: "What was really astonishing was the number of people coming forward and telling us case studies of sexual abuse within the family - something that we were not looking at."
Victims and offenders
The report reveals that victims are usually preyed on by men of the same ethnic background, and girls are often first abused at home or by an older "boyfriend" and then by his peers. In some cases, girls are specifically targeted - with boys being paid by older men to look out for vulnerable girls and then introduce them.
Gohir said: "One girl told us that taxi drivers will drive around outside school and look out for the pretty girls, see their route home, then call a younger brother or cousin in the same age group as the girl to then meet her en route and pretend it's an accidental meeting and chat her up, get to know her and try and become her boyfriend. It is quite organised, it's not random." Alcohol and drugs are also commonly employed by gangs to make sure a girl cannot remember being abused and hence report it.
The report offers various explanations for sexual exploitation but a prominent factor among minorities is blackmail, whereby offenders use the threat of shame and dishonour to control victims in communities that are also dismissive or disbelieving about child abuse. These factors help to foster a climate of secrecy - and hence place authorities under considerable obligation to acknowledge that girls from minorities may be at heightened risk.
Dr Daud Abdullah, a former deputy secretary general of Muslim Council of Britain, said: "People from minority communities are partcularly vulnerable" partly because of cultural preferences and positions. "When someone is subjected to it in any way they would be reluctant to report it and would not in any case know where to turn to for help," Abdulla said. "That greatly increases their vulnerability."
Double standards
Unheard Voices also exposes the double standards of many men involved in sexual exploitation: the report says that Farhah was passed around for sex during the month of Ramadan, and two Pakistani girls were forced into sex with men who, from their Islamic robes, appeared religious.
Gohir described a typical scenario from her case studies: "One lad of about 18 years old spoke to me openly and he said a lot of people know what's going on, it's not particularly secretive, it's not underground, lots of people know. "He told me some of the lads don't like doing bad things on Friday because it's the holy day, mosque day - and that really astounded me." The report highlights how cultural factors reinforce a broader failure by frontline agencies in the UK - including the police, social services, and schools - to support girls at risk.
Jon Brown, head of strategy on sexual abuse at the NSPCC, the UK's main children's charity, said: "It's important to remember that sexual abusers target vulnerability because they know they are going to stand a better chance of perpetrating their crimes and getting away with them. "Minority and ethnic communities don't access mainstream services as readily or as easily as other communities, meaning that all these factors can compound the situation and make BME children vulnerable to child sexual abuse and exploitation." Gohir points out that police are often reluctant to intervene in cases where, although abuse may be suspected, a girl is fearful about going on the record to report a crime. The Muslim Women's Network is recommending that frontline agencies now develop plans to ensure they are identifying minority children at risk of sexual exploitation, and has called for the creation of specialist, culturally sensitive helplines for them to report abuse.
The NSPCC is currently trialling its own programme tailored to minorities, called "Protect and Respect", aimed at victims of child sexual abuse and exploitation.
Nonetheless, Gohir believes that raising the awareness of communities, parents - and boys - will be the key to confronting this issue.
"Obviously you don't want the boys to end up becoming paedophiles or sexual predators either, so no one is actually warning them about this," she said
Breaking down the culture of secrecy that has allowed sexual predators to act with confidence because they know they may not be caught is essential.
"Only when we start to have more perpetrators and offenders locked up and the community actually criticising them and saying how bad it is will we start seeing a decline."
http://www.nation.com.pk/pakistan-news-newspaper-daily-english-online/international/28-Sep-2013/report-exposes-sexual-abuse-of-uk-minorities
------------
Nigerian women march for help to wed in Zamfara
Sep 28, 2013
A demand by 8,000 Nigerian women for help to get married will be considered, the Zamfara state government has said.
A group of women marched through Gusau city to hand in their petition to the religious police in the state which is partly governed by Islamic law.
Traditionally women need to provide furniture for the marital home, but this is too expensive for some of those seeking husbands.
The women belong to an association that acts as a match-making service.
The Zamfara Widows Association represents divorcees, widows and orphaned girls looking to find suitable Muslim husbands.
'Money-demanding traditions'
"Many of us cannot afford two meals in a day because there are no men to support us," Nigeria's Premium Times quotes the women on Thursday's march as saying.
Abdullahi Muhammad Shinkafi, the commissioner of religious affairs for Zamfara state government, told the BBC he understood their plight and need for financial assistance.
"What the widows are after is to get married... and in Nigeria in particular, there are a lot of traditions that are money-demanding in the process of getting married," he told the BBC's Focus on Africa programme.
"That is why they marched and are seeking for the government's attention."
He said their demands would be analysed as Zamfara did its best to help those living in poverty.
The BBC's Bashir Abdullahi says in Kano state, also in northern Nigeria, the board of the religious police, or Hisbah, often organises mass weddings for poor widows and divorcees.
The Hisbah pays for the wedding clothes, the bride price to be paid by the groom and the furniture to be provided by the bride.
But Mr Shinkafi said budgetary restraints might not lead to a speedy solution for the women.
"It is one thing to bring couples together, it is another to sustain their living," he said.
http://www.bbc.co.uk/news/world-africa-24301983
------------
Yet another Girl Abducted, Fourth In a Month; Teachers Protest in Tripoli
Sep 28, 2013
TRIPOLI — Teachers demonstrated Thursday outside a central Tripoli girl's school in protest at the kidnapping of four students from the school this month. Three of the girls were kidnapped last week, while a fourth, aged 14, was kidnapped Wednesday, an eyewitness told the Libya Herald.
The girl was waiting next to her mother's car who had come to pick her up at the Mermaid School in 24 December Street. The mother had gone to withdraw cash from a nearby bank and when she came back her daughter was gone.
She asked shop owners opposite the school if they knew about her daughter. They told her that two armed young men in a old, dark car without number plates and with tinted windows had come and taken her forcibly, claiming that she was a relative, the eyewitness said.
He said that he too had challenged the two men and was told that there was family problem. He had believed them.
"Al-Anoud Senussi is kidnapped and water is cut. Our daughters are kidnapped and we remain silent," read a placard held by one of the school teachers. They said they were angry at the silence of the government at such kidnappings and held it responsible.
There have been 47 kidnappings of girls and young women throughout the country in less than a week, another teacher told to Libya Al Ahrar TV.
The claim has not been verified.
http://www.saudigazette.com.sa/index.cfm?method=home.regcon&contentid=20130928181901
------------
Women shooters train in Hijab for championship in Iran
By Avinash Rajput, Mumbai Mirror | Sep 28, 2013
In the Islamic Republic, it is mandatory for women to cover their head and face barring the eyes, when they are in public.
An unusual sight presents itself at the 25-metre shooting ranges at the Sports Complex in Balewadi in Pune. Two female shooters could be seen assiduously practising in headscarves, even though the schedule showed that there were no international female shooters participating in the ongoing event `Gun For Glory Shooting Championship'.
When Mirror made enquiries, it turned out that the two girls were Indian air rifle shooters Shriyanka Sadangi, 18, and Ayonika Paul, 21, getting the feel of hitting their target in headgear they are unaccustomed to. They are training for the upcoming 6th Asian Air Gun Championships that will be hosted in Iran from October 18 to 26, where it is mandatory for every female participant to wear a hijab and veil that cover the entire head and face, except the eyes. The shooters at the Balewadi range were training to get used to this headgear, and had come to fire a few rounds while wearing it.
Sadangi, who was excited to wear a headscarf for the first time, was pretty sure she would need some time to get used to it while practising. However, the practical experience wasn't entirely comfortable for the young woman. "I was rather excited at the thought of wearing a headscarf while shooting. In fact, I had even watched lots of videos on YouTube to learn how to drape the traditional scarf. However, when I did wear it, things got a little hot and uncomfortable after a while. I will have to train quite a lot more to get used to this," she said.
"There will be a camp hosted in Delhi to train Indian participants next month, where all the female shooters of the country will practice wearing headscarves for this event," Sadangi added. The shooter has won a Gold in October 2011 at the 4th Asian Air Gun Shooting championship in Kuwait, and another at the Junior International Shooting Championship in Suhl, Germany, in June 2012.
Around 20 female Indian shooters will be aiming for the Gold at the Asian Air Gun event, which will be hosted at the Azadi Sport Complex in Tehran along with a 25-m and 50-m rifle/pistol competition.
Their rifle coach Sanjoy Chakraborty was of the opinion that the headscarf would probably be a disadvantage for shooters who are not used to it. "It should not be mandatory to wear a headscarf for sportspersons, it should be optional. However, as the International Shooting Sport Federation (ISSF) has approved of the regulations at the event, shooters have to follow the rules. Such conditions can usually be added under the 'local rules' of any host nation, and the ISSF must have agreed to this under the same provisions," Chakraborty said.
National Rifle Association of India (NRAI) secretary Rajiv Bhatia said the shooters will be trained to the best of their abilities in time for the event. "We are having a training camp in Delhi from October 3 onwards, where we will make sure the shooters adjust to this headgear. We can only hope for the best," Bhatia said.
http://www.mumbaimirror.com/mumbai/others/Women-shooters-train-in-hijab-for-championship-in-Iran/articleshow/23175302.cms
------------
Enforcing Modesty on the Poor in Sudan
Sep 28, 2013
Khartoum, Sudan - Omnia Hamid is pretty laid back about whether the turquoise scarf loosely covering her head stays there. As she sits at her desk at work, it keeps falling of, onto her shoulders and even when she tugs it back onto her head, it just slips off again. In this, Omnia, a office employee in her early thirties, is typical of many urban educated young women in Khartoum. She covers, but not obsessively, and is as happy in trousers as skirts.
"I am very comfortable with the way I dress," she says later, relaxing on a magenta sofa next to her sisters at their home. "Islam is about principles and beliefs, it is not about the way you dress. In fact I only own three skirts."
"And I gave you one of them!" her younger sister Moram adds and they both start laughing.
Moram, unlike Omnia, always wears a hijab. A lab technician at a women's health centre, she is careful to cover her hair, wears long sleeves and skirts that reach the floor.
Their youngest sister Lama, a 17-year-old studying software engineering, is wearing a bright yellow teeshirt and black jeans. She never covers - if she can help it. She has to cover when she attends university or the mosque. She says her friends also vary in how they dress.
"Some of my friends wear Niqab [full cover] although most of them dress like me," Lama says.
Asked why all the sisters dress so differently, even though they come from the same family and live in the same culture, Moram says brightly: "We are all just different, that's why. I have always covered. This is how I feel comfortable."
But she adds that it is totally up to her sisters how they dress. "Islam says what matters is what is in your heart. So if I am covering but if I am treating people badly, covering does not mean anything. "
Threat of flogging
While the vast majority of women in Sudan do cover their heads, the Hamid sisters, whose father is a university lecturer, illustrate that within the context of this overtly conservative Islamic society, many middle class and educated women have some choice over how they dress.
But these choices are not shared by ordinary women in Khartoum, or indeed Sudan. Article 152 of the penal code of the 1991 Public Order Law - an off shoot of the Sharia laws introduced in the 1980s - states those found guilty of "indecent" dress or behaviour can be punished with flogging.
The public order police, responsible for upholding this law, have been quoted in Sudan's press as saying they carry out "thousands" of floggings.
Women's groups argue that in practice this law is used as a form of social control. They suggest that the police use article 152 as a means of harassing and intimidating Sudan's growing class of urban poor.
Sudan's tea ladies, who sell drinks and snacks on virtually ever street corner, are often cited as being one group the public order police target. Women's groups say they are often harassed and intimidated arbitrarily.
The other group, they say, that is frequently targeted are Khartoum's thousands of refugees, particularly those from Eritrea. They are expected to cover themselves completely even though many of them are Christians and covering is not in their culture.
Sara - not her real name - is in her 30s and has lived in Sudan most of her life, having fled conflict in neighbouring Eritrea when she was a young girl. Even though she wears jeans and tee shirts at home, she says she never leaves the house without covering her head carefully and wearing an Abaya, a full-length gown which loosely covers the body.
"I wouldn't dare to go out without covering my hair and I never wear trousers outside of my home, otherwise I get harassed," she said. "When my sister came a few months ago to visit from Eritrea, she went out with her head covered but she was wearing trousers. Two men tried to take her to the police station. She had to beg them to let her go. She was terrified after that and did not go outside again until it was time for her to go home."
Dr Amin Mekki Medani [CORR] a Sudanese human rights lawyer says: "Unfortunately this oppressive law affects the oppressed people more than it does anybody else: the ignorant people, the poor people, the people who can't fend for themselves, the people who don't know the law. These are the people who are the victims. What you call middle class or educated people may challenge [it]."
One person who is certainly challenging it is Amira Osman, an IT specialist who runs her own company. She has brought this law to global attention in recent weeks after she was arrested in the town of Jebel Aulia, just south of Khartoum, in August for not wearing a headscarf.
No one expects Amira Osman's case to end in flogging. People like Amira, if charged, get fined. But as both an activist and women's rights campaigner she is seeking to maximise the publicity around her case over what she argues is a law that contravenes her rights.
Minimising attention
The authorities, on the other hand, are keen to minimise the attention it gets. On September 19 when her case came up in court for a second time, there was a vast police presence and journalists were banned from filming. On that day, her defence team successfully had the case postponed until November, after they wrote to the Attorney General asking him to review it.
Moiz Hadra, one of her defence lawyers says: "We want to stop this procedure against Amira because Article 152 of the criminal law is against…human rights. We need to stop [it] because this article is used by the police against women unfairly."
Rabbi Abdul Atti, a senior member of the government's ruling party, the NCP, stressed that this law had been "endorsed" at the time of Sudan's interim 2005 constitution, and remained part of it. But he added they welcomed debate on this law in light of negotiations underway over a new constitution for Sudan.
"Public debate is good because the fruit of these debates will make the laws that meet the desires of the people," he said.
http://www.aljazeera.com/indepth/features/2013/09/enforcing-modesty-poor-sudan-201392492834718910.html
------------
How the Taliban sent more girls to school in Pakistan
By Annabel Symington | Sep 28, 2013
On weekday mornings in Mingora, the largest city in Swat Valley, Pakistan, the streets are filled with boys heading to school. Among them are smaller groups of schoolgirls laughing and tucking books under their arms, as they, too, head to school.
The scene highlights how far the region has come in the past few years: The Swat Valley, famed for its picturesque mountains, saw more than 400 schools destroyed – more than half of them girls' schools – when the Taliban took control of the region in 2008.
The valley was cleared of the Taliban by a military operation in 2009, but it's taken a while for girls to fill the schools again. Girls struggle to simply get to school in the remote mountainous region and the persistent issue of poverty remains key. The Taliban is considered a greater threat in areas that border the valley, but activists here say there's a need to make sure girls as well as boys are educated in order to avoid a repeat of the past.
"There is a feeling [in Swat] that if we are not educated these things will happen again," says Hazer Gul, a local activist. "The Mullahs misinformed us. They [the community] have understood that education is the key to avoiding militants."
Enter the Malala Fund: The fund named for Malala Yousafzai, the young girl who was shot point blank by a Taliban gunman for her vocal support of school for girls in the region, aims to improve access to primary school education for children around the world. Her survival of the Taliban attack on her schoolbus one year ago October, shined a spotlight on Pakistani girls education - and made her a global spokesman for the millions of Pakistani girls the movement would like to deny education.
The fund's first program is now attempting to unravel the Taliban's legacy in her home valley.
As part of an initial program, the Malala Fund teamed up with Vital Voices, a Washington-based organization, to financially support 40 girls between the ages of 5 and 12 from Malala's hometown who would otherwise be working to support their families so that they could go to school.
After the Malala incident, the Swat Valley came to represent the hurdles facing girls throughout Pakistan, where only about 40 percent of school-aged girls are enrolled in school, according to the United Nations.
Today the number of girls' schools in Swat is a fraction of the number of schools available to boys: 717 primary schools for boys compared with 425 for girls, according to official figures. The gap is even more pronounced at the middle and high school level, according to the Elementary and Secondary Education Department of Khyber Paktunkhwa Province.
For many living in the Swat Valley, the key obstacle to education for girls is poverty.
"The girls are coming to school, but they often skip school. During harvest, the mothers earn 400 – 500 rupees ($3.75 – $4.70) per day [working in the fields] so the girls have to stay at the home to look after the home and the younger children," explains Shaheena Shaukat, the principal of a primary school for girls in Gul Bandai, a small village in Swat.
Indeed, it wasn't until the Malala Fund offered the families of the girls a monthly stipend of 15,000 rupees ($142) that the families agreed to take the girls out of work and send them to school, explains Ahmad Shah, a volunteer with the Malala Fund and close friend of Malala's father. That was key to helping the girls get to school.
Girls like Ayesha.
Five months ago Ayesha Khurshid was able to swap her broom for books as one of 40 girls to receive a scholarship from the Malala Fund.
For as long as she can remember, 7-year-old Ayesha has accompanied her mother each day to the school where her mother works sweeping the school grounds and fetching cups of tea for staff. Once Ayesha was big enough to hold a broom, she helped her mother at the school, earning a few extra rupees for the family. But she says she always wanted to sit at the desks with the other students.
Ayesha's dream today is to be able to stay in school until she's grown up, she says. The drop out rate for girls after class 5 (9-10 year olds) remains very high. Most girls have to travel beyond their village to go to middle and high school. Combined with the increasing restrictions girls face in the conservative Islamic society as they grow up, many parents stop sending their daughters to school.
Still, some worry such programs are only addressing one part of the problem.
"[The government has] rebuilt the schools that were destroyed, but [those schools] were deficient," says Talimand Khan, an education researcher with the Sustainable Development Policy Institute, an Islamabad-based think tank, and a Swat native. Mr. Khan says that there needs to be a focus on improving the quality of the education – not just on the bricks and mortar.
"We've got back to square one," he says, "But that is not an improvement."
http://www.minnpost.com/christian-science-monitor/2013/09/how-taliban-sent-more-girls-school-pakistan
------------
Muzaffarnagar: Riot-Hit Women Warn Police Not To Harass Innocent Men
September 28, 2013
Angry over alleged persecution of men in the aftermath of the Muzaffarnagar riots, women of several villages of the region have warned the police that they would first have to arrest them along with their cattle if they came after their men folk.
The warning came during several all-women Panchayats that took place in villages of Muzaffarnagar and Shamli.
Communal violence and subsequent police action in the region has resulted in a fear psychosis among villagers, forcing several men in villages like Phugana, Bahavadi, Kutba and Kutabi (Muzaffarnagar) and Lisaad and Laank (Shamli) to flee their homes for the fear of being falsely implicated in police cases.
To discuss the issue, women of these villages, with 'Lathis' in their hands, held simultaneous Panchayats where they urged the police and administration to not harass innocent men.
"All the youths named in the FIR were studying in other districts during the time and had nothing to do with riots," said a woman present at one of the panchayats.
Notably, in most of the violence-affected villages, a number of police cases have been registered against men between 17 and 50 years of age for direct or indirect involvement in the riots.
Most of the prominent persons like village chaudharis, too, have been named in the FIRs.
"With our men away, we have to take care of the agricultural fields as well as the household, not to mention the cattle. This is just not fair and has turned us against the ruling government," said another woman.
Interestingly, the women had barred Samajwadi Party (SP) leaders and police personnel from participating in the panchayat.
The women also urged the district administration to take quick action against people found in possession of illegal arms during the search operation by army and the police.
Kutba women, including Manju, Harbeeri, Shweta, Suman, Rekha and Phula, expressed strong determination to oppose the arrest of innocent persons.
The district administration, on its part, said the women's fears were unfounded. District magistrate of Muzaffarnagar Kaushal Raj told Hindustan Times, "No person, if he is innocent, needs to be worried about inclusion of his name in the FIR as police action would be taken only after proper investigation and only the culprits would be punished."
http://www.hindustantimes.com/India-news/lucknow/Muzaffarnagar-Riot-hit-women-warn-police/Article1-1127760.aspx
---------
3 Schoolgirls Abducted, Assaulted, Killed In Pakistan
Sep 28, 2013
KARACHI/GUJRANWALA - Three schoolgirls were abducted, assaulted and dumped after being brutally killed in separate incidents in Karachi and Gujranwala cities on Thursday, officials said.
The incidents involving violence against women come in two major provinces of the country – Sindh and Punjab, where more than six such cases have been reported during the past few months.
Body of 13-year-old Neha was found dumped near Sea View beach police checkpoint in Karachi a day after the girl left her school on a short leave upon learning about her mother's serious condition back home. Investigators said a woman had come to the school to take the teenager to her home in Muhammadi Colony of Azizabad area.
When Neha – daughter of Riasatullah said to be a supporter of Muttahida Qaumi Movement – did not return, her parents sensed something was amiss, so they finally registered a complaint with police under Section 365/B.
Investigators suspected the woman, who took Neha captive, might have any relation with her family. A call for Rs one million ransom had been made to change the angle of the case, added investigators.
Doctors at Jinnah Postgraduate Medical Centre said the girl was sodomised before being strangled. Autopsy report showed she was not tortured, and that her skin had peeled off from one side of the face due to seawater abrasion.
Muttahida Qaumi Movement's Coordination Committee strongly condemned the gruesome murder. The committee demanded the killer(s) of Riasat's daughter be arrested and given exemplary punishment. It said the tragic incident had raised questions on the performance of law-enforcement agencies. MQM's body demanded Prime Minister Nawaz Sharif, Interior Minister Chaudhry Nisar Ali Khan and Sindh Governor Ishratul Ebad and Chief Minister Qaim Ali Shah to take notice of the brutal murder and issue orders for arrest of perpetrators and provision of justice to the bereaved parents.
The committee offered condolences to the bereaved family and urged them to remain calm. It prayed may Allah rest the departed soul in peace. It said abductions of children from schools had frightened parents. The committee also asked school administrations to keep an eye on suspected persons near schools and do not allow kids to go with unknown persons.
Sindh Chief Minister Qaim Ali Shah meanwhile took notice of the incident.
Meanwhile Haq Parast member of Sindh Assembly Iftikhar Alam and Khalid Bin Walayat visited the home of the girl and conveyed to the parents condolences from Altaf Hussain. They expressed their deep sorrow over the incident. They assured them of MQM's support for bringing the criminal(s) to justice. They attended the funeral prayer of the girl. MQM's workers and member of Karachi Tenzeemi Committee and members of the Federal B Area Sector also attended the funeral prayer in large numbers.
In Gujranwala, bodies of two girls were recovered from a canal. Police said the two girls, who were wearing their school uniform and aged between 14 and 16 years, had been shot dead. Initial reports said the girls were sisters. Locals spotted their bodies and informed police about them. Investigators said the girls were kidnapped, murdered and then dumped at the bank of the water channel in Madan Chak area near Panjgrain village.
According to police, the girls were found dead with marks of bullet wounds on their faces and abdomens. Police suspected the accused might have killed the girls to conceal the evidence of rape. They were however trying to locate the relatives of the victims who could not be identified till the filing of this report. Announcements were also made from mosques using loudspeakers but no one turned up to claim the bodies. Investigation is in an advanced stage.
6-YEAR OLD GIRL ASSAULTED
A man raped a six-year-old girl in a suburb of Gujranwala and fled. According to police, the incident took place in a village neighboring Gujranwala city where the accused molested a minor girl who was taking bath at a tube-well near her house.
The dwellers of area hearing cries and screams of the girl reached the scene after which the culprit escaped. The girl was ferried to district headquarters hospital in serious condition.
Police have registered a case against the accused, stated to be a neighbour of the girl.
http://www.nation.com.pk/pakistan-news-newspaper-daily-english-online/national/27-Sep-2013/3-schoolgirls-abducted-assaulted-killed
------------
Saudi women launch new campaign to end driving ban
By Lubna Hussain, NBC News Producer
Sep 28, 2013
RIYADH, Saudi Arabia – Many women in Saudi Arabia have had it. They want the right to drive and argue there is no religious justification for them not to.
The oil rich country of 27 million is the only nation in the world where women are forbidden to drive.
Saudi female activists who want the Kingdom to lift the de facto ban have launched an online campaign urging women to drive on Oct. 26.
Over 10,000 women have already signed the oct26driving.com declaration that says: "Since there are no clear justifications for the state to ban adult, capable women from driving. We call for enabling women to have driving tests and for issuing licenses for those who pass."
Although there is no traffic law that specifically prohibits women from driving, religious edicts are often interpreted to mean women are not allowed to operate a vehicle.
This is not the first effort to overthrow the ban, but organizers hope to get more traction this time on the heels of recent comments by the newly appointed head of the morality police.
"Islamic sharia does not have a text forbidding women driving," said Sheikh Abdulatif Al al-Sheikh, who was appointed by Saudi's ruler King Abdullah last year to head the Commission for the Promotion of Virtue and the Prevention of Vice.
He said that the morality police had not pursued or stopped any women for driving since he was made head of the organization in a recent interview with Reuters.
His comments were a departure from the hardline attitude of his predecessors with regards to this highly contentious issue.
King Abdullah has pushed for cautious social and economic reforms in the world's top oil exporter, including greater rights for women.
"I think that the time is right to allow women to drive because the whole of the Arab world is changing," said Hanan, a young Saudi mother of two teenage girls who only gave her first name because of the sensitivity of the issue.
"The government has taken gradual steps towards this as they have been educating more and more women and increasing the opportunities and outlets for them."
In May 2011, prominent Saudi women's rights activist Manal al-Sharif was arrested and spent more than a week in jail for getting behind the wheel after she posted a YouTube video of her foray. She was hailed as a hero by women across the country and her arrest inspired the Women2Drive campaign a month later. About 70 women flouted the unwritten regulations and got behind the wheel.
Still, opinions in this deeply conservative country have been mixed, with some women welcoming the push for greater rights and others believing that such open defiance will only set the cause back like it did during the first campaign in 1991.
"I don't agree with women driving in Saudi," remarked Hawazen, a mother and a college graduate who also declined to give her last name. "Maybe it will help, but maybe it will make things worse. Eighty percent of the people in this city are not open-minded and won't accept it."
When asked if she would allow her teenage daughter to drive should the ban be overturned, she shrugged and admitted, "My grandmother learned to ride a horse in the north of Saudi Arabia and then learned to drive. My 14-year-old daughter is already choosing the car she wants with her father who fully supports this."
For many women, the driving issue is a visually symbolic one bringing much needed attention to deeper women's rights issues of guardianship and custody.
"You can't send Saudi women abroad for years where they live an independent life and then pretend that you didn't think about the repercussions when they come back," complained Reem, a housewife from an upper middle class family who also spoke on the condition of anonymity. "You cannot take people out of the box and then put them back in the box again."
There is also the question of the financial burden the driving ban places on many middle class families. Drivers cost the Saudi economy hundreds of millions of dollars a year.
"If the government doesn't let women drive then they should be responsible for paying the salaries of drivers and the cost it incurs to import them," argued Hanouf, a 30-year-old administrator in academic affairs at Al Faisal University.
"I know many girls who can't turn up for work or university because their fathers are sleeping, or their brothers are busy, and they have no other means of transportation."
Asked if she would drive if it were allowed she says, "No, I would never drive. But this is not the point!
"I don't think the concept is for all of us to drive. We are waiting to be told the reasons as to why we can't drive!"
http://worldnews.nbcnews.com/_news/2013/09/27/20721335-saudi-women-launch-new-campaign-to-end-driving-ban?lite
------------
The 'White Widow': A Muslim Convert 'Rebel In Search Of a Cause'?
Khadija Magardie
Sep 28, 2013
In Islamic circles it isn't polite to call a new adherent a convert. The preferred term is a "revert". The idea is that Islam is the natural state of man (or woman) until their parents interfere and make them one thing or another.
It has on occasion been patiently explained to me – a convert to Islam at the age of 18 – that the relative ease with which someone can convert to Islam shows just how open the community is to converts, regardless of their race, background, bank balance or life history.
It's been an appealing selling point, drawing on the early days of Islam in the deserts of seventh century Arabia – a time when an egalitarian spirit that embraced slaves and sinners is said to have prevailed.
And the theory has found favour with some of the most famous converts to Islam – from the black consciousness leader Malcolm X to the great Leopold Weiss, known in the Muslim world as Muhammad Asad. The famous feminist Muslim scholar, Amina Wadud, is a convert to Islam, as was the historian and recorder of the Muslim pilgrimage, "Harry" St John Philby.
These are names worlds away from the likes of the so-called white widow, Samantha Lewthwaite, whose notoriety has gone up several notches following reports linking her with the attacks in Kenya. She has captured the imagination, despite there being no firm evidence of her involvement in the atrocity.
Though she may be an aberration – with the Muslim community predictably reacting with shock at having unwittingly harboured her – Lewthwaite's story isn't unique.
Her apparent drift to extremism, after some perfectly ordinary early years "within the fold", though definitely exceptional in its nature and extent, partly reflects the reality found among many more converts to Islam than we might care to admit.
Frightened that the acceptance they so crave might never come, they may find themselves constantly needing to prove their bona fides to people sceptical of their ability to be "real Muslims" after a previous life presumed to have been loaded with hedonism and sin.
Biographers write of Muhammad Asad's disbelief when his English translation of the Qur'an – instead of being hailed, was dismissed by other Islamic scholars as the work of a "mere Jew". In a need to prove that they're not "just a convert" – simple propagation or da'wah is seen as inadequate – some inevitably gravitate towards ideas rejected by the mainstream.
And there is, in some Muslim communities, little of the kind of pastoral care found in the Christian church, where a believer can take their problems to a sympathetic priest. Many converts, unless they have married into the community, once the initial novelty has died down, find themselves alone and alienated, "rebels in search of a cause".
You will find them, desperate to find some meaning in the journey they have undertaken. Some find it in Sufism. Others in jihad – immersing themselves in the writings of the likes of Sayyid Qutb, Abul A'la Maududi and Ayatollah Khomeini – the godfathers of the Islamic movement. Because of their need to prove themselves, they are the impressionable types targeted by fringe groups looking for recruits.
Interviewing female converts to Islam in London as part of a film project in 2004, I chanced upon a group from Regent's Park mosque keen to share their views on everything from bikinis to stoning for adultery. One woman, a second-time divorcee whom I shall name Aimee, did not blink as she told the camera (in a heavy Scottish brogue) she would pick up the first stone to lob at her own daughter if she was found guilty of crimes against Allah.
Her chilling words reminded me of the story of Margaret Marcus, an ordinary Jewish girl from New York, who became Maryam Jameelah, one of the most famous (or infamous) polemicists on radical Islam and jihad of the last century.
Because we have yet to hear Lewthwaite speak from the dock – or have her explain the motives behind her alleged crimes, it is conjecture to suggest she was radicalised because her initial attempts at integration were rebuffed. But it's a reasonable assumption.
It is said that western women are converting to Islam in record numbers. A popular narrative, of a Damascene moment of some kind, is weaved by poster girls like Yvonne Ridley and Lauren Booth (and myself at one point) telling of how we turned our backs on the materialism and nihilism of the west to find our true calling beneath the hijab. In "embracing" our new faith we say we were embraced in turn.
The reality, however, is somewhat more complex. Converts seeking a bread-and-butter Muslim existence, of mosque attendance, raising children, praying and fasting, readily fit into the communities they choose to attach themselves to.
But those Muslim women seeking a more cerebral experience soon find themselves isolated in communities that are often insular and intolerant of a reinterpretation of the scriptures that might give more meaning to someone born and raised in the west.
There are those converts like Lewthwaite who will show you just how committed they really are – by embracing militant Islam. Others leave Islam altogether. Others become more devout. Then there are those like Muhammad Asad, who die disappointed, that despite his best efforts he remained "a foreign body in contemporary Islam, a transplant rejected time and again by his hosts…"
http://www.theguardian.com/commentisfree/2013/sep/27/white-widow-muslim-samantha-ewthwaite
------------
GCC plan to tackle employment of unskilled women
Sep 28, 2013
GCC states are discussing a plan for the employment of GCC women with low educational qualifications who are over 35 years of age, said a Gulf source.
"The proposal will oblige contractors of the private sector to employ women in this category in projects pertaining to the government sector," said the source.
A recent meeting held between representatives of GCC labor ministers approved a plan to enhance job opportunities for GCC women, said Fawzi Al-Majdali, secretary general of a program that deals with the restructuring of the labor force. A timeframe to finalize plans and programs had not been discussed.
Majdali said that each Gulf state would submit studies to employ women in the private sector. "Changing stereotypes of jobs that some regard as degrading are among the issues that the ministries' are addressing in tackling the problem of unemployment for women with low educational qualifications. These women, as well as elder women, cannot qualify to work in the public sector," he argued.
He emphasized that the problem of older women who cannot find jobs is about to be tackled. "The ministries are trying to find a way out of this bottleneck through the private sector, mainly by employing them in available positions when private sector companies sign contracts to implement a government project."
GCC labor ministries are in the process of rehabilitating the work environment for Gulf women, said Majdali, so they can work in satisfactory atmospheres, which contain privacy, and in professions and sectors where there is no mingling with men.
He pointed to a tendency nowadays to replace foreign women workers with a national work force, "But the process remains slow," he said.
Majdali unveiled the commencement of activating a plan to exchange national workers between the countries of GCC. The first phase involves only males, to be followed soon after by women workers.
"We are still facing issues in the implementation process. These will definitely be solved before the next ministerial meeting on Oct. 2."
Implementing new plans for national laborers need new regulations, he said. "The decisions and recommendations were approved five years ago. We now see that some Gulf states have embarked on amending regulations pertaining social security for when an employee works for another Gulf state."
Aqeel Al-Jassim, director-general of the Executive Bureau of the GCC Labor Ministers Council, stressed the need for further coordination and cooperation between Gulf states on local and international labor issues.
The bureau reviewed a report on the implementation of labor programs to increase employment opportunities for national laborers. This year's discussions were dedicated to the development of employment opportunities for women.
The 35th session of the Committee of Agents for Labor Ministries was concluded by raising a number of recommendations to the Council of Ministers of Labor, which will be hosted by Bahrain on Oct. 2.
http://www.arabnews.com/news/465968
------------
Malala honoured at Harvard
September 28, 2013
A Pakistani girl who survived an assassination attempt by the Taliban is being honoured as Harvard University's humanitarian of the year.
Malala Yousafzai is an outspoken proponent for girls' education. She was at Harvard on Friday to accept the 2013 Peter J. Gomes Humanitarian Award.
Harvard president Drew Gilpin Faust said she was pleased to welcome Ms. Malala because of their shared interest in education.
The 16-year-old Malala said she's hoping to become a politician because politicians can have influence on a broad scale. Speaking nostalgically about her home region, the Swat Valley, she said she hopes to return someday.
Ms. Malala was shot in the head by Taliban militants last October.
http://www.thehindu.com/news/international/world/malala-honoured-at-harvard/article5178467.ece
---------
URL: https://www.newageislam.com/islam,-women-and-feminism/new-age-islam-news-bureau/report-exposes-sexual-abuse-of-uk-minorities/d/13736