New Age Islam News Bureau
10 Aug 2019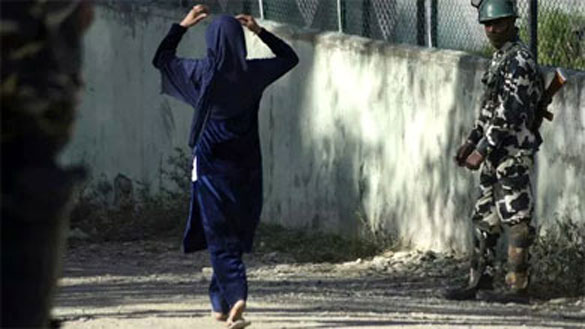 Kashmiri girls were being humiliated by certain political leaders and others on the social media after special status for Jammu and Kashmir under Section 370 was scrapped. (Express File Photo)
--------------
• Full Steam Ahead As More Yemeni Women Take the Wheel
• Meet the Women Who Fight Extremism in Afghan Universities
• Kurdish-Syrian 'Feminists' Form Giant Human Shield to Resist Turkish Incursion
• Hanan Amer, an Egyptian Living In Ireland Helps Women with Court Cases, Language Problems and Safe Houses
• Varanasi Muslim Women Make Rakhis with PM Modi's Image, Thank Him For • Revoking Triple Talaq, Article 370
• Triple Talaq in Odisha: Muslim Woman Alleges Instant Divorce over Phone in Kendrapara
Compiled by New Age Islam News Bureau
URL: https://www.newageislam.com/islam-women-feminism/religious-duty-sikhs-defend-protect/d/119445
Religious Duty of Sikhs to Defend and Protect the Honour of Kashmiri Girls Who Were Being Humiliated By Certain Political Leaders: Akal Takht Jathedar
By Kamaldeep Singh Brar
August 10, 2019
An Akal Takht Jathedar (clergy) Friday urged to the Sikh community to come forward and make it their "religious duty" to defend and protect the honour of Kashmiri girls who were being humiliated by certain political leaders and others on the social media after special status for Jammu and Kashmir under Section 370 was scrapped.
Akal Takht is the highest temporal seat of the Sikhs.
"God has given equal rights to all human beings and it is a crime to differentiate against anyone on the basis of gender, caste or religion. The kind of commands given by elected representatives on social media against the girls of Kashmir after the removal of special status under Section 370 are not only defamatory but also unforgivable," Jathedar Giani Harpreet Singh said in a statement.
Without naming anybody, the jethedar said, "The manner in which some people are posting pictures of Kashmiri daughters on social media has hurt India's image. Such comments objectify women. At the same time, these people have forgotten that a woman is also a mother, daughter, sister and a wife. It is women who has the power of creation".
Again desisting from naming any person or community, he said that the same "mob", which was now targeting the Kashmiri women, "had reacted in the same way and attacked the Sikh women during riots of 1984".
"Kashmiri women are part of our society. It is our religious duty to defend their honour. Sikhs should come forward to protect the honour of Kashmiri women. It is our duty and it is our history," he said.
Meanwhile, a Sikh activist from Delhi, Harminder Singh Ahluwalia, collected Rs 4 lakh in donations to buy tickets to help 34 Kashmiri girls, stuck in Maharashtra, reach Srinagar. Harminder and two others also accompanied the girls.
https://indianexpress.com/article/india/kashmiri-girls-article-akal-takht-jathedar-370-5893819/
--------
Full steam ahead as more Yemeni women take the wheel
10 August 2019
Yemenis have grown used to the chaos in Sanaa's traffic-jammed streets. Cars frequently backed up in long lines, competing with an ever-increasing number of taxis.
In the midst of gridlock, traffic police stop drivers, asking to see licenses and handing out fines as congestion grows and horns blare in frustration.
In the past few years, however, a new sight has become more and more common: women behind the wheel.
Across Sanaa, and in most cities around the country, women have increasingly taken up driving, despite harassment from passersby, motorcyclists and fellow drivers.
Attitudes have been slowly changing since the uprising that began in 2011 - and has since made way for a devastating war - as women have openly defied family and societal restrictions and criticism to gain greater mobility and autonomy.
Newfound independence
Until six months ago, Abeer al-Bareda, 25, used public transportation to get to meetings with clients of her graphic design company.
But she faced mutiple hurdles, including sexual harassment and theft, not to mention the many hours lost to slow commuting.
"Last year, a biker stole my bag and I couldn't defend myself because I was walking in the street," she told Middle East Eye. "I used to face a lot of sexual harassment on public transportation."
For Bareda, cars are "a safer way for women to move around".
"Even though all women might face some sort of sexual harassment, the ones who are in their own cars suffer less, since they can just shut their car windows and ignore any bad words or negative behaviour," she said.
Bareda believes that as the number of women entering the workforce or starting their own companies has increased in Yemen, so too has their need for mobility.
"They've been eager to drive since it helps them pursue their work," she said.
Bareda bought a car six months ago and asked a friend to teach her how to drive. These days, she says she can move far more easily to offer her services to prospective customers in different parts of Sanaa.
Kawthar al-Thubhani, 35, has been on the road for more than a decade, but it hasn't always been easy.
"Before 2011, it was very difficult to drive, as both men and women used to get into rows with women drivers, but nowadays there are many women who drive so it's become easier," Thubhani told MEE.
"Women have only recently started to defend their freedom and rights, and driving is a basic right all women should get."
Tradition over law
Fadhl Mohammed, a social expert and sociology professor at Taiz University, explained that while Yemeni law had never prevented women from obtaining driving licenses and operating cars, social norms had long been the main barrier to women sitting behind the wheel in large numbers.
"In a conservative society like Yemen, social traditions are stronger than laws, so only a few women drove then, when society criticised them strongly," Mohammed told MEE.
While the public perception of female drivers has relaxed over time, some religious figures, like Sanaa-based imam, Ahmed al-Nabhi, claim that these women are disobeying Islam.
"Islam prevents women from going outside alone, and that means women driving cars is not permitted, since women can be hassled if they drive by themselves," Nabhi told MEE.
"It's in the women's interest, so that they're not bothered by anyone. So women should obey Islam and enjoy their lives within the permitted boundaries."
Thubhani and Bareda said they were keenly aware of the views shared by Nabhi and others, but that they remained undeterred.
"Some people aren't educated enough, so sometimes we hear some bad words, and some nasty people try to harass us in the streets, but we ignore that kind of behaviour," Thubhani said.
She said she felt lucky to have family members who stood by her and supported her efforts to get about independently.
Bareda, meanwhile, said she faced criticism from relatives, but has not given in to their pressure.
"Some members of the family encouraged me to drive and others criticised me," she said. "I tried to persuade those who were opposed to it, but they didn't understand me so I ignored them."
Unexpected perks
Both Bareda and Thubhani said there were unforeseen benefits to being some of the few women on the road, including less scrutiny from traffic police and fellow drivers.
"Many women don't know the rules of the road, but the traffic officers cooperate with women and they don't stop us to check our driving licences," Bareda said.
Once, she said, she accidentally hit a motorcyclist, yet a passersby sided with her against the cyclist. Even so, she gave the motorcycle driver her father's contact details in case he needed treatment.
Thubhani said she had never been stopped by police - nor by soldiers at checkpoints - since she started driving 11 years ago.
Amin Obadi, a 39-year old traffic officer in Sanaa, told MEE that he had definitely noticed an increase in women drivers over the past three years, not only during the daytime, but also at night.
He confirmed that he was less likely to pull them over out of respect for social mores regarding interactions between unrelated men and women.
"Stopping a woman to check her driving licence would be a shameful thing to do," he told MEE. "We cooperate with them and hope that the beginners go and learn in driving schools."
Obadi said he was supportive of more women being behind the wheel, emphasising that Yemeni law did not prohibit them driving.
"It is good that women depend on themselves to drive instead of waiting for a man to take them to their work or anywhere else," the policeman said.
Mohammed, the Taiz University professor, said he saw a clear connection between the 2011 uprising and women's increased presence in the public sphere, even as the political and humanitarian circumstances in the country have become more dire after years of war.
"The revolution of 2011 helped women defend their rights - we saw thousands of women take to the streets to demand their rights, including Nobel peace prize laureate Tawakkol Karman," he said.
"Women drivers are only one facet of developments that have happened for Yemeni women since 2011, as women have become more aware about their rights and defend them."
https://www.middleeasteye.net/news/women-take-wheel-yemeni-female-drivers-rise
--------
Meet the women who fight extremism in Afghan universities
HIKMAT NOORI
Aug 10, 2019
KABUL— On a windy afternoon on April 25, Basira Akhtar, a student of law at Kabul University, went about her business organising a student seminar in one of the university's new auditoriums.
She was on the phone talking to classmates, coordinating last minute logistics when a gust of wind blew her headscarf over. While not legally required, the headscarf is a socially customary garment that women wear in Afghanistan out of cultural respect. "It was around my shoulders but I didn't even realise it. A few seconds later, I felt a strong blow to the back of my head. Another moment later a kick on my back, and I was on the floor," Akhtar, 22, told TRT World.
Dazed and injured, Akhtar tried to stand on her feet, but heavy punches rained down, accompanied by abusive screams from a young man named Jahid, who led a mob of at least a dozen students. They all were angry at Akhtar because her headscarf had fallen over her shoulders, revealing her hair.
"I was wearing normal and decent clothes, nothing obscene. But he was cursing me, calling me bad names and saying that I was spreading Christianity," she said. "I was so scared. I thought I would meet the same fate as Farkhunda."
Farkhunda, a young Afghan woman, was killed by a mob in Kabul in 2015 for burning a copy of the Quran, an accusation which later turned out to be false.
Akhtar mustered her courage and yelled back at the unruly mob, asking bystanders to call the police. Hearing that, Jihad and his men filed off.
Akhtar reported the incident to the university officials and the police. As the news spread across the country, with the media highlighting it, the police arrested Jahid and he was expelled from the university as well.
"He was arrested briefly but he is free again. And I have received threats and political pressure to withdraw the case," Akhtar said, adding that she has been attacked and molested on campus twice because many students supported Jahid's actions and considered him to be 'righteous'.
Akhtar's case is symptomatic of the growing sense of radicalisation within campuses in Afghanistan. The issue goes beyond acts of intolerance and there is a real concern among the authorities that Afghan universities are becoming recruiting pools for insurgencies. Earlier last month, the National Directorate of Security (NDS), Afghanistan's spy agency, busted a group involving Kabul University professors who were recruiting for Daesh in Afghanistan.
The NDS officials shared their concerns over similar recruitment rings operating in other universities around the country. "This is a sensitive issue because teachers and religious scholars who support jihadi groups hold a lot of influence over the communities. Children and the youth are easily susceptible to such messaging," an official said on the condition of anonymity, adding that they are monitoring several universities for signs of radicalisation and recruitment.
In a recently-launched report by the Afghan Institute for Strategic Studies on radicalisation in Afghan universities, researcher Ramin Kamangar explored the phenomenon that is increasingly worrying security officials. The report revealed that nearly 51 percent of the 373 students surveyed, across three major Afghan universities in Kabul, Herat and Nangarhar, were in support of having an 'Islamic Emirate or Caliphate' as a system of political governance. The Taliban also refers to their government as the Islamic Emirate of Afghanistan.
Among a dozen students interviewed by TRT World, more than half rejected the idea of secularism or living along with other religious groups, and the rest aspired to rebuild 'Khilafat-e-Islami' or the Islamic Caliphate.
The substantial support for men like Jahid in Afghan universities revealed a major shift in Afghanistan's campus politics, which was once a rather liberal and diverse environment.
"I do not support that a student was expelled from the university for asking a woman to wear her scarf. It wasn't right that it happened to him," said 21-year-old Kefayatullah, a student of religious studies. "God has mandated Hijab as compulsory. You have to wear it in the house too. So how can you accept those who come here and not wear hijab?"
Kamangar, the author of the report on radicalisation on campuses, advises a radical shift in the education system to counter the radicalisation. "The current system does not encourage critical thinking and reasoning. Currently, the students are required to memorise a few definitions and are tested on that. This needs to change," he said, urging universities to build standardised curriculum that gives space for critical thinking and creativity among the youth.
The officials at Kabul University told TRT World that radical thinking is on the rise on campus.
"We are very concerned about issues of radicalisation that have been raised in our campus recently, and we have taken them seriously, and plan to address them," Mohammad Reza Farzan, Vice Chancellor at Kabul University, told the TRT World. "We organised conferences and student dialogues to tackle the issue, and also involved Islamic scholars to engage the students in a debate as well as inform them of the threats posed by such ideologies."
Farzan argued that the root of the problem existed in the Afghan society. "Kabul University is part of the Afghan society and we can't remove ourselves from the problems that face the entire society," he said.
Meanwhile, the students, especially the women, have felt the impact of growing extremism. Nearly all the female students at Kabul University that TRT World spoke to admitted to being harassed for not following a conservative dress code or for not fully covering their hair with Hijab.
"Of course, I don't feel safe, even in an academic environment and crowd like this which is supposed to be educated, and with some of the best people of this country; but even around them I feel so uncomfortable. Because no matter how well you dress with the most decent proper hijab, they will comment and criticise and tell you that your hijab is not proper," said 21-year-old Faiza Amiri, a student of Environmental Science. "The problem isn't our hijab, the problem is their thinking and ideology. They don't realise that Islam is not about wearing a headscarf, it is about humanity and respecting each other and understanding each other."
Amiri's views resonated with Akhtar's and they both are determined to work toward changing the patriarchal attitudes in the society. "I am fighting because I cannot let this be the legacy of the university. I want what happened to me go down in the institution's history so that other women find the confidence to continue this fight," Akhtar said.
https://www.trtworld.com/magazine/meet-the-women-who-fight-extremism-in-afghan-universities-28896
--------
Kurdish-Syrian 'feminists' form giant human shield to resist Turkish incursion
Aug 10, 2019
When the threat of an attack looms, scores of Kurdish women in every major township in their carved out canton of Rojava in northeastern Syria, stand shoulder-to-shoulder.
Amid a region ravaged by years of conflict and ISIS incursions, their formation is what they call their very own human shield – comprised of self-declared feminists belonging to their group called "Kongra Star" with the tagline "Woman, Life, Freedom."
"It's like a protest camp on the border," one activist told Fox News. "So if Turkey attacks they have to go through civilian women first."
A possible military incursion by Turkey was at least temporarily averted this week following three days of urgent negotiations between the U.S and Turkey in Ankara this week, which ended with the two sides agreeing to establish a "safe zone" in northeastern Syria. Turkish President Recep Tayyip Erdogan had re-ignited tensions with the U.S. after warning that his troops would be sent over the border to combat the Syrian-Kurdish forces, known as the SDF.
While Ankara views the fighters as terrorists given their ties to the Kurdish separatists' group the PKK, they are backed and armed by the United States, who utilized the SDF as the ground force in the fight against ISIS. U.S. Defense Secretary Mark Esper cautioned that any Turkish military incursion into northern Syria would be "unacceptable," but the U.S.'s long-term position on continuing to arm and defend the Syrian militia remains unclear.
Thus the women – who number in the thousands from young to old – say they are always ready and waiting to defend, with and without arms.
"Everybody knows the political situation against us. Turkey wants to destroy the fruits of our revolution and our idea of a democratic nation," Zehra Berkele, co-chair of the Kongra Star for the Euphrates Region, told Fox News. "So we have set up this human shield protest. We are civil people and every household here has lost someone in the fight against ISIS and other groups, every household has experienced so much pain – driven out as refugees, cities left in ruins. But with a love for our homeland, we have come together."
She explained that while it is mostly women who take part in forming the shield, men do join at times, and each such mass protest in different parts of Rojava that vary in demographics are organized by different chapters of the group. Sometimes neighborhoods or villages "take turns" in taking part so they can always make the sure the protest is well-populated, Berkele explained.
Founded in 2005, the Kongra Star claims its central objective is "the establishment of free, democratic, ecological municipalities that are based on women's freedom" and that they will not allow the responsibility of defending their land and people fall only to the men.
In addition to skirmishes with Turkey, the region is still beleaguered by ISIS sleeper cells and frequent attacks by jihadist outfits. In Berkele's words, they have no choice but to take a stand.
"What we have started, we will continue. As for fear, whether we accept it or not, there is fear," she continued. "We have strong willpower and a strong connection to our land. This protest is a call to the whole world, we don't want another attack like Afrin. We want to be able to live."
In early 2018, Turkish-backed forces successfully secured control of the Kurdish-dominant Syrian city of Afrin, citing the immediate need to protect its borders from PKK infiltration. The operation caused something of a schism between the SDF and U.S forces, as many SDF fighters chose to abandon the ISIS mission to protect a fight they viewed as the one closest to home – but in the end, Afrin fell.
But beyond the pillar of self-defense, Kongra Star positions itself as a feminist movement built on "the basis of women's freedom" with education and support program aimed at strengthening women's standing in society.
"I'm a woman, and so I experienced much pain in my life. As a movement, we take care of women in the particular basis of educating women and helping each other to stand on our own feet," Berkele noted. "Many of us having been driven out as refugees which have created a psychological impact. But through our meetings, we are trying to bring an end to these psychological problems for women."
https://www.foxnews.com/world/kurdish-syrian-feminists-form-giant-human-shield-to-resist-turkish-incursion
--------
Hanan Amer, an Egyptian Living In Ireland Helps Women with Court Cases, Language Problems and Safe Houses
Colette Sheridan
Aug 10, 2019
When her life turned upside down, Hanan Amer, an Egyptian living in Ireland for 30 years, started to look outwards instead of inwards and found a new purpose, helping troubled and often isolated Muslim women to navigate the workings of their adopted country.
The 56-year-old mother-of-three, who had worked as a social worker in her native country, came to Dublin with her husband to start a new life.
Over the years, the couple set up three businesses: a halal shop, a fish and chip shop and an internet cafe. But when the recession hit more than 10 years ago, they lost their business interests. Amer's husband couldn't cope. The marriage broke down and he left about eight years ago, leaving his wife with the children.
Amer had to start all over again. A car accident means that she can't work so she gets by on a disability benefit. But that hasn't stopped her from reaching out to her community. In 2013 she founded an organisation called Amal, which is the Arabic for "hope".
Amal is a Muslim women-led service responding to the needs of Muslim women in Ireland. It was recently awarded €35,000 from the Social Innovation Fund Ireland, to enable Amal to employ a co-ordinator. That role has been filled by Niera Belacy.
Amer, who describes herself as non-religious, got to know Muslim women in the Dublin Mosque on the South Circular Road. "Some of the women have problems such as domestic violence [against them]. Some of them are not educated and don't have the language. Also, I found that the men were controlling their wives' lives a lot and I tried to help."
Amal now has seven board members, one adviser, one employee and 15 volunteers. Amer would really like office space to run the organisation separate from the mosque. The mosque, she says, is about religion, and there is resistance there from its leaders when it comes to acknowledging family problems.
But the mosque is also a place where the women gather, attending coffee mornings on Wednesday, organised by Amal. As well as a way of meeting other Muslim women and building up relationships based on trust, workshops can be accessed there as well as art and craft sessions.
No week goes by without Amer having at least two or three cases on her hands. Amal, through a project called Camp (cultural advocacy and mediation project), ensures that the Muslim women are accompanied to family court services or services for domestic abuse. The women may need translation services or the prevention of discrimination in various situations.
The service is culturally appropriate. It helps the women access health, mental health, family support and immigration services. Amer would like to see a shelter or a safe house being made available to Muslim women in need.
"The man can treat the wife as if she doesn't know anything. He can make her afraid to go outside. Some of the men are afraid that if their wives are with other women, they will get ideas and try to change the way they deal with their husbands."
Amal has started to go into direct provision centres in Roscommon, Portlaoise and Mosney, giving Muslim women second-hand clothes and toys for their children. "I had difficulty going to these centres. I fought with everybody. Now the Government lets me access these centres. The women there have come from wars and have lots of problems. They can be depressed."
Amer says Muslim women in Ireland are often not allowed to leave their homes. "It's not actually a cultural thing because if they stay in their own country, they are allowed to go out and visit their families. But not here."
In an effort to make the family dynamic more egalitarian, Amer says she tries "to do some lectures for the men asking them to change how they treat the women. We give talks after Friday prayers. We try to tell the men to be easy with their wives because the prophet Muhammad said this. In Islam, you have to be really nice to women and take care of them. That is the Islamic way." Amer says racism isn't as bad in Ireland as it is elsewhere in Europe. "But everywhere, you find some good people, some bad people. If you asked me about racism in Ireland about 10 or 15 years ago, I would have given Irish people an excuse for being racist.
"Ireland is a small country and suddenly opening the door for everybody is something I felt. I found too many people from Eastern Europe and Africa [were coming in]. I got scared. I didn't want it. But you get used to the new people from different countries."
Women who wear Burqas can experience abuse in Ireland. "I try to give training to the women if something like that happens. I show them how to defend themselves. I'm working with the gardaí also. They try to help if they can."
Amer's children have integrated well. Her eldest son is an environmental officer. She has a daughter who has just finished studying fashion and is now working in London. Her youngest has recently completed her Junior Certificate. Amer is selflessly helping Muslim women and is looking forward to increased governmental and NGO partnerships.
https://www.irishtimes.com/life-and-style/people/giving-hope-to-muslim-women-in-ireland-1.3980913
--------
Varanasi Muslim women make rakhis with PM Modi's image, thank him for revoking triple talaq, Article 370
9, Aug 2019
Varanasi: Muslim women from Varanasi are busy making special rakhis with Prime Minister Modi's image on them. The women said they were grateful to PM Modi for scrapping triple talaq as well as Article 370.
The Ramapura women plan to send these rakhis to the Prime Minister before August 15.
Social worker Sadaf Aalam said that PM Modi had given them a gift by passing a bill against triple talaq and said that the whole nation had been facing problems due to the practice. "He understood the pain of the Muslim women and banned triple talaq. Thus, we are preparing rakhis for the PM and will send it to him soon", she said.
Speaking on the occasion, Huma Bano said that Kashmir did not feel like a part of India but as Article 370 has been abolished the children, daughters, sisters-in-laws and all women will get equal rights. "They will be able to get education easily. The women in Kashmir can live with a sense of freedom", she said.
They also said that PM Modi is also Member of Parliament from Varanasi, so they consider him as a brother and believe that he will protect them.
https://www.mynation.com/india-news/karnataka-locals-pitch-for-job-reservation-in-state-urge-chief-minister-to-look-into-issue-pvytc7
--------
Triple Talaq In Odisha: Muslim Woman Alleges Instant Divorce Over Phone In Kendrapara
Aug 10, 2019
Kendrapara: After Parliament passed the 'Triple Talaq' Bill last month, the first case of instant divorce in Odisha has been reported from Pattamundai's Ward no-11 in Kendrapara. As per sources, a woman's husband pronounced 'Talaq' three times to her over the phone while he was in Hyderabad.Reportedly, Rubina Khatun and Abu Sufiyan Khan were in love and had married last year. They were living in Hyderabad when Rubina got pregnant. Sufiyan dropped her at his house in Kendrapara and went back to Hyderabad.During this time, Rubina alleged that she faced a lot of mental and physical harassment from her in-laws. She used to call Sufiyan to complain to him, however he paid no attention. He even refused to recognise her. After several persistent phone calls from Rubina's side, he asked for Rs 2 lakh from her to settle everything. When she refused to give any money, he gave her instant divorce over phone.Rubina, who has a four-month-child, has filed a written complaint regarding the matter. It is notable to mention here that the Triple Talaq Bill or Muslim Women (Protection of Rights on Marriage) Bill, 2019 has been passed by Parliament and it makes the practice of giving instant triple talaq orally a criminal offence with provisions of a jail term of up to three years.
https://www.ommcomnews.com/odisha-news/triple-talaq-in-odisha-muslim-woman-alleges-instant-divorce-over-phone-in-kendrapara
--------
URL: https://www.newageislam.com/islam-women-feminism/religious-duty-sikhs-defend-protect/d/119445
New Age Islam, Islam Online, Islamic Website, African Muslim News, Arab World News, South Asia News, Indian Muslim News, World Muslim News, Women in Islam, Islamic Feminism, Arab Women, Women In Arab, Islamophobia in America, Muslim Women in West, Islam Women and Feminism