New Age Islam News Bureau
18 August 2022
• Taliban Says Ban on Girls' Schools 'Temporary', not 'Permanent'
• First Female Fighters to Box In Saudi Arabia Want To Show 'Boxing Is Also For Women'
• Cultural Resistance in Palestine through the Eyes of Women
• Saudi Fashion Designer Honayda Serafi on Harrods Career Breakthrough
• Quranic Circles for Women Launched in Egypt
Compiled by New Age Islam News Bureau
URL: https://newageislam.com/islam-women-feminism/convicts-justice-bilkis-gujarat-riots/d/127743
--------
Release of Convicts Shook My Faith in Justice: Bilkis, Gang-Raped During the 2002 Gujarat Riots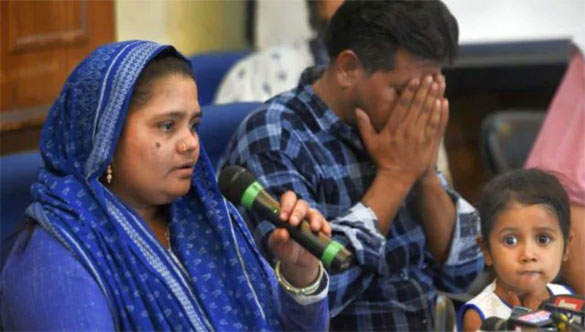 File image of Bilkis Bano, who was gang-raped during the Gujarat riots of 2002. PTI
-----
Sanjay K Jha, Our Bureau | New Delhi
18.08.22
Bilkis Bano said in a statement on Wednesday that the premature release of all the 11 gang-rape and massacre convicts serving life sentences in the Gujarat riots case of 2002 had shaken her faith in justice and left her numb.
A pregnant Bilkis was gang-raped during the 2002 Gujarat riots and seven members of her family, including her three-year-old daughter, were murdered.
The 11 convicts were released under a remission policy in BJP-run Gujarat on the 75th anniversary of Independence at a time Prime Minister Narendra Modi was delivering from the Red Fort sermons on respecting and empowering women.
The following is the statement issued by Bilkis through her advocate Shobha: "Two days ago, on August 15, 2022, the trauma of the past 20 years washed over me again when I heard that the 11 convicted men who devastated my family and my life, and took from me my 3-year-old daughter, had walked free. I was bereft of words. I am still numb.
"Today, I can say only this — how can justice for any woman end like this? I trusted the highest courts in our land. I trusted the system, and I was learning slowly to live with my trauma. The release of these convicts has taken from me my peace and shaken my faith in justice. My sorrow and my wavering faith is not for myself alone but for every woman who is struggling for justice in courts. "No one enquired about my safety and well-being before taking such a big and unjust decision."I appeal to the Gujarat Government, please undo this harm. Give me back my right to live without fear and in peace. Please ensure that my family and I are kept safe."Earlier on Wednesday, Congress MP Rahul Gandhi had said the entire country had witnessed the disparity between Narendra Modi's "words and deeds", with life convicts in the Bilkis Bano gang rape and massacre case being freed in Gujarat.
The Congress underlined that the law required the Union government to have concurred with the state government on the decision to free the convicts because the CBI, a central agency, had investigated the case, implying the Prime Minister or the Union home minister would have approved the release.
Rahul tweeted: "Those who raped a five-month pregnant woman and killed her three-year-old daughter were released in the midst of Azadi Ka Amrit Mahotsav…. What's the message being given to the women of the country by the leader who lies about women's empowerment? Prime Minister, the entire country is witnessing the disparity between your words and deeds."
Congress general secretary Priyanka Gandhi Vadra tweeted: "Release by the BJP government of criminals convicted of raping a pregnant woman and killing her daughter, a judgment upheld by all courts — isn't this the climax of injustice and insensitivity? Mr Narendra Modi, women are asking — respect for women is restricted to speeches only?"
Insisting that the decision to free the convicts was executive, not judicial, Congress spokesperson Pawan Khera said: "The Supreme Court hadn't ordered the release; it merely asked the Gujarat government to decide on a petition for early release within two months. The state officials are saying the decision was taken according to the 1992 remission policy. Did the state government bring to the notice of the Supreme Court that the 1992 policy had been scrapped by them in 2013?"
The 1992 remission policy is critical here as the Supreme Court had asked the Gujarat government to decide the case according to this scheme, which was in force when the conviction happened in 2008.Without this escape route, early release was impossible because of a Union home ministry directive to all state governments in 2014 that certain categories of convicts, including those found guilty of rape and murder, cannot be pardoned.
Khera said the 1992 policy cannot apply because the Gujarat government had abrogated it on May 8, 2013, through an executive order and this fact was hidden from the Supreme Court.He added: "Section 435 of the CrPC clearly says that the state will have to seek approval of the central government for mercy or early release if the case is investigated by any central agency. When the then chief minister, Jayalalithaa, decided to release the killers of Rajiv Gandhi, the Supreme Court had ruled that the state alone cannot decide because the central agencies were involved in the probe."
Khera said: "Both the Prime Minister and home minister Amit Shah are from Gujarat. They should disclose whether the state government sought their permission to release the rape-and-murder convicts. If permission was granted, make it public. The nation should know what the Prime Minister says from the ramparts of the Red Fort and what he actually does. Let the world know the Prime Minister's quest for women's safety and empowerment is just hollow rhetoric. If no approval was sought, they should explain what action will be taken against the Gujarat chief minister."The Congress asked the Gujarat chief minister to reveal the names of the members of the jail advisory committee that first recommended the release of the 11 convicts.
"When was the recommendation made for the release and on what grounds?" Khera asked. The Congress also asked other Opposition parties, particularly the AAP, and the media why they were silent now and reminded them of the protests in the aftermath of the 2012 Delhi gang rape and murder in a bus."Will the cry for justice be decided by the religion of the victim and which party is in power?" Khera asked, warning against tendencies that point to a rot in society.
Source: Telegraph India
https://www.telegraphindia.com/india/numb-faith-in-justice-shaken-bilkis/cid/1880783
--------
Taliban Says Ban on Girls' Schools 'Temporary', not 'Permanent'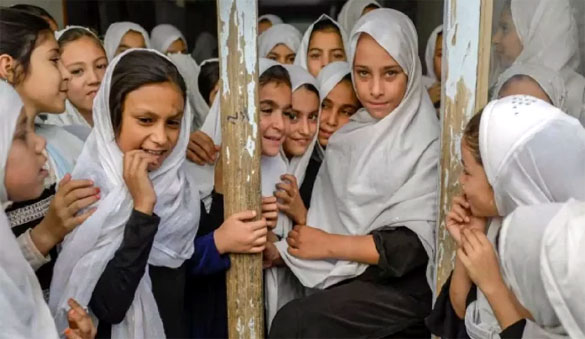 Photo: 8PM News
---
By Saqalain Eqbal
17 Aug 2022
The Taliban government's Ministry of Education officials say that the decision to close girls' schools above the sixth grade nationwide is only "temporary", not "permanent", and that the group is working on a plan to resume the schools.
According to the spokesman for the ministry of education, Aziz Ahmad Rayan, who spoke at a press conference on Tuesday, August 16, whenever the Taliban leadership council and the religious scholars decide to permit schools to reopen for girls, the guidelines and standards will be put in place, and the issue will be resolved.
The Ministry of Education has put in adequate effort in this area, but certain processes take years to complete, and the problem with schools is not one that can be resolved quickly, according to a spokesperson for the ministry.
"Afghanistan is a cultural country with a variety of issues. This is not the place to delve into them in depth," he further added.
The Taliban official continued by saying that while the media presents the issue of middle school and high school girls' education against the Taliban government, the reopening of schools above the sixth grade calls for the appropriate answer, the right mechanism, as well as the right amount of time, effort, and mentalization.
According to Ministry of Education officials, Afghanistan has 17,780 schools, 15,083 of which are public and 2,697 private, educating a total of 10 million students, 6 million of whom are boys and 4 million of whom are girls.
While the Taliban's commitment to reopening schools for girls, Afghan girls are still denied access to education from the sixth grade and above after the group retook control of the country in August of last year.
Source: Khaama Press
https://www.khaama.com/taliban-says-ban-on-girls-schools-temporary-not-permanent-684596/
--------
First female fighters to box in Saudi Arabia want to show 'boxing is also for women'
17 August, 2022
The first two female boxers to compete on Saudi soil want to inspire young girls around the world to take up the gloves themselves, they told Al Arabiya English on Wednesday.
British-Somali fighter Ramla Ali will face off against the Dominican Republic's Crystal Garcia Nova at the Rage on the Red Sea boxing event in Jeddah on Saturday.
"It's a huge honor," Ali said on the sidelines of a press conference. "Myself and my opponent will be inspiring loads of young girls and loads of women, not only in this country, but all over the world."
Speaking through an interpreter, Nova said she was "blessed" to be in Saudi Arabia and have the opportunity to take part in the first women's boxing match in the Kingdom.
"It's a message to all young women that boxing is not only for men, boxing is also for women. And I can go far. And if I can go far, everybody, all the women in the world can learn boxing and can go far and go up in this game."
Authorities in the Kingdom have traditionally placed restrictions on women's participation in sports.
However, recent years have seen unprecedented progress in women's rights, both in sports and in everyday life.
Crown Prince Mohammed bin Salman's Vision 2030 plan spurred on development of sports in Saudi Arabia, allowing physical education to be taught to girls in school for the first time.
Major titles including the Formula One Grand Prix, the Saudi Cup horse race, and WWE professional wrestling events are among many to have been held in the Kingdom in recent years.
Heavyweight champion Oleksandr Usyk will defend his title against the man he won it from, Anthony Joshua, at Jeddah's Superdome on Saturday.
Source: Al Arabiya
https://english.alarabiya.net/sports/2022/08/17/First-female-fighters-to-box-in-Saudi-Arabia-want-to-show-boxing-is-also-for-women-
--------
Cultural resistance in Palestine through the eyes of women
Zoe Lafferty
17 Aug, 2022
As artists and audiences celebrated the opening of the first-ever Palestinian Feminist Theatre Festival in Jenin Refugee Camp, they were unaware that hours later, another mother would mourn the death of her son.
That evening the Israeli army entered Jenin Refugee Camp in a raid that included heavy gunfire, tear gas and concussion grenades. Shooting 17-year-old Dirar al-Kafrayni, the bullet entered through his shoulder, exploding internally and causing his immediate death.
The next day the streets filled with men carrying the child's body, and the festival was postponed to respect his family's morning. Kafrayni is one of 20 children killed by Israel in the West Bank and Jerusalem this year.
When the festival opened here were powerful yet optimistic speeches from Fidaa Zidan and Mariam Basha, part of the all-female artistic committee, addressing the urgent need for women's equal representation in all aspects of society, from the workplace to political parties.
Double oppression
The festival is driven by The Freedom Theatre, including Artistic Director Ahmed Tobasi and Producer Mustafa Sheta. Inspired by the rise of feminism in the sixties and feeling despondent that it has since been put to the back of the agenda, Mustafa said she was determined that "the festival be a space for women to present their vision of equality, re-awakening the call to find answers and take action."
Those involved in the project are keen to address the double discrimination that women face both from Israeli occupation and within Palestinian society – whilst also highlighting how these are connected and challenging racist Western stereotypes of men in Arab society.
It's a complex challenge, especially for a theatre that lost 80% of its core funding in 2021 after rejecting conditions that stipulated they must depoliticise their work.
Taking place on The Freedom Theatre's stage in Jenin Refugee Camp, it's impossible to ignore the context this feminist festival takes place in. The camp is under constant military invasion, with boys and men being regularly killed and imprisoned. Families already in precarious economic situations due to 80% unemployment, are put under further strain with the burden falling on women to make ends meet.
Furthermore, the relentless brutality experienced across four generations creates an endless cycle of humiliation, disempowerment and trauma, with toxic masculinity becoming a survival mechanism. Violence and oppression sometimes turns inwards, resulting in domestic violence and restrictions on women being able to choose their own futures. "This is why it is just as important for the festival to address not only women's rights but that of men's and the racist and Islamophobic stereotypes that allow Israel to go unchallenged by the West", added Mustafa.
Israel's gendered targeting
However, this doesn't mean women and girls are spared in Israel's military attacks on the camp. Recently, 18-year-old Hanan Mahmoud Khdour was shot as she walked to school, and renowned journalist Shireen Abu Akleh – who was an inspiration to so many female journalists across Palestine – was murdered as she covered an invasion.
The festival aims to connect global struggles with performances from Chile, Iraq, the UK and Germany happening alongside those from Palestine. Poet Shareefa Energy, who is set to perform, was living in North Kensington, London, when 72 people were killed in Grenfell Tower, clad in flammable material provided by company Arconic, who also supplied parts for Apache Helicopters and F-35 Fighter Jets used to bomb Gaza.
These links are all the more crucial as Israel recently began yet another bombing campaign, killing 49 people, including 17 children.
Continuing a legacy of feminism in theatre
Some performances will also take place in Ashtar Theatre in Ramallah which was founded by Iman Aoun and is one of Palestine's most renowned theatre organisations, all founded and run by women.
Rania Elias from Yabous Cultural Centre, who was arrested in 2021, is certain that gender has played into Israel's attempt to censor her with harassment continuing until this day. "They cannot stand a strong Palestinian woman who leads an institution that strives, who can speak to the media and has relations with thousands of people around the world. A Palestinian woman who defies the stereotype they wish to paint," she explained.
Feminism is also embedded in The Freedom Theatre's history, with co-founder Juliano Mer Khamis inspired by his mother's cultural work in Jenin Camp in the 1st Intifada, both passionate that women's equality was a key part of any liberation of Palestine. Additionally, Rania Wasfi, the first female employee, joined after her fiancée was killed in the 2nd Intifada. Engulfed in grief and with little to lose, Wasfi made a bold step by joining, helping to break potential taboos and pave the way for women to become the backbone of cultural resistance in the theatre.
In 2011 Juliano Mer Khamis led a radical adaption of Alice In Wonderland, which had Alice standing up to military oppression, dictatorships and societal discrimination. A week after the final show, Khamis was murdered, causing international media to claim his assassin was someone from the camp enraged by the idea of women's liberation. This narrative is firmly disputed by those at the theatre who are familiar with Israel's history of imprisoning or killing artists who successfully portray Palestinian struggles. The consequences of both his murder and the media attention meant that participation for young women became far more complicated and difficult.
The challenges don't stop there, sadly.
As the climate crisis pushes summer temperatures consistently above 40 degrees, The Freedom Theatre's infrastructure is unable to meet the demands of both stage lighting and air conditioning, making performances sweltering. However, whilst the obstacles are endless, The Feminist Theatre Festival is a bold step to continuing Juliano's legacy and honour women, both in Palestine and globally, who are fighting for change.
With plans to turn the festival into an annual event, producer Mustafa Sheta emphasises, "We believe that by empowering each person, we grow collectively stronger and are therefore more likely to achieve the end to Israeli occupation and apartheid."
Zoe Lafferty is associate director at The Freedom Theatre in Jenin Refugee Camp, Palestine where she is currently collaborating on the global solidarity project 'The Revolution's Promise' and virtual reality film 'In A Thousand Silences'.
Source: The New Arab
https://english.alaraby.co.uk/opinion/cultural-resistance-palestine-through-eyes-women
--------
Saudi fashion designer Honayda Serafi on Harrods career breakthrough
HANADI MERCHANT-HABIB
August 17, 2022
DUBAI: From Priyanka Chopra to Lupita Nyong'o and Adriana Lima, Saudi Arabian designer Honayda Serafi has dressed many A-listers around the world. Since founding her label Honayda in 2016, Serafi has captured the attention of some of Saudi's most stylish women and celebrities with her standout designs in elegant and sophisticated silhouettes. This month, she became the first Saudi designer to showcase her collection at Harrods in London, reaching yet another pinnacle for her label.
"I feel very proud as Honayda is the first female-led Saudi label to be displayed at Harrods. The collaboration had been cooking for about eight months, and it was a pleasure working with their team on this exciting launch of exclusive pieces available only at Harrods. It is an honor to be retailing at one of the world's oldest and most prestigious department stores — but definitely, the journey is ongoing, and we are not stopping here," said Serafi.
Not only is this a major milestone for the brand, but it also serves as an inspiration for other emerging labels from the Kingdom. Since founding her brand, Serafi has always aimed to join the international fashion scene, while also aiming to inspire other female Saudi designers into believing in their potential. "I hope this brings inspiration to all talented Saudi designers. The world is full of opportunities, and there is a place for everyone. To the rising designers, I tell them to focus on their goals and to keep pushing themselves harder," she said.
The Saudi design scene has rapidly evolved in the last few years, with talent from the region being recognized internationally, especially on the red carpet. With the establishment of the Fashion Council and its initiatives like the mentorship and incubation programs, homegrown designers can access the many resources they need to advance in the industry.
"When I first started my brand, the fashion scene in Saudi Arabia was still young. I discovered every aspect of creating from my own experiences — starting from sourcing to tailoring and selling. Since then, I've seen amazing growth in the industry. By forging and implementing several programs that aim to promote Saudi fashion locally and internationally, the Fashion Commission has put a great deal into developing the sector in line with the Kingdom's Vision 2030."
Proudly wearing her Saudi heritage on her sleeve, Serafi's mission has always been to empower women through her clothes. "I believe in women empowering women. The brand was nurtured in a way to have a cause and to be one with a voice. Stepping ahead by supporting and lifting each other proves achievable when we join forces. Women know and love Honayda because they relate to it."
The starting point of every Honayda collection is based on the women who have inspired Serafi and those who have left a mark in history — be it from the past or the modern day. Her fall/winter 22 collection at Harrods is no different. Titled "A Charm from Afghan," the designs are an ode to the powerful character of Afghan women, their strength and the country's spectacular architecture.
Source: Arab News
https://www.arabnews.com/node/2144696/lifestyle
--------
Quranic Circles for Women Launched in Egypt
August 18, 2022
Awqaf Minister Mohammed Mukhtar Gomaa said the Quranic programs are held in the governorates of Al-Sharqia, Alexandria, Manoufia and Gharbia, Al-Ahram daily reported.
They are organized every week on Saturday at the women's sections of mosques and prayer rooms.
Quran exerts, teachers and memorizers as well as religious preachers take part in the Quranic events.
Gomaa said it is part of the ministry's efforts to promote the Quran, encourage Quran activists and enhance the role of women in society.
The ministry said it plans to launch similar Quranic programs for women in Cairo and a number of other governorates as well.
With the easing of the coronavirus restrictions in Egypt a few months ago, the Awqaf ministry has resumed Quranic activities and programs in mosques and religious centers across the country.
Egypt is a country in North Africa with a population of around 100 million. Muslims account for around 90 percent of the country's total population and Quranic activities are very common there.
Source: IQNA
https://iqna.ir/en/news/3480140/quranic-circles-for-women-launched-in-egypt
--------
URL: https://newageislam.com/islam-women-feminism/convicts-justice-bilkis-gujarat-riots/d/127743
New Age Islam, Islam Online, Islamic Website, African Muslim News, Arab World News, South Asia News, Indian Muslim News, World Muslim News, Women in Islam, Islamic Feminism, Arab Women, Women In Arab, Islamophobia in America, Muslim Women in West, Islam Women and Feminism