New Age Islam News Bureau
19 January 2021
• Lifting Of Hijab Ban In Southern Belgium Offers Hope For Muslim Women
• Developing Saudi Women Leadership Career Skills Quite At An Early Stage Of Their Lives
• Defending Women's Rights A Top Priority: Iran's Judiciary Chief
• Iraqi Women Carving Out Businesses
Compiled by New Age Islam News Bureau
URL: https://www.newageislam.com/islam-women-feminism/reject-march-7-referendum-ban/d/124101
--------
Reject March 7 Referendum To Ban Full Facial Coverings Such As Burqas And Niqabs, Swiss Government Urges To Voters
January 19, 2021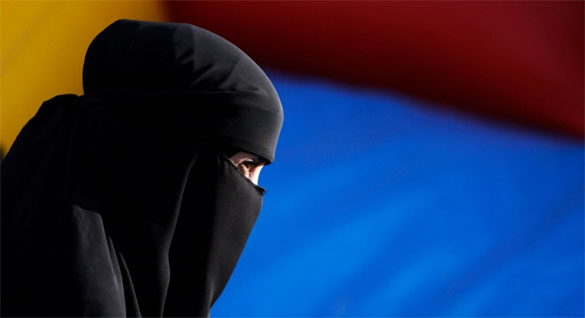 The grouping behind the proposal was also behind a 2009 move to ban the construction of new minarets, which was approved by nearly 60 percent of Swiss voters [File: Michael Buholzer/Reuters]
------
By Silke Koltrowitz
ZURICH (Reuters) - The Swiss government recommended on Tuesday that voters reject a proposal in a planned March 7 referendum to ban full facial coverings such as burqas and niqabs worn by some Muslim women, saying the move would hurt tourism.
Under Switzerland's system of direct democracy, any proposal to change the constitution goes to a popular vote if supporters raise more than 100,000 signatures. In 2009 Swiss voters backed a proposal to ban the construction of new minarets.
The Swiss cantons of St. Gallen and Ticino have already banned full face coverings in regional votes, but the Swiss government said following through with a nationwide constitutional ban was a bad idea.
"Very few people in Switzerland wear a full facial covering," the government said in a statement.
"A nationwide ban would undermine the sovereignty of the cantons, damage tourism and be unhelpful for certain groups of women," it said.
Most women who wear full facial coverings are tourists and only spend a brief time in the country, the statement added.
Montreux and other destinations around Lake Geneva as well as Interlaken in central Switzerland traditionally attract some Muslim tourists, mainly from the wealthy Gulf Arab states.
France and Denmark have also banned facial coverings, citing efforts to uphold secular values and combat discrimination against women.
Switzerland's proposal also forbids forcing somebody to wear a facial covering based on their gender.
The grouping behind the burqa ban proposal - the "Egerkinger Komitee" that includes members of the right-wing Swiss People's Party (SVP) - was also behind the 2009 move to ban minarets, which was approved by nearly 60% of voters.
Supporters of the 2009 proposal saw the minarets as alien to Swiss traditions and values at a time of growing unease over the activities of Islamist militants in Europe and the Middle East.
Muslims make up only about 5% of Switzerland's 8.6 million people, official statistics show.
The Swiss government has made a counter-proposal to the facial covering ban that would come into force if voters reject the initial proposal on March 7. This would require women wearing a facial covering to reveal their face if necessary for identification at administrative offices or on public transport.
https://www.reuters.com/article/us-swiss-referendum-face-coverings/swiss-government-urges-voters-to-reject-burqa-ban-in-march-referendum-idUSKBN29O0V7
--------
Lifting Of Hijab Ban In Southern Belgium Offers Hope For Muslim Women
January 19, 2021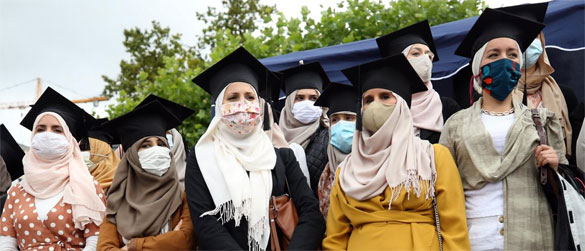 Activists, anti-Islamophobia organisations welcome the announcement regarding universities, and look forward to the lifting of bans in other institutions
-----
Activists, anti-Islamophobia organisations welcome the announcement regarding universities, and look forward to the lifting of bans in other institutions
Religious symbols, including the hijab will be permitted in universities in the French-speaking Wallonia region of Belgium starting September 2021, local officials announced, in a victory for anti-Islamophobia and Muslim women's groups who have been fighting the ban for years.
The decision was welcomed by activists and Muslim women who also acknowledged that further steps were needed to realise the lifting of similar bans across institutions and workplaces in Belgium.
"This decision was very important, and it will impact a lot of women - It will impact their decision to pursue studies, to be a normal part of society, be financially independent, and follow their dreams about what they want to to become," said Fatima Zahra Younsi, an activist who has been fighting Islamophobia in Belgium for a decade.
"Schools are an important first step, [they help create the kind of profile] that is needed in the job market. I hope this decision will influence other organisations to change their own rules regarding the hijab, I really hope companies will follow."
Until now, Belgium had banned "religious symbols", including the headscarf worn by Muslim women in their religious practice, in schools, including higher education.
"We are reversing the principle, in the name of the inclusion of the greatest number, of emancipation and the fight against inequalities," Julien Nicaise, general administrator of Wallonia-Brussels Education (WBE), a public body that manages French-speaking public schools in Belgium told local media on Saturday, adding that there will be restrictions in cases where "security is threatened or for reasons of hygiene".
"The general interest must come first. We can no longer refuse these young women on the pretext that they wear a veil, prevent them from studying. A diploma is their passport to inclusion through employment."
The announcement came after years of campaigning by anti-Islamophobia and Muslim women's rights groups in Belgium.
"I think this is a political decision, as we really made a lot of demonstrations, and it's also a social decision, as more and more Muslims in Belgium are wearing hijab," said Younsi, who is a co-founder of Collectif les 100 diplômées (100 Graduates Collective), an NGO that supports young professionals who wear the Islamic headscarf and face discrimination. She tells TRT World that her organisation has been lobbying for the lifting of hijab bans in schools and also tracking incidences of hijab bans in workplaces and public institutions across Belgium.
According to official WBE figures, higher education institutions have 50,000 students, including 20,000 in universities and 30,000 in social advancement institutions. Thus, the new decision concerns five universities, five arts schools and 29 social advancement institutions.
Although Belgium does not keep official demographic records based on religion, it is estimated that out of a population of nearly 11.5 million, over 850,000 are Muslims. Even though not all Muslim women in Belgium wear hijab, the impact of this new decision has the potential to affect a vast number of women who were previously limited in their studies and employment opportunities.
The decision was reached by consensus within the board of directors of WBE, which has representatives of all political parties.
#HijabisFightBack
The news comes after the Belgian constitutional court ruled in June that prohibiting religious symbols, including hijabs, in higher education did not constitute a violation of freedom of religion or the right to education under the Belgian Constitution and European Convention on Human Rights.
The decision was slammed by rights activists, anti-Islamophobia organisations, and women's and feminist collectives, who viewed this as a violation of basic human rights and as a discriminatory act against women.
In response, thousands went online to protest the decision using hashtags like, #TouchePasAMesEtudes (Don't touch my studies) and #HijabisFightBack. In July, over one thousand (some organisations counted several thousand) gathered in Brussels to advocate for the right to wear headscarves in universities.
Anti-Islamophobia organisations said that the court opinion could lead to the isolation of Muslims and entrench structural discrimination within the education system.
Belgium is a federal country divided into three regions: majority French-speaking Wallonia, majority Flemish-speaking Flanders, and the Brussels-Capital Region. Each region has its own government and legislative body, which decide upon housing, education policy, the economy, and other public matters.
There is still no federal legislation that protects the right of Muslim women to wear the headscarf in universities across Belgium.
At the same time, headscarf bans in universities are not widespread. Several higher education institutions, including the prestigious KU Leuven and Free University of Brussels (VUB) stated in July that they welcome students "regardless of gender, origin or social status, with or without a headscarf."
However, Belgians did not hear similar statements from universities in Brussels or Wallonia, according to Younsi.
The Islamic headscarf is a contentious issue in many European countries, most notoriously in France, where the government has been criticised over the decades for discriminatory and marginalising policies against Muslim women in the name of laïcité (secularism). Studies have shown that anti-Muslim hate crimes overwhelmingly target women. In Belgium, for instance, a recent report found that 9 out 10 victims of Islamophobia were women.
"I have been receiving so many messages from girls wearing hijab saying, 'Now I can pursue this program,' or 'before I was thinking of not doing it, as the hijab is forbidden,'" says Younsi.
"Economically, it will make sense to open school for everyone, no matter their belief. It just makes sense."
https://www.trtworld.com/magazine/lifting-of-hijab-ban-in-southern-belgium-offers-hope-for-muslim-women-43365
--------
Developing Saudi Women Leadership Career Skills Quite At An Early Stage Of Their Lives
January 18, 2021
Azhar Ali Gawarir
Eventually, Saudi women have made significant strides in the country's workforce, indicating how the Vision 2030 has borne fruits. The women have defied all odds to become substantial players in the running of organizations.
Princess Reema Bint Bandar Al Saud's life story is a perfect illustration that voices the need to support women's entry into their professions at an early age. Doing so helps them develop skills that would eventually lead them to leadership positions. Princess Reema, at a younger age, in a strange career for women, started (Yibreen) that offered women gym services.
Over the years, she nurtured the leadership skills that have enabled her to serve in different leadership positions. She remains one of the decorated women leaders, having served as CEO for Al Hama and Alfa International. Her excellent leadership earned her an appointment as an ambassador, reaffirming how molding women skills would help make them good leaders.
Amal Yahya Al-Mouallimi offers another similar story for women in leadership. After years of practice as a trainer, Amal has ascended to the position of an ambassador in Norway. Her breakthrough serves as a reminder that women have the potential in leadership.
Before appointment to this plum job, Amal developed her skills when serving as director-general in Human Rights Commission (HRC). She also worked in the National Dialogue Center as an assistant secretary-general. These were significant stepping stones that helped prepare her for an ambassadorial role.
Undoubtedly, Saudi Arabia can increase women's representation in leadership positions by supporting them right from their youthful years. Offering women opportunities at an early age provides them with platforms to develop skills and knowledge needed in leadership. Such a strategy will help the country improve diversity in leadership.
‪— Azhar Ali Gawarir is a PhD Researcher at the University of Brighton in the UK. She can be reached at: ‪Azharalim@hotmail.com Twitter: @AzharA15
https://www.saudigazette.com.sa/article/602627/Opinion/Voices/Developing-Saudi-women-leadership-career-skills-quite-at-an-early-stage-of-their-lives
--------
Defending Women's Rights A Top Priority: Iran's Judiciary Chief
January 18, 2021
Speaking at a meeting of the Supreme Council of Judiciary on Monday, Raisi said, "We have taken measures to introduce a bill to ensure the security and dignity of women and have submitted it to the government".
The Judiciary chief made the remarks on the occasion of the martyrdom anniversary of Fatemeh Zahra (SA), the daughter of Prophet Mohammad (S) and the wife of Imam Ali (AS), the first Shia Imam.
He asserted that "the Quran, humanity, justice, and the first Imam of Shia are four central points of Fatemeh Zahra's speeches, and are sufficient to indoctrinate the people and guide the individuals toward the salvation."
By depicting the life of Fatemeh Zahra (AS) as the best example of unity and coalition building in the Islamic society, Raisi said, "Britain's narrative about Shia Imams in the frame of Hollywood's illusion will lead to division, however, we don't acknowledge neither the extremist view of woman as an isolated person nor the Western view of woman as a commodity".
He added, "An excellent woman, as Fatemeh Zahra (SA), is God seeking, selfless, the main part of family, and influential in the society in a way that she plays a key role in politics and society."
In his point of view, the top judge said, women, have a "vital role to know the enemy, to encounter adversary, to resist suppression, and to defend Velayat (rule of supreme jurisprudent)."
'Progress in production of Iranian vaccine'
The Judiciary chief also appreciated the efforts of Iranian physicians to contain Covid-19 pandemic, saying, "The production of vaccine is a valuable measure which can immunize the public against the virus."
He added, "When the Barakat Foundation and Execution of Imam Khomeini's Order decided to produce the Covid-19 vaccine, the enemy got furious and expressed his irritation by imposing sanctions on the foundation and Astan Quds Razavi."
The senior judge pointed to the word of Ayatollah Beheshti who has said, "America, be angry with us and die from this anger."
He believes that "the great steps taken by Iranian specialists to produce the Covid-19 vaccine are a source of authority and power which visibly made the enemy furious."
https://www.tehrantimes.com/news/457082/Defending-women-s-rights-a-top-priority-Iran-s-Judiciary-chief
--------
Iraqi Women Carving Out Businesses
January 17, 2021
BAGHDAD -- Fatima Ali was in her final year studying to become a medical analysis specialist when Iraq imposed a full lockdown in March. Forced by a raging pandemic to stay home, she spent her days on social media, looking for something to do with her time.
Then an idea came to her: Six years ago, visiting America on a young leaders exchange program, she and other students toured a Vermont cheese factory where aged cheese platters were displayed on wooden boards so inviting they looked like paintings.
"I liked it ... I said to myself, why not be the first to do it in Baghdad?" She took a free online business course, and researched cheeses and wooden plates available in the Iraqi capital.
Months later, 22-year-old Ali is successfully marketing her cheese boards, making a small but steady income and garnering more than 2,000 Instagram followers.
A growing number of Iraqi women are using pandemic restrictions to establish home-based businesses. It's a way to bypass discrimination and harassment that often come with working in Iraq's male-dominated, conservative society -- and bring in extra income as the economy worsens.
On a recent day in her kitchen, Ali cut up and arranged cheeses, dried fruit and nuts as she talked about her further dreams. She wants to go to culinary school abroad and one day open a school in Iraq for those "who have passion for cooking, like me."
"This is just the beginning. I'm still developing myself," she said. The slogan on her purple t-shirt declared, "You Have to Love Yourself."
Rawan Al-Zubaidi, a business partner at an Iraqi nonprofit organization that supports startups and young entrepreneurs, said there's been a noticeable increase in home-based businesses since the pandemic's start, including women making food deliveries, sweets, accessories, crocheting and embroidering.
"It represents a solution to obstacles that Iraqi women face when trying to find a job," she said, citing women whose husbands or fathers won't let them work, unsupportive male colleagues, discrimination and lack of career growth opportunities.
"Some Iraqi women can't find a job because conservative families or husbands consider that women talking directly with other men on the job will bring shame on them," Rawan said.
Women's labor force participation in Iraq is particularly low. As of 2018, only 12.3% of women of working age were employed or looking for work, according to the United Nations.
Tamara Amir, who manages a Facebook page to educate Iraqi women about their rights, said she receives dozens of calls each day from women facing sexual harassment at work. Often, they report feeling they have to give their male boss "something in return" to get a job or advancement.
Ali's parents have been supportive of her home-based business, which she says is more secure and means she does not have to go outside and mix with people. Her mother helps her prepare her products, and Ali teamed up with a popular delivery app.
At first, she received two orders a week maximum. Now she can barely keep up with the multiple orders she gets every day.
Mariam Khzarjian, a 31-year-old Iraqi-Armenian, worked as an executive assistant in an engineering company for seven years. She quit in late 2018, feeling her career was going nowhere and started her own home business selling handmade accessories inspired by her ancestors, who used to work as carpenters.
She called her business Khzar -- Armenian for the art of cutting metals and woods -- with the slogan "wear a story," since Khzar designs are based on telling stories and building emotional communication with the clients.
She got off to a slow start. Distractions got in the way. But the pandemic forced her to focus, working on new designs and techniques during curfews. The move toward online shopping helped her business take off in a way she could not have imagined.
"Online became the only way to reach clients, and they in turn became more loyal and more confident about my art, because they are buying something without trying it," Khzarjian said.
"Corona is terrible, but for those able to take advantage of the internet and build connections with customers, it had its positive side," she said.
Sara al-Nedawi, 23, studied business administration and has tried to find a job for months.
"One day I sent my CV to a company, and they texted me to ask if I was pretty and whether I wear the hijab or not," she said, referring to the headscarf worn by some Muslim women. Someone from another company she applied to called her to get more information, then told her she has a lovely voice and asked for a photo.
Now she is trying to start a home-based food-catering business but lacks the capital.
"I need to work first to collect enough money," she said.
https://www.nwaonline.com/news/2021/jan/17/iraqi-women-carving-out-businesses/
--------
URL: https://www.newageislam.com/islam-women-feminism/reject-march-7-referendum-ban/d/124101
New Age Islam, Islam Online, Islamic Website, African Muslim News, Arab World News, South Asia News, Indian Muslim News, World Muslim News, Women in Islam, Islamic Feminism, Arab Women, Women In Arab, Islamophobia in America, Muslim Women in West, Islam Women and Feminism