New Age Islam News Bureau
25 Aug 2019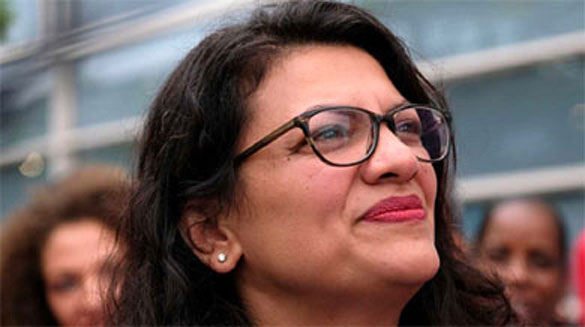 Rashida Tlaib, US Muslim Congresswoman
-----
• This Is A Good Time To Be A Saudi Woman
• Educated Women In Astara Traumatized By Low Wages
• Sindh Cabinet Approves 'Historic' Bill Recognising Women Farm Workers' Contribution
• 'I Want People to See Me as a Wrestler, Not Just Some Hijab Girl'
• NYC Women Plead Guilty To Plotting Terrorist Bombing
• Dar Amneh, the Safe House for Jordanian Women
Compiled by New Age Islam News Bureau
URL: https://www.newageislam.com/islam-women-feminism/rashida-tlaib-muslim-congresswoman-calls/d/119559
--------
Rashida Tlaib, US Muslim Congresswoman, Calls Trump 'White Supremacist' Who Is 'Afraid Of Women of Colour'
Aug 25, 2019
US Muslim Congresswoman Rashida Tlaib has described American President Donald Trump as "a white supremacist" with "a hate agenda," further insisting that he is "afraid of women of color" following Trump's recent derogatory attacks on her and fellow Muslim and African American lawmakers.
"It's been very clear to me, especially this last week, that he's scared of us," said the Democratic lawmaker from the state of Michigan in an interview published Saturday by UK-based daily The Guardian, referring to herself along with fellow African-American Congresswomen Ilhan Omar of Minnesota, Alexandria Ocasio-Cortez from New York and Ayanna Pressley of the state of Massachusetts, who have become known as "the Squad" for their persistent criticism of Trump's unyielding anti-immigrant and often racist political rhetoric.
"He's afraid of women of color … because we're not afraid of him and we're not afraid to speak up and say that we have a white supremacist in the White House who has a hate agenda," the native-Palestinian congresswoman further emphasized.
"He's afraid because we have a real agenda for the American people," Tlaib then explained, noting that many of the progressive ideas she and her congressional allies are pursuing – such as strengthening civil rights, ending corporate control of government, eliminating student debt, Medicare for All, and taxing the rich – are popular not just with Democrats but also with independent MPs and even some Republican representatives as well.
'Trump has failed as president'
"He can bring it," Tlaib added, "because we actually have policies that came from the people. What he's doing by choosing us four as his target is trying to distract folks from the fact that more people are living in poverty than ever, because he has failed as a president."
The US president, meanwhile, appears to be bent on portraying Tlaib and her congressional allies – all in their first term in the US House of Representatives – as Democrat party leaders.
"She and her [three] friends are the new face of the Democrat [sic] party," Trump wrote in a Twitter post last Tuesday, adding: "Live with it!"
Tlaib further underlined that she was confident Trump's time in office was limited, arguing that he does not seem to realize the Squad is much larger than the four minority lawmakers in Washington and that it includes all the women in the freshman class who come from diverse backgrounds, have overcome challenges, and are up in front of Congress asking "Why?"
'We can defeat not just racism but systemic oppression'
It's that Squad and the American people who are standing up to Trump, she also emphasized, saying: "I really believe that when we work together, we can defeat this type of hate and the attacks on our families – not just racism, but systemic oppression."
Tlaib's remarks came shortly after Trump disrupted a planned visit to occupied Palestinian territories by her and fellow Muslim Congresswoman Ilhan Omar by urging the Israeli regime to block the official tour. The US president then taunted and repeatedly insulted the Michigan lawmaker, calling her obnoxious, violent and crazy.
After Tlaib wept during a press conference, Trump further tweeted that he did not "buy her tears," also accusing her of "anti-Semitism."
These were only the latest salvos in an ongoing political scuffle between Trump and Congresswomen Tlaib, Omar, Ocasio-Cortez and Pressley, the four progressive Democrats who together make up "the Squad."
Meanwhile, the powerful pro-Israel lobby in the US and some conservative Michigan Jews who do not even live in Tlaib's district intend to interfere in her 2020 re-election campaign. They consider her as vulnerable because she represents a majority African-American district and narrowly defeated a black candidate by only 900 votes in the 2018 primary. The pro-Israel lobby plans to support an African-American challenger to prevent Tlaib's re-election.
https://www.presstv.com/Detail/2019/08/25/604398/US-Congresswoman-Rashida-Tlaib-President-Donald-Trump-women-of-color-white-supremacist-the-Squad
--------
This Is A Good Time To Be A Saudi Woman
August 24, 2019
Tariq A. Al Maeena
This is a good time to be a Saudi woman.
Ask anyone of them whether it is so, and most will reply with a resounding 'Yes'! The few that may hesitate to answer may not be aware of the many changes in the laws of the country pertaining to their rights.
Yes indeed, Saudi Arabia is moving full speed ahead in its goals to strip away our society with the many shackles that had held it in bounds for decades. A trip down memory lane is fraught with events that bordered on the preposterous as almost every aspect of Saudi society was governed by strict and extreme views of powerful clerics who issued ruling edicts on just about everything.
Those of us old enough to have experienced those repressive years today wonder why so much energy that went into debates in the past had not been put to productive use which would have seen the kingdom move at a much faster pace than it did. Energy wasted indeed, and all it did was to delay the clock of progress.
Look around, and the countries bordering Saudi Arabia took off and ran with everything they got and soon stamped their mark globally. Who on earth, for example, has not heard of the wonders of Dubai, a city that not more than 20 years ago was unheard of among the ranks of Tokyo, Hong Kong and Singapore? Today these cities are a vibrant centre of economy and tourism, opening up their borders to welcome one and all.
The Saudis of yesteryear, on the other hand, had made it very difficult for visitors except for religious and business purposes, and tourism and foreign tourists were something unheard of. Monikers such as 'the closed kingdom' propped up when foreign writers had anything to say about this country and it remained so for decades.
Change inevitable
But change was inevitable and indeed it started to manifest itself through the energy and drive of a youthful crown prince who had bitterly and publicly decried the effect of extreme religious practices on the country. Vowing to change all that and with the support of his father the king, the crown prince set into motion a series of changes to existing laws and practices that have been undeniably and overwhelmingly accepted by an appreciative public long held hostage by stifling rules of conduct.
When he defined his plans for Vision 2020 and Vision 2030, Crown Prince Mohammad Bin Salman was astute enough to recognise that for those visions to materialise, he would have to act on the pervading influence of religious dogma on Saudi society and he began clipping the powers of the previously powerful Commission for the Promotion of Good and the Prevention of Evil (the feared religious police) who had taken control of every aspect of Saudi society.
Suddenly, the iron curtain began to waver as a young public eagerly welcomed the initiatives set forth by the Crown Prince. Much of what was previously unthinkable soon became a reality as 2018 saw major shifts in Saudi culture and traditions.
The government announced that men and women could attend many of the entertainment fixtures being introduced. The laws governing gender mixing were eased gradually. This was followed by an announcement that female residents of the country could attend sporting events such as soccer games along with males in key stadiums across the metropolitan cities. Cinemas, previously seen as taboos and the 'workplace of the devil' were introduced across major cities.
But perhaps the biggest and sturdiest of curtains that the prince brought down was the ban on women driving in the kingdom, a ban that set it apart from all nations in the world. Today, hundreds of thousands of Saudi and foreign women enjoy that right that was denied to them for so long.
And it doesn't stop there. This past week, Saudi women went to the passport offices and after completing required formalities, received their passports without the need to have a male 'guardian' present or approving of their actions.
Not only that, many of the women immediately took off to foreign lands to exercise their right to travel freely and enjoy a bit of vacation as well. They no longer needed the permission of a male. According to Saudi passport authorities, more than a thousand Saudi women have availed of the opportunity this past week alone. Yes indeed. It is a good time to be a Saudi woman or a man for that matter.
— Tariq A. Al Maeena is a Saudi socio-political commentator. He lives in Jeddah, Saudi Arabia. Twitter: @talmaeena
https://gulfnews.com/opinion/op-eds/this-is-a-good-time-to-be-a-saudi-woman-1.65967888
--------
Educated Women In Astara Traumatized By Low Wages
Aug 25, 2019
Unemployment is rampant everywhere in Iran and wages do not match market prices, but in Astara the wage gap between men and women is unbelievable. This situation is particularly harsh on educated women.
Astara is a city and capital of Astara County, Gilan Province, Iran. It lies on the border with Azerbaijan Republic and on the Caspian Sea. It is a relatively important border trade center between Iran and the Caucasus.
Recently, the educated women in Astara described their job and income status in an article published in the state-run Salamat News Website.
One of the women with a master's degree said, "I have been working for a month. My salary is 400 thousand tomans (approx. 120 USD). My co-workers are only getting 300 thousand tomans (approx. 90 USD). They give me 100 thousand tomans more because I have a master's degree."
A teacher at a nonprofit school in Astara said the wages of all of her colleagues is the same, not just in schools, but in other jobs as well. If a woman in Astara earns one million tomans (approx. 300 USD) it would be considered her dream salary!
One of the reasons women have to work with such low salaries is because they do not want to stay at home or be isolated. Employment in this city is almost impossible because the departments do not have the capacity to recruit. Women have complained about their low wages many times but have gotten nowhere.
There is a beach market in Astara with many booths and shops run mainly by women. Some own booths and some are sellers.
One educated woman with a bachelor's degree in information technology is a women's clothing retailer who earns only 700 thousand tomans (approx. 210 USD) a month. In terms of her job she said, "If someone is a beginner, they only get between 400 – 500 thousand tomans. I work from 9 am to 10:30 pm every day. I don't even go home for lunch. At first, I was getting 400 thousand tomans but my salary gradually increased to 700 thousand tomans. I have no holidays, it's very hard. The market is even more crowded on weekends, and I have to come to work."
Another educated woman works by the seaside market. She gets 600 thousand tomans a week. She said, "That's how the wages here are. One should not expect more. We women have accepted these wages so much that it has become clear for us that it is what it is. Men will never accept such wages, that's why they have higher salaries."
Maryam Tousheh, a social activist with a bachelor's degree in geography, says that many educated women in Astara are unemployed. Regarding the situation of women in the city she said, "Women have to lock themselves in the house and stay in the margins. Look around this park and see how masculine the space is! You can't even see one woman here. Men are often able to travel to other cities to find jobs, but women don't have that kind of opportunity."
The situation of wages for women in Astara is deplorable. Some women work for little as 150 thousand tomans a month. There are people who teach employers ways to bypass women. For example, they want women to sign low-income contracts. Then they justify their actions in the department based on that contract and the protesting women have nothing to say.
Of course, women in Astara are not the only women in Iran who earn low wages and work in unequal conditions. Female vendors who have college education and are seen in subway coaches or city crossroads face the same inequality. These are educated women who want to use their expertise and education in the right place but are forgotten and their voices are nowhere to be heard. (The state-run Salamat News Website – August 17, 2019)
Rouhani's deputy in women and family affairs, Masoumeh Ebtekar gave a more general picture of the situation and said, "The overall statistics say that unemployed educated females are two to three times higher than unemployed educated males." (The state-run ISNA news agency – February 12, 2019)
The mullahs' regime announced in 2015 that the unemployment rate for educated women was 85.9 percent. (The state-run Mehr news agency, January 5, 2016) Given the economic downturn and rising unemployment in the country, one can only guess how much this figure has increased.
On women's employment in Iran, the official Iran Estekhdam website wrote on April 4, 2016, "Women's employment in Iran is insignificant compared to developing countries. Women are constantly denied the right to work and are generally employed in informal, low-paid sectors."
Before the 1979 Revolution, women's participation in the labor force was 12 percent. The World Bank put the average value for Iran from 1990 to 2017 at 14.21 percent with a minimum of 9.83 percent in 1990 and a maximum of 19.41 percent in 2005. While Iran's population and consequently the population of women has more than doubled since 1979.
https://women.ncr-iran.org/2019/08/25/educated-women-in-astara-traumatized-by-low-wages/
--------
Sindh Cabinet Approves 'Historic' Bill Recognising Women Farm Workers' Contribution
August 25, 2019
KARACHI: The Sindh cabinet on Saturday approved the Sindh Women Agriculture Act 2019 aimed at empowering the women of the rural swathes of the province.
"Chief Minister Syed Murad Ali Shah has called the drafting and approval by the cabinet of the Sindh Women Agriculture Workers Act 2019 a historic moment," Information Minister Saeed Ghani said while briefing reporters about meeting of the Sindh cabinet presided over by the CM.
During the meeting, the chief minister said the cabinet approved the bill in accordance with the vision of the chairman of the Pakistan Peoples Party to provide social security to women agriculture workers.
Minister Ghani said the chief minister was of the view that although their role was not being recognised appropriately, rural women were central to Sindh's predominantly agro-based economy.
The minister said the act would be presented before the provincial assembly within a week.
After the passage of this act, rights of women agriculture workers would be safeguarded, he said, adding that the act provided that those affiliated with cultivation, fisheries, poultry and animal husbandry would be considered agriculture workers, who would enjoy rights equal to workers in industries etc.
"The law would also permit these workers to seek assistance from the endowment fund of the Benazir Income Support Programme."
A woman worker shall receive a written contract of employment if she so demands. The new law also gives the right to woman workers of collective bargaining, social welfare, including child health, community development, economic profit and for accessing publicly supplied goods and services.
Minister Ghani said the cabinet also discussed formation of the Benazir Women Support Organisation under the labour department with an endowment fund to provide technical and financial assistance to women workers.
To simplify the process of purchasing essential medicines for the health facilities in Sindh, the cabinet formed a committee comprising the ministers for excise and taxation, and agriculture, and the adviser to chief minister on law. He said medicines available with the health ministry would immediately be provided to the healthcare facilities across the province.
Medical college staff regularisation
The cabinet also approved regularisation of staff and faculty members of the Khairpur Medical College keeping in view their qualification and age limit.
The minister said the cabinet decided to give the charge of the executive director of the Shaheed Mohtarma Benazir Bhutto Trauma Centre to a grade 20 medical officer. He said now the management board of the teaching hospital would function under the vice chancellor of the medical university concerned, who would preside over meetings of the board.
No flood emergency
He said the meeting was briefed that at present there was no flood emergency in Sindh and the situation was in total control.
The water flow at Guddu Barrage upstream was recorded at 274,000 cusecs against a discharge of 241,000 cusecs.
The meeting was told that all right-bank and left-bank dykes were being carefully looked after and spurs had been constructed at the old Tori dyke.
The cabinet approved the formation of a 14-member governing body of the Sindh Employees' Social Security Institution.
Minimum wage board
Minister Ghani said the cabinet approved the establishment of the Sindh Minimum Wage Board.
The cabinet decided to form an advisory council for empowerment of disabled persons. Minister for special education would head the council.
He said the meeting approved the formation of an Information and Technology Board. The minister said an IT Advisory Committee would also be formed.
The chief minister formed a committee comprising the ministers for excise and taxation and mines and minerals, the adviser to the CM on law, and the secretary for finance and general administration for the establishment of an information and technology board.
Food fortification bill
He said the cabinet showed serious concern over the alarming malnutrition in the province and approved the Sindh Food Fortification Bill 2019.
Half of the women and children are far below the acceptable levels of nutrition. Iron, folic acid, iodine, zinc, vitamins A and B are major micronutrient deficiencies. The poor nutrition in childhood has profound effects on immunity, growth and cognitive development.
The cabinet was told that food fortification pertained to the addition of key vitamins and minerals, for example iron, folic acid, zinc, vitamin B-12, iodine, vitamin A and D staple foods to prevent nutritional deficiencies.
The minister added that the cabinet agreed to exemption of registration and stamp duty for Dawat-i-Hadya — a charity being run by the Bohra community.
The minister said the cabinet formed a committee comprising the ministers for forest and mines and minerals, and the adviser to CM on climate change to present a draft of sustainable forest policy in 15 days.
The cabinet also formed a committee to look into the use of water for irrigation by the Sindh Engro Coal Mines comprising the ministers for irrigation and energy and the adviser to CM on climate change. The committee would present its recommendations in the next cabinet meeting.
The cabinet approved the Sindh Safe City Authority Bill 2019 as the authority would be headed by an officer from the police department.
The provincial cabinet established a cabinet committee on legislation comprising the minister for parliamentary affairs and the adviser to CM on law.
He said the committee would look into matters pertaining to private bills.
Karachi's issues
Answering a question, Mr Ghani said the Sindh local government minister had briefed the Federal Minister Ali Zaidi in a letter on the Clean Karachi drive.
He said garbage of the city could be dumped at designated landfills only. Parks, grounds and other open spaces were not meant for it.
Answering another question, he said those "conspiring" against the PPP, which ruled Sindh, should learn from the recent results of a by-election in Ghotki.
He said the money submitted in the apex court by the management of Bahria Town belonged to the Sindh government and not the federal government.
Mr Ghani said the federal government, as it had promised earlier, should pay 50 per cent of the total cost for the S-III and K-IV projects.
Besides, he demanded 1,200 cusecs of water be immediately made available exclusively for Karachi.
https://www.dawn.com/news/1501437/sindh-cabinet-approves-historic-bill-recognising-women-farm-workers-contribution
--------
'I Want People to See Me as a Wrestler, Not Just Some Hijab Girl'
by Sohail Malik
August 25, 2019
At 19, Nor "Phoenix" Diana has only been performing for three years but has already made a significant impact in the world of professional wrestling.
The first woman to wrestle in a hijab, a headscarf worn by some Muslim women, she captured her maiden championship in Malaysia Pro Wrestling and has recently performed in the Philippines.
"I have a goal to wrestle in WWE," she told Al Jazeera, referring to World Wrestling Entertainment. "I think I can bring something to the wrestling industry. I want people to see me as a wrestler, and not just as some Muslim hijab girl.
"I started watching wrestling when I was 14 with my father and little brother as they were fans. I eventually became a fan too, and started thinking, 'Hey, I want to do that one day,'."
When she finished high school in 2016, she started searching for a place to get her in-ring training under way.
She enrolled in a wrestling school in the Kampung Baru, a Malay enclave in central Kuala Lumpur.
But not everyone at home was comfortable with her ambitions.
"My dad has always been supportive, but my mum doesn't really support me. I'm her youngest daughter," she said. "She knows wrestling has a high risk, and is afraid that I'll get injured easily."
Despite her concerns, Nor's mother didn't stand in the way.
Nor's coaches were so impressed with her acrobatic style that she debuted in the ring two months after starting her training.
Initially, reluctant to wrestle in the standard hijab, Nor, five feet tall and weighing less than 50kg, wore a mask to accommodate her religious beliefs.
She made the switch in 2018.
"When I started I was always worried that I don't belong in wrestling as I wear a hijab. I was worried what people would say about a Muslim girl wrestling. But I always trained in my scarf, and I started feeling more comfortable and confident, and decided to wear it to the ring. My bosses were really supportive of my decision."
Some people on social media have criticised her, saying Muslim women should not be involved in rough sports.
But on the whole, her choice hasn't hindered her progress.
That's not surprising to Malaysian sports commentator Abu Bakar Atan, who said that, within the Malaysian context at least, a woman wrestling in a hijab is not something out of the ordinary.
"It is not uncommon in Malaysia, where a number of female athletes wearing hijab have had a lot of success locally and internationally. For example, Aifa Azman is the British Open junior squash champion, while Siti Rahmah Mohamed Nasir is a multi-time silat martial arts world champion.
"The number of female athletes wearing the hijab is notable in Malaysia these days as they practice their religious belief without much issue. It's not a social taboo."
Nor hopes her example will encourage more girls to take up wrestling and other sports.
Malaysian wrestling fan Eli, a 27-year-old who also wears hijab, said Nor is an already inspiration.
"She is so young and she is already a champion. That inspires me to follow my dreams, and follow my passion," she told Al Jazeera. "It's not just me. What she is doing helps women's empowerment and helps veiled women in Malaysia to strive for their goals."
In the US market, female players in the mainstream wrestling scene compete in lavish and often revealing ring gear.
However rather than this being an issue, Nor's look will help her stand out, said Ring Magazine reporter Ryan Songalia.
"The worst thing that could happen to a wrestler is to be forgettable," he said. "There was probably a time when her look might have been a hurdle, but I think that time has passed.
"Major companies like WWE have a more diverse roster than ever before. And the business has gone global in a way that opens many new markets, so it'd be an asset to a US-based company looking to tap into those new audiences."
Nor has already received support from within the WWE locker room.
WWE Superstar Ali, an American of South Asian heritage whose real name is Adeel Alam, told Al Jazeera that he was "beyond impressed" with Nor and believes she has a bright future.
"She's breaking down barriers. She's inspiring athletes across the globe that a hijab doesn't limit or define them. She's 'normalising' the hijab, something many people don't understand. I can totally see her making it to WWE," he said. "Can you imagine the influence she would have on a global stage like that? I'm rooting for her, I really am."
Back in Kuala Lumpur, Nor knows she still has some way to go before making it to the elite level.
In the meantime, she remains focussed on refining her skills and raising the profile of pro-wrestling in Southeast Asia.
But if she continues on her current trajectory, it's difficult to see anyone stopping the Phoenix from rising.
https://www.aljazeera.com/indepth/features/people-wrestler-hijab-girl-190821115657207.html
--------
NYC Women Plead Guilty To Plotting Terrorist Bombing
August 25, 2019
Two New York women pleaded guilty on Friday to charges they studied how to make bombs for a terrorist attack on U.S. soil., federal prosecutors said.
Asia Siddiqui, 35, and Noelle Velentzas, 31, were "inspired by radical Islam" and taught each other chemistry and electrical skills necessary to build explosives and detonating devices, Assistant U.S. Attorney John Demers said in a statement. The women also researched how to make plastic explosives and car bombs to carry out attacks similar to the Boston Marathon and Oklahoma City bombings, as well as the 1993 attack on the World Trade Center, authorities said.
Siddiqui and Velentzas pleaded guilty in Brooklyn federal court to one count of teaching and distributing information pertaining to the making and use of an explosive, destructive device, and weapon of mass destruction, intending that it be used to commit a federal crime of violence. The women each face up to 20 years in prison, but the term could be shorter under sentencing guidelines and with credit for the more than four years they've already been behind bars awaiting trial. They are due to be sentenced in December.
"Velentzas and Siddiqui were intent on waging violent jihad here in the United States, researching at length historical terrorist attacks on U.S. soil, educating themselves on how to turn propane tanks into explosive devices, and dreaming up plans to kill Americans on our own turf," FBI Assistant-Director-in-Charge William F. Sweeney Jr. said in a statement.
The pair were arrested in 2015 as part of a sting operation in which a New York Police Department officer working undercover wore a wire and posed as a convert to Islam. The pleas ended the prospect that the women's trial would provide a rare glimpse into how the NYPD uses informants and undercovers to smoke out Islamic extremists - a method long criticized by civil rights groups who say it risks luring harmless people into phony plots. Police officials had expressed concern that the officer's cover could have been blown if she had to testify.
"In an effort to implement their violent, radical ideology, the defendants studied some of the most deadly terrorist attacks in U.S. history, and used them as a blueprint for their own plans to kill American law enforcement and military personnel," U.S. Attorney Richard P. Donoghue said in a statement. "Thanks to the tireless work of law enforcement, they were stopped before they could bring their murderous plans to fruition."
The women used the teachings of radical jihadist Samir Khan, who was a prominent member of Al Qaeda but is now deceased, as inspiration for their plots. Federal prosecutors say Siddiqui submitted writings to the magazine.
Similarly, Velentzas "espoused violent rhetoric, praising the attacks of Sept. 11, 2001, and stating that being a martyr through a suicide attack guaranteed entrance into heaven." She also specifically singled out government and law enforcement targets stating, "you go for the head" when you commit a terrorist attack.
"This investigation and the subsequent guilty pleas are yet another example of how each day the NYPD and members of the Joint Terrorism Task Force remain vigilant and relentless in their efforts to protect New York City and keep America safe," NYPD Commissioner James P. O'Neill said. "I want to commend our law enforcement partners and the U.S. Attorney's Office for the Eastern District for helping to bring these individuals to justice."
https://www.foxnews.com/us/2-queens-women-plead-guilty-to-terror-charges
--------
Dar Amneh, the Safe House for Jordanian Women
Roufan Nahhas
24/08/2019
AMMAN - A safe house for women at risk of being victims of so-called honour killings by relatives is providing a lifeline to those in danger.
A reported 17,426 women in Jordan were exposed to violence from 2013-18 and 7,288 cases were reported in the first six months of 2019, officials said. There were 89 reported cases of women being killed in 2018, compared to 127 in 2017 and 133 in 2016. So far this year, 12 women and six children have been victims of their families. Most of the reports involved honour killing.
Dar Amneh — "Safe House" — aims to abandon the concept of "protective custody" and integrate at-risk women into an environment more like a family home until it is safe for them to resume their normal life.
"The opening of the guest house for women is an important step for Jordan because, for the longest time, women were threatened to be killed by their families for reasons such as honour killing and were placed in prison under protective custody, sometimes for years," activist Rana Husseini said.
"The measure was taken to protect the women from their families who, as a cultural thing, want to cleanse family honour. A male's actions will not greatly affect or hurt his family's standing like a woman's actions would."
Husseini, whose book "Murder in the Name of Honour" focused on women killed in crimes she reported about, said: "The good thing about the safe house is that women feel at home and do many activities. The most important thing is that they don't see themselves in prison but more of a temporary home until their situation is solved."
Dar Amneh is very similar to other walled villas on the outskirts of Amman, with several apartments that include kitchens and children's playrooms that can accommodate 40 women. However, security concerns are handled seriously, starting with a ban on mobile phones in case there are apps that use GPS or social networks with check-in capabilities
"Before the establishment of Dar Amneh, women were exposed to what is legally referred to as 'protective custody' in which they were placed in the Jwaideh Women's Correctional and Rehabilitation Centre for indefinite periods, which sometimes exceeded 10 years," said Mahmoud al-Harout, director of Juvenile and Community Security.
"Since [Dar Amneh] opened, women have the opportunity to stay and receive psychological, legal, social, medical and recreational services until they decide to leave after the threat has ended and that their lives are safe again. Dar Amneh is a place to reconnect women with their families and not to punish them," he added.
The World Health Organisation estimates indicate that about 35% of women experienced either physical or sexual intimate partner violence or non-partner sexual violence in their lifetime.
The United Nations defines violence against women as "any act of gender-based violence that results in, or is likely to result in, physical, sexual or mental harm or suffering to women, including threats of such acts, coercion or arbitrary deprivation of liberty, whether occurring in public or in private life."
Harout said Dar Amneh plays an important role in protecting women threatened by their families for reasons such as disapproved behaviour, allegedly bringing shame to the family through illicit relations, involved in sexual acts or behaviour seen by relatives as related to "honour."
"Staff members, who have gone through several training courses, have been instrumental in making life easy for the women here," he said.
"The house provides food, clothing, training and rehabilitation services, physical and psychological recovery, health and guidance education, legal assistance to the beneficiary and seeking to solve their problems in line with the principles of human rights in coordination with related entities."
He said Dar Amneh works with the public sector and civil society to provide suitable work opportunities for its residents.
The Jordanian Ministry of Social Development said it sponsors an annual average of 515 abused women, 130 children exploited by their family to become street beggars, 86 girls abused by their social environment and 77 girls accused and convicted of breaking the law.
The Sisterhood Is Global Institute NGO commended Dar Amneh as "an important step towards the end of the protective custody of women and girls subject to violence and threats."
The Jordanian National Commission for Women, led by Jordanian Princess Basma bint Talal, labelled Dar Amneh a success.
"Opening a safe guesthouse with systematic standards complies with the conditions for the promotion of human rights in Jordan," the commission said in a statement. "The provision of social and psychological care coupled with economic empowerment programmes will reduce the women's psychological burden and restore their confidence in themselves in a healthy manner."
Social media play a major role in the abuse of women. In 2015, a study indicated that 60% of women were abused by their husbands because of using social networks. Rumours often lead to the killing of women out of suspicions.
In 2003, a Jordanian has confessed to cutting his sister's throat and stabbing her 20 times because she was rarely home. In 2017, a divorced 43-year-old woman was killed by her 25-year-old brother and, in the same year, an 18-year-old killed his sister while she was sleeping after the brother found a mobile phone that belonged to his sister and that the family didn't know about.
The Prevention of Crimes Act No. 7 of 1954, which gives governors authorities to detain people administratively, was designed to arrest people to prevent crimes but also for women who are arrested because of family issues and are in danger of becoming victims of "honour crimes."
Since last September, Dar Amneh has received 60 women as an alternative to protective custody. Twenty-five of the women have been returned to their families.
Harout said the absence of the role of the family coupled with a lack of psychological health care are the main challenges.
"Parents should be aware of how to direct their children and stay close to them and share their problems. Most of the victims were exposed to bad behaviour because of lack of care and support by their families," he said.
https://thearabweekly.com/dar-amneh-safe-house-jordanian-women
--------
URL: https://www.newageislam.com/islam-women-feminism/rashida-tlaib-muslim-congresswoman-calls/d/119559
New Age Islam, Islam Online, Islamic Website, African Muslim News, Arab World News, South Asia News, Indian Muslim News, World Muslim News, Women in Islam, Islamic Feminism, Arab Women, Women In Arab, Islamophobia in America, Muslim Women in West, Islam Women and Feminism