New Age Islam News Bureau
25 September 2021
• Muslim Women Struggle with Germany's 'Hijab Ban' In Workplaces
• Number of Women Employed in Saudi Grand Mosque and Prophet's Mosque Increases to 600
• In First, Three Women to Lead Major Morocco Cities
• Pak Must Ensure Women's Rights Protected In Afghanistan: Malala Yousafzai
• Ofsted Good Rating For Bolton Islamic Girls School
• Thriving Bahraini Clubs Welcome Saudi Neighbours for Women's Football Festival
• The Missing Yazidis Women and Children Must Be Located and Rescued
• HR Ministry: Indonesian Woman Rescued From Forced Labour in Perak
Compiled by New Age Islam News Bureau
URL: https://www.newageislam.com/islam-women-feminism/bangladesh-unga-women/d/125437
------
Rare Occasion for Bangladesh at UNGA: When 3 Bangladeshi Women Took Centre-Stage
UNB, Dhaka
Sep 25, 2021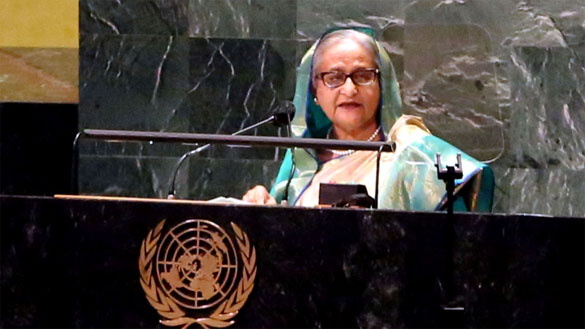 Prime Minister Sheikh Hasina delivers speech at the UNGA in Bangla on September 24, 2021. Photo: PID
------
The 76th Session of the United Nations General Assembly has brought a rare occasion for Bangladesh, an instance of the growing presence of women in positions of leadership.
When Prime Minister Sheikh Hasina's turn came to deliver her speech for the 17th time at the UNGA in Bangla, it was Ambassador Rabab Fatima, permanent representative of Bangladesh to the UN, who was chairing the session. Hence, the PM was introduced and invited on to the podium by Rabab Fatima.
And Mosammat Shahanara Monica, a foreign ministry official, currently Counsellor at Bangladesh Permanent Mission at UN, was the third woman, conveying the message of PM Sheikh Hasina to the English-speaking world.
Earlier, Bangladesh, a flag bearer of multilateralism, was elected as a vice president of the 76th session of the United Nations General Assembly (UNGA) from the Asia-Pacific Region for a one-year term starting September this year.
In her speech, Sheikh Hasina placed a six-point proposal highlighting vaccine equity, sustainable recovery from COVID-19 pandemic, addressing climate challenges and a renewed call for a solution to the Rohingya crisis.
Foreign Minister AK Abdul Momen and State Minister for Foreign Affairs Shahriai Alam were present at the General Assembly Hall.
Source: The Daily Star
https://www.thedailystar.net/news/bangladesh/news/unga-when-3-bangladeshi-women-took-centre-stage-2183656
------
Muslim women struggle with Germany's 'hijab ban' in workplaces
By Clare Roth
24 Sep 2021
When 24-year-old Shilan Ahmad arrived to start work at a nursery in Erfurt, Germany, she was immediately turned away.
She had applied for the job with her resume and a photo. When she received approval by phone from the nursery's director, she was excited.
But as she met Ahmad in person last December, the director took one look at her and turned to the colleague who had organised the meeting.
"How can it be that you've allowed this woman to come speak with me?" she said.
Ahmad, who is from Syria, was wearing a headscarf.
She did not think this would be a problem, because she assumed the hiring team had seen the photo of her, with the hijab, before bringing her in.
"When I got home, I told my mother, I'm taking my headscarf off," she said. "I said, I can't anymore. I was rejected [from the job], and I can't anymore."
European Court of Justice ruling
In theory, situations like Ahmad's are illegal – workers are protected by German constitutional law from outright religion-based discrimination, and should be given an equal chance at jobs in almost all sectors.
But the definition of workplace discrimination with respect to religious expression in Germany is complicated.
In July, the European Court of Justice (ECJ) upheld a 2017 ruling allowing employers to adopt neutrality policies banning religious garb in the workplace. But the decision added conditions.
Now, employers are required to prove that the neutrality policy they have adopted is essential for business.
Before the 2017 decision, banning religious symbols for any reason other than safety was not allowed.
The ECJ case was brought forward by two German female workers, a daycare centre teacher and a cashier, who were asked by their employers not to wear the Muslim headscarf at work.
The teacher had worked at the centre for two years before opting to wear the headscarf in early 2016. She wore the scarf to work until mid-October, when she went on maternity leave until May 2018.
Two months before she arrived back at work, the centre adopted a new neutrality policy for its employees, barring them from wearing "any signs of their political, philosophical or religious beliefs that are visible to parents, children and third parties in the workplace".
When she returned, she decided to keep the scarf on. After refusing to remove it, she was suspended. Around the same time, another colleague was asked to remove her cross necklace, according to the ruling.
The second case was similar. When a Muslim cashier at a German chain pharmacy refused to remove her scarf, she was sent home.
The top EU court ruled the actions against the veiled employees were acceptable because the neutrality policies were implemented in a "general and undifferentiated way" and therefore could not be considered direct discrimination.
The court added that such policies can only be enforced if they meet a genuine need proven by the employer.
July's ECJ ruling requires workplaces to prove more concretely that religious symbols in the workplace could cause palpable financial or interpersonal harm, according to Hamburg civil rights lawyer Tugba Uyanik.
She said the way the media handled the story may have had an impact.
"The European Court of Justice ruling was sold as very negative," Uyanik said. "Like, 'Headscarf Ban in the Workplace is Legal.' I think because employers heard this [headline] without understanding the conditions, it could be that some said, 'Yeah, we have a neutrality policy now, too,' without actually reading through or understanding the judgement."
No Nazi tattoos, no headscarves
Another similar neutrality law banning religious symbols for German federal police officers went into action in early July.
The law was introduced in response to a 2017 incident involving a police officer who had tattooed the notes of the Nazi Party anthem across his chest.
Although his superiors wanted to fire him, they discovered there was no way to legally dismiss someone based merely on his tattoos.
In May 2021, the German government passed the "Law Regulating the Appearance of Civil Servants" in response to the case.
But instead of sticking only to banning Nazi tattoos, the law also includes a section allowing bans on "religious and ideological connotations" – like hijabs or Jewish kippas, for example – "if they are objectively capable of impairing trust in the civil servant's neutral conduct of office."
Uyanik said the law is confusing and unnecessary.
Each German state can adopt its own neutrality rules. Some have laws banning public lawyers from wearing the headscarf, for example. Berlin, for many years, had its own law banning public school teachers from wearing the headscarf.
"The institution of yet another neutrality law at the federal level sends the wrong signal to [veiled] women, because they think, why are you so preoccupied with me?" Uyanik said. "I am not doing anything. It's enough to have to fight the laws in my own state. Why are you doing this?"
Lack of clarity
The real-life implications of the various laws are not yet easy to measure.
With most jobs requiring CVs including headshots, it is likely most women do not even end up knowing whether their rejection was based on their headscarf or something else, said Uyanik.
Many hijab-wearing women have good experiences in the German workplace.
It is not uncommon to see cashiers, pharmacists or saleswomen wearing headscarves. Still, the weight of uncertainty is heavy.
Zehra Eres, a biotechnology student at the Technical University of Berlin, said her dream is to teach.
But she is based in the capital.
Eres sees the hijab as part of her identity, so she knew she could not give it up. It is the only reason she did not study education to teach, she said.
Although Berlin's law banning teachers from wearing the scarf was ruled unconstitutional last year, it is unclear when that decision will be fully implemented.
All teachers in Germany's public schools were banned from wearing the scarf until 2015, when the federal law was overturned.
For women looking for jobs or internships, like Ahmad, the lack of clarity surrounding rejections can be maddening.
Siba Biri, a 28-year-old Syrian in Erfurt, searched for months for an internship at a pharmacy, which she needed to complete her pharmacy technician programme.
After sending dozens of resumes, calling several pharmacies and walking in herself to ask about available spots, she still could not find anything.
"My question is: why were all my German classmates able to find a spot?" she said. "Just me and my friend, who also comes from Syria and wears a headscarf, haven't found one."
For most German politicians campaigning ahead of Sunday's election, the neutrality laws are insignificant and have not featured on their agendas.
The only parties that mention the headscarf are the country's Left party, which positions itself against workplace bans, and the far-right Alternative for Germany party, which is against the headscarf in schools and public sector jobs, like in France.
In the end, Ahmad decided to keep her headscarf on.
The experience compelled her to start fighting for broader acceptance of the headscarf. After her rejection, she wrote an article about her hijab for an online magazine and joined Germany's Green Party.
She wants to become an activist or journalist focusing on women's rights issues.
The headscarf, she says, should be a personal choice. If she ever has to deal with women fleeing oppressive governments, families or relationships where they have been forced to veil, she said, she will support them in removing their scarf if that is what they want to do.
Source: Al Jazeera
https://www.aljazeera.com/news/2021/9/24/muslim-women-struggle-with-germanys-hijab-ban-in-workplaces
--------
Number of women employed in Saudi Grand Mosque and Prophet's Mosque increases to 600
September 25, 2021
Tawfiq Nasrallah
Dubai: The number of women working in the Saudi General Presidency for the Affairs of the Grand Mosque and the Prophet's Mosque has increased to more than 600, local media reported.
The Assistant General President for Women's Development Affairs, Dr. Al Anoud bint Khalid Al Aboud, leads the Women's Development Affairs Agency.
There are several agencies working under its umbrella of this entity and hiring women cadres including the Assistant Agency for Technical Affairs, Digital Transformations, and Artificial Intelligence for Women, the Assistant Agency for Public Relations and Media Affairs.
In the Assistance Agency for Languages And Women's Translation there are nearly 100 female employees, while there are 210 employees in the Assistant Agency for Women's Services and Field Affairs.
Meanwhile, the Vice Presidency for Scientific, Intellectual and Guiding Affairs for Women is led by Dr. Noura bint Hillel Al Dhuwaibi. Under this entity, a number of departments are operating including Assistant Agency for Women's Scientific, Intellectual and Cultural Affairs and the Assistant Agency for Women's Guidance and Guidance Affairs, with nearly 200 women employees.
The Vice Presidency for Women's Administrative and Development Affairs, led by Dr. Camelia bint Mohammad Al Daadi includes the Assistant Agency for Women's Administrative Affairs and the Assistant Agency for Strategic Planning, Initiatives and Realization of the Women's Vision, and they have approximately 30 employees.
In 2019, Saudi Arabia introduced significant women's rights reforms, under Crown Prince Mohammed bin Salman's Vision 2030 initiative, to advance in various fields, including lifting travel restrictions and allowing Saudi women to drive, register their children's birth, and providing new protections against employment discrimination and sexual harassment.
Source: Gulf News
https://gulfnews.com/world/gulf/saudi/number-of-women-employed-in-saudi-grand-mosque-and-prophets-mosque-increases-to-600-1.82507630
------
In first, three women to lead major Morocco cities
24 September ,2021
Morocco's capital Rabat elected a woman as mayor for the first time on Friday, meaning three of the kingdom's main cities are led by women following elections earlier this month.
"It's a historical day for the city of lights," Asmaa Rhlalou, 52, said after Rabat's municipal council chose her as mayor of the city of 550,000 people.
The vote follows nationwide parliamentary, regional and municipal polls on September 8.
Rhlalou's party, the National Rally of Independents (RNI), thrashed long-ruling Islamists nationally to put its leader, businessman Aziz Akhannouch, in line to lead a new government.
On Monday, Nabila Rmili – another RNI member – was elected as mayor of Casablanca, Morocco's commercial capital and biggest city with 3.5 million residents.
And in tourist hotspot Marrakech, Authenticity and Modernity Party (PAM) candidate Fatima Zahra Mansouri returned at the age of 45 to the mayor's office which she had occupied from 2009 to 2015.
The PAM came second in this month's parliamentary elections and third in regional polls. The party was founded by Fouad Ali El Himma, now an adviser to King Mohammed VI.
Prime minister-designate Akhannouch was also elected Friday as mayor of seaside town Agadir, his stronghold where he was the only candidate.
Source: Al Arabiya
https://english.alarabiya.net/News/north-africa/2021/09/24/In-first-three-women-to-lead-major-Morocco-cities
--------
Pak Must Ensure Women's Rights Protected In Afghanistan: Malala Yousafzai
Written by Sukirti Dwivedi
September 24, 2021
New Delhi: Nobel laureate and Pakistani rights activist Malala Yousafzai today asked Pakistan to show "bold and strong commitment" to protect women's rights in Afghanistan. Ms Yousafzai, who is also the UN Messenger of Peace, made the remarks during a virtual session on "Supporting a future for girls' education in Afghanistan" as part of the UN General Assembly.
On being asked at the session about whether Pakistan could put pressure on the Taliban about girls' right to continue education, Ms Yousafzai said, "Pakistan is the neighbouring country of Afghanistan and we know that terrorism and extremism in Afghanistan reaches to the border of Pakistan as well and it impacts girls and women and communities in Pakistan and women's rights there as well."
"Pakistan should see the situation in Afghanistan not just has an issue of peace and security there alone, but as a peace and security issue for the whole region including Pakistan, peace in Afghanistan means peace in Pakistan," she said.
In 2012, Ms Yousafzai was shot at by Taliban terrorists in Pakistan in an assassination attempt, in retaliation for her activism on girls' right to education. Nine months after being shot, on her 16th birthday, she delivered a speech at the UN headquarters on women's right to education.
"So far we have heard some statements from the Prime Minister of Pakistan that women's rights must be protected and girls' education must be protected, but I hope that Pakistan can show a bold and strong commitment towards the protection of human rights in Afghanistan because we know that such ideologies can harm the whole region," Ms Yousafzai said.
PromotedListen to the latest songs, only on JioSaavn.com
She expressed hope that the Prime Minister of Pakistan will open the borders to the "people of Afghanistan who need to seek safety for their protection and for their families".
"So far Pakistan has welcomed thousands of people but we need to be more open to welcoming people who are under risk. Pakistan needs to ensure that it gets into a conversation and negotiation with Taliban to ensure protection of human rights," she said.
Source: ND TV
https://www.ndtv.com/world-news/pakistan-must-ensure-womens-rights-protected-in-afghanistan-says-malala-yousafzai-2552816
------
Ofsted good rating for Bolton Islamic Girls School
By Saiqa Chaudhari
A SCHOOL where pupils "feel happy and safe" has been judged to be good by the Government's education watchdog.
Bolton Islamic Girls School in Great Lever has been lifted out of the requires improvement category following an inspection by Ofsted.
Inspectors reported: "Pupils feel happy and safe at Bolton Islamic Girls School.
"Pupils know that leaders expect the best from them in all that they do. Pupils make every effort to realise leaders' ambitions for them to become proud, British, Muslim young women. They work hard, developing confidence and self assurance."
Teaching is said to have improved, with staff having 'strong' subject knowledge with some having high-level qualifications in their subjects.
"As a result, pupils build their knowledge effectively and achieve well," stated inspectors.
Pupils were described as having positive attitudes to their work, and their good behaviour means they learn well.
Inspectors said: "Pupils have high attendance, considering the effects of the pandemic."
And they found that the students were well placed to move to the next stage of their education.
Leaders were found to support staff effectively and manage their workloads.
Headteacher Dr Zakia Maqbool said: "Amongst all the other pressures this year due to Covid, this is an amazing achievement for our school. Especially, given we got a requires improvement in November, 2019.
"Since then staff and governors have worked tirelessly to ensure our school is a school that continues to be able to facilitate the needs of our learners.
"The community have again supported our school and this is an outstanding achievement for us."
She added: "Our school suffered deeply with Covid, whereby students and staff – four out of 12 – had to deal with the loss of close family members due to Covid."
But Dr Maqbool said they stayed dedicated to the teaching of young people.
The headteacher said the improvements were also thanks to the community, staff, governors and the learners.
Source: The Bolton News
https://www.theboltonnews.co.uk/news/19600772.ofsted-good-rating-bolton-islamic-girls-school/
------
Thriving Bahraini clubs welcome Saudi neighbours for women's football festival
DANIEL ROBINSON
September 25, 2021
MANAMA: It's Wednesday evening, and Ravens - a Bahraini women's football team known as the Teal Army - are in training for a pre-season tournament being held on Saturday at Al-Najma Stadium, close to Bahrain's lively Juffair district.
Kicking off in the early evening and hosted by Super Soccer Academy, who will also field a team, the event sees two Saudi Arabian women's squads - Qatif and Eagles - crossing the border in what could be the beginning of an ongoing partnership with the nascent Saudi Women's League.
Leading the way is Ravens captain Rama Salem, who along with her team mates and other teams in Bahrain, not to mention the visitors from the Kingdom, are part of a generation that is changing the way women's football is being perceived in the Gulf and the Middle East.
Raven's team captain Rama Salem. (Abdullah Aboody)
The recent establishment of the women's game in Saudi Arabia has seen a predictably huge upsurge in participation, even for an already football crazy country.
And with their championship entering its second season after its Covid-delayed 2020 beginnings, Saudi women's teams may look to emulate the achievements of their Bahraini neighbours, especially in nurturing young talent for the future.
In Bahrain, youth football standards have been boosted by the arrival of academies linked to top-tier clubs, such as Juventus, allowing local women's teams access to elite-level coaching. In tandem with a growing league, this guidance has led to rapid development for teams like Ravens.
The success of Ravens hasn't been about winning titles. Instead it's their pedigree in developing players, many of whom go on to bigger things abroad, that catches the eye.
The team will be without two of their best players this season, not because of injury or suspension, but because both have recently jetted off on football scholarships in two of the powerhouse nations of women's football: America and Germany.
Salem attributes this developmental success to Ravens' club mentality.
"We're a team of inclusivity. Everyone gets a chance to play, no matter what their ability is, where they come from, their age," she said.
"We want to give these girls a platform and a stage that was never really made available to me at their age."
Charlotte Pilgrim, an 18-year-old from Middlesbrough in the UK, is one of Raven's success stories. After playing for the club for nearly four years, she is now on a full football scholarship at Rio Grande College in the US.
Charlotte Pilgrim taking part in a Ravens raining session. (Sameer Alsaeed)
Charlotte's family moved to Bahrain from England when she was four, but initially finding a football team was difficult.
"I always played with boys," says Charlotte.
"I was in what was supposed to be a mixed team, but I was the only girl. I held a lot back because of that, stayed quiet. When I started playing in women's teams I became a lot more confident and vocal."
Charlotte played for some of the other local women's teams, but never quite found what she was looking for until trying out for Ravens.
"Straight away I could see the atmosphere was so happy and supportive, like a family," explains Charlotte.
"The older players and coach were always encouraging us. In fact, it was because of Rama that I ended up going to a trial and getting noticed."
Charlotte's successful trial in Bahrain led to her being selected for a training camp at the England national team's training facility, St. George's Park.
She was the only player not based in the UK to be invited.
Videos of her playing at England's training ground were seen by her American college and she was offered a place starting this year.
Charlotte feels her experience in the Middle East has enabled her to quickly settle in her new team.
"I think the Bahraini style of play has helped me," she says. "It's more about possession rather than speed and power, and I tend to keep the ball better."
Charlotte isn't the only recent success for the Teal Army. The 13-year-old Jordanian-Bulgarian prodigy Yasmeen Al-Zurikat has recently headed off to Germany, where she will play at VfR Warbeyen's influential Kämpferherzen academy.
A great future is expected for 13-year-old prodigy Yasmeen Al-Zurikat. (Abdullah Aboody)
Raven's captain believes she has a bright future ahead of her. "She's a phenomenal player," she says. "Even at 13, she's the most composed player on the pitch."
Salem is relishing the opportunity to play against teams from Saudi Arabia tonight, but it also excited about the wider implications of events like this.
"It's great for the country and the region, and especially great to see a lot of Arab woman getting involved with the sport and breaking old stigmas."
The event starts at 5pm and entry (to vaccinated individuals only) is free.
Organizers predict a carnival atmosphere as the tournament has been planned to coincide with the Saudi National Day celebration.
A 4-team round robin tournament with 30 minute matches will be the highlight, but there'll also be tennis football, mini-matches and penalty competitions, in addition to food stalls on the beach nearby.
Source: Arab News
https://www.arabnews.com/node/1935256/sport
------
The Missing Yazidis Women And Children Must Be Located And Rescued
Dr. Ewelina U. Ochab
On September 14, 2021, and as the 76th session of the U.N. General Assembly was opening, close to a hundred organizations and experts, in a joint letter, called upon several world leaders to ensure the missing Yazidi women and children are located and reunited with their families. It has been more than seven years and their fate remains unknown.
In August 2014, Daesh (also known as ISIS, ISIL, Islamic State) unleashed a genocidal campaign against Yazidis, Christians and other religious minorities in Iraq. Among the atrocities, they abducted and enslaved thousands of women and children, including for sex trafficking and sex slavery. Daesh further committed murder, enslavement, deportation and forcible transfer of population, imprisonment, torture, exploitation, abuse, forced marriage and much more. The atrocities have been recognized by a few governments and several parliaments as crimes against humanity, war crimes and even genocide, the crime of crimes.
Seven years after Daesh abducted them from Sinjar, Iraq, 2,763 Yazidi women and children are still missing. Despite this significant lapse of time, no real effort has been made to locate them, and if alive, ensure that they are rescued and reunited with their families.
The recent joint letter calls upon world leaders to work with partners to conduct an official search to identify the whereabouts of the missing women and children, including in the Al-Hol camp in Syria where many are believed to be held; work with local partners to free all Yazidi women and children who are alive and ensure that the remains of those killed are returned to their families and given a dignified and honorable burial. Seven years after the atrocities, these actions are long overdue but urgently needed.
Knox Thames, former U.S. Special Advisor for Religious Minorities at the State Department, and co-author of the letter said: "Seven years have passed, but the international community still has not organized a search for the 2,763 missing Yazidi women and children. Without action, words of support for the kidnapped Yazidis ring hollow. It's time the international community got serious about locating the missing Yazidi women and children kidnapped by Daesh." Pari Ibrahim, Founder and Executive Director of the Free Yezidi Foundation, and co-author of the letter, said: "Nothing is more agonizing and frustrating to the Yezidi community than waiting and wondering about the missing. We are realistic, and we know that not every missing Yezidi is still alive. But for those who are still suffering slavery and abuse every day, the international community must make a serious, coordinated rescue effort. We are calling for an 'Amber Alert' for our missing Yezidis." Abid Shamdeen, Executive Director of Nadia's Initiative, co-author of the letter, commented: "The Yazidi community has been calling for the search and rescue of nearly 3,000 women and children who are still missing and in captivity. Their calls have been met with silence from the governments of Baghdad and Erbil and the international community for over seven years. The longer we wait to create a joint task force to search for those missing, the more we signal to these Yazidi women and children that their wellbeing does not matter."
Seven years after the abductions and enforced disappearances, it is time to act and bring back the women and children. We cannot ensure justice for the Yazidis without finding the missing women and children. If alive, they continue to be subjected to horrific atrocities that need to be put to an end. The world may have moved on from the Daesh atrocities but these women and children continue to live them every day. This Daesh genocide will continue until the women and children are located and rescued. If they were killed, their families deserve to know what happened to them. They will not be able to move on with their lives if they continue waiting for their return that is not coming. Locating and rescuing the missing Yazidi women and children is not only a crucial step in the response to the Daesh atrocities; it is a humane response.
Source: Forbes
https://www.forbes.com/sites/ewelinaochab/2021/09/25/the-missing-yazidis-women-and-children-must-be-located-and-rescued/?sh=3394ad5c1697
------
HR Ministry: Indonesian woman rescued from forced labour in Perak
Saturday, 25 Sep 2021
PUTRAJAYA, Sept 25 — An Indonesian woman, believed to be a victim of forced labour by her employer, was rescued in an operation in Ayer Tawar, Perak on Thursday.
According to the Human Resources Ministry, an integrated rescue operation by the Labour Department (JTK), the Council for Anti-Trafficking in Persons and Anti-Smuggling of Migrants (MAPO) task force and the police was carried out following complaints and information from the Indonesian Embassy in Kuala Lumpur on Monday (September 20).
The Human Resources Ministry said the employer was believed to have exploited the victim by threatening that she was not a legal employee and often scolded the victim if she wanted to return to her country of origin.
"The victim was physically abused, namely, being kicked in the face when she asked for the balance of her salary," the ministry said in a statement today.
The Human Resources Ministry said the woman entered Malaysia legally with a work permit as a maid in June 2003 through an agent she knew.
After securing the job, a sum of RM350 a month was deducted from the victim's salary for four months as payment to the agent.
"The victim did not have any knowledge on this matter because she handed everything over to the agent and no written contract was made regarding the employment process, including payment to the agent," the statement read.
The Human Resources Ministry said the initial investigation found that there were indicators of forced labour against the victim, whose permit expired in June 2020, including unpaid salaries for a period of three years from 2018 to 2021, totalling about RM25,000.
Indicators also showed that the employer had committed an offence under the Anti-Trafficking in Persons and Anti-Smuggling of Migrants (ATIPSOM) Act 2007, the Human Resources Ministry said.
The ministry added that the victim, who was still traumatised, was placed at the Central Zone Shelter in Damansara after she was given an Interim Protection Order (IPO) by the Sri Manjung Magistrate's Court on the same day she was rescued.
The IPO is for a period of 21 days until October 13 to complete an investigation paper under the ATIPSOM Act 2007 conducted by JTK, and the investigation paper will be submitted to the deputy public prosecutor for review and decision.
"This (operation) clearly shows that the country will never compromise on the issue of forced labour regardless of the nationality of workers involved," the Human Resources Ministry said. — Bernama
Source: Malay Mail
https://www.malaymail.com/news/malaysia/2021/09/25/hr-ministry-indonesian-woman-rescued-from-forced-labour-in-perak/2008349
--------
URL: https://www.newageislam.com/islam-women-feminism/bangladesh-unga-women/d/125437
New Age Islam, Islam Online, Islamic Website, African Muslim News, Arab World News, South Asia News, Indian Muslim News, World Muslim News, Women in Islam, Islamic Feminism, Arab Women, Women In Arab, Islamophobia in America, Muslim Women in West, Islam Women and Feminism