New Age Islam News Bureau
19 Jan 2014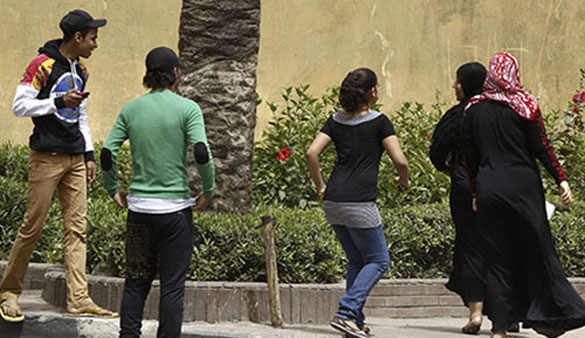 Men try to harass women on a street, Cairo, April 8, 2013. Photo by REUTERS/Amr Abdallah Dalsh
-----------
• Religious Lessons for Women at Haram
• Mauritania Must Ban Deadly Force Feeding Of Child Brides - Activists
• Rebellious Women Who Decided To Discard Their Veils
• Girls Being Forced To Choose Between God and the Brownies, Church Leaders Warned
• Sexual Harassment in Egypt Still Widespread
• Manila to Crackdown on Online Child Abuse
• North Carolina Ultrasound Abortion Law Ruled Illegal by Judge
• Bangladesh Women survivors of violence urged to break silence
Compiled by New Age Islam News Bureau
URL: https://newageislam.com/islam-women-feminism/rape-used-weapon-jamaat-e/d/35338
----------
Rape Used As Weapon by Jamaat e Islami and BNP for Land and Votes in Bangladesh
19 January 2014
The morning after the night of ......., 2001 when we all died with one of the greatest shame of Bangladesh in the new millennium. And three years later we say to the minority girls and women victims of Char Fashion in Bhola, we have not forgotten you as we pay our tribute to you for your unique courage and strength to overcome the indignities and tortures unleashed on you by the hitherto unknown brand of Bangladeshi men whose atrocities have not been equaled anywhere else in the world in the twenty first century.
Bangladesh: Remembering ......, 2001 and Rape of Bhola
A heinous war crime was thus perpetrated on the minority girls and women of Bangladesh by a group of zealots in the month following the election of BNP, Jamat and other hardliner parties in Bangladesh. Of the many news reports and other related stories that took up the front page of every newspaper in the country on the next day and on other days that followed, as well as a January 2002 investigative report by an HRCBM Dhaka team led by Rosaline Costa, we have chosen to reproduce below "The night of the lost nose-pins" (by Mohammad Badrul Ahsan) from the editorial page of the Daily Star of November 16, 2001.Because this reminds us again of the Rape of Bhola infamy. It further reminds us that the criminals are still at large and that this unforgivable crime should never be allowed to be forgotten.
Twelve years ago in 2001, six families hailing of down trodden family Rishi, Cobbler, of Tuniaghara village of Monirampur, Jessore were uprooted after the BNP-Jamaat alliance came to power. Some Muslims of adjacent areas forced into gang raped two housewives.
Police took no action as the Rishi families could not file case with Monirampur Police Station. All these ill-fated families left their village selling their land within 15 days. ( DS, 17 Jan 2014) Masked gunmen stormed two Hindu homes at Hazrail Rishipara of Monirampur Upazila in Jessore on Tuesday 8 January night and Wednesday9 January2014, tied up men and children and raped two housewives in front of their family members for voting in the election.
The incident was just two days after the attack on Hindus at Malopara in Abhaynagar of Jessore on Election Day. The two women filed two cases with Monirampur Police Station.Some seven to eight masked gunmen stormed a hut of the village around 10:00pm on Tuesday.
The second victim in an interview with a television channel said, "They broke into our house and tied up my husband, father and mother in-laws and children and then one of them raped me." She said the incident happened around 2:30am on Wednesday. In the morning, the entire family of a victim had left the area in fear. Atrocities on the Hindus, however, are still going on.
Meanwhile, the raped women of Jessore's Rishipara and their families have fled their homes fearing further attacks while male members of the community in different parts of the country are spending sleepless nights, taking turns in guarding their villages.
The Hindu villagers in Abhayanagar Upazila of Jessore, on Election Day had to pay a price for exercising their democratic right to vote. With 130 houses vandalized and 10 houses burnt down some 600 Hindus had to flee their village by swimming across the Bhairab River as BNP-Jamaat men allegedly unleashed terror. There have been allegations that police, ruling Awami league leaders and the administration didn't promptly respond to their calls of help. Police arrived much later after the carnage was complete. Lashing a déjà vu of 1971, Jamaat-Shibir fanatics wreaked havoc on the Hindu community across the country. They damaged temples, including one of Buddhists, and torched houses and business establishments of Hindu people in Noakhali, Gaibandha, Chittagong, Rangpur, Sylhet, Chapainawabganj and elsewhere in the country.It is a repetition of minority hunting policy of Pakistani regimes in 1971. And by BNP Jamaat axis has done in the pre and post October Election in 2001.
In October 2001 election, the incidence of violence was the highest. Minorities were violated in 2,685 villages in the country. Minorities were debarred from casting votes in the election. They were obstructed from casting their votes on the way to the voting centre. In this context, it may be asked why the incidents of violence on minorities were so high during the eighth parliamentary election in 2001 compared to elections immediately before that. It was probably because social control mechanisms regulating violence faltered more during this election than before. It was widely observed that the caretaker government, throughout its tenure, remained quite indifferent to the violence perpetrated by the four party alliances in the contest for winning the election. The government formed after the alliance won the election was absolutely blind to the violence that the BNP cadres were committing against their political rivals. Today, it is with a huge degree of shame that one must recount the havoc wreaked on Hindus following the electoral triumph of the BNP-Jamaat alliance in October 2001.
Supporters of the alliance went on a rampage, beating and raping and killing Hindus in no fewer than 2,685 villages in the country. No action was taken against the marauders. Our grievance is that even today, with the conclusion of the general election of January 5,2014 Hindus all over the country cower in fear of elements which have been threatening them since before the voting. As our news reports over the past few days have made it clear, there were patent threats held out against the community in various regions of the country. Why were these threats not taken seriously by the administration? Where were the measures that should have ensured their security as citizens of Bangladesh?
According to United Nations High Commission for Refugees (UNHCR) 2003 report, an unknown number of Hindus and other religious minorities from Bangladesh remained internally displaced or were asylum seekers in India as a result of post-election violence that began in October 2001.Nearly 7,000 Bangladeshis sought asylum elsewhere during the year, including more than 1,100 in Austria, more than 1,000 in the Slovak Republic, and nearly 1,000 in the US. In the weeks following the Oct 1, 2001, general elections, Bangladesh witnessed an outburst of systematic attacks on the minority Hindu community across the country, in addition to attacks on activists of the freshly ousted Awami League.
By Oct 8 that year, at least 30 people had been killed and more than 1,000 others injured. Their houses were torched, ransacked and in many cases seized, women were raped, and temples were desecrated.
Among the worst hit were the Hindu-dominated areas in Barisal, Bhola, Pirojpur, Satkhira, Jessore, Khulna, Kushtia, Jhenidah, Bagerhat, Feni, Tangail, Noakhali, Natore, Bogra, Sirajganj, Munshiganj, Narayanganj, Narsingdi, Brahmanbaria, Gazipur and Chittagong. Many Hindu families reportedly fled their homes and sought refuge in areas considered 'safe.' The Bangladesh Observer, a Dhaka daily, reported that at least 10,000 people of the minority community from Barisal district had left their homes following attacks by activists of the fundamentalist Jamaat-i-Islami party and had taken shelter in neighbouring Gopalganj district, the electorate of the present Prime Minister Sheikh Hasina.Many others fled to the Indian states of Tripura and West Bengal. The government of Zia that took office after winning a two-thirds majority in the poll denied these incidents. Against this background, it is probably not surprising to find that the human rights abuse minorities received under Pakistan's framework also continues in Bangladesh. The Hindu temples are damaged. Temple sites and other property are unlawfully occupied with new structures erected on them. Young girls are abducted for forcible marriages into Islam. Police authorities dismissively discourage investigation for such cases with communal undertones. Naturally, despite a constitution that guarantees all citizens equal protection of law (Article 27), minorities in Bangladesh do not live with the confidence that their human rights will be respected. The minority population has dropped (through emigration) from 23% in 1954 to 11% in 2001.
Bangladesh's Hindu community once again is under grievous assault. In the aftermath of the recent 5th January, 10th general elections in Bangladesh, hundreds of Hindus have fled their homes in pre and post election of such regions as Thakurgaon, Dinajpur, Rangpur, Bogra, Lalmonirhat, Rajshahi, Jessore , Nilphamari,and Chittagong. Fanatics vandalised idols and torched temples in Comilla, Netrokona and Bhola, Noakhali , Nilphamari, Barisal, Khulna, Perojpur and more or less all over Bangladesh creating widespread panic among the Hindu community since February 28,2013.On that day, the International Crimes Tribunal-1 awarded death penalty to Jamaat leader Delawar Hossain Sayedee for his crimes against humanity during the country's Liberation War. Lashing a déjà vu of 1971, Jamaat-Shibir fanatics wrecked havoc on the Hindu community across the country.They damaged temples, including one of Buddhists, and torched houses and business establishments of Hindu people in Noakhali, Gaibandha, Chittagong, Rangpur, Sylhet, Chapainawabganj and elsewhere in the country. In Rajganj of Noakhali, Jamaat-Shibir men set ablaze a temple and eight houses of the Hindu community.In the last week of December 2013, Joint drives of law enforcers have stopped widespread Jamaat-Shibir violence in Satkhira for the time being and people fear the top Jamaat leaders of the district would instigate violence again as they remain at large .Even high officials who led the joint drives admit that they could not make any significant arrests as the people who allegedly instigated the violence had fled the district. Several hundred Hindus and ruling Awami League leaders of Satkhira have been fleeing their homes over the last few days in the wake of massive violence unleashed by Jamaat-Shibir men in the district.
Some had even moved to India through legal or illegal means.The report also shows a distressing trend of communal violence in 2013. According to the published items in the local dailies, in Bangladesh 459 temples have been ransacked, 700 women were violated and thousands Hindus left Bangladesh particularly in the border areas. It is also reported that India Government will initiate Refugee Camps in the border zone, ( Arthonity protidin, 19 Dec 13) Around three years ago, a judicial commission that probed the 2001 post-polls violence had made some recommendations to stop the recurrence of such atrocities, but the suggestions went totally unheeded.
"Had the government implemented our recommendations, the recent attacks on the minorities could have been prevented," said Mohammad Shahabuddin, chief of the three-member judicial commission who is now serving as a commissioner at the Anti-Corruption Commission.The judicial commission recommended setting up an investigation committee or commission in each district to bring to book the perpetrators who killed 355 people and committed 3,270 other offences between October 2001 and December 2002. To bring harmony in the community the report recommends setting up an investigation committee in each district to bring the criminals to book. It also suggests, among other recommendations that the government needs to form social groups in each community to protect the minority living under continuous threat of attacks.The commission's report finds that during the tenure of the four-party alliance, 409 cases had been filed in connection with the post-polls violence, out of which police submitted final reports in 145 cases. The commission had identified around 22,000 persons involved (weekly the STAR, 17 Jan 14)
Large-Scale Exodus of Hindus
It may be recalled that a very large-scale exodus of Hindus took place at the time of the partition of India in August 1947, when for understandable reasons it became a question of the survival of the community in a country fashioned out of a so-called two-nation theory. Three years later, in 1950, communal riots led to a newer group of Hindus leaving what was then East Pakistan and making their way to neighboring West Bengal in India.In 1964, through the instigation of the Ayub-Monem clique in Pakistan, more Hindus left East Pakistan.
The crisis was contained only when a secular Bangalee political leadership, among whom was the future Bangabandhu, put up a determined resistance against communalism and succeeded in containing what might have become a conflagration. 52 lacs Hindus had migrated to India between 1947 and 24 March 1971. Why Hindu populated areas in the northern and south-western part of Bangladesh?
Why Hindu areas have been transformed into an inauspicious outpost of Islamic militancy and terrorism?
During the War of Liberation in 1971,it was an openly calculated design of the Pakistani rulers for achieving their objective of gradually making East Pakistan an entirely Muslim territory besides terrorizing non-communal political forces The policy of Hindu-hunting helped Pakistan since 1950 to take advantage also of practically one-way traffic exchange of population. They were 100% successful in 1971. The number of refugee started increasing rapidly, i.e., from the 10th April to 30th April it was 57,000 per day; 102,000 per day in May; 68,000 per day in June; 26,000 per day in July; 34,000 per day in August; 27,000 per day in September; 14,000 per day in October and 8,000 per day in November 1971.
Bangladesh was achieved through fire, A joint declaration signed by Prime Minister Sheikh Mujibur Rahman and Prime Minister Mrs. Indira Gandhi, which was released on February 8, 1972 announced that all remaining Indian troops would be withdrawn from Bangladesh by March 25, 1972. "The Prime Minister of Bangladesh solemnly reaffirmed his resolve to ensure by every means the return of all refugees who had taken shelter in India since March 25, 1971, and to strive by every means to safeguard their safety, human dignity and means of livelihood. The two Prime Ministers noted with satisfaction that the refugees were returning to Bangladesh, and that nearly 7,000,000 had already returned in the short space of six weeks." (Keesing Contemporary Achieves)| Since then, Bangladesh was -a secular democratic state, a state, which makes no difference between a citizen, and a citizen, which deals fairly with all irrespective of caste, creed or community in the Constitution of Bangladesh-1972. After August 1975, subsequent military regimes in Bangladesh changed the course of the nation by adopting Fifth Amendment in 1977 and become a theocratic state by declaring 'Islam as a state religion' in 1988.
The Shiekh Hasina's government's failure to give adequate protection to Hindus and punish the perpetrators of the previous atrocities is the main reason of the recurrence of violence against the religious minority, speakers observed at a discussion on January 16.They demanded a special tribunal to put the attackers, regardless of their political identities, to trial immediately. Against the backdrop of arsons, vandalism, and sexual assault on Hindus across the country following the January 5 polls, Jagannath Hall Alumni Association of Dhaka University organised the programme in thecapital's Cirdap auditorium urging the state and citizenry to "stand against terrorism and violence against religious minorities". The High Court has directed the government to immediately provide adequate security to the minority communities and other people vulnerable to post-polls attacks.
The HC directive came yesterday in the wake of attacks on Hindus and people adherent to ruling Awami League across the country surrounding the January 5 elections. The home secretary, the inspector general of police, the director general of Rapid Action Battalion and the deputy commissioners of Dhaka, Natore, Jessore, Dinajpur, Gaibandha, Satkhira, Jhalakathi, Tangail, Bogra, Pirojpur, Chandpur and Netrokona districts have been made respondents to the suomoto rule of the HC. The HC also ordered the respondents to explain why the citizens, who were already victimised or have lost life, liberty, dignity and property, should not be compensated. The HC bench of Justice Quazi Reza-Ul Hoque and Justice ABM Altaf Hossain came up with the orders and rule following reports published on the daily Prothom Alo on January 7 and the daily Amader Shomoy on January 13 on the attacks on the minority communities and the damage done to their houses, temples and shops after the 10th parliamentary polls.Some Supreme Court lawyers led by Advocate Parimal Chandra Guha placed the newspaper reports before the judges. HRCBM- Bangladesh Chapter supported all documents to Advocate Parimal Chandra Guha.
The successive post-1975 military governments have changed the concept of nationalism from Bengali nationalism-characterized by ethno-linguistic identities and not by religious (Muslim) identity - to Bangladeshi nationalism-characterised by religious (Muslim) identity of the Bangladeshi majority- which make them distinct from the Bengali Hindus of the Indian state of West Bengal who never showed any interest in forming a separate state based on Bengali nationalism. People ousted the military regime of Gen.H M Ershad in 1990 and established parliamentary form of government in 1991 Garga Chatterjee , a researcher at Massachusetts Institute of Technology, opined, "Still one cannot but hope that the People's Republic of Bangladesh would live up to some of its original ideals. Minorities have fled the nation-state for want of security in large numbers, year after year. There is significant presence of minorities in the bureaucracy and local administration. Even during the recent spate of violence, the state has transferred police officials for failing to provide security. This reality exists too. It is this reality that partly prevents a mass exodus of Hindus beyond the levels seen at present. For many, they have too much to lose to be able to leave. And that is a problem for a religious majoritarian nation-state. (The Hindu, 16 Jan 14)
Rabindranath Trivedi is a retired Addl. Secretary, GoB, an organizer and Freedom Fighter of Bangladesh War 1971. Secretary General, HRCBM.
http://www.asiantribune.com/node/69877
----------
Religious Lessons for Women at Haram
19 January 2014
MAKKAH — The Presidency for the Affairs of the Two Holy Mosques has begun offering religion lessons for women inside the Grand Mosque, according to Adel Al-Hamdan who is in charge of everything related to the lessons. Female visitors will have a chance to attend these lessons three times a day on Fridays, Saturdays, and Mondays of each week. Dr. Badriah Al-Bishr of Imam Muhammad University praised this step on the part of the Presidency. "These lessons come at the right time. They will benefit everyone who attends them," she said.
http://www.saudigazette.com.sa/index.cfm?method=home.regcon&contentid=20140119192982
----------
Mauritania must ban deadly force feeding of child brides - activists
19 January 2014
LONDON (Thomson Reuters Foundation) - Mauritania must ban the practice of force feeding young girls to fatten them up for marriage, says a report which highlights the case of a child bride who died last year after being put on a dangerously high-calorie diet.
Some young girls in Mauritania are even taking animal growth hormones and other dangerous drugs to help pile on the pounds and make themselves more marriageable.
Many men in the West African country consider obese women beautiful, seeing their size as a sign of wealth and prestige.
Girls of around eight can weigh 140kg (300lb) after force feeding, putting a huge strain on their hearts and jeopardising their health. Young women can tip the scales at 200kg.
The practice is discussed in a new report on child marriage by rights group Equality Now which describes the case of Khadijetou Mint Moustapha whose weight ballooned after she was force fed from the age of seven. She was married at eight to her father's cousin, a man 10 years older than her father.
Khadijetou was seriously obese by the time of her wedding. After she fell pregnant her health rapidly deteriorated and her doctor put her on a strict diet to lose weight. She gave birth by cesarean section to save her baby's life.
But Khadijetou's mother, who prized her daughter's obesity, would not accept her weight loss and gave her a type of medication which she said women used to put on weight. The report did not identify the drug, but said its effect is to inflame and swell parts of the body.
Khadijetou's sight deteriorated and her doctor diagnosed eye strain, something she had been treated for before her wedding. Khadijetou was just 11 when she died last June, 20 days after giving birth.
DANGEROUS DRUGS
Although it is a poor, drought-prone country about 20 percent of females in Mauritania are obese, compared to 4 percent of men, according to the World Health Organisation.
The practice of force feeding is known as gavage – the same French term used to describe the practice of fattening up geese to produce foie gras.
But women's rights organisations say they are increasingly seeing "chemical gavage" where girls take drugs including growth hormones, contraceptives and corticoids - steroid hormones - to bulk up. Health risks include heart failure, renal failure, diabetes, reproductive health problems, and joint pain.
In its report Equality Now calls for Mauritania to ban force feeding and child marriages, which account for over 35 percent of all marriages in the country, according to the U.N. Population Fund.
The report says gavage is closely linked to early childhood marriage because it accelerates puberty and makes younger girls appear more womanly.
L'Association des Femmes Chefs de Famille (AFCF), a local women's and children's rights organisation, is also calling for child marriage to be criminalised and is campaigning to get force feeding included as an offence under a new Bill on violence against women.
AFCF says it has seen an increase in the number of girls being fattened up and married off early, which it attributed to families facing increased financial difficulties.
The organisation has recently handled around 140 cases of child brides subjected to gavage, mostly chemical gavage. It tries to annul marriages, and encourage girls to lose weight, get medical attention and go back to school.
Activists point out that girls who take corticoids do not realise that the extra weight comes from water retention rather than fat, which is highly dangerous. Many girls and women also develop problems from fake drugs or expired black market drugs, AFCF says.
http://www.trust.org/item/20140117185616-fl4hq/?source=hpeditorial
----------
Rebellious women who decided to discard their veils
19 January 2014
Choosing is a right, and everyone has the right to wear what he or she pleases and express themselves as they please, as long as their freedom does not encumber the freedom of others. As such, if wearing the hijab is a right for Muslim women, then choosing not to wear it is also their right. They alone are qualified to choose their way of life, without input from anyone else.
Here, then, are the stories of three young women who were compelled to wear headscarves, which became a form of punishment, leading to them rebelling against their families and society, subsequently choosing to discard those scarves completely.
A 10-year-old child who rebelled early, having been forced to wear the veil since the age of 8. But her age was not a saving grace, for she was beaten and compelled to wear it again.
Jinan, 22, attended a religious school during her childhood that required girls to wear the hijab. Throughout the years, the pressure she felt was diminished by her father's constant discussions and attempts to convince her of the "religious doctrines" that she must abide by. Yet, those discussions stirred more questions inside Jinan's psyche. She resorted to reading books that she hoped would mollify her constant doubts. She studied many of them, both religious and non-religious, in her father's library. She then resorted to other books from outside the confines of her home and beyond the walls of the library. Amin Maalouf's book Deadly Identities affected her a great deal, and helped her make her final decision.
Facing her fears and her own self were scarier to her than facing society. At the age of nine, after her first year at the Faculty of Arts, her mind was set; she would discard the veil and end the relationship of obedience that existed between her and her parents. When she made her intentions known, they threatened to prevent her from going to college, so she ran away from home.
Leaving her father's house was not easy for Jinan, but it was great proof of the seriousness of her decision. Departing was painful for all, but it was her only hope. She later returned home once her parents, albeit slowly, consented to her decision. At first, her mother refused to accept the news, and refused to even see her for a month. Even after they reconciled, her mother refused to publicly accept her daughter's decision. On one occasion, she hid Jinan in the bedroom, for fear that the visitors would see her without a veil.
Jinan rejected the noxious stability that came at the expense of her freedoms, and she now continues to fight her daily battles to attain her potential and find her true self.
Nour Ezzedine
Nour was riding in a car when she decided that 13 years of wearing the veil were enough. She pulled out the safety pins and removed it, forever this time. She ran her fingers through her hair to free it of the constraints suffered during years of being wrapped up. She then stuck her head out the window.
Nour, 24, was forced to wear the hijab since the age of 10. She resisted at first, and was barred from going to school without wearing it, so she acquiesced. She never was convinced of the need to wear a veil, but her young age and fear prevented her from refusing to comply with her parents' "wish." But compliance was only temporary for her, and the idea of forsaking the headscarf never left her mind. Nour was influenced by women who rebelled against society, among them Houda Shaarawi, one of the most famous Muslim women who dared to remove her veil in public.
Nour's decision did not come easily. She had heard stories about girls who, when they refused to comply, were beaten and ostracized. She often stood in front of the mirror, repeatedly putting on and then removing her headscarf, hoping that one day she would be able to leave the house without it. Fear was the main deterrent but her conviction that she alone had the right to decide her fate settled her long-standing hesitation. She left her mother's house and sought refuge at her father's, whose opinion about the matter differed from that of his ex-wife. For her mother completely rejected the idea of not wearing a headscarf, and imposed upon Nour other religious edicts through various means, despite the fact that Nour did not believe in them.
After her final decision, Nour's mother accused her of being an apostate, and her younger sister took the mother's side and denounced her as causing shame to the family. Many of her old friends cut their relationships with her, and wrote offensive messages about her on Facebook.
This year, Nour celebrated her first birthday sans headscarf. She promised to gift her body, which belongs to her alone, a tattoo that reads "Qawimi" (Resist), so that it may be a constant companion in her personal fight against a "rotten" society, as she described it.
Danni Hneineh
Danni was totally convinced that honor had nothing to do with covering one's head. She grew up waging a constant inner battle between what society imposed upon her and what she wanted for herself. Danni, 27, was forced to wear the headscarf when she turned 13. No discussions or preparations preceded the move. Her father did not care if she prayed or read the Quran — his only concern was subjecting her to his will. She repeatedly tried to rebel against her father's decision and convince him, to no avail, of her desire to remove the hijab that so suddenly was wrapped around her head and so unjustifiably imposed upon her daily life.
She thought that her hijab had nothing to do with religion, and everything to do with her father's image in the community. To express her rejection, Danni began choosing her own clothes: tight and ornate. She considered that the manner by which the headscarf was imposed upon her robbed her of her right to express her femininity, particularly during her adolescence, leading to a decline in her self-esteem.
Danni was harshly criticized for her style in clothes, and she constantly had to explain that this was but a headscarf that she was forced to wear. She said, in describing the insults she was subjected to, "They killed me with their words. There is no compulsion in religion, and if God gives people choices, and He alone exacts retribution, then why do people punish me for my choices?"
Danni waited for the opportune moment. A few months ago, upon arriving at a French airport, she removed her hijab. Her departure from home and marrying a Frenchman helped her attain her desire.
Every day, when she woke up, Danni was burdened by the headscarf that she put on in front of the mirror before leaving the house. Today, she stands contentedly smiling in front of the mirror, the face of a free woman reflected back at her.
http://www.al-monitor.com/pulse/culture/2014/01/rebellious-women-discard-headscarf-hijab.html##ixzz2rq5EMr2A
----------
Girls Being Forced To Choose Between God and the Brownies, Church Leaders Warned
19 January 2014
Young girls are being forced to choose between God and the Brownies, the Church of England's ruling body has been told.
The decision to drop references to God from the movement's traditional pledge of allegiance and expel anyone who refuses to adopt the new version, amounts to "rank discrimination" against Christians, Muslims and followers of other faiths – often taking place inside church halls, according to opponents.
The attack on the new oath, which came into force in September, is contained in papers being sent to almost 500 members of the Church's decision-making General Synod which meets in London next month.
Instead of promising to "do my best, to love my God" members of the Guides and Brownies now pledge to "be true to myself and develop my beliefs".
The Scouts also recently introduced a new secular pledge to enable atheists to become full members but retain the traditional wording for those who wish to use it.
By contrast Girlguiding UK has been made clear that only the secular promise is valid.
One Guide group which meets in a parish church in Jesmond, Newcastle, is already in the process of being expelled from the movement for insisting on retaining the old promise.
Meanwhile in Northern Ireland, the Church of Ireland has given its blessing to local groups resisting the change imposed by the UK headquarters.
Now members of the Church of England's Synod are being asked to add their voices to a protest against the change.
The Synod is to devote time to debate a private member's motion tabled by Alison Ruoff, a senior member, which brands the decision to have a single secular oath as discrimination against believers.
In a briefing paper distributed by Church House, Mrs Ruoff said: "Most Guide units meet in church premises and for all these units to now be banned from being able to say in the promise that I 'love my God' cannot be right.
"Of course many secular organisations use church premises but in this case there has been imposed from Girlguiding HQ an outright ban after over a century of use of 'loving God'."
While many members accept the change, many others are "extremely upset, disappointed and worried", Mrs Ruoff wrote.
"Muslim girls are quite content to say 'love my God'," she added.
"From a wholly Christian perspective, how can a Christian girl or leader revert to the new promise?
"They are being forced to choose between faith and Girlguiding."
She continued: "The Scout movement has retained their 'old' promise, to love God, as well as having a secular promise.
"Why therefore should the Guiding movement not be allowed to have choice?
"It is rank discrimination against the girls of this wonderful youth movement."
A spokeswoman for Girlguiding UK said: "Girlguiding's new promise warmly welcomes girls of all faiths, and none.
"The updated wording grew out of an extensive consultation with nearly 44,000 people.
"During this consultation, our members made it clear they wanted to retain one promise as this is what unifies all girls of all backgrounds and circumstances behind a shared set of values - to be honest, helpful, kind and considerate; to respect other people and the world around you; to develop your beliefs and have the courage of your convictions; to face challenges; to be a good friend; and to take action for a better world.
"We feel it would be inappropriate to comment on this debate until it has taken place."
http://www.telegraph.co.uk/news/religion/10580007/Girls-being-forced-to-choose-between-God-and-the-Brownies-Church-leaders-warned.html
----------
Sexual harassment in Egypt still widespread
19 January 2014
Sexual harassment in Egypt is a dangerous phenomenon. It surfaced in Egyptian society several years ago, and has increased to the point that all girls have become victims of it while outside their homes.
At the end of 2013, UN Women, in cooperation with the Cairo Demographic Center, issued a study about sexual harassment targeting women in Egypt. The study clarified that 99.3% of women surveyed had been subjected to one form of harassment or another — 86.8% of them faced verbal offenses, while 94.1% were subjected to dirty looks directed at their bodies. Moreover, 79.2% suffered from telephone stalking and 95.9% were subjected to obscene language. Thus, as part of the "Safe Cities" project, UN Women in Egypt issued a public service announcement titled "Put yourself in her shoes, instead of finding ways to blame her," to combat violence against women and highlight the extent of fear they feel in the streets.
What is harassment?
The HarassMap initiative, which was founded in 2010 to track and map reported incidents of harassment in Egypt, defines sexual harassment as "any form of unwelcome words and/or actions of a sexual nature that violate a person's body, privacy or feelings and make that person feel uncomfortable, threatened, insecure, scared, disrespected, startled, insulted, intimidated, abused, offended or objectified."
Harassment: a social culture
Hussein el-Shafei, the Community Mobilization Unit head for HarassMap, told Al-Monitor that the main reason behind harassment in Egypt is the social tolerance for this phenomenon. This tolerance resulted from the spread of a culture of marginalization and scorn toward women that men are brought up on. Such an upbringing makes the violation of a girl's privacy normal and tolerable.
"Social acceptance of sexual harassment targeting women appears in many forms. First and foremost, girls who face verbal or physical assault in the street are not offered help. Sometimes people just watch the abuse and do not interfere to stop the abuser. Moreover, the girl is [often] blamed for triggering the harassment," said Shafei.
The law ignores harassment
Shafei added that the absence of express legal texts that criminalize harassment is one of the reasons it is not recognized as a crime committed against the harassed person. He confirmed that Egyptian law does not mention the word "harassment" in any of its articles concerning crimes against women.
According to the Egyptian penal code, public abuses against women are divided into three categories:
Rape (Article 268): Every one that rapes a human being by violence or threat or attempted to do so is punished by penal servitude for three to seven years.
Public assault (Article 269): Any person who incites to indecent assault publicly via words or gestures shall be punished by imprisonment for three months at least.
Shaming (Article 269): Any person who exposes another to indecent assault publicly via words, actions or gestures shall be punished by imprisonment for not less than six months and not more than two years, and with a fine that does not exceed 2,000 Egyptian pounds [$287].
Media and religious rhetoric
Shafei asserted that the media play an important role in spreading a culture of disdain toward women. Advertisements, cinematic productions and songs exploit the image of women to promote their goals. They also portray the abuser or mocker as a cool guy, despite that he mistreats another person. This is the image that the younger generations get and they imitate what they see in the media. Shafei also mentioned that children below the age of 14 were the victims of around 39% of sexual assault cases in 2012.
Moreover, the religious rhetoric that generations are brought up on does not clearly define the relationship between the sexes and the way they should deal with each other. Instead, this rhetoric contributes to harming women, through criticizing women who do not wear head scarves or claiming that the victim is responsible for attracting harassment, according to Shafei.
Chirine Sabet, an anti-harassment activist and blogger, told Al-Monitor that there is a certain environment encouraging harassment, or even rape, of girls. Amid the protests and celebrations currently witnessed in Egypt, the streets are crowded and harassers walk around abusing the female protesters. During the June 30 events, when protesters filled the streets, harassment and abuse against girls took place, sometimes with multiple men collectively harassing one girl.
HarassMap alone received 186 reports of collective harassment during the Tahrir Square protests on June 30, 2013.
Counter-harassment initiatives
Ayman Nagi, founded an anti-harassment campaign that started its activity in 2012, told Al-Monitor that the campaign aims at offering youth workshops to raise their awareness regarding the danger harassment poses to the safety and security of society, and to show them that harassment can affect even their sisters or female relatives.
The campaign also aims at offering harassed girls moral support, since many of them suffer from post-traumatic disorders. The symptoms of these disorders include depression, anxiety and self-blame, and specialist doctors help the girls overcome the psychological crisis that accompanies their abuse, Nagi noted.
Other initiatives include the HarassMap, which aims at removing the bad idea about men and the misconception that every male is a harasser. Shafei said that the first steps to solve the harassment phenomenon entail focusing on men, not women, because they are the core of the problem. This crisis concerns men more than women because they are the initiators of the problem.
http://www.al-monitor.com/pulse/originals/2014/01/egypt-activists-combat-sexual-harassment.html#ixzz2rq5o4XQ9
----------
Manila to crackdown on online child abuse
19 January 2014
MANILA — The Philippines on Saturday vowed to crack down on online child sex abuse, days after a global police operation dismantled a paedophile ring that streamed live sexual abuse of Filipino children over the Internet.
Police in Britain, Australia and the Philippines Thursday said they had jointly cracked a paedophile ring which exploited children as young as six. In some cases the victims' parents were involved. "We will not countenance any syndicates that will (prey) on our minors and that they will be used... as sexual instruments. That is something that we will really pound the hammer on," President Benigno Aquino's spokesman Edwin Lacierda told reporters.
"Certainly, actions will be taken to address the situation. This is really a concern for us because we've always said that the youth is (the) future of the nation," he added.
Lacierda conceded that the problem had been "under the radar" but said law-enforcement agencies were now placing greater emphasis on fighting the crime.
He also said that an anti-cybercrime law could have helped the Philippines in its efforts to tackle the crime.
The court is still hearing a legal challenge over the law's provisions on online libel and giving the state the power to shut down websites and monitor online activities.
Lacierda said the law's provisions were "a ticklish issue" but expressed hope that telecommunications companies and officials could reach an agreement over how to proceed.
http://www.saudigazette.com.sa/index.cfm?method=home.regcon&contentid=20140119192954
----------
North Carolina ultrasound abortion law ruled illegal by judge
19 January 2014
A federal judge struck down a 2011 North Carolina law requiring abortion providers to perform an ultrasound and explain it to a woman before having an abortion, arguing it violated the constitutional right to free speech of doctors.
U.S. District Judge Catherine Eagles found that a state does not have "the power to compel a health care provider to speak, in his or her own voice, the state's ideological message in favor of carrying a pregnancy to term."
The law "compels a health care provider to act as the state's courier and to disseminate the state's message discouraging abortion, in the provider's own voice, in the middle of a medical procedure, and under circumstances where it would seem the message is the provider's and not the state's," she added in her 42-page ruling.
"This is not allowed under the First Amendment," Eagles ruled.
The U.S. Supreme Court legalized abortion nationwide in 1973, but lawmakers in more conservative states in recent years have enacted laws that seek to place restrictions on the procedure, especially on late-term abortions.
The ultrasound requirement of the law had been blocked by Eagles a few months after it was passed due to concerns over what she described as the "non-medical message" doctors were required to deliver.
The law required that an ultrasound image be presented and the sound of the fetal heartbeat be offered at least four hours before an abortion, though a woman is free to look away and ignore an explanation and medical description of what is on the screen.
The decision was hailed as a victory for the American Civil Liberties Union, the Center for Reproductive Rights and Planned Parenthood Federation of America which filed a lawsuit challenging the Women's Right to Know Act.
"Today's ruling protects the rights of women and their doctors from the ideological agenda of extremist lawmakers," said Jennifer Rudinger, executive director of the ACLU of North Carolina.
"This law represented an egregious government intrusion into individuals' private medical decisions, and we are very pleased that it will not go into effect," she said.
Defenders of the law said it provided crucial information for women making a major and irrevocable decision.
"North Carolina's ultrasound requirement is no different than requiring speech for airlines and cigarette manufacturers for safety reasons," said Barbara Holt, president of North Carolina Right to Life. "The required information must be given even if the person hearing, seeing or reading the information finds the information upsetting, unnecessary or repetitive."
A Republican state legislator who advocated the law, House Majority Leader Paul Stam, was not immediately available to comment after normal business hours.
North Carolina Governor Beverly Perdue, a Democrat and the state's first female governor, vetoed the measure in 2011 but the state Senate overrode the veto.
In her veto message, Perdue called the legislation a "dangerous intrusion into the confidential relationship that exists between women and their doctors."
When the law went into effect in October 2011, North Carolina joined 25 other states that require pre-abortion counseling that goes beyond basic medical "informed consent," according to the Guttmacher Institute, a nonprofit sexual health research organization.
It also became the tenth state to include the additional requirement of an ultrasound, which has drawn legal challenges in several states.
North Carolina has some of the country's toughest requirements for clinics performing abortions, including a requirement doctors be present when abortions are performed.
It also bans publicly funded health insurance programs from paying for most abortions, and authorizes state health officials to design rules for increased safety standards for abortion clinics.
In North Carolina, 17 percent of pregnancies end in induced abortions, according to the Guttmacher Institute.
The case is Gretchen S. Stuart, M.D. et al v. Ralph C. Loomis, M.D. et al: 1:11-CV-804. (Editing by Lisa Shumaker)
http://www.trust.org/item/20140118014455-zi1lb/?source=hptop
----------
Bangladesh Women survivors of violence urged to break silence
19 January 2014
Although now widely acclaimed at home and abroad for her performance as a former member of the national football and cricket teams, Champa Chakma did not have it easy on the way to success.
This young indigenous woman from the hill district of Rangamati had to face criticisms of her neighbours and even endure a beating once for wanting to play with her male friends.
"Overcoming many hurdles, I have reached this stage. Now I can walk holding my head high," said Champa yesterday.
She was sharing her life's story at a programme organised by the Bangladesh chapter of One Billion Rising for Justice, a global movement to end violence against women, in the capital's Bangladesh Shilpakala Academy.
Like her, transgender activist Joya Sikder, domestic violence survivor Farjahan Rahman Shaon, tech freelancer Qurat-ul-Ain Nazuba, visually impaired banker Farzana Akhter and acid attack survivor Nurun Nahar revealed their stories of braving all odds and finally making it through.
Shaon, a single mother, said although the law permits a woman to divorce her husband, society cannot accept it. "People of our society are not mentally prepared to accept a divorcee woman. So the women have to face problems at every single step."
"Barriers will come but one should not lose courage...Unless we change ourselves, society will not change...We have to continue our fight," said the schoolteacher.
Joya said the government recognition of the Hijra community would not solve all the problems they have been facing throughout their lives.
"We are humans too. We are also citizens of the state. Why are we looked down upon," Joya said adding, "However, time has come for us to speak out."
One Billion Rising For Justice is a global call to women survivors of violence and those who love them to gather safely on February 14 near places where they are entitled to justice.
It is a call to survivors to break the silence and release their stories, politically, spiritually, outrageously, through art, dance, marches, rituals, songs, spoken words, testimonies and whatever way feels right.
Like last year, people across the world will take to the streets on February 14 with the commitment to put an end to violence against women and seeking justice for such violence.
http://www.thedailystar.net/city/women-survivors-of-violence-urged-to-break-silence-feb-14-7410
----------
URL: https://newageislam.com/islam-women-feminism/rape-used-weapon-jamaat-e/d/35338