New Age Islam News Bureau
21 Jun 2013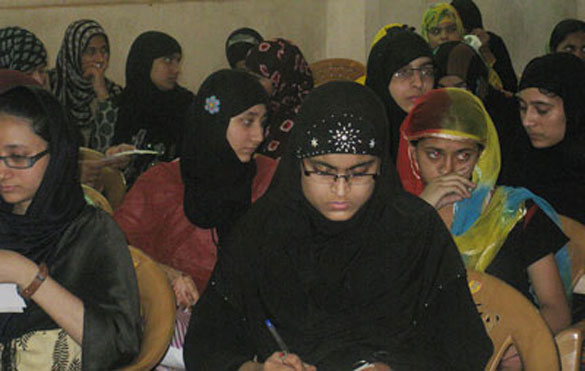 Photo: Girls Islamic Organization's Rajasthan Members camp
---------
• National Service dept mulling compulsory pre-training pregnancy tests in Malaysia
• 24 Million Women in India Use Internet Daily
• Girls Islamic Organization's Rajasthan Members camp
• Somalia's 'Cultural Shift' Means Less-Severe Form of FGM
• Verdict expected in topless protesters Tunisia appeal
• One in Three Women Suffers Violence, Global Study Finds
• Nawaz Sharif Gives Rs2.5m Cash Prize to Mount Everest Woman Climber
• Mideast Women Have 67.4% Less Disposable Income than Men
• Violence against Women, Children in Most of the Commonwealth Countries Still Critical Issue
• Women Still Victims of Wage Discrimination in Bangladesh
• Yemeni Daughter Finds 86-Year-Old Father in Jeddah after 50 Years
• Jolie Says Syria Crisis 'Worst', Calls for More Aid
Compiled by New Age Islam News Bureau
URL: https://newageislam.com/islam,-women-and-feminism/new-age-islam-news-bureau/rape-on-the-premises-of-mazar-e-quaid--shc-issues-notice-on-rape-survivor's-appeal/d/12201
-------------
Rape On The Premises Of Mazar E Quaid: SHC Issues Notice on Rape Survivor's Appeal
June 20, 2013
KARACHI: The Sindh High Court has issued notice on an appeal challenging the acquittal of three men of the charges of raping a woman on the premises of the Mazar-e-Quaid on different grounds, including non-appreciation of the DNA test findings.
The rape survivor had appealed against acquittal of the then assistant manager for security of the mausoleum, an accountant and a personal assistant to the resident engineer of the Quaid-e-Azam Management Board who were charged with subjecting her to a sexual assault on March 15, 2008.
Two days later, the then 18-year-old woman, was found in an unstable condition outside the mausoleum.
She, accompanied by her husband and other relatives had arrived in the city from Lodhran on March 15, 2008 and the same night visited the mausoleum. She went inside with her husband, who later went to bring other family members waiting outside in a bus. As her husband left to bring in the other family members, the suspects allegedly kidnapped her. She was taken to a room where she was "forced to drink wine and then sexually assaulted," the police had said.
Police had arrested an assistant manager security of the mausoleum on March 20, 2008 after the victim identified him during an identification parade before the judge. Later, two others were tracked down after the DNA tests of the victim and suspects successfully confirmed their involvement in the case.
A case 50/2008 was registered under Sections 376-B (punishment for rape) and 34 (common intention) of the Pakistan Penal Code on a complaint of the victim's father at the Brigade police station. Later, all the accused were released on bail.
On April 7, the additional district and sessions judge (East), Nadeem Ahmed Khan, however, acquitted all of the charges in light of the testimonies recorded by the witnesses and final arguments from the prosecution and defence.
Appealing against judgments in March, the survivor's lawyers Faisal Qureshi and Malik Waseem Iqbal had submitted that the acquittal judgment was based on the presumption that the "offence of Zina (forced rape) and the offence of rape, or gang rape, under Section 376 of the Pakistan Penal Code were not distinct but were the same offences."
"This misconceived presumption is obvious from the fact that the points framed by the trial court do not refer to the rape incident but rather refer to 'intention to commit illicit intercourse'," they argued.
The lawyers claimed that the acquittal judgment, which was passed on April 7, was erroneous because the offence of Zina and the offence of rape are distinct offences.
DNA test
Lawyers said the judgment was also based on what the judge found to be contradictions in the testimonies given by the complainant, the victim and other witnesses. "The impugned judgment is clearly erroneous because it is a settled law that the testimony of the rape survivor, especially if it is corroborated by the medical evidence against the accused persons, can be the sole basis for the conviction of the accused persons," argued the lawyers.
The trial court, however, had completely ignored the importance of the medical evidence and the forensic evidence (DNA test), noting that there were no marks of violence on the body of the survivor, which is not necessary. The lawyers pleaded to the court to call record of proceedings of the case from the trial court, examine the same and then set aside the judgment, through which the suspects were acquitted.
While taking up the matter recently, a single bench headed by Justice Irfan Saadat Khan, issued notice to the state and three suspects, for a date to be later fixed by the court.
http://tribune.com.pk/story/565642/challenging-acquittals-shc-issues-notice-on-rape-survivors-appeal/
-------------
National Service dept mulling compulsory pre-training pregnancy tests in Malaysia
JUNE 21, 2013
The National Service Training Department (JLKN) will speak to the Defence Ministry on the possibility of compelling female trainees to undergo pregnancy tests before participating in the National Service Training Programme (PLKN).
Its director-general Datuk Abdul Hadi Awang Kechil said the move was vital to avoid concealed pregnancies following the delivery of a baby in a training camp in Johor on Wednesday.
"I have to bring the matter to the attention of the top management, especially to Defence Minister Datuk Seri Hishammuddin Tun Hussein, as it involves other authorities, including the Health Ministry and the Women, Family and Community Development Ministry," he told reporters after closing the training for Group 2 Series 10/2013 at Kampung Hijrah PLKN camp in Penor near Kuantan, yesterday.
He said although all NS trainees were required to undergo a medical examination before undergoing the programme, it was not compulsory and testing for pregnancy was not included in the examination.
In the 3am incident Wednesday, a NS trainee gave birth to a baby boy in the toilet of the Sri Ledang PLKN camp in Jementah, Segamat, Johor.
The camp management rushed the 18-year-old girl and the 2.7kg baby to the Sultanah Fatimah Specialist Hospital, but the baby died shortly afterwards.
"The trainee is safe and I have asked for a further investigation to be carried out and a report to be prepared immediately.
"It has become a police case and I don't want to comment further as we have to respect the victim's family. Let the investigations be completed first," Abdul Hadi said.
Meanwhile, he said the Department had instructed that physical activities at all NS camps in states badly affected by haze, especially Melaka, Negeri Sembilan and Johor, to be held indoors to prevent impact of haze on the trainees' health after the Air Pollutant Index in most areas in the states registered a reading of over 100. - Bernama, June 21, 2013.
http://www.themalaysianinsider.com/malaysia/article/ns-dept-mulling-compulsory-pre-training-pregnancy-tests/
----------
24 million women in India use internet daily
PTI | Jun 20, 2013
MUMBAI: About 40 per cent of the 150 million internet users in the country are women and close to 24 million of them log in everyday to check emails, interact on social networking sites and shop online, according to a study conducted by search giant Google.
"Around 60 million women in India are now online and use the Internet to manage their day-to-day life. With easy access to internet at homes, cyber cafes, offices and growing adoption of smart phones, Internet is being used by women for a variety of things," Google India VP and Managing Director Rajan Anandan told reporters here.
The study also found that women who are online are relatively more affluent and younger, he added.
The study, which also includes internal data from Google and a survey of 1,000 women, found that three out of four women in SEC AB are now online and 75 per cent are in the 15-34 age group with over 24 million women accessing the Internet daily.
In terms of online activity, email, search and social networking topped the list, followed by downloading music, looking for educational content, job search, watching videos and consuming news.
In terms of top searched categories by women on Google, apparels and accessories was the biggest search category followed by food and drink, baby care, hair care, and skin care.
The study found that categories like skin care, hair care, food and drink were the fast growing search categories, with queries coming from mobile phones accounting for almost 25 per cent of the total query volumes in these categories.
According to the research conducted by TNS Australia, more than half of the respondents with access to internet, said net research influenced their decision before finalising a product.
Internet influence also turned out highest for categories like skin care (72 per cent), baby care (69 per cent) and hair care (65 per cent) products.
http://timesofindia.indiatimes.com/tech/personal-tech/computing/google-24-million-women-in-india-use-internet-daily/articleshow/20683469.cms
-------------
Girls Islamic Organization's Rajasthan Members camp
20 June 2013
Jaipur: A one day "All Rajasthan Members Camp" was organized by Girls Islamic Organization (GIO) of Rajasthan, on June 2, 2013. It was attended by GIO members from five districts of the state. The programme commenced with Tazkeer bil Quraan by Sister Rizwana (Unit President, Ramganj, Jaipur). Ubaidah Iqbal (President GIO, Rajasthan) explained the objective of the camp through inaugural speech.
Shaista Hussain (District Organizer, Sikar) expressed her thoughts on the topic "Significance of being organised." She stated that organisation is the innate need of human being. Allah has made the Muslims a 'Jamaat' (Group) for a purpose i.e. "iqaamat-e-deen" (establishment of Deen) and Prophet Muhammad S.A.W. also commanded us to remain in 'Jamaat' to achieve this aim. Sumaiya Afnan (District Organizer, Jaipur) enlightened the audience on "Duties of a leader and the followers" that an Ameer (leader) should be caring, responsible and serious about his duties; Maamureen (followers) should obey his leader in all possible situations; and their mutual relationship should be fair.
Ayesha Badar (Secretary, GIO Rajasthan) explained the "Constitution of GIO-Rajasthan." Huma Ansari (Unit President, Mangrol) addressed all the members on the topic "Our duties as an individual" that we should present our Islamic identity in every aspect of life and should try our best to guard human rights of all. Saika Bhati (Treasurer, GIO, Rajasthan) gave speech on the title "Mutual relationship among the sisters of GIO" and stated that mutual understanding and affection between the members are helpful to achieve the purpose i.e.
iqaamat-e-deen.
Ubaidah Iqbal (President, GIO, Rajasthan) revealed her thoughts about "How to work in Campus" that we should strive to make the environment of campus pure, calm, and safe; and free from evils like ragging, fashion shows, eve-teasing, communalism, etc. For this, we should civilize the students by Islamic teachings and try to help them as far as possible, but first we have to present ourselves as a perfect Islamic ideal before them.
Mrs. Shakira Khatoon Sahiba (Nazima Tarbiyat, Women's Wing, Jamaat-e-Islami Hind, Rajasthan) spoke on "Sacrifice in the way of Allah" and said that we should learn the feeling of physical and financial sacrifice from Sahabiyaat (Female companions of the Prophet) and try to develope that feeling in us. "Study: Why and How?," this topic was presented by Waqar Ahmed (Observer, GIO Rajasthan) that Allah gave us all the Knowledge that we didn't have but the human being used to ignore that nemat (gift) of Allah. We should apply Islamic way of education in our life.
Dr. Mohd. Iqbal Siddiqui Sahab (Secretary Dawat, JIH Rajasthan) described "How To Develop An Islamic Personality" and said that personality of a person can be judged through his knowledge about society and its circumstances. He also said that memory of a person is the measurement of his ilm (knowledege). The most developed personality of the world is that of Prophet Muhammad S.A.W. who gifted us knowledge through the Holy Quran. The Holy Quran, Namaz and spending in the way of Allah are the ways to get more and more closer to Allah. At the end of the programme, Khurshid Hussain Sahab (Patron, GIO Rajasthan) said that it is a precious gift of Allah that we are Muslims and are attched with a purest organisation. Close relation with Allah, Islamic life and character and belief in life after death are the main parts of our training.
There was also an open session of discussion on "Problems during the work of GIO and their solutions."
http://twocircles.net/2013jun20/report_girls_islamic_organization%E2%80%99s_rajasthan_members_camp.html
-------------
Somalia's 'Cultural Shift' Means Less-Severe Form of FGM
BY ABDURRAHMAN WARSAMEH, 20 JUNE 2013
Mogadishu — Seven-year-old Istar Mumin lies on a bed, motionless, in one of the rooms of her family home in Mogadishu's Hamarweyne district. She has just gone through the horrifying ritual of "the cut," which was carried out by a local Somali nurse.
"I am in pain. I cannot move. They cut me," a teary-eyed Mumin, who was visibly weak from the procedure, tells IPS.
Elsewhere in the house her mother, Muhibo Daahir, is in a celebratory mood as their family entertains guests who are here to celebrate Mumin's circumcision.
The age-old practice of Female Genital Mutilation (FGM) is banned by the current Somali constitution. But it is still widely carried out, particularly in Somalia's formerly war-torn areas, on girls as young as five -- in the hope of keeping them pure and making them ready for marriage. Most families see the occasion as a time of happiness and festivity.
According to a United Nations Children's Fund (UNICEF) advocacy paper titled "Eradication of Female Genital Mutilation in Somalia", "FGM can have severely adverse effects on the physical, mental and psychosocial well being of those who undergo the practice.
"The health consequences of FGM are both immediate and life-long. Despite the many internationally recognised laws against FGM, lack of validation in Islam and global advocacy to eradicate the practice, it remains embedded in Somali culture."
The paper also states "long-term complications include loss of libido, genital malformation, delayed menarche, chronic pelvic complications and recurrent urinary retention and infection. FGM victims are also prone to a number of obstetric complications because the foetus is exposed to a range of infectious diseases and faces the risk of having its head crushed in the damaged birth canal."
The practice is regarded by Somalia's new constitution as "torture." Article 15 (4) of the Provisional Constitution stipulates: "Circumcision of girls is a cruel and degrading customary practice, and is tantamount to torture. The circumcision of girls is prohibited."
However, there is no specific law against female circumcision, and the practice remains widespread in both rural and urban areas in this Horn of Africa nation.
Daahir is defensive when asked why she allowed her daughter to undergo circumcision.
"Our religion allows us to purify our daughters so that they can get married when they are mature. The government cannot stop us from practicing our religion," Daahir tells IPS.
She says that her daughter, just like "other girls of this time," was circumcised in the Sunnah form of circumcision prescribed by the Islamic religion.
This method involves the partial cutting of the clitoris. Another form of FGM practiced in Somalia is the Pharaonic form, which involves the complete removal of the clitoris and the labia minora and majora. The outer vaginal opening is also stitched closed, apart from a small opening that is left for urination.
Daahir says, however, that unlike in the past, a qualified nurse and not an untrained traditional circumciser carried out her daughter's circumcision. Her point of view is widespread in the country's capital.
But in regions of Somalia that have not been caught up in the country's two-decade war, the practice has declined.
"Everyone now knows that in Somalia, the extreme form of FGM is frowned upon and Sunnah-circumcised women are keenly sought after by men for marriage." -- Raho Qalif, Somali school teacher
In April, UNICEF released a survey based on interviews conducted in Somalia's northern region of Puntland and the breakaway state of Somaliland, which showed that the practice of FGM has decreased. The survey, conducted in collaboration with local governments, found that 75 percent of girls aged between one and 14 have not been cut, in comparison with 99 percent of young girls who have undergone the procedure in other regions in Somalia.
According to UNICEF, the United Nations Population Fund-UNICEF Joint Programme, has engaged over 300,000 community members and stakeholders in discussions on abandoning FGM in Puntland and Somaliland.
Perhaps the reason the practice has decreased in the north is that the area has enjoyed relative stability over the past two decades, while the rest of the country was caught up in a clan-based civil war that began in 1991. Awareness campaigns and public education about the dangers of FGM could not be conducted in these volatile areas as they were in Somaliland and Puntland.
Attitudes towards FGM are changing. However, activists here tell IPS that Somali society is not abandoning the ritual but is instead adopting a less severe form of FGM known as Sunnah.
"Somalis are not leaving their girls uncircumcised, although they are not using the crude Pharaonic form of the practice but using Sunnah, which in comparison to the traditional one is non-invasive," Halimo Ali, a social activist in Mogadishu, tells IPS.
Ali says she finds that people are now taking to the Sunnah form of FGM, in which less than five percent of the cut is done, compared to the Pharaonic form which "completely wipes out everything.
"I am aware of the study done in Puntland and Somaliland and it is encouraging. But I doubt that Somalis now will stop their daughters from being circumcised in one form or another," she says.
Maryan Aalim is a mother of seven daughters.
"All of my daughters are circumcised in Sunnah, but the eldest was circumcised in the traditional way. I chose the Sunnah circumcision because that is the one allowed by Islam," she tells IPS.
Sheikh Omar Ali, a senior cleric in Mogadishu, is one of the religious leaders people rely on when they want to justify the practice of FGM.
"There is only one form of circumcision that is prescribed by Islam and it is the Sunnah form. The Pharoanic form predates Islam and is un-Islamic," he tells IPS.
Local activists say the total eradication of the practice is their ultimate goal but they add that the "cultural shift" in Somali society needs to be recognised, and that the evolution of the practice could be seen as a positive step towards total elimination of FGM in Somalia.
"People now recognise the negative effects of the extreme form of FGM on women and girls and have adopted the Sunnah form. It is not what we want, yet it is a step in the right direction," Raho Qalif, a school teacher in Mogadishu, tells IPS.
She says the practice will eventually fade out of Somali culture and notes a "trend," saying that to circumcise girls in the Sunnah form has now become "fashionable."
"Everyone now knows that in Somalia, the extreme form of FGM is frowned upon and Sunnah-circumcised women are keenly sought after by men for marriage," says Qalif.
http://allafrica.com/stories/201306200919.html?viewall=1
-------------
Verdict expected in topless protesters Tunisia appeal
21 Jun 2013
A lawyer for three European activists with women's topless protest group Femen, jailed for four months for baring their breasts in Tunis, said he expected a verdict in their appeal on Friday.
"I expect a decision during the day, after the hearing" which was due to begin at 1030 GMT, Souhaib Bahri told AFP.
He said the three young women, two French and one German, jailed on June 12 for an attack on public morals and indecency, had benefited from an accelerated appeals process. Appeals normally involve a delay of four to six months.
"It's a good sign, of course, this swift process. I'm optimistic but I want to wait for the verdict. The first time I was too optimistic and we had a shock," Bahri said.
He was referring to the four-month jail sentences handed down against the defendants, which were considered harsh in Europe, where the case was seen by some as a test of democratic freedoms under Tunisia's Islamist-led government which came to power after the revolution of January 2011.
France, Germany and the European Union have all expressed regret at the severity of the sentences.
The three women were arrested on May 29 for staging their controversial demonstration outside the central courthouse in Tunis in support of Amina Sboui, a detained Tunisian activist from the same radical women's group.
Sboui was arrested for painting the word "Femen" on a wall near a cemetery in Kairouan last month, in protest against a planned gathering of radical Salafists in the historic Muslim city south of Tunis.
She remains in custody while a judge rules on whether she should face charges of indecency and desecrating a cemetery.
http://english.ahram.org.eg/NewsContent/2/8/74580/World/Region/Verdict-expected-in-topless-protesters-Tunisia-app.aspx
----------
One in Three Women Suffers Violence, Global Study Finds
WHO research reveals shocking extent of attacks on women, the vast majority of which are carried out by male partners
Sarah Boseley
20 June 2013
More than a third of all women worldwide – 35.6% – will experience physical or sexual violence in their lifetime, usually from a male partner, according to the first comprehensive study of its kind from the World Health Organisation (WHO).
The report reveals the shocking extent of attacks on women from the men with whom they share their lives, with 30% of women being attacked by partners. It also finds that a large proportion of murders of women – 38% – are carried out by intimate partners.
"These findings send a powerful message that violence against women is a global health problem of epidemic proportions," said Dr Margaret Chan, director general of the WHO. "We also see that the world's health systems can and must do more for women who experience violence."
Full report at:
http://www.guardian.co.uk/society/2013/jun/20/one-in-three-women-suffers-violence
-------------
Nawaz Sharif Gives Rs2.5m Cash Prize to Mount Everest Woman Climber
June 20, 2013
ISLAMABAD: Samina Baig, the first Pakistani woman to scale Mount Everest, called on Prime Minister Muhammad Nawaz Sharif at the Prime Minister's Office on Thursday.
Congratulating Baig on scaling Everest and terming her achievement a landmark, the prime minister gave her a cash award of Rs2.5 million in recognition of her becoming the first Pakistani woman to conquer the peak.
Full report at:
http://tribune.com.pk/story/565899/pm-gives-rs2-5m-cash-prize-to-mount-everest-climber/
-------------
Mideast women have 67.4% less disposable income than men
20 June 2013
Women in the Middle East and Africa had 67.4 percent less annual disposable income than men in the region in 2012, the largest gap in the world, according to Euromonitor International, the consumer markets research group.
In many households, women account for a larger share of purchasing decisions and the gap is therefore a threat to the consumer market, according to the study.
The statistics showed that the annual disposable income per capita for women in the Gulf Cooperation Council (GCC) countries was $ 4,004, while men had $ 17,021 or 325 percent more to spend.
Full report at:
http://www.arabnews.com/news/455593
-------------
Violence against Women, Children in Most of the Commonwealth Countries Still Critical Issue
21 June 2013
Violence against women and children is a critical issue in most of the commonwealth countries, and it is affecting women's empowerment.
This was observed at the 10th Commonwealth Women's Affairs Ministers Meeting that concluded with adoption of a 20-point "Dhaka Declaration" in the capital yesterday.
Delegations from 30 countries, including 17 women ministers, from all region of the commonwealth took part in the 3-day meeting.
Full report at:
http://www.thedailystar.net/beta2/news/violence-against-women-children-still-critical-issue/
-------------
Women Still Victims of Wage Discrimination in Bangladesh
21 June 2013
Women labourers in Phulchhari Upazila under the district have to remain 'satisfied' with much lower wages than that of their male counterparts, thanks to the exploitative attitude of the employers.
Driven by poverty, a large number of women in remote char areas now work as labourers in the local crop fields to earn livelihood as male people often migrate to other places in search of seasonal work for higher wages, creating vacancy in the local labour market.
Many women are engaged as construction workers under the government's development programmes or NGO projects.
Full report at:
http://www.thedailystar.net/beta2/news/women-still-victims-of-wage-discrimination/
-------------
Yemeni daughter finds 86-year-old father in Jeddah after 50 years
20 June 2013
This is a poignant but heart-warming story of a father and daughter uniting after 50 long years.
For Mousa Al-Mangari, now 86, it was literally a dream come true to see his daughter, Salma, in flesh and blood, particularly since he was given to believe that she died five decades ago.
As the story unfolds, it becomes obvious that every character in the moving drama has played a key role. Beginning with the marriage of Al-Mangari, a Saudi citizen, to a Yemeni woman till the last scene where Salma is united with her father.
The couple had divorced a year after their marriage when Al-Mangari shifted from Jeddah to Riyadh for employment.
Full report at:
http://www.arabnews.com/news/455606
-------------
Jolie says Syria crisis 'worst', calls for more aid
20 Jun 2013
Oscar-winning actress Angelina Jolie urged the international community to boost aid to Syrian refugees hit by what she called "the worst humanitarian crisis of the 21st century," a UNHCR statement said Wednesday.
Jolie, who is UNHCR special envoy for refugee affairs, visited the Jordan-Syria border overnight accompanied by head of UN High Commissioner for Refugees Antonio Guterres.
During their tour the two met Syrian refugees and heard how they had escaped their war-ravaged homes for Jordan.
Full report at:
http://english.ahram.org.eg/NewsContent/5/32/74531/Arts--Culture/Film/Jolie-says-Syria-crisis-worst,-calls-for-more-aid.aspx
-------------
URL: https://newageislam.com/islam,-women-and-feminism/new-age-islam-news-bureau/rape-on-the-premises-of-mazar-e-quaid--shc-issues-notice-on-rape-survivor's-appeal/d/12201