New Age Islam News Bureau
16 Feb 2017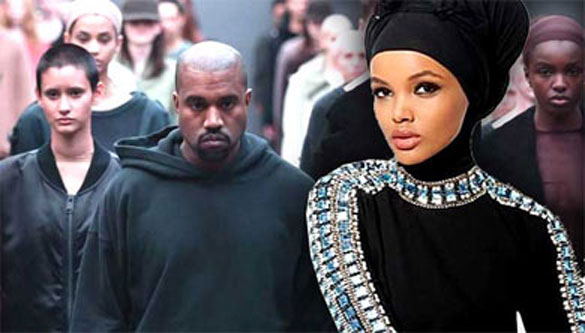 Rap superstar turned designer Kanye West broke boundaries by putting a hijab-wearing Somali-American model on the New York catwalk
-----
• Hijab-Wearing Muslim Model Halima Aden Just Scored a Major Contract with IMG
• JUI-F, JI Oppose Mandatory 10pc Women Voting
• Saudi Seeking A Third Wife Publicly Shamed For Forgery
• Pakistan Doesn't Care Violence against Women Is Spiralling Out Of Control
• Fatima Jinnah Women University Holds Dialogue on Role of Women in National Development
Compiled by New Age Islam News Bureau
URL: https://www.newageislam.com/islam,-women-and-feminism/new-age-islam-news-bureau/rap-superstar-kanye-west-presents-hijab-wearing-model-on-catwalk/d/110099
--------
Rap superstar Kanye West presents hijab-wearing model on catwalk
February 16, 2017
NEW YORK: Rap superstar turned designer Kanye West broke boundaries by putting a hijab-wearing Somali-American model on the New York catwalk Wednesday, unveiling a new, more adult Yeezy Season 5 collection.
Halima Aden, 19, made her runway debut on day seven of New York fashion week at one of the hottest and most exclusive tickets in town -- West´s at times experimental collaboration with Adidas.
She walked in front of West´s reality star wife Kim Kardashian and Vogue editor-in-chief Anna Wintour not long after West was slammed by fans for meeting then president-elect Donald Trump in December.
Born in a Kenyan refugee camp and now a US citizen, her appearance in such a high-profile show will propel her into a much bigger league than did the headlines she first made last year -- when she became the first woman to compete in a Miss Minnesota beauty pageant in a hijab.
Style bible Vogue said her appearance made her the show´s "most talked-about new face" and credited her with starting a "meaningful conversation" by proudly representing Muslim women at fashion week.
While finding looks that meet her required modesty can be challenging, Aden told Vogue that so far her experiences had been positive.
"My goal is to send a message to Muslim women and young women everywhere that it´s okay to break stereotypes and be yourself," the magazine´s website quoted her as saying.
"I haven´t received any pressure to be anything other than myself," she told Vogue, "and for that, I am so grateful."
The Season 5 show saw West apparently bounce back from a reported mental breakdown as his family was still recuperating after Kardashian was robbed at gunpoint in Paris in October.
And after a fiasco last season, which saw one model collapse due to extreme heat, West bucked the trend and refused to broadcast it live.
It was a radical departure for the 39-year-old whose shows have been over the top -- presenting at locales from Madison Square Garden to New York´s Roosevelt Island -- since he started his fashion line two years ago.
But on Wednesday his latest collaboration with Adidas was shown in a more traditional, stripped-down industrial space in Manhattan´s Chelsea neighborhood, in an area along the Hudson River used by other designers.
Guests were warned not to use phones, take pictures or videos, and not to post anything on social media -- but of course, those warnings appeared on social media anyway, as did a few photos.
The clothes departed a bit from his usual sportswear, though that influence was still present.
Denim hit the Yeezy catwalk for the first time, in the form of high-waisted jeans, shirts and jackets.
Coats in leather or fur put the label into another sphere, as did an anthracite gray blouse with a decidedly feminine cut.
https://www.thenews.com.pk/latest/186728-Rap-superstar-Kanye-West-presents-hijab-wearing-model-on-catwalk
--------
Hijab-Wearing Muslim Model Halima Aden Just Scored a Major Contract With IMG
BY LEAH BOURNE
FEBRUARY 15, 2017
Minnesota teen Halima Aden—a Somali American born in a Kenyan refugee camp and who wears a hijab—just scored a major modeling contract with IMG. Though its making strides, the fashion industry isn't exactly known for being particularly inclusive, so this is an important indication that there are positive changes happening.
Aden, now 19, first rose to fame last year, when she competed in Minnesota's Miss USA competition wearing a hijab and, in the swimsuit portion of the competition, a burkini.
"I didn't really have modeling in mind," Aden told Business of Fashion. "I wanted to spread a positive message about beauty and diversity, and to show other young Muslim women that there is room for them."
From there, she caught the eye of one of the most influential modeling agents in the world, IMG president Ivan Bart. "I found that she was just so brave to stick to what she really believed in and yet go after the American dream of being in a beauty contest," he said. "We'll see how the industry reacts to Halima and works with the restrictions or not."
Aden's star is already on the rise: She's featured prominently in the next issue of high-fashion magazine CR Fashion Book, and is set to appear in Kanye West's Yeezy presentation during New York Fashion Week.
The signing of Aden by IMG, it should be noted, isn't just a powerful message of religious tolerance and inclusivity; it's also a highly savvy business move given how increasingly lucrative the Muslim market is for fashion brands: A 2016 report by Thomson Reuters revealed that Muslim shoppers spent $266 billion on clothing and footwear in 2013, and predicted that spending could reach $488 billion by 2019.
Some brands are wisely taking notice—Dolce & Gabbana, in an effort to capitalize, launched a collection of hijabs and abayas (ankle-length robes) targeting Muslim shoppers in the Middle East last year—and trend forecasters predict that other fashion labels will follow suit.
http://www.glamour.com/story/hijab-wearing-muslim-model-halima-aden-contract-img
--------
JUI-F, JI oppose mandatory 10pc women voting
SYED IRFAN RAZA
ISLAMABAD: A meeting of the sub-committee of the Parliamentary Committee on Electoral Reforms held in the Parliament House on Wednesday could not reach a consensus on the issue of 10 per cent mandatory participation of women in elections after the Jamiat-i-Ulema-i-Islam-F (JUI-F) and Jamaat-i-Islami (JI) opposed the proposal presented by other parliamentary parties.
The JUI-F and JI stuck to their stance for only 5pc participation of women in the elections, although other parliamentary parties demanded at least 10pc participation for validation of polls.
"The parliamentary parties could not reach a consensus on the issue of women's voting," Shazia Marri, a member of the committee, told reporters after an in-camera meeting.
According to the Election Reforms Package and the Election Act, 2017, it has been proposed that at least 10pc participation of women voters should be made mandatory for elections.
In case of less than 10pc participation of women in the elections in any constituency, the proposal says, the Election Commission of Pakistan should have the right to order re-election for the seat.
No consensus reached on the issue in reforms body meeting
Talking to Dawn, JI leader Tariq Ullah said his party had some reservations on 10pc mandatory participation of women voters in elections. "One should not be forced to take part in polls, especially women," he said.
He said that other issues were also discussed in the meeting, including MNAs' development funds and fee for contesting polls.
He said no decision had been taken on the issue of overseas Pakistani voters and biometric and e-voting systems.
"Most members of the committee have demanded that overseas Pakistanis be given the right to vote," he said.
Referring to biometric and e-voting systems, he said the committee had been informed that the Election Commission required a hefty amount of Rs40-50 billion to introduce them.
Talking to reporters, the chairman of the sub-committee, Law Minister Zahid Hamid, said that 24 organisations and institutions had submitted 600 recommendations before the committee.
"The sub-committee will review these recommendations and present its report to the main committee," he said.
The minister claimed that no restriction was being imposed on election observers and media.
"All fears of Fafen and other observers regarding restrictions on elections observers and media are baseless," he said.
Recently, the Pakistan Tehreek-i-Insaf (PTI) presented its election reforms package and demanded complete financial and administrative independence of the ECP to ensure that the next general elections were held in a better and more transparent manner in May 2018.
The PTI has also demanded that the budget of the ECP should be one-line budget on the pattern of financial autonomy of the Supreme Court and rules of the ECP should not be made by the government; rather the commission should have complete administrative autonomy to make its own rules and regulations for elections.
Published in Dawn February 16th, 2017
http://www.dawn.com/news/1315097/jui-f-ji-oppose-mandatory-10pc-women-voting
--------
Saudi seeking a third wife publicly shamed for forgery
Feb 16, 2017
JEDDAH — A Saudi man forged medical documents of his wife to justify his marriage to another non-Saudi woman, Al-Madinah reported.
A source from the Ministry of Justice said the man in his 50s was already married to two Saudi women and applied to take a non-Saudi woman as his third bride.
"The man hired an agent to follow up with his paperwork who told him that the only way to expedite the process was by claiming that his first wife was terminally ill. The man submitted forged medical documents to support his false claim," said the source. The source also said legal authorities found out that the documents were forged and forwarded them to the Bureau of Investigation and Public Prosecution.
"The man will face trial at the Yanbu court. He was accused with forgery and he has admitted to the crime. The man elaborated that he needed to marry a third wife but could not marry a Saudi woman for personal reasons," said the source.
The source also said the man explained that he applied to the Ministry of Interior to marry a non-Saudi woman.
"The man went to Riyadh to contract with an expediter to follow up with his case and ensure that all the paperwork is processed in the quickest possible time.
"The expediter told me that in order to get the ministry's agreement on my request, I must present evidence that my wife suffers from an illness or is undergoing health difficulties," the man was quoted as saying by the source.
The source said the man told the expediter that his wife was indeed ill.
"The man said the expediter included papers in the request that he was not aware of. The man said if he had known that the expediter had forged some documents he would have not agreed to it. The man said he is a father of more than 10 children.
He added he is a teacher with limited income and he fears losing his job and jeopardizing his family," said the source.
The source also said that after the judge saw the man's case and his family circumstances he opted for alternative punishment.
"The judge sentenced the man to public shaming and obliged him to sign a pledge to never commit a forgery again.
http://saudigazette.com.sa/saudi-arabia/saudi-seeking-third-wife-publicly-shamed-forgery/
--------
Pakistan doesn't care violence against women is spiralling out of control
16-02-2017
Despite several laws in place, in the glaring absence of enforcements, there is no let up in the number of cases of violence against women in Pakistan.
Most disturbingly, the current year seems to be particularly brutal, with more than a dozen honour killings occurring in just one-and-a-half months. It looks like Pakistan is still in the medieval or dark ages with scant respect for women or its own laws. To cite an example, an independent and motivated woman, Huma Shahnawaz , 27, belonging to Kohat in Khyber Pakhtunkhwa (KP), is the latest victim of atrocity.
Huma had the courage to defy the advances of her cousin, who often intimidated her to marry him. She refused his overtures, enraging him, and he got her killed in cold blood. Sadly, Huma was the sole breadwinner of her family and earned her livelihood by working in a small NGO in Islamabad. Her earnings supported her widowed sister-in-law, her dependent children, her divorced sister and her child.
The murder drew attention of some international human rights bodies which put pressure on the Pakistan government, leading to issue of an arrest warrant against the murderer. He is still on the run.
Under further pressure from the vocal international NGOs, the murderer's father was arrested, ostensibly to calm the agitated women in the region.
It's clear that most often, state inaction amounts to endorsement of such dastardly acts occurring in the name of honour of a tribe or family.
In addition to the cases of murder, torture and physical abuse of hapless women by a patriarchal society is more routine than an exception.
One fails to understand how in a country such as Pakistan, where military writ runs and which is consistently trying to eliminate terror and ethnic feud, such honour killings are regular happenings.
Pakistani sociologists reckon that the country's society encourages violent behaviour and accepts it as social norm.
According to the latest statistics on violence against women, contained in a report by the ministry of law, justice and human rights submitted to parliament, there were 860 honour killings, 481 incidents of domestic violence, 90 cases of acid burning, 344 cases of rape/gangrape and 268 incidents of sexual assault/harassment. And these are only official figures. The toll is even higher as many cases do not get registered with the police.
Significantly, the laws against honour killings have been toughened. Yet, nearly 40 honour killings have been recorded since the promulgation on October 7, 2016, of the Anti-Honour Killing and Anti-Rape Bills. This suggests inertia on the part of Pakistani federal and provincial governments.
More interestingly, out of a total population of 190 million people, women in Pakistan constitute almost 52 per cent. Yet, a majority of these women suffer mental and physical abuse in the form of domestic violence, rape, assault, acid attacks and honour killings.
According to the 2011 Thomson Reuters Foundation Report, Pakistan is the world's third most dangerous country for women. It continues to suppress and oppress women by openly denying them the right to education, healthcare, adequate nutrition and even the right to choose their life partners.
Judging by yet another reliable statistic, World Economic Forum's (WEF) global gender gap report ranks Pakistan at 143 among 144 countries in the gender equality index. Since 2006, when the country stood at 112th position, its standing has been steadily deteriorating each year. Pakistan has also been ranked the second worst country in the world for gender equality for the second consecutive year.
Meanwhile, the Punjab Commission on the status of women has reported a 20 per cent surge in violence against women every year from 2012 to 2015.
Such rise in crime is perceived to be the direct fallout of decline in conviction rates. Appallingly, there were 81 convictions in 2015, compared to 378 in 2012.
Enforcement and enactment of "women-friendly laws" are of no use unless women are accorded decision-making and empowering positions in the work force. According to the commission's report, Pakistan was one of the few countries in the world that didn't have a woman as a federal minister.
There are only two female state ministers at the federal level. Glaringly, the provinces of Punjab, Sindh and Khyber Pakhtunkhwa had only one woman minister in their cabinet, while Balochistan did not have even one.
Further, in Pakistan the literacy rate is dismal. According to a 2015 report of UNESCO, popularly referred to as 'eAtlas of gender inequality in education', almost 16 million girls between the ages of 6 and 11 are not currently in school.
It might appear wishful thinking to expect the status of women to be elevated only by promulgation of laws. The state must play an active role along with society in ensuring equality as envisaged in the constitution.
Unless this responsibility is seriously taken up to uplift the status of women, 52 per cent of Pakistan's population will continue to suffer from violent discrimination.
Indian entities engaged in women's welfare activities must, while expressing solidarity with their Pakistani counterparts, join the crusade for a more proactive approach to this protracted malaise.
Collaboration between the two countries will generate more pressure, increasing the hope of favourable results.
http://www.dailyo.in/politics/pakistan-women-honour-killing/story/1/15696.html
--------
Fatima Jinnah Women University Holds Dialogue on Role of Women in National Development
February 16, 2017
Rawalpindi
Fatima Jinnah Women University (FJWU) in collaboration with National Commission on the Status of Women (NCSW) Wednesday arranged a dialogue on the role of women in national development.
Tehmina Daultana, Chairperson Parliamentary Committee, NCSW was Chief Guest on the occasion while guests of honour were Mrs Shaishta Pervaiz Malik, General Secretary, Women's Parliamentary Caucus, Ms Khawar Mumtaz, Chairperson, NCSW, Rabiya Javeri Agha, Federal Secretary for the Ministry of Human Rights and Vice Chancellor FJWU, Dr. Samina Amin Qadir.
Addressing the participants, Tehmina Daultana said that International Women's Day was observed every year for commemorating women achievements particularly social, economic, cultural and political and celebration of their extraordinary potential.
It is time to reflect on the barriers that still remain there and how they can be overcome.
There are many issues which are faced by Pakistani women and can be eradicated by educating female and providing them opportunities to participate in mainstream economic activities.
Women are active agents of change and real development was only possible with their economic empowerment, she said adding, women empowerment was one of the crucial ingredient to the country's all round development, be it social, political or economic.
A country could not succeed in its economic development agenda without including women into it, she added. Shaishta Pervaiz Malik, Ms Khawar Mumtaz and Rabiya Javeri Agha also spoke on the occasion and highlighted importance of Women's active role for national development.
Dr. Samina Amin Qadir said that as a pioneer female higher education institution of the country, the university believed that true liberation could come with socio-economic emancipation. "Let us reaffirm our commitment to women's rights, the inherent dignity and the equal rights of men and women. We should stand together and assist each other in achieving the goals of better life for all," she said.
http://pakobserver.net/fjwu-holds-dialogue-on-role-of-women-in-national-development/
--------
URL: https://www.newageislam.com/islam,-women-and-feminism/new-age-islam-news-bureau/rap-superstar-kanye-west-presents-hijab-wearing-model-on-catwalk/d/110099
New Age Islam, Islam Online, Islamic Website, African Muslim News, Arab World News, South Asia News, Indian Muslim News, World Muslim News, Womens in Islam, Islamic Feminism, Arab Women, Womens In Arab, Islamphobia in America, Muslim Women in West, Islam Women and Feminism, Moderate Islam, Moderate Muslims, Progressive Islam, Progressive Muslims, Liberal Islam