New Age Islam News Bureau
17 Apr 2019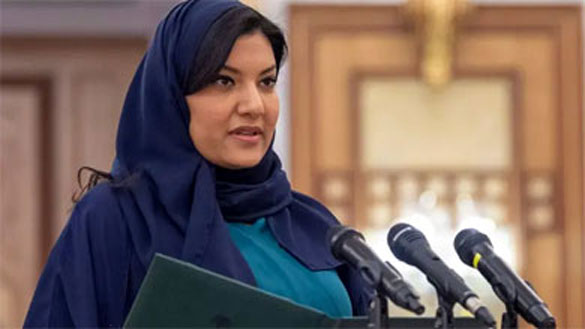 Princess Reema bint Bandar bin Sultan takes the oath of office in front of King Salman at the al-Yamama Palace in Riyadh. (SPA)
------
• 'Muslim Women Should Pray Inside Homes': Kerala Sunni Clerics Body
• On Women's Right to Pray at Mosques, Supreme Court Issues Notices to Centre and AIMPLB
• Hearing Plea on Women in Mosques Only Because Of Sabarimala: SC
• Princess Reema Sworn in as Saudi Arabia's Ambassador to The United States
• Malaysia Probes Book on Muslim Women Who Refuse To Wear Headscarves
• Saudi Court Adjourns Hearing In Trial Of Women Activists
Compiled by New Age Islam News Bureau
URL: https://www.newageislam.com/islam-women-feminism/quran-suggests-women-enter-mosques/d/118347
--------
Quran Suggests Women Can Enter Mosques: Pune Couple Who Filed SC Plea
By Anuradha Mascarenhas
April 17, 2019
The family members of Zuber and Yasmeen Peerzaade had no idea that the married couple, based in Pune, had filed an appeal seeking directions to let Muslim women enter mosques and offer prayers. They got to know about the appeal only after the Supreme Court admitted it on Tuesday, and the Peerzaades informed them about it.
"My mother, elder and younger brothers as well as their families are away at Kudachi village in Karnataka's Raybag. We did not inform them earlier as we were not too sure of their reaction, but I have just spoken with my elder brother Altaf and he is okay with it," said Zuber (48).
Based on the couple's appeal, the Supreme Court on Tuesday issued notices to the Centre, the All India Muslim Personal Law Board and the Central Waqf Council, and directed them to file their replies within four weeks.
"We are grateful that the apex court has admitted our plea," said Zuber, who has a construction business. Yasmeen, 42, is a housewife and the couple have two sons.
Their decision to approach the Supreme Court was not prompted by any "political pressure", said Zuber. "This move has come naturally to us. There has been no political pressure and it was a decision that my wife and I took together".
Yasmeen admitted that while she didn't give too much thought to the issue when she was young, it struck her anew when, during an outing with her husband Zuber, a mosque located nearby didn't allow her to go inside and offer namaz. "The incident took place a couple of years ago… in Aundh gaon. There was a mosque nearby and since it was time for prayers, Zuber went inside to offer namaz. When I followed suit, authorities refused to allow me inside and also chided me, saying was I not aware that women are not allowed inside the mosque. It hurt me… and I started thinking… why can't women go inside a mosque and pray…," said Yasmeen.
She further wondered, "Jab mana kiya to kya hain hamare liye Islam mein jagah hain ya nahi" (If we are being told no, does that mean there is no place for us in Islam). Yasmeen said the incident made Zuber and her want to find out more about the issue.
"We read in the Quran too that women can offer namaz in the masjid," Yasmeen said.
The couple then forwarded an application to Bopodi Jama Masjid, urging it to allow women inside the mosque. "They told us the letter had been forwarded to two madrasas, which refused permission for the entry of women. We did not get many replies to our appeals… many did not take us seriously and didn't respond to our queries," said Zuber.
But after studying religious texts and consulting with members of the community, the couple from Bopodi decided to file the petition. "I was convinced that this was the right thing to do. Whichever holy text I read… and after holding deliberations with members of the community, I felt that there was no reason why women should not be allowed entry in mosques," said Zuber.
Yasmeen pointed out that in some countries, women are allowed in mosques. " We are prevented from doing so in our own country," she said.
Their petition stated that no records are available in favour of the argument that the entry of women in mosques to offer prayers is prohibited by either the Quran or by Prophet Muhammad.
Rajendra Anbhule , the petitioners' lawyer, said Zuber had been working on the issue for several months.
At Pathan chawl in Bopodi, where the couple lives, people from nearly slums greet him. "They are not aware of the matter," Zuber said, in between giving interviews to some TV channels.
He also runs a charitable trust that offers food to the underprivileged. "My father was a driver at the ammunition factory at Khadki… after his death, my brother got a job there. I have seen rough times… when we were not financially stable. I got a job only after the Valmiki Ambedkar Awas Yojana was implemented. Under the scheme, slum dwellers were being given Rs 50,000 to make pucca houses, and I got a job providing raw material for the construction. I learnt the trade soon enough and got involved in the construction business. Today, I am financially stable and I have set up the Noor Charitable Trust, which runs a roti bank. We do not take donations, but invite people, hoteliers and others to deposit food, rice or chapatis, and give it to the poor," said Zuber.
https://indianexpress.com/article/india/quran-suggests-women-can-enter-mosques-couple-who-filed-supreme-court-plea-5679556/
--------
'Muslim Women Should Pray Inside Homes': Kerala Sunni Clerics Body
April 17, 2019
"Women are supposed to pray inside homes," Samastha Kerala Jamiyyathul Ulama (SKJU), a body of Sunni clerics and scholars, on Tuesday reiterated its stand on women entering mosques. The statement by the important Muslim body in Kerala comes after the Supreme Court agreed to hear a plea seeking Muslim women's entry into mosques.
The SC had admitted a plea filed by a Pune-based Muslim couple. The court had also stated that it will examine the issue 'only because of the Sabarimala judgement'. SC also sent a notice to the Centre, Waqf Board and the All India Muslim Personal Law Board (AIMPLB), regarding the petition.
Samastha Kerala Jamiyyathul Ulama (SKJU) General Secretary K Alikkutyy Musaliyar on Tuesday said that they cannot accept the court's intervention in matters pertaining to religion, specifying that they will only follow directions from religious leaders, said a Times of India report. He also said that SKJU had taken a similar stand when Sabarimala verdict came.
"The rule regarding women's entry to mosques is 1,400 years old and Prophet Muhammed has given us a clarification regarding this. Only men should be allowed to pray inside a mosque," the Musaliyar said.
Meanwhile, Kanthapuram AP Aboobacker Musliyar, the grand mufti of Sunni-Sufi Muslim community in India and General Secretary of All India Sunni Jamiyyathul Ulama, said that the court should only intervene in religious matters after consulting with religious heads. Kanthapuram was declared as the Grand Mufti last February and was also the first person from south India to be elected for this top position.
"Women go to Mecca mosques as part of performing Hajj and Umrah – the important religious pilgrimage. This need not be extended to other mosques," said Aboobacker. He also added that only a minority of people who have gone away from fundamentals of Islam and with an extremist thinking, favour women's entry into mosques.
https://www.thenewsminute.com/article/muslim-women-should-pray-inside-homes-kerala-sunni-clerics-body-100176
--------
On Women's Right to Pray at Mosques, Supreme Court Issues Notices to Centre and AIMPLB
Apr 17, 2019
The Supreme Court on Tuesday issued notices to the Centre and the All India Muslim Personal Law Board (AIMPLB) on a petition filed by a Muslim couple seeking the right for women to pray in mosques. However, the court added that it wasn't entirely convinced by their argument because the right to equality could only be demanded from the state and it wasn't clear whether a place of worship could be equated with a state.
A bench of justices SA Bobde and SA Nazeer said it was entertaining the public interest litigation (PIL) only because of the Sabarimala verdict delivered last year that allowed women of all ages, including those of childbearing age, to pray at the hilltop shrine in Kerala.Women of childbearing age had been barred from entering Sabarimala on grounds that the presiding deity, Lord Ayyappa, was celibate.
"We are not convinced with your argument. We are only hearing you because of the Sabarimala judgement. The provision for Right to Equality under the Constitution can only be invoked against the state and not against an individual who is inside a mosque," the court added.
The petition, filed by the Muslim couple, Yasmin Zuber Ahmad Peerzade and Zuber Ahmad Nazir Ahmad Peerzade, refers to the Sabarimala verdict to say that women have the right to worship in Mosques. The couple has said that there are no Muslim laws barring women from entering mosques and offering prayers.
In reality, women are discouraged from entering mosques. And those mosques that do allow them, confine them to an enclosed area where prayers can be read. At the start of the hearing the bench asked the lawyer about the SC order in the Haji Ali Dargah matter. The top court had nudged the Haji Ali Dargah Trust to concede in October 2016 to allow women to enter the sanctum sanctorum. Women's entry was stopped inside the dargah in 2011-12.
On being asked, the petitioner's counsel said women were allowed to offer prayers inside Mecca. Justice Nazeer, however, doubted his assertion and said there was no common congregation there too.
The petition, filed under Article 32 (on protection of fundamental rights) , quoted from the Sabarimala judgment saying, "religion cannot be used as cover to deny rights or worship to women and a prohibition on women to offer prayers is against human dignity."
Giving their own example, the petitioners said, they had requested the Jama Masjid in Pune to let the wife enter the mosque. In response, the couple was told that women were not permitted to offer prayers in the mosque in Pune and other areas. The Imam, however, said he would write to higher authorities to consider the petitioners' request and seek directions.
"Islam imposes no restriction on the entry of anyone into the mosque, least of all women. The couple, which has moved the petition, might be having a local problem," said Iqtedar Farooqui, a retired scientist, who has authored several books on Islam. He, however, added that men and women cannot offer prayer standing side-by-side. "There has to be a separate enclosure for men and women," he said.
Rejecting the basis of the PIL,
Maulana Khalid Rashid Farangi Mahali, a member of AIMPLB, said: "Only a person who is ignorant or has no knowledge of Islam would make such a baseless charge." He added that "several working Muslim women" offers prayers in mosques across Lucknow.
https://www.hindustantimes.com/india-news/on-women-s-right-to-pray-at-mosques-supreme-court-issues-notices/story-iop3arvsFGad918vD7egHK.html
--------
Hearing Plea on Women in Mosques Only Because Of Sabarimala: SC
April 17, 2019
The Supreme Court Tuesday issued notice to the Centre, All India Muslim Personal Law Board and National Commission for Women among others on a petition by a Pune couple who sought directions to let Muslim women enter mosques and offer prayers.
The bench of Justices S A Bobde and S Abdul Nazeer did not seem very convinced by the submission of the petitioners who also cited the Supreme Court order in the Sabarimala case. The bench said it was hearing the plea only "because of the judgment in Sabarimala".
Last September, a five-judge Constitution Bench lifted age restrictions on the entry of women to the Sabarimala temple. Review petitions were filed against the order and the court, after hearing parties to the matter, reserved its verdict.
"The only reason we are hearing you is because of the judgment in Sabarimala. Otherwise we don't think you are giving satisfactory answers," the bench told advocate Ashutosh Dubey who appeared for petitioners Yasmeen Zuber Ahmad Peerzade and her husband Zuber Ahmad Nazir Ahmad Peerzade.
The petition recalled the Sabarimala order in which the court said "religion cannot be used as cover to deny rights of worship to women and it is also against human dignity. Prohibition on women is due to non-religious reasons and it is a grim shadow of discrimination going on for centuries".
The bench asked the counsel which other mosques in the world allow entry to women. Mecca, replied the lawyer. At this, Justice Nazeer said: "I don't think they have a common congregation."
Justice Bobde told the counsel: "Another thing we want you to tell us is can the fundamental right to equality be asserted against another human being?… Article 14 begins with State should not deny. Does that apply to an individual?… Can you invoke Article 14 and demand equality from another human being or from non-state actors?".
The counsel replied in the affirmative.
To this, Justice Bobde said "looks like you are reading a different Article 14 than the one we know", adding "Is a mosque a State? Is a temple a State? Is a church a State?… If you do not want someone to enter your house, can that person enter with police protection… Where is the State involved in this?"
Dubey said the mosque receives grants from the State and as such cannot deny entry to a certain class.
The petition contended that "there is nothing in the Quran and the Hadith that requires gender segregation" and "the act of prohibition of females from entering mosque is void and unconstitutional as such practices are not only repugnant to the basic dignity of a woman as an individual but also violative of the fundamental rights guaranteed under Articles 14, 15, 21 and 25 of the Constitution".
The petitioners said several women were affected by this but were not in a position to approach the court. They said there were no records stating that the Holy Quran and the Prophet had opposed women entering mosques and offering prayers.
"At present, women are allowed to offer prayers at mosques under Jamaat-e-Islami and Mujahid denominations, while they are barred from mosques under the predominant Sunni faction. It is submitted that even in the mosques where women are allowed, there are separate entrances and enclosures for worship for men and women… It is submitted that there is no such gender discrimination to offer worship in Mecca, the holy city. The faithful, both men and women, together circle the Kaaba," the petition stated.
"Muslim women are being 'discriminated' as they are not allowed to enter and pray in the main prayer hall of mosques in violation of Articles 14 and 21 of the Constitution" and "this is an encroachment into the realm of personal liberty and social security," it stated.
The petition said "the legislature has failed to ensure the basic dignity and equality of women in general and Muslim women in particular when it concerns matters related to entry in mosque, wearing burqa".
https://indianexpress.com/article/india/hearing-plea-on-women-entry-in-mosques-only-because-of-sabarimala-sc-5679501/
--------
Princess Reema Sworn in as Saudi Arabia's Ambassador to The United States
16 April 2019
Princess Reema bint Bandar bin Sultan al-Saud was sworn in on Tuesday as Saudi Arabia's Ambassador to the United States.
She took the oath alongside other new ambassadors assigned to Austria, Cameroon, and Cyprus. The oath of office was taken at the al-Yamama Palace in Riyadh in front of Saudi King Salman bin Abdulaziz.
A Saudi royal decree issued last month appointed Princess Reema as the Saudi ambassador to the United States with a ministerial ranking, making her the Kingdom's first female ambassador.
She is the daughter of Prince Bandar bin Sultan, who also served as Saudi Arabia's ambassador to the US from 1983 to 2005. Prince Bandar was previously the secretary general of Saudi Arabia's National Security Council and he also served as director general of the General Intelligence Presidency.
https://english.alarabiya.net/en/News/gulf/2019/04/16/Princess-Reema-sworn-in-as-Saudi-Arabia-s-ambassador-to-the-United-States.html
--------
Malaysia Probes Book on Muslim Women Who Refuse To Wear Headscarves
APRIL 17, 2019
KUALA LUMPUR (Thomson Reuters Foundation) - Malaysia's religious authorities on Wednesday said they were investigating a book about Muslim women who choose not to wear a hijab, prompting a backlash among women's rights groups.
The probe is the latest in a series of incidents that have led to women's rights activists accusing authorities of acting like "fashion police" by trying to control women's attire in the Muslim-majority nation.
It came after a government minister called for a probe into the launch of the book "Unveiling Choice" last weekend, which featured Muslim women who discussed why they had stopped wearing a headscarf.
"It's just a sharing of experience, nothing more than that," said Maryam Lee, author of the book, which she hopes will show that the hijab can be "both liberating and oppressive".
"(Some) say this is something to promote "de-hijabbing" - that's not true. It's a book about experience," she told the Thomson Reuters Foundation, referring to the removing of the headscarf.
Lee said officers from the Islamic affairs department in the central state of Selangor had obtained copies of the book from the publisher's office on Tuesday.
A spokeswoman from the department when contacted said it was "looking into the matter" but declined to give further details. Its director Haris Kasim did not respond to requests for comment.
Religious Affairs Minister Mujahid Yusof Rawa said in a statement that he viewed the matter seriously and called for a "fair" investigation.
It was unclear what offences or laws the book was being investigated over.
Muslim women who do not wear the headscarf are a common sight in Malaysia, and include notable figures like the wife and daughter of Prime Minister Mahathir Mohamad.
Other prominent personalities such as former trade minister Rafidah Aziz and ex-central bank governor Zeti Akhtar Aziz also do not wear the hijab.
More than 60 percent of Malaysia's 32 million population are Muslims, but it is also home to a large number of ethnic and religious minorities who openly practise their religion.
"It's really disappointing," said Sumitra Visvanathan, executive director of the non-profit Women's Aid Organization.
"I would tell the government to butt out of our private lives and how we choose to dress is our business. There is no law in Malaysia that stipulates a woman should or should not wear the headscarf."
Last year, Mujahid said that the government was planning to introduce a dress code for Muslim women in the workplace, sparking a large public outcry.
https://www.reuters.com/article/us-malaysia-women-rights/malaysia-probes-book-on-muslim-women-who-refuse-to-wear-headscarves-idUSKCN1RT0RA
--------
Saudi Court Adjourns Hearing In Trial Of Women Activists
17 Apr 2019
RIYADH - A Saudi court on Wednesday postponed a hearing in the trial of 11 women activists which has drawn international censure, officials said, just days after campaigners reported a new crackdown on their supporters.
The activists, among them Loujain al-Hathloul who has accused her interrogators of sexual abuse and torture during nearly a year in custody, face charges that include contact with foreign media, diplomats and human rights groups.
A panel of three judges at the Riyadh criminal court had been expected to examine their response to the charges, which was submitted by the women earlier this month.
But policemen at the courthouse turned away Western media and diplomats -- already barred from attending previous sessions of the high-profile trial -- saying the hearing had been postponed.
No explanation was given and it remains unclear when the trial will resume.
"We learn that the #WomensRightsDefenders trial did not take place today, for reasons that are not known,"ALQST, a London-based human rights group focused on Saudi Arabia, said on Twitter.
Riyadh has faced pressure from Western governments to release the women, most of whom were detained last summer in a wide-ranging crackdown against activists just before the historic lifting of a decades-long ban on female motorists.
Three of them -- activist Aziza al-Yousef, blogger Eman al-Nafjan and preacher Rokaya al-Mohareb –- have been granted temporary release.
In an apparent crackdown on the women's supporters earlier this month, Saudi authorities arrested at least nine writers and academics, including two US-Saudi dual nationals.
Aziza's son, Salah al-Haidar, is among the two Americans detained.
- 'End this misery' -
The families of those newly arrested are "very worried" as they have so far not received any information about their whereabouts or conditions, a legal source told AFP.
Last Wednesday, US Secretary of State Mike Pompeo said he had pressed Saudi Arabia –- a close ally of President Donald Trump's administration -- to release the US citizens.
The Saudi government has so far not publicly commented on the latest crackdown, the first since journalist Jamal Khashoggi's murder inside the Saudi consulate in Istanbul last October, which sparked unprecedented global scrutiny of the kingdom's human rights record.
"The Saudi authorities must end this misery for the women activists and their families -- they must immediately release them and drop the ridiculous charges against them," said Amnesty International's Middle East campaigns director Samah Hadid.
"The world is watching the trial and will keep up the pressure until the women are released," Hadid told AFP.
Several of the defendants are considering asking the judges to call the foreign contacts named in their chargesheets -- including journalists and diplomats -- to testify in the trial, a source privy to information about the hearings told AFP.
Loujain's siblings, based overseas, have said they are being pressured by people close to the Saudi state to stay silent over her treatment in detention.
People close to the Saudi establishment have warned that public criticism by family members could prolong their detention.
At one emotionally charged court hearing, some women broke down as they accused interrogators of subjecting them to electric shocks, flogging and groping in detention, two people with access to the trial told AFP.
A Saudi prosecutor roundly rejected the accusation, witnesses said, reiterating the government's stance.
https://www.bangkokpost.com/news/world/1662848/saudi-court-adjourns-hearing-in-trial-of-women-activists
--------
URL: https://www.newageislam.com/islam-women-feminism/quran-suggests-women-enter-mosques/d/118347
New Age Islam, Islam Online, Islamic Website, African Muslim News, Arab World News, South Asia News, Indian Muslim News, World Muslim News, Women in Islam, Islamic Feminism, Arab Women, Women In Arab, Islamophobia in America, Muslim Women in West, Islam Women and Feminism