New Age Islam News Bureau
25 Oct 2017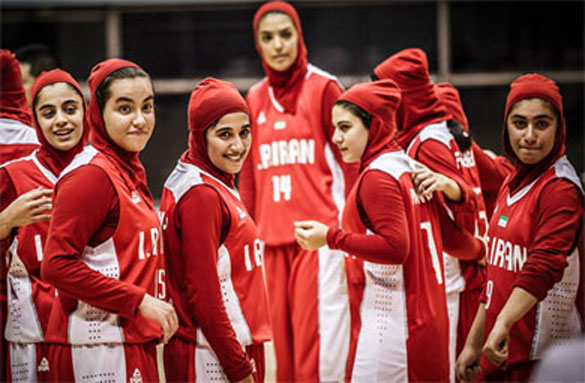 Fatemeh Mortazavi and Rojin Talakoub are women hoopsters in Iran who play with the Hijab
----
• Quebec Softens Face-Covering Ban amid Criticism It Targets Muslims
• Hoops & Hijabs: Iran's Women Begin New Journey In World Basketball
• Former Pakistan Woman Hockey Player to Pursue Sexual Harassment Case Alone
• Rohingya Muslim Women 'Being Driven To Prostitution to Buy Supplies' In Bangladesh Refugee Camps
• Pakistan Election Body Rejects Imran Khan's Plea against Woman Lawmaker
• Sultana Kamal: 87% Women Face Domestic Violence in Bangladesh
• Woman Convicted Of Dirty Dancing In Dubai Central Jail
Compiled by New Age Islam News Bureau
URL: https://www.newageislam.com/islam-women-feminism/quebec-softens-face-covering-ban/d/113017
--------
Quebec softens face-covering ban amid criticism it targets Muslims
24 October 2017
Amid criticism from across Canada over a new law that bans face coverings for those giving or receiving public services, Quebec's government has toned down its interpretation of the legislation as it sought to clarify who the law would affect and how it would be enforced.
"No one will be thrown off public transit, denied emergency healthcare or be chased out of a public library," Quebec's justice minister, Stéphanie Vallée, told reporters on Tuesday. "We do not have the intention of setting up an uncovered-face police."
Quebec's Liberal government last week voted in the law – described by Vallée as the first of its kind in North America – barring public workers from covering their faces and obliging citizens to unveil when receiving services from government departments, municipalities, school boards, public health services and transit authorities.
The move was blasted by critics who worried that it deliberately targets Muslims women and could potentially exclude women who wear the niqab or burqa from accessing health services, sitting for school exams or riding the bus. Others expressed concerns that the enforcement of the law would fall to public workers such as bus drivers and librarians, while legal analysts doubted that the legislation could withstand a court challenge.
On Tuesday, Vallée apologised for any confusion over the new law. She sought to clarify the legislation, which she described as "not repressive", listing off various scenarios in which it would apply.
Contrary to previous comments she had made, she said the law would be in effect only at the moment of identification. Someone embarking on a municipal bus would have to show their face in order to use a transit pass with photo ID, but would not have to remain unveiled for the duration of the ride.
People would have to uncover their faces in order to ask a question of library staff or register at a medical clinic or hospital, but could leave their faces covered while browsing bookshelves or sitting in the waiting room. The ban would extend to public services such as attending university classes, seeking court documents from a clerk or picking up children from a public daycare.
"These are commonsense rules," Vallee told reporters. They would apply to anyone whose face is obscured, including those wearing large sunglasses or scarves, she said.
The law does not stipulate fines or sanctions for those who fail to comply and does allow for accommodation requests, with guidelines as to the process expected to be ready in the coming months.
Justin Trudeau, the country's prime minister, said last week his government was looking into the legislation. "I don't think it's the government's business to tell a woman what she should or shouldn't be wearing," he told reporters. "As a federal government, we are going to take our responsibility seriously and look carefully at what the implications are."
Vallée contextualised the law within the province's simmering debate on identity, religion and tolerance. In recent years Quebec politicians have twice tried to address the issue of state neutrality; a 2010 attempt by the Liberals died on the order paper after two years while a more recent bill by the previous separatist government that sought to prevent public workers from wearing highly visible religious symbols failed to pass before an election was called.
"I can understand that colleagues from other provinces have not been as focused on the discussion as we have," she said. "But it's our right to legislate with regards to social issues that affect us. It's responsible to respond to the expectations of our population."
https://www.theguardian.com/world/2017/oct/24/quebec-softens-face-cover-ban-muslim-women-niqab-burqa
--------
Hoops & Hijabs: Iran's women begin new journey in world basketball
Oct 25, 2017
BENGALURU: Fatemeh Mortazavi and Rojin Talakoub are busy soaking in the frenetic atmosphere inside the Sree Kanteerava Indoor Stadium when they get 'the call' from coach Elahe Darestani. The players with 'the best English knowledge' have been acting as translators for the Iranian women's team, who are making a historic appearance at the FIBA U-16 Women's Asian Championship here.
Questions on their return to international competition after 38 years, women's basketball in Iran and playing with the hijab (headscarf for Muslim women) have now become routine for the duo. But a query on their favourite NBA player had the girls and their coach in gleeful fits of laughter.
"LeBron James, of course," quips Rojin, drowning out her coach's meek vote for Stephen Curry. "Why? Because he encourages women in hijab to come out and play. He fights for us," said the point guard, who then pushed up her sleeve slightly to proudly show off a wristband of the Cleveland Cavaliers' superstar.
LeBron had in January voiced his support for Massachusetts player Bilqis Abdul-Qaadir, whose dream of a professional basketball career had been crushed due to FIBA's ban on headgear in international competitions.
The world basketball body's rule prohibited any headgear wider than five inches, which caused a serious dent on the ambitions of hijab-wearing players world over. But earlier this year, FIBA's representatives watched an exhibition game of basketball in Tehran featuring women wearing hijabs to assess the practicality and safety of playing with headgear.
The event was historic - it was the first time, since the 1979 Revolution, that men witnessed a women's sport in person in Iran and the game also played a big role in FIBA's decision to overturn the long-standing ban on hijabs, turbans and yarmulkes. The ban was officially lifted on October 1 and the U-16 Championship is the first official FIBA tournament to witness the beginning of a new era.
Back in international spotlight after nearly four decades, the Iranian team - dressed in full-body red uniforms under their loose-fitting national jerseys - are hoping to make the best of it. "It was our dream to play international basketball. We are so happy we are here now," Darestani said. "We can now wear the hijab on court; we can play in front of men."
Having coached several age-group women's teams, including those in Iran's Super League, Darestani sees her biggest miss -not having been able to represent Iran abroad as a player - see fulfillment through these young girls. "We are happy that now we can show the world how Iran's girls play," she said.
There are plenty of tournaments for girls in Iran, the coach said, where teams from different cities compete against each other. But there were times when the situation was grim. During the 1980-88 Iran-Iraq war, a determined Darestani got her basketball-loving girls out of the battle-hit city of Kermanshah to Tehran, where she ran camps to keep the spirit of the sport alive. "Once the war broke out, I could no longer stay in Kermanshah. I got 15 girls out of there to the camp in Tehran, where they trained behind closed doors," said Darestani.
Fatemeh and Rojin, who go for private tuitions to improve their English, were confident that the lifting of the headgear ban is a welcome change for Iranian basketball. "It's a good decision. Yes, before this, we were hoping that one day we will get to play. Now, that day has come," said Fatemeh.
Though Tuesday's game ended in a defeat against India, Iran's spirited girls can take pride in their much-awaited international appearance, which in itself is their biggest triumph yet.
https://timesofindia.indiatimes.com/sports/more-sports/others/hoops-hijabs-irans-women-begin-new-journey-in-world-basketball/articleshow/61216581.cms
--------
Former Pakistan woman hockey player to pursue sexual harassment case alone
OCTOBER 25, 2017
ISLAMABAD: Former goalkeeper for the women's national hockey team Syeda Sadia, who has accused the team's head coach, Saeed Khan, of harassment and assault, has said that she will pursue a case against Saeed independently as the Pakistan Hockey Federation (PHF) seems unwilling to take any action against him. "I will definitely pursue a case. When it comes down to my respect, I cannot tolerate it. I will not sit quietly," Sadia was quoted as saying. Sadia, who also captains the Railways hockey team, has alleged that Saeed harassed and assaulted her on the night of October 8. Recalling the events of that night, Sadia said she had been attending a dinner being hosted for players at the national hockey federation's facilities in Lahore when the team coach, who had been "glaring at her throughout the night", asked her to step outside the dining hall.
Once outside, Saeed allegedly spoke to Sadia in a harsh tone and grabbed her dupatta (scarf). He allegedly raised his hand to hit her as well. It was at this moment, Sadia said, that Tanzeela Aamer, secretary of the PHF's women's wing, walked out, saw the altercation, and stopped Saeed from hitting her. "Tanzeela ma'am then went back to the dinner. I ran back to my hostel room and Saeed followed me there," Sadia said. Iqra Javed, another player on the hockey team, was in the room at the time, getting ready for the dinner.
Sadia alleged that once in the room, Saeed grabbed her arm and threatened to ban her – and Iqra, when she tried to stop him – if they spoke out against him. In her letter to the Sports Minister, she said Saeed let her go because she physically resisted and tried to run. "Then he forcefully took me back to the dinner. He told me to wash my face before I came down because I had been crying." Sadia said she was highly distressed. When she returned to the dinner she barely ate and left for her brother's house immediately after. She wrote to the Punjab Sports Minister, Jahangir Khanzada, and the PHF the day after the incident, detailing what happened and demanding that action be taken against Saeed. A copy of that letter, dated October 9, has instructions from Khanzada for an inquiry into the matter to be completed within 10 days. After that deadline lapsed without any action being taken, Sadia felt she should approach the media to present her case. She recorded a video statement to ask for help, which was circulated widely over the weekend.
The accused's version: Saeed, who is currently in Brunei, has refuted the allegations against him. "I'm not guilty at all and am ready to face any inquiry," Saeed had said at a press conference before leaving for Brunei. "If I was guilty, I would've escaped from the camp," he said. "She made these accusations out of frustration at being dropped from the team." That narrative was seconded by Tanzeela, also present at the press conference, who said the former goalkeeper had accused the team coach of assault "because she was dropped from the team" selected to travel to Brunei. The PHF's women's wing secretary has said there will be no inquiry into the allegations made by Sadia, insisting "they are baseless." Sadia said she wanted justice not only for herself, but also for Iqra Javed – her roommate – who had later corroborated Sadia's version of the alleged assault.
https://dailytimes.com.pk/129972/former-pakistan-woman-hockey-player-pursue-sexual-harassment-case-alone/
--------
Rohingya Muslim women 'being driven to prostitution to buy supplies' in Bangladesh refugee camps
Oct 25, 2017
As Rohingya women struggle to access even the very basics such as food and water in Bangladesh's overcrowded camps, a flourishing sex trade offers cash in times of desperation.
Four women entered the clean-swept mud hut, took off their black shawls and sat cross-legged on the floor. When asked if they sold sex, the women stirred uncomfortably and were silent.
Later, after cups of tea, the question came up again. The women caught each other's eyes. Slowly one of them walked across the room to shut the door, another blocked the window. Darkness fell in the small, humid hut and voices turned to whispers.
"If anyone finds out what we do, they will kill us," murmured 26-year-old Romida.
More than 600,000 ethnic Rohingya, a Muslim minority in Burma, have fled attacks by the Burma army since late August, fleeing across to border to southern Bangladesh in the world's fastest growing refugee crisis.
In Kutupalong, the biggest camp, the sex industry is thriving. Many of the sex workers are longer term residents of the Bangladeshi camps, but the influx of tens of thousands more vulnerable women and girls is expected to fuel the trade.
"At least 500 Rohingya prostitutes live in Kutupalong," said Noor, who works as a fixer, but many have lived for years in the camp which was established in 1992. "Recruiters now have their eyes set on the newcomers," she added.
UN agencies say they have no figures on the numbers of sex workers in the camps to make public.
"It's hard to come by numbers and we don't collect data on how many sex workers are in the camps," Saba Zariv, an expert on gender-based violence at the UN's population agency UNFPA told the Thomson Reuters Foundation.
A recent report from UNICEF, the UN children's fund, UNICEF report said that in the chaotic, unorganised camps, children and youths could fall prey to traffickers and people looking to exploit and manipulate them.
From tight-knit conservative Muslim communities, the Rohingya often turn a blind eye to prostitution.
"People pretend that it doesn't exist," said Noor. "The girls meet their Bangladeshi clients outside the camps. They don't sleep with other Rohingya. Our communities are tight and rumours could spread easily. Each girl wants to appear pure."
Many of the prostitutes are children who eat no more than one meal a day and don't attend school. They work secretively without even their parents knowing.
Rena, 18, who has lived in the camp for the past decade was forced to marry an alcoholic two years ago.
"He mistreated me and beat me," she said. Her abusive husband ran left her when she gave birth to her first son. Feeding her child became impossible.
"That's when I decided to become a sex worker. I was only 16, but it was out of desperation. I needed money."
Fourteen-year-old Kamru, who also sells sex, arrived years ago in a previous wave of Rohingya refugees. She has never been able to attend school because her family is too poor.
"The camp is all I remember. I grew up here, but I was always hungry," said the teenager, who like all the women and girls did not want to reveal her full name.
Sex workers share common traits: poverty, abusive family members and lack of funds make them vulnerable enough to be trafficked into the camp's sex industry.
"If aid agencies can't manage to provide people with their basic needs, the risk of trafficking grows;€" if we can't establish a sustainable mechanism here and aid tires out, we could see trafficking levels rise," said Lisa Akero, gender protection specialist at the International Federation of Red Cross and Red Crescent Societies (IFRC).
Romida had been left hungry and malnourished and saw prostitution as the only way she could survive.
"I told myself I'd do anything. I didn't have a choice." Her first client was a Bangladeshi friend who convinced her to have sex with him for 1,000 Taka (£9.20).
"He paid good money," she recalled. "The going-rate is 200 Taka (£1.84) and my fixer takes half of it." The business largely operates by phone calls, with pimps informing the girls where to go and who to see.
On average, Romida has three male clients a week - and daren't risk taking on more for fear of being found out.
"I sometimes travel as far as Cox's Bazar city, which is a two hour drive. Whenever I leave the camp, I have to make up excuses. I pretend to be visiting relatives or taking a shift at the market."
The Rohingya women meet men of all backgrounds - from university students to local politicians.
In a brief phone conversation, Ali, a 23-year-old Bangladeshi student told the Thomson Reuters Foundation that he sleeps with prostitutes occasionally, but when he eventually marries he would expect his wife to be a virgin.
Most clients don't use condoms, the women said.
"I take birth control injections, but I worry about HIV every day," said Romida. She has never been tested for sexually transmitted diseases.
Half an hour's drive away from the muddy, chaotic camps, surrounded by green rice paddies, local charity Pulse has set up a safe house for refugees that can host up to 30 women. Due to open in the coming days, the dormitory-style apartment is newly refurbished and has a psychologist on site.
"The girls who come here might not want to talk about what is happening in their lives as they could be in danger," said the shelter's manager Kurshida Aktar, adding that all vulnerable women are welcome: victims of rape, single mothers and sex workers.
"We're creating an opportunity for women to rebuild their lives, access basic needs, have an outlet to talk and receive job training," said Aktar.
But the four Rohingya women who agreed to speak to the Thomson Reuters Foundation were largely unaware of such services.
"We don't ask about it for fear of being found out," said Kamru, the youngest of the girls.
As she walks outside the house, she slips into her black burqa, covering all but her eyes.
"I have to take it off when I'm with my Bangladeshi clients," she said. "But in the camp it's my way to stay anonymous."
http://www.independent.co.uk/news/world/asia/rohingya-muslim-crisis-latest-prostitution-refugee-camps-sex-trade-black-market-bangladesh-burma-a8017256.html
--------
Pakistan Election Body Rejects Imran Khan's Plea Against Woman Lawmaker
October 25, 2017
ISLAMABAD: In a major blow to Imran Khan, Pakistan's Election Commission today rejected a case filed by the cricketer-turned-politician against a woman lawmaker seeking to disqualify her for violating party discipline.
In his complaint to the Election Commission of Pakistan (ECP), Mr Khan, the Chairman of the Pakistan Tehreek-i-Insaf (PTI) party had claimed that Ayesha Gulalai, a member of the National Assembly had violated party laws and should be disqualified as a lawmaker.
The ECP in its short order, announced the decision in favour of Ms Gulalai by a 3-2 majority of the five-member bench headed by the Chief Election Commissioner hearing Mr Imran's plea.
Mr Imran had said that Ms Gulalai had abstained from voting for the PTI's chosen candidate, Sheikh Rasheed, for the office of Prime Minister after the ouster of Nawaz Sharif on July 28. Mr Khan had notified all party members to support Mr Rasheed, the Awami Muslim League Chief.
Ms Gulalai, however, claimed that she had not participated in the vote due to an illness, but the PTI's lawyer presented a record of television talk shows on which she had appeared at the time of the session to speak about her decision to leave the party. Ms Gulalai, a lawmaker from South Waziristan, had parted ways with the PTI in August after levelling allegations of sexual harassment against its 65-year-old flamboyant chairman.
She had also cited "ill-treatment" of women in the party as the reason behind her decision.
As a result of the ECP ruling, Ms Gulalai will continue to be a member of the National Assembly. She was elected on a reserved seat for women from the Federally Administered Tribal Areas in 2013.
Speaking to the media outside the ECP, Ms Gulalai said that by appearing before the ECP she had showed her respect for state's institutions.
"I had said on the first day that I will accept the ECP's decision," she said as she thanked the judges for deciding in her favour.
Reacting to the ECP's ruling, the PTI said it was not happy.
"She has made allegations against the PTI chief," party leader Fawad Chaudhry said, maintaining that Ms Gulalai had disassociated herself from the party.
"How can she be a member of the NA on PTI's ticket?" "The party should be able to trust her. PTI is not happy with the ECP's decision," Mr Chaudhry said.
"Her occupation of this seat violates the rights of those women in the party who are involved in a political struggle," he added.
https://www.ndtv.com/world-news/pakistan-election-body-rejects-imran-khans-plea-against-woman-lawmaker-1766675
--------
Sultana Kamal: 87% women face domestic violence in Bangladesh
October 25, 2017
Eminent rights activist and former caretaker government adviser Sultana Kamal has said at least 87% women in Bangladesh face domestic violence.
She made the statement while addressing a seminar at Daffodil International University (DIU) on Tuesday.
The rights activist was referring to the figure from the Violence against Women Survey 2011, a nationwide study conducted by the government.
Around 87% of Bangladeshi married women are abused by their husbands, said the survey which involved a sample of 12,600 women.
With the reference, Sultana Kamal stressed the need for social awareness and moral development to alleviate the oppressive familial environment for women.
She mentioned that despite the odds, Bangladeshi women are making progress in many fields. "Bangladeshi women are putting up enviable successes in different sectors. The advances made by our women are now being discussed all over the world."
"One of the major goals of the Liberation War was to establish a society without men-women inequality. But it is a matter of regret that so long after the achievement of independence, we have yet to fulfill the goal," she said.
The seminar was presided over by Prof Dr Md Golam Mawla Chowdhury, chairman of the Anti-Sexual Harassment Committee of DIU. DIU Vice-Chancellor Prof Dr Yusuf Mahbubul Islam was also present at the event.
http://www.dhakatribune.com/bangladesh/2017/10/25/sultana-kamal-87-women-face-domestic-violence-bangladesh/
--------
Woman convicted of dirty dancing in Dubai Central Jail
October 24, 2017
Dubai: A woman inmate has been jailed for six months for stripping naked, abusing and beating a policewoman who tried to stop her from dancing inside Dubai Central Jail.
The 23-year-old Emirati convict was dancing on a chair half-naked while celebrating some occasion in the jail's open yard with other female inmates in December.
The policewoman, who witnessed the scene from behind a glass door, asked the inmate to stop and come to the prison office.
The inmate, who was dressed in a bra and a cloth wrapped around her waist, tried to explain to the policewoman that the prison's director had allowed them [female inmates] to celebrate in the open yard.
During the heated interaction, she flashed her middle finger in the face of the policewoman and beat her before she stripped naked and cursed the official and her family.
The other women inmates broke up the physical altercation.
The Dubai Court of First Instance convicted her of public nudity, assaulting and cursing a policewoman and indecently gesturing in public after she had pleaded guilty.
The policewoman testified that she called out to the accused from behind the glass and told her to come inside.
"When she did, she flashed her middle finger at me, cursed my family and assaulted me. She removed the bra and cloth wrapped around her waist and was completely naked in front of all other inmates," she said.
Another policewoman said she saw the accused stripping naked and cursing her colleague.
A Moroccan woman inmate testified that the defendant was dancing partly naked when the policewoman called out to her.
"When the policewoman asked her to step down from the chair, she showed her the middle finger. When she stripped naked, the policewoman asked her to cover up … the 23-year-old accused cursed her and her family. She pulled her hair and assaulted her," the Moroccan said.
The accused had also admitted to prosecutors that she stripped naked in front of other inmates, cursed and assaulted the policewoman and flashed her middle finger.
Tuesday's ruling remains subject to appeal within 15 days.
http://gulfnews.com/news/uae/courts/woman-convicted-of-dirty-dancing-in-dubai-central-jail-1.2112034
--------
URL: https://www.newageislam.com/islam-women-feminism/quebec-softens-face-covering-ban/d/113017
New Age Islam, Islam Online, Islamic Website, African Muslim News, Arab World News, South Asia News, Indian Muslim News, World Muslim News, Women in Islam, Islamic Feminism, Arab Women, Women In Arab, Islamophobia in America, Muslim Women in West, Islam Women and Feminism