New Age Islam News Bureau
17 Oct 2017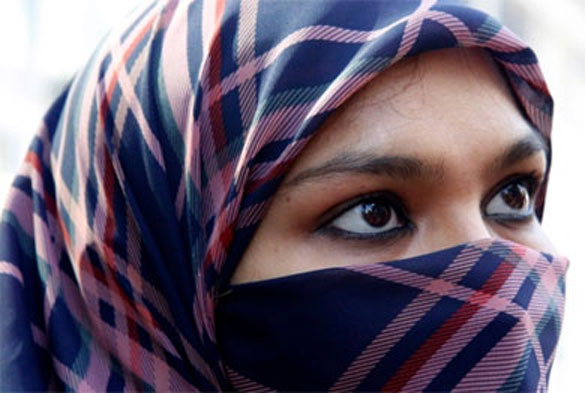 Zunera Ishaq of Mississauga, Ont., fought to wear a niqab while taking her citizenship oath. Quebec's Bill 62 would ban face coverings for anyone providing or receiving a public service. (Patrick Doyle/Canadian Press)
----
• Saudi Female Students to Get Driving Lessons in Colleges
• New 'Pink Parking' For Women Drivers at Dubai Police Stations
• Wan Ji: Not Wrong For Muslim Women to Get Haircut in Non-Muslim Hair Salon
• Cairo Named Riskiest Megacity for Women
• Over 60 Percent of Afghan Girls Not In School - Report
• Iran: Women Literacy Teachers of Yazd Joined Other Teachers' Protests
• Kuwait Hosts International Conference on Women Leaders in Science, Technology
• Turkey's TİKA Extends Helping Hand to Women, Girls Worldwide
Compiled by New Age Islam News Bureau
URL: https://www.newageislam.com/islam-women-feminism/quebec-set-pass-law-banning/d/112916
--------
Quebec set to pass law banning face coverings for anyone receiving public service — even a bus ride
Oct 16, 2017
Muslim women in Quebec who wear a burka or niqab could soon be required to uncover their faces to ride a city bus under a proposed provincial law.
The Couillard government's Bill 62 on religious neutrality could be put to a vote as early as Tuesday, two years after it was tabled.
The controversial legislation would effectively ban public workers — including doctors, nurses, teachers and daycare workers — as well as those receiving a service from the government, from wearing the niqab, burka or any other face covering.
Amendments introduced in August extended the proposed rules to services offered by municipalities, including public transit.
"As long as the service is being rendered, the face should be uncovered," Quebec Justice Minister Stéphanie Vallée said Monday in an interview with Daybreak host Mike Finnerty.
"This is a bill about le vivre ensemble [living together in harmony], it's a bill about guidelines and clearly establishes neutrality of the state."
The legislation, she said, is necessary for "communication reasons, identification reasons and security reasons."
Once the bill is passed, the province will work with municipalities, schools and public daycares to "establish clear guidelines," she said.
Vallée said the law would be the first of its kind in North America.
The bill has been subject to criticism from those who contend it unfairly targets Muslim women, while the two main opposition parties, the Parti Québécois and Coalition Avenir Québec, have argued it doesn't go far enough.
The Liberals hold a majority of seats at Quebec's National Assembly.
Exemptions possible?
There remains confusion about how exactly the proposed law would work.
Under the legislation, an exemption is possible if there is a "serious" request for accommodation on religious grounds.
However, Lucie Lamarche of Quebec's Ligue des droits et libertés said it's unclear how the term "serious" will be defined by the province and how such an exemption would work.
The law, she said, would put the burden on someone asking for an exemption when, for instance, getting a driver's licence or a bus ticket.
"The management of the [law] is a bit hard to figure out," said Lamarche, a law professor at the University of Quebec in Montreal, adding that the guidelines will inevitably be open to interpretation.
Those guidelines may not be in place until next June.
"The thing with guidelines is that they are read and applied by many people in many different contexts in many different regions," she said.
"As we know, there are many different opinions about the role of the state and the principle of state neutrality in Quebec. So it's hard to believe that those guidelines by themselves won't produce discrimination."
Not a ban on religious symbols, Vallée says
The bill, Vallée said, is unlike the PQ's failed values charter in that it doesn't target religious symbols. The law would also apply, for instance, to masked protesters.
"We're talking about having the face uncovered. It's not what is covering the face," she said.
Shaheen Ashraf, a board member of the Canadian Council of Muslim Women in Montreal, disputed that assertion.
Ashraf said the bill clearly targets Muslim women and will lead to their further marginalization in Quebec society.
"For me, neutrality would be everyone believes what they want to," she said.
"Forcing someone to uncover, or forcing someone to cover: for me that's not neutrality."
Montreal Mayor Denis Coderre previously raised concerns about the bill, accusing the provincial government of overstepping its jurisdiction and ignoring the city's multicultural character.
http://www.cbc.ca/news/canada/montreal/bill-62-stephanie-vallee-muslim-niqab-1.4356263
--------
Saudi Female Students to Get Driving Lessons in Colleges
October 17, 2017
RIYADH — The Technical and Vocational Training Corporation (TVTC) will organize driving lessons for female students in various colleges in the Kingdom, according to female supervisor of girl education at TVTC Amal Al-Sahli.
"Allowing women to drive will further promote their role in public life and enhance their participation in the labor market," she said.
Amal said TVTC is making necessary preparations to start driving lessons and educate girl students about important car parts. "Girl students will be taught emergency car repairs to avoid breakdown on the streets," she said.
She said the trainees will also be taught traffic laws and regulations. They will also be given an orientation course on traffic signs.
She said the corporation will provide 3,000 car parking spaces for trainees and instructors.
There are 19 TVTC colleges for women in the Kingdom being managed by a number of international colleges from the United States, Canada, Britain and New Zealand. There are now more than 15,000 female students in these colleges studying various specialties that will qualify them for the labor market.
Last month a Royal decree was issued allowing women to drive. A committee has been formed to implement the ruling and it will present recommendations within 30 days. Then the government will have until June 24, 2018, to implement the decree.
Allowing women to drive will not only save money but also simplify the lives of working Saudi women who currently rely on either their male relatives or private hires transportation to get them to and from work.
With a female population of 14.8 million, experts see a market for driving schools for women.
http://saudigazette.com.sa/article/519559/SAUDI-ARABIA/Female-students-to-get-driving-lessons-in-colleges
--------
New 'Pink Parking' for women drivers at Dubai police stations
Amira Agairib
October 16, 2017
The lines and numbers of the parking spots are painted in pink, and can also be identified with guiding boards.
The Dubai Police have provided special parking locations for women drivers at many police stations.
Brigadier Ali Ghanem, chairman of the Police Stations Council, said that the new provision was made following the orders of the Dubai Police Commander-in-Chief, Major General Abdullah Khalifa Al Marri. The move is aimed to bring happiness to and ensure the privacy of women, relieving them from the trouble of having to hunt for parking spots, especially at police stations where congestion is common.
The lines and numbers of the parking spots are painted in pink, and can also be identified with guiding boards.
Brigadier Ghanem said the Dubai Police is keen to pursue the best plans and initiatives to provide the highest quality of service to customers, in line with the vision of the Government of Dubai and within the framework of the highest international standards.
Other initiatives by the Dubai Police include the launch of the mobile police station, to provide police services in tourist, densely populated and workers' areas; the 'your security at the touch of a button' initiative, and the Laboratory of Mobile Creativity, in which the Dubai Police received many suggestions from the public.
https://www.khaleejtimes.com/nation/dubai/new-pink-parking-for-women-drivers-at-dubai-police-stations
--------
Wan Ji: Not wrong for Muslim women to get haircut in non-Muslim hair salon
BY OPALYN MOK
October 17, 2017
GEORGE TOWN, Oct 17 — It is not wrong for Muslim women to have their hair cut by female hairdressers in non-Muslim hair salons, PKR preacher Wan Ji Wan Hussin said today.
He said an old ulama named al-Imam al-Mardawi mentioned in the Kitab al-Insaf that it is not wrong for non-Muslim women to look at or touch the hair of Muslim women.
"Therefore, there is nothing wrong for Muslim women to get their haircut at a non-Muslim hair salons," he told the Malay Mail Online.
Wan Ji was responding to a viral video clip of religious preacher, Shahul Hamid Seeni Muhammad, warning Muslim women not to frequent non-Muslim hair salons.
The two-year old video clip was one of a few videos that started making its rounds online and on social media the last few days.
The video started with Shahul Hamid saying it was wrong for Muslim men to go to female hairdressers before he added that Muslim women too must not let non-Muslim female hairdressers touch their hair.
In two other video clips, also back in 2015, Shahul Hamid said it was wrong for Muslims to wish others "happy birthday" and that it is haram for Muslim parents to send their children to Chinese vernacular schools.
Commenting on this, Wan Ji pointed out that a famous ulama, Syaikh Salman Auda, had stated that celebrating birthdays is "harus".
He said back in 2013, the late Karpal Singh wished the late Tok Guru Nik Aziz Nik Mat on his birthday.
"If it is haram, for sure, Tok Guru Nik Aziz will stop Karpal but he did not," he added.
As for Muslim students studying in Chinese vernacular schools, Wan Ji, who is also the Penang Chief Minister's information officer, used another example practiced by previous Muslim ulamas for generations to stress his point.
"During the Abbasiyyah dynasty, Khalifah al-Ma'mun formed the Baitul Hikmah for a non-Muslims, Ishaq Hunain, who translated Greek books to be learnt by the Muslims. As a result, many great ulama were born such as Ibn Sina, Al-Biruni, al-Khawarizmi and many more," he said.
He said it is not true that it is haram for Muslims to study in Chinese schools.
"In fact, this contradicts what had been practised by Muslim ulama for many generations," he said.
This is not the first time Shahul Hamid had raised controversial issues against non-Muslims.
Back in 2014, he was arrested and investigated for sedition after a video clip of him telling Muslims not to buy curry powder from Hindu companies were spread online.
There were calls for action to be taken against the preacher before he finally issued a public apology and retracted his statement.
State Islamic religious affairs committee chairman Datuk Abdul Malik Abul Kassim said Shahul Hamid is known in Penang for his "critical and aggressive approach" in his sermons.
He reassured Penangites that there will never be "Muslims-only" hair salons in Penang and brushed off Shahul's comments as "his right to voicing his opinion".
http://www.themalaymailonline.com/malaysia/article/wan-ji-not-wrong-for-muslim-women-to-get-haircut-in-non-muslim-hair-salon#8QM60qihrGJOQeGX.97
--------
Cairo named riskiest megacity for women
October 17, 2017
CAIRO — Cairo was named on Monday as the most dangerous megacity for women by an international poll with women's rights experts saying the treatment of women in the Egyptian capital has worsened since a 2011 uprising seeking social change.
Cairo came out worst when the Thomson Reuters Foundation asked experts on women's issues in 19 megacities how well women are protected from sexual violence, harmful cultural practices, and about access to healthcare and finance.
however, Naglaa El-Adly, who is part of Egypt's National Council for Women, an independent governmental body, believes women's rights have improved — with President Abdel Fattah El-Sisi declaring 2017 as the "Year of Egyptian women".
"We have political will. This year, 2017, is the year for women. And everywhere, all ministries, all entities they are helping women to gain their rights," said El-Adly.
Data on violence against women in Cairo is hard to find but 99 percent of women in Egypt interviewed by the United Nations in 2013 reported sexual harassment and 47 percent of divorced or separated women reported domestic abuse.
Campaigners said successive governments since the uprising had put violence against women on the backburner, with authorities failing to acknowledge the extent of the problem.
An outcry over attacks on women near Cairo's Tahrir Square during El-Sisi's inauguration celebrations in 2014 did prompt a new law punishing sexual harassment, with at least six months in jail.
"Violence against women is a core issue," said Mozn Hassan, executive director of Nazra for Feminist Studies, a non-government organization providing legal, medical, and psychological support for victims of sexual violence.
"It is accepted as the problem of the woman — where she was walking, what she was wearing. It's not about her right to walk safely. Generally streets (in Cairo and outside the city) are not safe for women."
Female participation in the workforce fell to 23 percent in 2016 from 26 percent in 1990, according to World Bank figures, while US figures show the literacy rate of women aged over 15 is about 65 percent, compared to 82 percent for men.
"This is a poor country, going through many problems, economically and politically (and) the awareness about the importance of gender issues is suffering," said Abou-Bakr.
The Thomson Reuters Foundation survey found that Cairo ranked as the worst city when it came to protecting women against potentially harmful cultural practices.
Egypt has one of the world's highest rates of female genital mutilation (FGM) even though it was outlawed in 2008.
About nine in every 10 girls and women are subjected to the partial or total removal of external genitalia, according to a 2015 Egypt Health Issues Survey.
Egypt has also banned child marriage but about 17 percent of girls are wed by their 18th birthday and 2 percent before they reach 15, with experts saying progress on reducing child marriage has stalled and is even rising in some regions.
"Female genital mutilation still happens even though we have a law criminalizing the practice. A lot of families believe it preserves the girl's chastity," said high-profile journalist and women's rights activist Shahira Amin, who campaigned against FGM until it was criminalized in 2008.
"It's these age-old traditions and social norms ... in every social class. My own mother has been cut and luckily I escaped the fate."
Lawyer Azza Soliman from the Center for Egyptian Women's Legal Assistance said the only way to change was to enforce the law and change "obsolete traditions" that degrade women.
"For me, law is very important, it is one of the tools for change, but it is not alone," Soliman said.
The survey of 380 people was conducted online and by phone between June 1 and July 28 with 20 experts questioned in 19 of the 31 megacities listed by the United Nations. The poll was only conducted in the largest city in each country. — Thomson Reuters Foundation
http://saudigazette.com.sa/article/519504/World/Mena/Cairo-named-riskiest-megacity-for-women
--------
Over 60 percent of Afghan girls not in school - report
17.10.2017
Despite efforts from the Afghan government and international agencies to improve girls' education, girls in Afghanistan still lag significantly behind boys, Human Rights Watch (HRW) said in a report on Tuesday.
Just one in three Afghan girls currently attend school, the HRW report states.
The organization surmised that improving access to education was "not a completed task" although Kabul and donors have made "impressive progress" in getting girls to attend school.
Under Taliban rule, very few girls were allowed to study with many classes taught in secret. Since the fall of the Taliban in 2001, improving the situation for girls became a focal point for many donors and the government, but continued fighting and deadly terror attacks have hampered progress.
"Insecurity, poverty, and displacement are now driving many girls out of school," said Liesl Gerntholtz, women's rights director at HRW.
Structural and social hurdles
A total of 41 percent of schools in Afghanistan do not have buildings and many children live too far away from the schools to be able to regularly attend classes or attend at all.
The distance and security factors particularly hamper girls' access to education, according to HRW's report.
"Families struggling to meet education costs may prioritize boys, it is often harder for girls to overcome administrative barriers, and lack of female teachers and infrastructure affect girls more," the report stated.
The report also notes that there is a stigma around girls who attend school, with access to education growing increasingly limited as they grow older.
Nazira, a 15-year-old girl interviewed for the report, said that her older sister wasn't allowed to study and that it was only by chance that she was allowed to attend school for five years.
"My elder uncle was alive then and he wouldn't allow anyone to study. But he died, so I could go," she said. The report notes that her parents ultimately forced her to drop out when she was 12 years old.
HRW urged the government to take steps to improve universal access to education by abolishing uniform requirements, improving teachers' salaries, encouraging more female teachers and by starting to make education compulsory.
http://www.dw.com/en/over-60-percent-of-afghan-girls-not-in-school-report/a-40978790
--------
Iran: Women literacy teachers of Yazd joined other teachers' protests
16 October 2017
Women literacy teachers in Yazd (central Iran) gathered in front of the Education Department on Sunday, October 15, 2017 to protest against their undetermined employment status.
"After years of teaching, we remain in limbo. We expect that the Department of Education to implement the Parliament's bill on our employment as soon as possible," a protester said.
Earlier, the education committee of the mullahs' parliament (Majlis) had announced that the Ministry of Education must take action regarding the employment of forces who are in a state of limbo, including the educators of the literacy movement. According to the committee's spokesman, this action must be done before recruitment of new forces in the Education Ministry and its departments.
http://www.women.ncr-iran.org/iran-women-news/4398-iran-women-literacy-teachers-of-yazd-joined-other-teachers-protests
--------
Kuwait hosts International Conference on Women Leaders in Science, Technology
October 17, 2017
KUWAIT: The Kuwait Foundation for the Advancement of Sciences (KFAS) held a press conference yesterday to announce the 10th edition of the International Conference on Women Leaders in Science, Technology and Engineering from Oct 23 to 25 under the patronage of HH the Amir Sheikh Sabah Al-Ahmad Al-Sabah. "Kuwait is going to host outstanding women leaders in science, medicine, engineering and technology from around the world, as well as women who hold high positions in government, companies and the industrial sector thanks to their scientific specialization," KFAS Director General Dr Adnan Shihab Eldin said.
During his speech, Shihab Eldin said that the conference, whose theme this year is 'Women's Empowerment with Science,' aims to promote the career development of women from diverse backgrounds in the fields of science, engineering and technology by presenting the success stories of famous women personalities and highlighting the effects of their career achievements and scientific production through workshops and panel discussions to establish professional abilities and skills.
He added that KFAS seeks to celebrate Kuwaiti women's scientific leadership in particular and that of regional and international women in general, as a reflection of its strategy to spread scientific culture and expand the awareness of society in the fields of science. Shihab Eldin noted the foundation's firm belief in the need to recognize the scientific achievements of individuals and play a role in the development of their abilities in order to encourage Kuwaitis to engage in scientific fields.
The conference is chaired by Dr Fayza Al-Kharafi, a member of the board of directors of the Kuwait Foundation for the Advancement of Sciences, winner of the Kuwait Science Award and the Laureus Award, and will held in cooperation with the American Association for the Advancement of Science (AAAS) and the US State Department.
Chairman of the Scientific Committee Dr Amina Farhan, Senior Advisor to the Director General of KFAS and Head of the Physics Department, Kuwait University, said women's scientific leaders in academia, research institutions, government and industry are invited globally, regionally and locally to create an effective forum for women.
Success stories
The agenda of the conference is divided into parallel sessions that highlight the success stories of inspirational women, such as Sheikha Lubna Al-Qasimi, the first Emirati minister at the ministry of economy and planning, and currently Minister of State for Tolerance and President of Zayed University; Jordanian Princess Sumaya bint Al Hassan, President of the Royal Society of Sciences and Chairperson of the Board of Trustees of Princess Sumaya University for Technology; Dr Samira Islam, who promoted higher education for girls in the early 1970s; and Dr Venice Kamel Gouda, a Research Professor at the National Research Center, who was awarded the Kuwait Award in 1986 and was honored by Egyptian President Abdelfattah Al-Sisi with the Nile Award in 2016, the highest award in Egypt.
Also among the participants are Dr Rajaa Sharqawi El-Marsly, a Moroccan researcher in nuclear physics, who won the L'Oreal-UNESCO award for Women in Science; Shadia Rifa'i Habbal, a Syrian-American astronomer and physicist, who received a master's degree in physics from the American University of Beirut and played a key role in establishing the NASA Solar Probe; Annie Black, Deputy Executive Director of L'Oreal and Director General of the L'OrealUNESCO Program for Science-Leading Women in the Middle East, Gulf and Yemen; and Dr Celeste M Rohlfing, Chief Executive Officer of AAAS and Deputy Assistant Director of the National Foundation for Science (NSF). In Jan 2016, KFAS signed a memorandum of understanding with AAAS to support and promote the efforts of the two institutions to disseminate scientific knowledge.
http://news.kuwaittimes.net/website/kuwait-hosts-international-conference-women-leaders-science-technology/
--------
Turkey's TİKA extends helping hand to women, girls worldwide
October 17, 2017
Women and girls account for more than 75 percent of the refugees and displaced people at risk from war, famine, persecution and natural disasters according to the United Nations. As a result, the U.N. designated the theme for the 2017 International Day of the Girl as "EmPower Girls: Before, during and after crises." One leading Turkish development agency continues to reach out to girls in the far corners of the world to empower them. Active in 158 countries, the Turkish Cooperation and Coordination Agency (TİKA) is one of the actors increasing Turkey's clout in global humanitarian activities, often focusing on assisting young girls and women. With projects particularly focused on education and health, TİKA helps female victims of terrorism, poverty, conflict and famine, spanning from Afghanistan and Mexico to the Palestinian territories.
Two years ago in the Palestinian town of Nablus, the agency built a high school for girls that now hosts hundreds of female students.
In Pakistan, TİKA fulfilled a promise by then Prime Minister Recep Tayyip Erdoğan in 2010 who said Turkey would build a school in the area affected by flash floods. A 32-classroom school was opened three years ago. The school serves 200 girls, all orphans who stay in an adjacent dormitory furnished by the Turkish agency.
In Kenya's Kamukunji, the agency supplied education material to a boarding school for girls from impoverished families.
TİKA also extended a helping hand to a shelter for orphan girls between the ages of 9 and 18 in Mexico. With the sewing machines donated to the orphanage, the agency helps the girls to learn a vocation through sewing classes. Also in Mexico, TİKA set up computer classes for an educational center catering to the country's indigenous people who have limited access to education in rural areas.
In Afghanistan, the agency set up science laboratories at two schools serving 10,000 female students and renovated a high school for girls in the capital Kabul. In Bangladesh, the TİKA set up an educational center in Cox's Bazaar, a Bangladeshi border district receiving an increasing flow of Muslim Rohingya refugees fleeing violence in Myanmar. Apart from the computer classes and playgrounds for children, TİKA also set up a vocational workshop to train teenage girls.
In Niger's Niamey, the agency built a maternity clinic and rehabilitation center for women. The 51-bed center aims to help obstetric fistula patients, a condition related to a childbirth injury caused by delayed delivery. The delayed deliveries are linked to limited access to health services, something prevalent in the poor parts of the West African country. Due to superstitions stigmatizing the women suffering from the condition, Niger women struggle to reintegrate into society after recovery. The center will also provide assistance for the reintegration of women.
https://www.dailysabah.com/turkey/2017/10/17/turkeys-tika-extends-helping-hand-to-women-girls-worldwide
--------
URL: https://www.newageislam.com/islam-women-feminism/quebec-set-pass-law-banning/d/112916
New Age Islam, Islam Online, Islamic Website, African Muslim News, Arab World News, South Asia News, Indian Muslim News, World Muslim News, Women in Islam, Islamic Feminism, Arab Women, Women In Arab, Islamophobia in America, Muslim Women in West, Islam Women and Feminism