New Age Islam News Bureau
2 Apr 2013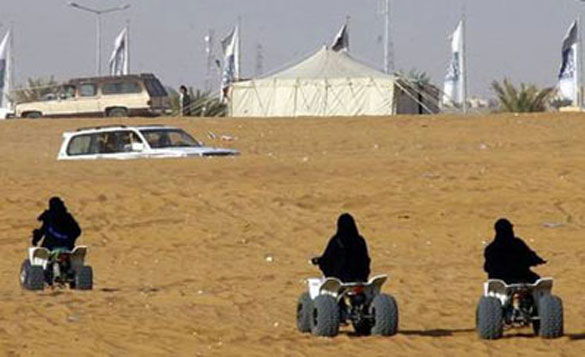 Photo: Saudi Women Allowed Riding Bicycles, Buggies in Public
----------
• Mumbai police gives clean chit to Girls' Islamic Organisation
• Feminist Group Declares April 4 "International Topless Jihad Day"
• Saudi Women Allowed Riding Bicycles, Buggies in Public
• Maldives Rape Victim's Flogging Sentence Appealed
• Drug Enforcement Hires 100 Saudi Women Officers
• Muslims Worry about Broader France Headscarf Ban
• With 95 Candles on Cake, Mama Parsi Girl's High School, Karachi Still Going Strong
• Ammini: Mother to the Girls She Gave Asylum When They Were Infants of 16 To 20 Hours
• Mind Reading Sharjah Girl, Nandana 'Exceedingly Rare' Savant
• Angelina Funds Afghanistan Girls School with Design Line
• From Afghanistan to Syria: Women's Rights and US Propaganda
• Madonna in Malawi to inspect schools
• Iran's 3,500 Female Ninjas
• With Pakistani Schools under Fire, Renewed Outrage and Action
Compiled by New Age Islam News Bureau
URL: https://newageislam.com/islam-women-feminism/qaddafi-daughter-torches-algerian-presidential/d/10978
--------------
Qaddafi Daughter Torches Algerian Presidential House
Monday, 1 April 2013
Aisha Qaddafi, daughter of the slain Libyan dictator, has set fire to a presidential residence in southern Algeria, where she has taken refuge since August 2011, Ennahar newspaper reported Monday.
She had occasionally damaged furniture and parts of the residence when she was angry, but this latest incident, which occurred three days ago, was the most serious, the Algerian newspaper reported.
Qaddafi had previously destroyed the shelves of a library in the residence, and damaged pictures of Algerian President Abdul Aziz Bouteflika, Ennahar added. On one occasion, she reportedly attacked presidential guards who were trying to calm her down.
Last week, Oman said it was granting asylum to the late Libyan dictator's family members who are taking refuge in Algeria. The request was granted "provided they don't engage in political activities," an Omani government official told Reuters on condition of anonymity.
Qaddafi and her brother Hannibal are wanted by Interpol after the Libyan government requested an arrested warrant against them.
http://english.alarabiya.net/en/News/africa/2013/04/01/Qaddafi-daughter-torches-Algerian-presidential-house-report.html
--------------
Mumbai police gives clean chit to Girls' Islamic Organisation
New Age Islam News Bureau
April 2, 2013
Mumbai: A day after Jamaat-e-Islami Hind registered strong protest against a leaked circular of Mumbai Police that mentioned the Girls' Islamic Organisation, a women's branch of Jamaat-e-Islami Hind, the Mumbai police was put on the defensive as a widespread condemnation hit the Urdu media across the country. The Additional Commissioner of Police Nawal Bajaj said that after collecting information about the organisation, the police had come to know that it is 'not involved in any anti-national activitis' giving clean chit to the organisation. A delegation of Jamaat e Islami had met the additional commissioner yesterday and gave him some books published by the Jamaat.
---------------
Feminist Group Declares April 4 "International Topless Jihad Day"
Farah Samti | April 1, 2013
An international campaign under the name "Titslamism Free Amina" has spread over social networks, calling for support of a young Tunisian feminist activist, who recently posted photos of herself topless. The campaign calls for protests in front of Tunisian embassies around the world on April 4.
Amina's photos sparked nationwide controversy following her announcement that she had joined the international feminist group Femen. Since then, rumors about her being threatened and forced into psychiatric treatment have circulated.
In a previous interview with Tunisia Live, lawyer and feminist activist Bochra Bel Haj Hmida denied that Amina was missing or has ever been in a psychiatric facility.
However, Femen France posted on their Facebook page that they have recently contacted Amina, who explained to them that she was isolated in a family house and was not allowed to leave or go to school. According to the conversation posted on Facebook, Amina has been facing the constant threat of violence from some family members and her parents believe her to be psychologically troubled, forcing her to take medicine.
Over 160 people with different nationalities posed naked in support for the Tunisian 19-year-old, with their photos posted in aFacebook album entitled "Support Amina." Some of these were women from Arab countries, who took off their burqas and niqabs and wrote "Free Amina" on their chests. Several men posted topless photos of themselves as well.
Femen activists called for an international protest in front of Tunisian embassies to show solidarity with Amina on April 4, which they have dubbed "International Topless Jihad Day."
The Femen website appeared to have been hacked on Friday, with the organization's front page featuring a message describing the women who posed naked as "prostitutes."
http://www.tunisia-live.net/2013/03/29/feminist-group-declares-april-4-international-topless-jihad-day/
--------------
Saudi Women Allowed Riding Bicycles, Buggies in Public
Monday, 1 April 2013
A Saudi religious authority has ruled that women are allowed to ride bikes and buggies, on condition that they dress modestly and a male guardian accompanies them, the daily al-Yaum reported Monday.
"Women are free to ride bikes in parks, seafronts and other areas, provided that they wear fully modest dress, and a male guardian has to be present in case of falls or accidents," the Saudi newspaper reported, quoting an unnamed source from the Committee for the Promotion of Virtue and Prevention of Vice. However, the daily did not clarify how or at what distance the men will be supervising the women.
The committee said it never barred foreign women from riding buggies or bikes.
The source said riding should be for recreational purposes, not as a means of transport.
"Our concern is the positive traffic culture, and full compliance with traffic rules and regulations by all drivers and riders," Ali al-Zahrani, spokesman for the Eastern Province Traffic department, told the daily.
The religious authority advised women riding bikes to steer clear of areas with youth rallies, to avoid confrontation with protest groups.
"Wearing abayas (the Islamic gown worn by Gulf women) and erratic driving could result in terrible accidents," Samia al-Bawardi, head of a non-governmental organization for victims of car accidents, told the daily.
Women in Saudi Arabia have been banned from driving since 1990. A petition to overturn the ban was recently presented to the country's Shura Consultative Council.
http://english.alarabiya.net/en/News/middle-east/2013/04/01/On-your-bike-Saudi-women-allowed-to-ride-bikes-in-public.html
--------------
Maldives Rape Victim's Flogging Sentence Appealed
Hussain Fiyaz Moosa, Haveeru Online
Mar 31, 2013
The eight months house arrest and 100 lashes sentence of the 15-year-old alleged rape victim after she was convicted of having had premarital sex, has been appealed at the High Court on Sunday, Attorney General (AG) Aishath Azima Shakoor said.
The sentence of the child who is currently under the care of the state had been appealed by her state appointed attorney, Azima said.
According to Azima the sentence had been appealed as the defence believes the child's testimony had been taken in violation of the constitution and the charges had also been filed outside of the criminal procedure.
Based on the psychological reports, the child had been convicted in violation of the principles of Islamic Sharia, Azima said.
The 15 year old girl who gave birth and buried the baby in Shaviyani Atoll Feydhoo had been sentenced to eight months under house arrest and 100 lashes after the Juvenile Court found her guilty of pre marital sex in a separate incident.
An official of the Juvenile Court had said the girl was convicted as she had confessed to the offence in court.
Prosecutors have maintained that the 15 year old who has allegedly been subject to repeated sexual abuse was charged with adultery over another case which came to light during the investigation of the buried baby.
A Juvenile Court official had said the girl would be lashed when she turns 18 but added the sentence would be carried out immediately if she so wishes.
The baby born last June was found buried in the bath house of the girl's home. The child delivered out of wedlock was dead at the time of discovery. Charges have been filed against the 15 year old's mother and step-father over the deliberate murder of the baby.
The conviction and subsequent sentencing of the girl has sparked an international outcry and condemnation from rights groups such as Amnesty International.
http://www.haveeru.com.mv/news/48208
--------------
Drug Enforcement Hires 100 Saudi Women Officers
March 31, 2013
RIYADH — The Drug Enforcement Directorate (DED) has appointed 100 Saudi women in various ranks, according to the head of women's affairs in the directorate, Amal Khashoggi.
The female inspectors will accompany raid teams and will be tasked with frisking women suspects, she added.
Khashoggi stressed that more drug awareness campaigns should be launched in all regions and villages, and people who do not have access to modern technology should be educated about the menace of drugs through other means.
The drug issue is a major one as addiction cases are on the increase despite that fact the directorate has launched many campaigns to curb this menace, she noted.
Full report at:
http://www.saudigazette.com.sa/index.cfm?method=home.regcon&contentid=20130401159367
--------------
Muslims worry about broader France headscarf ban
April 02, 2013
LE BOURGET, France — Because of her choice to wear a headscarf, Samia Kaddour, a Muslim, has all but abandoned trying to land a government job in France. Soon, some private sector jobs could be off limits, too.
French President Francois Hollande says he wants a new law that could extend restrictions on the wearing of prominent religious symbols in state jobs into the private sector. His new tack comes after a top French court ruled in March that a day care operator that gets some state funding unfairly fired a woman in a headscarf, sparking a political backlash.
As Christians celebrated Easter on Sunday, Kaddour attended the four-day Annual Meeting of Muslims of France in Le Bourget, north of Paris. The convention, which last year drew some 160,000 faithful and was expected to grow this year, is billed as the largest annual gathering of its kind in Europe. It is in its 30th year and ended Monday.
Full report at:
http://www.saudigazette.com.sa/index.cfm?method=home.regcon&contentid=20130402159589
--------------
With 95 Candles on Cake, Mama Parsi Girl's High School, Karachi Still Going Strong
April 2, 2013
KARACHI: Mama Parsi Girl's High School was decorated with garlands of marigold, rangoli and handmade posters to celebrate its 95th anniversary on Monday.
"It amazes me that the building looks exactly the same when we used to study here in 1990s and after all those years, just a sight of it evokes all those good memories," said Amber Jamil, who arrived at the school to drop off her daughter. She recalled that grand celebrations were organised every five years.
A marquee stretching around the patio accommodated around 2,000 Muslim students for the Milad. Queuing up in an orderly manner with their shoes and socks removed, students entered the patio one by one and sat on white sheets spread on the floor. "This is to show respect to the Holy Prophet (pbuh) as Milads are organised to praise him," said Prerna Bajaj, a sixth grader.
Full report at:
http://tribune.com.pk/story/529657/with-95-candles-on-cake-mama-parsi-still-going-strong/
--------------
Ammini: Mother to the Girls She Gave Asylum When They Were Infants of 16 To 20 Hours
From death's jaws to shining lights
RADHAKRISHNAN KUTTOOR
April 2, 2013
Ammini Oommen is the mother, guardian angel, sister, and caretaker to 12 girls from Usilampatti who, otherwise, would have been victims of female infanticide in the underdeveloped Tamil Nadu village.
"These are my 12 children I got from the corridors of death with God's blessings. Here we are happy and contented with the blessings of the Almighty," a beaming Ammini Oommen said with the girls flocked around their 'mother'.
Ammini Oommen, 57, of Carmel Mercy Home at Thalachira, near Kumbalampoika, whom the villagers call sister, is the mother, guardian angel, sister, and caretaker to the girls she had given asylum when they were infants of 16 to 20 hours.
Full report at:
http://www.thehindu.com/news/national/kerala/from-deaths-jaws-to-shining-lights/article4565039.ece
--------------
Mind Reading Sharjah Girl, Nandana 'Exceedingly Rare' Savant
2 April 2013
Godfather of savant research 'never seen' a case like Sharjah's Nandana, reports Sajila Saseendran
A nine-year-old autistic girl in Sharjah, whose extraordinary ability to read her mother's mind was revealed to the world last week, could be the next name added to a worldwide registry of people with savant talents, according to the world's top expert in savant syndrome.
People with savant syndrome exhibit extraordinary abilities, but have serious mental disabilities including autistic disorder.
In an exclusive report published on March 25, Khaleej Times brought to light the story of miracle girl Nandana Unnikrishnan, an autistic Indian child who can feel her mother's emotions and read her thoughts, without any medium.
Full report at:
http://www.khaleejtimes.com/nation/inside.asp?section=todayevent&xfile=/data/todayevent/2013/April/todayevent_April3.xml
--------------
Angelina funds Afghanistan girls school with design line
Tuesday, 2 April 2013
Angelina Jolie plans to fund a newly opened girl's school in Afghanistan with proceeds of a jewelry line that she helped to design, celebrity website E! News reported on Monday.
Jolie, a goodwill ambassador for the United Nations High Commissioner for Refugees, will further fund the girls-only primary school in an area outside Kabul that has a high refugee population, E! News said in an exclusive report.
Jolie plans to expand her charitable budget with profits from the "Style of Jolie" jewelry line that she helped create with jewelry maker to the stars, Robert Procop.
Full report at:
http://english.alarabiya.net/en/News/world/2013/04/02/Jolie-s-Jewelry-Angelina-funds-Afghanistan-girls-school-with-design-line.html
--------------
From Afghanistan to Syria: Women's Rights and US Propaganda
April 02, 2013
Women's rights are increasingly heralded as a useful propaganda device to further imperial designs.
Western heads of state, UN officials and military spokespersons will invariably praise the humanitarian dimension of the October 2001 US-NATO led invasion of Afghanistan, which allegedly was to fight religious fundamentalists, help little girls go to school, liberate women subjected to the yoke of the Taliban.
The logic of such a humanitarian dimension of the Afghan war is questionable. Lest we forget, Al Qaeda and the Taliban were supported from the very outset of the Soviet-Afghan war by the US, as part of a CIA led covert operation.
Full report at:
http://rt.com/op-edge/afghanistan-syria-womens-us-153/
--------------
Madonna in Malawi to inspect schools
(AFP) / 2 April 2013
American pop queen Madonna is in Malawi to inspect the schools she has built in the impoverished African country, the native home of her adopted two children, her manager said on Tuesday.
"We are coming to visit the 10 schools that she recently finished building with an organisation called BuildOn," said Madonna's philanthropy manager Trevor Nielson.
"Those schools which are now open and operating are serving 3,800 students," he told AFP.
The schools were built over the past nine months.
Full report at:
http://www.khaleejtimes.com/kt-article-display-
---------------
Iran's 3,500 Female Ninjas
Eko Armunanto
Apr 1, 2013
For Iranian women, martial arts are an increasingly popular way of channelling their rage, and ninjutsu one of the most popular choices within that.
Some 3,500 women in Iran have registered as official ninjas-in-training. In the more than six-minute video, filmed at the Iran Ninjutsu Club in the "heart of Iran," the female warriors are shown practicing stances of attack, stealth methods, defensive gymnastics, wielding bows and swords.
Despite the laws and official practices of Iran restricting its women from sports, including a 2006 rule that joined men and women's sports administrations, and a police circular in November that said women cannot ski except with a male guardian, the Iranian female Ninja "soldiers" were trained officially.
Full report at:
http://www.digitaljournal.com/article/347026#ixzz2PIbYSnDt
--------------
With Pakistani Schools Under Fire, Renewed Outrage and Action
By CHRISTINE HAUSER
April 1, 2013
A recent attack on a female teacher at a girls' school in Pakistan has renewed calls for better security for educators and students in the country.
On March 26, the teacher, Shahnaz Nazli, 41, was shot dead while she was on her way to the school where she worked in Shahkas, the volatile tribal belt on the Afghan border, a local government official, Asmatullah Wazir, told Agence France Presse.
The shooting death was compared to the Taliban's attack last October on a Pakistani schoolgirl, Malala Yousafzai. The teenager received medical care in Britain and recently resumed her studies there.
Full report at:
http://thelede.blogs.nytimes.com/2013/04/01/with-pakistani-schools-under-fire-renewed-outrage-and-action/
--------------
URL: https://newageislam.com/islam-women-feminism/qaddafi-daughter-torches-algerian-presidential/d/10978