New Age Islam News Bureau
25 Apr 2013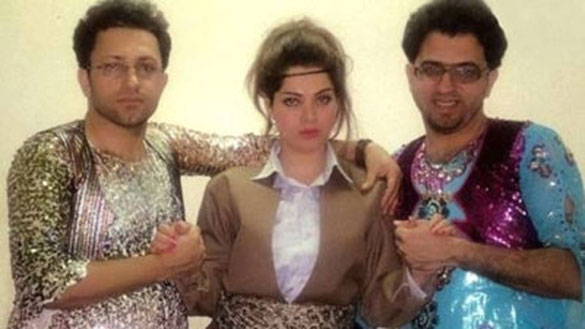 Cross-Dressing Kurdish Men Champion Women's Rights (Courtesy: Facebook)
---------
• Taliban, Taboos Bar Millions Of Women From Pakistan Vote
• Rights Group Urges Safe Toilets for Afghan Policewomen
• First Girls-Only Law Faculty at Taibah University in Medina
• Children Of Saudi Women Married To Foreigners May Receive Pension
• Women's Fight for Equal Prayer Rights Divides Global Jewish Community
• Activist Malala Yousafzai Launches Football for Peace Initiative
• Cross-Dressing Kurdish Men Champion Women's Rights
• First Afghan Women's Cycling Team Sets Sights on Rio
Compiled by New Age Islam News Bureau
URL: https://newageislam.com/islam-women-feminism/public-execution-25-year-old/d/11294
------------
Public Execution of 25-Year-Old Woman, Carried Out By Religious Clerics in Afghanistan
By MEENA HASEEB - 25 Apr 2013
According to reports, a 25-year-old woman was killed during a public execution carried out by religious clerics and local council in western Badghis province of Afghanistan.
Local authorities in Badghis province said the woman was executed for escaping from her home.
Head of the provincial media department for Badghis province, Mirwais Mirzakwal said the woman was 25-year-old and had escaped from her home with a stranger man in Ab-Kamari district.
Mr. Mirzakwal further added, the woman was sentenced to death by religious clerics and local council after she was found by her father in law family.
He said the woman was shot dead by her father after the religious clerics ordered her execution.
There are no reports regarding the fate of the man who had taken the woman with her.
Police officials are saying that investigations have been started in this regard and no suspect has been arrested so far.
Violence against women in Afghanistan continues to rise despite government efforts to implement the law on elimination of violence and the establishment of a High Commission for the Prevention of Violence against Women, according to officials in ministry of women's affairs of Afghanistan.
The Americans and Europeans have put a special emphasis on programs to help Afghan women and raise awareness of their rights however as the Western money and presence are dwindling, women's advocates fear that even the limited gains will erode and a more tribal and Taliban culture will prevail
http://www.khaama.com/honor-killing-public-execution-of-25-year-old-woman-in-badghis-1638
------------
Taliban, Taboos Bar Millions Of Women From Pakistan Vote
25 April 2013
Next month's elections should mark the first democratic transition of power in Pakistan, but Taliban threats, social taboos and poor organization will likely deprive millions of women their right to vote.
Out of a population of 180 million, 37 million women and 48 million men are registered to vote in the May 11 polls in a country that has been ruled by generals for half its life and where military coups have repeatedly interrupted democracy.
But in the conservative northwest Khyber Pakhtunkhwa province, adjoining tribal areas on the Afghan border and south-western province Baluchistan, few women voted at the last election and officials fear it will be the same again.
"We waited the whole day... but not a single woman turned up because of a ban imposed by tribal elders," remembers Badama Begum, a 33-year-old teacher who worked at a polling station in 2008 in the north-western district of Mardan.
Election authorities set up a separate station staffed only by women to guarantee around 350 registered female voters complete privacy, but it was a waste of time.
"We closed the polling station in the evening, returned the blank ballot papers and empty boxes to the election commission, and left," she said.
In 2008, not a single vote was cast at 564 of 28,800 women's polling stations -- 55 percent of them in Khyber Pakhtunkhwa, officials said. In the most conservative areas, officials estimated women's turnout at 10-15 percent of those registered.
That year, 76 women ran for parliament and 16 won seats. The election commission says there are more women candidates this time, but had no precise number.
Registering to vote is a routine process conducted by officials who go door-to-door to compile a list of adults with ID cards in each household
But this in itself leaves millions of women disenfranchised.
Women's rights activist Farzana Bari estimates that at least 11 million eligible women will not be able to vote simply because authorities have not granted them national identity cards.
The elections themselves present further barriers to women, with some religious leaders believing women voting are un-Islamic.
Voting for a man they do not know, some mullahs counselled in 2008, was grounds for automatic divorce -- a social taboo few are prepared to entertain.
"Our society does not allow us to bring our women to vote," said Sharif Khan, 50, a solar energy dealer in Miranshah, the main town in the tribal district of North Waziristan, the most notorious Taliban and Al-Qaeda stronghold in Pakistan.
"We are afraid of the Taliban. They oppose women voting, so why should we take the risk?" he asked.
In tribal communities such as these, women live in purdah, confined to women's only quarters at home. They do not go shopping, they do not work outside the house and they only go to the hospital in a dire emergency.
Literacy rates are low, even lower for women. General disillusionment also runs high in some of the most remote and deprived parts of the country.
"Women in our area don't even know how to vote," said Miranshah cloth merchant Adam Khan, 35. "Our MPs do nothing for our welfare. So it's not just our women, I won't vote this time either," he fumed.
In urban areas, politicians lay on transport to ferry voters to and from polling stations, but in the countryside it becomes more complicated when women are not allowed to travel without a close male relative.
Aware of the problem, the election commission tried to introduce reforms that no candidate could win with less than 10 percent of the women's vote in his constituency, but it was rejected in parliament, said spokesman Khurshid Alam.
He says the commission will try to enforce legislation against those who try to stop women from voting, although it remains unclear how.
"Preventing a person from casting his vote falls in the purview of corrupt practices and is punishable by three years in jail and fine of rupees 5,000 ($50) or both," Alam told AFP.
The result of a by-election in Batagram was declared null three years ago when few women participated having been threatened with divorce. They took part in the re-run at which the threat of divorce was not raised, he said.
Khalida Bibi a 39-year-old housewife from the north-western town of Dargai told AFP that she was hopeful that a tough election commission would have some impact.
"My name was on the voters' list for the 2002 and 2008 elections, but I couldn't vote because on both occasions' local people decided that women would not," she said.
"I hope I will succeed this time because the election commission has warned against any ban on women voting," she added.
http://english.alarabiya.net/en/News/asia/2013/04/25/Taliban-taboos-bar-millions-of-women-from-Pakistan-vote.html
------------
Rights Group Urges Safe Toilets for Afghan Policewomen
Agence France-Presse | April 25, 2013
Kabul. An international rights group called on Thursday for Afghan authorities to provide separate toilets and changing rooms at police stations for women officers, saying they face harassment and assault at work.
Addressing the concerns of policewomen is necessary to address the "rampant violence" against women in wider Afghan society, said Human Rights Watch.
The group said policewomen have no access to "suitable and safe" restrooms and orders by top officials to provide them had been ignored.
"The government of Afghanistan should take immediate action to ensure that the country's female police officers have access to separate, safe and lockable restroom facilities in police stations," it said in a statement.
The group said the country's 1,500 female police face sexual harassment and assault by their male colleagues.
It cited "numerous" media reports of the rape of female officers by male colleagues and said the lack of separate secure toilets makes women particularly vulnerable.
"This is not just about toilets," said Brad Adams, Asia director at HRW. "It's about the government's recognition that women have a crucial role to play in law enforcement in Afghanistan."
Women make up just one percent of the war-torn country's 160,000-strong Western-funded police force. The number is set to increase about five-fold under government plans.
Women in male-dominated Afghanistan still suffer from domestic violence and other abuse 12 years after the fall of the Taliban, which banned them from attending school or any form of public activity during their 1996-2001 rule.
The Taliban were toppled by a US-led invasion but are waging an insurgency aimed at regaining power.
President Hamid Karzai's Western-backed government has passed a law, on "elimination of violence against women," to ensure greater protection.
But "the law has not been adequately enforced, in part because of the lack of female police officers to assist female crime victims, including other police officers," HRW said.
http://www.thejakartaglobe.com/international/rights-group-urges-safe-toilets-for-afghan-policewomen/588025
------------
First Girls-Only Law Faculty at Taibah University in Medina
25 April 2013
The first girls-only law faculty in the Kingdom has opened its doors at Taibah University in Madinah. The university seeks to be in tune with the developments of the era, said Director of Taibah University Adnan bin Abdullah Al-Mazroua in his opening speech, a local newspaper reported.
"We are in the process of developing disciplines by introducing new skills and values," he added. The new law faculty will be at the forefront of other faculties in pursuing a modern approach to education and disciplines, he said.
"We urge the directors of the faculty to use modern teaching methods, such as virtual courts and remote communication, with the chambers of commerce.
Faculty member Ashjan Khalis Al-Zuhairi talked about the history and evolution of law and order situation in the Kingdom.
Faculty Dean Saleh bin Said Al-Harbi said that the first group of female students would begin next semester.
"Within three year, the first group of graduates will be qualified in various fields of law, including litigation, commercial arbitration, contracts and mediations," said Al-Harbi.
http://www.arabnews.com/news/449351
------------
Children of Saudi women married to foreigners may receive pension
25 April 2013
The pension of a Saudi woman married to a foreigner may soon be paid to the couple's children, according to an official from the Public Pension Agency (PPA).
Fatima bint Mohammed Ali, director of the women's department at the PPA, said she was confident that the Bureau of Experts at the Council of Ministers would approve changes to retirement legislation that would make this possible.
The PPA has proposed three main changes to the law, backed by the Shoura Council. This includes children becoming the beneficiaries of the pension of their Saudi mother married to their foreign father; for children to benefit from the pensions of both their Saudi parents; and for three or more beneficiaries to receive the full pension of their parents.
In a statement released at a seminar organized by King Abdul Aziz University in Jeddah yesterday, Al-Ali denied that the Shoura Council has proposed an earlier retirement age for Saudi women. She said there is a proposal to raise the retirement age for women to 65, backed by the PPA and the Bureau of Experts.
She also pointed out that Saudi women married to citizens of Arab Gulf states, or living in one of these states, would fall under the protection of the Saudi pension system, according to the Gulf Cooperation Council resolution on insurance and pension systems.
Al-Ali said the PPA is the only body that provides pensions for all government sector employees, military and civilian. It provides a social safety net for citizens. In the event of the main member's death, the beneficiaries include husband or wife, sons, daughters and grandparents.
Al-Ali confirmed that the system allows a wife to benefit from her first husband's pension, provided she had either divorced her second husband or been widowed.
Daughters, divorced or widowed, would be paid their deceased father's pension. In addition, daughters would receive their father's pension as long as they do not marry or get a steady government job. However, if their salaries are less than their parent's retirement pension, the institution would have to pay the difference.
She said that women are entitled to combine their years of service in the private sector with their years of work in the government sector to calculate retirement benefits, even if they took bonuses for service while working for a private firm. Al-Ali also criticized the pension sector for failing to educate employees about the retirement system in the Kingdom.
http://www.arabnews.com/news/449372
------------
Women's Fight for Equal Prayer Rights Divides Global Jewish Community
The issue of equal prayer rights at Judaism's holiest site cuts across a fault line in modern Jewry: the relationship between the global Jewish community and the Jewish state of Israel.
April 24, 2013
LONDON — The three Abrahamic faiths were created in patriarchal cultures. But recent events have shown that none of these faiths can survive in the 21st century as expressions of patriarchy.
Judaism, Islam, and Christianity are all being tested by the comparatively recent — and not entirely secure — advances of women to full equality. Western Christian churches are seeing a rise in controversies over female priests and bishops. Fundamentalist Islamic cultures are being challenged by women's desire for education.
In Judaism, whose liberal branch has long ordained women as rabbis, women are fighting for the right to pray equally at the religion's holiest site: the Western Wall, the last remnant of the Temple in Jerusalem. Leading this challenge to tradition is a group called Women of the Wall.
Full report at:
http://www.globalpost.com/dispatches/globalpost-blogs/belief/womens-fight-equal-prayer-rights-western-wall-jews-israel
------------
Activist Malala Yousafzai Launches Football for Peace Initiative
Wednesday, 24 April 2013
A football for peace match, launched by Pakistani Malala Yousafzai who was shot by the Taliban whilst defending her right to a girl's education, is being organized for later this year, planners announced on Tuesday.
The match will be played between the UAE and Pakistan and is set to kick off on world peace day, Sept. 21.
The initiative is being co-launched by UK born Pakistani footballer Kashif Siddiqi who announced the event at the Peace and Sport Dubai Forum 2013, which opened on Tuesday.
The forum is running under the theme, "building sustainable peace through sport. Together," and has brought together decision makers from the world of politics, sport and the private sector.
Full report at:
http://english.alarabiya.net/en/sports/2013/04/24/Activist-Malala-Yousafzai-launches-football-for-peace-initiative.html
------------
Cross-Dressing Kurdish Men Champion Women's Rights
25 April 2013
Iranian men from the country's Kurdish community are championing women's rights in a rather peculiar fashion, by dressing in women's clothes.
The photos of the cross-dressed men are posted online via social networking websites in a bid to honor women, reported The Independent on Wednesday.
With more than 7,000 Facebook likes, the group, known as The Kurd Men for Equality, is making their message known.
Full report at:
http://english.alarabiya.net/en/News/middle-east/2013/04/25/Cross-dressing-Kurdish-men-champion-women-s-rights-.html
------------
First Afghan Women's Cycling Team Sets Sights on Rio
Wednesday, 4/24/2013 at 1:50:20 PM
By Cristina Goyanes
There's nothing like hopping on your bike for a sweat-drenching trek through the woods, cruise in the park, or ride around town—but would you risk your life for your two-wheeler? For women in Afghanistan, riding a bike is one step above committing a crime, but Shannon Galpin, founder of the nonprofit Mountain2Mountain and the 2013 National Geographic Adventurer of the Year, is hoping to change that.
When Galpin, a 38-year-old former Pilates instructor from Breckenridge, CO, learned about the war-torn country's first-ever national women's cycling team last fall, she immediately jumped at the chance to help out—after all, she became the first woman to mountain bike through the Afghan countryside in 2009.
Full report at:
http://www.shape.com/blogs/shape-your-life/first-afghan-womens-cycling-team-sets-sights-rio
------------
URL: https://newageislam.com/islam-women-feminism/public-execution-25-year-old/d/11294