New Age Islam News Bureau
27 Feb 2014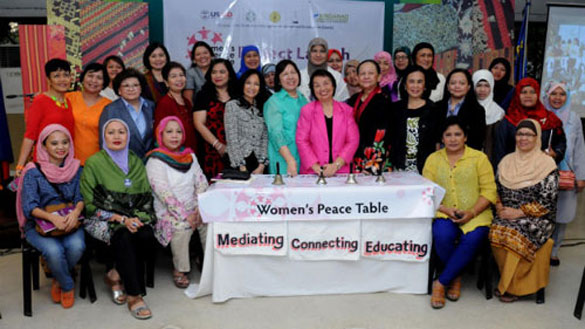 LEANING IN. Peace advocates gathered together to promote the role of women in peace building. Photo contributed by Diana Mendoza
--------------
• A First for NATO: 5 Female Defense Ministers
• Outcry Grows Over Abuse of Jailed Egyptian Women
• FGM Victims in England Could Sue Government for Not Protecting Them
• Women Launch Movement for Peace Participation in Mindanao
• Comments on Divorcees Create Uproar in Saudi Shoura
• Over 50,000 Indian Women Cleared To Work as Domestic Maids in Middle East
• 165 Saudi and Foreign Women Jailed For Minor Offenses
• Sex Change Blesses Family with More Earning Hands
• Row between IIU Administration and Female Students Lands in Islamabad HC
• Saudi Justice Ministry Tightening the Noose on Marriage Officials
• Hague, Jolie to Chair Summit on Rape in War
Compiled by New Age Islam News Bureau
URL: https://newageislam.com/islam-women-feminism/protests-after-women-assaulted-forced/d/45941
-------------
Protests After Women Are Assaulted And Forced To Undress In Public In Kampala
February 27, 2014
Women in Uganda have gathered in the capital Kampala to protest against a law banning the wearing of miniskirts.
Police prevented the women from marching through the streets of the capital, but officers in riot gear watched as around 200 women instead gathered outside the national theatre, BBC News reported.
One woman's placard read: "my body my business", while another woman held a card saying: "thou shalt not touch my miniskirt".
The protests come amid reports that police have been forcing women to remove their skirts in public.
Over the past week, several women wearing skirts have publicly been harassed and assaulted, after the President signed an anti-pornography bill in December banning "indecent" clothing.
One of the event organisers claimed she was harassed when she went to the police headquarters to seek permission to hold the march.
"I was wearing a dress I considered official. Policeman after policeman - low-ranking, high-ranking - they each told me, 'You cannot enter this place in that miniskirt,'" Patience Akumu told the BBC.
Ms Akumu told reporters that police officers "manhandled" her and confiscated her phone when she took photos of them.
The police have since issued a statement condemning "mob…undressing" by officers.
Uganda's Ethics and Integrity Minister, Simon Lokodo, put forward the measure last year, and said that women who wore "anything above the knee" should be arrested.
The so-called "miniskirt law" was raised in Parliament on Tuesday, after the cases of assault and harassment.
The law does not mention the term "miniskirt" outright, but bans women from exposing their breasts, buttocks and thighs, and from "dressing indecently in a manner to sexually excite".
Executive director of the Uganda Women's Network, Rita Achiro, told the BBC that her organisation may launch legal action as the country's constitution state guarantees both sexes are treated equally.
"Now people are more free to do it [abuse women] openly. They are going to judge women according to what they see as indecent because there are no parameters defined by law," she said.
"That has really put women at risk in this country."
Protests come the same week that President Yoweri Museveni signed a bill enacting harsher laws on homosexuals that have been internationally condemned.
http://www.independent.co.uk/news/world/africa/uganda-miniskirt-ban-protests-after-women-are-assaulted-and-forced-to-undress-in-public-9155773.html
-------------
A first for NATO: 5 female defense ministers
TNN | Feb 27, 2014
BRUSSELS: NATO has registered a first in its long history, with five women among the defense ministers who turned up on Wednesday to attend a policy—making meeting at the alliance's headquarters.
The latest woman to join the ministerial ranks was Italy's Roberta Pinotti, who was sworn in Saturday as her country's first female defense minister. The 52—year—old served as an undersecretary for defense in the just—ended government of Enrico Letta. First elected to Parliament in 2001, she is now a seNATOr. She began her political career two decades ago as a lower—ranking official in what was then Italy's Communist Party.
Pinotti joined Albania's Mimi Kodheli, Germany's Ursula von der Leyen, Norway's Ine Marie Eriksen Soreide and Jeanine Hennis—Plasshaert of the Netherlands. A NATO official said the five constituted the largest number of women defense ministers to serve at one time since the 28—nation alliance was founded in 1949.
Before getting down to business with US Defense Secretary Chuck Hagel and their other male colleagues Wednesday afternoon, the women posed together for news photographers. At first, there were just four of them — until Soreide of Norway realized the Albanian minister was missing. Kodheli was quickly called over, and the picture snapping resumed.
http://timesofindia.indiatimes.com/world/europe/A-first-for-NATO-5-female-defense-ministers/articleshow/31077207.cms
-------------
Outcry Grows over Abuse of Jailed Egyptian Women
February 27, 2014
(WOMENSENEWS)-- A Facebook group called Egypt's Queens: Imprisoned has been keeping an online list of women detained by Egyptian security forces since the July 2013 military ouster of President Mohamed Morsi.
The group says more than 2,500 peaceful protestors, men and women, have been killed and at least 15,000 political opponents have been detained, persecuted and tortured since last summer.
The group, which does not disclose any political affiliation, says "human rights violations have reached unprecedented records."
When Egyptians took to the streets to oust President Hosni Mubarak in 2011, they demanded the end of the dictatorship, the corruption, the difficult conditions of life and violations of human rights.
Three years later, those democratic longings are smashed, said Fatima Said, spokesperson for the London-based organization British Egyptians for Democracy. "It is definitely much worse than under Mubarak," she said during a Skype interview last week. She described the treatment of women in detention as "horrific, absolutely horrific."
Said denounced the "double standard" by media groups who treat the abuse of female detainees linked to the Muslim Brotherhood as less newsworthy. "When the women belong to the Islamist camp there is much less regard towards them, not so many people want to cover the story because it is more palatable to have someone who is described as liberal and who is being repressed." She insists that women from all parts of the society have been assaulted by the current military regime.
Said recalls women being arrested during protests organized by liberal groups late last year. "The women were harassed while being detained and after being detained the police took and drove them out into the desert, dumped them there and told them to make their way back home," she said.
Public Assembly Restricted
A protest law restricting the right to public assembly signed in late November by interim President Adly Mansour has given the Interior Ministry wide discretionary powers over protests, including the use of firearms against peaceful protesters. Protesters convicted of breaking the law can face up to five years in prison and fines of $14,513.
Large numbers of the young women arrested since July 2013 are students, some as young as 15, Said told Women's eNews. Since they are minors, they are being detained in juvenile centers but they are still going through the same kind of sexual abuse, torture and harsh treatments meted out to adults.
Egypt's Queens: Imprisoned's data--based on personal anecdotes collected through its member network--include stories of what women have suffered in detention.
In a Feb. 1 post, the site tells the story of Dr. Mervet Galeela, a radiologist, who "has been beaten and arrested while working at her hospital . . . for having a small Rabia symbol pinned to her clothes." The doctor is currently detained and under interrogation.
Rabia means fourth in Arabic and at first the sign was used to signal outrage at the events of Aug. 14, 2013, when thousands of men, women, children, infants and older people were killed in Rabaa al-Adawiya Square in Cairo during a pro-Morsi protest. Since then it has been adopted more generally as a symbol of resistance and protest against military regimes worldwide.
Along with the leaders of several other groups, British Egyptians for Democracy's Said said "trumped up" political charges are being used against detainees. She said mere possession of a camera, wearing badges that say "down with military rule in Egypt" or making the four-finger "Rabia sign" can lead to arrest and conviction.
In a Skype interview, the spokesperson for Egypt's Queens: Imprisoned, who asked not to be named for safety reasons, said female demonstrators on college campuses are being threatened by security and police officers. "'We are going to rape you and get you pregnant,' they say to the women," said the spokesperson.
Strongman Tactics Return
When Morsi was ousted by the Egyptian military last summer some liberal protest factions held back from decrying it as a military coup. But popular discontent with strongman tactics associated with the regime of ousted President Mubarak is now spreading.
Egypt's current president named a new prime minister on Feb. 25, a day after his predecessor, Hazem el-Beblawi, resigned abruptly without stating his reason. El-Beblawi was appointed after Morsi's ousting in July 2013.
Abdel-Fattah al-Sisi, commander-in-chief of the Egyptian Armed Forces and the minister of defense, is widely seen as the favorite to win the presidential election expected this year but not yet scheduled. In April 2012, al-Sisi, who led the anti-Morsi coup, defended the practice of submitting female protesters, those who demonstrated against the military in the aftermath of the Mubarak's ouster, to virginity tests. He argued they were carried out "to protect the girls from rape, and the soldiers and officers from accusations of rape."
A couple of weeks ago, an Egyptian woman, in a video posted by Rassd News Network on Youtube, added to the tableau of violence against women. She said she gave birth handcuffed to her hospital bed after being randomly arrested on her way to the hospital on Jan. 14. Dahab Hamdy, 18 years old, was eight months pregnant when she accidentally got caught up in an anti-coup protest. She faces charges of taking part in an illegal protest, rioting and disrupting the polling process.
Earlier this month, Amnesty International called for the release of three women arrested on Nov. 12, 2013, after clashes erupted on the campus of Mansoura University between supporters and opponents of the Muslim Brotherhood.
"They are facing fabricated and illegitimate charges simply for exercising their rights," Hassiba Hadj Sahraoui, deputy Middle East and North Africa program director at Amnesty International, said in a press statement.
In a statement on their website, the rights group said: "The authorities have displayed a brazen disregard for the right to peaceful assembly in recent months and have sought to clamp down on any form of dissent with a restrictive new protest law." After four adjournments, the trial for the three women is now scheduled for March 28.
Earlier this month, the Ministry of Interior denied the allegations of arbitrary arrests and torture in jail since the protest law was issued in November, Ahram Online reported Feb. 12. The Egyptian online publication said that 16 human rights organizations are demanding "swift investigations into what they described as "increasing and shocking allegations of torture and sexual assaults against those detained at police stations since 25 January."
Students' Families Recount Abuse
The London-based Arab Organization for Human Rights said in a Feb. 10 press statement that it had received complaints from the families of 12 students imprisoned in Egypt. "Families reported that the girls were assaulted, tortured, sexually harassed and had their Islamic head covers removed by security and police officers following their arrest. The girls were also subjected to virginity tests several times at Nasr police station in addition to being tortured there before being transferred," the statement said.
Said, the spokesperson for British Egyptians for Democracy, said women who are victimized in detention can be blamed and stigmatized for the rape and other sexual abuses they suffer. That makes it hard to track what's happening. The same stigma and rejection is even worse for men, making those stories even harder to document.
Women Against the Coup is a group that belongs to the National Alliance Supporting Legitimacy, which describes itself as an Islamist coalition. However, Alaa Hosni, the group's spokesperson, said not all of its members are Islamists.
Hosni's group has documented 1,500 cases of abuse against female detainees since Morsi's ouster in July 2013. The number is considered low due to the difficulty of tracking the incidents in the context of pressures and intimidations by security forces, Hosni said in a Skype interview this week. She said the group has documented 150 cases of women who are currently detained.
Among them, 30 women have been subjected to a pregnancy test and around five were subjected to a virginity test. Hosni has heard rumors about women getting pregnant after being raped in detention, but so far she cannot confirm or refute them. She could not provide an estimate of the number of women and girls who have been missing or kidnapped since the past summer.
Hajer Naili is a New York-based reporter for Women's eNews. She has worked for several radio stations and publications in France and North Africa and specializes in Middle East and North Africa women in Islam.
http://womensenews.org/story/incarceration/140225/outcry-grows-over-abuse-jailed-egyptian-women#.Uw-efeNdUqN
-------------
FGM Victims In England Could Sue Government For Not Protecting Them
February 27, 2014
Victims of female genital mutilation could sue the government for millions for failing to protect them from the barbaric practice, leading lawyers warned today.
They said victims could get compensation after British authorities failed to bring a single prosecution despite FGM being criminalised three decades ago.
The Bar Human Rights Committee of England and Wales believes the UK is in breach of its international law obligations to protect young women and girls from mutilation.
Kirsty Brimelow QC, the committee's chairwoman, said: "During the period of the UK's breach, thousands of British girls and young women have been unnecessarily exposed to the risk of mutilation and have suffered irreparable physical and emotional damage. Many could — and should — have been saved."
The legal experts submitted a detailed report on the British authorities' failures over FGM, including the lack of prosecution, guidance for health and social workers and education for pupils.
Former Liberal Democrat leader Sir Menzies Campbell QC said: "This authoritative report raises fundamental questions about the government discharging its international obligations.
"It may well be that victims would be entitled to sue the government."
Stephanie Harrison QC, from Garden Court Chambers, told The Standard: "There is obviously precedent for the State being sued where it has failed in its duty of care.
"An obvious example is where children have been in the care of local authorities and have not been protected from physical or sexual abuse."
The final bill could run into millions if cases are successful.
The Crown Prosecution Service is examining ten cases of alleged FGM with a view to bringing the first prosecution for the crime.
Mayor of London Boris Johnson urged the authorities to explore further bringing a case where the victim does not have to go to court and perpetrators can be brought to justice based on evidence from health and other professionals.
Campaigners against FGM today praised the Evening Standard for bringing the subject into the mainstream.
Education Secretary Michael Gove has agreed to write to all schools in England about FGM and 250,000 people have signed a petition calling on him to ensure schools teach about FGM before the summer holidays — known as the "cutting season", when girls are sent away to be mutilated.
FGM survivor Nimko Ali, whose story was first revealed in the Evening Standard last February, said: "The Standard campaign started the ball rolling."
http://www.huffingtonpost.com/2014/02/26/female-genital-mutilation-england_n_4858767.html?ir=Impact
-------------
Women launch movement for peace participation in Mindanao
February 27, 2014
MANILA, Philippines - Peace and security is never possible without the participation of women. And in the final peace agreement that promises lasting peace in Mindanao, women should not remain as victims of war but as actors for change in post-war reconstruction.
Armed with this conviction, a network of women's groups launched last week the Women's Peace Table (WPT) to ensure that the voices of women are heard in the peace process after the signing of the final annex on normalization by the government and the Moro Islamic Liberation Front (MILF) early this month.
The WPT is an initiative of women leaders and women's groups led by Irene Santiago, chair emerita of the Mindanao Commission on Women and Mothers for Peace as lead convener, with co-conveners Amina Rasul of the Philippine Council for Islam and Democracy and Aurora Javate-De Dios, executive director of the Women and Gender Institute of Miriam College, which will act as the secretariat.
WPT is a two-year project with the United States Agency for International Development (USAID) entitled "Women's Peace and Security Project: Increasing Women's Participation in Conflict-affected Areas in Mindanao." It will work with the Office of the Presidential Advisor on the Peace Process and the National Steering Committee on Women, Peace and Security.
The other members are indigenous leader Bo-I Era Espana of the Tuddok to Lainaubbaran ni Ayon Umpang-Enangcob, Samira Gutoc of the Young Moro Professionals, former foreign affairs secretary Delia Albert, Socorro Reyes of the Center for Legislative Development, Sr. Mary John Mananzan, Myla Leguro of the Catholic Relief Services, and former Miss Universe Margie Moran-Floirendo in her capacity as goodwill ambassador of Habitat for Humanity. (READ: Teach peace to build a culture of peace)
Roadmap to peace
During the project launch at Miriam College, Irene Santiago said that "indeed, the roadmap to peace is long and full of landmines," as she warned that "people are rushing to fit the peace deal into President Benigno Aquino's 2016 end-of- term agenda" for peace in Mindanao as one of the legacies of his presidency.
Santiago further cautioned that the Bangsamoro Basic Law will still be "drafted and presented in Congress, but it is in danger as politicians may monkey around it" and spoil its passage. The process also entails a referendum, which further endangers the law if it loses in this exercise.
In preparation for the elections, Santiago also said the rush is uncalled for because there are not even political parties yet. There is also not post-war economic recovery plan to date.
The group said in a statement, "The WPT is preparing for legislative advocacy to ensure that Congress passes the Bagsamoro Basic Law as the foundation of the Bangsamoro as a new political entity."
Gloria Steele, USAID mission director in the Philippines, said the experience of USAID has shown that "women are effective peace advocates, community leaders and champions of civil and human rights, and have made significant contribution in peace negotiations."
Steele said peace and stability in Mindanao is one of the re-crafted USAID strategies for growth in the Philippines besides economic growth and environmental resilience, as much of the country's GDP has been destroyed by disasters. (READ: Muslim women: We are not limited because we wear a hijab)
Everyone has a seat
Santiago said the WPT chose the word "table" that is preferably round "because every seat is a lead seat" and to represent a "coming together" for various purposes, which, to women, may mean to "eat, pray, love" or to talk, negotiate and "connect the table of the formal peace negotiations with the tables of women in the communities, especially those who have been effected by war and who long for peace to come soon."
She demanded that for the initiative for women's participation to be able to build a broad constituency throughout the Philippines, "there should be a women's peace fund" that "puts money in the hands of women" and so that development can finally occur.
Miriam College's Javate-De Dios said the project's activities will focus on the women in six priority and conflict affected areas: Jolo, Southern Basilan, Isabela, Zamboanga City, Cotabato City, and Marawi City, with some activities to be held in Davao City and Metro Manila.
National constituencies
Women's peace tables will be created in strategic congressional districts in order to build a national constituency for peace among women in all sectors to support the GPH-MILF peace agreement and other peace processes. It will also consult with local government units especially in reminding them about the implementation of the gender and development agenda.
De Dios said there will be six dialogues with media, interreligious groups, the MILF, panel members, and the Transition Committee.
She said the WPT was formed in the light of the United Nations Security Council Resolution 1325 and the persistent clamor of women to have a voice in peacemaking. She said, "The WPT will ensure that the Bangsamoro Basic Law is gender responsive."
The WPT will also aim to localize the implementation of the Philippine National Action Plan for Women, Peace and Security and the Mindanao 2020 peace and development objectives in selected provinces and cities in Mindanao.
http://www.rappler.com/move-ph/issues/gender-issues/51637-women-peace-participation-mindanao
-------------
Comments On Divorcees Create Uproar In Saudi Shoura
February 27, 2014
RIYADH — Shoura Council member Dr. Abdulaziz Al-Ataishan caused an uproar when he claimed divorcees in the Kingdom are harassed and their honor compromised, Al-Watan newspaper reported on Wednesday.
The comment was received with anger by several members, especially female members. Female member Khowlah Al-Krai' described the comments as "discriminatory".
Several Shoura Council members registered their objection to the comment by Al-Ataishan on this subject, while others described it as "unsuccessful".
When Al-Watan told Al-Ataishan in a telephone call that some Shoura Council members were angered by his comment, he said: "These are viewpoints and should be respected. There are many religious people, some of whom are sheikhs, in the council who described the comment as good."
With regard to his comment, Al-Ataishan pointed out that it focused on the need for the existence of an authority that takes care of divorcees and their affairs.
More importantly, it is vital to discuss the causes of divorce amid the figures showing that the divorce rate in Riyadh, for example, has reached 35 percent, aside from the existence of 900,000 spinsters. These are serious figures that ought to be studied, he said.
He added: "I know many divorced women who wanted to obtain jobs. The moment the employer came to know that they were divorcees, they started harassing them."
About his colleagues' anger regarding his comment, which he presented in the public affairs session Tuesday, Al-Ataishan said: "We are a society that is like an ostrich which buries its head in the sand. We want to show people that we have no problems, and this is a mistake. Harassment is existent, not only among young women, but also with boys. So why are we kidding ourselves? We are human beings and we are not special."
Al-Ataishan further said: "We wish that there is no harassment at all and that we should be the best human beings. But matters are not achieved with wishes. We should not give a free hand to matters."
Female Shoura Council member, Dr. Thurayya Obeid, said that there is an authority called "Mawaddah" that takes care of the affairs of divorcees.
"This means that the matter is already being taken care of, unlike what Al-Ataishan claims," she said.
http://www.saudigazette.com.sa/index.cfm?method=home.regcon&contentid=20140227197029
-------------
Over 50,000 Indian Women Cleared To Work as Domestic Maids in Middle East
February 27, 2014
A total of 53,616 women have been granted emigration clearance to work as domestic workers in the Middle East in the last three years, the government said on Wednesday.
The clearances were given by the ministry of overseas Indian affairs.
On receiving complaints from women workers, Indian missions abroad are immediately taking up the matter with the employers and getting the same resolved amicably, a ministry statement said.
The complaints pertain to ill-treatment by employers or non-payment or delayed payment or underpayment of wages and other related grievances.
In absence of an amicable solution, the matter is taken up with the concerned local authorities. Legal assistance and counselling, if required, is also provided, it said.
In major Gulf countries, shelter homes are being run by the Indian missions to offer free boarding and lodging to distressed Indian women workers. They are also being given medical assistance.
Free air tickets are being provided to facilitate the workers' return to India. Travel expenses from the nearest airport to their respective place of residence are also being provided.
In case they have no travel documents, the workers are being given emergency certificates. Immigration clearances are also being obtained from the authorities concerned for their hassle-free travel to India, it said.
http://ibnlive.in.com/news/over-50000-women-cleared-to-work-as-domestic-maids/454548-3.html
-------------
165 Saudi and Foreign Women Jailed For Minor Offenses
February 27, 2014
A total of 165 Saudi and foreign women were convicted for drug-related offenses last year, according to sources quoted by local media.
Saudi women make up five percent of the country's prison population, and were convicted for various "soft offenses" including theft, inflicting harm, unlawful isolation with men, disobeying parents, undergoing DNA tests to check the paternity of their babies, threatening others, malicious lawsuits and promoting the use of drugs and alcohol, the source said.
There are 800 female prisoners, which includes 200 Saudis, in Briman Prison in Jeddah. The cases, which included men defendants, were prosecuted in 13 courts across the country including Riyadh, Makkah, Jeddah, Dammam, Taif and Madinah.
There were 134 cases of defamation in six cities, 374 of theft, and 1,655 of inflicting harm.
Women were convicted in 162 cases involving malicious litigation, 590 for unlawful mixing, 41 for paternity testing, and 165 for promoting drugs and alcohol.
Midwah Al-Midwah, director general for social affairs in Najran, and former director of the rehabilitation center in prisons, said women commit the same crimes as men, with most cases involving unlawful mixing.
He said women's offenses are known in criminology as soft crimes because they do not resort to violence.
"We rarely find women prisoners accused of armed robbery," he said.
Saud Al-Dhyan, professor of social services at King Saud University, said many drug dealers use women to promote the use of drugs because police officers do not suspect them of being involved in criminal activity.
He said women choose cafes to promote drugs, and 60 percent of men and women start using narcotics out of curiosity.
http://www.arabnews.com/news/531991
-------------
Sex change blesses family with more earning hands
February 27, 2014
RAWALPINDI: Though his family feels stronger at the addition of another male member in him, teenager Abdul Raheem is fighting an identity crisis lying in the Pakistan Railways Hospital in the city.
"I am a male now after undergoing surgery of my ambiguous genitalia. But how to explain the change to the people who had known me as Rubina all these years," the 16-year-old told Dawn, writhing in his hospital bed at their jibes and mischievous looks at his makeover.
Nevertheless, the new 'family man' from Chichawatni is excited about the life ahead.
"I have long desired education and you know girls of poor families rarely get that chance in our conservative society. So changing into a man, will, hopefully, make that prospect a little easier to me," he said.
Interestingly, Raheem is the second in the family to undergo sex change.
His elder sister Samina underwent the same surgical procedure in the same hospital in 2006 and emerged as Shaheer Abbas. Rubina turned into Abdul Raheem.
"When she reached adulthood, she felt severe pain. A lady doctor in Cheechawatni saw signs of sex change in her and, like Samina, we brought her here," said Zaheer Abbas, their only natural brother.
"Previously, we were three sisters and one brother. Now the equation has changed into three brothers and one sister," he said chuckling.
"Shaheer, formerly Samina, runs a bakery and is getting married next month."
Zaheer Abbas is confident that Abdul Raheem will overcome his identity crisis "and settle like Shaheer who runs a bakery and is getting married next month".
However, Associate Professor Dr Ahmed Rehman of the Urology Department of Pakistan Railways Hospital says doctors cannot change the sex of a person.
"One is born male or female," he told Dawn. But, sometimes, genetic problems and hormone imbalance hide the genitals and doctors just operate and uncover them."
"The family brought Rubina to us when she did not show signs of developing into a woman. Pathological tests showed that the patient was a male and needed surgical procedure to restore his original identity," he said.
In recent years, many such cases were brought to the hospital. "There is need to understand the identity of gender in such cases.
Doctors can tell parents that soon after the birth of their child and early surgery would avoid unnecessary identity crisis," said Prof Dr Rehman.
What such patients needed most, however, was understanding, support and sympathy of the family and acquaintances.
Dr Rehman said that generally, a boy-turned-girl did not need plastic surgery post sex change.
"Cases which require plastic surgery are rare," he said.
Dr Afzal Farooqi, former principal of Rawalpindi Medical College and Professor of Urology, agreed that ambiguous genitalia cases, where sex of the baby could not be defined because the male organ grew inside and is not visible and it grew inside gradually, are very rare.
https://www.dawn.com/news/1089781/sex-change-blesses-family-with-more-earning-hands
-------------
Row between IIU Administration and Female Students Lands in Islamabad HC
February 27, 2014
Row between three female students of Islamic International University Islamabad (IIUI) and the university administration has now landed in Islamabad High Court (IHC).
Justice Noor ul Haq N Qureshi of the IHC has suspended orders of an additional district and sessions judge (ADSJ) Islamabad while issuing stay orders and directing the university administration to give admissions to the students in the hostels.
IHC judge has issued notices to the IIUI administration and directed them to submit reply till March 10 the date till when the interim IHC orders will be in force.
An ADSJ of Islamabad Rafaqat Ahmad Awan on February 25 while vacating stay orders in the matter of these three students had directed them to vacate the hostel rooms in three days while deciding appeal filed by the university administration.
ADSJ had declared that IIUI is an autonomous body and it reserves the right regarding allocation of the hostels.
On February 25, the university administration had also lodged an FIR with Sabzi Mandi Police Station against the students, Neelam Jahan, Hiba Shabbir and Romana Akbar for trespassing and hurling threats after which the students obtained pre-arrest bails from an ADSJ court. Legal counsel for the students, advocate Sher Afzal Khan while talking to this correspondent told that the President of Pakistan Mamnoon Hussain has taken notice of the issue and he has called an explanation from the president of the university.
Counsel for the girls, argued before the court that that the ADSJ orders directing girls to vacate the hostel is based on malice.
Narrating details of the incident, the lawyer said that it was on December 23, 2013 when hostel residing girls had agitated against policies of the IIUI administration. The university administration then issued disciplinary notices to at least 50 students while expelling 11 students. The eight out of eleven had gone to their homes while the three girls decided to file a case with the court. An ADSJ earlier granted a stay order in favour of the girls and the same judge then vacated the stay orders at the appeal of IIUI administration. Advocate Sher Afzal told the court that after the stay order was vacated, the university administration forcibly took possession of the luggage that has been in use of the girls and they also tried to kidnap a girl.
The girls once again went to the court that ordered not to disturb the girls till final adjudication and on February 25, the judge dismissed girl's appeal. Advocate Sher Afzal further told the court that the university administration has also lodged an FIR against the girls.
It is to mention here that these girls have also moved another application under section 22-A in the court of ADSJ Shahrukh Arjumand for registration of case against the university officials including Director General (DG) Gulzar Khawaja, Security In-charge Colonel (r) Amjad Zaman, hostel warden and one security guard. They had alleged in their application that university administration tried to kidnap them and detained them in a room for more than 18 hours.
http://www.thenews.com.pk/Todays-News-6-235119-Row-between-IIU-administration-and-female-students-lands-in-IHC
-------------
Saudi Justice Ministry tightening the noose on marriage officials
February 27, 2014
RIYADH – The Ministry of Justice has suspended the license of one marriage official and canceled the licenses of two others due to errors they committed, according to its recent report.
The ministry said it was tightening the supervision of marriage officials and issued warnings to six employees, Makkah daily said Wednesday.
According to the report, the ministry suspended the licenses of 15 marriage officials during 2013.
It also canceled eight licenses and issued warnings to two marriage officials.
The ministry suspended the licenses of two marriage officials in 2013.
One of them signed a marriage contract for a divorcee who had not been single even three months after her divorce.
He also executed a marriage contract with the bride's guardian listed as her half-brother even though she had a brother.
The same official executed a marriage contract for a young woman with her brother as a guardian but did not mention the inheritance deed.
The ministry said it suspended the other official for amending the date of the premarital medical check-up and not mentioning the guardian's right to execute the marriage.
Also, there were many deletions and amendments in the marriage contract and there were no responses to inquiries from the court.
No penalties were issued against the two marriage officials, who were suspended in the period August-October, 2013.
The ministry said it issued licenses to 264 applicants to work as marriage officials in all regions.
Also, during the first quarter of this year the ministry granted 135 licenses to applicants to work as marriage officials.
The ministry renewed licenses for 129 marriage officials.
In a statement to the press Tuesday, the ministry said the number of Saudi marriage officials reached 5,561 as of the end of Jan. 2014 and their number is increasing.
This will help conclude marriage contracts for citizens easily, wherever they are, he said.
The ministry said it is keen to issue and renew licenses for marriage official applicants to facilitate the documentation of marriage contracts.
The applications are referred to the pertinent committee, which studies the applications and forwards the recommendations for approval.
http://www.saudigazette.com.sa/index.cfm?method=home.regcon&contentid=20140227197033
-------------
Hague, Jolie to chair summit on rape in war
February 27, 2014
WASHINGTON — British Foreign Secretary William Hague and Hollywood screen idol Angelina Jolie are joining forces to co-host a high-profile summit this year focused on ending rape as a weapon of war.
Hague pledged Tuesday that the four-day London gathering in June would "be a summit like no other" bringing together foreign ministers from 140 countries as he was awarded the 2014 Hillary Clinton prize for Women, Peace and Security.
It was Jolie's film "In the Land of Blood and Honey" which first opened his eyes to the extent of sexual violence in conflict zones, he told the award ceremony at the prestigious Georgetown University in Washington.
The June 10-13 meeting would be the largest gathering ever to focus on sexual violence in conflict, and would also bring together armed forces, police units and legal experts, Hague explained.
"If women are still treated in this abhorrent way in times of war, they will never be treated as equals in times of peace, and that cannot be tolerated."
In presenting the award, former secretary of state Clinton said "women, peace and security... must be perceived as being integral" to all other global issues such as the conflict in Syria.
http://www.saudigazette.com.sa/index.cfm?method=home.regcon&contentid=20140227196975
-------------
URL: https://newageislam.com/islam-women-feminism/protests-after-women-assaulted-forced/d/45941