New Age Islam News Bureau
17 Aug 2019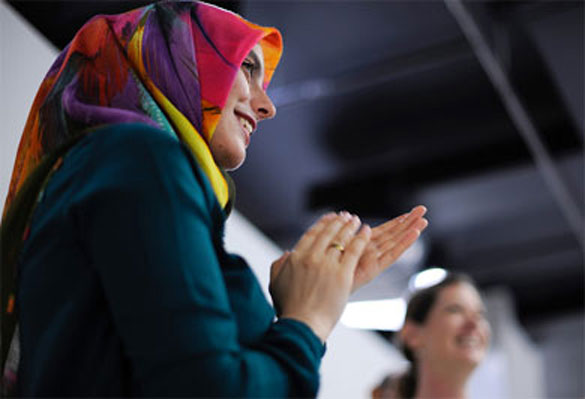 Muslim female academics, women from the community and others seeking to promote inclusivity in Islam will engage during the Gender Ethics and Religious Authority 2019 Programme.
-----
• Rep. Rashida Tlaib Says She Won't Visit Israel after Being Allowed To Enter On Humanitarian
• The 14 Defiant Women Who Want To Change the Islamic Republic Of Iran
Grounds
• Liz Cheney Calls Out AOC on 'Phony Gender Discrimination' Claims: 'She Hurts All Women'
• Nigeria: Muslim Women in Business and Professions Hold Conference in Ghana
Compiled By New Age Islam News Bureau
URL: https://www.newageislam.com/islam-women-feminism/professor-amina-wadud-celebrating-25/d/119492
--------
Professor Amina Wadud Celebrating 25 Years of Championing Muslim Women's Religious Authority
16 AUGUST 2019
The University of Cape Town's (UCT) Department of Religious Studies and the African Gender Institute, together with American Muslim philosopher Professor Amina Wadud, are celebrating 25 years of championing Muslim women's religious authority.
Through a series of events taking place between 18 and 25 August at various venues, the Gender Ethics and Religious Authority 2019 Programme imagines a different future for women's religious leadership and commemorates 25 years of gender-inclusive ethics.
In 1994, Wadud delivered a revolutionary pre-Khutbah talk at the Claremont Main Road Mosque. This was followed by a similar event in New York in 2005, significantly shaping a global movement for gender-inclusivity in religious leadership.
In Women's Month 2019, this history of the struggle for gender justice is being recognised and deepened via the exchange between Muslim female academics, women from the community and others seeking to promote inclusivity in Islam.
https://www.news.uct.ac.za/article/-2019-08-16-championing-muslim-womens-religious-authority
--------
Rep. Rashida Tlaib says she won't visit Israel after being allowed to enter on humanitarian grounds
AUGUST 16, 2019
(CNN) — Rep. Rashida Tlaib said Friday she would not visit Israel after the country granted permission for her to enter the country on humanitarian grounds to visit her family in the West Bank a day after blocking her and fellow Rep. Ilhan Omar from visiting the country.
"I have decided that visiting my grandmother under these oppressive conditions stands against everything I believe in–fighting against racism, oppression & injustice," Tlaib said in a tweet. In a statement released shortly after her tweet, she said she has "decided not to travel" to the country.
Tlaib had asked Israeli Interior Minister Aryeh Deri for access so that she could visit her relatives, "and specifically my grandmother, who is in her 90s and lives in Beit Ur al-Fouqa. This could be my last opportunity to see her."
The request from Tlaib of Michigan came a day after the country barred her and Omar, a freshman Democrat from Minnesota, from entering because of their support of a boycott against Israel. Israel's decision to bar their entry was encouraged by President Donald Trump in a remarkable step both by the US President and his ally, Israeli Prime Minister Benjamin Netanyahu, to punish political opponents.
Deri announced Friday in a statement that Tlaib would be allowed to visit the after she, in a letter requesting permission to enter the country on humanitarian grounds, "committed to accept all the demands of Israel to respect the restrictions imposed on her in the visit, and she also promised not to advance boycotts against Israel during her visit."
Tlaib's family in the West Bank slammed Israel over the "conditional visit" and insisted that it is a "natural right" to be able to visit relatives.
"We reject the decision of the Israeli occupation to ban the entry of Congresswomen Rashida Tlaib. This highlights how Israel antagonizes every individual or organization that support the inalienable rights of the Palestinian people and rejects every attempt at explaining the reality of the Palestinian life under occupation," Tlaib's grandmother, Muftiya Tliab, and her uncle, Ghassan Tlaib, said in a statement to CNN.
The family statement continued, "It should be her natural right, not a favor to ask for, to visit her homeland and family."
Tlaib's relatives said they had wanted her to be able to visit as part of a delegation which was to include Omar, and are incensed by the restrictions being put on her visit.
Some of Tlaib's family members even urged her not to make the trip under Israel's restrictions, and only to come if it's an official visit as an American congresswoman. Tlaib's uncle suggested he could bring Tlaib's grandmother to visit in the United States so the two could meet.
The boycott
Tlaib and Omar have been vocal critics of Israel and have supported the boycott movement, formally known as the Boycott, Divest, and Sanctions (BDS) movement, voting against a House resolution condemning the movement, which received broad bipartisan support.
The boycott movement aims to end international support for Israel because of its policies toward Palestinians, as well as its continued construction of West Bank settlements, considered a violation of international law.
Strategic Affairs Minister Gilad Erdan, who leads Israel's fight against the boycott movement, tweeted Friday morning, "The request from Congresswoman Rashida Tlaib to visit her grandmother should be approved. Especially in light of her commitment to abide by Israeli law and not advance boycotts against us."
Erdan is one of the members of the forum who met on Wednesday to discuss whether to allow Tlaib and Omar to enter the country.
Ban came after Trump intervention
The announcement Thursday to prohibit the congresswomen from visiting Israel came shortly after Trump said Israel would be showing "great weakness" by letting them in.
Trump has criticized the two lawmakers — who are the first two Muslim women elected to Congress — in harsh and sometimes racist terms. But his move to call for their ban in Israel reflects a new chapter in his grudge and a further erosion of presidential norms, which in the past sought to avoid instilling partisanship in foreign affairs.
Trump's comments left Israel with little wiggle room, especially for Netanyahu, who has never publicly disagreed with Trump.
"The plan of the two Congresswomen is only to damage Israel and to foment against Israel," Netanyahu said in a statement following the decision.
Omar responded to the decision Thursday slamming it as "an insult to democratic values."
"It is an affront that Israeli Prime Minister Netanyahu, under pressure from President Trump, would deny entry to representatives of the U.S. government," Omar said in a statement. "Trump's Muslim ban is what Israel is implementing, this time against two duly elected Members of Congress."
Omar went on to say, "As a member of the House Committee on Foreign Affairs, it is my job to conduct oversight of foreign aid from the United States of America and to legislate on human rights practices around the world. The irony of the 'only democracy' in the Middle East making such a decision is that it is both an insult to democratic values and a chilling response to a visit by government officials from an allied nation."
Israel's decision to deny entry to the two freshmen congresswomen was a turnaround of a position taken last month when the country's Ambassador to the United States Ron Dermer said the pair would be permitted to visit Israel and the Palestinian territories.
https://wqad.com/2019/08/16/rep-rashida-tlaib-says-she-wont-visit-israel-after-being-allowed-to-enter-on-humanitarian-grounds/
--------
The 14 Defiant Women Who Want To Change the Islamic Republic Of Iran
August 16, 2019
By Golnaz Esfandiari
Iranian human rights lawyer Guity Pourfazel wants to see change in her country and believes Iranian Supreme Leader Ayatollah Ali Khamenei should step down and the ruling clerical establishment be replaced with a democratic system.
Pourfazel is one of 14 women activists in Iran who have publicly called for Khamenei to resign and for a new political system to be installed that is framed by a new constitution that would secure dignity and equal rights for women.
The women from various backgrounds made the call earlier this month in a statement posted online that has received mixed reactions -- many praising it as a bold expression of dissent, while others have described it as an exercise in futility and a naive act that will bring no changes.
The August 5 statement accuses Iran of "gender apartheid" and says that while in many countries women are progressing alongside men in different spheres, women in Iran continue to strive just for basic human rights.
"Four decades of the rule of the supreme jurist has resulted in the inhumane removal of half of the country's population, 'with all their capacities and abilities' in terms of equal citizenship and human dignity," the statement says.
Pourfazel says she signed it knowing the likely consequences she would be exposing herself to.
Criticism of Khamenei, the octogenarian who has the last say on almost everything in the Islamic republic, is considered a red line in Iran and transgressors often land in prison, where political prisoners are routinely held in solitary confinement and subjected to various forms of torture.
"One chooses a path while thinking and anticipating what can happen as a result," Pourfazel, who has defended political prisoners, told RFE/RL in an interview from the Iranian capital, Tehran.
At least two of the co-signatories of the letter were reportedly detained earlier this week in Tehran and the northeastern city of Mashhad. It is not clear whether the statement they signed is the reason for their detention.
Fatemeh Sepehri was reportedly picked up by police after joining a protest outside a court in Mashhad, while Narges Mansuri is said to have been arrested outside her home in the Iranian capital.
But Pourfazel remains defiant. "We are standing by our letter and I can't imagine that we would [ever] give up our demand," she said.
'The Right To Say No'
Other co-signatories of the statement have said they refuse to remain silent in the face of what they describe as repression, poverty, corruption, discrimination, and injustice that they blame on the Iranian authorities.
"As the wife of a martyr [a soldier killed during the 1980-88 war with Iraq] and as a woman who lives in this society, I must say that I can't tolerate these conditions," Sepehri said in an online video before she was detained.
"Women in this country don't have the right to choose what they want to wear, they don't have any rights, the Islamic republic must be eliminated," she said, adding that she chooses to wear the Islamic hijab but that it is wrong for Iran to deny women the right to choose whether they want to be covered or not.
"As an Iranian I have the right to say no to the Islamic republic and I say that the Islamic republic is not my choice," another signatory, activist Zahra Jamali, said in a video posted on Twitter.
Pourfazel says that while 14 women have signed the statement, millions of other Iranians support the demands cited by the signatories. But she adds that many are afraid to raise their voice and express their frustration publicly.
Pourfazel says many have expressed support for the statement and that many of those people consider themselves as the 15th signatory of the letter.
Are Iranians Satisfied?
The 14 women issued their letter just weeks after 14 activists inside and outside Iran, including outspoken filmmaker Mohammad Nurizad and former Tehran University Chancellor Mohammad Maleki, also called on Khamenei to step down.
Mehdi Khazali, an outspoken blogger who has been arrested several times in the past due to government criticism, dismissed the two letters in a recent discussion on the BBC. "Let's imagine [Khamenei] resigns tonight. What do we have as an alternative?" he asked.
"Everyone knows there's poverty, corruption, prostitution, as well as an economic, social, and cultural collapse in our society, everyone knows it," Khazali said, adding that "we have to see where the path we take leads us...does it bring any result?"
"What do [our detractors propose] to do? It's easy to criticize but it's important [to take action] and take risks," Pourfazel told RFE/RL when asked about those who criticize the protest statement as being pointless.
She says she has fought her entire life for what she believes is right and will continue to do so. "Iranians should think about what they were seeking in 1979," she said. "Did they achieve their demands?"
Last year, 15 prominent activists and intellectuals inside and outside the country, including Nobel Prize laureate Shirin Ebadi, leading Iranian human rights lawyer Nasrin Sotoudeh, and dissident filmmaker Jafar Panahi, issued their own call for a new system of government in Iran following a referendum organized by the United Nations.
Iran's current system, which they accused of systematic rights violations, corruption, and the selective use of religion, has become the "main obstacle to the progress and liberation of the Iranian people," they said.
Ebadi, who lives in exile, told RFE/RL's Radio Farda last week that the initiative by the 14 women could help raise awareness among Iranians about their government. "I think it is important for Iranians to unite and gradually say 'no' to the Islamic republic...and to any type of dictatorship," she said.
https://www.rferl.org/a/the-defiant-women-who-want-to-change-the-islamic-republic-of-iran/30113638.html
--------
Liz Cheney Calls Out AOC On 'Phony Gender Discrimination' Claims: 'She Hurts All Women'
By Sam Dorman
House GOP Conference Chairwoman Liz Cheney, R-Wyo., defended Israel on Thursday and blasted Rep. Alexandria Ocasio-Cortez, D-N.Y., over "phony" claims that the nation discriminated against her colleagues.
She was responding to a tweet in which Ocasio-Cortez implied that Israel was sexist or Islamophobic when it banned Reps. Ilhan Omar, D-Minn., and Rashida Tlaib, D-Mich., from entering the country.
"MoC are frequently asked to visit Israel to 'see things for ourselves,'" she said, using an acronym for "members of Congress." "But Netanyahu choosing to ban the only 2 Muslim women in Congress from entering tells the US that only *some* Americans are welcome to Israel, not all," she added.
Cheney rebuffed the idea that Israel's decision was bigoted.
"The fact that they are Muslim women has zero to do with this," Cheney tweeted. "The issue is their vile anti-Semitism and support of a movement dedicated to the destruction of the state of Israel."
"And @AOC should realize she hurts all women every time she claims phony gender discrimination," Cheney added.
Ocasio-Cortez previously retweeted posts accusing the Mideast ally of bigotry and announced that she wouldn't schedule visits to the nation until Tlaib and Omar were allowed to visit.
Cheney's comment on the issue was the latest in a series from high-level politicians about the ever-evolving dispute between the freshman lawmakers and Israel.
The government on Thursday blocked Omar and Tlaib from entering over their open support for Israel boycotts, under pressure from President Trump. The Israelis later granted a request for Tlaib to visit her grandmother in the West Bank, but the congresswoman then said she would not go, claiming "oppressive conditions meant to humiliate me would break my grandmother's heart."
Like Cheney, the Israeli government argued the congresswomen held objectionable positions on Israel. "We won't allow those who deny our right to exist in this world to enter Israel. In principle, this is a very justified decision," Israel's deputy foreign minister said.
Israeli Prime Minister Benjamin Netanyahu similarly derided their planned visit as a way "to strengthen the boycott against us and deny Israel's legitimacy."
When Tlaib rejected Israel's offer to see her grandmother in the West Bank, Israel's interior minister said it showed that the Michigan congresswoman's "hate for Israel overcomes her love for her grandmother."
Tlaib explained her decision on Friday, arguing that, "Silencing me & treating me like a criminal is not what she wants for me."
"It would kill a piece of me. I have decided that visiting my grandmother under these oppressive conditions stands against everything I believe in--fighting against racism, oppression & injustice," she tweeted.
https://www.foxnews.com/politics/liz-cheney-calls-out-aoc-on-phony-gender-discrimination-claims-she-hurts-all-women
--------
NIGERIA: MUSLIM WOMEN IN BUSINESS AND PROFESSIONS HOLD CONFERENCE IN GHANA
AUGUST 17, 2019
London, August 17, 2019 (AltAfrica)-The Vice President of the Madina Institute of Science and Technology in Accra, Ghana, Prof. Mohammed Kamil and an Associate Professor of Physiology at the Lagos State University (LASU), Lagos, Nigeria, Simiat Elias will join other scholars for 10th biennial Conference of The Criterion, an association of Muslim women in business and professions.
The event will hold at the Madina Institute of Science and Technology and Accra Technical University (former Accra Polytechnic) both in Accra, Ghana.
The professional Muslim group with bias for education and women empowerment is holding its 1st international Conference outside the shore of Nigeria.
The Criterion (Ghana District) will host their Nigerian counterparts between August 28 and 31.
According to National Ameerah of the Organisation, Hajia Fatymah Yewande Oyefeso, the conference will discuss issues of women and Child upbringing.
Hajia Oyefeso, who is the Chief Host, said the theme of the conference is "The Role of Muslim Women and Child Upbringing."
Other guest speakers include a Clinical Psychologist Revd Father Anthony Amposah, Chief Executive Officer of GDA Media Ltd, (producers of The Standpoint TV programme) Gifty Anti and Counseling Psychologist Asmau Ayub among others.
The Criterion Ghana Ameerah, Hajia Rashidat Malik, said the climax of the deliberation would be the second leg of the programme planned to hold at the Madina Institute of Science and Technology, Accra under the theme: "Muslim Child and Technology".
Hajia Malik said eminent personalities from Nigeria and Ghana are expected at the event.
Hajia Oyefeso (the National Ameerah) added that the organisation had been in existence for about 30 years.
"Our membership cuts across professionals from all fields of life and business juggernauts and technocrats e.g. Professors, medical doctors, lawyers, lecturers and business professionals, " she said.
She gave the assurance that The Criterion would work hard to change the lot of Muslim women and children across the globe.
The name "The Criterion" is the English meaning of the 25th chapter of the Holy Quran Al Furqan, the embodiment that Islamic scriptures which defines the difference between good and evil.
https://alternativeafrica.com/2019/08/17/muslim-women-in-business-and-professions-holds-criterion-conference-in-ghana/
--------
URL: https://www.newageislam.com/islam-women-feminism/professor-amina-wadud-celebrating-25/d/119492
New Age Islam, Islam Online, Islamic Website, African Muslim News, Arab World News, South Asia News, Indian Muslim News, World Muslim News, Women in Islam, Islamic Feminism, Arab Women, Women In Arab, Islamophobia in America, Muslim Women in West, Islam Women and Feminism