New Age Islam News Bureau
4 Jul 2020
• Nudrat E Piracha First Pakistani Woman to Earn Doctorate of Juridical Science
• Egyptian Singer Malak El-Husseiny Discusses Her Desire to Stay Vulnerable
• Turkey's Bizarre Museum Collects, Showcases Hair Samples of Women
• Saudi Citizen Arrested for Insulting Working Saudi Women
• Female ISIS Terrorist Jailed for Life for London Bomb Plot
• Sexist Attacks Against Women in Turkish Politics Reveal Resistance to Social Change
• Mobile App to Boost Role of Women in Peace Processes Launched by Political Settlements Research Programme
• KPMG Announced as Top-Tier Partner of Women 20 Engagement Group
Compiled by New Age Islam News Bureau
URL: https://www.newageislam.com/islam-women-feminism/prof-lilac-alsafadi-first-woman/d/122287
--------
Prof. Lilac AlSafadi is first woman to head a Saudi co-ed university
July 3, 2020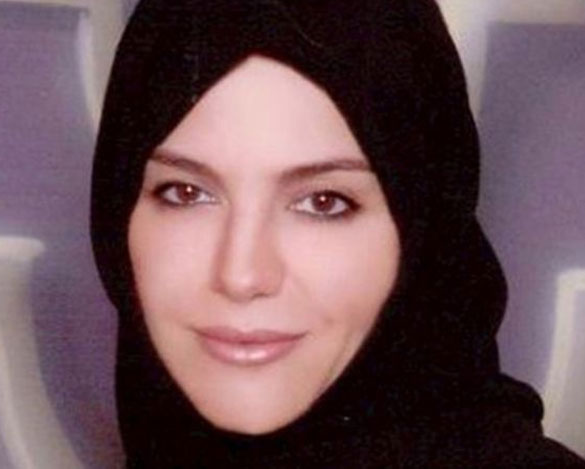 Prof Lilac Al Safadi
-----
JEDDAH — The Minister of Education Dr.Hamad Al-Sheikh, announced Thursday the appointment of Dr. Lilac AlSafadi as president of the Electronic University — the first woman president of a Saudi university that includes both male and female students.
Al-Sheikh announced the issuance of royal approval to appoint five university presidents, including Prince Dr.Mamdouh Bin Thunayyan Al Saud as president of the Islamic University, Dr. Muhammad Al-Shayea as president of Al-Jouf University, Dr. Yusuf Asiri as president of Taif University, and Dr. Muhammad Safhi as president of Bisha University.
Dr.AlSafadi is considered a distinguished intellectual and executive. She has worked as Chief Executive Officer for over 20 years in business development, business consulting and strategic leadership, in addition to her accumulated experience in project management.
Dr.AlSafadi possesses a steady record of success in identifying business opportunities, strategic partners, markets and channels, with the greatest potential.
She has also worked in developing successful implementation plans for developing strategies and evaluating initiatives as part of the Saudi National Transformation Program (NTP), and she is a member of a number of steering and advisory councils (boards?).
Dr.AlSafadi has contributed over 50 research papers in conferences, and articles to the print media in research areas of interest such as e-commerce, and artificial and commercial intelligence.
She worked as vice president and national technology officer at Microsoft in January 2020, and is a member of the faculty of King Saud University, and director of The Women's Technology Incubator, in-charge for developing the center for entrepreneurship in the women's and medical sciences departments.
She also worked as an adviser to the Governor of the General Authority for Small and Medium Enterprises (Monshaat), and consultant for the university vice presidency for planning, quality and development at the Saudi Electronic University.
Dr.AlSafadi is a graduate of the University of Wollongong with a Ph.D. in Computer Science 1998-2002 and M.Sc. in Computer Science from 1993–1995 and a major in Software Engineering.
The University of Wollongong is an Australian public research university located in the coastal city of Wollongong, New South Wales. It has a branch in the UAE.
https://saudigazette.com.sa/article/595062/SAUDI-ARABIA/Prof-Lilac-AlSafadi-is-first-woman-to-head-a-Saudi-co-ed-university
--------
Nudrat E Piracha first Pakistani woman to earn Doctorate of Juridical Science
MadihaWaris Qureshi
July 4, 2020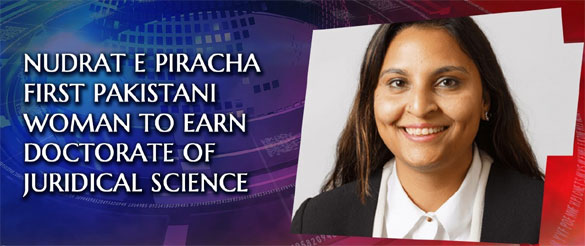 Dr Nudrat E. Piracha has become the first female lawyer from Pakistan to earn a Doctorate of Juridical Science .
----
Dr Nudrat E. Piracha has become the first female lawyer from Pakistan to earn a Doctorate of Juridical Science .
Abbreviated as SJD and equivalent to a research doctorate, the qualification is considered the most advanced degree in law. It is awarded primarily in the United States to candidates with exceptional academic and professional credentials.
Dr Piracha is one of few women across the globe to have earned the qualification. She is also the first Pakistani woman to be appointed as a member of an Ad Hoc Committee of the International Centre for Settlement of Investment Disputes, and the first Pakistani lawyer to become a Fellow of the Chartered Institute of Arbitrators in the UK.
For 17 years, Piracha has practiced in the largely male-dominated field of international commercial arbitration and construction and investment disputes, representing the Government of Pakistan and many prominent international corporations.
An alumna of the London School of Economics and Political Science, Piracha comes from a family of civil servants in Pakistan — two of her sisters and her father have all served in various government agencies. Expected to join civil services like her sisters, Piracha decided to go into law instead, partly because it was among the limited careers permitted by her family.
"I was also inspired by the role played by lawyers in the development of countries," Piracha recalled. "When I started studying law, I came to appreciate its interconnectivity with development issues and immense power to touch the lives of others."
She began her career in Islamabad, where she rose to partnership at a leading law firm, Samdani and Qureshi, before receiving a Fulbright scholarship for George Washington University School of Law.
The interplay of law and policymaking mesmerised Piracha, who sees immense potential for social and political change in Pakistan through legal reforms. But when she started her career as an intern, she quickly realised that the Pakistani court was largely a man's world.
"I saw few opportunities for female lawyers' progress," she said. "Women were often relegated to prototype cases they were thought more capable of handling."
Her work at Samdani and Qureshi gave her a firsthand opportunity to experience Pakistan's archaic procedural rules, which have created a legal system plagued by inefficiencies.
This led to her decision to go into Alternative Dispute Resolution (ADR), which she sees as a promising solution to the delays inherent in the Pakistani legal system.
ADR refers to processes for the resolution of legal disputes outside formal adjudication. It involves the participation of a neutral third party to help parties resolve a dispute without the court's direct involvement.
"There is a dearth of awareness and experience in ADR in Pakistan," Piracha said. "It's an area that if properly implemented, could overcome some of the hurdles in the way of dispensing timely justice, and help relieve the courts' burden."
In her impressive career, Piracha has represented clients before the International Center for Settlement of Investment Disputes, the International Chamber of Commerce, and Ad Hoc tribunals. She was designated by the Government of Pakistan on the panel of arbitrators of ICSID for a term of 8 years, and two years ago, obtained the prestigious Weinstein JAMS International Fellowship.
Now, as she prepares for her return home after five years, she wants to put that experience to use.
"I plan to set up a niche ADR practice and organise trainings across the country to introduce more professionals to the field," Piracha said. Having qualified in three international jurisdictions (Pakistan, US, and UK), she hopes to help revolutionise Pakistan's justice system by introducing court-annexed ADR solutions suited to its needs.
She is also passionate about promoting young female lawyers in a field historically dominated by men.
"I particularly want to help promote more women get into ADR," she said.
https://www.thenews.com.pk/latest/681514-dr-nudrat-e-piracha-becomes-first-female-pakistani-lawyer-to-earn-sjd
--------
Egyptian Singer Malak El-Husseiny Discusses Her Desire to Stay Vulnerable
July 02, 2020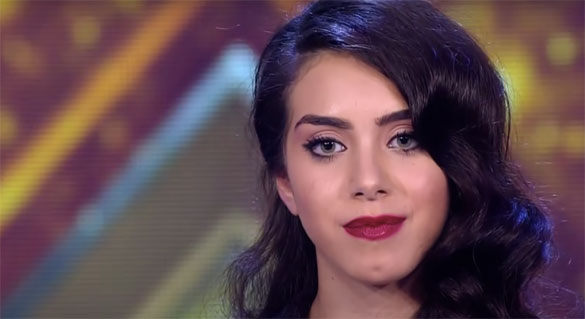 She featured on season four of MBC's "The X-Factor." (Supplied)
-----
CAIRO: "I was very lost and disconnected from my environment and from myself," says Egyptian singer-songwriter Malak El-Husseiny (who goes by the artist name Malak). "I didn't know if I wanted to do music that much."
Malak is talking about the time that preceded the writing of "Can't Catch An Emotion," her latest single, released late last month. The song contemplates a painful state of inbetweenness ("The sun frustrates me and the moon don't look as good") and examines the young artist's crippling inability to connect with herself.
The five-minute video follows Malak as she walks through different manifestations of nature, navigating her confusion and trying to re-establish that connection.
The 26-year old artist tells Arab News she suffered from a prolonged mental block — weighed down by indifference and an inexplicable heaviness of heart — that she couldn't seem to shake.
"It's not that I couldn't make music. I just had no feelings to connect to and express in music," she says. "Eventually I knew that writing about this was going to help me move forward and reconnect to my art, to myself and to my truth. It took a lot in me to be able to finish (this song) and I'm happy I did."
Malak dropped her debut EP, "Alters," in 2014 and immediately grabbed attention with her dark English-language electro-pop that drew comparisons to Lana Del Ray, among others. She featured on season four of MBC's "The X-Factor," and received critical acclaim for a couple of singles around the same time, particularly "Wild Summer Hearts." But she has been out of the headlines for quite some time before the release of "Can't Catch An Emotion."
Not that she hasn't been busy in that time; she launched her own music production company in 2016, which focuses mainly on commercial work — ads and radio jingles, for instance — and has been writing for other artists too, exploring her love of other genres, including hip-hop and trap.
Her wide-ranging musical taste is something that stems from growing up in a family with an extensive and eclectic record collection. "Their hobby was to collect vinyl records, so I grew up listening to Fairouz, Umm Kulthum, Guns & Roses, Dire Straits, Scorpions, and Bon Jovi," she says. "My dad would spread out his collection and we'd play music all the time. My mom also played the guitar. So there was always music around the house."
Around the age of 12, Malak realized that she wanted to do more than simply listen to music — she wanted to perform. She started off by trying to recreate beats ("just tapping along") and practicing on her karaoke machine.
"That's basically how I got into loving music," she says. "I guess it just came naturally to me."
Having performed cover songs at numerous events, Malak was spotted by Subspace Records, and signed a contract with the label when she was just 18. That was when she began writing her own material.
Initially, she says, her writing was more of an attempt to copy her favorite artists. "I had no guidelines," she says. "I was a kid and I hadn't written anything before, except for poems and short texts. But I had never written a full four-minute song. Melodies were the most difficult part, because they required a knowledge of music and (melody) matching."
The label set Malak the task of writing a song a day for three months. "It didn't have to be a finished song," she says. "It didn't even have to be good. But they assigned this exercise so I could learn how to express myself and find my (own) voice."
The exercise also taught her not to become too attached to the outcome. "It was true expression and that's what mattered," she says.
After months of trial and error, Malak began to settle into a songwriting process that she was comfortable with, one that allowed her to tell her own story.
"I was singing because I knew this was what I wanted to do. I wanted to take a shot at it, to do what I actually believe in and live my truth," she says. "As I grew up, I wanted to do it in a more authentic way. I didn't want to have to make music that I didn't believe in just to be more popular."
Her approach, she adds, is "more about authenticity and releasing emotion."
The press release for "Can't Catch An Emotion" stresses Malak's commitment to authenticity, claiming that she "sings of the vulnerabilities of being a modern Arab woman" and "explores her journey through love in its different forms and all the euphoric revelations that come with embracing it."
Those themes will apparently continue throughout her upcoming debut album, which she says explores various manifestations of love, from "the romantic, to spirituality and one's relationship with God, (all the way to) one's relationship to oneself."
It is an act of questioning that is both subtle and versatile — one in which Malak posits her own inquiries as a modern Arab woman who is curious to understand why things are the way they are; inquiries that Arab women may shy away from because they're "wired to be scared to rock the boat."
The album also challenges expectations about how Arab women should perform in society — including having to fit a certain mold "for families to accept you as the wife of someone."
The album was originally set for release this summer, but the COVID-19 pandemic has delayed it. However, Malak hopes to be able to release — and tour — the record soon.
As for the future, the young star says she's open to exploring more musical options whilst "staying true to my roots and where I come from." The key, she asserts, is to stay vulnerable.
"I've listened to artists who have changed my whole life just because of one song," Malak says. "I've always wanted to be that type of artist — to write something that is so personal to me, put it out to the world and be so completely vulnerable that people feel it."
https://www.arabnews.com/node/1698766/lifestyle
--------
Turkey's Bizarre Museum Collects, Showcases Hair Samples of Women
JUL 03, 2020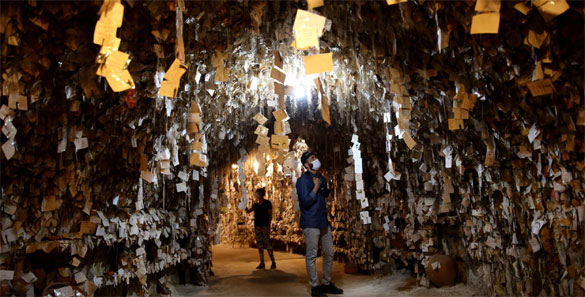 A general view from the Hair Museum, in Cappadocia, central Nevşehir, July 2, 2020. (AA Photo)
------
The Hair Museum located in Cappadocia in central Anatolia's Nevşehir province is attracting many visitors as one of the most unique museums in the world.
The journey of the museum started when GalipKörükçü, a pottery master in Nevşehir'sAvanos district, cut a lock of hair from a French female tourist visiting his workshop in 1979 and hung it on the wall. The Hair Museum has grown over time as other female tourists who came to the workshop also left a lock of their own hair.
The hair samples from tens of thousands of women at the museum, which was included in the "Guinness Book of World Records" in 1998, have attracted the interest of guests visiting the area.
Speaking to Anadolu Agency (AA), Körükçü said when he hung a lock of hair on the wall of the workshop decades ago, he could never have imagined it would have developed into something so impressive.
According to Körükçü, he has the names and contact information for the individuals whose hair is on display in the museum. Over the years, he has done a drawing of 10 names from among those who left their hair and gifted the winners a weeklong Cappadocia holiday every year.
Indicating that the museum entrance fee is TL 3, Körükçü noted: "I met a French girl in 1979 and I wanted a lock of her hair when she was on the way back to her country because her hair was so beautiful. After writing her name and address on a piece of paper, she hung the hair on the wall of the workshop. Then this hair caught the attention of another female tourist and she left a lock of her hair, too. Then we started getting hair from other female tourists who came here, and that is what happened."
Mentioning the museum's inclusion in the "Guinness Book of World Records," Körükçü said: "I took it because her hair was so beautiful, but I never thought it would turn into a museum like this. When the collection of hair started growing here, I started to draw lots. I picked a lock of hair at random, contacted the people whose name and contact details were written on it and invited them to Cappadocia for a week, covering all their expenses. Tourists who come to the area love it when they visit it. We do not allow photography because the hair in the museum has personal information near it."
FatmaFatolanezhad, an Iranian tourist who also left a lock of her hair while visiting the museum, stressed that the museum is interesting, adding: "When I saw this place on the internet, I wanted to see it. And I left my hair here. Maybe my kids will come here 10 years later and see my hair here. It is a great feeling."
https://www.dailysabah.com/arts/turkeys-bizarre-museum-collects-showcases-hair-samples-of-women/news
--------
Saudi Citizen Arrested for Insulting Working Saudi Women
July 3, 2020
MAKKAH — Makkah Police have arrested a male citizen who insulted Saudi women, describing them with terms and expressions contradicting the values and public morals, for being empowered and going out to work in various fields.
The male citizen's objection to women going out to work, and his criticism of support and empowerment for women in society was portrayed in offensive references and tweets and the media content went viral on the social media platforms.
With reference to what was monitored through one of the social media on a person who posted offensive tweets against Saudi women, the security follow-up resulted in the identification of the account owner. He is a Saudi citizen in his sixties and has been arrested and taken into custody.
Apart from taking regulatory measures against him he has now been referred to the Public Prosecution, the media spokesman for Makkah Region Police Maj. Muhammad Al-Ghamdi confirmed.
In the same connection, an official source at the Prosecution Monitoring Center in the Public Prosecution stated: "It has been documented that a citizen produced media content on a social media platform, showing direct insult to Saudi women as he talked about them with insulting words, infringing on their dignity.
"Therefore, based on Articles 15 and 17 of the Penal Procedures Regulation, and due to the public interest, the Public Prosecution has issued an order to arrest the offending citizen, following search and investigation procedures, to confirm that he is the actual person concerned with the procedures.
"He was then referred to the competent authority in the Public Prosecution to complete the regulatory requirements against him."
The source asserted that the Public Prosecution is following with concern all that might prejudice women's rights, which are guaranteed by the law, including infringing on their dignity and legitimate freedom, whatever the pretexts for such an act.
The source stressed that every necessary measure will be taken in this regard, in line with the Public Prosecution's powers.
https://saudigazette.com.sa/article/595068/SAUDI-ARABIA/Citizen-arrested-for-insulting-working-Saudi-women
--------
Female ISIS Terrorist Jailed For Life For London Bomb Plot
03 JULY 2020
By Aditi Khanna
London, Jul 3 (PTI) A female Islamic State (ISIS) supporter was on Friday sentenced to life imprisonment after pleading guilty to terrorism charges, including a plot to bomb London''s famous St. Paul''s Cathedral.
Safiyya Amira Shaikh, a 37-year-old Muslim convert who was born Michelle Ramsden, was arrested in October last year following an undercover operation by counter-terrorism officers.
At a hearing at the Old Bailey court in London, she admitted to terrorism offences earlier this year and was sentenced this week to life imprisonment, with a minimum term of 14 years behind bars before being considered for parole.
"Safiyya Shaikh chose to live her life as a violent extremist with a murderous hatred of those who did not share her twisted version of Islam," said Jenny Hopkins, Head of the Special Crime and Counter Terrorism Division at the UK''s Crown Prosecution Service (CPS).
"She hoped to inspire others by sharing terrorist images on social media but wanted to go much further. The damning evidence presented by the CPS of her planned suicide mission to St. Paul''s Cathedral left her with no room to talk her way out of the charges," said Hopkins.
Shaikh planned to collect two bags containing bombs from someone she had been talking to online and who she thought shared her support for ISIS but was in fact an undercover officer.
The court heard that her plan was to detonate one bomb at the London cathedral in order to kill herself and visitors and planned to use the second device at the hotel where she would have stayed ahead of the act in attacks planned for Easter in April this year.
Police passed evidence to the CPS of Shaikh going into St. Paul''s Cathedral last September and sending photos and videos from inside the building to the undercover contact. She also described the security at the cathedral.
She was secretly filmed handing over two bags to a woman at a park in west London. The plan was for the bags to be returned to her at a later date with working bombs inside.
The police raided her flat and arrested her in October 2019.
Richard Smith, Head of the Metropolitan Police Counter Terrorism Command, said: "This case is a stark reminder that the threat from terrorism remains as real as ever.
"Shaikh was dedicated to her extremist beliefs. In addition to wanting to carry out her own sickening attack on UK soil, she hoped to inspire others to implement attack plans even after she had died. Thanks to the hard work of officers from both the Met Police and MI5, she is instead in jail."
Shaikh, from Hayes in west London, pleaded guilty to sharing terrorist material with others via the Telegram messenger application with the intention of encouraging others to commit terrorist acts.
This included images of a bomb exploding on Tower Bridge and of a Tube platform with a message to Muslims to fight non-believers.
Shaikh was prosecuted by the Counter Terrorism Division of the CPS, which presented evidence of Shaikh's contact with the undercover officers from August last year.
On that day she told them: "…I rather die young and get Jannah [paradise] quickest way possible… we love death they love life… I always knows [sic] I wanted do something big… killing one kafir [unbeliever] is not enough for me."
On Telegram, at the same time, she praised ISIS, encouraged the killing of civilians throughout the world, and provided suggestions on different ways to carry out an attack.
Using evidence gathered by the police, the CPS was able to prove that Shaikh personally created, or instructed others to create violent images, and then circulated them.
During police interviews, Shaikh claimed that she "reverted" to Islam in 2007 after being impressed by the kindness of a Muslim family, but became disillusioned by what she saw as the moderate version of Islam she found at local mosques. She began to read, follow and talk to extremists online.
By around 2015, she had come to accept their extremist beliefs. PTI AK IND
https://www.outlookindia.com/newsscroll/female-isis-terrorist-jailed-for-life-for-london-bomb-plot/1885168
--------
Sexist Attacks Against Women in Turkish Politics Reveal Resistance to Social Change
JUL 03, 2020
Women in Turkish politics along with the wives and daughters of politicians have become targets of sexist attacks on social media over the past couple of weeks. Although women in politics tend to receive backlash based on their gender rather than their actions, especially on social media, the recent intensity of such incidents with repeated attacks on women from different political movements has raised concerns in the country regarding toxic masculinity – to the point of regulations being placed on social media to curb the onslaught. According to experts, the constant targeting of women in politics is actually a sign that Turkish society prefers to cling to traditional values and gender roles rather than accepting change, with constant resistance from men against women's involvement in politics.
"Women are a cultural soft spot for Turkish society," said MelekArslanbenzer, a psychologist, referring to an old saying on the values of a Turkish person: "horse, women, weapon."
According to Arslanbenzer, as this saying suggests, since women are seen as "sensitive" belongings of men and society in general, when one wants to hurt someone, the target's womanhood and/or women in their lives are usually the easiest and most efficient targets.
The latest series of attacks on women in politics started with BaşakDemirtaş, the wife of former co-chairman of the Peoples' Democratic Party (HDP), SelahattinDemirtaş, who is currently imprisoned on terrorism charges. A sexist insult made by a fake Twitter user against Demirtaş a couple of weeks ago caused a domino effect in Turkish politics. Although there have been a series of condemnations from all sides of the spectrum, including from the justice minister himself, the attacks against the women in politics continued. The head of the Good Party (IP), MeralAkşener, and the ruling Justice and Development Party's (AK Party) group deputy chair, ÖzlemZengin, were among the next targets insulted based on their gender. The last stroke was, however, against President RecepTayyipErdoğan's daughter EsraAlbayrak, who was subjected to a sexist attack just after giving birth to her fourth child. The attacks against all these women included sexual innuendos, insults targeting their femininity and comments on physical appearances, even to the point of objectifying how they sound, as well as attempting to insult their family by insulting them.
Revealing how far people can go when it comes to targeting female politicians and the wives and daughters of politicians, these attacks drew Turkish society's attention to the issue. Apart from their main common characteristic of being women, all of these aforementioned victims come from different backgrounds, ideologies, societal groups and political movements, showing that rather than one group or another, society, in general, has a problem with women in politics.
Society resists women's empowerment
"Women are seen as an 'easy target,'" said OğuzhanBilgin, a sociology and politics academic, adding that in his opinion, Turkish society fails to accept the fact that women are now a societal actor.
In Bilgin's opinion, even though Turkey is now mostly an urban-based society, women still tend to be defined through their husbands, fathers and sons.
"Urban society means a societal structure in which women are active within society and able to earn their own livelihood by not depending on men. As women gain their economic and social strength, they, naturally, also demand political power. However, this demand is mostly being resisted by men," he underlined.
In 1934, Turkish women were among the first in Europe to gain the right to vote and run for elected office through a constitutional amendment. In 1930, Turkish women were granted suffrage in local elections held that year. Since then, women have been active in national politics and founded the National Women's Party of Turkey in 1972 and the Women's Party in 2014.
There has been an increase in the number of women elected to Parliament in recent decades. While in 1935 only 4.5% of lawmakers were women, this share increased to nearly one in five legislators in 2019, even with the number of lawmakers rising from 401 to 600. Today, there are 102 women lawmakers in the Turkish Grand National Assembly, just about 17% of lawmakers. Although women have a relatively larger presence in Parliament, only four out of 81 provincial mayors are women.
In a nutshell, though there have been improvements in women's representation, politics is still a man's game in Turkey, which reflects society's perspective on female politicians as well.
Joni Lovenduski, a politics professor, says in her 2014 article titled "The Institutionalisation of Sexism in Politics" that: "Female marginalization is hardwired into the traditional institutions within which politics takes place." Similar to Lovenduski's remarks, although more women are entering politics in Turkey, the fact that they still carry the burden of gender roles determined by a patriarchal society and in addition to those roles, try to survive in an environment like politics built by men in accordance with male priorities, creates obstacles for women to be a part of the decision-making processes. This masculine structure of the politics and the obstacles it creates for women lead to the devaluation of women in politics and eventually fuel toxic masculinity.
"In Turkey, female politicians still have a lot to face as challenges. They are mostly seen as numbers to meet a gender quota. This is valid for all the political parties," Bilgin said, adding that the insignificance imposed on female politicians also makes them an easy target in the eyes of the public.
"Men in politics cannot be attacked this easily," he underlined.
Although the political realm seems to be collectively condemning the insults targeting women, regardless of political affiliations, one thing that came to the forefront during this period was women's support for each other.
Following each incident, most victims of the attacks called each other for support, as well as other women in politics. For instance, Albayrak received a call from SelviKılıçdaroğlu, the wife of main opposition Republican People's Party (CHP) head Kemal Kılıçdaroğlu, while receiving support from Demirtaş as well.
"You will find all women side by side in the face of attacks targeting women," CHP's Istanbul head CananKaftancıoğlu also said on the attacks, while Akşener expressed: "It is shameful and immoral to turn spouses, children and grandchildren into subjects of politics. Politics cannot be done like this. It has nothing to do with humanity."
Women with headscarf under fire
Speaking on the attack on Albayrak, Zengin told Turkish news channel A Haber that she does differentiate between people when it comes to such attacks and tries to support whoever is at the receiving end.
"I have been attacked for a week now. A week before, there was an incident about BaşakDemirtaş. We do not differentiate between people regarding their political affiliations when it comes to such attacks," she underlined. However, Zengin, who wears a headscarf (hijab), also added that in her opinion, she did not receive enough support for the insults she faces, unlike other women.
Many studies show that although the number of women in politics continues to increase in many corners of the world, when it comes to their publicity, mostly there appearances are a topic of discussion rather than their policies. For instance, back in 2016, The Washington Post received major criticism for mentioning Hillary Clinton's – who was a senator at that time – neckline as sitting "low on her chest and had a subtle V-shape," rather than referring to her education policies. Similarly, The New York Times also made headlines for criticizing the U.S. Speaker of the House Nancy Pelosi for aiming to achieve reasonable price points for senior citizens while "looking preternaturally fresh, with a wardrobe that, while still subdued and over-reliant on suits, has seldom spruced the halls of Congress."
Turkey's women in politics have also been objectified according to their appearance rather than their policies. However, in contrast to the U.S., many arguments on women's appearance in public spaces in Turkey revolve around the long-debated headscarf.
"I believe such incidents (insults against women) do not make the headlines at the same level for every woman. For instance, in my opinion, conservative female politicians receive more backlash than others. There are hundreds of victims such as ÖzlemZengin and EsraAlbayrak," Bilgin expressed, pointing at the different levels of publicity and backlash that headscarf-wearing women and other women face in Turkey.
Bilgin expressed that since many people still have the opinion that successful headscarf-wearing women do not deserve to be in the positions they currently hold, they feel like they have the right to attack them and consider this offensive behavior normal.
The issue of the headscarf ban held an important place in public and political debates in Turkey throughout the 1990s and 2000s.
The headscarf ban in Turkey was first implemented widely in the 1980s but became stricter after 1997 when the military forced the conservative government to resign in an incident later dubbed the Feb. 28 "postmodern coup."
It was gradually lifted for students in universities after 2010, while the ban for public employees was lifted in 2013.
The AK Party government led by then-Prime Minister RecepTayyipErdoğan was a pioneer in terms of resolving the country's headscarf dispute, which forced millions of Muslim women to choose between their faith and their education or career.
Conservative men fail conservative women
However, the recent debates on insults targeting women in politics also showed that, unlike the common assumption that opposition or secular segments of society are the ones who leave women with headscarves unsupported, conservative men, especially their fellow male politicians, were also hesitant to back the women. The issue led to widespread disappointment and reactions among conservative women, most of whom were among the circles close to the AK Party.
FatmanurAltun, head of the Turkish Youth and Education Service Foundation (TÜRGEV), accused conservative men of being the "first ones to leave" when it comes to defending conservative women, while many others stated that most conservative men who rightfully supported Demirtaş against the attackers failed to do the same when it came to conservative women.
"This is not something new," Bilgin said. "It has been the same since Feb.28, 1997. At that time, when women were not allowed to go to universities, men from the same circles did not hesitate to receive their education. This problem still persists in conservative political groups," he said, emphasizing that women with headscarves still tend to be seen as second class citizens, even by conservative men.
Pointing out that, according to statistics, the AK Party receives more votes from women than men, Bilgin expressed that the lack of support for women from their own circle is worrying for the party's future since women would eventually resent that.
"Still, I believe that Erdoğan is aware of this situation and would take measures to prevent it," he indicated. He also criticized the opposition circles for having a "colonialist" attitude toward headscarf-wearing women since they position themselves as the "Westerners," which results in hate crimes.
People harsher on social media
This series of incidents has also become one of the underlying factors behind the AK Party's newly released social media regulation. The regulation, which was announced by Erdoğan Wednesday, suggests social accounts based on real personalities, avoiding the use of fake accounts while urging social media companies to open offices in Turkey. The regulation aims to hold social media attackers accountable for their crimes with more efficiency in taking action against them.
"People are more comfortable on social media. This is a fact," Arslanbenzer said.
"It is not a public space. You do not have a physical appearance. Besides, there is a difference between real accounts and fake accounts," she continued.
In Arslanbenzer's opinion, there is a major difference between having a face-to-face relationship and having a social media interaction.
"Since there is no real encounter on social media, people feel free to express whatever goes through their minds. This makes ideological differences much more apparent in social media," she continued, highlighting that most people would not express their thoughts in such a harsh manner in real life. Besides, since there is no face-to-face interaction there are no emotional expressions available to ease a possible debate, instead, disagreements are fueled through harsher words. There are also almost no repercussions for any assault on social media, which makes attackers more confident.
When social media first emerged as a concrete platform, mainly through Facebook, many pundits believed it could be better for democracy since it connects people. However, today's social media proves that online political debates are far from civil discussions, with views expressed in more extreme ways.
Social psychologist Mark Leary introduced the concept of "sociometer" to define anxiety related to how we are perceived by others and claimed that rather than self-esteem, people are looking to become more "desirable" by receiving peers' approval. When in everyday life, this approval can come from a few people around us; on social media, there are millions to dole it out. Many studies show that, though small circles in real life will label a person "undesirable" for his or her inappropriate behavior, as the number of people increases, the possibility of gaining approval for your inappropriate behavior also increases. A 2017 study by Pew research center shows that posts with more radical disagreements receive twice as much engagement from social media users, urging many to act in an extreme manner on social media platforms for the sake of gaining the approval of others.
https://www.dailysabah.com/politics/news-analysis/sexist-attacks-against-women-in-turkish-politics-reveal-resistance-to-social-change
--------
Mobile App To Boost Role Of Women In Peace Processes Launched By Political Settlements Research Programme
3 July 2020
The Political Settlements Research Programme (PSRP) has launched a new mobile app to help embed women's rights in peace negotiations in the Arab world and beyond.
PSRP researchers joined with those from the Monash University in Australia and Inclusive Peace in Geneva to develop the data and technology to provide vital information on gender issues for those mediating peace processes.
The PeaceFem app brings together data on women and peacemaking in one app in English and Arabic.
UN Women – the body within the United Nations that globally champions gender equality – supported the team on the development of the app and the idea that all parts of an affected society should be included in its peace process.
The project contributes to the United Nations Security Council's call for greater awareness of gender issues in peace negotiations.
Experts say that including an explicit reference to women's rights in peace agreements recognises the importance of women for social cohesion and ensures that the process of rebuilding a society is fully representative.
Using data from the PA-X database, the app provides information on 30 peace processes where gender inclusion was a key feature of the peace settlement. Users can search by region, country, and peace agreement.
It also contains a fully searchable library of case studies that showcase the strategies used to include women in peace provision, the enabling or limiting factors and the agreements that resulted.
Rachel Dore-Weeks, head of UN Women Lebanon, said: "COVID-19 has served as a reminder to us of the importance of adapting and finding new ways of connecting, and of sharing and accessing information. This app is an important contribution to redefining how we work on peacemaking in the Arab region, and for taking down barriers that have restricted access to information in the Arab World and beyond."
Professor Christine Bell, director of the Global Justice Academy, said: "When the Second World War ended, the soldier given the task of drafting the surrender agreement with Germany immediately turned to past peace documents to help him in his drafting.
"Our experience is that in ending conflict today, parties often find looking at similar documents helpful. This app aims to support women in mediation processes to have access to this information very quickly.
"We hope it will provide wider inspiration to those seeking imaginative solutions to the conflicts they face, to see the role that women have played. We are also very proud to have collaborated with researchers, practitioners, policy-makers, and tech-experts to develop the app."
https://www.scottishlegal.com/article/psrp-launches-mobile-app-to-boost-role-of-women-in-peace-processes
--------
KPMG announced as top-tier partner of Women 20 Engagement Group
July 3, 2020
RIYADH — Women 20 (W20), an official G20 engagement group established during the 2015 Turkish presidency and KPMG, leading provider of audit, tax, and advisory services in Saudi Arabia, are delighted to announce their partnership as part of the G20 Saudi Presidency year.
In the lead up to the G20 Leaders' Summit in Riyadh in November 2020, W20 will formulate concrete actionable policy recommendations to advance gender equality in G20 negotiations, to be unanimously agreed upon by international delegates from all G20 member states. These will form the basis of a communiqué to G20 Leaders to foster gender equality and women's economic empowerment.
They will also host a number of expert meetings, roundtables and dialogues virtually in Saudi Arabia, which KPMG will support and sponsor, most notably the Women 20 Summit in October 2020. These events include a W20-Alnahda Majlis, which took place on June 24 at which Ms.KholoudMousa, partner & head of diversity & inclusion at KPMG in Saudi Arabia, participated as a panelist.
The partnership will also allow both parties to work together to promote the efforts and core focus areas of W20: Digital inclusion, financial inclusion, labor inclusion and inclusive decision-making, with women's entrepreneurship as a cross cutting topic. This is particularly pertinent for KPMG, Saudi, as pioneers in hiring women globally, and whose percentage of female representation has steadily increased over the last five years.
Women 20 Sherpa Salma Al Rashid announced the partnership: "Women 20 is delighted that KPMG Saudi are joining as a top tier partner for our important work this year. KPMG has a clear commitment to improving the rights for and mobility of women through women's participation in the workforce. This is a positive time for women's empowerment in Saudi Arabia, and the region. We want to continue that momentum throughout the G20 Presidency."
Commenting on the partnership with W20, Ms.KholoudMousa expanded: "This strategic partnership comes in the context of KPMG's continuous endeavor to enable national cadres, Saudi women in particular, to contribute to enhancing the developmental role and benefit from the national expertise and capabilities. These dialogue sessions of W20 aim to address different fields that may contribute to integrating and enabling Saudi women in different fields."
"Our participation in and support of these sessions reflect our consolidated commitment to supporting the events that enhance the efforts in contributing practically to the promotion of the status of women with regard to the economy and investment are at the heart of the agenda of G20 this year," Kholoud added. — SG
https://saudigazette.com.sa/article/595072/BUSINESS/KPMG-announced-as-top-tier-partner-of-Women-20-Engagement-Group
--------
URL: https://www.newageislam.com/islam-women-feminism/prof-lilac-alsafadi-first-woman/d/122287
New Age Islam, Islam Online, Islamic Website, African Muslim News, Arab World News, South Asia News, Indian Muslim News, World Muslim News, Women in Islam, Islamic Feminism, Arab Women, Women In Arab, Islamophobia in America, Muslim Women in West, Islam Women and Feminism