New Age Islam News Bureau
4 Nov 2018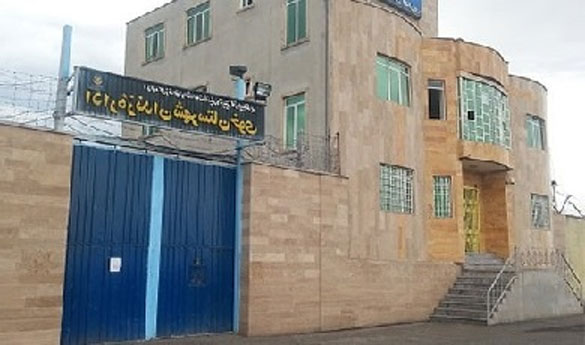 Photo: Prisoners experience inhuman conditions in women's ward of Khoy Prison
---------
• Bedouin Women Strive For Equality And To End Polygamy In Israel
• Charity reopens women empowerment initiative
• Indonesia Protests Saudi Arabia's Execution of Maid
• Gender parity can drive economic growth in UAE
• Husband of Pakistan blasphemy case woman calls for her protection
• KSA's aid agency organizes trip for Yemeni child soldiers
• Malaysia Airlines introduces first female pilots
• New women-only theme park launched in Saudi
• Emirati women make history as polo season gets off to a colourful start
• An advocate of Emirati women empowerment
Compiled by New Age Islam News Bureau
URL: https://www.newageislam.com/islam-women-feminism/prisoners-experience-inhuman-conditions-womens/d/116787
--------
Prisoners experience inhuman conditions in women's ward of Khoy Prison
03 November 2018
Some 40 prisoners detained in the women's ward of Khoy Prison, West Azerbaijan, have been displaced to the prison's visitation hall where they have to endure deplorable conditions without having access to basic facilities. The inhuman measure has been taken under the pretext of doing repairs.
The prisoners do not have any beds in this hall. In addition, they have been deprived of their fresh air breaks and family visitations. In light of the freezing cold weather, detention of women prisoners in the visitation hall where they have to sleep on the floor, has brought about numerous illnesses for the detainees, including kidney pains and severe infections.
At the same time, other prisoners have strongly objected to the women prisoners' being deprived of weekly visits.
The women's ward in Khoy Prison has three rooms. 15 of the 40 detainees in this ward sleep on the floor in the ward's corridor because they do not have beds.
Political prisoner Zeinab Jalalian is also imprisoned in Khoy Prison. Ms. Jalalian has been in jail since 2007 and has to serve a life sentence.
On July 30, 2018, she and a group of other women prisoners went on hunger strike to protest restrictions imposed on them while being denied of their basic needs.
The Kurdish political prisoner Zeinab Jalalian has heart, intestinal, and kidney problems, as well as an oral thrush condition that has caused painful white bumps on her tongue and interferes with her ability to eat and swallow. She is at risk of losing her eyesight in prison as she is being denied surgery for a worsening eye condition called pterygium, which is impairing her vision and causing her severe discomfort.
Despite progress of her illnesses, prison officials continue to oppose her treatment outside prison and by a specialist doctor.
Ms. Jalalian had been earlier held incommunicado for several months because she protested the use of narcotic drugs in this prison.
https://women.ncr-iran.org/iran-women-news/5552-prisoners-experience-inhuman-conditions-in-women-s-ward-of-khoy-prison
--------
Bedouin Women Strive For Equality And To End Polygamy In Israel
NOVEMBER 3, 2018
After decades of being accused of turning a blind eye, Israeli authorities are finally beginning to crack down on polygamy in Bedouin society and, to this end, have issued 15 indictments against alleged offenders.
Though the practice was criminalized in Israel in 1977 and is punishable by up to five years in prison, it has continued mostly unabated in Bedouin communities. One Arab-Israeli parliamentarian – Taleb Abu Arar (Joint List) – has made no secret of being married to two women at the same time.
"It's been difficult to enforce the law, because we're talking about a traditional society which for decades has carried on with their daily lives without [outside intervention]," Justice Ministry director-general Emi Palmor, who headed a committee that published an extensive report on the matter, explained to The Media Line.
"The issue with polygamy is that it is something bordering on a religious custom, so how can we get involved? I think the state avoided dealing with this because it felt that it would be treading on very intimate grounds. But in the end, in the past few years we've come to the realization that we must enforce the law."
More than 250,000 Bedouin, a sect of tribal, nomadic Muslim-Arabs, reside in Israel, with the majority concentrated in Rahat and villages across the southern Negev Desert. While it is difficult to determine exactly how widespread polygamy is, since not all Bedouin marriages are logged in official databases, recent government figures estimate that roughly 20% of all Bedouin families are polygamous.
In January 2017, a ministerial committee headed by Palmor was tasked with upholding Israel's anti-polygamy law and providing help to those negatively affected. This past July, the commission published a 315-page report recommending tougher law enforcement, but which also advocated for allowing Sharia courts – based on Islamic law – to continue registering polygamous unions under limited circumstances. Civil marriages are not conducted in Israel and, as such, Sharia Courts are responsible for overseeing Muslim marriages and divorces.
Although nobody in Israel has thus far been convicted of polygamy, Palmor expects that to change. Nevertheless, she noted that criminal prosecution is only one aspect of a wider approach by Jerusalem to address the issue.
"The government's recommendations pertain to education, employment, treatment, welfare and health," Palmor elaborated. "The perception is that we have to not only prosecute people but also to educate them, encourage [higher] women's employment rates and also set up frameworks for childcare to allow women to work and thus become empowered."
Last month, Justice Minister Ayelet Shaked convened the ministerial committee and ordered the implementation of its recommendations. At the meeting it was revealed that hundreds of related police reports have already been filed and that men involved in polygamous marriages will be barred from working in the civil service and education system. Notably, the committee emphasized that there should be no exceptions to the rule, and that Sharia courts must comply; this, despite Palmor's report calling for exemptions under certain conditions.
The push to eradicate polygamy follows efforts by many Bedouin activists who have spoken out against the controversial practice, like Insaf Abu Shareb, one of the community's first female attorneys.
"I began addressing the issue after I saw how harmful polygamy was to women, children and our society as a whole," she said. "I could see how women's spirits were being crushed and nobody paid attention, as if Bedouin women were outside of the public discourse."
Abu Shareb has for years lobbied Israeli lawmakers to implement stricter policies with regard to the phenomenon, although she argues that prosecuting those who break the law is not the ultimate goal.
"You can't solve this problem only with enforcement," Abu Shareb stressed. "Even though it's an important aspect, punishment is one side of things and has to be undertaken correctly."
Married at 14
Juliette Bader was only 14 years old when she was whisked away from her home in the Gaza Strip to Rahat, a Bedouin city in southern Israel. There, she became a man's second wife and, in the ensuing years, birthed two sons. But the marriage was an unhappy one.
"I was always cooking and with the kids at home," Bader recalled. "I didn't have the possibility of going out to study. From being a girl, I [immediately] became a mother, and it was very hard. I didn't know what a boy was and suddenly I had two of my own."
Less than three years after her wedding, Bader decided to divorce her husband. Eventually, she remarried, this time to a single man, but her childhood experience has marked her forever.
"There are only two reasons a woman would agree to her husband marrying a second woman: either she doesn't love him, or she wants to get rid of him because he's driving her crazy," she contended. "There is no woman who wants to see her husband with another woman."
Now 38 and the mother of seven children, Bader runs a visitor center in Rahat, conducts guided tours of the city, and gives cooking workshops. She is one of a growing chorus of women living in Bedouin communities to speak out against polygamy.
What does Islam say?
Though polygamy predates Islam, it is sanctioned in the Koran. In fact, under certain circumstances men are permitted to marry up to four women.
"The Koran lays out conditions for polygamy," Muhammad Alkuran, an imam from a mosque in the Bedouin town of Kuseifa, acknowledged to The Media Line. "For instance, when there is a war and many men are killed, lots of orphans are left. In this context, when there are fewer men [in the overall population], a man is allowed to take a second wife."
According to Alkuran, one of the stipulations in Islamic scripture is that a man with multiple spouses must be "equal and fair" with all of them, or else suffer divine retribution.
"Unfortunately, the majority of men who today have several wives in truth set a very negative example," Alkuran conceded. "The man sometimes becomes a victim of this practice, if not him then his first wife, if not her then the second wife, if not her then it is the children who suffer from his decision."
Polygamy: An opportunity for independence?
Some Bedouin women argue that polygamy is not inherently harmful and allows divorcées, widows or older women to find companionship or even gain independence. For Ehlam Abu Jafar, a social activist and entrepreneur in Rahat, being a second wife enabled her to receive an education and pursue a career.
"In the beginning, my family was very much against the idea of getting married to someone who already had a wife," Abu Jafar related to The Media Line. "But it was my choice.
"I feel as though I'm different from others in the community because I live in peace," she continued. "You can't tell the difference between my children and [the first wife's children]. We eat together, we go out together. They live next door and come over freely. We live a normal life."
Abu Jafar, who at the age of 35 began studying and eventually graduated with a bachelor's degree, works in Rahat's burgeoning tourism industry.
"We divide things this way: One day my husband is here, the next he's with the other wife," she revealed. "If today he's here with me, he eats dinner, sleeps, goes to work the next morning and comes back to his second family, but he stills sees all the children."
Despite the mostly positive experience, Abu Jafar does not want her daughters to follow in her footsteps. "It's very difficult and I don't recommend it at all."
Abu Jafar may be an exception to the rule because, as Abu Shareb and others point out, women in polygamous marriages often suffer from domestic violence, sexual assault or depression. For these reasons, many argue that the government must put a total stop to the practice.
"A lot of women don't have any other choice," Yarona Richardson, an expert on Bedouin social and economic development who works in the Negev Development Authority, said. "If they're too old or if they want to have a child, there's no such thing as children outside of marriage in Bedouin society. [A Bedouin woman] can't go to a sperm bank, so there's no alternative.
"My biggest criticism is toward the government," she asserted. "Although they say 'We're against it,' and although we're in a democratic country and it's actually illegal, they still haven't found a way to really [demonstrate] zero tolerance towards it."
https://www.jpost.com/Magazine/Bedouin-women-strive-to-end-polygamy-in-Israel-570881
--------
Charity reopens women empowerment initiative
2018-11-03
JEDDAH — The Social Charity Fund (SCF), in collaboration with Nafisa Shams Academy for Arts and Crafts, has announced the reopening of applications to the 2nd phase of the Women's Empowerment initiative.
Aimed at providing training and empowerment to 200 Saudi women beneficiaries of social welfare or special needs support, the program covers an array of training courses, including tailoring, embroidery, flower arranging and decoupage. Each course comprises introductory workshops, such as the basics of art and design; tailoring and embroidery; social media marketing; business models; skills development; and counseling for trainees. On completion of the course, the participants benefit from enhanced entrepreneurship skills and a deepened understanding of the pillars of successful entrepreneurship projects.
Recognizing an important element of a strong society, this initiative highlights the importance of increasing women's participation in the job market, and ensuring they are financially independent and socially empowered.
Nafisa Shams is a training center certified by the Technical and Vocational Training Corporation since 2006. It aims to develop and support Saudi women and facilitate their entry into the job market. Nafisa Shams provides specialized professional and management training, as well as entrepreneurship training. It is an initiative of Community Jameel's Bab Rizq Jameel.
The SCFis a national charitable and development organization, providing empowerment to, and improving the living conditions of, its targeted communities. Through its scholarship program, the SCF has provided 42,000 educational scholarships in different fields that are in demand in the labor market. The total number of beneficiaries from its small enterprise support program was 22,750, with a total fund value of SR59,195,148. — SG
http://saudigazette.com.sa/article/547078/SAUDI-ARABIA/Charity-reopens-women-empowerment-initiative
--------
Indonesia Protests Saudi Arabia's Execution of Maid
By Daniel Victor and Jennifer Jett
Nov. 1, 2018
Indonesia is protesting Saudi Arabia's execution this week of one of its citizens, a domestic worker, saying the kingdom failed to notify her family or the Indonesian government beforehand.
Tuti Tursilawati, a mother of one in her early 30s from Majalengka, Indonesia, was executed on Monday, seven years after she was convicted of murdering her employer in the Saudi city of Taif. A rights group, Migrant Care, has said she was defending herself from sexual assault.
President Joko Widodo of Indonesia said Wednesday that he had contacted Saudi Arabia's foreign minister, Adel al-Jubeir, to protest the kingdom's actions.
During a visit by Mr. Jubeir last week to Jakarta, the Indonesian capital, Foreign Minister Retno Marsudi lauded the Saudi government's commitment to better protecting the Indonesians living and working there, according to The Straits Times of Singapore.
There are about 1.5 million documented and undocumented Indonesian workers in Saudi Arabia, Anis Hidayah, founder of Migrant Care, said in a phone interview from Ms. Tuti's hometown, where officials were visiting her family to offer condolences.
Ms. Hidayah said sexual abuse, long working hours, improper housing and other mistreatment were common for women like Ms. Tuti, working abroad in private homes that are difficult to monitor.
Saudi Arabia has not commented on Ms. Tuti's execution or Indonesia's formal protest.
Ms. Tuti was the fourth Indonesian executed in Saudi Arabia since 2015, including one, Zaini Misri, who was put to death in March. All of the executions were carried out without first notifying Indonesian officials; the two countries have no agreement requiring each other to do so. Other Indonesians in Saudi Arabia are still on death row.
Many women from Indonesia work as maids in the Middle East and various Asian countries, often leaving their families behind for the promise of steady income. But safety concerns led Indonesia to temporarily bar domestic workers from going to the Middle East from 2011 to 2013.
In 2015, it barred them from going to 21 countries, mostly in the Middle East, after Saudi Arabia executed two Indonesian domestic workers in one week on murder convictions. Many Indonesians have sought work in Saudi Arabia anyway.
The two countries agreed last month to ease those restrictions, allowing a limited number of Indonesian workers to go to Saudi Arabia. On Wednesday, Hanif Dhakiri, the Indonesian manpower minister, said he was reviewing that decision, The Jakarta Post reported. Ms. Hidayah and other activists are urging him to cancel it.
Last year, Indonesia also revised its law on protecting overseas workers to improve training for workers before they go abroad, streamline administrative services and increase coordination among different levels of government.
Indonesian officials say they have repeatedly asked Saudi officials to notify them before executions are carried out. Lalu Muhammad Iqbal, the Indonesian Foreign Ministry's director for overseas citizen protection, said Ms. Tuti had spoken to her mother on a video call less than two weeks ago, saying she was healthy and not worried about being executed, according to The Post.
In addition to facing physical abuse, migrant workers often struggle to adjust to the cultural differences in Saudi Arabia, whose strict interpretation of Islamic law forces foreigners to abandon many of their customs. Last week, 19 Filipina workers were arrested at a Halloween party in Riyadh, the Saudi capital. They were temporarily released to the custody of the Philippine Embassy on Wednesday, according to Rappler, a Philippine news site.
https://www.nytimes.com/2018/11/01/world/asia/indonesia-maid-executed-saudi-arabia.html
--------
Gender parity can drive economic growth in UAE
November 4, 2018
Women play a highly important role not just in the overall economic growth of a country but also in contributing towards the financial well-being of their families.
The UAE is no exception as a large chunk of the female population supports their families financially. But there is room for improvement as their contribution can make a a big difference in the nation's overall economic growth and the well-being of their families.
According to the Council on Foreign Relations, if women's participation in the UAE is fully equal to men's, the nation's GDP can gain further by 16 per cent by 2025, which is equal to an overall gain of $101 billion, or $10,985 per person.
In terms of gender parity, the UAE has fared well on the sub-indexes of physical security and autonomy; essential services such as healthcare, education and financial and digital services; and gender equality at work.
Of the indicators used to measure gender parity, four specific issues education, financial and digital inclusion, legal protection, and unpaid care work - have been identified that, if addressed, will do the most to achieve gender equality at work and generate significant progress towards realising economic gains.
The UAE leads the region with 100 marks in access to education for women; 59 points on access to financial services like bank accounts and digital payments, 98 marks on better access to the Internet and mobile phones; and 21 score on improved legal policies and protections that can help women enter the workforce.
Clare McColl, partner and head of Indirect Tax at KPMG Lower Gulf, said in the past, women largely occupied positions as teachers, nurses, human resource professionals, social workers or secretaries, because these professions demanded a higher degree of interpersonal skills that women were traditionally perceived to possess.
"Women's participation in technical fields, such as engineering and information and communications technology, tended to be low. However, this is changing rapidly in developed economies, where women occupy a significant number of positions in management in the public and private sector," she said.
According to a report by the IMF, as many as 180 million jobs for women are at high risk of being displaced globally due to new technologies and automation. However, the KPMG UAE Female Leaders Outlook report shows that women are entrepreneurial and well-prepared for a digital future.
McColl pointed out that in the UAE, organisations are integrating gender diversity as a core part of their strategic objectives and the UAE cabinet approved the issuance of legislation to ensure equal pay for men and women earlier this year.
"There has been some discussion around establishing quotas to ensure that women have a fair representation in the workforce, however, I believe that this should be merit-based. In fact, the UAE Female Leaders Outlook report indicated that only 3 per cent of women felt female leadership quotas were a crucial factor for their personal success," she added.
She noted that increased participation in the workforce means that women may influence resources and set examples for young children about gender equality from an early age. "It provides women with financial independence, which may drive greater prosperity for the household."
Benedetta Paravia, producer of 'Hi Dubai' series dedicated to women's empowerment, said the UAE offers a very successful model of a country where women empowerment is effective.
"If the young generation see role models such as Reem Al Hashemi, Sheikha Lubna Al Qassimi, Shamma Al Mazruei and many more having position of great responsibility in the country, they will obviously aspire to get the same opportunity, even if in different sectors. To follow a good example is always the best way to motivate young women. On another prospective, sometimes financial issues are pushing women to work, this also depends very much of the incomes of the family. In both cases, having women to contribute actively to the society is definitely beneficial for everyone," she said.
Saana Azzam, founder of Mena Speakers forum, said female participation tends to be high in sectors that reflect nurturing abilities, such as educational services, social services, child care services, librarians and archivists.
"I think this is a prime example of how the progress we have made in encouraging women in the workforce is still in line with socialised gender norms. Sectors that seem to be more male-geared, such as technology and IT, legal services, accountancy, lack female contribution," she said.
She noted that the UAE has already taken the initiative to foster female participation in all sectors. However, classic interventionists and corrective measures should allow for more flexible working hours for women and mothers.
"This can take the form of allowing for longer maternity leaves, which in return will encourage women to come back. This ultimately avoids the loss of talent amongst the female population. Such changes can even begin with us. SMEs like us at Mena Speakers can pull their weight and contribute to the diversity opportunities out there," she added.
https://www.khaleejtimes.com/business/economy/gender-parity-can-/drive-economic-growth-in-uae
--------
Husband of Pakistan blasphemy case woman calls for her protection
NOVEMBER 04, 2018
The husband of a Pakistani Christian woman at the centre of a divisive blasphemy case on Saturday criticised a government deal with Islamists that left her in legal limbo, and called on authorities to protect her.
Asia Bibi, on death row since 2010 on blasphemy charges, was acquitted by the Supreme Court Wednesday and ordered set free, triggering protests by ultra-conservative Islamists who paralysed Pakistan for three days.
The government reached a deal on Friday to end the protests by agreeing to a travel ban preventing Bibi from leaving the country, and saying it would not object to hardline movements appealing the verdict.
An appeal has been filed with the court.
"It is wrong to set a precedent in which you pile pressure onto the judiciary," Bibi's husband Ashiq Masih told German Deutsche Welle radio.
He said the government should never have yielded to pressure from protesters.
Blasphemy is a hugely inflammatory charge in Muslim-majority Pakistan, where even unproven allegations of insulting Islam and its Prophet Mohammed can spark attacks and killings at the hands of vigilante mobs.
Mr. Masih said the court had been "very courageous" to acquit his wife, an illiterate mother in her 50s whose case started in 2009 while she was working in the fields.
Citing religious reasons, two Muslim women at the time refused to share a glass of water with her and a fight erupted.
Several days later, the pair reported the incident to a local imam, who said Bibi insulted the prophet, a charge she denies.
"The current situation is very dangerous for us. We have no security and are hiding here and there, frequently changing our location," Mr. Masih said.
Bibi's lawyer fled Pakistan on Saturday, fearing for his life.
Mr. Masih demanded the government reinforce Bibi's protection in prison, worrying that she may be attacked. He cited the case of two Christian men who were shot dead after a court acquitted them in another blasphemy case.
"The situation is dangerous for Asia. I feel that her life is not secure," he said. "So I appeal to government to enhance Asia's security in jail".
https://www.thehindu.com/news/international/husband-of-pakistan-blasphemy-case-woman-calls-for-her-protection/article25417384.ece
--------
KSA's aid agency organizes trip for Yemeni child soldiers
November 03, 2018
RIYADH: The King Salman Humanitarian Aid and Relief Center (KSRelief) has organized a special outing for former child soldiers who were forcibly recruited by the Houthi militias in Yemen.
"The center sponsored a cultural field trip for 27 former child soldiers, who visited local historical sites and several farms in the Marib," the center said on Thursday. The trip also included sports competitions, it added.
KSRelief aims to help at least 2,000 former child soldiers, along with children who have lost a parent or were seriously injured by land mines, to reintegrate successfully into their families, schools and communities.
http://www.arabnews.com/node/1398286/saudi-arabia
--------
Malaysia Airlines introduces first female pilots
November 03, 2018
KUALA LUMPUR: Four Malaysians have become the first female pilots for their country's national carrier, Malaysia Airlines, which has 927 pilots.
Pearl Mak, the airline's first female captain, told Arab News that it felt like a solitary effort to "break into this male-dominated profession."
But she said she persevered because "all I wanted was to fly, and I wanted to fly a jet aircraft, and it had to be a Boeing 747. That was my goal."
She added: "Financially, I supported myself in getting my pilot license. That was a huge challenge for me as I had a limited budget to complete the course."
She said: "It's an honor to serve my national carrier, and most importantly I didn't give up on that dream."
She added: "Some airlines around the world are now more receptive to having female pilots. Overall, however, the aviation industry still has a long way to go in that regard."
Second Officer Hooi Wen Foo, one of the four female pilots, said her dad inspired her to fulfil her dream.
"He really inspired me with all his stories about flying," she told Arab News, adding that it was also his dream to become a pilot when he was young. "That dream rubbed off on me."
Becoming a pilot was no easy task, she said. "Aviation being such a male-dominated industry, I did have a couple of setbacks mentally. One must be mentally tough and know their dreams and goals," she added, thanking her male colleagues at Malaysia Airlines for their support.
"The more women who know about this opportunity, the better. In this modern age, gender shouldn't be a barrier for anyone to achieve their dreams."
MalaIn 2017, 3 percent of the 130,000 pilots worldwide were women, according to the International Society of Women Pilots. Malaysia's low-cost carrier AirAsia has 55 female pilots and a female CEO.
http://www.arabnews.com/node/1398681/world
--------
New women-only theme park launched in Saudi
04 November 2018
A new theme park only open to women has been opened in Saudi Arabia's Al-Khobar city in the Eastern Province.
AlHokair Time AlAzizyah, operated by Saudi leisure chain Al-Hokair Entertainment, features a Sky Zone trampoline park and a Snow Forest – with activities such as skiing, snowball throwing, camping, and large mazes.
While the park is open to girls aged 5 and above, children between 2–10 years old are allowed in the Snow Forest, a statement said.
The new all-female-destination claims to be the first of its kind and is completely managed by a team of women.
Mishal Al Hokair, executive vice president and general manager of the Entertainment Sector at Al Hokair Group, said: "AlHokair Time is the largest theme park destination in the region that offers a unique family entertainment experience."
The theme park is part of the projects under the AbdulMohsen AlHokair Group for Tourism and Development.
The opening of the new destination comes even as Saudi begins to relax rules for women in the kingdom.
In September last year, authorities allowed women inside a sports stadium in Riyadh for a football match for the first time to mark Saudi Arabia's national day.
In January, three stadiums in Riyadh, Jeddah and Dammam were also opened up to accommodate women for events.
http://gulfbusiness.com/new-women-theme-park-launched-saudi/
--------
Emirati women make history as polo season gets off to a colourful start
November 3, 2018
After what seemed like an unrelenting summer, the new polo season at the Ghantoot Racing & Polo Club kicked off with a splash of colour and an all-action polo match on a windy Friday afternoon.
The opening day of the 2018-2019 season at the UAE's only Royal polo club is traditionally dedicated to Pink Polo Day, an initiative aimed at raising awareness about breast-cancer, something that Ghantoot has comfortably been supporting for close to a decade.
And so it was that hundreds of enthusiastic revellers came together at the picturesque club to soak up the variety of entertainment, a high-calibre polo match and above all join the crusade to fight the dreaded disorder.
History was made at Ghantoot when Sheikha Maitha bint Mohammed bin Rashid Al Maktoum, skippered the first-ever all-woman Emirati team in an exhibition match against the gentleman's team of skilled national polo players.
Sheikha Maitha and her Ghantoot A team comprising Sheikha Mozah Marwan Mohammad Hasher Al Maktoum, Sheikha Alyaa Marwan Mohammad Hasher Al Maktoum and Maryam Ahmad Hassani, finished on the losing side against Ghantoot Goes Pink, featuring Abdullah bin Dasmal, Yousif bin Dasmal, Faris Al Yabhouni and Ali Al Merri.
Despite being defeated there were plenty of positives that the women's team took home having kept a strong presence and stayed in the game against the more experienced and skilled Emirati men's team.
Sheikha Maitha looked the standout player in Ghantoot A where she scored three scintillating goals, one in each of the first three chukkers.
It goes without saying that the girls team will come back stronger in their next match after working on their movement and co-ordination, something that will help raise their standard of play.
Abdullah bin Dasmal and Faris Al Yabhouni showed that they will be a force to reckon with during the rest of the polo season when they struck six goals each.
"These are early days and we have a lot to look forward to," said bin Dasmal. "Full credit to Sheikha Maitha and her team, they made a promising start. Obviously they need the experience, but that will come in due course.
"I'm happy with the way I played and felt out there.
Sheikh Sultan bin Falah bin Zayed Al Nahyan, was the chief guest and distributed the prizes to the winners.
https://www.khaleejtimes.com/emirati-women-make-history-as-polo-season-gets-off-to-a-colourful-start
--------
An advocate of Emirati women empowerment
November 3, 2018
The UAE leadership believes in women's vital contribution to the society and offers them equal opportunities and facilities to enhance their role in building the country's economy, says a leading women entrepreneur.
Dr Raja Al Gurg, president of the Dubai Business Women Council (DBWC), said the UAE Cabinet's endorsement of a bill that ensures equal pay for men and women is an indication of the support that is provided to Emirati women.
She attributed Emirati women's accomplishments in various sectors to His Highness Sheikh Mohammed bin Rashid Al Maktoum, Vice-President and Prime Minister of the UAE and Ruler of Dubai, who believes that women occupy an important role in developing Dubai's economy.
Al Gurg, who is also a managing director and member of the board of directors of the Easa Saleh Al Gurg Group, shared some details of the DBWC's strategy in the next five years to promote women's role in economic activities. The strategy, which will be launched soon and implemented during 2018-22, is expected to balance the needs of its members with the government's strategic plans of UAE Vision 2021 and the Dubai Plan 2021.
Al Gurg identified three key pillars of the council's new strategy. The first pillar includes expanding into global markets to attract businesswomen who can contribute to the development of Dubai's business community. This objective can be achieved by organising trade missions to foreign markets and by participating in global exhibitions and conferences such as Expo 2020.
The second pillar includes developing the content of the council's workshops to include up-to-date topics such as AI and blockchain technology. The third pillar includes developing the council's network of relationships in order to benefit its members.
Al Gurg indicated that the council aims to increase the number of its members by 60 per cent by year-end.
"The DWBC's membership is expected to exceed the 900-member mark in 2018," she said.
Al Gurg said the DBWC is working on a strategic plan to highlight the role of Emirati businesswomen in the UAE's economic vision at Expo 2020.
"The council is finalising a plan to organise a variety of events and activities during Expo 2020 in order to attract businesswomen from participating countries to Dubai and assist them in opening businesses in the emirate," Al Gurg told Khaleej Times.
She said the council would organise activities spanning the six month duration of Expo 2020, which will focus on attracting businesswomen who work in specific sectors that are in line with the country's future strategic plans. The council will organise economic delegations and business meetings to attract foreign businesswomen by highlighting the various benefits provided to working women in the emirate's business community, she said.
Al Gurg said the council would focus on attracting prominent female Emirati entrepreneurs who manage small and medium enterprises (SMEs) and have proven their ability to succeed in the emirate's competitive business environment.
She said the council is reviewing its schedule of future events and activities and it will add strategic topics and themes that aim to increase the competitiveness of its members and help them develop their skills and expertise.
"The council is working on expanding its local and global network of contacts and relationships to enhance the skills and expertise of its members. This goal can achieved by hosting foreign delegations and organising trade missions," she said.
Al Gurg also highlighted the council's support for the Dubai Chamber's bid to host the 12th World Chambers Congress in 2021. She said Dubai has the capability and the cultural diversity to host a congress that upholds Dubai's prominent global status.
"The congress will allow the DBWC to organise meetings and activities with representatives of more than 14,000 chambers of commerce, which will help the council expand its network of contacts and shine a light on the services it provides," she said.
https://www.khaleejtimes.com/business/local/an-advocate-of-emirati-women-empowerment
--------
URL: https://www.newageislam.com/islam-women-feminism/prisoners-experience-inhuman-conditions-womens/d/116787
New Age Islam, Islam Online, Islamic Website, African Muslim News, Arab World News, South Asia News, Indian Muslim News, World Muslim News, Women in Islam, Islamic Feminism, Arab Women, Women In Arab, Islamophobia in America, Muslim Women in West, Islam Women and Feminism