New Age Islam News Bureau
10 March 2018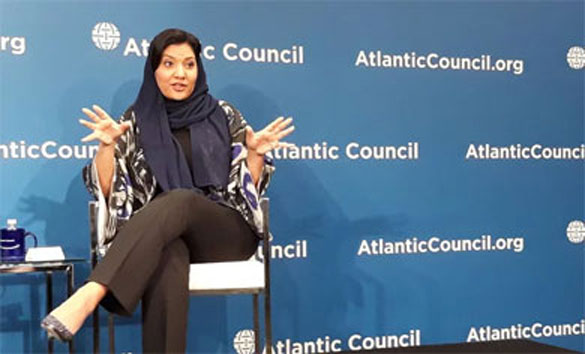 In this file photo, Princess Reema bint Bandar Al-Saud speaks at the Atlantic Council in Washington,DC. (AFP)
-----
• Council of Islamic Ideology, Pakistan to Have More Female Members Post
• Music Professor Who Said Muslim Woman Safer In US Forced Out
• In KL, Malaysian Women March To Reclaim Their Space
• Call for More Female Politicians in Pakistan
• Female Police Officers Help Security on Afghan Front Line
• Malala Discusses Trump, Girls' Education And Muslim Ban On David Letterman's Show
• Muslims Perform Last Rites of Pandit Woman in Tral
Compiled by New Age Islam News Bureau
URL: https://www.newageislam.com/islam-women-feminism/princess-reema-its-time-focus/d/114550
--------
Princess Reema: It's time to focus on Saudi women's capabilities, not their clothes
9 March 2018
LONDON: Saudi Arabia is counting on the power of sport to help drive its nation to economic victory, according to Princess Reema bint Bandar.
"I am building an entire sports ecosystem: From the athletes, to the female ushers, and security guards, we're going from the micro to the macro to the triple macro. Every sector in the country requires a down chain," the princess told the Chatham House think-tank in London.
"Sport impacts every industry sector across the board and it will draw in crowds globally."
Since last October, the Princess has headed the Saudi Federation for Community Sports (SFCS) and is the vice president for Development and Planning at the Saudi Arabian General Sports Authority. Princess Reema is the first woman in Saudi Arabia to head such a federation. As chief of SFCS she has the task of developing a sports ecosystem in the Kingdom, largely from scratch.
She said: "From the staff who clean the machines, to the trainers, to the doctors, to the athletes, everything to do with sports must be included in the future planning of the country — that's my job."
This year has already seen significant sports advances in the Kingdom as restrictions on women watching and playing sport have been lifted. Females can now attend football matches, pump iron in gyms, partake in sports themselves, and girls can take physical education classes in school.
Since Princess Reema took up her role, she has played a part in helping to mobilize women's sport. "I've encouraged women to go out on the streets and into the public parks to exercise. I've been telling women they don't need permission to exercise in public, they don't need permission to activate their own sports programs. And more and more they are doing it."
Some National Transformation Program (NTP) 2020 initiatives under Princess Reema's extensive remit are: The promotion of sports and physical activities; improved return on investment in sports clubs and facilities; and enabling Saudi elite athletes to achieve high performance on a sustainable basis in different sports.
As well as targeting significantly improved performance at international sporting games, there is a heavy emphasis in the NTP initiatives on improving sports infrastructure and grassroots facilities through the addition of women's sports facilities, and through local communities, where previously investment has been very limited generally.
Princess Reema said: "The choices that women have today are greater than yesterday and every day they will grow more."
She said she is working on licensing women's gyms throughout the Kingdom. "The gyms have always been there but they were grey market and unregulated. We've created the formal structure for the licensing of women gyms and by putting them into the light we can regulate them," she said.
The princess said the Kingdom now has 47 live gyms and she is targeting the licensing of 500 medium-sized gyms by June. She estimates that each gym will directly employ around eight people. "That's already 4,000 jobs for women," she said. "Then when you add the indirect jobs, such as trainers, the number goes up further."
Wes Schwalje, COO of research firm Tahseen Consulting, agrees that the cultivation of Saudi Arabia's sports will help boost jobs and grow the Kingdom's economy. "Saudi Arabia has budgeted almost $600 million to build the foundations for a sports ecosystem by 2030. While this figure does not include infrastructure spending and just covers the next two years, it gives a sense of the magnitude of spending that is planned for sport," he said.
"It is likely that $3 billion to $5 billion will be spent on developing a sports ecosystem by 2030. The sport will have a significant, positive impact on the Kingdom's economy through its contribution to growth and jobs," Schwalje added.
The COO said in the EU, for example, the sports sector (narrowly defined) makes up 1.13 percent of gross value add and 1.5 percent of employment on average. "If Saudi Arabia were to achieve a similar share of sport-related value add, that could mean an incremental $7 billion per year added to the gross domestic product and approximately 100,000 jobs," he said.
Schwalje said several other sport-related industries will also benefit from the growth of sports in the Kingdom, as part of a "multiplier effect."
"We would expect to see sizeable indirect impact in the food and hospitality sectors, construction, and media sectors," he added.
http://www.arabnews.com/node/1262466/saudi-arabia
--------
Council Of Islamic Ideology, Pakistan To Have More Female Members Post
By Sehrish Wasif
March 9, 2018
ISLAMABAD: The Council of Islamic Ideology (CII) for the first time since its inception is likely to announce two female members joining its council, post the retirement of nine members on March 5.
"Chances are likely that this time, two out of the nine vacant seats will be filled by women", said Chairperson CII, Dr Qibla Ayaz while talking to The Express Tribune.
Interestingly, the council has 20 members and out of which 19 seats always remained occupied by male members with only one female representative.
CII likely to allow Nikah at any age, 'rukhsati' after 18
Earlier in 2013 the slot of a female council member remained vacant for 19 months after the death of Dr Farida Siddiqui. The seat was late filled by former JI chief Qazi Hussain Ahmed's daughter Dr Samia Raheel Qazi in March 2015.
Moreover, Dr Qazis' tenure ended on March 5 after completing three years on the post, it is however expected that she would get an extension.
When asked about her experience of serving on the council, she said, "I was the only female member among 19 male council members and I must say it was a memorable experience," she also said that although she faced certain challenges and but never felt suppressed or cornered by her male colleagues.
"I had my say and my suggestions were always heard, welcomed and well taken by the CII", said Dr Qazi while suggesting that the CII chairman has approved an amendment in article 228 of the Constitution, allowing more than one female council member.
CII advises against amending law to allow public hanging
Meanwhile, talking about the vacant seats, Dr Ayaz said that the Ministry of Law and Justice is currently processing the nominations, and once they have finalized the names, they will be sent to the prime minister for approval however the council has not been approached for any recommendations.
https://tribune.com.pk/story/1655662/1-council-islamic-ideology-female-members-post/
--------
Music professor who said Muslim woman safer in US forced out
March 9, 2018
CINCINNATI — An Ohio music professor who said Muslim women and girls are safer in the U.S. than in any Middle Eastern country has been forced to retire.
The Cincinnati Enquirer reports University of Cincinnati assistant professor Clifford Adams has been placed on administrative for the remainder of the semester and will retire May 1.
He made the comment online to a Muslim student who had criticized Donald Trump's presidency and spoke about freedom and diversity. Adams wrote "how dare" she complain.
Adams didn't respond immediately Friday to a request for comment. He earlier wrote a letter to The Enquirer saying he was "deeply sorry" and was trying to have a "lively, provocative, scholarly argument."
School spokesman Greg Vehr says the university is "committed to excellence and diversity."
https://www.washingtonpost.com/national/higher-education/music-professor-who-said-muslim-woman-safer-in-us-forced-out/2018/03/09/e0e6b09a-23bc-11e8-946c-9420060cb7bd_story.html?utm_term=.e74e9de9c4e8
--------
In KL, Malaysian women march to reclaim their space
BY DANIAL DZULKIFLY
March 10, 2018
KUALA LUMPUR, March 10 — Hundreds of women took to the streets of Kuala Lumpur today to march in conjunction with the International Women's Day this week.
The around 1-km march this year, from the Sogo shopping mall to Tugu Takraw at the Jamek Mosque, is aimed at reclaiming women's space in the public.
Human rights activist Maria Chin Abdullah said the issue of gender discrimination must not be overlooked.
"It is high time that we raise concerns over violence against women and gender prejudices," Maria told Malay Mail at the sidelines.
There are five demands of the march today: to eliminate gender discrimination, destroy rape culture and sexual violence, strengthen rights for political space and democracy for all, strive for equal opportunities and wages, and stop the destruction of environment.
The placards seen today championed a diverse array of issues, from ending discrimination against the queer, rights for domestic workers, and press freedom.
Activist Diyana Yahaya said despite the rise of many successul women in various sectors, women are still considered inexperienced to talk in many forums.
"This is 2018 yet there are still people out there who think we only belong at home and should not have a say in anything," said the programme officer for Asia Pacifc Forum on Women, Law and Development.
"Women have a say in everything from trade deals to environmental issues to matters of governance. People should not think that we are only constricted to only talk about domestic violence."
A representative of the indigenous community of Pahang, Fatimah Bahsin, said women in the Orang Asli community face harsher challenges to climb up of the socio-economic ladder.
"We depend heavily on the land to provide for us. However if our community faces deforestation or logging activities, our skills to forage for food and even medicine would be useless.
"What we need is equal opportunities in education and economic development so that we provide for our as well," she said.
Meanwhile, Socialist Party of Malaysia central committee member S. Arutchelvan who joined the rally said women deserve the right to be treated equally at work.
"If you look at the number of university students, you will see a higher number of women attending higher learning institutions and yet that number does not translate into a higher number of female directors or corporate executive.
"People are now only realising this and want greater women representation in all spectrum," he said.
The Department of Statistics' latest data showed that there are 107 men for every 100 women in Malaysia.
In the Global Gender Gap Index 2016 report by the World Economic Forum, Malaysia was ranked 75th out of 144 countries, and 9th in the Asia-Pacific region below neighbours like the Philippines, New Zealand, Laos, and Australia.
Earlier this week, the Human Rights Commission of Malaysia (Suhakam) had also urged against the use of religion, tradition or culture to discriminate against women here, pointing out that Malaysia was nowhere near international standards with regards to women's rights.
http://www.themalaymailonline.com/malaysia/article/in-kl-malaysian-women-march-to-reclaim-their-space#MmBDLyLXgMLvLBc4.97
--------
Call for more female politicians in Pakistan
9 March 2018
ISLAMABAD: Sherry Rehman, Pakistan Peoples Party (PPP) vice president, urged more women to stand as politicians, in an interview with Arab News on International Women's Day on Thursday.
Rehman worked as a journalist before Benazir Bhutto, the country's twice-elected former prime minister assassinated by terrorists in 2007, brought her into public office.
"Benazir Bhutto, the first female prime minister of the Muslim world, was a truly inspiring figure," said Rehman who witnessed the death of her mentor.
Bhutto guided her through the complexities of Pakistan's political system, helping her to step up to the challenges involved. The PPP, she added, has always welcomed women.
Rehman added that women could bring about change from the corridors of power, saying that politics in Pakistan was "very much a testosterone-dominated field." She argued that politics around the world desperately needed women to "genuinely shake things up and produce legislation that reflects the experience of being a woman."
Farah Azeem Shah, a member of Balochistan National Party Awami (BNP-A), who wants to become her region's first female Chief Minister, concurred with Rehman.
She said: "It's time for a woman to step in where men have failed to resolve matters."
Shah decided to step back in 2017 and took an indefinite leave of absence from politics, disheartened by "corruption and self-serving bureaucracy."
Outside of politics, she embraced causes such as poverty alleviation targets, increasing access to education and health care, fighting for women's rights, before concluding that it was all "futile without political assistance."
Shah is now preparing to run for the 2018 general elections from her constituency, Kalat.
According to the UN 2017 global survey of women in politics, women's voices are still missing from the executive branches of governments and parliaments worldwide, slowing achievement on Sustainable Development Goals (SDGs), particularly gender equality.
Pakistan ranks 174th globally, according to the women in ministerial positions along with 12 more countries, and 89th, according to the percentage of women in the lower house of parliament.
However, Krishna Kumari, a female senator-elect who comes from the minority Hindu community, has emerged as a symbol in Pakistan's conservative and male-dominated society.
"What seemed to be unthinkable in the past decades has happened," said Rehman. "For me, this truly is a historic moment for Pakistan and an empowering one for all women and minorities."
http://www.arabnews.com/node/1263041/world
--------
Female police officers help security on Afghan front line
MARCH 9, 2018
KANDAHAR, Afghanistan (Reuters) - Shokria Jan, a female police officer in southern Afghanistan, is in a small force of women operating in one of the world's most conservative societies and difficult security environments.
Working in the Taliban heartland of Kandahar province, she faces not just danger from insurgent attacks but also heavy pressure from a society in which many believe that women have no place outside the home, let alone in the security forces.
International Women's Day has been marked in Afghanistan by official speeches and declarations from leaders including President Ashraf Ghani.
But for women like Shokria Jan, the challenges go beyond hopeful words. A widow and a mother of four, she is her family's only breadwinner after her husband, also a police officer, was killed while on duty.
"The Taliban ambushed and killed my husband who was serving in police uniform," she said.
"After that, I decided to join the police to earn an income for my four kids as well as to contribute in serving my country. So now I'm serving in the police, the same as my husband."
Getting more women into the Afghan security forces has been a priority for Ghani's Western-backed government but it has not proved easy, and training facilities for women are limited.
As part of the Afghan National Police strategy, the government intends to recruit an additional 5,000 female police officers over the coming five years. Last year, 190 women were sent to Turkey for training.
Commanders say that female officers play an essential role in areas where men cannot go and in interactions with women at checkpoints. There are now around 110 female officers serving in Kandahar, in locations including the city airport.
"In the past, we did not have female police and we had lots of problems, especially in house searches and similar operations," said Abdul Baqi, a local police commander in Kandahar.
For a monthly salary of less than $200, Shokria Jan talks to women, who in the conservative society of southern Afghanistan cannot normally speak to men outside their family. She also conducts the body searches - on women - that have long become part of everyday life for Afghans.
It is an often thankless job but one which she says is more than just a way to earn a living and feed her children.
"I feel I am serving Afghanistan," she said.
https://in.reuters.com/article/womens-day-afghanistan/female-police-officers-help-security-on-afghan-front-line-idINKCN1GL0JA
--------
Malala discusses Trump, girls' education and Muslim ban on David Letterman's show
March 9, 2018
David Letterman's Netflix show, My Next Guest Needs No Introduction, saw former US President Barack Obama as the first guest. The host refused to discuss Donald Trump and his policies with him.
Similarly, the 45th president did not come up during the former Late Show host's chat with George Clooney.
But when he sat down with the youngest Nobel Prize Winner Malala Yousafzai for the show's third episode, he decided to question her about Trump, reported The Hollywood Reporter.
"What do you think about President Trump?" Letterman asked the 20-year-old activist in their hour-long conversation. It was a question many viewers wish he had posed to Obama.
Instead of answering to him, Malala threw the question back at him. "Well, I'm in the UK, so what do you think about him?" she asked, deftly, raising up her hands in surrender.
Letterman laughed, telling her, "I have many things to say on this topic. And you want me to be candid, right?"
"I believe… oh, boy," he continued, cautiously. "I feel personally, not politically, but personally, he is not fit to represent me. I don't think he's fit to represent anyone in this room."
From there, Yousafzai agreed with him, zeroing in on Trump's proposal to bar all Muslim immigrants from entering the country,
"I know, a ban on Muslims! And I'm a Muslim," she said. "Some of the things have really disappointed me, things about sexual harassment and a ban on Muslims and racism. You see all these things and you feel that America, being known for human rights and a country of liberty and freedom, that country should be leading in terms of human rights."
After this, Yousafzai talked about education, the role any government should play in it and the right to education.
"The governments need to invest more money into education. Business people, everyone who is part of society, they need to start thinking about investing in girls and their education. We just need an ambition and an intention. What to do is then easy," said the Nobel Prize laureate.
"I would hope that many people would have stood up and stood up against extremists, against not just the extremists, not just the people, but against the ideology," she answered frankly.
"Because that's what we have to fight against: the ideology that exists there that does not accept women as equal to men [and] that does not accept women to have the right to education," Yousafzai further added.
However, she previously agreed that she was too nervous about appearing on Letterman's show.
"David Letterman has that magic. I felt really comfortable talking to him and he gives you that friendly environment that you can share your thoughts," she told PEOPLE. "You can share your ideas from your heart. That's how I felt."
Malala continued, "In the beginning, before I joined university, I was really nervous because I was worried about how I would make friends," she said. "People knew me already and that was challenging for me to be there as a student and not to be there as a person who's already known in the media."
However, Malala was welcomed with open arms. "But once I came, everyone here just welcomed me as a friend and I was just so happy that I am part of Oxford. I am just an Oxford student and I think that's how they treat me."
Speaking about her experience at Oxford, she said, "It is an amazing time of my life, because I'm getting to know people of my age a bit more."
https://tribune.com.pk/story/1655445/4-malala-discusses-trump-girls-education-muslim-ban-david-lettermans-show/
--------
Muslims perform last rites of Pandit woman in Tral
Irfan Amin Malik
Mar 10 2018
Spreading a message of unity and brotherhood, hundreds of Muslims gathered in Noorpora hamlet of Tral on Friday to attend the final rites of a local Pandit lady.
Eighty-year-old Kamlavati, who lived in a Muslim-dominated area here, died at her home during wee hours on Friday.
As soon as the news about her demise spread in the area, hundreds of Muslims including men, women and children rushed to her house. The Muslim community helped the family perform the last rites of Kamla as per Hindu rituals, they took her body to the cremation ground for the last rites.
A majority of people present during the funeral were Muslims.
"This is true Kashmir, this is our culture and we share brotherhood. We do not believe in duality or divisive politics. We share one culture," said Roop Krishan Bhat, deceased's close relative.
Kamla's family decided to stay back in the Valley during 90s, when a majority of Kashmiri Pandits chose to move out of the region.
"We condemn attempts to differences between Hindus and Muslims. We live in peace and harmony here," said Ghulam Mohammad Ganaie, her neighbour.
"Mother Kamla never left her native place saying that she grew up here with her Muslim friends and she would prefer to die among her own people," Ganaie said.
http://www.greaterkashmir.com/news/kashmir/muslims-perform-last-rites-of-pandit-woman-in-tral/278258.html
--------
URL: https://www.newageislam.com/islam-women-feminism/princess-reema-its-time-focus/d/114550
New Age Islam, Islam Online, Islamic Website, African Muslim News, Arab World News, South Asia News, Indian Muslim News, World Muslim News, Women in Islam, Islamic Feminism, Arab Women, Women In Arab, Islamophobia in America, Muslim Women in West, Islam Women and Feminism