New Age Islam News Bureau
21 January 2022
• Jamaat-i-Islami Women Hold Sit-In On Karachi's University Road
• Saudi Women Soldiers Graduated; Graduation Ceremony Held At The Armed Forces Women's Cadre Training Centre
• France Votes To Ban Muslim Women From Playing Sports With Headscarves In A Major Setback For Human Rights In The Country
• Iran Hails 'Significant' Progress In Empowering Women Despite US Sanctions
• Dawoodi Bohra Women Organize First-Ever Business Expo In U.S. To Showcase Female Entrepreneurship
• Saudi Woman Gives Birth To 5 Sets Of Twins
Compiled by New Age Islam News Bureau
URL: https://www.newageislam.com/islam-women-feminism/princess-diana-uk-love/d/126207
--------
Princess Diana Considered Converting To Islam For Love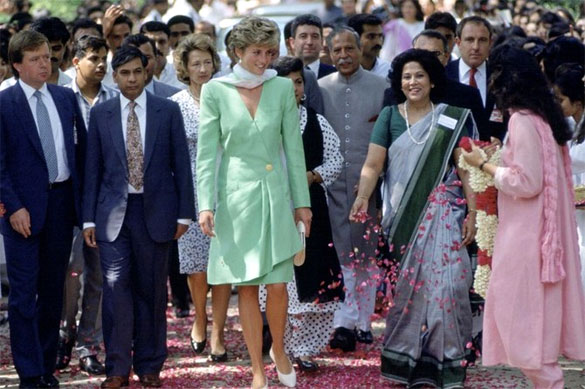 Princess Diana visits Kinnaird College For Women, Lahore, Pakistan, Sept. 25, 1991. (Getty Images)
-----
January 20, 2022
LONDON: The late Princess Diana considered converting to Islam, according to a royal photographer whom she asked for advice about the religion and interfaith marriage.
The princess reportedly approached Anwar Hussein, 83, the royal family's longest-serving snapper, during a flight.
Hussein told People magazine: "All the lights were dimmed and she came and whispered: 'Can I have a chat?'
"She knew that I was married to an English girl, Caroline. She wanted to know about Islam. She was asking about being married when one person is Muslim and another is Protestant."
He added: "She was interested because of what she was going through with (then boyfriend) Dr. Hasnat Khan. She didn't mention him, but she assumed I knew it. I think she was wondering how the family would react to him and things like that."
Diana is said to have been besotted with Khan — a heart surgeon and Muslim — in the 1990s and according to the Daily Mail considered converting to Islam so the pair could marry.
A close friend said she was so "madly in love" that she even thought about moving to Pakistan to be with Khan but abandoned the idea when he decided their relationship was doomed to fail.
His father, Abdul Rasheed Khan, said his son told the family: "If I married her, our marriage would not last for more than a year. We are culturally so different from each other.
"She is from Venus and I am from Mars. If it ever happened, it would be like a marriage from two different planets."
Princess Diana died in 1997 in a car crash alongside film producer Dodi Al Fayed.
Source: Arab News
https://www.arabnews.com/node/2008706/offbeat
--------
Jamaat-i-Islami Women Hold Sit-In On Karachi's University Road
A view of JI's women protest at Karachi's University Road on Thursday. — Photo credit: JI/Facebook
----
January 21, 2022
KARACHI: Women activists and supporters of the Jamaat-i-Islami on Thursday staged a sit-in on main University Road in protest over the Sindh Local Government (Amendment) Act 2021 and demanded that the Pakistan Peoples Party government withdraw it forthwith.
The protest by JI women was part of the party's ongoing campaign under which it has been staging a sit-in outside the Sindh Assembly for the past three weeks.
A good number of women assembled near Bait-ul-Mukarram Masjid on University Road and staged the sit-in that continued for a few hours. The protesters carried placards and banners inscribed with various slogans and demands.
A track of University Road was blocked for vehicular traffic because of the sit-in causing a traffic mess on various arteries in Gulshan-i-Iqbal.
JI Women Wing General Secretary Durdana Siddiqui, Rukhshinda Muneeb and Asma Safeer led the sit-in.
Speaking on the occasion, city chief of JI Hafiz Naeem-ur-Rehman announced that the party would organise a convention on Sunday outside the Sindh Assembly and JI chief Sirajul Haq would address it.
Source: Dawn
https://www.dawn.com/news/1670571/ji-women-hold-sit-in-on-karachis-university-road
--------
Saudi Women Soldiers Graduated; Graduation Ceremony Held At The Armed Forces Women's Cadre Training Centre
January 20, 2022
RIYADH – Maj. Gen. Hamed Al-Omari, director of the Joint Staff of the Armed Forces, attended on Thursday the graduation ceremony of the women's cadres of the Armed Forces held at the Armed Forces Women's Cadre Training Centre.
The women cadres were graduated in a number of second phase courses for the training year of 1443.
Speaking on the occasion, Maj. Gen. Al-Omari thanked the staff members, especially female staff, of the center for their distinguished work in carrying out the center's mission.
Chief Sergeant Suleiman Al-Maliki, commander of the Women's Cadre Training Center for the Armed Forces, also spoke on the occasion. This was followed by a speech on behalf of the graduates and then the oath was taken, after which the results with the names of winners and those who made outstanding performance were announced.
The ceremony was also attended by Maj. Gen. Adel Al-Balawi, head of the Armed Forces Education and Training Authority, and Maj. Gen. Sattam Bin Faris, director general of the Public Relations and Moral Guidance Department of the Armed Forces.
Source: Saudi Gazette
https://saudigazette.com.sa/article/616104
--------
France Votes To Ban Muslim Women From Playing Sports With Headscarves In A Major Setback For Human Rights In The Country
ELIS GJEVORI
Jan 21, 2022
France moves closer to barring Muslim women from playing sports in a major setback for human rights in the country.
The French Senate has voted to ban conspicuous religious symbols in sports, a move primarily aimed at the country's Muslim women - some of whom may play sports with a headscarf.
According to right-wing politicians who voted for the decision, the move targeting the country's Muslim women was taken in the interest of so-called religious neutrality.
"This measure aims to suppress all forms of Muslim subjectivity regarding faith and worship, culture and political expression," says Maria De Cartena, a human rights defender in France.
In a rare move, the controversial decision was opposed by Emmanuel Macron's government, which has presided over some of the restrictive clampdowns on Muslims in recent years.
Approved by 160 votes to 143 in the upper house of parliament on Tuesday, the decision is a demonstration that Islamophobia is institutionalised," added De Cartena, speaking to TRT World.
De Cartena has also been an important activist working with a group known as the Coordination Against the Separatism Law, a piece of legislation that the French government claims is aimed at fighting "Islamists extremism", but critics say limits religious freedom and unfairly targets Muslim.
The latest move by the French Senate follows a string of restrictions in recent years that have systematically clamped down on Muslims. De Cartena says that in voting through the latest decision, the Senate is "showing that Islamophobic policies and the fight against Islam and Muslims; is permanent and omnipresent in the political, legal, media field."
Earlier this month, a study in France found a strong tendency by the country's media to give far-right voices airtime and amplify their fringe views.
Last year the French parliament moved to ban Muslim women from attending their children's school trips while wearing the hijab, a symbol it sees as a threat to all the things the Republic stands for.
The move was supported by Macron at the time and forms part of the government's narrative "that the struggle against 'Muslim separatism' is an everyday struggle," says De Cartena.
Macron's laser-like focus on the country's Muslim minority of 5.4 million, even as France continues to grapple with the coronavirus pandemic, has also had the unintended impact of amplifying French insecurities about its place in the world and sense of identity.
These intersecting issues have only amplified with the presidential elections only months away and parties on the left and right of the political spectrum vie to appear tough on Muslim practices.
The latest measures voted by the right-wing Les Republicains party amended Macron's Anti-Separatism Law to mention "the wearing of the veil explicitly."
De Cartena fears that the latest move to forbid women from playing sports unless they comply with state dictates will only increase the "segregation of Muslims from the rest of the society."
"The goal here is to forbid more and more all Islamic markers," added De Cartena.
More broadly, says De Cartena, "Islamophobia in France has nothing to do with the parties but with the system! It's present at all levels of society: at the government level, police and judiciary level."
Source: Trt World
https://www.trtworld.com/magazine/france-votes-to-ban-muslim-women-from-playing-sports-with-headscarves-53889
--------
Iran hails 'significant' progress in empowering women despite US sanctions
19 January 2022
Iran hails making considerable progress towards empowering women and girls, despite the United States' illegal and inhumane sanctions targeting the country.
The Islamic Republic's permanent ambassador to the United Nations, Majid Takht-Ravanchi made the remarks during a United Nations Security Council meeting addressing the issue of women, peace, and security on Tuesday.
The envoy reminded how the bans not only violated the international law, but also breached the basic rights of women and girls, especially their right to development.
"However, the Islamic Republic has made significant progress in enablement of women and girls, especially in the field of education," he said.
The United States reimposed the sanctions in 2018 after illegally and unilaterally leaving a 2015 deal between Iran and P5+1 group of countries.
Washington has refused to lift the bans, even in the case of foodstuffs and medicine, despite the ongoing coronavirus pandemic.
"The Islamic Republic attaches much importance to the women's role in socioeconomic development and the Iranian society's sociopolitical life," the envoy stated.
Takht-Ravanchi, meanwhile, touched on the situation of women in West Asia, expressing dismay over the destructive effects of occupation and foreign intervention, as well as terrorist activities targeting girls and women in the region.
He said the oldest case for such impairment would be the Palestinian women, who continued to suffer the consequences of decades of Israeli occupation and human rights violations.
"In disputes and conflicts, efforts should be focused on addressing the root causes of violence against women," the Iranian official said.
Source: Press TV
https://www.presstv.ir/Detail/2022/01/19/675051/Iran-United-Nations-women-girls
--------
Dawoodi Bohra women organize first-ever business expo in U.S. to showcase female entrepreneurship
January 20, 2022
In Arabic, the word "mashtal" means a nursery.
"It's where seeds are planted and young saplings are nurtured so they can be planted in a bigger garden where they can grow and thrive," said Batul Fidaali of Tustin.
Mashtal is also the name Fidaali and several other women from the Inland Empire and Orange County have given to their free Business Expo: For Women By Women, to be held 10 a.m. to 5 p.m. Sunday, Jan. 23, at the Dawoodi Bohra Anjuman-e-Qutbi mosque in Ontario.
Organizers say the business expo in Ontario will feature the work of women business owners, entrepreneurs and artisans from across North America, many of them from the Dawoodi Bohra community, a sect of Shia Islam that comprises 400 families in Southern California and 5,000 nationwide. Most members of the communities have roots and live in India, Pakistan, Yemen, East Africa and the Middle East and follow the teachings of the sect's leader and spiritual guide Syedna Mufaddal Saifuddin, who lives in India.
Three mosques serve the community in Southern California. The Ontario center serves Orange County and the Inland Empire, while mosques in Woodland Hills and San Diego serve communities in Los Angeles and San Diego counties.
The expo, which has been held in Mumbai in previous years, is being brought to the United States for the first time and the Ontario mosque was chosen because of the robust community in Southern California, said Fareeda Zakir, one of the event's organizers. The Dawoodi Bohras are known as a community of business owners and professionals, she said, adding that women have historically played an important role in family businesses.
"We have a long line of women business owners we can look up to, going all the way back to Prophet Muhammad's wife Khadijah who took over her father's trading business when he died and still inspires us today as an empowered woman who ran a business in a male-dominated society," said Zakir, an Anaheim resident.
Zakir has strong role models in her own family as well. Her grandmother was active in the family glass business in Nairobi, Kenya, where her mother also worked. Now, Zakir owns a residential glass and glazing business in Orange County.
"When it comes to entrepreneurship, it's a multi-generational effect and once it's in there, it's there," she said.
Zakir's daughter, now 12, already dreams of owning a bakery and bookstore.
The expo is a space to lift women up, showcase their work and offer networking opportunities, Zakir said. Sunday's event will feature a variety of business owners in the community from real estate agents to women selling baked goods, jewelry and home decor, she said.
Zakir said organizers have also put "strict COVID protocols in place" and will require full proof of vaccination or a negative PCR test 48 hours prior to the event for entry. She said all dining at the event will be held outdoors.
The main goal is to offer support to each other as a community, Zakir said.
"When women support each other, it results in profound growth and inspiration," she said. "It can do wonders for your confidence. I'm a woman in construction. Most of the time, I'm the only woman in the room. Often, it's about making other people believe in me. Our hope is to help a new generation of women grow as business owners."
Among the new generation is Arwa Nomani of Corona who recently started Arwa Coffee, importing premium coffee from Yemen. Nomani, who is from Mumbai, India, said she used the Dawoodi Bohra network in Yemen to forge a relationship with a coffee company that sources coffee from community farms and pays fair prices to farmers who grow the crop in Yemen.
"Yemeni coffee has a rich, deep flavor, like Ethiopian coffee," she said. "It also has to do with how the beans are roasted."
Nomani and her coffee business are named after Arwa Al-Sulayhi, a queen who ruled Yemen in the 11th century. Inspired by the history of the country where her coffee comes from, Nomani said she is hoping to find women-owned business to distribute the coffee across the United States.
Irvine Mayor Farrah Khan said she plans to attend the expo and is impressed to see "women uplifting one another."
"The biggest challenge for women business owners is having a network of support," said Khan, the first Muslim and first person of color to be elected mayor of Irvine. "It's always a struggle to get started and build themselves up. I think this event also sends a message to the men of the community about how important it is for them to understand women need the support to be successful."
The fact that such an event catering to women is necessary shows that parity and equity is lacking in the business world, Khan said.
"That's true across the board, for all communities," she said.
Event details
What: Mashtal, An Expo for women by women
When: Sunday, Jan. 23 from 10 a.m. to 5 p.m.
Where: Dawoodi Bohra Anjuman-e-Qutbi mosque, 1027 E. Philadelphia St., Ontario.
Admission: Free
Information: 909-295-5362 or oc.mashtal@gmail.com
Source: Daily Bulletin
https://www.dailybulletin.com/2022/01/20/dawoodi-bohra-women-organize-first-ever-business-expo-in-u-s-to-showcase-female-entrepreneurship/
--------
Saudi woman gives birth to 5 sets of twins
January 19, 2022
TABUK — In an extraordinary event, a Saudi woman gave birth to 5 sets of twins on Jan. 12, where the medical team supervising her condition at King Salman Armed Forces Hospital succeeded in conducting a natural birth for her.
She gave birth to 5 sets of healthy twins with the weights of the infants ranging between 950-1100 grams.
In the 28th week of pregnancy, the 34-year-old mother, and the Saudi Ministry of Defense was keen to share the news with citizens through its official account on the social networking site Twitter.
The followers eagerly praised the medical staff efforts, as worded by a supporter Mjahed Alatawi, "The unsurprising achievement of a great team, may God grant them success and all thanks and appreciation to the hospital director."
For his part, Maj. Gen. Attia Al-Zahrani, head of the Obstetrics and Gynecology Department, won thanks and appreciation from the followers.
King Salman Armed Forces Hospital is one of the largest hospitals in the Kingdom of Saudi Arabia. It was established in August 1980.
It includes all the different medical specialties and subspecialties, which made it a reference for hospitals in the northwestern region and it is the first government hospital to introduce endoscopic technology into the Kingdom in 1991.
Many hospitals are affiliated with it, such as King Khalid Armed Forces Hospital.
Source: Saudi Gazette
https://saudigazette.com.sa/article/616041
------
URL: https://www.newageislam.com/islam-women-feminism/princess-diana-uk-love/d/126207
New Age Islam, Islam Online, Islamic Website, African Muslim News, Arab World News, South Asia News, Indian Muslim News, World Muslim News, Women in Islam, Islamic Feminism, Arab Women, Women In Arab, Islamophobia in America, Muslim Women in West, Islam Women and Feminism