New Age Islam News Bureau
3 Oct 2019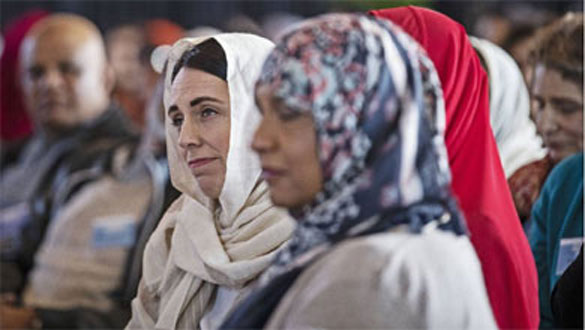 Donna Miles-Mojab says Prime Minister Jacinda Ardern is being unfairly criticised for wearing a hijab to the 29th Annual National Conference of the Islamic Women's Council of New Zealand in Mangere in August.
-----
• Arab Military Women Take Part In UNESCO Workshop
• Saudi Women Invited To Join The Ranks Of The Armed Forces
• Is French Montana 'Sexualising' The Hijab Or 'Liberating' It?
• Saudi Women Throw Light On Yemen Development Projects
• Iran Begins To Recognize Their 'Forgotten' Women Of War
• Iran Adopts Amendment Allowing Women To Pass Citizenship To Children
• Royal Mail Staff Storm Out Over Claims Of 'Racist' Comment To Muslim Worker
• IS Foreign Women Smuggled Out in Northeastern Syria Camp
• Tunisian Women Hope to Secure Gender Parity Gains in Legislative Vote
Compiled by New Age Islam News Bureau
URL: https://www.newageislam.com/islam-women-feminism/prime-minister-jacinda-ardern-sends/d/119902
--------
Prime Minister Jacinda Ardern Sends Empowering Message To Young Muslim Women
Oct 03 2019
In a piece published on Tuesday, by Iraqi-born architect and author Ali Shakir, Jacinda Ardern was criticised for wearing the hijab to an event in south Auckland.
He argued that beyond the initial gesture of sympathy after the mosque terror attacks, the prime minister should not wear the hijab, because it sends the wrong message to young Muslim girls by iconising the hijab as the only expression of their faith.
A further argument was that Ardern's gesture could play into the hands of those who want to force the hijab on Muslim women.
The first thing that jumped out at me was how much the author seemed to underestimate the intelligence of Muslim women.
The piece makes no mention of the fact that the event the PM was attending in Māngere was the Islamic Women's Council of New Zealand annual conference, although this is mentioned in the caption to the accompanying picture. The young Muslim women who attend such events are intelligent, engaged, active and ambitious members of their communities.
At the same event, when Ardern asked how many aspired to leadership positions, "almost half the women in the hall shot their hand[s] up".
And let's not forget who the spokesperson for the council is. Now a Member of the New Zealand Order of Merit, Anjum Rahman is a formidable, indefatigable hijab-wearing woman who supports inclusiveness for all, including members of the LGBTQ community. Would she stand for any women being forced into wearing the hijab? I doubt it.
Unfortunately, the underlying assumption in many arguments pertaining to hijab is that veiled Muslim women are oppressed, impressionable and in need of rescuing.
I doubt very much that anyone of sound mind would think a prime minister who does not ordinarily wear a headscarf approves of anyone being coerced into wearing one - or that she thinks all Muslim women should wear a scarf or they are not Muslim enough.
Yes, I strongly agree with Ali Shakir that there is little to no room for secular, non-hijab-wearing Muslims in the public imagination and in the representation of Muslims in the media. In fact, I am one of those secular Muslims. I define myself as a Muslim not through practice or knowledge, but through my heritage and my relationship with Islamic art, literature, rituals and tradition. Shakir is right to say Muslims are often reduced to hijab-wearing women and bearded men.
The Muslim community is rich in its diversity. As well as the well-known Sunni and Shia types, we have gay Muslims, feminist Muslims, Marxist Muslims, secular Muslims and more. I don't think there is an identifiable majority type that could represent all Muslims.
So, it is true that that the Muslim community is often misrepresented but I am not under any illusion as to who is responsible for this misrepresentation.
Shakir mentioned the Iranian revolution as a pivotal moment for Muslims. I lived through the revolution. It wasn't Khomeini who made Iranian women invisible. It was the Western media.
When hijab became compulsory, we carried on wearing our lipsticks with our Audrey Hepburn-like headscarves, but all we saw in Western media were chadori women, covered in a black cloth from head to toe. Yes, these women existed but they were in the minority. Many of them were out on the street chasing and reprimanding us for flouting the new Islamic dress code, which had not existed before the revolution. The West seemed obsessed by these black-clad chadori women and so they appeared everywhere. Western Museum curators loved them too and before we knew it, the black cloth became the iconic symbol of Iran and a Muslim woman.
There is of course more to say about the iconisation of hijab and the role the West, especially the US, played in the politicisation of Islam and promotion of extremism, especially after the Soviet invasion of Afghanistan, but I have limited space here and there is plenty of material available online.
The most important point is that the loose donning of the hijab by our prime minister should be seen in its context.
And the context is this: Muslim women in general, and hijabi women in particular, are often subjected to racism and attacks, especially when they run for positions of power.
In Christchurch, where we suffered the terrible mosque attacks, a young hijabi Muslim woman running in the local elections has been abused online and had her election boards defaced.
Regrettably, hijab is seen by many as the symbol of backwardness and extremism. It is this perception that the prime minister is challenging by showing solidarity with hijab-wearing women.
And if there is any message she is sending to Muslims, it is that not only do they have a place in our communities but they should also strive to have a place in leadership positions. For this reason, I think she should be saluted, not scorned.
https://www.stuff.co.nz/national/politics/opinion/116277320/prime-minister-sending-empowering-message-to-young-muslim-women
--------
Arab Military Women Take Part In UNESCO Workshop
NAJIA HOUSSARI
October 02, 2019
BEIRUT: For the first time, female military personnel from the armed forces of Lebanon, Jordan and Iraq gathered at UNESCO's regional office hall in Beirut to participate in a workshop on protecting cultural property during armed conflict. They did so along with female officers from the UN Interim Force in Lebanon (UNIFIL).
"Our goal is to introduce participants to means of protecting cultural property during hostilities and military occupation," UNESCO's Joseph Kreidi told Arab News.
This is important because "we're in a region that has witnessed and is still witnessing wars," he said.
"We decided to allocate a workshop exclusively for women so as to empower them and to promote gender equality, in line with the organization's objectives."
Dr. Eric Klein, a senior technical adviser at UNESCO, presented a lecture on ways to protect cultural property during armed conflict, and how it could be a joint civilian-military mission.
Dr. Ali Badawi, regional director of the Lebanese Directorate General of Antiquities, shared with the participants the directorate's experience in protecting his country's antiquities during armed conflict.
Catherine Hanson, a researcher in preserving cultural heritage, introduced them to means of dealing with and documenting artifacts.
Myriam Haddad, a representative of the International Committee of the Red Cross, gave a lecture on how to protect civilian areas under international humanitarian law.
Col. Ziad Rizkallah of the Lebanese Army told Arab News that the Lebanese participants in the workshop have law degrees and "are military police investigators and engineers in brigades stationed on the border."
Before going to the southern Lebanese city of Tyre, where they spent the day among its relics and ruins, the participants listened to the Lebanese experience in protecting these relics.
"The border area of Naqura abounds with ruins and relics, as do all the cities on the Lebanese coast. We rushed to conduct surveys of the sites to preserve them," said Badawi.
"This area hasn't witnessed urban movement for decades, which contributed to the relics' preservation."
Answering a question about the fate of stolen artifacts that arrive in Lebanon and are seized, Badawi said: "Lebanon keeps the seized relics, but it informs the countries that it has them in its possession, asking them to verify their loss."
Jordanian military women praised the opportunity that the workshop provided them. "The importance of the workshop is that it allows us, with the participation of men, to safeguard cultural property," one of them said.
An Iraqi military official said: "The workshop provided us with steps to protect our country from the theft of antiquities, and to recover stolen antiquities on display in various museums around the world."
She added that Iran, Jordan and Syria are used as routes to smuggle antiquities out of Iraq. She highlighted the serious damage caused by Daesh to archaeological and religious sites.
"When we return, we'll explain and teach others how we can act to preserve the relics of our country," she said.
https://www.arabnews.com/node/1563206
--------
Saudi Women Invited To Join The Ranks Of The Armed Forces
October 03, 2019
DUBAI: Saudi women can now climb through the ranks of the armed forces the Kingdom's Ministry of Defense has announced.
While women have been able to join the armed forces in Saudi Arabia, this is the first time they can be considered for more senior ranks, Arabic international daily Asharq Al-Awsat reported on Thursday.
"With these new laws supporting women's capabilities and rights as citizens… naturally, they will enter new spheres of work, this is the reflection of a national belief in the equality between women and men," Shura Council member Haya Al-Muni'i told Asharq Al-Awsat.
Under the scheme women can now join as lance corporals, corporals, sergeants and staff sergeants in the Royal Saudi Land Forces, Royal Saudi Airforce, Royal Saudi Arabian Navy, Royal Saudi Air Defense Forces, Royal Saudi Strategic Missile Forces and Armed Forces Medical Services.
The initiative is part of the Kingdom's Vision 2030 to empower Saudi women and expand the role they play in society.
Saudi women have already been given the opportunity to climb the ranks in the front line of public security, including the General Directorate of Narcotics, General Directorate of Prisons, Criminal Evidence and Customs.
https://www.arabnews.com/node/1563396/saudi-arabia
--------
Is French Montana 'Sexualising' The Hijab Or 'Liberating' It?
October 2, 2019
American rapper French Montana's latest album cover featuring a queue of faceless niqabi women crossing their legs in red latex thigh-high boots has caused outrage amongst Muslim women.
Seen standing between the veiled women, French Montana – whose real name is Karim Kharbouch – is accused of sexualising Muslim women by diluting the significance of the niqab and presenting them as sexual objects.
The rapper has hit back, saying the artwork for his album is "connecting with his roots" and "freeing Muslim women," posted the image on Twitter.
French Montana
✔
@FrencHMonTanA
You don't have to change who you are
You can bring people into your own world
View image on Twitter
1,257
19:40 - 23 Sep 2019
Twitter Ads information and privacy
656 people are talking about this
Prominent professors such as Khaled Beydoun and Veena Dubal also took to the social media platform to express their disappointment at the possibility of the 34-year-old celebrity of Moroccan origins, capitalising on damaging portrayals of Muslim women and failing to "honour his roots".
Ahlam Yassin, MA
@EducateWrite
No thank you to @FrencHMonTanA's album cover. Do you have any idea what Muslim women deal with on a daily basis? And here you are oblivious to it all. Profiteering off of Muslim women is not ok. #FrenchMontana
1
00:27 - 27 Sep 2019
Twitter Ads information and privacy
See Ahlam Yassin, MA's other Tweets
Veena Dubal
@veenadubal
Uhhhh not sure French Montana is "honoring" his roots so much as he is selling them. Also they're not "his" "roots"—they're women's bodies.
French Montana Honors His Muslim Roots On New Album Cover | Power 105.1 FM https://power1051.iheart.com/content/2019-09-23-french-montana-honors-his-muslim-roots-on-new-album-cover/ …
French Montana Honors His Muslim Roots On New Album Cover | Power 105.1 FM
"You don't have to change who you are, you can bring people into your world." French Montana
power1051.iheart.com
2
23:05 - 26 Sep 2019
Twitter Ads information and privacy
See Veena Dubal's other Tweets
🦋مريم
@lil_asiangirl
• 26 Sep 2019
It's very rare that Muslim women get portrayed in the media in a positive light, especially when wearing a niqab. So, when a Muslim man gets the opportunity to show this, you would assume bc of his big platform and impressionable viewers, he would correctly showcase this...
We can't show you everything!
We automatically hide photos that might contain sensitive content.
View image on Twitter
🦋مريم
@lil_asiangirl
Instead, French Montana has disgustingly sexualised and fetished Muslim women in a song about sex and drugs.
The idea of a hijab revolves around modesty. Thigh high red boots and hypersexualised images of niqabis only further perpetuates dangerous narratives
2
00:46 - 26 Sep 2019
Twitter Ads information and privacy
See 🦋مريم's other Tweets
Classing the image as "Islamophobic", Beydoun said the image "capitalizes on damaging portrayals of Muslim women as faceless showpieces. The women are objectified, and serve the function of providing a provocative backdrop instead of being presented as real, autonomous human beings."
Some focused on his Moroccan heritage, questioning how he can be disrespectful about the religion the country he was born and brought up in practices.
French Montana
✔
@FrencHMonTanA
• 23 Sep 2019
You don't have to change who you are
You can bring people into your own world
View image on Twitter
STREETORDEEN.COM
@streetordeen
Big contradiction you say "you don't need to change who you are"
but in the photo, you change the hijab, jilbab, Niqaaab, into a fashion, Glamour and Sex symbol,
when it's a symbol of, Monotheism (Tawheed) Worship, Modesty and Religion
21
15:54 - 25 Sep 2019
Twitter Ads information and privacy
See STREETORDEEN.COM's other Tweets
Kaab Agha
@Jumexpapi
• 25 Sep 2019
Replying to @saraaadahb @imboood
Yo I'm still confused I don't see the issue? Theyre covered up from head to toe outside the eyeballs? Forgive me if I sound ignorant ive never had to consider covering myself up before
never graduating
@ScooterSamara
If an actual Niqabi dressed like this I wouldn't comment on it, but it's more the issue that a rapper is basically trying to cash in and sexualize niqabis for his album cover.
2
00:27 - 26 Sep 2019
Twitter Ads information and privacy
See never graduating's other Tweets
🌻
@rmsjoon
french montana really tried to sexualize niqabi and hijabi women for his own benefit and is now mad we ain't praising him for it?
7
17:46 - 25 Sep 2019
Twitter Ads information and privacy
See 🌻's other Tweets
The controversial album cover also prompted Twitter users to point out that women who wear the niqab (face veil) are already a minority within the West and heavily stigmatised, saying a cover like this doesn't help them be included in society.
Sabrina
@sabrinabokhari
So french Montana released a song with hijabis/niqabis sexualizing them completely. Coming from a man who claims being muslim how is that right. We go through enough choosing to cover, and now having a video with a niqabi wearing thigh high latex red boots isnt the image.
12
04:45 - 25 Sep 2019
Twitter Ads information and privacy
See Sabrina's other Tweets
Rahma Rodaah
@RahmaRodaah
As a #muslimwoman I do not need to be objectified in order to be seen and #represented this is an insult to what my hijab stands for. #FrenchMontana https://twitter.com/frenchmontana/status/1176136736897765377 …
French Montana
✔
@FrencHMonTanA
You don't have to change who you are
You can bring people into your own world
View image on Twitter
4
03:37 - 26 Sep 2019
Twitter Ads information and privacy
See Rahma Rodaah's other Tweets
𝓮𝓿𝓪 wolfgang
@evaaforevaa
The French Montana music video is awful. It over sexualises Muslim women who wear hijab/niqab. The last thing a hijabi/niqabi wants is to be sexualised when wearing clothes that is supposed to stop the sexualisation. But yet again men find something to sexualise in covering up!!!
6
01:31 - 25 Sep 2019
Twitter Ads information and privacy
See 𝓮𝓿𝓪 wolfgang's other Tweets
French Montana
✔
@FrencHMonTanA
• 23 Sep 2019
You don't have to change who you are
You can bring people into your own world
View image on Twitter
TheNiqabProject
@NiqabThe
This is so wrong. I am tired for Non-Niqabi people talking for us or using us as props for whatever they want, that goes for Muslim men doing it as well. #NiqabandIhaveavoice #Niqabi
65
03:58 - 25 Sep 2019
Twitter Ads information and privacy
See TheNiqabProject's other Tweets
Others, however, disagreed, arguing that the niqab isn't a religious symbol but rather a cultural practice which Montana is celebrating and normalising with his art.
stream TRAMPOLINE
@drunkfallz
idk why everyones pressed about french montanas new album concept like its LITERAL art and i applaud the fact that he is using his platform to represent hijabis and niqabi's in a modern but still in a RIGHT WAY. i love that. so many of my irls need to stop crying.
2
15:49 - 25 Sep 2019
Twitter Ads information and privacy
See stream TRAMPOLINE's other Tweets
Aisha|عائشة
@Aisha_I_
Hijab and niqab are part of arab culture not Islam. French Montana's video is based on his culture and not on his religion. Get the facts right before you get triggered. Idiots.
86
12:20 - 28 Sep 2019
Twitter Ads information and privacy
168 people are talking about this
French Montana emigrated to the US from Rabat, Morocco, at the age of 13 and has since become one of the biggest names in hip-hop. He has always been vocal about his Moroccan roots and Muslim upbringing, making it a focal point of his public image.
He has also become the first ambassador for the "I stand with Immigrants" campaign, which aims to encourage US citizens to "celebrate the monumental contributions that immigrants have made and continue to make every day.
His latest album, simply titled "MONTANA", is expected to be released on 8 November.
https://www.middleeastmonitor.com/20191002-is-french-montana-sexualising-the-hijab-or-liberating-it/
--------
Saudi Women Throw Light On Yemen Development Projects
October 2, 2019
NEW YORK — The Saudi Development and Reconstruction Program for Yemen (SDRPY) has concluded its participation in the 74th Session of the United Nations General Assembly (UNGA). Among its activities in New York, the SDRPY delegation organized an exhibition at UN headquarters, familiarized UNGA attendees with the Kingdom's development initiatives in Yemen, and attended workshops on the UN Sustainable Development Goals. Members of the SDRPY mission also participated in the UN-organized seminar, "How to communicate the sustainable development goals in alternative ways."
SDRPY welcomed hundreds of visitors to its pavilion at the UNGA, including members of diplomatic and government delegations from around the world. Program staff explained the program's development and reconstruction projects, and demonstrated SDRPY's positive impact on Yemen's provinces to officials from over 190 countries.
In particular, the program's exhibition received visits from several Arab and other foreign ministers, UN officials, and those interested in development. SDRPY's representatives greeted numerous international media outlets covering the week-long exhibition as well.
SDRPY's presentation on the Kingdom's development projects in Yemen – which employed virtual reality (VR) and other audiovisual tools – received widespread commendation from UNGA visitors, along with universal acknowledgment of the crucial nature of SDRPY's seven sectors of operation: health, education, energy, agriculture and fisheries, water, transportation, and government building construction and rehabilitation. Notably, UN Special Representative for Children and Armed Conflict Virginia Gamba praised the Kingdom's development efforts in Yemen during her visit to the SDRPY marquee.
SDRPY projects have both helped to improve Yemenis' day-to-day lives and prevent the deterioration of the Yemeni economy.
The prominent presence of Saudi women was a remarkable feature of the SDRPY exhibition, and both the women and men of the SDRPY mission were pleased to offer introductory explanations of the program in both Arabic and English for the duration of the mission. They distributed over 4,000 items of printed matter, including illustrated booklets, newsletters, and illustrated guides of the program's wide-ranging operations throughout the week.
http://saudigazette.com.sa/article/578805
--------
Iran Begins To Recognize Their 'Forgotten' Women Of War
By Zachary Keyser
October 3, 2019
In an unexpected move, the leader of Iran's state Foundation for the Preservation of Sacred Defense Works and Values has acknowledged that the role of women in the Iraq-Iran War of 1980 has been "ignored," and said he wants to change that, according to Radio Farda.
Brigadier General Bahman Kargar made the announcement late last month.
About 500 Iranian women fought as traditional combatants during the 1980-1988 war, as well as reports of 25,000 female doctors, nurses and aid workers also serving on the Islamic Republic's front lines.
In 1980, Iraq invaded Iran, launching an all-out assault featuring both air strikes and ground invasions to propel themselves into Iranian territory.
One woman, Shahnaz Haji Shah, 26, was killed by an Iraqi mortar in the city of Khoramshahr near the border of Iraq in 1980, for example.
The city was under constant fire for weeks during the initial invasion before the city was commandeered by Iraqi forces. However, Haji Shah chose to remain in the city to defend it until her last breath, including saving an Iranian soldier.
According to accounts by her relatives, Haji Shah was struck directly in the heart by mortar fragments as she attempted to reach an enter a house as it was being hit by Iraqi shells to save anyone inside, Radio Farda reported. She became the country's first female martyr of this war.
Only five people attended her funeral, including her mother and brothers, who marked her name onto a provisional tombstone so her family could find her remains after Iran took back the city in 1982.
Haji Shah is just one of the 6,500 Iranian women who lost their lives during the eight-year battle with Iraq. In total, one million people died.
While Haji Shah's story has been documented widely throughout Iranian media, many have claimed that little to no attention has been given to the thousands of other women who were casualties of the crippling war.
Women living in conflict zones underwent violent trauma imposed by invading Iraqi soldiers, including rape. Hundreds of thousands lost their husbands and children.
According to Radio Farda, nearly 170 women were captured as prisoners of war by Iraqi forces during this time. Iranian media does not elude to whether these women were traditional combatants or not.
In images promoted by Iran's clerical establishment, women are depicted solely in tradition roles, such as knitting or cooking for soldiers. Now, according to ISNA's Kargar, "We are ready to pursue naming sites after female martyrs because we believe the role of women in the Sacred Defense has been ignored."
Furthermore, of the countless public squares, roads and other sites named for the estimated 200,000 male Iranian soldiers who were killed in the war, only five have been named for female victims, Radio Farda said, according to Shargh daily. The latter is a Persian news site.
Kargar acknowledged in a recent address that many Iranian women were responsible for "great achievements" during the war.
Tahmineh Milani, a female Iranian filmmaker, was quoted in 2018 by Didar News, another Persian news outlet, saying that she had aspirations produce a movie highlighting the role of women during the war, but that she was forced to stop after the state shut down the project.
"I wanted to show what our women went through during the early days of the war because we have seen what men went through repeatedly," Milani said.
It was the Foundation for the Preservation of Sacred Defense Works and Values that did not agree with Milani's efforts to make the film at that time.
https://www.jpost.com/Middle-East/Iran-begins-to-recognize-their-forgotten-women-of-war-603574
--------
Iran Adopts Amendment Allowing Women To Pass Citizenship To Children
Oct 03 2019
Iran's Guardians Council has adopted a legal amendment allowing Iranian women married to foreigners to pass on their nationality to their offspring.
Abbas Ali Kadkhodaei, spokesman for the constitutional body, announced the move on October 2, more than four months the measure was approved by parliament.
The Guardians Council, which vets legislation passed by lawmakers for compliance with the constitution, had rejected two previous texts of the bill.
Human rights activists have long called for the reform of Iran's "discriminatory" citizenship law, saying it could help thousands of children living in legal limbo in the country.
The amendment allows Iranian women married to men with foreign nationality to request Iranian citizenship for their children.
It still requires the Intelligence Ministry and the Intelligence Organization of the Islamic Revolutionary Guards Corps (IRGC) to certify that there is no "security concern" before Iranian citizenship can be granted.
After the reform was approved by parliament in May, Human Rights Watch (HRW) said that allowing Iranian women to pass on their nationality to their children could improve access for these children to health care, university education, and work.
It is unclear how many children in Iran have Iranian mothers and foreign fathers, according to the New York-based human rights watchdog, but the issue has come to prominence in recent years due to a large number of marriages between Iranian women and Afghan migrant men.
There are an estimated 3 million Afghans currently living in Iran.
https://gandhara.rferl.org/a/iran-adopts-amendment-allowing-women-to-pass-citizenship-to-children/30196550.html
--------
Royal Mail Staff Storm Out Over Claims Of 'Racist' Comment To Muslim Worker
2 OCT 2019
Royal Mail staff in Merseyside stormed out on strike today over claims a manager made a "racist" comment to a Muslim worker.
Employees at the Bootle and Seaforth delivery office set up a picket line outside their headquarters on Trinity Industrial Estate in Bootle.
It follows an incident this morning, sources told the ECHO, when staff claim a manager asked an alleged racist question to the postman.
He was said to be "very upset" over the incident.
His colleagues said he had gone home on compassionate leave.
This morning, around 50 Royal Mail staff were gathered outside their HQ.
Meetings were held between management and union representatives, but so far, the dispute has not been resolved.
Staff are expected to go out on strike again tomorrow morning.
A female manager is said to have asked the worker, "do you like women?" after she instructed him postman to carry out a task, workers claim.
The ECHO understands the remark was badly received, possibly inferring to the negative stereotypes of Muslim women being 'under the foot' of Muslim men.
This afternoon, staff were refusing to return to work while the manager was on the same shift.
The Muslim employee is believed to be very popular among his colleagues.
A spokesman for the Communication Workers Union said: "We are representing our member as we do in any situation like this."
Royal Mail bosses slammed the strike, describing it as "unballoted."
A spokesman said: "We are disappointed that unballoted industrial action is taking place today at Bootle and Seaforth delivery office.
"This covers the L20, L21 and L30 postcode areas.(Bootle, Seaforth and Litherland)
"We sincerely apologise to customers in these areas for any disruption to their mail services.
"The customer service point is open as usual for customers to collect items for which we have left a 'Something for You' card.
"Mail collections from postboxes in the area may also be affected this afternoon so customers are advised to post mail outside of the area, drop mail off at any main Post Office branch or at the delivery office.
"Royal Mail is fully committed to resolving our colleagues' concerns in co-operation with the Communication Workers Union (CWU)."
https://www.liverpoolecho.co.uk/news/liverpool-news/royal-mail-staff-storm-out-17019650
--------
IS Foreign Women Smuggled Out in Northeastern Syria Camp
By Nisan Ahmado, Mutlu Civiroglu
October 1, 2019
WASHINGTON - A group of intruders who disguised themselves as security forces protecting al-Hol refugee camp in northeastern Syria have helped smuggle out several women affiliated with the Islamic State (IS) fighters, local authorities told VOA.
"Some smugglers put on SDF uniforms or security police outfits, and they helped some IS women escape the camp for money," said Judy Serbilind, who monitors IS female affiliates detained at the overcrowded camp.
Serbilind refused to disclose the number of the escaped women but said there were dozens. She said most of them came from outside of Syria, particularly from Europe.
"We believe that they fled to Idlib then to Turkey. We think some of them might reach out to the embassies of their countries and some (will) stay in Turkey."
Al-Hol is a makeshift encampment set up for those who were displaced during the war against IS in eastern Syrian province of Dir el-Zour. The camp's population skyrocketed from about 10,000 refugees in December 2018 to over 70,000 by April 2019 following a U.S.-led operation that defeated IS from its last stronghold of Baghouz.
After several escape incidents, fearing a larger attempt by IS to infiltrate the camp, Kurdish-led security forces who guard the camp promptly increased their numbers around the area, Serbilind told VOA. To ease burden on the overloaded camp, management also released dozens of Syrian women with IS affiliation to their families and tribes provided that their families guarantee they will not go back to the militant group.
According to Human Rights Watch, more than 11,000 of people in the camp are foreign women and children related to IS.
Daily Incidents
Syrian Kurdish officials in the past have said they were holding hundreds of foreign fighters in their prisons, along with thousands of their wives and children from 44 countries. The officials said they were overwhelmed by the burden and asked the countries to retake their nationals.
At al-Hol camp, officials say they are struggling to control order as reports of arguments, fights, stabbing and even murders are on the rise. Many of these issues go unresolved due to the lack of professional personnel and as camp officials prioritize more urgent needs such as food and water.
Last July, a pregnant Indonesian woman believed to be affiliated with IS was found dead in the camp. Local security forces said an autopsy showed the woman was murdered and her body showed signs of torture.
Serbilind said that the supervisors and security forces report the IS women as saying they want to re-establish an Islamic State inside the camp. She said large blades and knives were banned from entering the site. Nevertheless, two security officers were recently stabbed by IS affiliated women using kitchen knives.
"They are also threatening to revolt once Turkey carries out its threats of crossing the borders to Eastern Euphrates," Serbilindadded, referring to Turkey's announced intention to enter northeastern Syria to go after the Kurdish fighters if a "safe-zone" agreement with the U.S. is not implemented.
Ankara considers Kurdish YPG group a terrorist organization and an extension of the Turkish-based Kurdistan Workers Party. But Washington considers the YPG a key ally in the fight against IS and disagrees with Ankara on the linkage.
A Time Bomb
The desperate situation of al-Hol camp has long triggered international attention, with many aid organizations warning the site could be the birthplace of IS's revenge generation.
UN-appointed Commission of Inquiry on Syria earlier this month reported that the situation in the camp was "appalling," urging international community to take action. The investigators said most of the 3,500 children held there lacked birth registration and risked statelessness as their countries of origin were unwilling to repatriate them, fearing extremist links.
An IS propaganda video that circulated among the group's social media users recently showed a group of women allegedly sending a message from the camp. The black-veiled women vowed to revive the so-called caliphate which was announced defeated in March after losing its final stronghold of Baghouz.
"We ask that were you able to contain the Mujahideen's women that you are keeping in your rot camp? We tell you no, they are now a ticking bomb," one of the IS women is shown as saying in the video.
Some researchers believe that women themselves may not be able to actively participate in a possible resurgence of IS, but their extreme viewpoints could encourage sympathizers around the world and affect the future of their children.
"I think that the danger lies in their ability to ensure that the next generation are raised with really radical viewpoints," said Mia Bloom, a professor of communications and Middle Eastern studies at Georgia State University.
"The danger is less from the women themselves than the women are able to perpetuate the conflict moving to the next new phase," Bloom told VOA.
UN's Security Council Counter-Terrorism Committee in a report earlier this year warned that IS could morph from a territorial entity into a covert network. The report added that the terror group is "in a phase of transition, adaptation and consolidation, seeking to create the conditions for a resurgence."
According to Bloom of Georgia State University, the threat of IS re-emergence will remain until the international community shows enough political will to deal with the root causes of extremism that originally led to the rise of the group.
"Until we address these underlying issues, there will always be recruitment opportunities for Jihadists and extremists who exploit that fact that the international community won't do anything to halt the violence by corrupt regimes and restore justice for civilians," Bloom concluded.
https://www.voanews.com/extremism-watch/foreign-women-smuggled-out-northeastern-syria-camp
--------
Tunisian Women Hope to Secure Gender Parity Gains in Legislative Vote
By Lisa Bryant
October 2, 2019
TUNIS, TUNISIA - It's hard to miss Samira Chaouachi—she's a regular face on local TV. She is sought after too, by foreign media this election season, as spokesperson for jailed presidential candidate Nabil Karoui's Heart of Tunisia party.
Chaouachi also is running in Sunday's legislative polls, heading the party's list for a key Tunis district.
"It has many working class neighborhoods, some of the poorest populations," she says, laying out a campaign platform to grow jobs and boost tourism in the city's ancient Medina.
She pauses to chat with colleagues strategizing at a recent party meeting in the capital. Her cell phones beep regularly. This snapshot of female power politics may be rare elsewhere Arab world, but not in post-revolution Tunisia.
"After 2011, we women gained lot," says Sana Ghenima, president of the Women and Leadership Association in Tunisia, a group working to get women active in political life. "Parity of course, as well as full equality and full citizenship."
Key test
Sunday's vote will be a key test of whether women can consolidate these advances. Several factors however, including less stringent parity rules for the legislature and potentially low female turnout, make this election more challenging.
Women also are worried that a possible win by conservative candidate Kais Saied in the October 13 presidential runoff may set back key legislation for equal inheritance. Chaouachi says her candidate, Karoui, supports the equal inheritance bill.
Tunisian women have long enjoyed far broader rights than many of their Arab counterparts in areas ranging from education to marriage, advances initially imposed on a conservative society by the country's Western-educated, post-independence leader, Habib Bourguiba.
Recent years have ushered in more gains. In 2016, parliament amended local election laws, requiring parties to ensure gender parity not only in numbers, but also in ranking.
The results were stunning. Women clinched nearly half the local council seats in last year's municipal vote. Even without the equal ranking rule, they make up one-third of Tunisia's current parliament, compared to just 20 percent in the United States and well above their North African counterparts, according to World Bank statistics.
The capital also has its first female mayor—Souad Abderrahim, from the moderate Islamist Ennahdha party.
Gender in politics
"I think women are going to do better than previously" in the legislative elections, said 25-year-old bank statistician Mouna Belaid, who voted for one of two female candidates running in September's first round of presidential elections. "But I'm always optimistic about Tunisia."
For her part, activist Ghenima believes female candidates increasingly are seen as mainstream.
"Voters are putting less emphasis on gender in recent years," she says. "They're just looking for someone to represent them—and women are very powerful when it comes to representing a large slice of society and real problems."
Still some corners of Tunisia remain staunchly conservative. Leila Ben Gacem, a municipal councilor in the eastern village of Beni Khalled, recounts less-than-upbeat experiences running unsuccessfully for mayor last year.
"I met many women who said 'a woman should not be mayor,' and of course it was a bit of a shock for me," she says. "I heard things like, 'you don't sit in a cafe with men, so there's no way you can know what's going on.'"
Heart of Tunisia's Chaouachi has also faced challenges. She is no stranger to being treated as a quota—at least in the past.
"The women weren't always the right ones for the job," she acknowledges of earlier candidates. "But since the revolution it's more about competence. You have to fight within your party to be a leader."
Tough fight ahead
There are signs this next fight for parliament will be tough. Unlike the municipal elections, there is no required parity in ranking, although parties must run equal numbers of male and female candidates.
Women head just one-third of Heart of Tunisia's party lists for the legislative vote. Chaouachi, however, says women hold number two spots in the party's other lists, suggesting some could be voted in.
But female candidates from other parties may not fare as well. They top less than 10 percent of Ennahdha's lists, for example.
"We are unhappy with the 10 percent," said senior Ennahdha member Khalil Amiri, adding it was hard to persuade qualified women to run. "Hopefully in the future we'll do better."
Increasing female voter participation may pose another challenge. Many Tunisians of both sexes are disappointed with politicians for failing to deliver on jobs and growth. Less than half of eligible voters cast ballots in last month's presidential election.
Activist Ghenima has been encouraging women to turn out at the polls this Sunday, but she acknowledges it has been difficult.
"They are losing hope, they are not so involved," she says. "They don't like to have another disappointment."
https://www.voanews.com/africa/tunisian-women-hope-secure-gender-parity-gains-legislative-vote
--------
URL: https://www.newageislam.com/islam-women-feminism/prime-minister-jacinda-ardern-sends/d/119902
New Age Islam, Islam Online, Islamic Website, African Muslim News, Arab World News, South Asia News, Indian Muslim News, World Muslim News, Women in Islam, Islamic Feminism, Arab Women, Women In Arab, Islamophobia in America, Muslim Women in West, Islam Women and Feminism