New Age Islam News Bureau
8 Nov 2019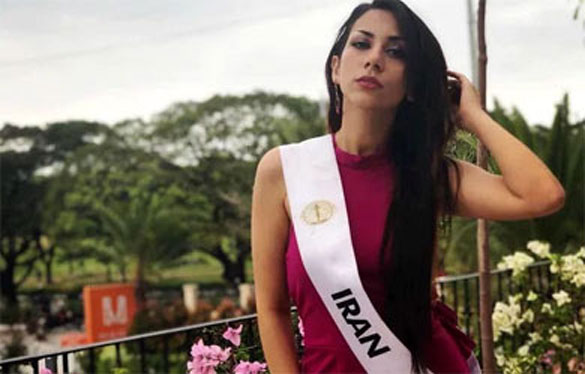 Bahareh Zare Bahari, Iran's representative to the Miss Intercontinental pageant in 2018. (Courtesy: eventservice.tn)
-------
• Philippines Approves Asylum Request of Detained Iranian Beauty Queen, Bahareh Zare Bahari
• 15 Women in New Omani State Council
• Young Muslim Women Surge to Success in American Elections
• First Muslim Woman in Virginia Senate from Teaching Family
• Bangladeshi Women Recount Stories of Abuse In Saudi Arabia
• Wife, Daughter of Dead ISIS Leader Baghdadi Captured, Senior Turkish Official Says
• Sri Lanka Elections: Muslim Women Asked To Remove Veil
• ISIS Fighters Disguised As Women Caught By Afghan Forces in Nangarhar
• In Reversal, Saudi Court Grants U.S. Woman Shared Custody of Daughter"'
Compiled by New Age Islam News Bureau
URL: https://www.newageislam.com/islam-women-feminism/preventing-women-marrying-crime-saudi/d/120213
-------
Preventing Women From Marrying Is A Crime: Saudi Arabia's Human Rights Commission
November 6, 2019
RIYADH – Saudi Arabia's Human Rights Commission emphasized that the cases of Adhl (preventing women from getting married) practiced by some parents is considered as a crime that violates human rights as well as women's dignity and the right to form a family.
"This is a religiously forbidden practice that contravenes all laws and regulations," the HRC said in a statement on Wednesday.
The situation where women are prevented from getting married is one of the forms of abuse criminalized under the Law to Protect against Abuse, the statement said while pointing out that HRC is following up with the competent authorities to address such cases so as to ensure their protection and address such issues properly.
The Commission stressed that the Saudi laws criminalizes Adhl, saying: "Article 39 of the Legal Procedures Law stipulates that the woman who has been prevented by her legal guardians from getting married is entitled to file a lawsuit against them."
HRC called on women who are victims of Adhl to follow the regulations to restore their legitimate and legal rights, emphasizing that the cases of Adhl, practiced by males on women who are under their guardianship, is a form of abuse and oppression against women.
"These crimes signal the poor level of awareness in this respect, especially awareness about its humanitarian and social dangers," the Commission said while urging the relevant stakeholders to intensify awareness campaign about the grave risks involving the crime and the consequent penalties.
http://saudigazette.com.sa/article/581933/SAUDI-ARABIA/Preventing-women-from-marrying-is-a-crime-HRC
-------
Philippines Approves Asylum Request of Detained Iranian Beauty Queen, Bahareh Zare Bahari
ELLIE ABEN MANILA
November 08, 2019
The Philippines has approved the asylum application of Former Miss Iran, Bahareh Zare Bahari, Justice Undersecretary and spokesperson Markk Perete said on Friday, almost a month after the beauty queen was arrested at Manila's Ninoy Aquino International Airport (NAIA).
Bahari arrived in Manila from a two-week vacation in Dubai on October 18 but was barred from leaving the airport due to what authorities said was an International Police (Interpol) red notice.
"I can confirm that her [asylum] application has been approved as of Tuesday," Perete told Arab News.
He added that he had yet to verify if Bahari had been allowed to leave the airport and admitted into the Philippines, adding that "as of Tuesday evening, the BI [Bureau of Immigration] has started processing her papers pursuant to the ruling on her [asylum] application."
The Bureau of Immegration said last month that Bahari was intercepted at NAIA's terminal 3 following an Interpol red notice against her for an assault and battery case allegedly committed in Dagupan City in the Philippines.
Bahari denies any wrongdoing, saying the cases against her are fake. She has also said she would be killed or imprisoned if deported to Iran where the Tehran government is allegedly targeting her for supporting an opposition politician, violating traditional values by taking part in beauty pageants and speaking for women's rights.
In January Bahari appeared at a beauty pageant carrying a picture of Reza Pahlavi, an Iranian opposition leader and founder of the National Council of Iran.
"If they (Philippines) deport me (back to ) Iran, (they will) at least give me 25 years in jail if they do not kill me," Bahari said in an interview with Arab News last month.
https://www.arabnews.com/node/1580886/world
-------
15 Women in New Omani State Council
8 November, 2019
Oman's Sultan Qaboos Bin Said issued a Royal Decree on Thursday appointing members of the State Council, considered the highest legislative body in the Sultanate, formed by 86 members including 15 women.
The Council includes two former state officials in addition to social and academic figures.
The State Council, or Majlis al-Dawla and Majlis Al Shura (also known as the Shura Council or Consultative Council) constitute together the Council of Oman, and they advise the ministries and government bodies on several issues based on the responsibilities assigned to the members of the councils.
While members of the Majlis Ad Dawla are picked by Sultan Qaboos, the Majlis Al Shura consists of 86 members elected from the various Wilayats across the Sultanate's 11 governorates.
On Oct. 27, Oman witnessed the election of members for the 9th term of Majlis Al Shura, in which 637 candidates, including 40 women, competed and 86 members won, including two women.
Last Sunday, Khalid bin Hilal Al Mawali was re-elected as the chairman of Oman's Shura Council for the third consecutive term.
He secured 47 out of 86 votes, while his nearest rival, Yaqoub Al-Harthy, received 14 votes.
Article 17 of the State Council and the Shura system stipulates that Majlis Ad Dawla does everything possible to assist in the implementation of development plans and contribute to the consolidation of the inherent values of the Omani society and preserve the achievements and reaffirm the principles enshrined in the Basic Law of the State.
Article 18 of the same system gave the Council several powers, including the preparation of studies that help in the implementation of development plans and programs and contribute to finding appropriate solutions to the economic and social constraints, the making of proposals that would encourage investment in various productive and service sectors and the development of economic resources, the provision of studies and proposals in the field of human resource development and the reviewing of bills.
Members of the Council are mainly former ministers, undersecretaries and their equivalents, former ambassadors, former senior judges, retired senior officers, dignitaries and businessmen and persons who have performed distinguished services to the Nation. On Thursday, Sultan Qaboos also issued a decree on the appointment of Sheikh Ahmed bin Mohammed bin Nassir al-Naddabi as Secretary General of Majlis Al Shura.
https://aawsat.com/english/home/article/1981786/15-women-new-omani-state-council
-------
Young Muslim Women Surge To Success In American Elections
By Donna Rachel Edmunds
November 8, 2019
Congresswoman Rashida Tlaib has lent her support to the 26 Muslim candidates emerged victorious in Tuesday's off-year US elections, tweeting news of their successes.
The election wins brings the total number of Muslims elected to office in the States this year to 34. Fifteen of the candidates were newly elected. Muslim advocacy groups have described the results as a blow against Islamophobia and a triumph for community organization.
Tlaib is one of four Democrat congresswomen who have shot to prominence thanks to their demagogic support for minority rights. Describing herself as a Palestinian American, she regularly uses Twitter to attack Israel.
Retweeting a video by minorities-supporting campaign group "She The People" on election day, Tlaib commented: "Get out of the way. We are here and more are coming."
Among the winners was 23-year-old Safiya Khalid, who took her seat on Lewiston City Council with nearly 70 percent of the vote.
Khalid, who arrived in America as a Somalian refugee aged seven and was dogged by online abuse throughout her campaign, told supporters that the win proved "community organizers beat internet trolls."
Nadia Mohamed, 23, was another former Somalian refugee to win a city council position, in St Louis Park, Minnesota. She replaced the outgoing Democrat with 63 percent of the first-choice votes.
"When I close my eyes and think of an elected official, I get a different image that's been in the history books," she said.
CAIR National
@CAIRNational
@CAIR, @Jetpac_Inc, @MPower_Change: 26 American Muslim Candidates Win in Nov. 5 Elections for Total of 34 #Muslims Elected in 2019 - #ElectionDay2019 #ElectionResults2019 #Election2019 @lsarsour https://www.cair.com/cair_jetpac_mpower_change_26_american_muslim_candidates_win_in_nov_5_elections_for_total_of_34_muslims_elected_in_2019 …
View image on Twitter
4
3:25 AM - Nov 7, 2019
Twitter Ads info and privacy
See CAIR National's other Tweets
In Virginia, four Muslim women won their races. Democrat Ghazala Hashmi unseated incumbent Republican Glen Sturtevant in a surprise victory to take a State Senate seat.
Also celebrating in Virginia were Lisa Zargarpur, elected to the Prince William County School Board, Buta Biberaj, who became Loudoun County's new commonwealth's attorney in a tight race against the incumbent Republican candidate, and 24 year-old Abrar Omeish, who took a place on the Fairfax County School Board making her both the youngest person to hold elected office in the state.
"What do Muslim Americans do during a time of heightened Islamophobia under a xenophobic administration? We run for office and win," said Linda Sarsour, executive director of Muslim-American advocacy group MPower Change.
Mohammed Missouri, Director of JetPac, an organization that trains American Muslims to run for office, concurred, saying: "the surge in Muslim candidates running for office in recent years is, in part, a direct response to open expressions of Islamophobia in the U.S., including White House policies that critics see as anti-Muslim."
Richard Meagher, a political science professor at Randolph-Macon College in Virginia said the results should make pundits question their assumptions. "We always hear about electability concerns, but women of color are not just electable, they're the next generation of leaders for the Democratic Party of Virginia," he said.
Credited Hashmi's success in part to a district that was undergoing change, he added: "Chesterfield is the leading edge of the urbanization of the suburbs. We're used to suburbs voting with rural districts, but they're becoming more like the cities."
https://www.jpost.com/American-Politics/Young-Muslim-women-surge-to-success-in-American-elections-607263
-------
First Muslim woman in Virginia Senate from teaching family
08 NOVEMBER 2019
Hyderabad, Nov 7 (IANS) Ghazala Hashmi, who made history by becoming first Muslim woman to be elected to Virginia State Senate, hails from a family of educationists in Hyderabad.
Migrating to the United States with her family when she was just four, the Indian-American scored a stunning victory over sitting Republican Senator Glen Sturtevant.
The 55-year-old, a Democrat, was elected from Virginia''s 10th Senate District to become the first Muslim-American woman to serve in the State Senate.
Aformer literature professor and former director of the Center for Excellence in Teaching & Learning at Reynolds Community College, Richmond, she served as an educator for more than two decades.
Hashmi dedicated her win to her supporters with a tweet saying it belonged to all those who believed in the need for "progressive change in Virginia".
"This victory, is not mine alone. It belongs to all of you who believed that we needed to make progressive change here in Virginia, for all of you who felt that you haven''t had a voice and believed in me to be yours in the General Assembly," she tweeted. In another tweet, she also admired the state''s willingness to make the change. "Today we sent a message that the status quo is no longer accepted," wrote Hashmi, whose campaign focused on education, healthcare, gun violence prevention and environmental protection.
Hashmi was born in 1964 in a highly-educated family. Her parents Zia Hashmi and Tanveer Hashmi obtained higher education degrees from reputed institutions.
Zia Hashmi did MA and LLB from Aligarh Muslim University, where he was also the president of Student Union in early 1950s. Tanveer Hashmi is an alumnus of Osmania University''s Kothi Women''s College. She did BA and B.Ed.
Zia Hashmi later did PhD in International Relations from University of South Carolina. He retired as the Director of Centre for International Studies at the same university.
According to Ghazala Hashmi''s relatives, she was a bright student right from her school days. She earned a bachelor''s degree from Georgia Southern University and a PhD from Emory University in Atlanta.
Her elder brother Dr Sohail Hashmi, who did PhD in International Relations from Harvard University is a Professor at Massachusetts while younger sister Dr. Saira Ali Khan is a physician based in Florida.
Hashmi shifted to Virginia in early 1990s with her husband Azhar Rafeeq, who is Associate Professor in School of Medicine, Virginia Commonwealth University.
The couple has two daughters. Elder one, Yasmin, who has done Masters in Public Health Administration, is working in Washington while Noor is doing Engineering.
https://www.outlookindia.com/newsscroll/first-muslim-woman-in-virginia-senate-from-teaching-family/1657822
-------
Bangladeshi Women Recount Stories of Abuse In Saudi Arabia
by Faisal Mahmud
NOVEMBER 8, 2019
Dhaka, Bangladesh - Shirina Begum was no stranger to sleeping on an empty stomach. For days on end, she had to consume 'bhater mar' (the starchy water poured off cooked rice) to quell her hunger after feeding her two children and ailing husband.
Growing up in a small Bangladeshi village called Namorikari in Lalmonirhat, which often faces seasonal famines, 29-year-old Begum struggled to make ends meet.
With no cultivable land at her disposal and living in a house made of straw, she seemed destined to live her life on subsistence.
Then one day, she heard that one of her neighbours was going to Saudi Arabia to work as a housemaid.
"I was told that she would make around 20,000 taka ($235) a month and only needed to spend 40,000 taka ($471) to go to Saudi Arabia," she told Al Jazeera.
"I decided to borrow money from a local money lender and go to Saudi Arabia to work there," she said.
In May this year, she started her journey, leaving behind her family. Her agent told her that she would only need to cook for a family of four in the city of Al-Kharj.
She later found out that the family had six members and her duties also included cleaning, washing and other household chores.
"It was a tough job for $235 a month. I needed to work for 14 -15 hours straight. It was hard for me to understand their language [Arabic]. I also couldn't cook to their taste buds. I didn't have any access to phone, so I couldn't talk to my family back home," she said.
"They also beat me with a stick sometimes."
Begum said she was also sexually attacked by the eldest son of the family, which led to her escape from the place.
"I was sleeping in the kitchen. Suddenly I realised someone was trying get on the top of me. I screamed loud but he shut my mouth with his hand. Then he molested me. At one point, I applied all my force and he was compelled to leave me," she said.
The next day, she mustered the courage, and fled and went to the nearest police station. As she did not have proper immigration papers, she spent nearly four weeks in prison until she was able to return to Bangladesh with 20 others in late October with the help of Bangladeshi embassy in Saudi Arabia.
"I was treated like an animal inside the prison," she said.
"I was able to work for only four months and I got salary of just two months. Now I am in debt as I can't pay back to my loan sharks."
Begum is among the nearly 50,000 women who went to the Gulf country for work until the end of September this year.
According to government figure, more than 300,000 female workers have travelled to Saudi Arabia since 1991, but many of them return with stories of abuse and exploitation.
In the last four years, at least 66 Bangladeshi female workers died in Saudi Arabia, 52 of them committing suicides.
Attempted suicide
The story of Dalia Akhter, another migrant who worked in Saudi Arabia, ended with a broken limb.
Akhter, a resident of Gendaria outside of the capital Dhaka, w as told that she needed to take care of an elderly lady in the town Ad-Dilum in Saudi Arabia in exchange of $266 a month.
However, she woke up to the harsh reality when she reached there in July, 2018. Long working hours, rude behaviour and physical abuse were every day experiences in that house.
"I had to work from 5am to 10pm every day without a break," she said.
"The Malkin (woman houselord ) used to beat me with a stick when I could not understand her instructions. I felt helpless and trapped," she said.
After she refused to work for that family, she was "sold" to another family, Akter says. Under the Saudi "kafala," or visa sponsorship, system a migrant worker's residency permits is tied with the "sponsoring" employers, whose written consent is required for the worker to change employers or leave the country under normal circumstances.
But Akter's condition got worse. The new family was even harsh er on her than the previous one, she says. She jumped from the roof of the three storied house in an attempted suicide and broke her leg after which the houselord left her with the Bangladeshi embassy in the capital, Riyadh.
After living in a safe home in Riyadh run by the Bangladeshi embassy for three weeks, Akhter was sent back to Bangladesh with a permanent broken leg this September.
"Before going to Saudi Arabia, I used to work in garment sector. Now with a broken leg, I have become a burden to my family," said Akhter.
Bangladesh's garment sector, the South Asian nation's biggest export earner, employs millions of women.
Victims of a cruel system
Both Begum and Akhter were victims of a system in which employers confiscate passports, withhold wages, and force migrants to work against their will. Workers who leave their employer without their consent can be charged with "absconding" and face imprisonment and deportation, the Human Rights Watch said .
After a seven-year long employment ban on Bangladeshi migrant workers, Saudi Arabia started taking workers from the South Asian nation of nearly 160 million through a bilateral deal signed in the end of 2015. 
According to BRAC, a non-governmental organisation working on Bangladeshi migration workers, last year a total of 1,353 female workers had come back to Bangladesh from Saudi Arabia because of the inhuman working condition there.
"After they came back, they reported of mental, physical and sexual abuse," said Shariful Islam Hasan of the migration programme at BRAC .
He said 66 female workers have died in the last four years in Saudi Arabia, 52 being suicide cases.
"I haven't found a single case where the employers have been punished. So the Saudi employers think they can do whatever they want with these workers without facing any consequences," Hasan told Al Jazeera.
Bangladesh's ministry of expatriates , which previously denied allegations of sexual abuse of female workers in Saudi Arabia, also admitted the abuse of its workers this September.
A government report said many women who went to the kingdom to work as domestic help returned after sexual and other sorts of abuse.
Out of the 111 women who returned to Bangladesh from Saudi Arabia on August 26, 38 were abused physically or sexually, 48 others were deprived of their regularies salary and allowances, according to the report.
Untrained and unprepared
Golam Moshi, ambassador of Bangladesh to Saudi Arabia, also admitted the ill-treatment of some of the female migrant workers at the hands of Saudi employers.
"However, the female returnees comprised of less than 10 percent of the total workforce, the rest are still working," he told Al Jazeera, referring to about 2 million Bangladeshi expatriates in the kingdom.
Moshi partially blamed "greedy manpower agents" for the situation, saying they spread out across the impoverished parts of the country to lure poor women.
"They are untrained and unprepared for a foreign land and culture," he said, "Thus most of them get mentally traumatised and homesick when they start working here in Saudi households."
According to the ministry of expatriates, there are 1,221 registered agencies and over 80 percent of them send workers to Saudi Arabia.
Sohel Ahmed, managing partner of BS International, said they only send "willing" people abroad after telling them their future duties in Saudi Arabia.
Ahmed told Al Jazeera: "It's hard for us to understand what will happen to them from afar. We take measures whenever we receive any complaints. We try to bring them (the workers) as soon as possible."
Abul Hossain, the owner of agency Concord Apex said: "Most of them are working happily and sending valuable remittance to their family. I don't deny that few of them are coming back. But the success rate is way higher than the failure."
Ahmed Munirus Saleheen of the ministry of expatriates told Al Jazeera that the institution has a special arrangement with the Saudi government for expatriates subjected to torture.
"We try to keep them in the safe houses in Riyadh, Madina or Jedda in Saudi Arabia and later try to bring them back as soon as possible after completing necessary procedures," he said.
She added that the victim has to stay in safe homes in Saudi Arabia if she wants to file a complaint.
"As it's a legal procedure, it takes a long time to complete the investigation and other formalities. As a result, most of the victims are unwilling to lodge complaints and simply wish to return home," he added.
https://www.aljazeera.com/news/2019/11/bangladeshi-women-recount-stories-abuse-saudi-arabia-191107111307106.html
-------
Wife, daughter of dead ISIS leader Baghdadi captured, senior Turkish official says
By Gul Tuysuz and Eliza Mackintosh
November 7, 2019
(CNN)A wife and daughter of former ISIS leader Abu Bakr al-Baghdadi were among a group of ISIS suspects detained by Turkish police in June 2018, after weeks of round-the-clock surveillance, a senior Turkish official has said.
Turkish President Recep Tayyip Erdogan first announced Wednesday that Baghdadi's wife had been captured. Baghdadi, who died during a US raid on his compound in northern Syria late last month, was believed to have had several wives.
The senior Turkish official said the woman was Asma Fawzi Muhammad Al-Qubaysi, Baghdadi's first wife. She was found in Hatay, southern Turkey, among a group of 11 ISIS suspects: four women, one man and six children. She had falsely identified herself as Rania Mahmoud.
"We discovered her real identity pretty quickly. At that point, she volunteered a lot of information about Baghdadi and the inner workings of ISIS," the senior official said. "We were able to confirm a lot of things that we already knew. We also obtained new information that led to a series of arrests elsewhere."
The detainees are currently being held at a deportation center in Turkey, according to the official.
A DNA test confirmed that another suspect, who identified herself as Leila Jabeer, was Baghdadi's daughter. The senior official said Baghdadi's DNA sample was provided to Turkish authorities by the Iraqi government.
Earlier this week, Turkey said it had captured Baghdadi's sister, Rasmiya Awad, in the northern Syrian town of Azaz. A senior Turkish official shared an image of Awad's falsified identity card exclusively with CNN.
Not much is known about Awad, 65, but Ankara hopes her capture will lead to a wealth of intelligence about the militant group. She is currently being questioned by authorities.
"This kind of thing is an intelligence gold mine. What she knows about ISIS can significantly expand our understanding of the group and help us catch more bad guys," the Turkish official said.
Awad was detained in a raid on a metal container housing unit in Azaz, Aleppo province, part of a region that has been administered by Turkey since it carried out an operation to clear the border of ISIS militants in 2016.
She was taken into custody alongside her husband and daughter-in-law, who were also being questioned by Turkish authorities. Five children were found with them during the raid, the official said.
Photos shared by Turkish officials showed Awad dressed in a black abaya headscarf and loose, blue patterned clothing.
Turkey has described the discovery of Baghdadi's relatives as a boon for its intelligence about ISIS, saying that it will help the country better protect itself and Europe from terrorists.
Baghdadi, the elusive and highly secretive leader of ISIS, died during a raid conducted by the US military in close coordination with American intelligence and the Kurdish-led Syrian Democratic Forces in northwest Syria.
Erdogan suggested on Wednesday that Turkey's fight against ISIS was "more powerful than ever," and that, unlike the US, its security officials "did not make a fuss" about it.
"The US said that Baghdadi killed himself in a tunnel and started a serious PR campaign. We captured his wife but we didn't make a fuss, I'm declaring this for the first time," Erdogan said, referring to US President Donald Trump's televised address in which he revealed details of the mission. Trump said two of Baghdadi's wives were killed during the operation.
Trump said that Baghdadi "blew himself up" after he was cornered by US forces in a tunnel within his compound. His identity was later confirmed by DNA tests.
The world's most wanted man oversaw the militant group's transformation from a ragtag insurgency to a global terror network that attracted tens of thousands of fighters to its so-called "caliphate" in Iraq and Syria.
At the group's height, Baghdadi reigned over a territory the size of Britain, from which ISIS orchestrated attacks carried out in countries around the world.
This story has been corrected to reflect that the ID card belonging to Baghdadi's sister was falsified.
https://edition.cnn.com/2019/11/06/middleeast/baghdadi-wife-isis-captured-erdogan-intl/index.html
-------
Sri Lanka Elections: Muslim Women Asked To Remove Veil
Munza Mushtaq
07.11.2019
COLOMBO, Sri Lanka
Election authorities in Sri Lanka requested veiled Muslim women to show their face at polling centers when they go to cast their vote in the presidential election on Nov. 16.
The top contenders are ruling party candidate Sajith Premadasa and opposition candidate Gotabaya Rajapaksa.
Saman Sri Rathnayake, commissioner general of the Sri Lanka Elections Secretariat, told Anadolu Agency that it was mandatory for veiled women to show their face when they go to cast their vote.
He assured that there was no ban on veils but this was a formality to ensure the holder of the identity card was the same person who will be casting the vote.
The face cover or niqab practiced by a small minority of Muslim women has been at the center of controversy since the Easter terror attacks in April this year which claimed 250 lives.
Days after the blasts, the government announced a complete ban on all types of face covers including the niqab worn by Muslim women to quell growing mistrust among the multi-ethnic communities and to help security forces who were carrying out investigations and spot checks.
The ban was however lifted with the withdrawal of the emergency law in August.
However, Muslim women fear backlash from hardline Buddhist groups who continue campaigning against the niqab.
Sri Lanka's Muslim community accounts to nearly 10% in the predominantly Buddhist nation.
https://www.aa.com.tr/en/asia-pacific/sri-lanka-elections-muslim-women-asked-to-remove-veil/1638528
-------
ISIS Fighters Disguised As Women Caught By Afghan Forces in Nangarhar
07 Nov 2019
The Afghan forces arrested four ISIS Khurasan militants who had disguised as women and were attempting to escape the operations in Nangarhar province.
According to a statement released by Governor's Office in Nangarhar, the Afghan forces arrested the ISIS fighters in Achin district.
The statement further added that the Afghan forces arrested the ISIS fighters in Achin district on Wednesday.
The ISIS sympathizers have not commented in this regard so far.
Nangarhar is among relatively volatile provinces in East of Afghanistan where both Taliban and ISIS Khurasan groups have presence in some of its remote districts.
The Taliban and ISIS Khurasan militants often attempt to carry out attacks in this province.
Meanwhile, the Afghan forces routinely conduct counter-terrorism operations against the anti-government armed groups in this province.
The U.S. forces also conduct regular airstrikes in restive parts of the country to suppress Taliban and other anti-government militants.
https://www.khaama.com/isis-fighters-disguised-as-women-caught-by-afghan-forces-in-nangarhar-04310/
-------
In Reversal, Saudi Court Grants U.S. Woman Shared Custody of Daughter"'
By Ben Hubbard
Nov. 8, 2019
An American woman trapped in a prolonged custody battle with her Saudi ex-husband over their 4-year-old daughter said Thursday that a Saudi court had reversed its previous ruling, granting the couple shared custody and giving her the right to take the child abroad.
In a post on Facebook, the woman, Bethany Vierra, wrote that she and her ex-husband had "worked out a custody agreement centering around her and us."
While she did not provide all of the agreement's details, she said she had been afforded a number of rights that "seem basic elsewhere but are so difficult here," calling the new custody agreement "a revolution."
Ms. Vierra's case drew attention to the range of legal barriers that women in Saudi Arabia face after getting divorced, although her situation was further complicated by her American citizenship.
The kingdom has long been known as one of the world's most restrictive places for women, although its powerful crown prince, Mohammed bin Salman, has pushed reforms to change that, including allowing women to drive and travel abroad without the permission of a male relative.
Ms. Vierra moved to Saudi Arabia in 2011 and married a Saudi businessman two years later. The couple soon had a child, Zaina.
But the marriage soured, Ms. Vierra accused her husband of being abusive and the couple divorced.
Even after the divorce, she ran into legal problems because her ex-husband remained the sponsor of her residency in Saudi Arabia as well as the legal guardian of their daughter, which meant he could bar Ms. Vierra from taking the child abroad even though Zaina was a dual Saudi-American citizen.
Ms. Vierra went to court to try to win custody, but in July a Saudi judge named her ex-husband's mother as the child's legal guardian, in part to keep the girl from being raised by a Westerner.
"Since the mother is new to Islam and a foreigner in this country and embraces customs and traditions in the way she was raised," the judge wrote, "we must avoid exposing Zaina to these traditions."
A new legal ruling was issued on Wednesday.
While its details were not made public, Ms. Vierra wrote that it had granted her the right to travel with her child and to remarry without losing custody of her daughter.
Ms. Vierra declined to comment beyond her Facebook post. Her ex-husband did not respond to a request for comment.
She plans to take her daughter to the United States soon.
"Christmas in America y'all, God willing," Ms. Vierra wrote on Facebook. "It will be the most emotional homecoming of my life."
https://www.nytimes.com/2019/11/07/world/middleeast/saudi-custody-vierra-american.html
-------
URL: https://www.newageislam.com/islam-women-feminism/preventing-women-marrying-crime-saudi/d/120213
New Age Islam, Islam Online, Islamic Website, African Muslim News, Arab World News, South Asia News, Indian Muslim News, World Muslim News, Women in Islam, Islamic Feminism, Arab Women, Women In Arab, Islamophobia in America, Muslim Women in West, Islam Women and Feminism