New Age Islam News Bureau
7 Dec 2013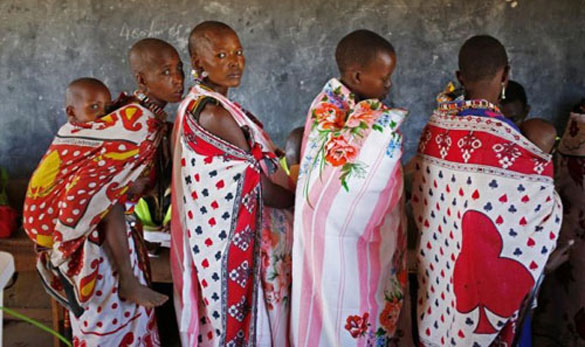 Masai women wait to cast ballot papers in a polling station during the presidential and parliamentary elections, Nairobi March 4, 2013. REUTERS/Goran Tomasevic
----------
• Poor Children, Women Used As Proxy Activists during Strikes in Bangladesh
• Activism Campaign for Elimination of Violence against Women Gains Momentum in Fiji
• Beauticians in Saudi Arabia Want Work Permits without Sponsor
• Arab Nations Adopt Declaration against Gender-Based Violence
• Malaysia: Disallowing Child Marriages Is the Right Thing to Do
• Arab Women Have Strong Potential of Raising the Standard Of Living
• ESCWA Meeting Focuses On Arab Women Empowerment, Gender Equality
• 'Women Were Beaten In the Queues' - Kenyan Politician Speaks About 2013 Elections
• Somaliland's First Maternity Hospital Gives Hope to Women
Compiled by New Age Islam News Bureau
URL: https://www.newageislam.com/islam,-women-and-feminism/new-age-islam-news-bureau/poor-and-vulnerable,-syrian-refugee-families-push-girls-into-early-marriage/d/34763
-------------
Poor and Vulnerable, Syrian Refugee Families Push Girls into Early Marriage
7 December 2013
Some refugees in Jordan are selling daughters into illegal 'protection marriages,' often with much older men. Sexual exploitation and abandonment are key concerns.
Sara has stopped listening to news from her hometown, Homs, one of the most heavily bombarded cities in Syria's civil war. Instead, the 17-year-old waits for word of her husband, Fuad, a Saudi national 25 years her senior.
Last October, Fuad paid her family a hefty dowry of 4,000 Jordanian Dinars ($5,600). He then brought her from the sprawling Zaatari refugee camp near the Syrian border to live with him in the capital, Amman. After their desperate flight from Syria, a better life, he promised, awaited her and her family in Saudi Arabia.
But after just a month and half, Fuad left without a word, disconnected his Jordanian cellphone, and left the family "alone here, suffering poverty and neglect," says Sara's mother, Arij.
Since the Syrian conflict began in March 2011, more than 1.2 million refugees have poured into neighboring countries, of whom 70 percent are women and children, according to UN estimates. Also showing up in refugee centers: Arab men on the hunt for child brides.
Aid workers and refugees say that vulnerable teenage women are at risk of sexual exploitation under the pretense of marriage. These marriages are often not consensual, lack legal standing, and can lead to abandonment­–as in Sara's case–or far worse outcomes, including forced prostitution.
RECOMMENDED: Echoes of Syria's war
But, as the war rages on in Syria, many displaced families have married off their daughters early, either in the belief that it can protect them from rape, or to "cover" the disgrace of past sexual abuse both during the conflict and in the camps.
Early marriage, as young as 14, is common in rural Syria, where many of Jordan's refugees hail from. However, the average age has slightly dropped since their arrival, according to a UN Women survey. With that drop, comes higher risk for sexual abuse, experts say.
In Syria, rape has been used as a weapon of war to terrorize civilians, says Lauren Wolfe, director of Women under Siege, an organization in New York that maps sexual violence in Syria. In a report released in January by the International Rescue Committee, refugees in Jordan and Lebanon cited the fear of public armed assault or gang rape, often staged in front of family members, as their primary reason for fleeing.
"There's so much stress, and a lot of that violence is coming out toward women," says Ms. Wolfe. She says that epidemic levels of sexual violence and exploitation in Syria have crossed the borders with the refugees into neighboring countries like Jordan.
HOSPITALITY FADES
With a daily influx of Syrians, hospitality and resources in Jordan are starting to wear thin. Zaatari alone houses some 160,000 refugees, the world's second-largest camp and now the fourth-largest city in Jordan, a country of 6.5 million. The total number of Syrians in Jordan is put at 500,000, with many of those living outside the camps and often working illegally.
UN-run refugee camps like Zaatari are largely un-policed. Girls are terrified of venturing out to unlit bathrooms at night, says Bushra, a widow and mother of four from Homs, who lived at a northern refugee camp for four months.
"We heard all the time about kidnappings and rape of girls. I never let my daughters leave the tent," she says.
Bushra, who like all of the Syrians interviewed for this story did not want her full name used, smuggled her family out of the camp and found lodgings in Amman. But this has not allayed her fears of violence against her two teenage daughters. Now she is considering finding husbands for them, which she says would be out of the question had they stayed in Syria.
While the minimum marriage age in Jordan is 18, a special waiver requiring official identification papers can be obtained for children as young as 15. For Syrians who arrive with little more than the clothes on their backs, informal marriages are often preferred.
The process includes a brokered dowry and an unauthorized sheikh. The contracts, which require women to forgo many of their legal rights, are illegal under Jordanian law.
Maha Homsi, a UNICEF child protection specialist in Jordan, says that in 2012, 18 percent of the registered marriages of Syrians in Jordan involved girls under the age of 18, up from 12 percent a year before. As most such marriages go unregistered, however, numbers are thought to be much higher.
But "what's really alarming here is that 48 percent of the [informal marriages] Famil cases involve men 10 years or older," says Ms. Homsi. That is above the age difference accepted in many Arab societies, she says.
Economic hardship is one factor driving Syrian women to marry early. Another is family honor. "The majority of Syrian refugee marriages are sutra [protection marriages], for the protection of her honor and womanhood," says Ms. Homsi.
FEARS OF ONLINE TRAFFICKING
Women from the Arab Levantine, referring to Syria, Lebanon, Palestine, and Jordan, are often characterized as the most beautiful in the Arab world. So the idea of rescuing a "Levantine houriya [virgin]" has fired the imaginations of wealthy Arab men. Requests for such women from countries like Saudi Arabia and Egypt abound in Internet forums, classified ads, and matchmaking networks.
"Honestly I am looking for a Syrian woman with the following qualifications: she must know the path of Allah and the meaning of raising a family; she must be very beautiful, with white skin and smooth hair," one Facebook post read, purportedly by a married Egyptian university professor.
Moreover, Saudi clerics have issued Fatwas encouraging marriages with Syrian widows and girls, deeming the act a form of Islamic charity. The men fulfill a Muslim deed by rescuing girls from exploitation and shame, while also supporting the admirable Syrian revolution, the Fatwas state. Saudi Arabia, a Sunni state, has armed and financed rebel forces fighting President Bashir Al-Assad, who belongs to a sect of the rival Shiite community.
Yet the phenomenon has also incited outrage in Arabic language press and social media sites, which say the practice treats vulnerable women as war booty.
Hammoudeh Makkawie, the Amman coordinator of "Refugees, Not Prisoners," a campaign group for female Syrian refugees, criticizes the hypocrisy of wealthy Arab men driven by 'white knight' fantasies.
"In Arab countries there's support only for weapons, violence, terrorism, there's no support for women," he says.
The campaign organizes workshops for displaced Syrian women in countries like Jordan, Lebanon, and Turkey, in hopes of raising awareness of the dangers of "protection marriages." The activists also offer vocational training programs to help women earn money so that they can stave off unwanted suitors.
Nour, a teenager who also escaped from Homs, wishes she could have joined such a training program. When she fled two years ago with her family to a camp in Jordan near the Syrian border, her mother refused dozens of marriage requests from Jordanian and Gulf men, saying it was a matter of dignity.
Now married to a Syrian and four months pregnant, she regrets having not finished her medical studies. She prays that her two "very smart" younger sisters can stay in school and not succumb to offers of an early marriage.
When relatives from Syria call, she tells them to stay there. "In our country it's easier, even though there is war," she says.
http://news.yahoo.com/poor-vulnerable-syrian-refugee-families-push-girls-early-180750221.html
-------------
Poor Children, Women Used As Proxy Activists during Strikes in Bangladesh
7 December 2013
Carrying and throwing bombs in recent times have proved to be a profitable business for poor children and women as nonstop violent programmes continue unabated. Police, however, claim that their vigilance has already reduced the thuggish activities to an insignificant level. Political leaders have devised this new technique to make their political programmes a success at a cost of a few bucks. They hire slum children and women to act as proxy for party pickets. They hire a teenager to carry a petrol bomb from one place to another for Tk100 and Tk300 for a blast and Tk500 for an explosion in a public place or on a vehicle, said a source.
Police arrested two such teenagers, Al-Amin and Shihab, from the capital's Uttara last week. During interrogation, the duo confessed that a man gave them Tk200 to blast a cocktail on a vehicle. They said they had done such mindless acts earlier. Police said the boys used to work as day labourers but they are now involved in blasting crude bombs and setting fire to vehicles and they took it up as a permanent profession. Nisharul Arif, deputy commissioner of police of Uttara Division, said the trend is rising. Contacted, Sanowar Hossain, additional deputy commissioner of detective branch of police, said some people are involved in such criminal activities on a part-time basis. Women too are not lagging behind. Police on Thursday picked up two women from the capital's Malibagh supermarket area while they were carrying 20 petrol bombs.
The detainees were identified as Delowara Begum, 50, and Jabeda, 50, says Kripa Shindho Bala, officer-in-charge of Ramna Police Station. However, the detainees told police that they found the petrol bombs while they were collecting waste papers from street and they were going to a stationary shop with the bottles to sell kerosene used to make those bombs. OC Kripa Shindho Bala, further said: "We released them hours after their detention and seized the bombs. However, we have information that some women are involved in criminal activities like throwing bombs in exchange for money."
Sources from an intelligence agency said they had information that political parties in a bid to evade law enforcers' eyes hire needy women and children in exchange for a lot of money. These women are sometimes even paid around Tk1500 to carry explosives from one place to another, as police never suspect them as criminals. While explaining the far-reaching negative impact of the trend, SM Shahjahan, former inspector general of police, says it is rare that people after being involved in crimes can get back to their previous normal lives. People who provide financial support to instigate such crimes should be brought to book so that none can dare to get involved in such crimes again, he suggested. Prof Dr Shah Ehsan Habib of sociology department of Dhaka University and criminology expert, said: "It is not a new trend, we have seen it earlier too.
These poor children, seemingly unaware of its consequences, finally are caught in the vicious cycle of crime." If the state can ensure their fundamental rights and punish the masterminds, children will not involve themselves in such criminal acts, he observed. Hassan Mahmood Khandker, Inspector General of Police, said some criminals often change tracks but law enforcers are always alert to it and stern action will be taken against the perpetrators.
http://www.dhakatribune.com/crime/2013/dec/06/hartal-profitable-business-some-poor-children-women-used-proxy-activists#sthash.N3SSN3Os.dpuf
-------------
Activism Campaign for Elimination of Violence against Women Gains Momentum in Fiji
7 December 2013
The Fiji Women's Crisis Center says this is a very important time for those advocating the elimination of violence against women.
The Center is working together with other stakeholders, marking the 16 Days of Activism of Violence against Women.
Coordinator Shamima Ali says they have organized marches and workshops around the country to educate women on new legislation and their rights.
"This is an issue that touches all their lives, and what is good to see is that men are getting involved also at village level and community level. There are a lot of discussion on issues particularly domestic violence, rape and sexual assault and child sexual abuse."
The Centre will launch its National Research on Women's Health and Life Experiences on Monday.
http://www.fbc.com.fj/fiji/15985/16-days-activism-campaign-gains-momentum
------------
Beauticians in Saudi Arabia Want Work Permits without Sponsor
7 December 2013
Faced with shortage of beauticians, saloon owners and beauticians alike have urged the Ministry of Labor to consider their case on par with school teachers in the Kingdom by giving them work permits without having to transfer their sponsorship.
The request comes in the wake of the ministry directing several small beauty salons in the Kingdom to shut down for not having legal sponsorship.
Many salon owners couldn't transfer the sponsorship of beauticians, which forced them to shut down their salons. This heightened the problems for women who prefer going to nearby salons.
One of the reasons that forced salon owners to shut down was lack of staff. Most beauticians avoided sponsorship transfer due to low salaries. The salaries for beauticians in small beauty salons range between SR1, 500 and SR2, 000, and they are paid extra on rush days or on some occasions.
Fatimah from Al Shama Beauty Salon at Aziziya district runs the salon alone. "It's a small business and it would be unfair on the staff if I ask them to transfer their sponsorship for low salaries," she said.
Anjum Rahman, a beautician at Beauty Salon in Al-Bawadi district, said that although she was approached by the owner of the salon to transfer her sponsorship, she refused. "It's a very difficult situation to transfer our sponsorship on a low salary and absence of any benefits, which are virtually nonexistent in the small-scale sector," she said.
Many female workers have left their jobs on similar grounds, forcing the salon owners to shut down.
Several existing salons that survived the inspection campaign have doubled the prices for all the services they provide.
Commenting on this, Saadia, the owner of a beauty salon, said: "We planned to employ beauticians under our sponsorship but they asked us to increase their salaries, which will indirectly affect the prices of salon services."
Moreover, the few salons that are still open have high standards of professionalism than the small local salons that offer cheaper services to clients. Most women shy away from the thought of paying more money for a haircut or a facial.
Hiba Al-Bassam, expressing her anxiety, said: "This is a major problem as there are few salons and they are run by one person leading to a long queue and waste of time. Additionally, prices of various services have doubled making frequent visits impossible. It's not reasonable for regular clients to pay high amounts."
Another customer, Syeeda Sarah, said that all the salons in the vicinity of her house had pulled down shutters, forcing her to visit a new salon quite some distance away which requires transportation. She insists that the salons nearby were safer as the clients got used to the staff.
http://www.arabnews.com/news/488866
-------------
Arab Nations Adopt Declaration against Gender-Based Violence
7 December 2013
MUSCAT - Arab nations marked a big step towards women's welfare by adopting the UNFPA Regional Strategy to Prevent and Respond to Gender-Based Violence in the Arab states Region for 2014-2017, at a forum held in Rabat, Morocco, recently.
The Arab region has reported 37 per cent of gender-based violence (GBV)in the world, which makes it the place with the second highest prevalence after Asia (37.7 per cent), according to a WHO report.
Speaking at the Rabat forum, Mohamed Abdel-Ahad, regional director of UNFPA, GCC, said that political will was essential to turn the strategy into policies, laws and programmes.
He called on nations to allocate funds for implementation of the new strategy.
A spokesperson for GCC UNFPA said that the Rabat Declaration calls for tangible and urgent steps, including adoption of laws and legislations, to help combat GBV against women in the region.
It sets aside a special role for civil society organisations in beefing up networking, building coalitions, and coordinating between diverse governmental and non-governmental organisations dealing with anti-GBV programmes and activities, she said.
The declaration also points out how young people in developing nations can help implement such national programmes, and asks governments to lift curbs on organisations and groups which work for women's welfare.
The meeting also stressed on the role played by the media to end GBV in Arab states, the spokesperson said.
Bassima Hakkaoui, Minister of Solidarity, Women, Family and Social Development, Morocco described violence against women as an uncivilised and inhumane behaviour that prevents the progress of nations.
http://www.muscatdaily.com/Archive/Oman/Arab-nations-adopt-declaration-against-gender-based-violence-2r69
-------------
Malaysia: Disallowing Child Marriages Is the Right Thing to Do
December 7, 2013
WHETHER we are Muslims or not, many of us must have felt quite disturbed when a 12-year-old Malay girl was married off by her father to her 18-year-old boyfriend after she was raped by him.
The marriage took place a year ago. The young couples are now undergoing great difficulties in their marriage and both sides have commenced divorce proceedings according to their religious practices.
It is difficult to fully comprehend why the religious authorities allowed the marriage in the first place. Why? The girl is just a child. Why was she subjected to such a serious adult undertaking?
Then in another recent case, a 46-year-old man took his 14-year-old victim as his second wife after he raped her. Unfortunately, her parents also consented to the marriage.
However, following widespread public outcry over the crime and the marriage, the man has now been charged for the offence.
These two cases, which were widely reported by the media, warrant some serious discussion and debate on the issue of child marriages.
And more so when child marriages are on the rise in the country and that such marriage almost always have unhappy endings.
That's why I'm glad that Muslim leaders themselves are actually against child marriages.
This week, Minister in the Prime Minister's Department Datuk Jamil Khir Baharom said that the growing number of child marriages in the country was giving Malaysia a bad name. That the minister is also in charge of Islamic affairs in the country adds much weight to his statement and the government's position on the matter.
Malaysia is a modern, progressive country heading towards rapid economic and social development but why are we still condoning child marriages? Hey, we even have a Vision 2020 to turn Malaysia into a developed nation in seven years' time and yet we still have a rather primitive law in allowing a kid to get married. Just where do we stand?
It's sad but true that child marriages take place in rural Malaysia most of the time in conservative states such as Kelantan and Terengganu and surprisingly most folks in those areas view it as normal.
In Malaysia, girls under the age of 16 can legally marry. And many are increasingly doing so, according to statistics from the Malaysian Syariah Judiciary Department (JKSM).
In 2012, there were around 1,165 applications for marriage in which one party, usually the bride, is younger than the legal marrying age. The Syariah Courts approved 1,022 of them. This is an increase from the 2011 record, when some 900 marriages involving at least one Muslim minor were approved.
As of May this year, JKSM received 600 marriage applications, of which 446 had been approved.
In Malaysia, the legal minimum marriage age is 18, but it is 16 for Muslim girls. Those aged below 16 can marry with the consent of the Syariah Court.
Now, let's take a look at more vocal opposition to such a union.
Last week, the United Nation's Committee on the Rights of the Child member Yasmeen Shariff urged the Syariah Court not to be too quick in granting consent for underage marriages.
Yasmeen, a child rights lawyer, said children's groups rejected underage marriage as most teens were not mature enough for the responsibilities and it also deprived them of receiving an education.
She urged the Women, Family and Community Development Ministry to provide support and proper counselling to parents on underage marriage.
Sisters in Islam said it was shocking that child marriage still existed in the country because of loopholes in the marriage laws and a continuing belief that girls should be married off once they reached puberty.
"We stand by the UN findings that child marriage is harmful to children and girls, in particular, are vulnerable to abuse, health problems, difficulty in accessing education and loss of childhood and adolescence," said SIS legal officer Kartina Mohd Sobri.
Then, there are other concerns as well such as the risk to the physical health of girls who marry and conceive too early. There have been reports of underaged girls in Malaysia who died of maternal health complications during delivery.
Malaysia's adoption of a United Nations resolution to end child, early and forced marriage at the Human Rights Council in October could not be more timely. Calls for banning child marriages have been ringing loud in the last few years, but not much has been done about it as many see it as a religious and cultural issue.
There is a tendency to link child marriages to a religious practice but it is not correct.
According to Girls Not Brides global coordinator Lakshmi Sundaram, child marriage is not officially endorsed by any religion.
"People often used religion and tradition to justify certain practices but it's not really a religious obligation by any means in any religion in the world. It must also be noted that child marriages happen in all religions in the world. It is a problem across the world," she stressed.
Sundaram believed that it is more linked to man-made traditions, which can be changed when they are no longer applicable in society.
While people who want to perpetuate child marriage hide behind this religious veil to block discussion and dialogue, others are scared to talk about it because they are scared of being accused of religious insensitivity, she noted.
But let us also understand the role of the Islamic Development Malaysia Department (Jakim) on the issue.
According to its director-general Datuk Haji Othman Mustapha, getting married at an early age "is not forbidden in Islam but the marrying couple have to be mature enough to understand that with matrimony comes great responsibility.
"The couple has to know if they are prepared for married life and if they are equipped with the right knowledge, especially what it means to be a husband or wife in Islam. Most importantly, they need to understand the real reason why they are marrying," he said.
"If it is just to satisfy their sexual desires, they need to know that it will not lead to a happy and lasting union."
He pointed out that Section 8 of the Islamic Family Law (Federal Territories) Act stated that the minimum legal age for Muslim boys is 18, and Muslim girl's is 16.
"Those younger are allowed to marry with the written permission from the Syariah Court after both sets of parents put in an application to formalise their nuptials," he pointed out.
To me personally, I would think that disallowing child marriages in the country is the right thing to do. We can now appreciate that it is not a practice that is endorsed by any religion.
A 12-year-old girl should be receiving an education in school and not playing the role of wife and mother.
Comments can reach the writer via columnists@theborneopost.com.
http://www.theborneopost.com/2013/12/07/disallowing-child-marriages-is-the-right-thing-to-do/#ixzz2mpNfqTfa
-------------
Arab Women Have Strong Potential of Raising the Standard Of Living
7 December 2013
Dubai: Women in the Arab world, particularly in the GCC countries, are the wealthiest and are capable of raising the standard of living in the Arab region if they are involved in the right way, said Shaikha Hessa Al Sabah, Chairwoman of the Arab Businesswomen Council.
"Arab women are active and have a strong presence in the business community, but they have not yet reached the best of their capabilities and governments should invest in the women's potential."
According to Shaikha Hessa, in 2011 the total valued of Saudi women investments has estimated at Dh8 billion. Investment by Qatari women stood at $1.6 billion (Dh5.9 billion) whiles the investment of UAE women registered at Dh13.4b.
She said that there is no difference between women in the Mena region and those in most developed countries, but what women really need in the region is good opportunities for investment to empower them economically.
http://gulfnews.com/business/general/arab-women-have-strong-potential-1.1252549
-------------
ESCWA Meeting Focuses On Arab Women Empowerment, Gender Equality
Kuwait News Agency
7 December 2013
KUWAIT-- The Sixth Session of the Committee on Women of the UN Economic and Social Commission for Western Asia (UN-ESCWA) continued convening here by discussing an array of issues concerning Arab women empowerment and gender equality within the 2015 Millennium Development Goals.
Representatives of ESCAW member countries unanimously agreed on exerting efforts to eradicate violence against women in the region and identifying country-level gaps in adherence to international requirements as embodied in the due diligence standard and the United Nations model framework for legislation on violence against women.
Head of Egypt's National Council for Women Mervat El-Talawi said that Egyptian women were able to take part in the drawing up of the constitution and they succeeded in including 20 constitutional articles in favor of women in the realms of health, education, scientific research and social security.
The current developments in Egypt enable women to engage in politics and other state public issues; nonetheless, women are still marginalized and isolated when it comes to taking up state's leading posts.
Consultant at Kuwait's women committee affairs Dr. Hessa Al-Shaheen said that Kuwait has adopted an anti-domestic violence document that criminalizes those who abuse women or any member of the household.
She added that the country is seeking to gather collaboration from all the state's institutes to put an end to domestic and women abuse.
She added that there is no need to have quota for women in the parliament since the Kuwaiti law was amended to grant gender equality for women to vote and run for seats in the parliament.
Consultant at Bahrain's Supreme Council for Women Wajiha Al-Dulaimi said that December 1 marks Bahraini Women's Day that celebrates women fortitude in establishing themselves as effective members in their communities despite obstacles.
Representatives of ESCAW member states from Palestine, Iraq, Lebanon and Sudan all agreed that in accordance with international conventions and agreements, member countries are expected to prevent violence against women, prosecute perpetrators and provide victims with compensation along with remedial and protection services.
They also stressed that women should be allowed to higher posts in governmental and institutional bodies; women roles in achieving peace and societal security should be enhanced and promoted, they added.
In September 2000, heads of State and Government across the world, including the Arab States and governments, adopted the Millennium Declaration which specified six fundamental values as essential to international relations. The Millennium Declaration emphasized the assurance of equal rights to development and equal opportunities for women and men without distinction on the basis of race, sex, language, religion and belief.
On this regard, First Social Affairs Officer Center for Women- ESCWA Lana Baydas said that governments in the Arab region must assess their progress towards the Millennium declaration goals, and reflect on the successes and challenges or gaps of the process.
http://www.kuna.net.kw/ArticleDetails.aspx?id=2348704&language=en
-------------
'Women were beaten in the queues' - Kenyan politician speaks about 2013 elections
7 December 2013
NAIROBI (Thomson Reuters Foundation) – In March 2013, Sophia Abdi Noor was the only woman to stand for parliament in northern Kenya, a marginalised region where Islam has a lot of sway.
She spoke about the obstacles she has faced as a female politician at the launch of a report about women's participation in the March 2013 elections. Female candidates in Kenya face many barriers, including violence, cultural and social stereotypes, lack of money and lack of political connections.
Noor first stood for parliament in 1997 and lost. In 2007, she was nominated to take one of 12 seats in Kenya's parliament set aside for special interest groups that do not require being elected. In 2013, she ran for election and lost again.
"In 1997, I won the nomination at the party level for KANU [the Kenya African National Union political party]. When I won, it was a shock to the whole leadership of my region: political leaders, religious leaders and opinion leaders.
They all went to President Moi and they told him: 'It is against our religion. It is against our tradition, and we will not accept Sophia going for that seat with KANU. Deny her.'
And the president himself announced my cancellation [from the KANU candidacy] at the eleventh hour.
I went to many political parties in the evening [looking for another party ticket to run on]. Luckily enough, Martin Shikuku [of Ford Asili party – the Forum for the Restoration of Democracy] was in his office at midnight. He told me: 'I saw the news. I knew you would come to my office. I was waiting for you. I have nominated you. Go for the elections.'
There was El Nino. It was raining all over. I travelled from here [Nairobi], walked the whole night. I went on a canoe to cross over to [my constituency] Ijara. I was only able to reach 18 polling stations out of 65 polling stations. They defeated me with 100 votes.
In 2013, I went back [to stand] for election. There were six men [standing as candidates] against myself. They now started working with the mosques. They started working with the traditional governance structures, which only had men and no women.
They came out with the propaganda that in the Islamic religion women cannot contest leadership positions. They told people they cannot even vote for the women's representative [position].
The sheikhs went on the tops of the Land Rovers of my opponents and talked negatively about the leadership of a woman, what it will do, how it is a curse.
The last Friday before the elections, all the 65 constituency mosques talked about Sophia Abdi Noor. My father was weak, sick, and he heard that all the mosques in Ijara talked about Sophia.
He went into coma immediately and he died. I feel very painful that I lost my own father because of politics.
My greatest challenge is the misinterpretation of religion. If you look at the Koran, there is a whole chapter talking about the place the Koran has put a woman in society.
The other challenge was we did not have any observers … in the whole region.
On the D Day of the election, the women [voters] were in the lines early in the morning. The men organised young men to come and beat them. The women were beaten in the queues. There was confusion all over.
The police were watching women being beaten. I would go to a policeman and tell him: 'Why can't you save these women?'
And the policeman says: 'I am fearing, I hear the al Shabaab [militant group from Somalia] are here. I am scared. I don't know if these guys are al Shabaab.'
I had nobody. The security was not helping. We did not have media to cover what was going on. We did not have observers.
After the election, they counted the votes and I was not satisfied. I told them to recount the votes. I knew they were misbehaving. They refused to count for me.
I went to the High Court. Women came and they showed the judge all their wounds. And the judge asked them: 'Did you go to hospital and get P3s [legal documents produced in court to prove bodily harm, obtained from the police and completed by a government medical officer]?'
We don't have hospitals. There were no P3s there. It's a village.
So the judge then said: 'I cannot do anything because you do not have P3s.'
I have gone to the Court of Appeal. I am waiting to hear from them."
http://www.trust.org/item/20131206121107-iuty4/?source=hpeditorial&siteVersion=mobile
-------------
Somaliland's first maternity hospital gives hope to women
7 December 2013
Patrolling the wards of the hospital she founded in the breakaway enclave of Somaliland, Edna Adan Ismail held the hand of a teenage girl about to have a fistula repair operation, urging her to be brave.
Since the Edna Adan University Hospital first opened its doors in 2002, patients have come from as far as Mogadishu, more than 800 km (500 miles) south, and neighbouring Ethiopia, to seek treatment in the best-equipped general hospital around.
http://www.trust.org/item/20131205113057-gxdyk/?source=hpeditorial
-------------
URL: https://www.newageislam.com/islam,-women-and-feminism/new-age-islam-news-bureau/poor-and-vulnerable,-syrian-refugee-families-push-girls-into-early-marriage/d/34763