New Age Islam News Bureau
4 Jul 2016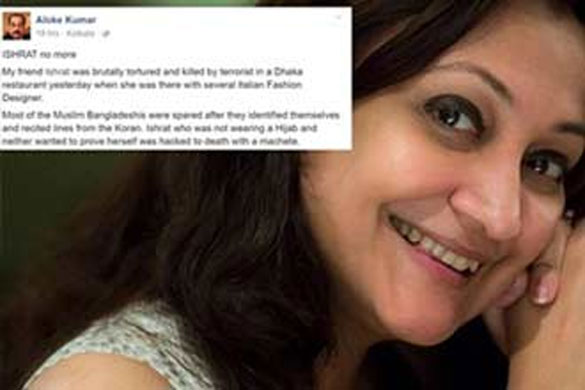 Photo: Foreigners were the prime targets of the terrorist who attacked Holey Artisan Bakery in Dhaka, but there were two Bangladeshi nationals who were also killed in the strike. (Source: IE)
----------
• Dhaka Terror Attack: Muslim Woman Refused To Recite Verses of Quran, and Then Got Killed
• The Story of Natalie and How Muslim Women Are Targeted for Hatred
• Islamic State Is Making Christians Sex Slaves in Libya
• Iranian Women "Selfies" Without Headscarves Causing Rivers To Dry Up
• Meet the Woman Who Told the Truth about David Headley, but Whom No One Believed
• Burnt, Poisoned and Tortured: How Pakistan Is Killing Its Daughters and Sisters In The Name Of Honour
Compiled by New Age Islam News Bureau
URL: https://newageislam.com/islam-women-feminism/polygamy-falls-saudis-urge-women/d/107855
---
Polygamy falls as Saudis urge women to work
July 03, 2016
Recently, I had an opportunity to chat with a 47-year-old schoolteacher who has two wives in Riyadh, the capital of the oil-producing nation of Saudi Arabia.
"Women's jealousies are difficult to handle," the man said. "What's important is to treat them fairly and provide enough money." He imparted his wisdom for peacefully managing two families to me, though I struggle with just one wife.
The man's two wives live near his house. He goes to each woman's house every other day and spends an equal amount of time in each. With nine children total, he spared no expense on their education and sent them to college.
Bigamy carries a penalty of up to two years in prison in Japan, but it is not illegal in Saudi Arabia. This is because the House of Saud, which established the country in 1932, has strictly applied Islamic laws in the society.
The Koran — the sacred book of Islam and which forms the core of Islamic laws — stipulates that Muslims are allowed to have "two or three or four" wives, on condition that the wives are treated equally.
In the seventh century when the Prophet Mohammed spread the message of Islam, Muslims apparently needed to protect the livelihoods of widows, as the number of widows had increased due to wars.
However, the number of men in Saudi Arabia who have two or more wives has been falling. According to government statistics and other data, the percentage of men with two or more wives was around 30 percent two decades ago, but it is now below 10 percent. The main reason is that an increasing number of women have jobs.
In the past, it was a matter of course that women did not enroll in school, married while they were teenagers and were dependent on their husbands.
Today, many women enroll in universities and have jobs. A conspicuous trend of getting married later in life has begun.
"This is because the country of Saudi Arabia has been urged to change its nature," said Yusri al-Azbawi, a researcher at the Egyptian policy think tank the Al-Ahram Center for Political and Strategic Studies.
Though monarchs in nearby countries have been ousted by popular uprisings or military coups, the House of Saud has kept its throne for more than 80 years. This was possible because Saudi Arabia has distributed enormous revenues from oil to its citizens and has been able to contain the discontent of the people toward the political system.
But the era when Saudi Arabia could rely on oil is approaching its end. Partly because of the increasing presence of other natural resources, such as shale oil produced in the United States, crude oil prices have been on the decline and Saudi Arabia's fiscal deficit has increased.
In addition to increasing electricity charges and fuel prices at the end of last year, the Saudi government decided in June to reduce the number of civil servants. One Saudi woman said, "Unless we work, we can't make a living."
One person who is attracting attention from the public in Saudi Arabia is Deputy Crown Prince Mohammed bin Salman, who is a son of King Salman, the seventh monarch of Saudi Arabia. The 30-year-old prince decides the country's defense and economic policies.
The country's first monarch, King Abdulaziz, the deputy crown prince's grandfather, had multiple wives. But the deputy crown prince has only one wife and has remarked that he has no time for another family.
Is it because he is working hard to convert Saudi Arabia into a country that does not rely on oil?
Among the efforts that are fully utilizing Saudi Arabia's national wealth, it is regarded as key that more women will have jobs. The Saudi government has set a goal of increasing the percentage of the workforce that is female from the current 22 percent to 30 percent by 2030.
The Koran, on which the House of Saud places much importance, says that men shall be guardians of women. To what extent will Saudi Arabian women, who were considered to be protected, become able to play active roles in its society?
This will be a touchstone for predicting the future of Saudi Arabia. Speech
the-japan-news.com/news/article/0003027070
--
Dhaka terror attack: Muslim woman refused to recite verses of Quran, then got killed
July 4, 2016
Foreigners were the prime targets of the terrorist who attacked Holey Artisan Bakery in Dhaka, but there were some Bangladeshi nationals who were also killed in the strike.
The courageous story of one the two women killed in attack is making rounds on social media.
Ishrat Akhond, 45, better known with her short name "Nila" by her family and friends, was the Human Resources Director of one of Bangladesh's largest garments company.
That Friday night, the business woman was on a dinner with two Italian designers who were visiting the country.
Nila was hacked to death because she was not wearing a hijab, and refused to recite from the Quran when asked to do so, her friends told the Indian Express.
According to Nila's friends, she was a lady of ethics and principals. The ideas made her refuse to recite the verses of Quran on that night.
With a shiny business career, "Nila Apu" was a known name in Bangladesh's social and cultural circuits.
Along with her other associations, she was also a member of the Bangladesh-German Chamber of Commerce — a bilateral business organisation promoting trade between the two countries.
The woman was also indulged social work and was working aggressively against widespread child labour in Bangladesh.
"After China, Bangladesh is the biggest manufacturer of readymade garments. But an ugly truth about the industry in Bangladesh is that it employs child labour. I remember Ishrat being disturbed by this and we had several conversations regarding the issue and I had told her that she must do something about it. Like other outlets, the company she worked for also employed children. Ishrat fought a lonely battle to make sure that the children were taken out of the factories." Nila's close friend and IIM-Kolkata visiting faculty member Prof Aloke Kumar was quoted saying by The Indian Express.
"She got in touch with UNICEF and numerous other NGOs and ensured that the children were rehabilitated, that they were sent to school. It took her some time but she did it. They were out of the factories by 2014." he added.
financialexpress.com/article/india-news/dhaka-terror-attack-muslim-woman-refused-recite-verses-of-quran-then-got-killed/305959/
--
The Story of Natalie and How Muslim Women Are Targeted for Hatred
July 03, 2016
Natalie wears a Niqab and a Hijab and is a convert to Islam. On the 30th of June, she was standing outside a bus stop in Leeds with her two children, aged 1 and 3 years old. Natalie described to us how an elderly gentleman started to shout abuse at her for no apparent reason and came close to her reaching out at her Niqab.
Natalie said that the man stopped short of assaulting her in front of her two children and he said that someone "should rip that thing off our face." He also said that Natalie, (who was born in the UK and whose family is English), should, "leave our country and go home." All of these comments were heard by the young children who were crying as they saw their mother being abused.
The abuse continued with no respite as the perpetrator stated that Natalie was a "foreign bastard", "looked like Hitler", and that she "was good at breeding."
Natalie said nothing, fearing for her safety and did not move until he gave up and she ignored him until his bus arrived. She waited for another bus and by that time other people had arrived.
After the perpetrator had gone, Natalie's 3-year-old asked her why he was so mean. She talked a little with her son and he started praying for the man by saying 'Allah' a few times in a child 'sing-song' manner and Natalie noticed that a woman at the bus stop started to back away on hearing her child and with a look of fear on her face.
Natalie's words also express the impacts on families and on children who see their mother humiliated and targeted in front of them. These are her words and her story of the daily ritual of humiliation and abuse she receives.
"When we got off our bus and into Leeds bus station, another woman passed us and as she did so, she looked me in the eye and called me stupid with much scorn in her face. My lad was very confused by this. He tried asking me questions and talking about it, but he is 3 years old, he's expressive skills are a little lacking.
On our final bus home, he had a huge tantrum. The likes of which he's never had before, with screaming and crying and kicking and trying to bite me. After he calmed down he said sorry and that he didn't know why he'd done that and he was scared of getting into trouble. He's a good boy, Mashallah, and I understood that he's built up emotions from the days dramas had exploded out of him in that instance. I then showed him that not all people are mean, as he apologised to the people on the bus, they were all smiling at him and thankful for his apologies, one even praised me on my parenting, which worked some way towards relaxing him. He didn't sleep well that night, but he's fine now.
I'm reporting this, not for attention or to cause trouble, but in the hopes that by making a report, it might go some small way towards improving the standards of education in the Yorkshire area (and the whole of the UK insha'Allah). I do not dislike these people who have upset my son, rather I feel for them as their education in their youth has likely not worked to help their understanding of diversity. Even these days, diversity studies are normally focused on the younger generations. Heck, even my education in secondary school of Islam was bias (and I'm 27), so I can fully understand some people's prejudices.
I am used to people giving me abuse because of my faith and how I dress, even my colour to some extent, (I'm white British), but my children don't deserve that. It's left me feeling unsure about taking them out again. We'll certainly not be going far from home anytime soon.
I hope that by sharing experiences, good might occur. Insha'Allah."
tellmamauk.org/the-story-of-natalie-and-how-muslim-women-are-targeted-for-hatred/
--
Islamic State is making Christians sex slaves in Libya
Sat 02 Jul 2016
Islamic State has been abducting Christians in Libya and forcing them into sexual slavery, according to a new report by Amnesty International.
In a report titled "Libya is full of cruelty", the rights group collected the testimonies of 90 migrants, including 15 women, interviewed in reception centres in Italy and Sicily after escaping Libya in recent months.
Amnesty said that sexual abuse is so widespread that some women take contraceptives before their sea crossing.
It cited a 21-year-old Eritrean woman identified as Amal who said she was among a group of 11 Christian women from Eritrea who were abducted by IS militants in July 2015.
They were kept in underground detention for nine months, forced to convert to Islam and used as sex slaves.
In other instances migrants were shot or electrocuted and in one case a disabled migrant was dumped in the desert by people smugglers.
Libya is home to some 250,000 refugees and migrants.
The UN refugee agency estimates that since April 19 2015, a total of 4,937 people have died trying to cross the Mediterranean from Libya to Europe.
Magdelena Mughrabi, from Amnesty, said: "From being abducted, incarcerated underground for months and sexually abused by members of armed groups, to being beaten, exploited or shot at by people smugglers, traffickers or criminal gangs - refugees and migrants have described in harrowing detail the horrors they were forced to endure in Libya,"
She also urged the international community to take action to tackle the root causes of migration and to increase the number of people who are resettled overseas or given humanitarian visas.
premier.org.uk/News/World/Amnesty-Islamic-State-is-making-Christians-sex-slaves-in-Libya
--
Iranian women "selfies" without headscarves causing rivers to dry up
Sat 03, Jul 2016
Today on the streets of Jaffa, where I live, I saw for the first time in my life a woman in hijab (helmet on top) driving her motorbike in full throttle along Jerusalem Boulevard. She was too quick for me (on my peddle bike!) to take a photo. I was pretty proud of her, because although Muslim women in Israel can be quite liberal, this was something that broke all stereotypes.
But in Iran it's another story… women who are not wearing the traditional headscarves, also known as hijab, are now being blamed for devastating drought.
Ayatollah Yousef Tabatabai-Nejad, an arch conservative prayer leader in the city of Isfahan announced that Iranian women who continue to wear immodest clothing are causing the nation's rivers to run dry. They are also damaging the environment in other ways, the cleric has claimed.
A strict Islamic dress code must be enforced, he mandated, to ward off drought. In media reports this same cleric, also suggested the use of acid attacks, and the whip on "bad hijab" women: those who are not properly covered up.
month he roiled against a new trend where Iranian women are taking selfies without the headscarf and posting them online.
"They have brought me pictures that shows women by the side of the dry Zayanderud river, " the cleric said. "These actions will ensure the upper stream of the river will become dry too. Believe me it is true."
"You may ask yourself why European countries with so much crime and sin have so much rainfall … God punishes the believer, for remaining silent and letting girls take pictures by the river as if they were in European countries."
Headscarfs have been compulsory since the 1979 Islamic Revolution. Those who can get away with it bend the rules.
Thousands of women have posted pictures of themselves without headscarves on the Facebook page, My Stealthy Freedom.
greenprophet.com/2016/07/iranian-womenselfies-without-hijab-causing-drought/
--
Meet the woman who told the truth about David Headley, but whom no one believed
July 4, 2016
Osama bin Laden's father, Mohammed bin Laden, had at least fifty-four children from twenty-two different wives. So while Osama was attending college, he and a friend decided they would each also take several wives and have large families. For many of his peers, though, polygamy had acquired a bad rep because it had gotten so out of hand with their parents' generation.
Osama bin Laden later developed a theory on the advantages of having several women in one's life. Four was the optimal number, prescribed by the Prophet Muhammad himself, according to bin Laden.
"One is okay, like walking. Two is like riding a bicycle: it's fast but a little unstable. Three is a tricycle, stable but slow. And when we come to four, ah! This is the ideal. Now you can pass everyone!"
Headley was, as usual, very excited about Osama bin Laden's thoughts, including those on women.
Headley himself loved women. And he had many of them.
He bragged to a group of friends that he had been with more black women than his entire class at the military academy combined. That was about one hundred students.
But he found Pakistani women to be cumbersome. They'd all seen too many Bollywood movies with big, dramatic romance scenes, and they didn't want to live their lives as the third or fourth wife in a complicated marriage.
"Arab women are much more understanding and open to it. They only ask that you be fair," Headley wrote to his friends.
Headley's many women were also his Achilles heel.
He could manage the American narcotics authorities; connections to the drug trade; heroin smugglers in Pakistan; Major Iqbal from the intelligence service; and Pasha, Sajid Mir and the others in Lashkar, and he could juggle all his roles and opportunities at once – without everything coming crashing down to the ground.
But when it came to women – wives, girlfriends, friends and his own mother – everything went wrong. He revealed too much. And there was always one who talked.
Her name was Faiza Outalha. She was originally from Morocco, but she was studying medicine at a university in Lahore, and it's not difficult to see why Headley fell for her. Faiza had large, beautiful eyes and long, dark hair, and she was full of the same restless energy as Headley himself. The twenty-four-year-old woman didn't put up with anything, complained loudly about unreasonable taxi fares, and always made sure she got her way.
And when she met Headley, nearly twice her age, while visiting a mutual acquaintance, neither of them had any doubts. In late February 2007, the two got married in Pakistan.
Faiza was warned in advance that Headley was already married and had children, but she accepted that as long as the other wife didn't come to know about her.
And Shazia didn't. At least, not in the beginning. Headley kept the marriage with Faiza a secret from his first wife. All he did was contact Shazia's uncle Saulat to get his appraisal of whether it was permitted within Islam to take an additional wife while keeping it a secret. The uncle apparently approved of this.
Faiza's temperament quickly caused problems for Headley in their hidden marriage. She insisted, for example, on going with him to Mumbai, where she had learnt that her new husband worked at an immigration office.
Headley hadn't informed Faiza that his purpose in going to Mumbai was actually to plan a terrorist attack – nor did he intend to do so.
To get out of this pinch, Headley arranged the next trip to Mumbai so that it would be the couple's official honeymoon. The two had beautiful views of the sea while staying at the Taj Hotel and Oberoi-Trident, where Headley took plenty of notes for his plans for the attack. Both locations ended up on the list of targets, and their vacation photos from Mumbai were later used for further terrorism plans. Faiza's face was covered with a black bar in several of the photos, according to proper Salafist tradition.
But it all became a mess for Headley.
In Pakistan, he had pressured the otherwise very western-minded Faiza to wear a hijab. But on their honeymoon in India, he did everything he could to hide his Muslim background. And when the couple met some of his acquaintances, he explained that Faiza was one of his clients who wanted a work permit.
Headley and Faiza had several violent clashes during their honeymoon. It got to the point where Headley tried to put his new wife on a flight home to Pakistan, but she refused.
The new, secret marriage also resulted in a number of awkward situations in which Headley had to travel the world to get his cover stories to mesh.
A simple example: On 23 July 2007, he flew from Lahore to New York with a layover in Europe. In New York he spent a day with a cousin. He then flew to Morocco and was with Faiza for a good week or so before flying Emirates Airlines on 3 August from Casablanca back to Lahore to be with Shazia and the children. He told Shazia that he had been on a business trip.
In these circumstances, Headley had to be very focussed not to slip up. He would send his emails to Shazia in Pakistan to haidergilani1@hotmail.com, while emails for Faiza went to faizagilani@ymail.com.
Near the end of 2007, less than a year after they got married, his relationship with Faiza was on the verge of collapse.
Headley had tried to break up with her in a letter. The two fought about the secrecy with Shazia, which led to regular fistfights in front of Headley's house in Lahore in December 2007.
Headley was arrested and put behind bars at the Race Course police station for eight days, until Shazia's father bailed him out. It also helped that Major Iqbal pulled a few strings here and there. Headley got away once again without being charged for domestic violence.
But Headley's anguish only worsened. That same month, Faiza talked her way into the American embassy in Pakistan. She was angry and loudly let the agents from the Department of State's security agency know that her husband, an American citizen, was a terrorist. He had stayed in Lashkar-e-Taiba training camps and sometimes spoke about suicide missions, she said. And he might be involved in some activities in Mumbai.
Faiza also claimed that Headley was in the process of planning "jihad against the USA" and was involved with some "very important people".
Later, Faiza returned with new information, in the hope that the Americans would arrest her husband and fly him to Guantánamo. She told them that Headley had received a "special mission", apparently fabricating a story wherein he had been involved in a bombing attack on a train in India the previous year.
"He is either a terrorist or he's working for you," Faiza apparently told the American authorities.
It was clear, though, that Faiza was mixing facts with pure fiction, and the embassy staff didn't find her particularly trustworthy. Even though it seems she showed the agents a picture of herself with Headley in front of the Taj Hotel.
There was no proof of anything at all.
The information about Headley and a possible attack in Mumbai was never passed on from the American embassy to Indian authorities. Later, the Americans did give India a weak warning about a possibly approaching attack, but it didn't include the name David Headley.
A few months before the Mumbai attack, Faiza went directly to Lashkar leader Hafiz Saeed – the Professor – and asked for help in saving their troubled marriage. Hafiz Saeed then paid a visit to Headley, who downplayed the matter and explained that he had been busy with his Lashkar duties and hadn't had much time to take care of wife number two.
It's uncertain whether Hafiz Saeed's involvement was the deciding factor. What is certain is that Faiza and Headley got back together again, and that they watched the terrorist attack in Mumbai together on Headley's TV in their house in Lahore.
But there's no evidence that Headley ever revealed his role to her.
scroll.in/article/811063/anil-kumble-indian-cricket-head-coach-strategy-usp
--
Burnt, poisoned and tortured: How Pakistan is killing its daughters and sisters in the name of honour
July 4, 2016
Parveen Rafiq closed her hands around the neck of her youngest daughter, Zeenat, and squeezed and squeezed until the girl was almost dead.
Then, in the tiny apartment where the family lived, she doused the 18-year-old with kerosene and set her on fire.
Neighbours saw the smoke and rushed to the home. Someone inside, apparently one of Rafiq's daughters-in-law, was screaming, "Help her! Help!"
SHE WILL NEVER SHAME ME AGAIN'
But the door was bolted from within. Moments later, they heard Rafiq scream from her rooftop: "I have killed my daughter. I have saved my honour. She will never shame me again."
Zeenat's crime was marrying a childhood friend she loved, defying her widowed mother's pressure for an arranged marriage and, in the mind of her mother and many of her neighbours, tarnishing her family's honour.
Her macabre death on June 8 in the eastern city of Lahore was the latest in a series of increasingly gruesome "honour killings" in Pakistan, a country with one of the highest rates of such killings in the world.
In one case, a mother slit the throat of her pregnant daughter who had married a man she loved. In yet another a jilted suitor doused a teenage girl with kerosene and set her on fire.
TORTURED, POISONED, BURNT ALIVE FOR HELPING FRIEND
In the city of Abbottabad, a teenage girl was tortured, injected with poison and then strapped to the seat of a vehicle, doused with gasoline and set on fire. Her crime was helping a friend elope.
A jirga, or council of local elders, ordered her killing and dictated the manner of her death. The vehicle was parked in a public place, outside a bus stop as a message to others.
The brutality and rapid succession of killings horrified many Pakistanis. The numbers of such killings have climbed in lockstep with their sometimes-public spectacle.
HONOUR KILLING DEATHS AT 3 A DAY
Last year, three people a day were killed in "honour" crimes in Pakistan: a total of 1,096 women and 88 men, according to the independent Human Rights Commission of Pakistan. In 2014, the number was 1,005 women, including 82 children, up from 869 women killed a year earlier. The true numbers are believed to be higher, with many cases going unreported, activists say.
Some human rights and women's rights activists believe honour killings have been inching up and showing greater brutality as the older generation tries to dig in against creeping change.
Over the years, more women have been going to school and working outside the home, even among lower and lower middle class, and use of social media has helped women raise their voices.
"The old order of misogyny and extremism is falling apart, is really crumbling," says Marvi Sermid, a political commentator and women's rights activist. Conservative Muslim clerics are furious over the creeping change and are fighting back with regressive changes targeting women, she said.
DICTATORS MADE IT WORSE
The changes are a serious challenge to the status quo in Pakistan, where centuries of tradition and culture have tied the idea of a woman as a pristine and untouched commodity to a family's honour. Deeply conservative traditions have been further strengthened by decades of governments and military dictators who have often curried the support of religious hard-liners with legislation enshrining the old ways.
But more than 70 per cent of Pakistan's 180 million people are under 30, and among the younger, more tech-savvy generation, some are vocally challenging the traditions of their elders to an unprecedented degree.
Salman Akram Raja, a lawyer, said the young are pushing traditional boundaries even if the state is lagging behind and even if the conservative old guard is lashing back.
"I don't think this archaic order will win," Raja said. "But it is going to go down violently."
CASTE SHADOW ON AN INNOCENT LOVE STORY
For months, neighbors said, Zeenat's mother had complained about her two elder daughters, who had married men of their own choice.
Zeenat was her last chance to save her honour. She planned an arranged marriage for Zeenat with a member of their own Rajput caste.
But Zeenat had her heart set on a young motorcycle mechanic named Hassan Khan.
They had met when she was 12 and he was 14 and quickly became playmates. They lived about two blocks apart in Changi Amar Sadhu, a crowded Lahore shantytown where electrical wires and phone lines crisscross overhead in a crazy jumble that obscures the sky. As they grew older, friendship became romance.
"We were in love," Khan said, his voice barely a whisper.
He fumbled through his phone until he found a collection of selfies that Zeenat had put together to the rhythm of their favorite song, an Urdu pop tune called "You Made Me Your Lover."
She loved taking selfies, loved music and poetry, he said. As the music played, Zeenat in the photos struck different poses, sometimes coy, sometimes playful or teasing, but always smiling, her long black hair falling loosely past her shoulders.
She also taught the neighbourhood children the Quran. She could recite the entire book from memory.
Her mother knew about Khan, and she and Zeenat were constantly fighting. Zeenat told him her mother beat her. Over long hours on the phone, Zeenat pleaded with him to marry her so she wouldn't be forced into an arrangement.
Finally, in May, they sneaked off and registered their marriage at the local courthouse and Zeenat moved into Khan's home.
They had defied her mother. They were together.
HOW HONOUR KILLERS ESCAPE PUNISHMENT
Those who kill for "honour" are almost never punished in Pakistan. A law based on Islamic Sharia allows the family of a victim to forgive a killer, and in these cases the killers are almost always family. So other relatives, whether they condone the killing or not, give their forgiveness, unwilling to see loved ones jailed.
Successive governments have been reluctant to toughen the laws, fearful of Islamic hardliners who oppose anything they see as weakening enforcement of Sharia, undermining the family's authority or promoting women's rights seen as "Western."
RAPE THREATS ON TV
Sermid, the women's rights activist, has felt their wrath.
During a televised debate in June exploring the phenomenon of honour killings, lawmaker Hafiz Hamdullah, who belongs to a Taliban-affiliated religious party, Jamiat-e-Ulema Islam, threatened Sermid with rape and called her a whore. A burly, bearded man, Hamdullah was escorted out of the TV station by security guards when he tried to take a swing at Sermid, who has since filed charges.
Female politicians have also felt resistance to efforts at raising their voices.
When lawmaker Shireen Mazari last month tried to speak up during a parliament debate, the defence minister insulted her appearance and demanded she use a "more feminine" tone.
Mazari, the parliamentary leader of Pakistan's Justice Party, has furiously demanded an apology.
Still, outrage over recent honour killings and other violence against women has fuelled a bold outcry against the establishment. One target in particular has been the Council of Islamic Ideology, a body of conservative, elderly Muslim clerics that advises the government on laws to ensure they don't stray from Sharia.
BEAT YOUR WIVES?
When the government proposed a law aimed at protecting women against violence, the council in May put forward an alternative that would allow men to "lightly beat" their wives.
Young activists fired up a Twitter campaign with the mocking hashtag #TryBeatingMeLightly. On TV talk shows, guests denounced the council, which has opposed laws against child marriage and denounced using DNA evidence in rape cases, as irrelevant, misogynist and out of touch. In Parliament, some lawmakers called for it to be disbanded.
The outcry appears to be having an effect. The council in June decreed that honour killings are un-Islamic.
KILLED WITH A RUSE
A few days after Zeenat and Khan were married, her mother and uncle showed up. They pleaded with her to come home.
Just for a few days, they said. During that time, they would arrange a proper wedding for her and Khan. That would save their honour, showing neighbours she left "respectably" from her mother's home, instead of eloping.
As is tradition, Khan's elders did the negotiating, and eventually they agreed that Zeenat would go with her mother. Zeenat's uncle gave his promise she would be safe.
Zeenat and Khan spoke every day. The first three days were good, Khan said. It seemed her mother had accepted their marriage.
But on the fourth day, Zeenat called him and said, "The mood has changed." Her mother was yelling at her threateningly. She was scared.
"I told her to not worry. It was just two more days and she would be back home with me."
The next morning, she was dead. Khan saw his wife for the last time in the morgue. They had been married for less than two weeks.
"When I saw her, 100 thoughts were in my head. But my first thought was that I will kill myself. Then I thought, I will kill her family," he said. "But now I have decided I will fight the legal battle. I will not find peace until I get punishment."
Rafiq and one of her sons suspected of helping her in the killing are now in police custody. And they may actually face punishment.
ANTI-TERROR LAW FOR HONOUR KILLERS?
The two are being charged under Pakistan's anti-terrorism law, specifically under a clause making any act that causes general panic an act of terrorism. Under pressure to do something about honour killings, police and prosecutors have started to use the law as a way around the forgiveness loophole.
"It is just cold-blooded murder and it has created panic, so it falls under the anti-terror law," said Lahore's deputy police superintendent, Mohammad Amin.
Sermid and others see hope for change under the government of Prime Minister Nawaz Sharif. Sharif is closely allied to Islamic hardliners, but he's under heavy criticism for alleged corruption in his party and the weakness of his government. Under pressure to show results, Sharif is realizing that Pakistan's image of intolerance is bad for business, said Sermid.
"The prime minister has called for a liberal, modern Pakistan," she said.
Sharif has promised to introduce legislation making it harder for family members who kill their daughters to go unpunished. He has yet to do so.
LOCALS SUPPORT KILLER MOM
The neighbourhood women outside Rafiq's home all agreed that she was driven to kill Zeenat, and she should go free.
"Daughters are duty-bound to maintain the honour of the family," said Muneeba Bibi, her head and most of her body hidden under a white shawl. "It's better to have no children than to have a daughter who brings you shame."
Bibi said she has daughters of her own and that, as far as she was concerned, education was ruining girls today.
"The problems are all because the girls go to school. They see boys, they fall in love," she said. "I will not send my girls to school. That is the only answer."
Of Zeenat's killing, she added, "This is a good lesson for all the girls here to protect the family honour, to not bring disrespect."
The little girls playing in the alleys knew all about Zeenat's death. Some had heard her mother's cry from the rooftop that morning.
But they weren't sure why. All they knew was she had done something very bad. When asked if they might fall in love with a boy, they broke out into giggles.
The eldest of them, 11-year-old Sameera, seemed to have some idea but was too shy to say. When asked why Zeenat was killed, she looked down and was silent.
"She was strangled and then they burned her," said Sameera, who wore a white shawl covering her head. "When I think about it I get scared."
A POEM FROM BEYOND
In the two-story concrete home he shared with Zeenat in their brief, doomed marriage, Khan cradled the few keepsakes of hers that he possessed: her slippers, new clothes, a bright red cup emblazoned with the word "love."
On a white tissue paper, she had written a poem, part in English, part in Urdu.
"I love you. I kiss you
I love you. I miss you
I take your name with every breath
I see you in every dream
I want to see you all the time"
Carefully, Khan refolded the fragile tissue and returned it to his wallet.
Finally, he spoke.
"I want her hanged," he said of Zeenat's mother. "She has to be punished. This is the only way this will stop."
indiatoday.intoday.in/story/pakistan-killing-girls-honour-killings/1/707059.html
URL: https://newageislam.com/islam-women-feminism/polygamy-falls-saudis-urge-women/d/107855
New Age Islam, Islam Online, Islamic Website, African Muslim News, Arab World News, South Asia News, Indian Muslim News, World Muslim News, Womens in Islam, Islamic Feminism, Arab Women, Womens In Arab, Islamphobia in America, Muslim Women in West, Islam Women and Feminism