New Age Islam News Bureau
1 March 2018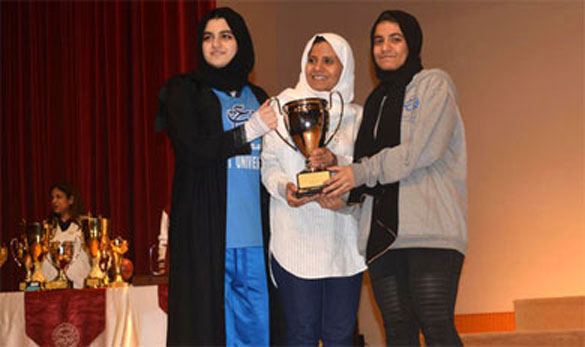 The annual Universities Sports Tournament at Dar Al-Hekma University aims to promote healthy competition and forge relationships between the students from across the Kingdom. (Arab News)
-----
• NYC Must Pay $180G to 3 Muslim Women Forced To Remove Hijabs for Mugshots
• Women Prove They Are in a League of Their Own At Saudi Universities Sports Tournament
• First Female Saudi Ferrari Owner Joins Italians to Celebrate Freedom to Drive
• "Bittersweet Victory" For Moroccan Women Facing Domestic Violence, Activists Say
• Saudi Women Enjoy Full Rights, Says HRC
• Syrian Women Subjected To Sexual Exploitation for Aid
• Women Challenge Turkey Traditions for Right to Work
• Iran VP Says Government against Using Force Over Hijab
• 36-Year-Old Woman Killed Over 'Honour' In Shikarpur District, Pakistan
• Women Forced to Remove Hijabs in Police Custody Settle With New York City
• Former Muslim Women in Malaysia Lose Appeal to Leave Islam - Here's What Happens Next
Compiled by New Age Islam News Bureau
URL: https://www.newageislam.com/islam-women-feminism/pink-city-turns-black-thousands/d/114456
--------
Pink City Turns Into 'Black' As Thousands of Burqa-Clad Muslim Women March Streets Demanding Roll Back Of Controversial Talaq Bill
February 28, 2018
Jaipur: Rajasthan's capital known as the pink city was on Wednesday virtually turned into "black" as a large throng of approximately 3 Lakh women, mostly clad in hijab, stepped out of their houses in to join a silent protest march rejecting the controversial Triple Talaq Bill. Holding placards with various slogans and demands, they stated they did not want any interference in Sharia (Islamic law) by the government. Questioning the intention of the Modi government, they also said it is a "political "ploy" to divert attention from the government failure.
The historic march, billed as one of the biggest gathering so far of Muslim women in the country, raised strong voice against the 'imposition' of the proposed law saying this government even did not have the courtesy to even consult the Muslim women as well as the intelligentsia of the community.
In his address, Maulana Mohd Fazlurrahim Mujaddidi, secretary of All India Muslim Personal Law, said the sea of humanity( Muslim women) here is a clear and strong message to this government that women of Islam are totally against the bill which not only violates the fundamental rights but also a blatant interference in Muslim Personal Law.
The content of the bill is a violation of Article 14 and 15 of the Constitution and it is anti-social as it converts a civil matter to a criminal offence, Maulana Mujaddadi underlined.
In his speech, Maulana Mohd Umran Mahfooz Rahmani, AIMPLB, took the Prime Minister to the task for bringing the bill. "If he (the PM) is pointing finger towards us, then why he has deserted his wife? He asked and adding that more than 22 Lakh our Hindu sisters were deserted by their hubbies but the government is not concerned about them.
Board's Women Wing president Dr Asma Zehra said Muslim women have been holding protest march across the country demanding rollback of the bill as they are happy with Sharia law.
Highlighting the problems of women in the country, she said the more than 15 million girls are killed in the wombs and 28,000 are burnt to death for dowry. The government is least concerned about the real issues and raked up the triple Talaq issue unnecessarily which is not an issue for Muslim women, she said.
The government has been diverting attention by raking up non-issues because it failed on all fronts and promises made to the people of this country for coming to power, Dr Zehra pointed.
"The bill is being presented as a historic one that will empower women. How is it empowerment if homes are destroyed and women are left to beg on the streets?" She asked.
Echoing her views, Fatima Muzaffar of Muslim Mahila Research Kendra said the present government should not take the Muslim women for granted. The PM claimed that the bill will bring the happiness on the face of Muslim women but it is nothing but a big lie, she said.
Board member Yasmeen Farooqi said by coming on the streets in huge numbers against the bill in several parts of the country, Muslim women have smashed the government's claim that it wants to 'liberate' Muslim women.
She also criticized the President of India's mention of Muslim women in his addressed to the Joint session of the Parliament.
" I do not want to use harsh words against the President as he is the most hononrable man of the country, but I want to say him that Islamic Sharia does not enslave or chain Muslim women as anybody see the huge gathering of women", she thundered.
Speaker after speaker warned the government should commit the folly of considering the Muslim women as weak as " Islam emancipated them 1400 years long ago.
Speakers also highlighted "defects and glaring flaws" in the proposed Muslim Women Marriage Protection Bill 2017.
"Not has the Government forbidden the act of triple divorce and made it is punishable act through this Bill; it has been drafted with the aim of depriving Muslim husband and Muslim Women of his/her rights to the divorce and Khula. The drafted in such a way that it is not only banning Triple Talaq but against the all types of Talaq or Talaq System as a whole".
The protest march set off from Chardarwaza via Ghat Gate, Nawab Ka Chauraha, Moti Dogri Road and finally converged at the meeting point in Muslim Musafer Khana area of the city. A resolution was passed with unanimously asking the government "to desist from interfering Muslim Personal Law and roll back the bill."
Both the speakers described the defect of the proposed Muslim Women marriage protection Bill 2017 and informed that Glaring Flaws in the proposed Bill on Divorce
Not has the Government forbidden the act of triple divorce and made it is punishable act through this Bill; it has been drafted with the aim of depriving Muslim husband and Muslim Women of his/her rights to the divorce and Khula. The drafted in such a way that it is not only banning Triple Talaq but against the all types of Talaq or Talaq System as a whole.
If you feel to be loaded
• In the section "Definitions", divorce is defined as: "Talaq Biddat or any identical form of Talaq through which husband may pronounce immediate and irrevocable divorce.
Anit-Women:
• It is common knowledge for any student of Shariah that the above Definition forbids even Talaq bain as a cognizable act. For there is no room for revocation in this form of divorce and it is with immediate effect. So even the divorce arising out of Khula which is forbidden according to this Bill. Its consequence will be that the wife who is keen on securing separation from her husband will be forced into live with her husband, without her will.
Contradicts Supreme Court Judgment 2017
• During the Triple Divorce case in Supreme Court, the attorney general had clearly stated that their objective is to put amend to the entire Talaq System. However, in view of the learned judges's ruling that arguments will be restricted only to the lawfulness or otherwise of Triple Divorce, the attorney general focused only the Triple Divorce.
• In its judgment Supreme Court recognized all forms of divorce other than Triple Divorce as an essential part of Islam and Muslim Personal law and ruled out any change in these.
• The Government introduced this Bill in Parliament which aims at demolishing the whole institution of Talaq. For misleading public, however, the Government strongly carried out the propaganda that its intention was to forbid only Triple divorce.
Contradiction in the Proposed Bill:
• This bill is marred by strange contradiction. For example, according to this law, divorce will not come into effect yet husband will be liable to penalty and 3 years imprisonment.
Anti-Children
• This law takes away the right of child's custody from husband and grants this responsibility to wife. At the same time, husband will bear the maintenance of wife and children. On the one hand, it insists that divorce does not come into effect and the marital tie remains intact, yet its consequences indicate the dissolution of the tie and the separation between husband and wife. For when a couple leads normal life, the need for a separate law for the custody of children and maintenance of husband and wife does not wise.
• A major flaw in this law is that it vests women with the right of custody and bringing up of children. However, the prevalent Guardianship and ward, Act places premium on child's interest. Husband or wife who can protect child's interest better will have custody.
Anti-Social
• Another serious flaw in the law is that it deems the act of divorces as a non – bailable and cognizable crime. Police may arrest a husband even without a court warrant. Worse, police may initiate this action not only on wife's complaint, but also on anyone's complaints, even though even his wife keep denying that no divorce ever took place
• The Civil contract is penalized converting civil matter into criminal offence.
http://www.tribuneindia.com/news/nation/muslim-women-hold-silent-protest-against-triple-talaq-bill-in-jaipur/551141.html
--------
NYC must pay $180G to 3 Muslim women forced to remove hijabs for mugshots
March 01, 2018
New York City will have to pay out $180,000 to three Muslim women after forcing them to take off their hijabs for mugshots.
Three lawsuits were settled Monday in Brooklyn federal court stemming from the NYPD policy of photographing people wearing religious head coverings, the New York Daily News reported. The three women settled for $60,000 each.
Some cases date to 2012, when a high school girl – identified as "G.E." – was arrested after a brawl with two other girls whom she thought spread gossip about her.
G.E. was initially brought to a local police station and was told to take off her hijab. G.E. refused and was taken to a secluded room where a female police officer took her photo outside the presence of any men, the Daily News reported.
But at Brooklyn Central Booking the police could not accommodate the girl's religious needs, telling her that there were not any female officers available and that the camera is in a fixed spot, thus the mugshot could not be taken in a private room.
The girl alleged that a male officer then took her photo without a hijab, making her feel "exposed, violated and distraught" as she was forced to be without the Islamic garb for 20 minutes while male officers and prisoners looked at her.
Police issued an order in March 2015, according to court filings, changing the policies regarding people who refuse to take off their religious head coverings. Officers who perform the arrest had to tell the person that the NYPD offers a choice of getting a private photo – without the head garb and with an officer of the same gender.
Two other cases were filed in 2015 and 2016 by G.E.'s lawyer, Tahanie Aboushi, and involved a similar situation.
One woman claims to have been forced to remove her veil at Brooklyn Central Booking police station and was denied a female photographer. Another accuser said her hijab was removed at the scene of her arrest.
Aboushi told the Daily News on Tuesday that the police department issued additional policies regarding religious headwear in December 2017.
"We did our best to establish good precedent," Aboushi said. "On the one hand, it gives officers guidance, and on the other hand, it protects the exercise of religious freedom."
http://www.foxnews.com/us/2018/02/28/nyc-must-pay-180g-to-3-muslim-women-forced-to-remove-hijabs-for-mugshots.html
--------
Women Prove They Are in a League of Their Own At Saudi Universities Sports Tournament
1 March 2018
JEDDAH: The focus was on women in sport at the eighth annual Universities Sports Tournament at Dar Al-Hekma University.
The university, a pioneering institution in the field of competitive sports for women, launched the all-female event in 2010 to encourage participation in sport and the adoption of a healthy lifestyle, serving the country's vision 2030 project.
The tournament aims to promote healthy competition and forge relationships between the students from across the Kingdom, and to showcase the benefits of physical activity in building a physically and mentally fit generation who are able to better serve their communities
The sports included in this year's two-day event, on February 27 and 28, were basketball, badminton, table tennis, running and soccer.
In addition to the hosts, all but one of the universities taking part are based in Jeddah: King AbdulAziz university, Effat University, University of Business and Technology, Batterjee Medical College, Ibn Sina National College for Medical Studies, and Jeddah University. They were joined by competitors from Princess Nourah bint Abdulrahman University (PNU) in Riyadh, the first time an institution outside of Jeddah has taken part.
"Sport is an integral part of student life," said Dr. Sanaa Askool, Dar Al-Hekma's dean of student affairs. It is really important to create a healthy community for students. Sport teaches you how to be a good leader and teaches you a lot about team spirit. It also it teaches you about loyalty to your team."
Asmaa Al-Shareef, captain of the PNU basketball team, which finished in third place, said: "We would like to share our happiness of competing in this championship. We are so proud, and grateful to Dar Al-Hekma University as this tournament is our first outside of Riyadh. We are proud to represent Riyadh city.
"It is really pleasing to us to see how women's sports are developing in Saudi Arabia according to vision 2030, bringing a lot of changes."
Tahani Banajah, a freshman studying law at Dar Al-Hekma University, won the running race and finished third in the swimming.
"Since I started at Dar Al-Hekma I have experienced so many things," she said.
Razan Al-Najjar, an architecture student and winner of the badminton contest, said: "My favorite sport is basketball I started to play seriously about a year and a half ago. This was my first time participating in a real competition, in badminton, surprisingly, and I won the third place. The game was really intense."
The women's sports sector in Saudi Arabia has been undergoing unprecedented restructuring and development recently, including the appointment of Saudi women to positions in sports, opening up to them entry to events in sports stadiums, and allowing them to take part in sports activities for the first time.
Dar Al-Hekma University is a private, non-profit institution of higher education for women in Jeddah. Classes are taught in English. The University opened in September 1999 with the approval of the Saudi Ministry of Education.
http://www.arabnews.com/node/1256756/saudi-arabia
--------
First female Saudi Ferrari owner joins Italians to celebrate freedom to drive
NADA HAMEED
28 February 2018
JEDDAH: Aseel Al-Hamad, the first Saudi woman board member at the Saudi Arabia motor federation and the first Saudi female to own a Ferrari, was a special guest at the Italian Culture Center's event on Feb. 27 called "Saudi Women Can Drive."
Diplomatic guests included Vincenzo Amendola, undersecretary of state of Italy, and Luca Ferrari, the Ambassador of Italy to Saudi Arabia in Riyadh.
Elisabetta Martini, the consul general of Italy in Jeddah, said: "The royal decree issued last September which has removed the ban on Saudi women to drive in their own country opens a huge market now for many companies.
"Mostly it was a dream that came true and tonight's event is not about economy but about dreams. The two companies represented here, Ferrari and Maserati, are brands that have contributed the most in the creation of the Italian dream."
Al-Hamad is an interior design engineer graduate and businesswomen who followed her dream about Ferrari cars. She decided to reward herself because of her successful business (a design company), and the reward was a roaring Ferrari car. She said how glad she was about the royal decree, which will have "a positive reflection for the country socially and economically."
"I was so pleased by the decision, just like any other Saudi woman, and I was assured that my decision to buy the car of my dreams was the best decision to make. am so happy because I will drive soon in the Kingdom."
Amendola told Arab News: "The reform decision helps use the energy of this country, especially of women in this young generation. This energy can help to achieve the reform that the government is presenting. The friendship between our countries is historical but now there are many projects that we are planning together."
Another attendee said: "I am American by blood but Saudi at heart, and women being able to drive is absolutely superb. It rocks!"
A number of top-range Ferrari and Maserati sports cars were presented at the event, and a short documentary was played about Maria Teresa de Filippis, an Italian who was the first woman to race in Formula One. She participated in five World Championship Grands Prix after May 1958, but scored no championship points. Though her Formula One career was brief, she won races in other series and is remembered as a pioneer in the sport.
Saudi women will be free to drive in the Kingdom by June 24.
http://www.arabnews.com/node/1256421/saudi-arabia
--------
"Bittersweet Victory" For Moroccan Women Facing Domestic Violence, Activists Say
28 February 2018
BEIRUT: A hotly-debated new law aimed at protecting women in Morocco against domestic violence does not go far enough, said women's rights activists who have campaigned for reform for years.
The law passed in the Muslim country earlier this month criminalizes "harassment, aggression, sexual exploitation or ill treatment of women," according to the women's ministry.
But it failed to define domestic violence or explicitly outlaw marital rape said Rothna Begum, Middle East women's rights researcher for Human Rights Watch.
"While Morocco is going out of its way to pat itself on the back, they need to take far more reform to protect all women from violence," she told the Thomson Reuters Foundation.
By criminalizing forced marriage and the expulsion of a spouse from the home, the law is a "bittersweet victory" for activists in Morocco who have been pushing for reforms for more than a decade, she added.
Sexual harassment and abuse of women is rife in Morocco where a national survey found that nearly two-thirds of women had experienced physical, psychological, sexual or economic abuse.
A video of a young woman being sexually assaulted by a gang of teenage boys on a bus in Casablanca last year sparked outrage in the country.
Saadia Wadah, a women's rights lawyer and activist based in Casablanca said that the law is a "positive" step forward, despite its "gaps and flaws."
In pushing through reform, Morocco follows Tunisia, which passed its own law protecting women against violence last year, but other Arab countries like Egypt, Kuwait, and Yemen have yet to do so, said Begum.
The law allows for protection orders that prohibit an accused person from contacting or approaching a victim during or after criminal prosecutions.
Stephanie Willman, co-founder of Mobilising for Rights Associates, a women's rights group, said this was "terrible."
"Women shouldn't have to file criminal charges to get a protection order," she said by phone from the capital, Rabat.
"Most women who are victims of violence in Morocco will be left unprotected because of this."
Few women file criminal cases against abusive spouses and most are dropped because of family pressure or financial dependence on their abusers, HRW said.
http://www.arabnews.com/node/1256836/world
--------
Saudi Women Enjoy Full Rights, Says HRC
March 01, 2018
RIYADH — Saudi law does not prevent women from holding high political and administrative positions in the country, said the Human Rights Commission (HRC). It also highlighted the government's efforts to empower women and protect their rights.
"Participation in public life is the right of every citizen in the country, irrespective of gender. Women can participate in elections as voters and candidates," the commission said in a report that focused on women's rights.
"Saudi women participate in decision-making as members of the Shoura Council and in public activities in general at official and unofficial levels," said the HRC, which is a government watchdog on human rights in the country.
Saudi women currently hold 20 percent seats on the 150-member Shoura Council, which advises the government on political, economic, social, defense and security issues. They participated in the municipal elections in 2015 when 81 percent of women voters cast their ballots.
"Saudi law allows women to represent the government at regional and international levels by working in embassies and consulates and joining Saudi delegations to regional and international conferences and other events," the report pointed out.
"Saudi women enjoy their rights in all areas and nobody can deny this fact, and their position is being strengthened day after day through various regulations," it said while highlighting the Saudi leadership's role in empowering women and increase job opportunities for them.
The commission said Saudi Arabia has banned discrimination against women through Article 8 of the Basic Law of Governance and other rules and regulations including the Civil Service Law, Labor Law, Health Law and the law for caring the handicapped.
Saudi laws impose tougher punishment on criminals when women are the victims, said the commission. The King has issued a royal decree to prevent discrimination against women at public and private agencies and enhance public awareness on the issue.
The Saudi Vision 2030 aims to empower women. It considers women as an important factor in the Kingdom's progress and development, the report said.
More than 50 percent of graduates in the country are women. The government has been making efforts to increase job opportunities for them and make use of their skills and abilities in nation building.
Participation of women in the job market will be increased from 22 percent to 30 percent by 2030, the report said quoting the vision statement.
The Basic Law of Governance ensures equal rights for men and women to healthcare. Article 27 of the law insists that the state will take care of citizens and their families at times of emergency, disease, old age and disability. "We have not noticed any discrimination against women in extending healthcare services," the commission said.
The government ensures health services to its more than 10 million foreign workers and their dependents through a cooperative health insurance system.
The Kingdom has passed a law for the protection of women and children from family violence. The law insists that people should inform authorities about such cases without delay. Efforts are also under way to enact a new law to prevent sexual harassment against women.
Saudi Arabia has given great importance for education of girls and women. Apart from women campuses at public universities, a women only university has been established in Riyadh. Moreover, men and women have equal access to higher education in the country.
As a result of its educational campaign Saudi Arabia has been able to bring down illiteracy rate from 60 percent in 1980 to 5.31 percent by the end of 2015, the report pointed out.
Saudi women no longer require the support of a male guardian to complete various government procedures and receive public services. Royal Decree No. 33322 has instructed all government departments not to ask women get approval of a male guardian to receive various services.
New laws have protected women's alimony rights, the commission said. The Labor Law prevents employment of women to do dangerous industrial work. Women should not be dismissed from work during pregnancy or post-delivery period, according to Article 156 of the Labor Law.
The Civil Service Law prevents termination of women workers for reasons related to marriage and motherhood. They are entitled to a leave of up to 10 years to accompany their husbands. They can also take special leave for pregnancy, delivery and childcare. http://www.saudigazette.com.sa/article/529472/SAUDI-ARABIA/Saudi-women-enjoy-full-rights-says-HRC
--------
Syrian Women Subjected To Sexual Exploitation for Aid
March 01, 2018
BEIRUT — Gender-based violence, child marriages and the fear of sexual violence including sexual harassment, continue to pervade the lives of women and girls in Syria resulting in very few spaces where women and girls feel safe, a new research has revealed.
According to the 2018 assessments — Voices from Syria 2018 — released by the United Nations Population Fund (UNFPA), the fear of sexual violence, often associated with abduction, is a concern raised by women and girls, contributing to psychosocial stress and further limitation of their movements.
The report says that the restriction on freedom of movement of women and girls also inhibits their access to services, humanitarian aid and ultimately their rights. It also extensively documents instances of aid workers demanding sex in exchange of basic supplies.
Sexual violence
"The shame and stigma surrounding sexual violence contributes to survivors not talking about violence when it happens. Women and girls also fear honor killing as a result of sexual violence. Families arrange marriages for girls, believing it will protect them and ease the financial burden on the family," says the report.
According to the report, girls are reportedly being married younger. "The socioeconomic situation, lack of livelihood opportunities, and increased poverty is ultimately leading more women to resort to negative coping mechanisms such as survival sex," it said.
According to the report, women and girls face sexual exploitation in these circumstances. "Poverty, displacement, being head of the household, coupled with gender inequalities are all understood to contribute to this form of gender-based violence," said the report. — Al Arabiya English
http://www.saudigazette.com.sa/article/529410/World/Mena/Syrian-women-subjected-to-sexual-exploitation-for-aid
--------
Women Challenge Turkey Traditions for Right to Work
March 01, 2018
The piping-hot tea washes down the Turkish classics: stuffed vine-leaves, cheese pie and bulgur salad.
For Emel Resuloglu and her circle it's a monthly tradition: the women's get-together around the dinner table, or "gün" in Turkish, when one member of the group gets a little money or a gold coin.
Turkey cherishes its traditions. But there's one that some here feel is holding the country back socially and economically - that of women not working, cast only as the home-maker.
"I got a university place but my father didn't want me to go", Ms Resuloglu says, as a freshly-baked cake is added to the table. "So I didn't work, I married and had children at 21 and I regret not studying.
"Some women can't find jobs and others in Turkey are married off young. It's an old-fashioned mentality."
Just 34% of women in Turkey work, by far the lowest of the 35 industrialised countries of the Organisation for Economic Cooperation and Development (OECD) where the average is 63%.
Critics of President Recep Tayyip Erdogan say his rhetoric is worsening the situation. At a rally two years ago, he called women who aren't mothers "deficient". Previously, he's urged women to have at least three children and denounced birth control as "treason".
Turkey now ranks 130 of 144 in the gender gap index of the World Economic Forum, based on access to health services, educational attainment, economic participation and political empowerment.
But Ravza Kavakci Kan, an MP with the ruling AK Party, says the government has liberated conservative women by revoking Turkey's old ban on headscarves in public institutions.
"This enables women who choose to wear the headscarf to join the workforce and get an education", she says. "But it takes time for policies to apply to real life."
Is it, though, right for the president to tell women how many children they should have or criticise those who choose not to have a family?
"As a president, he looks to the future of our society," she replies. "Turkey has an ageing population and we need more young people, so it's totally a demographic point of view."
There are just two female ministers in the Turkish cabinet - one is the minister for family.
"We're in a better place than we were - but we have a long way to go, just like many countries," concedes Ms Kavakci Kan.
The economic impact of the gender imbalance is clear. A study by the consultancy firm McKinsey found that if women's participation in the Turkish workforce increased to the OECD average, it could boost the country's economic output by 20% by the year 2025.
To that end, the European Bank for Reconstruction and Development is providing financial support to 15,000 women entrepreneurs in Turkey. Among them is Aynur Gumussoy from the town of Kizilcahamam, in the country's conservative Anatolian heartland.
Twenty years ago, she went from selling food products on a street table to opening her own bakery, delicatessen and breakfast café - traditionally male-dominated businesses here.
The bakery churns out bazlama - the local speciality of round flatbread. And the delicatessen is a kaleidoscope of rich jams, ripe olives and creamy cheeses.
"When I started, I really struggled," she says. "People frowned upon women who worked, they pitied me. Even my parents were almost ashamed of me. But now I've become an example for others", pointing out several shops in the town now owned by women.
"My message to women is be brave and look to the future," she adds, laughing. "If I'd lost faith, I wouldn't be here today."
But for much of the country, she is still an exception.
The general trend is towards an increasingly patriarchal society, where conservative values and religion are dominating ever more. And the culture of female subservience here has gone hand-in-hand with soaring domestic violence.
Around 40% of women in Turkey suffer physical abuse. Some 300 to 400 a year die from it.
Official statistics show a 1,400% increase in reported cases of domestic violence between 2003 and 2010. The government says it's because women are being more encouraged to come forward.
On a cold night in Istanbul, some 200 or so feminist protesters marched through the largely-secular area of Besiktas, brandishing banners and chanting for gender equality.
For activist Feride Eralp, keeping women housebound is a significant factor behind the rise in domestic abuse.
"The fact that women don't have economic freedom is one of the major reasons why they're unable to get away from violence in their lives," she says.
"They're forced to remain with partners who are violent because they're economically dependent on them.
"The mentality has to change here. From top to bottom, there's a view that women are unequal by nature and their place is within the family. They're expected only to be wives and daughters."
As the protesters snaked through the backstreets of Besiktas, they were ordered to stop by a group of policemen. They refused, pushing on to the heart of the area's fish market.
Theirs is a defiant voice, a call for women to work and stand up to male dominance. But in today's polarised Turkey, they are increasingly drowned out.
http://www.bbc.com/news/world-europe-43197642
--------
Iran VP says government against using force over hijab
March 01, 2018
TEHRAN : Iran's vice president for women's affairs insisted Wednesday the government opposed using "force" to ensure women wear the hijab, after a spate of protests stirred debate over the mandatory headscarf.
Massoumeh Ebtekar told a press conference in Tehran that every country has a dress code: "There is no city in the world where you can walk naked in the streets and you won't be approached by a particular regulatory body."
She said Iran's hijab laws - which require women to wear a headscarf and long coat, as well as banning shorts for men - were a "social regulation".
"Our position is that it's a regulation but the use of force - we don't go along with that type of enforcement," she said.
"That is contrary to the basic principles and philosophy that the government of (President Hassan) Rouhani follows."
Her comments follow a string of protests, mostly in Tehran, in which more than a dozen woman have stood in main thoroughfares without their headscarves.
The women risk prison sentences of up to two months for not wearing the headscarf, but up to 10 years if they are found to be encouraging others.
Tehran police chief Hossein Rahimi took a rather tougher line than Ebtekar earlier this week, telling the conservative Fars news agency that Islamic laws were "obligatory for all citizens".
"These people will be firmly dealt with by the police," he said.
He was responding to widespread criticism on social media after a video showed an officer shoving one of the women protesters off a plinth.
"We have reminded our officers to comply with legal requirements when dealing with all people," said Rahimi.
In practice clothing rules have been steadily eroding for years, with many women wearing loose and colourful headscarves and letting them drop entirely, particularly in wealthier areas.
Since Rouhani came to power in 2013, the presence of the morality police who enforced clothing rules has been greatly reduced.
Ebtekar said the government needs "this dialogue" with the younger generation, which no longer shares the same values as those who grew up during the 1979 revolution.
But she defended Iran's record on female empowerment, saying the Islamic republic had brought "true advancement" for women in higher education, politics and sports.
Iranian society is generally freer for women than many conservative Islamic countries, but activists complain they are still under-represented in government, particularly after Rouhani again failed to appoint a single female minister last summer.
Women also have less weight than men in Iran's Islamic legal system, including less right to inheritance and a ban on leaving the country without male permission.
https://nation.com.pk/01-Mar-2018/iran-vp-says-government-against-using-force-over-hijab
--------
36-Year-Old Woman Killed Over 'Honour' In Shikarpur District, Pakistan
March 01, 2018
SHIKARPUR: A 36-year-old woman was allegedly killed in the name of 'honour' by her husband in Shikarpur district on Wednesday.
According to the police, the mother of six was killed after her husband suspected her of having an affair with her neighbour in Dilawar Marfani village of Garhi Yasin tehsil. The suspect fled the scene after the murder, the police added.
The police reached the crime scene after being informed about the incident and shifted the woman's body the hospital where her post-mortem examination was conducted. The police later handed over her body to her relatives.
The police registered a first information report (FIR) on behalf of the state and launched an investigation into the woman's murder.
https://www.pakistantoday.com.pk/2018/02/28/woman-killed-over-honour-in-shikarpur-district/
--------
Women Forced to Remove Hijabs in Police Custody Settle With New York City
By CHRISTINE HAUSER
FEB. 28, 2018
Three Muslim women have each reached a $60,000 settlement with New York City after they were forced to remove their hijabs to be photographed while in police custody, according to a city official and court documents obtained on Wednesday.
Documents outlining the settlements were filed in Brooklyn federal court on Monday and reported by the The New York Daily News on Tuesday. Asked about the report, Kimberly Joyce, a spokeswoman for the city's law department, said in an emailed statement, "The resolution of these matters were in the best interest of all parties involved."
The settlements involved separate cases claiming that the women's religious rights had been violated.
In 2012, a Brooklyn high school student detained on a harassment complaint was told to remove her head scarf to be photographed at a central booking center in the borough. She had asked that a female officer take her picture in private, but the request was rejected, according to a complaint filed in district court that year.
In 2015, a woman identified as J. H. was also told to remove her hijab at Brooklyn Central Booking, even though she explained she could not do so in the presence of men who were not family members, a complaint said.
After she was photographed, an officer said, "Wow, wow, wow" about her hair, and male detainees laughed and made inappropriate comments, the complaint said.
The same year, a Queens woman was taken into police custody after a dispute with a neighbor over a parking space. She was taken to the hospital and then to central booking, where she was photographed without her hijab, despite her objections, a complaint said.
The women were arraigned on their criminal charges, but their cases were resolved without conviction and sealed, Tahanie A. Aboushi, a lawyer for the women, said in an interview on Wednesday.
Ms. Aboushi said the cases touched on a broader point about religious dress that could apply to a number of people, including Orthodox Jewish women wearing modest clothing and Sikh men wearing turbans.
In 2012, the New York Police Department patrol guide did not provide guidance for religious coverings as they related to photographs, she said. Some precincts and central booking facilities photographed Muslim women with their hijab, while others would request that it be removed, she said.
"It was discretionary," Ms. Aboushi said.
In 2015 and 2017, the department issued interim orders that people who were arrested could be photographed with religious head coverings at precincts or taken to a private area to be photographed at One Police Plaza, the headquarters compound in Manhattan.
The cases are examples of how law enforcement officials, airport security personnel and even some employers have had to address or modify policies and practices to accommodate religious requirements.
In 2016, a sheriff in Maine, Kevin Joyce of Cumberland County, publicly apologized after his department released mug shots of Muslim women without their hijabs. The women had been arrested after Black Lives Matter protests.
"With everything going on nationally, I think it is important the public understand we are transparent, we make mistakes on occasion, we are not going to cover them up and we are going to do our best and learn from them," he told The Portland Press Herald.
National advocacy and civil rights organizations have also addressed the issue, particularly at airports, where Muslim and Sikh travelers often say they are subjected to longer security checks because of their dress.
In 2016, a well-known Sikh American actor, Waris Ahluwalia, was not allowed to board an airplane in Mexico City because he refused to remove his turban during a security check. His refusal led to a two-day standoff with the airline Aeroméxico before he was allowed to fly home to the United States.
Many government agencies, including motor vehicle departments and passport offices, allow women to wear their religious gear as long as it does not obstruct the face.
Johnathan Smith, the legal director for Muslim Advocates, said he believed most lawsuits involving hijabs had taken place in the context of employment.
But, he added, "We regularly hear complaints from people who encounter a whole host of obstacles, from people who wear religious head coverings or people who fit the profile of what a Muslim looks like."
https://www.nytimes.com/2018/02/28/nyregion/muslim-hijab-nypd.html
--------
Former Muslim Women in Malaysia Lose Appeal to Leave Islam - Here's What Happens Next
02-28-2018
SARAWAK, Malaysia - Crowds gathered on Tuesday outside the Supreme Court building in Kuching, Sarawak, to await a ruling that could potentially change the way the government views apostates.
Four Malays requested that the court officially recognize their conversion out of Islam.
The first appellant, former Muslim Syarifah Nooraffyzza, had voluntarily and without compulsion left the religion of Islam to embrace Christianity. The other appellants, Tiong Choo Ting, Salina Jau, and Jenny Binti Peter, were former Christians but converted to Islam in order to marry Muslims.
Tiong is widowed, while Salina and Jenny were divorced by their Muslim husbands. All three have voluntarily returned to their Christian faith.
The appellants made repeated requests to the National Registration Department to change the names on their national identity cards to their new, non-Muslim names. Those requests were denied and they were told they would need to obtain a "letter of release" from the Sarawak Islamic Department to declare that they are no longer Muslim.
However, the Sarawak Islamic Department replied that based on Islamic ordinances, there are no provisions that confer jurisdiction for their department to issue a declaration to leave Islam. Thus, the appellants went to the Supreme Court and asked that it decide whether conversion out of Islam is a matter for civil or Sharia courts to decide.
After much anticipation, the Supreme Court ruled that the four appellants should go to the Sharia courts if they want to leave Islam legally. A commotion ensued as a group of Islamic hardliners became rowdy, chanting loudly after the decision was announced.
In the past, Sharia courts have not allowed conversion from the Islamic faith. Typically, they refer the persons for counseling. But Malay Christians were encouraged by a landmark high court ruling in February 2016 when 41-year-old Rooney Rebit was allowed to identify as a Christian. He was converted to Islam by his parents at the age of 10.
Meanwhile, the Sarawak Ministers' Fellowship, an alliance of church leaders in Sarawak, is rallying churches to pray for a solution because they believe the issue at hand "is about safeguarding the religious freedom that our forefathers fought hard for us."
Sarawak, the biggest state among the 13 states of Malaysia, has population that is more than 40 percent Christian.
Attorney Eugene Yapp, director of RFL Partnership, an NGO (non-governmental organization) promoting religious freedom, said Christians may seek a political solution by amending Sharia legislation to allow people to leave Islam, "but this is tough to get due to Muslim-majority sensitivity."
He also said despite what many people around the world may think, Malaysia is not a moderate Muslim country upholding democratic values.
"Beneath the modernity of Malaysia," he said, "religious laws and Sharia are beginning to impact the lives of non-Muslims in the country."
https://www1.cbn.com/cbnnews/world/2018/february/former-muslim-women-in-malaysia-lose-appeal-to-leave-islam-heres-what-happens-next
--------
URL: https://www.newageislam.com/islam-women-feminism/pink-city-turns-black-thousands/d/114456
New Age Islam, Islam Online, Islamic Website, African Muslim News, Arab World News, South Asia News, Indian Muslim News, World Muslim News, Women in Islam, Islamic Feminism, Arab Women, Women In Arab, Islamophobia in America, Muslim Women in West, Islam Women and Feminism