New Age Islam News Bureau
5 Dec 2014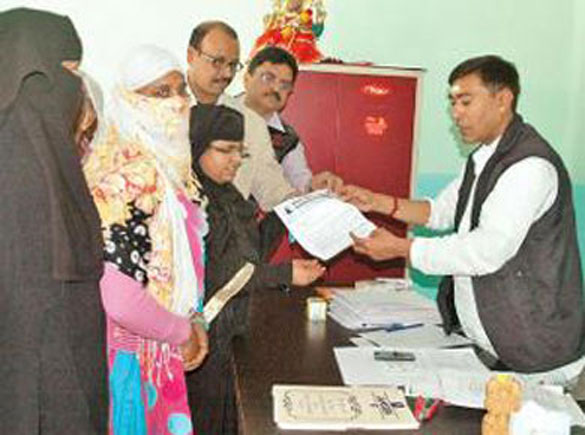 Members of Muslim Mahila Foundation submitting a petition with local office of the PM for the construction of Ram Mandir in Ayodhya
------------
• Women's Tight Pants Sprayed with Paint, Cut in Aceh
• Uzbekistan Jails Women for Teaching Qur'an
• Report: Brits, Americans among ISIS's Feared Burqa Brigade
• Varanasi's Muslim Women Want Ram Mandir at Ayodhya
• Bombay HC to Hear PIL on Ban on Women in Haji Ali Sanctum
• Kenya: 800 Girls Saved From FGM
• Australian Muslim Women's Grants Fund New Family Law Clinic and Girls Gotta Know App
• Abused Women Face Lonely Struggle for Justice in Pakistan
• Swedish Girls 'Forced' Into Joining Isis
• 'Women Can Be President, Governor': Nigeria
• Turkish PM: Gender 'Equality' Linked To Suicide
Compiled by New Age Islam News Bureau
URL: https://newageislam.com/islam-women-feminism/photos-woman-walking-with-bare/d/100345
-------------
Photos of Woman Walking With Bare Legs in Kabul Goes Viral
5 December 2014
A set of photographs have gone viral on social media websites in Afghanistan which shows a young lady walking in the streets of Kabul city with bare legs.
The young woman was reportedly spotted in Karte-3 area in the western part of Kabul city but there are no reports regarding the exact date and time the photographs were taken.
The photographs were widely shared on social media, specifically on Facebook which have created confusions among the users of social media.
There have been mix reactions towards the photographs where certain people have said that the young lady has intentionally walked in the streets with bare legs, accusing her of prostitution.
While certain others have said she was not psychologically in a normal condition and was perhaps looking for someone anxiously.
However, the photographs show the woman was not only walking with bare legs but she is not wearing any footwear either.
Women walking with bare legs or wearing miniskirts was common in Kabul during the late 1960's where the country had seen relatively steady progression for women's rights by making significant strides in its efforts to modernize and construct a civilian democracy
The women were first eligible to vote in 1920's – only a year after women in the UK were given voting rights, and a year before the women in the United States were allowed to vote.
However, the certain restrictions were implemented on women following the collapse of Soviet occupation and the Najibullah regime where women had to wear the head-scarf or Hijab and were refused to attend the UN's fourth world conference on women in Beijing in 1995.
Further restrictions were implemented on women during the Taliban regime from 1996 to 2001 where women were forced to fully cover themselves in veils and were prohibited to work or attend school or educational institutes.
http://www.khaama.com/photos-of-woman-walking-with-bare-legs-in-kabul-goes-viral-8826
------------
Women's Tight Pants Sprayed with Paint, Cut in Aceh
5 December 2014
PETALING JAYA: To Malaysians who are already recoiling at the stifling prohibitions imposed by Shariah law in Kelantan when it comes to concealing their "Aurat", the news that women in Aceh are prohibited from wearing tight pants can only cause more alarm, lest the Kelantan state government latch on to the idea and impose it here as well.
Having come into effect as law on January 1, 2010, women in some parts of West Aceh were humiliated further when Shariah police cut their tight jeans and pants and forced them to wear loose-fitting attire in their bid to enforce the law.
According to the Jakarta Post, the West Aceh regency administration even stockpiled some 7,000 long skirts to be given away to women caught wearing the offensively tight pants.
The law also prohibits clothes vendors from selling jeans and slacks to women.
West Aceh Regent Ramli M S, the man behind the controversial regulation, even instructed government agency personnel to refrain from serving women who came to their offices in "un-Islamic" attire.
According to BBC news, Ramli said, "We're not stopping women from wearing trousers. What's prohibited are tight trousers and jeans.
"If they have to wear trousers, the trousers must cover their ankles and be worn under loose, long skirts."
semprot celana-facebook On a local Malaysian website , pictures of young women being spray-painted by ordinary folk armed with spray cans also showed the lengths to which enforcement authorities would go to ensure the law was upheld.
The law also apparently extends to other forms of women's wear like tank tops and tight dresses.
"As an Acehnese who understands the culture and values of Aceh, I very much agree with the tight clothing ban. Such regulation is necessary to filter western influences and preserve Acehnese values, which are rooted in Islam," chairman of the Aceh Graduate Students Association Sayuti Abubakar told Khabar South East Asia.
Meanwhile a report in the Jakarta Post in 2013 related how the administration of Lhokseumawe in Aceh were prohibiting women from straddling a motorcycle because the practice was "improper" and seen as un-Islamic.
Brushing aside the obvious reasons of safety, Lhokseumawe Mayor Suaidi Yahya said that women should sit sideways on motorcycles, with their legs dangling off to one side.
Saying this practice would "uphold the dignity of women", he added anyone caught violating the regulation would face punishment.
Needless to say many women's groups and social activists are up in arms over these extreme rulings and have protested in earnest but as it stands, the rulings stay.
http://www.freemalaysiatoday.com/category/nation/2014/12/05/womens-tight-pants-sprayed-with-paint-cut-in-aceh/
------------
Uzbekistan Jails Women for Teaching Qur'an
5 December 2014
TASHKENT – A group of Muslim women has been jailed by Uzbek authorities in the capital city of Tashkent, in the district of Yangiyul, for teaching Muslims' holy book, the Qur'an, to young girls.
The news, reported by World Bulletin on Thursday, December 4, said that women were teaching children Qur'an at home when they were arrested.
The state television reported that the defendants will face charges of "radicalism" for teaching the Qur'an.
The arrested women included Hanife Mirganieva, who was said to be "the group leader" along with other women.
A few number of women managed to escape police, with Uzbek officials expecting them to seek refuge in Turkey.
"Ozodlik" radio, the Uzbek service of Radio Free Europe, said that Mirganieva's husband has been previously caught as Hizbut Tahrir member.
Uzbekistan, Central Asia's most populous nation, is at the heart of a geopolitical power struggle between the West and Russia.
Rights groups have long accused Uzbekistan of suppressing religious freedoms as part of a campaign against Islamic extremism.
In a 2012 country report, the New York-based Human Rights Watch accused the Uzbek authorities of continuing "their unrelenting, multi-year campaign of arbitrary detention, arrest and torture of Muslims who practice their faith outside state controls".
In March 2012, Uzbek authorities prohibited the sale of religious clothing, specifically hijabs and face veil, at several Tashkent markets following a secretive ban on sales.
There is no legal provision banning sales of hijab, but legislation passed in 1998 sets out fines and short jail terms for wearing religious clothing in public. Punishment ranges from a fine of five to 10 times the monthly minimum wage to 15 days in jail.
In the first known prosecution under the law, a court in Syrdarya region fined a woman the equivalent of 155 US dollars for wearing hijab.
http://www.onislam.net/english/news/asia-pacific/480447-uzbekistan-jails-women-for-teaching-quran.html
http://www.worldbulletin.net/muslim-world/149895/women-jailed-for-teaching-quran-in-uzbekistan
------------
Report: Brits, Americans Among ISIS's Feared Burqa Brigade
5 December 2014
Armed and dangerous women covered in full Islamic body veils and led by a six-foot-tall Amazon are brutally enforcing strict religious laws and managing brothels with sex slaves in the self-declared capital of the Islamic State.
The Al-Khansa female secret police in Raqqa, Syria carry weapons under their veils and arrest and torture women for the slightest infraction of Sharia Law, London's Daily Mail newspaper reported Thursday, as it revealed that at least 60 British women are members of the feared Burqa brigade.
The newspaper named Aqsa Mahmood, 20, of Glasgow, Scotland, Khadijah Dare, 22, of London and the "terror twins," Zahra and Salma Halan of Manchester, among the enforcers who have identified themselves as ISIS supporters over social media sites. The Mail said the female force also includes women from the United States, the Netherlands and Russia. They are mostly Western educated and speak little Arabic.
Dare, believed to be a nom de guerre, has appeared in ISIS recruitment videos and is among the top terrorists wanted by Britain's MI6 secret service. After ISIS beheaded American journalist James Foley in August, Dare sent out a Twitter message saying she hoped to be the first female terrorists to cut off the head of a Western hostage.
"Her notoriety has evolved so rapidly that she has achieved a celebrity-like status among jihadists fighting in Syria and those who are thinking of traveling abroad to join ISIS," a security source told the Mail.
Read Latest Breaking News from Newsmax.com http://www.Newsmax.com/Newsfront/Burqa-brigade/2014/12/04/id/611088/#ixzz3L4RXAIQE
Urgent: Should Obamacare Be Repealed? Vote Here Now!
The leader of the Al-Khansa force is reportedly a six-foot-tall woman named Umm Hamza, who hides a cattle prod, a gun and daggers under her veil.
"She's not a normal female. She's huge," a woman who fled from Al-Khansa told CNN in October.
Along with imposing Sharia Law on women who might wear the wrong-colored shoes or unapproved Burqas, Al-Khansa manages brothels with sex slaves kidnapped from the minority Yazidi sect, which ISIS accuses of devil worship.
Yazidi women between the ages of 40 and 50 are sold for about $40, but female children under nine go for $160.
Al-Khansa takes it name from a 7th century female poet who was a contemporary of Muhammad, the founder of Islam.
Female fighters have a long history in Islam, said Dalia Ghanem-Yazbeck of the Carnegie Middle East Center. Some join jihadist groups because the pay is good. Others have religious reasons.
"There are also those who join for ideological reasons," she wrote. "A large number of these evoke their desire to "glorify the word of God on earth" or to demonstrate "their love for God and the desire of raising the banner of Islam."
http://www.newsmax.com/Newsfront/Burqa-brigade/2014/12/04/id/611088/
------------
Varanasi's Muslim Women Want Ram Mandir at Ayodhya
5 December 2014
VARANASI: Mohammad Hashim Ansari, the litigant in Babri Masjid case, who doesn't want to pursue the matter any further and wants 'Ram Lalla' to be free, gets support of Muslim women of Prime Minister Narendra Modi's Varanasi.
Supporting Hashim Ansari's stand, these women associated with Muslim Mahila Foundation and Bharatiya Awam Party sent a petition to PM requesting the construction of Ram Mandir in Ayodhya. They said that the construction of Ram Mandir would end hatred and strengthen the bond of unity and harmony between Hindu and Muslim. They will also go to Ayodhya to meet Ansari.
The president of MMF Nazneen Ansari along with Najma Parveen, president of BAP, and others submitted the petition at the local office of Modi in Ravindrapuri colony on Thursday. The petition was also sent to RSS chief Mohan Bhagwat and senior RSS functionary Indresh Kumar.
"Yadi Musalman Apni Tarakki Chahate Hain Aur Hinduon Se Ijjat Chahate Hain To Ram Janmbhoomi Par Mandir Nirman Ke Liye Pahal Kare Kyonki Duniya Janti Hai Ayodhya Sri Ram Ki Hai," (If Muslims want prosperity and respect from Hindus they should come forward to build the temple at the birthplace of Ram, as all know that Ayodhya belongs to Sri Ram), said Nazneen adding that the construction of temple would be the permanent solution of ending the hatred between the two communities.
"Ram Se Yudh Karne Wale Ravan Ko Logon Ne Maf Nahi Kiya Toh Ram Mandir Todne Wale Babar Aur Uske Samarthakon Ko Log Kaise Maf Karenge," (When people did not forgive Ravana for fighting with Ram, how could they forgive the Ram Mandir destroyer Babar and his supporters), wondered Nazneen. Describing Babar as Mongol invader, she wrote that his ancestor Halaku killed thousands of Muslims and Khalifa in Baghdad in 1258, and Babar sowed the seeds of hatred by destroying Ram Mandir in 1528. "Everybody know that the Indian Muslims have no connect with Mongols," she said adding that those who oppose the construction of temple really are not well wisher of Muslims.
The BAP President Najma Parveen said that time has come when Muslims should present an example of communal harmony by contributing their share to the construction of Ram Mandir. "No one can play with the sentiment of crores of Hindus attached with Ram," she said.
It may be mentioned here that the Muslim women associated with MMF and BAP openly campaigned for Modi during the parliamentary election. Besides, these women had also sent Rakhi to Modi on the occasion of Rakshabandhan and prayed for his well being during the holy month of Ramzan.
http://timesofindia.indiatimes.com/india/Varanasis-Muslim-women-want-Ram-Mandir-at-Ayodhya/articleshow/45374458.cms
-----------
Bombay HC to Hear PIL on Ban on Women in Haji Ali Sanctum
5 December 2014
MUMBAI: Bombay high court is slated on Friday to hear a public interest litigation challenging the ban on women entering the inner sanctum of the Haji Ali Dargah which houses the Mazar (tomb) of the saint and has millions of visitors every year.
The PIL is filed by activists Noorjahan Niaz and Zakia Soman of the Bharatiya Muslim Mahila Andolan, who experienced, ''first hand the restriction which was imposed somewhere between March 2011-June 2012." They said right from their childhood they were allowed unimpeded access to the inner sanctum (Mazar) but now there is a barricade. A trustee in July 2012 told them the decision was taken for the safety and security of women and is based on Shariat provisions which they began following no sooner they realised they were making a mistake.
The petitioners followed up with representations to the authorities including women commissions, State Minority Commission and the Charity Commissioner in vain. In April 2014 they again visited the Dargah and "much to their dismay learnt that the debarment of women was still in force." Aggrieved, they moved HC urged it, "to declare that women devotees have equal right of entry and access to all parts including the inner sanctum (Mazar) of the Haji Ali Dargah on par with the male devotees.''
http://timesofindia.indiatimes.com/india/Bombay-HC-to-hear-PIL-on-ban-on-women-in-Haji-Ali-sanctum/articleshow/45377338.cms
------------
Kenya: 800 Girls Saved From FGM
5 December 2014
Migori — More than 800 girls have been rescued from undergoing Female Genital Mutilation in the Kuria region.
Kuria East police boss Gladys Ogonda on Wednesday said two circumcisers and more than 10 parents have been arrested.
"We are working with our neighbours to tame the foreigners who come into our country and encourage such bad practices," she said.
She was speaking at Komotobo Center when Migori Governor's wife Hellen Obado donated materials worth Sh100, 000 to rescued girls.
The girls are now camping at six centres across both Kuria East and Kuria West districts, with the largest group being at Maranatha Komotobo Centre.
http://allafrica.com/stories/201412050938.html
------------
Australian Muslim Women's Grants Fund New Family Law Clinic and Girls Gotta Know App
5 December 2014
A new family law clinic for women of culturally diverse backgrounds and a digital platform for Muslim women to share their stories are among initiatives for Canberra women to share in $115,000 funding.
Eight projects have successfully secured funding as part of this year's Women's Grants.
The Women's Legal Centre (ACT and Region) has received $24,000 to open a specialist women's family law clinic for women from culturally and linguistically diverse backgrounds. The centre also received another $3000 to develop the Girls Gotta Know App, for quick access to essential legal information for young women aged 14 to 24 years old.
Muslim women will share their personal stories through short films thanks to $19,000 granted to Photo Access. The digital storytelling project will be screened at Ainslie and Gorman Arts Centre.
The Alcohol Tobacco and Other Drug Association ACT will use a $25,000 grant to create a project to enhance support for women affected by drug and alcohol use and domestic and family violence.
Other grant recipients include Beryl Women with $12,000 to create a book documenting the refuge's history and statistics about domestic violence in the territory, and another $12,000 granted to the Women's Centre for Health Matters to develop a local resource to help GPs and community health workers identify signs of domestic violence.
The YWCA Canberra has received $20,000, half for the She Leads College Conference 2015, a leadership conference for up to 200 young women from colleges across the ACT, and the Relationship Things Online project, an interactive digital portal and mobile app which aims to prevent sexual assault and violence.
Minister for Women Joy Burch said the projects would make a real difference to women and girls across the territory.
"This year's grant round attracted an innovative and diverse range of applications, and I look forward to seeing these important initiatives come to life in coming months," she said.
http://www.canberratimes.com.au/act-news/womens-grants-fund-new-family-law-clinic-and-girls-gotta-know-app-20141205-120ab7.html
-----------
Abused women face lonely struggle for justice in Pakistan
KARACHI, Pakistan — The Associated Press
5 December 2014
KARACHI: When Ruqayya Parveen's husband dumped a jug of acid on her and her children as they slept, she awoke to a life of pain and disfigurement — one that many in conservative Pakistan believe she brought upon herself.
The police have shown little interest in tracking down her husband in the 18 months since the attack, and she says many in her community shun her, not only because of her appearance but because they assume she did something to provoke the attack.
Last year, at least 1,000 Pakistani women were murdered in so-called "honour killings" carried out by husbands or male relatives over suspicions of adultery or other illicit sexual behaviour, according to the Human Rights Commission of Pakistan, a private organization. It said another 7,000 survived similar assaults, including acid attacks, amputations, and immolation.
The commission only compiles reported cases, meaning the true statistics are likely much higher, as cases are often covered up by families.
Last month, a Pakistani court sentenced to death four men who had beaten a pregnant woman to death in front of a Lahore courthouse for marrying against the family's wishes. One of the men was her father; the others were male relatives.
That verdict came after the killing sparked widespread outrage. But women's rights groups say justice in such cases is often elusive, with police and prosecutors having little interest in getting involved in what many in the conservative, Muslim-majority Pakistan see as private family matters.
Parveen, 26, said her husband, an "alcoholic gambler," threw acid on her as she slept with three of their four children.
"I lost my senses. I was shivering with pain," she said. She was hospitalized for six months with severe burns on her face, torso, back and arms. She lost vision in her left eyeball, which hangs from the socket, and hearing in her left ear.
When she went to the police she was told they could only apprehend her husband if she told them where he was. "Is this a joke?" she asked.
Police investigator Mahmood Khan told The Associated Press that he did not have the intelligence resources to track the husband down. "We're ready to spend the money. We're ready to travel," he said, but only if she tells them where to look.
"In our country, domestic violence is still considered a private matter," said Zoia Tariq, a women's rights activist. "Try telling a police officer or a government official that someone is hitting his wife, sister, daughter, you will get a response ... 'What have you got to do with it? It is their personal matter."'
Parveen says it is the lack of justice, more than the disfigurement, which has "robbed me of the will to live."
She is still in pain from the attack, and stays at home most days to avoid the stares. Her mother works as a housekeeper and her eldest son, an 11-year-old, quit school to work as a gravedigger.
There are shelters in Karachi where she and other abused women can learn skills in order to earn a livelihood.
"It is important that these women consider themselves survivors and not victims. It is essential for their rehabilitation and reintegration into society," said Uzma Noorani, who runs one such shelter.
But it's hard to see yourself as a survivor when you are treated like a pariah.
"Acid attack victims are avoided like the plague, like AIDS," Tariq, the women's rights activist, said. "They're considered someone punished for doing something wrong. People would ask their kids to stay away from such victims, stay away from their influence."
Rubina Qaimkhani, a Pakistani minister in charge of women's affairs in Sindh province, acknowledged that the government could do more, but said there was a need to change the mindset of the entire society. "We are making laws and trying to create awareness among women of how they can fight for their rights," she said.
Laws already on the books bar sexual harassment in the workplace and criminalize acid-throwing. But a bill specifically addressing domestic violence failed to make it out of Pakistan's upper house because of opposition from hard-line religious parties.
Zohra Yusuf, the chairwoman of the Human Rights Commission, says the legal system does little to protect the rights of people like Parveen, but that society is slowly changing.
"You hear of a lot of cases of women marrying of their own will," she said. "You are seeing a bit of change that, you know, they will not accept patriarchy all their lives."
http://www.theglobeandmail.com/news/world/abused-women-face-lonely-struggle-for-justice-in-pakistan/article21966106/
http://www.dawn.com/news/1148957/abused-women-face-lonely-struggle-in-pakistan
------------
Swedish Girls 'Forced' Into Joining Isis
5 December 2014
The head of Sweden's Security Service has told a television network that the country was experiencing a rapid rise in numbers heading to Iraq and Syria to fight for Islamic State.
Anders Thornberg who heads Säpo, told STV to suggest some girls are being forced to travel to the war torn region and spoke of the need to "pull together all the forces in society" to try prevent more young people from signing up to the Islamic State.
He suggested up to 300 Swedish nationals had travelled to countries including Afghanistan, Yemen and Syria, according to The Local news website.
But Mr Thornberg said the worrying situation wasn't just limited to Sweden.
"It's an explosive development" he said in an interview with the Agenda programme. "When I talk to my colleagues on the other security services in Europe and around the world we see the same trend."
The Scandinavian country is taking the problem seriously: in the summer they appointed a national coordinator against violent extremism, former leader of the Social Democrat party Mona Sahlin.
She will be attempting to improve cooperation between local authorities and government agencies and developing a programme to allow vulnerable youngsters to resist any appeal which religious extremism might hold.
And she said that while some young people did volunteer to fight for the terrorist group in the Middle East, others, especially girls, are "forced" or "trafficked" to the areas. She explained that she had spoken to parents of those who had left their homes to fight and they suggested their children did not leave voluntarily.
"I hope that cases of trafficking come to light that can be investigated" she said, adding that many joined up because they were following a "dream" to "become something" that turned out to be "a very different reality".
Ms Sahlin spoke out against Muslim groups in Sweden which she accused of not doing enough to stop young people leaving their homes and travelling to fight.
But the chairman of an Islamic association in Stockholm, Ibrahim Boutaleh, insisted that Muslim organisations in Sweden are working hard to stop people being radicalised.
"We've been looking into different models that appear to be working in both Denmark and the UK, where social services and police work together to support families affected" he said. "They work in advance, educating parents so they can spot the signs before it's too late."
Yesterday we reported how French security workers had been requesting secondments to the UK services who have the best track record in de-radicalising fundamentalist fighters.
http://www.breitbart.com/Breitbart-London/2014/12/04/Swedish-security-chief-warns-girls-trafficked-to-Syria
------------
'Women can be president, governor': Nigeria
5 December 2014
CONTRARY to a popularly-held opinion among some Muslims, the Chief Imam of Al-Adabiyya Kamaliyya Central Mosque, Foma, Ilorin, Kwara State, Alhaji Shuaib AbdulRafiu, has said that women can occupy top political positions to bring about good governance.
He said Islam does not discriminate against women as regards political appointments.
Delivering his final sermon in a three-part lecture on Islamic views on Muslim women's eligibility for political offices, AbdulRafiu said Islam does not oppose their participation in the affairs of state.
He explained that only in a caliphate, where a religious leader is the head, can a woman not aspire to or occupy a political position.
The cleric added that women could hold governorship, presidential or other political positions in any secular society like Nigeria.
The cleric, who said he had earlier argued that Muslim women could not hold political positions, explained that further religious and academic studies in foreign Islamic countries revealed that women could govern in secular societies of the world.
He cited Indonesia, Turkey, Bangladesh, Syria, Egypt, Pakistan, among other countries, where Muslim women hold political offices.
AbdulRafiu said some women leaders are more qualified than men, adding that corruption within the political class would reduce if more women were elected into positions of authority in the country.
The cleric charged Muslim men to fear Allah in their relationship with women and be responsible husbands and sons to their wives and mothers.
http://www.tribune.com.ng/islamic-news/item/23360-women-can-be-president-governor
------------
Turkish PM: Gender 'equality' linked to suicide
5 December 2014
"Mechanical equality" in gender relations in developed countries is linked to their higher suicide rates, Turkish Prime Minister Ahmet Davutoğlu said in a speech Thursday.
"Why is the Gross National Product in most developed countries – I don't want to name it but in Scandinavian countries and in many other countries – at the highest level on one side [GDP], but the suicide rate is also at the highest level there. Why?" Hurriyet Daily News quoted Davutoğlu.
The premier, who was speaking at a meeting hosted by the women's branch of his ruling Justice and Development Party (AKP), described "mechanical equality" as something that it is beginning to "destroy the complementary relationship in life."
"That's why, since our women are fulfilling that divine mission of keeping humanity alive, then they have the right to rest before and after becoming a mother and spare time for their children. Granting this is not a favor, it is just paying a debt."
He stressed the importance of "motherhood" and dubbed his government as a "champion" to promote the natural kinship.
The premier also denounced violence against women, describing those who "use violence against women" as "displaying their own weakness and dishonor."
"No matter if it is among the family, even by a father against his daughter in the form of a slap [in the face] as sign of compassion, it will leave deep traces in the hearts of those children," he added.
"No matter if it on the street, against a woman who is considered weak, all of this violence is a direct assault on human honor, and fighting against this assault is a mission for all of us."
Davutoğlu hailed his party when he said that 14.5 percent of AKP deputies elected in the most recent 2011 parliamentary elections were women.
He also promised: "We should increase this to at least 25 percent in the shortest time. As AKP, we will do whatever this requires. The AK Party doesn't follow others, it drags others to follow its lead."
http://english.alarabiya.net/en/News/2014/12/05/Turkish-PM-Gender-equality-linked-to-suicide-rates.html
------------
URL: https://newageislam.com/islam-women-feminism/photos-woman-walking-with-bare/d/100345