New Age Islam News Bureau
4 May 2012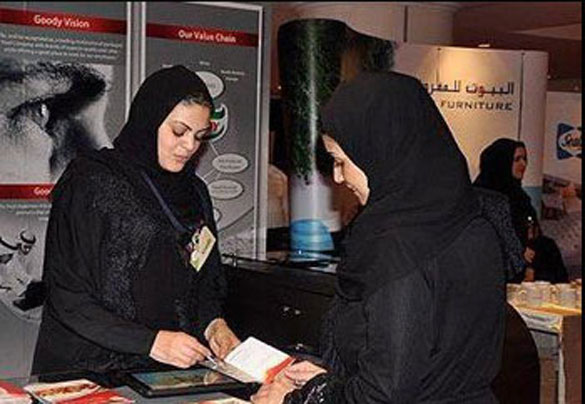 • Maldives' first protective order issued to a woman allegedly abused by husband for 21 years
• Saudi Women expo attracts 169 firms
• Sharia law concerns ministry in Chechnya
• Students Hold Girls-Only Prom at Michigan High School
• Egypt women's NGO takes pro-FGM Parliamentarian to court
• Kabul girls say women are now 'free' in Afghanistan
Complied by New Age Islam News Bureau
Photo: Saudi Women expo attracts
URL: https://newageislam.com/islam-women-feminism/pashtun-women-wade-river-discrimination/d/7218
----------
Pashtun women wade through river of discrimination
By Kahar Zalmay
May 4, 2012
Pashtun women have been a source of inspiration for women across the world despite faced by discrimination and male chauvinism. With their movement being confined to homes, still some of them are emerging as a challenge to society norms and defining new horizons for women as contributors to peace and prosperity.
On March 8, 2012, Shad Begum, a social activist from Thalaash, district Lower, Dir was awarded International Woman of Courage Award by US First Lady Michelle Obama and Secretary of the State Hillary Clinton. She is the third person from Pakistan who received this award after Dr Begum Jaan from FATA and Soghra Solangi from Sindh. Shad Begum is the founder of Association for Behaviour and Knowledge Transformation, which was established in 1994 for women's rights and human development.
Shad Begum, 32 and mother to two young boys aged 14 and seven, has been an inspirational source for women as despite coming from a culturally and religiously conservative background, she stood for the rights of women in her area. What inspired you to become a peace activist, I asked her. "My father influenced me who used to work in a humanitarian organisation and I would accompany him when I was a student of 9th grade," Shad Begum said, dressed in traditional shalwar kameez with her head covered.
The hardships faced by Shad Begum and other local Pashtun women are not only confined to strict Taliban regimes which came to power and then tumbled and fell but also to present discriminatory political representation, lack of freedom of speech, lack of governmental representation and extreme cultural norms, which put a chain on a woman's freedom.
"From 1947 until present, women are not allowed to vote and that's the reasons that all the developmental projects in Khyber Pakhtunkhwa are mainly male centric," Shad Begum said in her low-pitched throaty voice. Discrimination in the region has been so high that "identity cards" issued by NADRA there used to be having no section for a woman's name on the card but described only the male guardian of the female i.e. m/o and d/o. Now it carries names of women but still they are not willing for their photos to appear on their cards, which deprives majority of women of ID cards in rural areas of Pakistan.
Shad Begum has faced many difficulties and challenges in the male-dominated area. In 1995, Maulana Sufi Muhammad instituted a religious decree that whichever woman working with an NGO shall be married off to any man who found her. "It was difficult time indeed but this fatwa didn't dent my passion and courage but few years later in 2001, I stood against a Jirga decision that legalised honour killing in Lower Dir and that was the beginning of my trial," Shad said constantly texting from her cell phone. In 2008, when militancy was touching new heights, Shad Begum had to move to Peshawar with her family for security reasons.
Sharing some of her experiences, she said whenever her interview got published in local newspapers, people would throw stones at her residence and the copies of the interviews were distributed in the entire village to shame her.
In 2002, by local government ordinance she was elected councillor and being a councillor she faced as much discrimination as much a local Pashtun woman faces. "My other female colleagues and I were allotted a secluded room which was not part of the main assembly hall with no mic or loudspeaker facility to raise our voice or take part in a debate. We were told that people of the town do not approve of women speaking on loud speaker so a male member would come to us and say that I am your Islamic brother and will communicate to the assembly whatever you have to say," she said with a laughter reading my astonishment. But this was changed by the courageous women councillors and later a separate building was constructed. "Few years later, I was the one who initiated the budget session with my speech," Shad Begum confidently said who at no point made me believe she hails from an ill-developed tribal set-up.
Coming from a conservative family, Shad Begum also faced resentment from her in-laws. Being engaged to her cousin, her family and locals pressurised her to marry her early to refrain her from working. She believes American women are also facing problems, but there's freedom of expression and their legal system is intact to provide justice to the needy.
Being a staunch supporter of women's education, Shad Begum is currently pursuing her MBA degree. She believes that every girl has a right to education. "We are not utilising the potentials of women members of our society. How can we make progress when half of our population is not productive economically? You know what even militancy and violence could be countered giving an active role to women. A mother, if she grooms her son properly, he would never become a terrorist or go for violence as a resort," Shad Begum said sounding very logical. "If Maulana Fazaullah could use women to get charity from them and use it for negative purposes, why can't we use women for positive purposes? She said waving her hands constantly to get her message across like a well-trained speaker.
Sharing her deep sympathy with the Pashtun female labour force, whose labour isn't recognised, she shares her award with every female individual working in any capacity.
Shad Begum said Pashtun women have suffered a lot but they are irenic fighters. She said the award is a big responsibility on her shoulders, which means that she has to work more.
Peace is a time-taking process Shad Begum believes, as like the way a violent situation doesn't develop abruptly, peace can't happen precipitately either.
What are your dreams, I asked her. "I want to build a platform where all opinion leaders can sit to discuss all issues concerning women of the area. This platform would be like a policy research institute which will conduct research and develop policy reforms that we can use later to lobby for legislation," she said.
http://www.dailytimes.com.pk/default.asp?page=2012\05\04\story_4-5-2012_pg7_18
----------
Maldives' first protective order issued to a woman allegedly abused by husband for 21 years
By Hawwa Lubna
May 4, 2012
A woman allegedly abused by her husband for 21 years has received a protective order against her husband, the first to be granted under the recently enacted Domestic Violence (DV) Law which provides protection for victims of domestic violence.
According to the police, the protective order – intended to protect the victim from further harm or harassment – was requested by the Ungoofaaru Police Station following a complaint filed by the victim at the station on April 30.
In a statement released on Thursday, the police said that the woman has been "a victim of domestic abuse for 21 years" and has faced various forms of abuse from her husband over the years.
"During the investigation police found that the woman definitely needs protection," the statement read.
Police media official Sub-Inspector Hassan Haneef told Minivan News that the case is under further investigation and no arrests have been made yet.
Meanwhile, the woman remains protected from any further abuse under the protective order, he observed.
"A great help"
"The enactment of the Domestic Violence Act has certainly facilitated police investigations into domestic violence cases. But more importantly, it is a great help for victims of such crimes," the Sub-Inspector added.
Should the police find reasonable evidence to believe a person is a victim of domestic abuse, the DV legislation stipulates the police can enter the place of crime without a court order and arrest perpetrators and even request for a protective order on behalf of the victim.
Furthermore, if requested, the courts can command the accused person to refrain from certain activities (a restraining order) in a domestic violence case and even issue a maintenance order to ensure a means of support or livelihood to the victim.
The court can grant a three-month provisional order without a trial, or the knowledge of the alleged perpetrator, while he or she is given the right to challenge the order during the trial to make the order permanent.
The Domestic Violence Act defines sexual, physical and emotional abuse of victims, economic and psychological abuse, intimidation, stalking and harassment, deliberate damage to property of the victims as offences while the perpetrators can be subjected to the punishments and court orders.
Violations of these orders are considered criminal offences and the perpetrator can face a maximum fine of Rf50, 000 (US$3242) and a maximum three years of imprisonment.
In addition, the legislation stipulates the formation of "Family Protection Authority", mandated to conduct programs to support victims of domestic violence, setting out measures for taking all necessary steps to prevent domestic violenceincluding rehabilitating perpetrators of such crimes, arrange easy reporting mechanisms and facilitating the investigations.
A seven member board needs to be appointed to the FPA . The board will be appointed soon, President Dr Mohamed Waheed Hassan said after ratifying the legislation on April 23.
The passage to endorsement took over a year longer than anticipated, mostly due to the resistance from several MPs who had argued the bill was "un-Islamic" and criticised it for "unduly favouring women" while at the same time making life "extremely difficult" for men, who they said, were wronged by women.
Maldives has a high rate of gender-related violence, particularly affecting women and girls. A national survey on "Women's Health and Life Experiences" conducted with the support of UNFPA, UNICEF, and WHO showed that one in every three Maldivian women aged 15-49 reported experiencing some form of physical or sexual violence at least once during their lifetime.
http://minivannews.com/politics/maldives-first-protective-order-issued-to-a-woman-allegedly-abused-by-husband-for-21-years-36656
----------
Saudi Women expo attracts 169 firms
May 4, 2012
The Saudi Women Group will be organizing its first International Exhibition here on Saturday through Monday under the aegis of Princess Rima bint Talal bin Abdul Aziz. As many as 169 firms and establishments are participating in the three-day event that will highlight products of interest to women from both local and international companies.
According to the organizers, the focus will be on a wide range of products — from beauty care, clinics and care centers to other entities of interest to women and personal care. It will be the largest gathering of its kind under one roof, to serve all requirements and needs of the women in Saudi Arabia.
The exhibition aims to attract commercial audience in the sector. It is an opportunity for the Saudi women as the elites of major companies specialized in women's affairs are expected to attend the exhibition besides displaying products and services related to women. They can also explore investment opportunities on the occasion.
"Princess Rima's sponsorship of this event indicates her keenness and support to Saudi Women International Exhibition (SWIE) and encouraging women to play their important role in various activities in the Kingdom, as they enjoy full support by the government of the Custodian of Two Holy Mosques, King Abdullah, who is encouraging them to play their natural role within the society and its culture."
This support, according to the organizers, manifests itself in various fields, including economic, education, health and social sectors, besides other fields wherein Saudi women have an active involvement.
Spelling out the highlights of the event, Reem Al-Hathlan, head of the exhibition, said that its aim is not merely to mobilize a large number of companies seeking to display their products but also to address a message to Saudi women to express their concerns through this event. As such, Al-Hathlan pointed out that they have invited a large number of firms to participate in a seminar at a certain place and time to get their input that could help Saudi women and investors in addition to other women in the Kingdom.
The idea to hold the exhibition under the title, "Saudi Women International Exhibition," came in the wake of the economic boom in the Kingdom and the constant keenness of the Saudi leadership to serve them in the supreme national interest. It also marks a quantum leap in enabling the Saudi woman to take her place in the society by participating in national development programs concerning them. In the process, she could make use of her enormous intellectual and financial resources in economic, education, cultural and social areas, by participating in the growth and development of the national economy.
According to the organizer, the event will provide unique investment opportunities for Saudi business women, whose cumulative investment in the private sector at present is only 21 percent. She added "that if we look at the reality of women's investment in the private sector, statistics tell us there is a huge potential for investment involving women." She said that all field and theoretical economic studies have stressed the need for creating a business environment conducive to their investments in a prosperous country like the Kingdom. The upcoming exhibition will provide a platform for realizing her ambition, said the organizer.
The exhibition will enable them to explore business opportunities, both regional and international. It offers a number of products and new services which are of women's interest and new products in the Saudi market, besides marketing and promotional opportunities for the products and services at competitive prices. They can also sign agreements and conduct transactions with investors and their agents. They could also create opportunities for business through communication between the exhibitors and visitors.
http://arabnews.com/saudiarabia/article624093.ece
----------
Sharia law concerns ministry in Chechnya
May 4, 2012
Russia (MNN) ― The government in the autonomous region of Chechnya is openly approving Muslim honor killings. Over the last few years, dozens of bodies of young Chechen woman have been found.
President of Russian Ministries Sergey Rakhuba says Chechnya's president "approved publicly, saying the killings were okay because the lady that got shot by relatives publicly had loose morals. He went on to describe women as the property of their husbands and say their main role is to bear children."
Rakhuba says influential people on national television announced they want Sharia law acknowledged throughout the Russian Federation, not just Chechnya. "He says if anyone will go against them, they will fill up the city with blood. It shows you how much radical fundamental Islam is getting into the day-to-day life in Russia."
Some suggest that up to 22 million people are Muslims in Russia. The increase is due to a decreasing birth rate in Russia, 13 abortions to every 10 live births, and immigration. Russia is fearful they could become minorities in their own country.
Rukhuba says his team is still committed to this area. "They understand the level of this risk. The risk is huge. They still like to go and reach this community with the Gospel. I believe summer camps in Chechnya are a most strategic approach to bring the Gospel to that autonomous republic there."
This is an area that knows violence well. Children there are recruited by radical groups. Rakhuba says that's why next generation leaders running camps are important. "They come with a good message. They come with good motives." As they come to Christ, "We begin to see the change. The young people change within weeks, and they understand people care about them."
In this case, summer camps may not only change the life of a child but potentially may change an entire area of the Russian Federation.
http://www.onenewsnow.com/Missions/Default.aspx?id=1590804
----------
Students Hold Girls-Only Prom at Michigan High School
4 May 2012
Because of religious and cultural beliefs that restrict interaction with boys, many of the Muslim students at Hamtramck High School in Michigan would not have been able to attend their senior prom, so they decided to hold one just for themselves – no boys invited.
The event unfolded with the theme "Once Upon a Time," and it was a hit, Tharima Ahmed, one of the organizers of the school's first girls-only prom, told ABCNews.com in an interview.
Ahmed, who is Muslim, formed the Princess Project committee with other students to raise funds and plan.
"We wanted to abide by the rules but still have fun," the 17-year-old said of the April 28 event held inside a banquet hall in Hamtramck.
Among the estimated 120 girls who attended were Muslim students from the school's other grades, those who had graduated without going to their own proms and non-Muslim students who were there to enjoy the evening with their friends.
Hamtramck is a diverse city. According to Census data, it is home to significant communities of Middle Easterners, Native Americans, African Americans, South Asians and Eastern Europeans, among other ethnicities.
Many of those ethnicities were in attendance at the prom, where the partiers crowned a duchess, princess and senior princess. Ahmed was crowned prom queen.
She is gratified by the support she has received in the school and from the wider community.
Full report at:
http://abcnews.go.com/blogs/headlines/2012/05/students-hold-girls-only-prom-at-detroit-high-school/
----------
Egypt women's NGO takes pro-FGM Parliamentarian to court
Manar Ammar
4 May 2012
Egypt's New Women Foundation said they are suing Islamist Parliament member Azza al-Garf over her pro-female genitals mutilation (FGM) statements. The women's rights foundation sent a letter to the speaker of parliament Saad al-Katatny, informing him of legally going after Garf and asking for his permission to be allowed to take the MP to court.
The parliament needs to lift immunity for an MP in order for them to be held accountable in a court of law.
Garf was reported saying that FGM is an Islamic practice and that the anti-FGM laws should be amended. Garf is a Freedom and Justice Party (FJP) member, the political arm of the Muslim Brotherhood in Egypt.
"We are on our way to sue Garf to preserve our rights and the gains of Egyptian women," said the open letter to the speaker.
"We are suing her for going against Egyptian laws that criminalize sexual harassment and FGM, practices that goes against women rights and human rights.
"We completely refuse Garf's statements and announce that she does not represent us."
Full report at:
http://bikyamasr.com/67991/egypt-womens-ngo-takes-pro-fgm-parliamentarian-to-court/
----------
Kabul girls say women are now 'free' in Afghanistan
By Kashif Hussain and Aliya Mirza
May 4, 2012
LAHORE: We are now free from the jaws of extremism and can take a sigh of relief, as we are free to lead social lives according to our wishes. There is no gun barrel to dictate us.
These were the views of teenaged Afghan athlete girls who came to Pakistan to contest in the cycling championship.
These girls are overjoyed by the peace in Afghanistan, as they say there are no more bullet-riddled bodies, pieces of human organs in bomb blasts and debris of buildings that were once their heritage and history.
A member of the Afghan cycling team, Zohal Sarwari, studying in 12th standard, wearing tight skin trouser and T-shirt, told Daily Times at Gaddafi Stadium that her country had gotten out of the hard grip of the fundamentalists and its society had come out from the pressure of Talibanisation.
She said that girls were enjoying full liberty now, like other modern neighbouring societies.
Full report at:
http://www.dailytimes.com.pk/default.asp?page=2012\05\04\story_4-5-2012_pg13_7
----------
URL: https://newageislam.com/islam-women-feminism/pashtun-women-wade-river-discrimination/d/7218