New Age Islam News Bureau
14 Nov 2015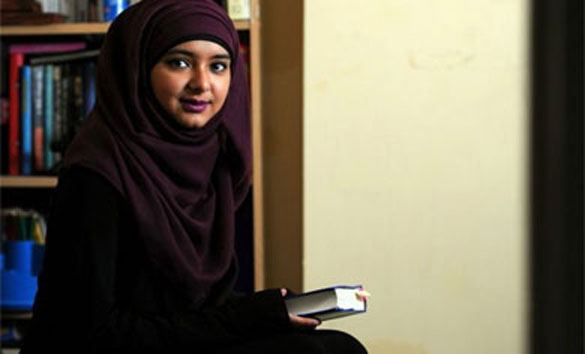 Tasnima Quraishi, 19, hopes to study dentistry at university, Wales
--------
• Paris Attackers Can't Speak For Muslims: Indian Women's Group
• Inside the Weird World of an Islamic 'Feminist' Cult
• This Is What Life Is Like For Young Muslims in Wales
• 'I Am Not Malala', — a Rebuttal of Malala Yousufzai's Memoir Launched
• In Afghanistan, Some Men Are Going Out Of Their Way to Stop Female Drivers
• For Muslim Women Workers, Bias Can Start with the Interview
Compiled By New Age Islam News Bureau
URL: https://newageislam.com/islam-women-feminism/paris-attackers-speak-muslims-indian/d/105277
-------
Paris Attackers Can't Speak For Muslims: Indian Women's Group
Saturday November 14, 2015
New Delhi: An Indian Muslim women's group on Saturday denounced terrorists for killing innocents in Paris in the name of Islam, saying "they are criminals and should be treated as criminals".
"We decry the terrorists who at the Bataclan concert venue were heard crying out 'Allahu Akbar' as they went about killing people," the Bharatiya Muslim Mahila Andolan said in a statement.
"We condemn them outright for carrying out such inhuman and criminal acts in the name of Allah.
"We want to state clearly and emphatically that these terrorists have no business to speak in the name of Allah or on behalf of fellow Muslims.
"They are criminals and should be treated as criminals in any society," said the statement signed by co-founders Noorjehan Safia Niaz and Zakia Soman.
The terrorists, the statement said, "have only brought about misery, suffering and shame to fellow Muslims and to humankind.
"We urge all Indian Muslims as well as Muslims the world over to stand up in solidarity with the French victims and against those resorting to such dastardly acts in the name of our religion."
Eight terrorists -- all of whom were later killed -- unleashed mayhem in Paris on Friday night, killing over 150 people and injuring over 200, some 80 of them critically, in multiple terror attacks.
http://ummid.com/news/2015/November/14.11.2015/indian-muslim-women-on-paris-attack.html
-------
Inside the Weird World of an Islamic 'Feminist' Cult
By Broadly Staff
Nov 13, 2015
Adnan Oktar is the most notorious cult leader in Turkey. Beginning in the 1980s, the Muslim creationist introduced the world to his bizarre take on Islamic religion; he also credits himself with introducing his followers to feminism.
Oktar refers to his cadre of devoted women as "kittens." At his behest, the "kittens" shirk hijabs and traditional dress. Instead, they wear designer outfits, apply heavy makeup, and undergo plastic surgery. They also happen to be wealthy socialites.
Together, Oktar and his followers are ushering in what they call the new face of modern Islam. They even have their own TV network, A9, to broadcast their views and Oktar's televangelism is bolstered by the hundreds of books he has authored in an attempt to discredit evolution. But the cult leader also has an equally prolific history with the law.
Broadly spends three strange days with Adnan Oktar and his "kittens" to see what life in the cult is really like for women.
https://broadly.vice.com/en_us/video/inside-the-weird-world-of-an-islamic-feminist-cult
-------
This Is What Life Is Like For Young Muslims in Wales
By Kalhan Rosenblatt
The life of young Muslims has come under greater scrutiny than ever before.
In 2013, three young men left Cardiff to join Islamic State, with one of them killed in Syria following a drone strike earlier this year.
Concerns have been raised by the head of the city's Islam UK Centre that poverty, lack of aspiration and Islamophobia are partly to blame for the radicalisation of Muslims from Cardiff and elsewhere.
And this week, the Commission on Islam, Participation and Public Life will be in Cardiff to speak to Muslims about the barriers they face in becoming involved in society.
With all this going on, it would perhaps not be surprising to find young Muslims in Wales feeling isolated.
But, of course, many call Wales their home and are proud to do so.
We spoke with three young Welsh Muslims about their lives.
When Hira matured and began taking her Islamic heritage seriously she decided to begin wearing a hijab – prompting her mother to fear she might run off and join IS.
But the 18-year-old law student, in typical teenage fashion, knew her mother was just overreacting.
Hira said after 21-year-old Reyaad Khan left Cardiff to join the Islamic State parents have become paranoid their children will follow the same path.
"I don't think extremists have anything to do with Islam. That does not portray Islam in the slightest," she said.
"Every parent is worrying because a lot of people have gone from Cardiff and I know a few people like one of the boys who was in Isis and got killed recently."
Hira's grandparents are Pakistani but she was born in Penarth and wouldn't want to be anything but Welsh.
"I love being Welsh. I love Welsh cakes. I love rugby. I love everything about Wales.
"My family is more culturally Islamic. I have to find a balance between being British, being Muslim, the Islamic culture and, of course, being Welsh."
Hira Aslam is 18 and training to be a lawyer
Alongside her studies, Hira works part-time in a law firm in Newport.
Her career path was inspired in two parts – firstly by her aunts, who are lawyers, and secondly by attempting to go down a medical route and realising that wasn't her calling.
"There's a difference between doing something and wanting to do something. I realised science wasn't for me," she said.
Read more: This is how Cardiff looked 100 years ago
Since Hira recently began wearing the hijab her family and colleagues have begun to take notice and ask her why she's made the choice to wear the headscarf.
She said: "A client who is Muslim came in and said 'Why are you covering hair?'
"I said because it was time for me to start wearing it but he said loads of Muslim girls don't wear it.
"It was quite shocking but people are like 'Don't worry, God is forgiving'."
Even though she is the only member of her immediate family to wear the hijab it is something she had always known she wanted to do.
At first wearing it made her nervous but that subsided when she began to feel a strong sense of community with other Muslim women she sees in Cardiff.
"It's a controversial time to start wearing a hijab but if I don't do it now I think I'll be too scared.
"I'm more wary if people are looking at me and then I realise no one is looking at me.
"If I see another lady wearing a hijab we smile at each other."
Tasnima Quraishi was born and raised in Wales but in 2006 she was able to catch a glimpse of her father's native Bangladesh.
From the temperature to the language she said being there was nothing like being in Wales.
It's in Cardiff where she feels she belongs and the place she feels safest.
"Walking home in Cardiff I feel so safe but I wouldn't walk alone in Bangladesh at night.
"In Wales I'm so comfortable. I can go on the bus or speak to complete strangers, especially in Cardiff.
"If I went up north for an hour it's not as multicultural but in Cardiff it's a melting pot and everyone is accepting.
"I've never experienced anything else. Cardiff is my home."
The 19-year-old is planning on studying dentistry at university but is taking a gap year between her college and university education.
In the meantime she says her prayers five times a day, does her chores around the house, shops with her mother and helps cook her family's dinner.
Her prayer time, she said, is some of the most important time during her day.
"Prayer time is very flexible. Other than first and fourth you have a couple hours when you can pray.
"You can shorten it if you're busy but I don't like to shorten it because I find it's like meditation.
"During hard times it's nice to be able to put my head down and clear my thoughts. That's my down time.
"It's so important to stop sometimes and think and analyse your life."
She also volunteers with leadership courses at her local mosque to help young Muslims figure out how to be a good leader.
When she's not helping her family around the house or volunteering at her mosque she works part-time at Primark.
Despite her hectic schedule the teenager says family time is an absolute must.
Every weekend she and her 12 cousins spend time with her grandmother.
"Family time is important. You need family.
"We're all on different schedules so we always make an effort to keep in contact.
"My friends and I, at least twice a month, make time to see one another," Tasnima said.
She feels living in Cardiff has given her a greater perspective on diversity and it's one of the reasons she loves living in Wales so much.
"I've been to four schools with very different kinds of people and it has helped me a lot.
"Everyone in the schools are a different age and background. You have to communicate with everyone and you have to be understanding because everyone is different.
"My religion says you should be sharing and cares for your neighbours.
"Just because someone is not Muslim doesn't mean they don't deserve respect.
"I see my life and I think how lucky I am to live where I am in the position where I am with the opportunities I have."
It's not easy to keep up with Ali Amir. His work ethic means he is constantly busy with his family, community, and university studies.
The 20-year-old is studying to be a dentist at Cardiff University but when he's not working hard on academia he fills every second of his day with hobbies, volunteer work, friends and family.
"I don't have time for a lot of sleep. A lot of tea helps," Ali said.
His father was born in Wales and his mother is Pakistani and he said the biggest difference he's noticed between the two nations is the disparity between the poor and wealthy.
"Here you've got benefits and state schools for free for people who need it.
"In Pakistan if you're rich you get educated. If you're poor you don't and it's very difficult to get out of that mindset," Ali said.
In Cardiff, Ali said he had never been on the receiving end of any racism or bigotry.
His main qualm is how Muslims are portrayed in the media.
He said: "Personally I've never felt attacked by anyone in any sort of way.
"I do find quite a lot of the problem is when something is on in the news – [the coverage is] kind of ignorant.
"Their knowledge of what the real Islam is is very little. That's the only thing I find wrong."
Between his daily prayers Ali is a volunteer at sporting events – and, like any good Welshman, especially involved in rugby.
"I volunteered with the Rugby World Cup in the Fanzone helping out with lots of different activities related to rugby," he said.
"I watch it being a Welsh fan. I'm passionate about my rugby."
Ali: 'I volunteered with the Rugby World Cup in the Fanzone'
He also volunteers at local schools and his mosque. In his remaining time he indulges in his hobbies as a photographer and an artist.
"I have a part-time calligraphy business. I write verses of the Qu'ran and I sell those to people. That helps with dentistry school.
"I'm a self-taught artist and I've been doing it for about a year and a half.
"I realised I was okay with it and spent a lot of time practising."
Many of Ali's friends are Muslim and they are able to coordinate their schedules around prayer time and discuss similar cultural topics, he said.
"My non-Muslim friends drink until they're off their heads and I don't put myself in those situations.
"If I want to go out with my friends we'll go around prayer time and we'll talk about Islam.
"If I went out with other friends I'd have to go away to pray."
Ali is a dedicated student and focusing on his studies and becoming a successful dentist is at the top of his priorities.
"I went on work experience when I was 16 or 17 and really enjoyed it and thought to go on as a career.
"I haven't regretted the decision at all yet."
http://www.walesonline.co.uk/news/wales-news/what-life-like-young-muslims-10392557
-------
'I Am Not Malala', — a Rebuttal of Malala Yousufzai's Memoir Launched
November 11, 2015
ISLAMABAD: 'I am not Malala' — a rebuttal of Malala Yousufzai's memoir 'I am Malala' — was launched yesterday to counter the narrative. The youngest recipient of the Nobel Peace Prize Malala Yousufzai's book "I Am Malala" was published in October 2013 that was co-authored by British journalist Christina Lamb. 'I am not Malala, I am Muslim, I am Pakistani' is a story of gallant Pakistani daughters and sons who take pride in being Pakistanis unlike Malala, said the author of the book, Mirza Kashif Ali, President All Pakistan Private Schools Federation (APPSF).
"The book is written with the aim to reveal the truth and counter anti-Islamic propaganda and expose the nefarious designs of anti-Islam forces," he said. The association that represents 173,000 private schools including the elite schools systems that banned Malala's book last year in all private schools and colleges terming it highly 'controversial'.
The association is going to move the court on November 13 to ban "I Am Malala" across the country, Mirza announced. "Malala is the darling of the West and Shiv Sena. Those who created al Qaeda and ISIS created Malala. Why is Malala's father Ziauddin Yousafzai working as education attaché in Pakistani mission in Britain and UN?" Mirza.
The book questions the world for showering Malala Yousafzai with awards including Nobel Peace Prize saying the principal of Army Public School who sacrificed her life to save her students deserves more laurels. It says the students of the schools are true sons and daughters of the soil who despite the massacre of 132 schoolchildren by the Taliban have been going to the same school. It also praises Aitizaz Hasan,a student from Hangu who saved his schoolmates and laid his life while tackling a suicide bomber who had come to attack his school. The book tries to establish that focus of Malala was army bashing under the cover of female education. She drew similarities between the Army and the militants and was not happy even after the restoration of the peace in Swat Valley of Pakistan.
Mirza said "Malala termed Satanic Verses - the book of Indian origin British novelist Salman Rushdi – as freedom of expression and never uttered a single word of condemnation against the blasphemous sketches. Why she never uttered a single word of condemnation against Israeli aggression or brutality in Gaza or against the atrocities of Boko Haram in Nigeria."
"She has formed strong nexus with Salman Rushdie and Bangladeshi writer Tasleema Nasreen, and also believes in their ideology," he alleged. "Malala says that she does not fear the Taliban any longer but will she return to Pakistan if she has no fears?" he questioned. "She will never do so because she will lose support of her masters and the easy money flowing in," he further alleged.
Kashif said the APPSF went on a countrywide strike when Malala was attacked and the entire staff and students of private schools expressed solidarity with her. "We are not against her but the ideology being imposed on us by such traitors and billions of dollars of Malala Fund are being used for this to introduce secular curriculum."
http://nation.com.pk/editors-picks/11-Nov-2015/i-am-not-malala-launched
-------
In Afghanistan, Some Men Are Going Out Of Their Way To Stop Female Drivers
Gender equality is enshrined in the Afghan constitution, but the idea of a woman driver is still seen as controversial, provocative and even immoral.
SINCE ROKHSAR AZAMEE began driving the streets of Kabul last year, she has endured condescension, ridicule and even threats to her life with some men deliberately causing "accidents" to harass her.
But she will not be deterred.
The 23-year-old journalist learned to drive to avoid aggravation from men in the street as she waited each morning for a taxi with a driver who would not hassle her on the way to work.
But even the purchase of her own car has not shielded her from condemnation in the male-dominated, ultraconservative society of Afghanistan.
"For many men," she says, "it is a new thing to see a woman drive a car; they will harass you. One way to do so is by causing an accident."
Once as she was heading home in her white 1997 Toyota Corolla, she was followed by a group of four or five men driving an SUV.
Her anxiety growing, she kept driving until they cut her off on a semi-deserted street in downtown Kabul, forcing her to pull over.
But as the men began to clamber out of their vehicle, she saw her chance to escape – reversing quickly then hitting the accelerator.
"It was very horrible experience for me," she says.
Cultural norms
It was not always like this. Up until the 1990s, Afghan women were commonly found behind the wheel – even driving buses, at least in the big cities.
But in 1992, when the communist regime in Kabul collapsed and civil war broke out, women drivers were slowly discouraged.
And as the extremist Taliban group swept to power in 1996, women were banned not only from driving, but from even leaving their homes without a burqa or the company of a male chaperone.
Change did not come again until the US invasion toppled the Taliban from power in late 2001 and a government backed by Washington took over.
Gender equality was enshrined in the Afghan constitution, and millions of women came out from the shadows to attend schools and universities and work in offices again.
Some 14 years on, however, the idea of a woman driver is still seen as controversial, provocative and even immoral.
Islam does not prohibit women from driving, but laws and cultural norms vary throughout the Islamic world, from Saudi Arabia – where women are banned from driving entirely – to Iran and Pakistan, where women drivers are more common.
Afghanistan Daily Life Afghan girls carry kindling in Kandahar, Afghanistan. Source: Allauddin Khan/AP/Press Association Images
In Afghanistan, woman drivers are seen as a Western imposition and a rejection of Muslim values, Babrak, an Afghan man in his 50s, tells AFP.
"Women, especially young girls, driving can increase immorality and even lead to prostitution in Islamic societies," he says.
These women driving encourage our devout Muslim sisters toward immorality. It is becoming intolerable.
His view is not uncommon in Afghanistan where ultraconservative men fear such freedoms increase women's independence and the lack of a male chaperone will result in increasingly liberal behavior.
Changing times
But in big cities like Kabul women are attempting to shift change into high gear.
The increase in the number of women drivers has been growing at a steady rate: Kabul's traffic department estimates show that up to 1,000 women each year now apply to join driving schools in the Afghan capital alone.
In the early years after the end of Taliban rule that figure hovered around 50, Kabul's traffic police chief General Asadullah told AFP.
"The women have the right to learn, they have the right to drive, and we encourage them for that," he says.
Social activist Sohaila Sama, 25, looks forward to driving her own car to the green plains of northern Afghanistan without persecution.
"I have felt better, more confident since I learned how to drive," she says.
When I see other women drive their vehicles, I feel like our country is moving forward toward a better future, a more civilised one.
The progress is promising, but it may not be enough.
A Taliban resurgence in recent months has UN officials and rights activists fearing that the fragile gains women have made could be further eroded when international forces eventually leave.
Testimony from women's rights activists who fled the Taliban's recent brief capture of the northern city of Kunduz revealed harrowing stories of death squads methodically targeting women – an ominous blueprint of what could happen should the insurgents ever return to power.
Azamee – who, bareheaded and with the radio blaring, took AFP on a ride through the streets of the capital – is frustrated but determined she will not back down.
"I am proud, because when I started driving, I think I set an example for other women," she says.
Yesterday one of my friends called and said, 'You have to come to my office.
http://www.thejournal.ie/afghanistan-women-drivers-criticism-2436021-Nov2015/
-------
For Muslim Women Workers, Bias Can Start with the Interview
By J. Weston Phippen
A Muslim flight at­tend­ant re­cently said she'd been fired be­cause, in prac­tice with her re­li­gion, she re­fused to serve al­co­hol to pas­sen­gers.
In June, the Su­preme Court ruled in fa­vor of Sam­antha Elauf, who ap­plied for a job at Aber­crom­bie & Fitch but was denied a po­s­i­tion be­cause her hijab (head­scarf) was not in line with the com­pany's dress code. And in 2012, a wo­man sued Dis­ney­land for very much the same reas­on.
In the work­place, and many times dur­ing the hir­ing pro­cess, Muslim wo­men say they en­counter a num­ber of chal­lenges be­cause of re­li­gion. The hijab brings a private part of their lives in­to the pub­lic sphere. Their re­li­gion prac­tices can also lim­it the jobs they're able to per­form, which em­ploy­ers are some­times loath to ac­com­mod­ate.
"When it is very clear that they're identi­fy­ing them­selves as Muslim," says Maha Sayed, an at­tor­ney with the Coun­cil of Amer­ic­an-Is­lam­ic Re­la­tions, "we see em­ploy­ers out­right stat­ing dis­ap­prov­al and re­fus­ing to ac­com­mod­ate them."
That was the case for Charee Stan­ley, the flight at­tend­ant. She worked at Ex­press­Jet for three years, con­vert­ing to Is­lam after her first year there. She learned that her new re­li­gion pro­hib­ited her from not just drink­ing al­co­hol, but serving it (though not all Muslims be­lieve this), so she de­vised a work­around: When a cus­tom­er ordered an al­co­hol­ic drink, she would re­lay the re­quest to an­oth­er at­tend­ant. The com­pany placed her on un­paid leave.
Work­place dis­crim­in­a­tion com­plaints from Muslims have in­creased at high­er rates than any oth­er re­li­gious group in the past 20 years. But identi­fy­ing a Muslim man by ap­pear­ance—es­pe­cially since thick beards have be­come fash­ion­able in re­cent years—is much harder than identi­fy­ing a Muslim wo­man. The Amer­ic­an Civil Liber­ties Uni­on cites a re­port that says 69 per­cent of wo­men wear­ing a hijab have ex­per­i­enced at least one in­cid­ent of dis­crim­in­a­tion.
Dis­crim­in­a­tion dur­ing the hir­ing pro­cess can be the most com­mon, but hard­est to prove, says Sayed. Cor­por­a­tions may have an open hir­ing policy, but es­pe­cially in entry-level jobs, man­agers of­ten make the hir­ing de­cision. If a man­ager sees a wo­man in a hijab, Sayed says some might as­sume it's too dif­fi­cult to ac­com­mod­ate her re­li­gious prac­tices, which can re­quire pray­er breaks, fast­ing dur­ing re­li­gious hol­i­days, or ex­cep­tions to uni­forms. Oth­er man­agers may not want cus­tom­ers to as­so­ci­ate Is­lam with their busi­ness. Cus­tom­er-fa­cing jobs such as host­ess or re­cep­tion­ist could be dis­creetly re­moved as pos­sible po­s­i­tions for Muslim wo­men.
"A com­pany should not be able to say 'No' to a qual­i­fied can­did­ate," says Waqas Syed, spokes­man for the Is­lam­ic Circle of North Amer­ica, a group that pro­motes Muslim un­der­stand­ing. "So they come up with an­oth­er reas­on."
Muslim who want to be­come po­lice of­ficers have also run in­to dress-code bar­ri­ers that would not al­low them to wear the hijab. Same goes for wo­men want­ing to be­come bus drivers, who for safety must some­times wear tight­er-fit­ting clothes or pants, something some Muslim wo­men prefer not to do.
After they're hired, Muslim wo­men of­ten find them­selves isol­ated from after-work func­tions, Syed says, where even at hol­i­day parties there's usu­ally al­co­hol, which may make the en­vir­on­ment un­com­fort­able.
Dis­crim­in­a­tion can even arise be­fore the in­ter­view pro­cess has even be­gun. A study by Carne­gie Mel­lon Uni­versity found that job ap­plic­ants who self-iden­ti­fied as Muslim on so­cial me­dia stood a much lower chance of re­ceiv­ing a call­back when com­pared with Chris­ti­an ap­plic­ants, even though they had the same name and qual­i­fic­a­tions. In Re­pub­lic­an-lean­ing states, only 2 per­cent of Muslim job ap­plic­ants re­ceived call­backs, com­pared to 17 per­cent of Chris­ti­an-identi­fy­ing ap­plic­ants.
http://www.nationaljournal.com/next-america/workforce/muslim-women-face-unique-challenges-work?mref=curated
------
URL: https://newageislam.com/islam-women-feminism/paris-attackers-speak-muslims-indian/d/105277