New Age Islam News Bureau
18 Feb 2014
• Tunisia's Mufti Supports Possible Face-Veil Ban on Security Grounds
• Bearded Girl from UK Decides To Be Herself and Quits Shaving
• Khanum, a Shia Scholar Leaves Pakistan after Multiple Life Threats
• Pakistan Wins! Sidra Iqbal Brings Home 1st GR8! Women Awards 2014
• Libyan Women's "It Will Be Our Constitution" Campaign Launched with 50,000 SMS Messages
• Groom, Quází Make Yale Nuclear Physicist Victim of 'Fake' Divorce
• Hands Raised To End Violence against Women: Bangladesh
• Egyptian Veiled Rapper among Nominees for Freedom of Expression Awards
• Women-Only Van Service Launched In Twin Cities: Pakistan
• Saudi Princess Adela Lauds Girl Guides
• India supports Afghan policewomen
• Women Under-Represented In All Political Structures in Nigeria
• Yanbu to Have Industrial City for Women
• Fund Plans Focus On Legal Rights of Working Women
• South Africa Ruling Party Marches To Raise Awareness of Violence against Women
Compiled by New Age Islam News Bureau
URL: https://newageislam.com/islam-women-feminism/'panties-president'-protest-lace-underwear/d/35812
-------------
'Panties for the President' Protest: Lace Underwear Ban Irks Kazakh Women
February 18, 2014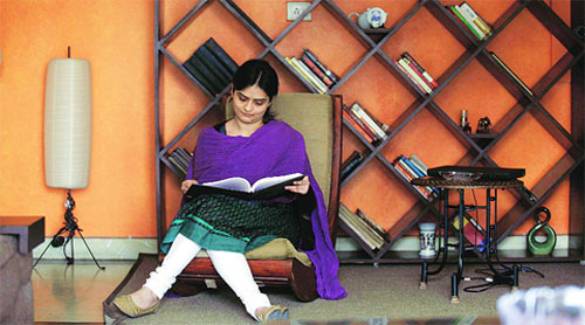 Five women from Farheen's family are in the same boat. Praveen khanna
--------
News of an upcoming ban on lace underwear by former Soviet Union countries has compelled some women in Kazakhstan to take to the street, who say that wearing the garments is "a personal choice."
On Sunday, demonstrators in Almaty, Kazakhstan's largest city, staged what they called a "Panties for the President" protest - voicing both their disapproval of the upcoming underwear ban and the dramatic devaluation of the oil-rich nation's currency, which has dropped one-fifth against the dollar.
The protests resulted in three women being arrested for trying to place lace panties on a city monument.
Russia, Kazakhstan and Belarus, who in 2010 joined the Customs Union, a Moscow-initiated trade bloc, recently announced the ban, due to take effect by summer this year, citing "technical regulations" as a reason for their removal, Kazakhstan-based news site BNews reported on Sunday.
The ban - although unenforced - had already been in existence since 2012, according to the Russian daily Moscow Times.
Too damp
The trade bloc claims that synthetic lace material is poor in absorbing moisture, deeming it unhygienic.
However, some women say that the ban violates personal freedoms.
"Banning synthetic lingerie on the governmental level is too much," said a Dubai-based Kazakh woman, who did not want to be named. "It's a personal matter that every woman should decide for herself."
"Why don't they ban something that is actually harmful, like cigarettes or alcohol?" she added.
Iryna Davydenko, a bank manager, who travels regularly between Kazakhstan, Russia and Ukraine, described the decision as a "mistake," expressing her disdain for the ban.
"It irritates me the most that the authorities want to decide what I should wear. As if all other issues in the country are solved and the only outstanding issue is ladies panties," she said.
http://english.alarabiya.net/en/life-style/healthy-living/2014/02/17/Lace-underwear-ban-irks-Kazakh-women.html
-------------
Tunisia's Mufti Supports Possible Face-Veil Ban on Security Grounds
February 18, 2014
Sheikh Hamda Saeed, Tunisia's mufti, has declared his support of banning the face-covering Niqab garment on security grounds, three days after the Interior Ministry said it was taking strict measures against women wearing the veil, news agency UPI reported.
Sheikh Saeed told reporters on Monday that sect community leaders had the right to limit things that are permissible if they find this to be in the best interests of the nation.
The Mufti's stance, which is considered a religious edict, comes three days after an announcement from the Interior Ministry that it will apply strict measures against any person who dons a Niqab, in a move aiming at dealing with the growing terror threat, and to prevent wanted criminals wearing it to avoid being identified at security checkpoints.
"The Ministry of Interior will strictly control every person wearing a niqab within the framework of the law," the ministry said in a press release.
Interior Minister Lotfi Ben Jeddo has repeatedly stated that a number of wanted persons use the Niqab as a disguise, but said that a total ban against the garment would be a political decision not within the Ministry's mandate.
He noted that the Niqab has become increasingly popular in the past three years, since the collapse of the former Tunisian President Zein al-Abidine Ben Ali's regime in 2011.
http://english.alarabiya.net/en/News/middle-east/2014/02/18/Tunisian-s-mufti-supports-possible-face-veil-ban.html
-------------
Bearded girl from UK decides to be herself and quits shaving
February 18, 2014
A 23-year-old British girl has been suffering her whole life for having a beard, but, as she says, on the day she accepted herself and ditched the razor, that made her feel more "feminine" and "confident" than ever.
Harnaam Kaur was 11 years old when thick hair started growing on her face and body. The young girl suffers from polycystic ovary syndrome - which causes excessive hair growth.
"I would hide it by talking to people with my hands over my face," Kaur told Barcroft. "I used to wax it, that became really painful so I would just shave it or use different sorts of creams. I used to bleach it too," she said.
People bullied her at school for having hair on her face and even strangers on the streets stopped and pointed fingers at her.
"People would call me things like 'beardo' instead of weirdo… and other things like she-man and she male," she said.
Kaur was so desperate one day that she even closed herself in the room and considered taking her life. But after being baptised as a Sikh at the age of 16 the girl finally accepted the way she is.
"We need to keep our bodies intact the way it was given by God," Kaur said. "The concerns my mum and dad had were that I wouldn't have a normal life … that I won't get married … they were concerned about me getting a job, not many employers would hire a bearded lady," she said.
But she proved everyone wrong and became a primary school teaching assistant.
"This is me, this is who I am. It is my inner beauty, it is my outer beauty, it's my oneness it's my wholeness and I've learnt to accept it fully," Kaur said.
Voice of Russia, NineMSN News, Barcroft
http://voiceofrussia.com/2014_02_17/Bearded-girl-decides-to-be-herself-and-quit-shaving-3950/
-------------
Khanum, a Shia Scholar Leaves Pakistan after Multiple Life Threats
February 18, 2014
Pakistan's famous Shia scholar Tayyaba Khanum Bukhari has left Pakistan to unknown place after receiving life threats.
According to media reports, the cleric has been receiving life threats for a couple of years by unknown group that compelled her to leave Pakistan.
Tayyaba Khanum Bukhara has been famous for her thoughtful speeches in Majalis. Khanum is regularly approached by various television channels to appear on religious, discussion, news and social welfare programmes
It is pertinent to mention here that she had been attacked last year by unidentified assailants but fortunately he received no wounds.
She has won many awards for her work and knowledge including Quran-e-Hakim Award 2007 awarded by The Institute of Islamic Teachings and was the first ever distinction to be received by any female scholar, Wonder Women Award 2012 awarded by the National Hero Foundation (NHF) and many others.
http://www.pakistantoday.com.pk/2014/02/17/city/lahore/khanum-bukhari-leaves-pakistan-after-multiple-life-threats/
-------------
Pakistan Wins! Sidra Iqbal brings home 1st GR8! Women Awards 2014
February 18, 2014
DUBAI - Leading Pakistani journalist Sidra Iqbal added yet another feather in her cap this weekend as she received an award for her achievements in Journalism at the 4th Annual GR8! Women Awards 2014 held on 15th February at Sofitel The Palm in Dubai. Sidra was bestowed with the honor along with 16 other women from across the Middle East region who were recognised and celebrated at the event this year. Sidra is the first Pakistani to have ever been nominated for and awarded on this particular international award forum.
Sidra is a very popular TV host and a real life example of "beauty with brains" making her the perfect candidate to represent Pakistani women across the board on a global platform. Looking like a million dollars at the Dubai event in an outfit by ace designer Saniya Maskatiya, Sidra surely turned a lot of heads as she walked down the red carpet and later accepted her award on stage. Mr Ashish Bagga, Chief Executive Officer of the India Today group, the leading media group of India, presented the award to Sidra.
Speaking about receiving the award for her work, Sidra said "As a journalist in Pakistan we are faced with a fast changing political and security environment, sometimes so rapid in changing tunes that it leaves us gasping to understand the real nuances. The assignments take me everywhere, from closed door media briefings at the Presidency, to scenes of utter devastation after a natural havoc, but the most trying of experiences has been to meet and interact with the courageous women who mourn the untimely deaths of their loved ones at the hands of extremist attacks. In the past few years more than 50,000 innocent civilians have lost their lives in these terrorist attacks in Pakistan. This evil has struck very close to home too as friends and colleagues have lost their lives in this battle to uphold and safeguard our sensibilities. But it is not the battles that we have lost that haunt us the most, but the ones we never mustered the courage to fight. The GR8 Women Award in Journalism has rejuvenated my will and my spirits. May this forum of substance grow and flourish."
Other attendees at this year's event included leading Indian Television stars such as Rithvik Dhanjani and Barkha Dutt. The awards were aired live on Sony Entertainment.
The GR8 Women Awards have been organized for the past 3 years by the IndianTelevisionAcademy and serve to recognize women from all walks of life for their achievements.
http://www.pakistantoday.com.pk/2014/02/18/entertainment/pakistan-wins-sidra-iqbal-brings-home-1st-gr8-women-awards-2014/
-------------
Libyan Women's "It will be our constitution" campaign launched with 50,000 SMS messages
February 18, 2014
The German ambassador Christian Much launched the women's "it will be our constitution" campaign by sending the first of 50,000 SMS messages at an event in Tripoli yesterday.
The Gender Concerns International (www.genderconcerns.org) and Women for Democratic Transformation Platform (www.wdtplatform.org), with the support of the German government, organized an event at the Radisson hotel under the banner "It was our Revolution. It is our election and it will be our constitution" to increase Libyan women's participation and role in local politics.
Upon launching the SMS campaign, the German ambassador noted that his country benefited from being governed by a woman. He highlighted Thursday's constitutional elections as the beginning of the process and the launch of 50,000 SMS messages for increased women's role and participation will be an important part of that process.
Samira Masoodi, former head of Libya's Women's Union, an umbrella group representing a cross section of women's NGOs, said that although 558 women stood for the GNC elections of 2012, only one woman was elected without the list system. Although the 558 standing was a good start, it was still a struggle to get women elected outside the list system.
After upheavels and revolution, women are one of the first to suffer she noted. That is why Libyan women fought for a quota of only 35 percent in the constitutional drafting committee, she explained, even though they represent 50 percent of society. Ultimately, only 10 percent, or 6 seats were obtained in the committee.
Masoodi stressed that there can be no democracy without women's rights. "If women did not enjoy their rights how can they bring up generations that respect rights?", she asked.
Sabro Bano, Director of Gender Concerns said that "After the Arab Spring you cannot cage people and their thoughts. There are no borders for thoughts and freedoms", she said. Inclusion is important and fundamental. History has shown that nations can only progress if there is inclusion, she explained.
Azza Maghur, a leading lawyer, human rights activist and a member of the newly formed GNC "February" committee formed to prepare for the new roadmap section B said that women's rights are inalienable rights, not demands or requests to be given to them.
Maghur noted that security and extremism affected women as a group most and that Libyan women cannot be cut off from the rest of the world. The human rights activist said that Libya's specific local circumstances should be positive in favour of women, not negative.
However, since Libyan women cold only obtain 6 seats on the constitutional drafting committee of 60, these 6 women should be very able.
On the subject of Islamic Sharia, Maghur said that this should not be misused to supress women – she feared that it will be misused.
The constitution should be balanced she said, and sections within it cannot contradict each other. For example, Islamic Sharia should not contradict human rights.
The constitution should also have a specific section on women, she concluded.
Political commentator and activist Sadig Zaroug said in his presentation that he hoped the new constitution will give the same rights and protection to women as is the case in the current Transitional Constitutional Declaration.
Zaroug argue for a special case for women within the constitution as women are responsible for bringing up generations of children, therefore this should be kept in mind and protection should be offered in recognition of this paramount role.
He felt that women should be paid by the state for this role, especially as they are forced to leave work – as if she were a teacher at home, he explained.
A political constitution should guarantee her rights in a clear and transparent way.
Zaroug called on the various women's movements to unite and speak and act as one stronger body for their rights.
http://www.libyaherald.com/2014/02/17/womens-it-will-be-our-constitution-campaign-launched-with-50000-sms-messages/#ixzz2tiQratwk
-------------
Groom, Quází Make Yale Nuclear Physicist Victim of 'Fake' Divorce
New Delhi | February 18, 2014
29-year-old Farheen Naqvi, a Yale doctorate and post-doctoral fellow at what she says is "the best laboratory in the world", the National Superconducting Cyclotron Laboratory at the University of Michigan in the US, has recently gone through a painful divorce.
The annulment of her two-year-old marriage to someone in her conservative, Amroha-based family, has set the young nuclear physicist back somewhat, but she is determined now to talk about the injustice that women like her continue to face — despite their success in the outside world, and despite parental support.
After being engaged for a year, Farheen married in 2009. The relationship did not work out, however, and the couple agreed to separate. But Farheen did not anticipate the manner in which her "divorce" would go through.
She found that she had been served a "notice", a fake paper in which she was supposed to have asked for the annulment of the Nikah, signed off on her behalf, falsely, by a Qazi she has never known or met, and witnessed by people who were never there — at an event that never was.
What appalled Farheen further is the realisation that five of her cousins have been handed out similar "divorces", initiated by dishonest Quazis, without the woman's consent, and sometimes knowledge.
While Muslim personal law has remained a political minefield since the Shah Bano matter of over 25 years ago, the increasing awareness of women's rights and domestic violence laws that cover all Indians has created an uncertain relationship between Dar-Ul-Quaza, the so-called domestic disputes settlement system for Muslims set up by the Personal Law Board, and the regular legal system.
Islamic law allows for divorce to be initiated by the husband, by the well-known triple Talaaq. But it also allows for Khula, or a process whereby the wife can ask for annulment of the marriage. In the case of Khula, several obligations on the husband don't necessarily apply.
"This is not just something that afflicts Farheen, but thousands like her. The Muslim Personal Law Board has no real locus to ensure quality control over Quazis, and there are innumerable cases where Quazis are randomly picked locally, to help speed up divorces," Farheen's Delhi-based lawyer M R Shamshad said.
Why would grooms try to turn the Talaaq procedure into one where the bride is said to have initiated the divorce?
Shamshad explained: "Scared of the consequences of having to make payments, being subjected to laws which are increasingly supportive of women in matrimonial disputes, especially within seven years of the wedding, men are increasingly resorting to this. There are five cases in just this Amroha family which have witnessed almost identical situations."
Farheen's father was taken ill because of the stress, and spent a long time in hospital — but he continues to support her. Farheen, who was in India briefly, spoke of the abject helplessness she felt when served with divorce papers that she had nothing to do with.
Farheen and her parents had their lawyer send a notice to her ex-husband, the qazi, and the institutes with which the qazi claimed to be affiliated. Both the ex-husband and the qazi "denied all charges", and it is now up to Farheen to take the next step.
She has also sent a notice to the All-India Muslim Personal Law Board. The Board's Hyderabad-based assistant general secretary A R Qureishi said, "At several times we have moved to initiate inquiries against errant Quazis and have taken their approvals and credentials away. We have even set up zonal representatives who can be contacted in case of such disputes… It is wrong if in some cases grooms are trying to turn divorces they initiate into Khula, so that they can evade material and moral responsibility."
Lawyers aware of the problem said it was not limited to Amroha, or even to north India. A PIL in the Madras High Court filed last June by former additional advocate general of the state and former AIADMK MLA Badar Sayeed highlighted how Quazis have been issuing Talaaq 'certificates' in violation of the Qazis Act.
"The Quazis continue to do this with impunity all over India. There is no control over their actions," Badar Sayeed said.
http://indianexpress.com/article/india/india-others/groom-qazi-make-yale-nuclear-physicist-victim-of-fake-divorce/
-------------
Hands raised to end violence against women: Bangladesh
February 18, 2014
Women of different professions, clad in red attire yesterday, raised hands to end violence against women and ensure justice as part of the One Billion Rising for Justice programme.
The organisers of the programme highlighted that at least 46 women fall victims to different forms of violence every day.
According to the report of the United Nations (UN), one out of every three women in the world has been raped or beaten at least once in her lifetime which indicates that one billion women across the globe have been victims of violence.
"One Billion Rising movement was initiated to aware those one billion women to raise their voices over the issue. We started the movement in 2012, but we realised that only making people aware is not the solution," Khushi Kabir, convener of the Bangladesh chapter of OBR said.
One Billion Rising For Justice is a global call to women survivors of violence to break the silence and release their stories, politically, spiritually, through art, dance, marches, rituals, songs, word of mouth, testimonies and whatever feels right.
Aiming to put violence against women to an end, the campaign began on February 14 last year.
"Law enforcers do not want to take up cases of violence against women and even if the case is filed, the lengthy court proceedings do not ensure justice," she said while addressing a programme organised by the Bangladesh chapter of One Billion Rising for Justice at the Supreme Court premises in the capital yesterday.
Quoting a statistic of the police, organisers said at least 200,862 incidents took place in between 2002 and 2013 where women became victims of acid violence, rape, abduction, trafficking, dowry etc, but the number would be higher in reality as many do not file cases or cases are not taken by the law enforcement agencies.
The organisers recalled the attack on journalist Nadia Sharmin by Hefazat-e-Islam activists on April 6, 2013, rape of two Hindu women-Rupali Das and Monimala Das-in Jessore's Monirampur in the aftermath of national election 2014 and the state of Kalpana Chakma abduction investigation after 17 years.
Depicting the sorry state of justice, organisers said investigation in the case of Kalpana Chakma had been going on for over 17 years now, while no case or action was taken regarding the case of Nadia Sharmin and the perpetrators were yet to be held in the rape cases.
OBR member Fawzia Khandaker Eva read out a declaration demanding correction of policies discriminating women, full implementation of Convention for Elimination of All Forms of Discrimination against Women (Cedaw), providing self defence training to girls in educational institutions and cancellation of two finger test for rape victims.
The programme ended with a flash mob and mime presentation.
http://www.dhakatribune.com/law-amp-rights/2014/feb/15/hands-raised-end-violence-against-women#sthash.sE6wI5d8.dpuf
-------------
Egyptian veiled rapper among nominees for Freedom of Expression Awards
February 18, 2014
Mayam Mahmoud, a poet turned rapper, first gained international attention when she made it to the 2013 Arabs Got Talent semi-finals. Now she is doing it again on a larger scale as a nominee for the 2014 Index Freedom of Expression awards.
Mahmoud is the only Egyptian nominee for the awards and has been selected as a candidate within the arts category.
Mahmoud competes with David Cecil, a British theatre producer who was expelled from Uganda for uncovering the country's "homophobic criminal code," Lucien Bourjeily, a Lebanese playwright who challenged censors with his play "Would It Pass Or Not?" and Meltem Arikan, a Turkish writer and playwright unveiling the taboo's of the country's patriarchal society.
During her appearance on Arabs Got Talent, the 18-year-old Mahmoud revealed that she started transitioning poems into rap songs when she was still in the primary school. Mahmoud's lyrics tackle issues related to women and issues they face in a male-dominated society.
Mahmoud also revealed that although she enjoys the full support of her family, she is subject to the judgment of a society with little tolerance for a veiled women who performs publicly.
Founded in 1972, Activities of Index, a registered charity organization based in London, has aimed to promote and defend freedom of expression. Index is supported by numerous donors which gives it the capacity to operate across many locations worldwide.
Fourteen years ago, Index launched the Freedom of Expression awards initiative to honor advocates of freedom of expression. Noteworthy award winners include figures such as Pakistani education activist Malala Yousafzai and Syrian cartoonist Ali Farzat, among many others. According to Index, this year's selection pool was unusually large, with over 300 public nominations for the award. The final shortlist includes over ten names.
Results of the winners of Freedom of Expression 2014 awards will be announced on 20 March 2014 at London's Barbican Centre
http://english.ahram.org.eg/NewsContent/5/33/94246/Arts--Culture/Music/Egyptian-veiled-rapper-among-nominees-for-Freedom-.aspx
-------------
Women-only van service launched in twin cities: Pakistan
February 18, 2014
RAWALPINDI: A transport service intended to exclusively facilitate women was launched in the twin cities on Monday.
Named "Tabeer", the service is the brainchild of the Rawalpindi Transport Authority. The 12 vans allocated for the purpose will operate on two routes from Rawalpindi Saddar to Islamabad Secretariat between 7am and 7pm.
"The sole aim for launching the service was to save women from the daily hassle of travelling in overcrowded public transport," said District Coordination Officer Sajid Zafar.
The launch ceremony was inaugurated by Punjab Labour and Human Resource Minister Raja Ashfaq Sarwar, with Member National Assembly Malik Abrar and officials of the district government and the cellular services provider that sponsored the service in attendance.
Expressing appreciation for the initiative, Sarwar promised the addition of more vans to the existing fleet for greater facilitation. Moreover, the van service will also start operating on other routes, he said.
The project is part of the provincial government's vision to improve the transport network, shared Sarwar. Referring to the multi-billion rupee metro bus project, he said that an 8.5-kilometre-long elevated bridge to Faizabad will be constructed due to unavailability of space in the city.
"When the project was launched in Lahore, it was severely criticised. But after its completion, even the naysayers appreciated it and now feel comfortable travelling in it," said Sarwar. The van service exclusive to women will continue on other routes after the metro bus project is completed.
The project has been launched in collaboration with the cellular company Zong and a private firm, Al-Abrar Associates.
Passengers will be charged the same fare as regular public transport service.
Female conductors have been hired for the service for added ease of women commuters. The service was officially started on Monday.
The development garnered positive reactions from the target market. Rehana Shahid, a lecturer at Quaid-i-Azam University said, "Most of us will get rid of the horror and abuse we face daily while taking the public transport."
The feeling of insecurity among women while travelling publically is a big challenge which needed to be addressed, she added.
Khadija Waqar, another commuter remarked on the situation, "Charging extra fares, ogling by misbehaving conductors, drivers and male commuters are the issues that women face daily." She said that harassment has become a fact of life for women, and hoped that the freshly-launched service would help in this regard.
http://tribune.com.pk/story/673034/ladies-first-women-only-van-service-launched-in-twin-cities/
-------------
Saudi Princess Adela Lauds Girl Guides
February 18, 2014
JEDDAH — Princess Adela Bint Abdullah has praised the important role girl guides play in society. In a speech delivered on the International Girl Guide Day, she highlighted the government's efforts to develop effective education programs. Maha Fitaihi, president of the Saudi Girl Guides, stressed the important role of female guides in participating in all social activities to make a better change. Fitaihi was given a medal by the Girl Guides Association of Bahrain for her pioneering role in the guide and scout movement.
http://www.saudigazette.com.sa/index.cfm?method=home.regcon&contentid=20140218196082
-------------
India supports Afghan policewomen
Feb 18 2014
By Lalage Snow NATOChannel
While women's rights and their role in civic society are under scrutiny in Afghanistan, India's top policewomen Director General (retd.) Kanchan Choudhry and Special Director General (retd.) Manjari Jaruhar visit their newly appointed Afghan counterpart, Colonel Jamila Bayaz, in Kabul to offer support. Interviews with Choudhry, Jaruhar and Bayaz and unique footage showing women in training at the Kabul Police Academy.
Two of India's top policewomen pay a visit to their Afghan counterparts at the Kabul Police Academy. They talk about their struggles against tradition and how important it is for the training of policewomen to continue.
Kanchan Choudhry and Manjari Jaruhar know what it's like to work in a man's world. Although they are now two of India's top policewomen, they were also the country's first.
Special Director General (retd.) Manjari Jaruhar, Indian Police Service, said, "You know, being the first woman in any place is a problem because you have to chart your own ways. You have to convince everyone that you are serious about your job. And that you are here to stay."
And, having witnessed their younger Afghan counterparts going through training at the Kabul Police Academy on a recent visit, they know only too well the short-term struggles and the long-term benefits.
Director General (retd.) Kanchan Choudhry, Indian Police Service, said, "There are a lot of women out there who would feel better talking to women police rather than to the men police about their personal problems."
Manjari Jaruhar, said, "They are required to tackle terrorists, they are required to manage big public sector undertakings."
With the Afghan presidential elections fast approaching, newly appointed police chief Colonel Jamila Bayaz knows that policewomen will be needed.
vlcsnap-2014-02-18-08h33m37s172Colonel Jamila Bayaz , said, "Policewomen are important in society and will play a vital role in the elections as they will be responsible for securing the polling stations."
But her Indian counterparts well understand that the road ahead will not be easy. The number of women in the Afghan police force now stands at over 1,700 but a recruitment drive is currently underway to increase numbers to 15,000 by the end of 2014.
Kanchan Choudhry, said, "Women, or any group who want to get ahead, have to go through the struggle of proving themselves."
"That is a real uphill task because there is a group of people who are scrutinising you all the time, so you can't afford to slip up. You have to prove that 'yes, you can do this job as well as any other man can do'…I think it must have taken us almost 30 – 35 years," said Manjari Jaruhar.
But Colonel Bayaz is ready for the task ahead. "When I was selected to become a policewoman, I knew there would be challenges. But we are fighting these obstacles and doing the job in the best way possible. We do the same job as our brothers in the police," said Colonel Bayaz.
http://www.khaama.com/india-supports-afghan-policewomen-3447
------------
Women Under-Represented in All Political Structures in Nigeria
February 18, 2014
The Senate President, Sen. David Mark, on Monday in Abuja said that women were underrepresented in all political structures in Nigeria.
Mark, who was represented by Sen. Helen Esuene, said this at the Nigeria Women Strategy Conference, with the theme: "Building Bridges of Opportunity; 2015 and beyond."
He said that though women had participated actively in politics in the country, they had nothing to show for their participation except to mobilise for the electoral success of other people.
The Senate president stressed that marginalisation of women could be addressed through the collaborative efforts of men and women.
"We know that gender disparity in political participation is a global phenomenon and not peculiar to Nigeria alone, "he said.
He said that the level of women's participation in politics in Sub-Sahara Africa was 20.2 per cent, Asia, 17.9 per cent, Pacific 14.9 per cent and Arab 10.7 in Europe, it is 20.9 (Nordic countries excluded) and Americas, 22.7.
"Nigeria as a country falls far below the above regional averages with only seven per cent female participation in parliament, "he said.
He enjoined the stakeholders to make concerted efforts to address the continued marginalisation of women in politics.
Mark also urged women to strive to rise above rivalry and jealousy that inhibit their collective progress in pursuing their political agenda.
He restated continued support of the Senate and the National Assembly in ensuring that women take their positions in politics.
In a remark, Speaker Aminu Tambuwal recommended that INEC considered dedicating certain constituencies to women in the next delineation of constituencies.
He said that the House would support anything required to improve women's participation in politics in the country.
"We shall support every effort aimed at improving the lot of Nigerian women," he said.
According to him, the House has passed several laws that are gender sensitive.
He added that there was the need for collaboration among members of the House on issues that tend to balance gender in the polity.
Earlier, the Majority leader of the House, Rep. Mulikat Akande-Adeola, said that the conference was aimed at stratigising and preparing women for full participation in politics.
She expressed optimism that as from 2015, women's representation in elective and appointive positions, at the Federal, state and local government levels, would increase to 50 per cent.
Akande-Adeola said that one of the objectives of the conference was ensuring grassroots mobilisation in favour of female candidates in 2015.
The house leader commended President Goodluck Jonathan for sustaining his minimum quota of 35 per cent of women representation in political positions and offices.
http://allafrica.com/stories/201402172286.html?viewall=1
-------------
Yanbu to have industrial city for women
February 18, 2014
MADINAH – A prominent businesswoman has said an industrial city will be built for budding women entrepreneurs, a section of the Arabic press reported on Monday.
Nawal Hadi, head of the Center of Businesswomen at the Yanbu Chamber of Commerce and Industry (YCCI), said the city would be completely operated by women and cover an area of 300,000 square meters.
"The center is also planning to set up a limited liability industrial company owned by women based on the output of the petrochemical industries in the Royal Commission of Yanbu and attract women from the economic and social sectors to participate," she said.
This project has won the approval and support of the Emir of Madinah, Prince Faisal Bin Salman, who promised his support and backing for women's projects.
Hadi explained the center does not have accurate statistics on the size of capital and investments owned by businesswomen in Yanbu, but according to YCCI data there are about 94 commercial and service enterprises registered in the name of women.
"This represents about 2 percent of total registered companies but this number may double if we take into account businesswomen who are partners in family owned industrial companies," she said.
She pointed out this low percentage in Yanbu is in line with national statistics that indicate only 2.9 percent of women work despite accounting for 49.6 percent of the population.
Investments by women are limited to the financial and business sectors, while they tend to hold jobs in education, health, oil and gas, banking, interior design and social services, she said.
"Gulf women generally account for 40 percent of the capital of existing companies in Gulf Cooperation Council nations and Saudi women account for the largest share of that percentage," she said.
"The aspirations and future vision of the center is to increase women's participation in the economic sector by creating the right climate to help them overcome the difficulties and problems that face women's investments," she explained.
In addition, she noted, the center seeks to encourage women to venture into business and seize the opportunities to become successful businesswomen.
"The industrial city will be built with the cooperation of relevant agencies and centers and a number of Chinese and Indian firms specialized in the development and operation of industrial cities," she said.
Hadi explained the obstacles facing women entrepreneurs and working women in the private sector are directly related to the social norms governing Saudi women.
"The Ministry of Labor decision that forces women shops to employ only women did not only provide more jobs for women but has also encouraged them to seek more education and training and I expect more jobs will be available soon," she said.
http://www.saudigazette.com.sa/index.cfm?method=home.regcon&contentid=20140218196142
-------------
Fund plans focus on legal rights of working women
February 18, 2014
DAMMAM — The Princess Nouf Bint Muhammad Bin Fahd Fund for Supporting Working Women in the Eastern Province is focusing on forming a strategic plan to spread knowledge about working women's legal rights.
The fund will be focusing on disseminating the culture of rights of working women. This is from the perspective of knowing their legal rights and rights and duties in the work environment.
A number of workshops have been planned in this connection. Informed sources told Al-Sharq that the fund intends to sign work contracts under its supervision. The fund's supervisor Madiha Al-Sawadi said the plan is to focus on raising public awareness on the rights of working women, while assisting women in securing jobs.
She said the fund has helped over 150 women get jobs. At present the fund is hoping to employ 50 young women in malls, lingerie shops and school canteens.
She added that many job applications have been received and they have been acquainting female applicants with the articles of the contract, clarifying the clauses on the off days and vacations, the working hours and other matters related to work.
Al-Sawadi said the next step for the fund is to supervise employment by signing the work contracts at the headquarters of the fund. She said the fund has struck partnerships and agreements with a number of establishments.
Al-Sawadi said: "The new plan includes educational workshops on women's rights, aside from what is required in the work environment, especially since women are now working in different fields.
She added: "The fund will contribute to distributing a booklet or guidebook including labor regulations concerning working women."
http://www.saudigazette.com.sa/index.cfm?method=home.regcon&contentid=20140218196079
-------------
South Africa Ruling Party Marches To Raise Awareness Of Violence Against Women
February 18, 2014
(Bernama) -- Some 200 members of the South African ruling party marched in Pretoria to raise awareness of violence against women, Xinhua news agency reported.
Protesters from the African National Congress Women's League (ANCWL) raised placards and chanted slogans "Women unite to challenge crime, real men do not rape and kill women" as they marched to the Pretoria Magistrate Court.
The group condemned Paralympic athlete Oscar Pistorius for killing his girlfriend Reeva Steenkamp, saying "Pistorius must rot in jail".
Reeva Steenkamp was shot and killed by Pistorius dubbed "Blade Runner" at his Pretoria home on Feb 14, 2013.
Thandeka Mxenge, acting director general for the Department of Women, Children and People with Disabilities, said many women in South Africa continued to suffer violence at the hands of their partners.
"Today it is Valentine's Day, we want to continue to raise awareness and call on our men to say no violence against women and children," Mxenge said.
ANCWL members handed over a memorandum on violence against women to the Safety Department of the Gauteng provincial government on Friday.
Pistorius will go on trial on March 3 at the North Gauteng High Court on charges of premeditated murder and reckless use of a firearm in public.
http://www.bernama.com.my/bernama/v7/wn/newsworld.php?id=1014731
-------------
URL: https://newageislam.com/islam-women-feminism/'panties-president'-protest-lace-underwear/d/35812