New Age Islam News Bureau
20 March 2017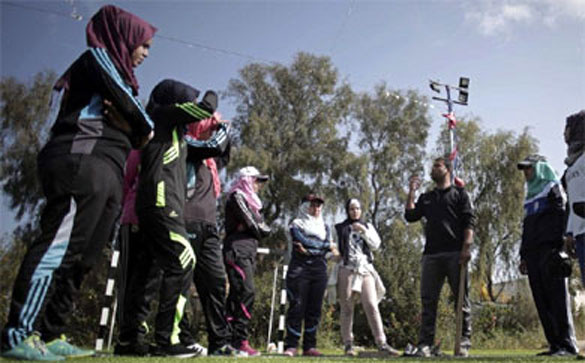 The young Palestinian women don baseball caps on top of their Islamic headscarves and field tennis balls with fabric gloves, giving a decidedly local feel to the great American pastime.
----------
• Palestinian Women Try To Bring Baseball to Gaza
• Tehmina Janjua Takes Charge As Pakistan's First Ever Woman Foreign Secretary
• Muslims Celebrate Birth Anniversary of Hazrat Fatimah (AS) as Role-Model for Pious Women
• Three Women, Man Killed Over 'Honour' In Jacobabad, Pakistan
• Hijab Keeps High School Student out of Regional Title Game —Now Muslim Advocacy Group CAIR Is Involved
• Muslim Women Protest Australian Visit of Anti-Islam Activist Ayaan Hirsi Ali
• Imam Khamenei: Viewing Women as Commodity Zionist Plot
• Israeli Group Sets Up 'Shelters' For Jewish Women Leaving Arab Boyfriends
Compiled by New Age Islam News Bureau
URL: https://newageislam.com/islam-women-feminism/palestinian-women-try-bring-baseball/d/110462
-----
Palestinian Women Try To Bring Baseball to Gaza
FARES AKRAM
Monday 20 March 2017
KHAN YOUNIS, Gaza Strip: The young Palestinian women substitute Islamic headscarves for baseball caps and field tennis balls with fabric gloves, giving a decidedly local feel to the great American pastime.
They are trying to bring baseball to the Gaza Strip, an effort that is still in its early innings.
The players, who work out on a small soccer pitch in a southern Gaza town, admit they are still trying to understand the rules of the complicated sport. With pitches lobbed underhand, the game they play is closer to softball.
"I only know it through TV," said Valentina Shaer, a 23-year-old English literature student.
Mahmoud Tafesh, the team's coach, said he has dreamed of bringing baseball to Gaza since he was introduced to the game last year.
Although baseball is a fringe sport throughout the soccer-crazy Middle East, the game has grown in popularity. Iraq has a national team, and one of the country's coaches introduced Tafesh to baseball last year while both were in Egypt, which now boasts a baseball and softball federation.
Tafesh admits he still has much to learn. He is unfamiliar with any of the teams or players in Major League Baseball and gets most of his knowledge from YouTube videos.
When he returned to Gaza, he was concerned about the lack of equipment and whether the conservative society, which is governed by the Islamic militant group Hamas, would accept the idea of girls playing the sport.
He first approached girls at the only sports education college in Gaza. To his surprise, he found interest in baseball was stronger among girls than boys.
"We targeted this group because they had permission from their families to play sport as sports students. Through them, we started to spread, attracting girls from other fields such as journalism and accountants," he said after finishing a two-hour training session for the girls.
The women say their families had no objection, and some parents even encouraged them. But the society overall has not been as receptive.
Shaer said people "on social media had a bad idea about us," noting abusive comments when their pictures first appeared.
On Sunday, the team, which includes 20 to 30 members, had its weekly practice on a soccer pitch in the female section of Al-Aqsa University, built on lands that were part of Jewish settlements before Israel withdrew its troops and settlers from Gaza in 2005.
There were no males except for the coach, and some other students gathered to watch the women playing catch and taking batting practice. The batters took wild swings, often missing but occasionally making solid contact.
The players wore headscarves as well as long-sleeve running tops and loose pants, in keeping with local norms.
"While we face difficulties, we would like a specialized softball field to learn it correctly and train freely without any obstacles," said Iman Shahin, an athlete who studies sports education.
Israel and Egypt imposed a blockade on Gaza after Hamas seized power in 2007, heavily restricting travel and trade, and making it difficult to acquire specialized sports equipment.
Tafesh said he found just one baseball glove in all of Gaza, at the Sports Ministry building, and took it to local tailors who used it to make replicas out of black fabric.
With no proper bats in the territory, the team took a piece of wood and shaped it to look like one.
While seeking funding and real equipment, the women dream of eventually competing abroad.
"All of us share the same goal: participate and represent the name of Palestine outside and show that there are sports for the girls in Gaza," said 24-year-old Iman Mughaier.
http://www.arabnews.com/node/1071136/offbeat
------
Tehmina Janjua Takes Charge As Pakistan's First Ever Woman Foreign Secretary
DAWN.COM, 20 March 2017
Tehmina Janjua on Monday assumed charge as the new foreign secretary of Pakistan, becoming the first woman in the history of the country to assume the position, Radio Pakistan reported.
Janjua replaces Aizaz Chaudhry, a career diplomat who has taken up charge as Pakistan's new ambassador to the United States.
The Foreign Office issues the following statement after the announcement of her appointment: "She (Ms Janjua) is a seasoned diplomat with a career spanning over 32 years. She has rich experience of working in bilateral and multilateral domains — both at the headquarters and missions abroad. She also served as a director at the foreign secretary's office, director general strategic planning, and briefly as a spokesperson for the ministry of foreign affairs during 2011."
Janjua, the first woman appointed to the Foreign Office's top post, was long considered a favourite for the position. Although Hina Rabbani Khar has served as the foreign minister (2011-13), no woman has ever held the post of foreign secretary in the country before Ms Janjua.
Having joined the Foreign Service in 1984, Janjua's experience has mainly been in multilateral diplomacy. Her only remarkable bilateral posting had been as ambassador to Rome from December 2011 to October 2015. Among her other overseas postings are stints at the UN in New York and Geneva.
Janjua has not served on a major territorial desk at the headquarters, except for a year-long posting at the Soviet Union and Eastern Europe desk at the start of her Foreign Service career.
https://www.dawn.com/news/1321702/tehmina-janjua-takes-charge-as-pakistans-first-ever-woman-foreign-secretary
-----
Muslims Celebrate Birth Anniversary of Hazrat Fatimah (AS) as Role-Model for Pious Women
Tehran, March 19, IRNA – March 19 marks the birth anniversary of Hazrat Fatimah, the revered daughter of Prophet Muhammad (PBUH).
Muslims celebrate birth anniversary of role-model for pious women
On this day, Shia Muslims all over the world hold ceremonies to celebrate the birth anniversary of Hazrat Fatimah (AS).
People also remember her characteristics that is praised and followed as a role model for Muslim women.
Birth anniversary of Hazrat Fatemeh (SA) is designated as national Woman and Mother's Day in Iran.
On the same occasion, Supreme Leader of the Islamic Revolution Ayatollah Seyyed Ali Khamenei received a group of eulogists on Sunday.
The Supreme Leader touched on the noble characteristics of Hazrat Fatemeh (AS) in his address to eulogists earlier on Sunday.
For Muslims, Hazrat Fatemeh is an inspiring example and the name Fatemeh is one of the most popular girl's names throughout the Muslim world.
Fatimah is a vital character in the religion of Islam and is considered a role model for all Muslim women.
http://www.irna.ir/en/News/82469388/
------
Three Women, Man Killed Over 'Honour' In Jacobabad, Pakistan
HANIF SAMOON
Three women and a man were reportedly killed whereas another man was injured in separate incidents of suspected honour killing in Sindh's Jacobabad district over the weekend, police said.
A man on Sunday gunned down his wife and her alleged lover in Garhi Khairo town in Jacobabad, Senior Superintendent Police (SSP) Sarfaraz Nawaz Shaikh told Dawn.
The suspect allegedly shot his 22-year-old wife Ashram Khatoon with a pistol, who died in the house, after killing 30-year-old Mehboob Ali Brohi.
Initial investigations revealed that the suspect killed the two as he suspected them of being romantically involved. He remains at large and a search operation is underway.
The bodies were shifted to the nearby hospitals for autopsy, however, an FIR was not registered till the filing of this report.
In separate incidents in the same district on Saturday, two women and a man were killed in cases of suspected honour killing.
Ali allegedly stabbed his 22-year-old wife, Seher, as he "suspected" her of being romantically involved with another man, SSP Shaikh said.
The murder took place within the limits of Airport police station. The victim's father has registered an FIR with the police.
The area SSP Shaikh said that Ali Raza has been arrested and has also confessed to committing the crime in the initial investigation.
Locals claim that the accused killed his wife as he was infuriated with her for speaking to someone on the cell phone. Further investigations are underway.
The same day in Alam Khan Khoso village, a man shot dead his 16-year-old daughter in a case of suspected honour killing.
The officials from Baho Khoso police station said Moor allegedly killed his daughter after he injured her alleged lover.
The accused and his family reportedly fled from the scene, police says. A search operation and an investigation in the matter is currently underway.
Woman axed to death
An elderly man on Sunday allegedly axed his 60-year-old wife to death in a village within the limits of Perumal police station in Sanghar district.
Station House Officer (SHO) Ahtesham Jamali told Dawn that Agro Kolhi axed his wife Bharmi, mother of their seven children, to death.
Jamali said that Kolhi was arrested after putting up a resistance shortly after the murder.
One of Kohli's son, Teekam, claims that the accused suffers from a mental illness, and that he launched a similar attack on their mother couple of years ago.
https://www.dawn.com/news/1321500/three-women-man-killed-over-honour-in-jacobabad
------
Hijab Keeps High School Student out of Regional Title Game —now Muslim Advocacy Group CAIR Is Involved
BY MIKE MILLER
17 Mar 2017
A member of a Maryland high school girl's basketball team was held back from participating in a regional title game earlier this month, after having played in all 24 school's games this year, including two games in the post season.
As reported by CNN, a referee ruled prior to the start of the game that Watkins Mill High School junior Je'Nan Hayes was ineligible, due to her hajib — which she had worn in all 24 previous games:
The National Federation of State High School Associations' rule book states that head decorations and headwear are prohibited.
The rulebook says there is an exception on an individual basis for medical, cosmetic or religious reasons, but only if there is documented evidence provided to the state that the participant may not expose their head.
Hayes wasn't told she wouldn't be playing until after game ended, when her coach explained what had happened:
"Once I found out I had mixed emotions — anger, sadness, and disappointment at the ref for making the call."
The game may be over, but the incident's repercussions are not.
Hijab rule keeps junior from playing in regional title basketball game http://cnn.it/2mxaGFz
Watkins High School athletic director Reggie Spears said school officials were unaware of the rule prior to the game:
"We tried to get an exception at the game, but that didn't happen and they stuck with their decision. It was in poor judgment. Should there be a rule? Absolutely.
It is necessary because you can get some crazy requests to wear this or that — I understand why there is a rule. But I think there was some common sense missing here."
According to spokesman Bill Reinhard, the National Federation of State High School Associations agrees:
"Unfortunately the officials made a strict interpretation of the [...] playing rules for basketball instead of the spirit of the rule designed to ensure safety and competitive fairness.
There should have been no denial of participation and we are committed to working with the school and the family to ensure this does not happen again."
Just to make sure, the Council of American-Islamic Relations (CAIR) is now involved with Hayes and her family. CAIR Outreach Manager Zainab Chaudry said the Muslim advocacy group is "working to change the rules, or at least make an addendum."
Hayes said she felt discriminated against because of her religion:
"I felt discriminated against, and I didn't feel good at all. If it was some reason like my shirt wasn't the right color or whatever, then I'd be like, 'Okay.'
But because of my religion it took it to a whole different level, and I just felt that it was not right at all."
But the high school junior said her faith doesn't conflict with being an American:
"I'm Muslim, I'm American. I was born here. I've been here all my life. I'm human and just like you, I have feelings. This is the way I choose to represent my faith and it isn't because I'm being forced. I want to."
http://ijr.com/2017/03/828082-hijab-keeps-high-school-student-regional-title-game-now-muslim-advocacy-group-cair-involved/
------
Muslim Women Protest Australian Visit of Anti-Islam Activist Ayaan Hirsi Ali
20 MAR 2017
Ayaan Hirsi Ali's upcoming speaking tour to Australia is not the first time she has visited the country, but it's the first time there has been significant public opposition, as a group of high-profile Australian Muslim women have launched a petition against the outspoken Dutch-American activist, claiming she "does not speak for us."
Unlike Geert Wilders, who was recently defeated in the Dutch national election, the Somali-born Ayaan Hirsi Ali might seem like an unlikely advocate of the Dutch far right: she's female, black and grew up Muslim. Now, a group of Muslim women in Australia are petitioning her upcoming speaking tour to the country.
The group, which includes a number of high-profile writers, academics and activists, have expressed "disappointment" over Ayaan Hirsi Ali's invitation to speak in Australia as part of a tour organised by event group Think Inc.
In an online petition, titled "Ayaan Hirsi Ali does not speak for us," the group stated that ,"Hirsi Ali's sheer presence in Australia undermines both intra and inter-community efforts toward social cohesion and in providing platforms for Muslim women to champion their own causes."
Notwithstanding that position, the group extended an invitation for Hirsi Ali to meet with them during her visit and to engage in a discussion to debate and contest her views regarding Islam and the status of women in Islam.
"Ayaan Hirsi Ali does not speak for us"
The statement, which is signed by about 270 Muslim women in Australia, including high profile writers and activists, condemns Hirsi Ali's discourse, which they say is "grounded in hate-mongering and bigotry." They also fear that her views against Islam will serve to increase what they describe as "hostility and hatred towards Muslims in a world of increased Islamophobia."
The author is well known for her views condemning Islam and its incompatibility with the West.
During her visit to Australia last year, she said on the ABC's program Q&A, "critics of Islam must be less squeamish about criticising practices carried out in Muslim countries such as forced marriage."
Ayaan Hirsi Ali makes an appearance on ABC's Q&A during a 2016 visit to Australia
Hirsi Ali has often used her own life experiences to shed light on the conditions of women in Muslim countries and around the world. Her story as a victim of female genital mutilation, a refugee who fled the civil war in Somalia to then to be married off to a Somali man against her will, are widely reported.
"Hirsi Ali's brand of hate speech and incitement can lead to acts of violence."
The protesting group insists that they do not oppose Hirsi Ali's right to express her opinion but highlight that her views may incite more aggression against Muslims in Australia and worldwide.
Award-winning playwright and author Samah Sabawi, a signatory to the petition explained "Hirsi Ali's brand of hate speech and incitement can lead to acts of violence."
"We have seen this in the US as Trump's anti- Islam rhetoric directly lead to various attacks against Muslims. Muslim women, especially those wearing hijab, are especially vulnerable as they are indefinable targets."
A promotional banner from Think.Inc for Ayaan Hirsi Ali's upcoming speaking tour to Australia
Think.Inc, the company organising Hirsi Ali's tour to Australia (titled: 'The Hero of Heresy') does not see the visit in the same light.
The company's spokeswoman Suzi Jamil told SBS Arabic 24 that the company provides a platform for individuals to discuss ideas and encourage discussion throughout society.
"We don't feel that she's spreading hate-speech and we don't feel she is an Islamophobe, otherwise we wouldn't be bringing her here," says Jamil.
Ralf Schumann, the deputy president of the Australian far-right group the Q Society, tells SBS on behalf of the group "We welcome Ayaan Hirsi Ali."
"She can travel wherever she likes and speak to whoever is interested to listen. No one is forced to buy a ticket."
"She can travel wherever she likes and speak to whoever is interested to listen. No one is forced to buy a ticket."
Women's rights activist and high-profile restaurateur Hana Assafiri, who was recently added to the Victorian Honour Roll of Women for 2017, and runs the event 'Speed Date a Muslim,' is a spokeswoman for the online petition against Hirsi Ali.
"Violence against women is an expression of misogyny underscoring all societal systems," Assafiri tells SBS.
The group's statement rejects "any Islamic basis for the violence that occurred to Hirsi Ali in her life and the violence perpetrated to women all over the world who have fallen victim to culturally- influenced misogynistic abuse."
A Melbourne cafe matches up Muslim women with non-Muslim people to discuss and debunk negative perceptions of Muslim women.
Hana Assafiri
High-profile activist and owner of Melbourne's Moroccan Soup Bar, Hana Assafiri was awarded on the Victorian Honour Roll for Women 2017
Assafiri also raised concerns about the lack of community protest in Australia against Hirsi-Ali's previous visits and public engagements compare with, for example, the far-right Dutch politician Geert Wilders (freshly defeated in the Dutch National election) who holds similar views against Islam and was faced with strong opposition upon his previous visits to Australia, including a 2015 visit to Perth to launch a far-right political party 'The Australian Liberty Alliance'.
Comment: I'm Muslim and I'm glad Geert Wilders is coming to Australia
Anti-Islam, far-right politician Geert Wilders has been granted a visa to Australia. And I'm glad - because haters are always going to hate, writes Irfan Yusuf.
"Society can readily identify the dangers of Geert Wilders and organise to protest against his message on the grounds that his discourse undermines the principles of a homogenous multicultural Australia,"says Assafiri.
"Yet Ayaan Hirsi Ali, who parrots the same conversation is not only embraced in some circles but also seen as a voice of elegance and reason in some more progressive circles regarding her views on reforming Islam."
"Society can readily identify the dangers of Geert Wilders ...yet Ayaan Hirsi Ali, who parrots the same conversation, is not only embraced in some circles but also seen as a voice of elegance and reason."
Doubt has been cast on various elements of Hirsi Ali's story leading to questions about her credibility.
Samah Sabawi told SBS that Hirsi Ali was forced to step down from Parliament when a Dutch documentary revealed "Hirsi Ali lied to Dutch authorities about her past," says Sabawi. "She didn't flee from civil war in Somalia but left before the war broke out and arrived in the Netherlands from Kenya."
"She grew up in a secure environment, her family weren't fanatic Muslims, her brother went to a Christian school, many other aspects of her story turned out to be a lie including her claim of threats of honour killing."
Below: The documentary in question by Dutch television program Zembla
Hana Assafiri says Hirsi Ali's lack of credibility should undermine her position as an authority on Islam.
"Most of Ayaan Hirsi Ali's career is built on lies, deceit and misinformation," Assafiri alleges. "Namely when claiming asylum, the circumstances surrounding her marriage and abuse."
"Yet we continue to portray the lies inherent in her discourse as truth to audiences who are less informed about her past, and especially those who simply want to believe her to be both the victim and expert of Islam."
The Rationalist Society of Australia, which champions secularism, has issued a statement of support for Hirsi Ali's right to speak during her upcoming visit. President of the Society, (as well as Victorian Senate candidate for the Australian Sex Party) Dr Meredtih Doig, tells SBS Arabic24 that "For anyone to say that Ayaan Hirsi Ali 'lacks credibility' is absurd."
"This is a woman who has written four books, has founded a charity to help Muslim women suffering in America, and who has demonstrated time and again her intelligence and courage in more life-threatening situations than most of us could imagine.
"She does not indulge in gratuitous slanging matches but brings clear-sighted analysis to her pronouncements. If listeners do not agree with her conclusions, they should argue it out with her. But trying to undermine by saying she 'tells lies' is simply a diversionary tactic, unworthy of the gravity of the issues involved."
Ayaan Hirsi Ali
Ayaan Hirsi Ali at a speaking engagement in Switzerland in 2011
The petitioning group extended an invitation to Hirsi Ali, through Think.Inc, the company managing her tour in Australia, expressing a desire for a conversation forum to enable engagement with Muslim women in Melbourne and Sydney.
Sherene Hassan, a member of the group, and director at the Islamic Museum of Australia, says the invitation was made in good-faith to engage directly with Hirsi Ali in a dialogue about her views and experiences.
"Occupying a public speaking platform must carry with it responsibility and accountability."
"If Ayaan Hirsi Ali is genuine, if she's sincere, and wants to improve the plights of Muslim women, then she would engage with us in a conversation," says Hassan. "Instead of constantly speaking to the media and dehumanising the whole Islamic faith and using very inflammatory language."
"All she does is increase hatred and bigotry that exist in the community, and we are extremely concerned about that," Hassan says.
A promotional banner from Think.Inc for Ayaan Hirsi Ali's upcoming speaking tour to Australia
Assafiri adds "We want to emphasise that freedom of expression, when it goes un-vetted and promotes hate, has a profound impact on women and especially the most vulnerable sections of the society."
"Occupying a public speaking platform must carry with it responsibility and accountability."
SBS invited Hirsi Ali to comment via the event promoters. Suzi Jamil from Think.Inc acknowledged receipt of the invitation but explained that it is up to Ayaan and her team ultimately to find time in a schedule that she described as 'tight.'
Debate on the Burqa : Lifting the veil on Islamophobia in Australia
Hijab, niqab, burka - there are lots of different kinds of coverings worn by Muslim women all over the world. Some wear a headscarf to cover their head and hair, while others wear a burka or niqab, which also covers up their face. Headscarves are seen as a sign of modesty, and a symbol of religious faith
http://www.sbs.com.au/yourlanguage/arabic/en/article/2017/03/20/muslim-women-protest-australian-visit-anti-islam-activist-ayaan-hirsi-ali
------
Imam Khamenei: Viewing Women as Commodity Zionist Plot
March 19, 2017
Leader of the Islamic Revolution Ayatollah Seyyed Ali Khamenei has warned about a "Zionist plot" to corrupt the involvement of women in the society.
The Leader made the remarks on Sunday on the occasion of the birth anniversary of Fatimah (AS), the daughter of the Prophet of Islam. Hazrat Fatemeh was the wife of Imam Ali, the first Imam of Shia Muslims, and is referred to as a role model for Muslim women.
"Making women a commodity and an object of gratification in the Western world is most likely among the Zionist plots aiming to destroy the human society," Ayatollah Khamenei said.
Men and women are no different when it comes to "ascendance to spiritual positions, the power of leadership and the capability to lead humankind," the Leader added.
The Leader also warned against following the Western version of gender equality, saying it has led to corruption.
"Today, Western thinkers and those who pursue issues such as gender equality regret the corruption which it has brought about," Ayatollah Khamenei said.
http://en.abna24.com/news/iran/imam-khamenei-viewing-women-as-commodity-zionist-plot_818732.html
------
Israeli Group Sets Up 'Shelters' For Jewish Women Leaving Arab Boyfriends
March 20, 2017 By Naomi Zeveloff
An Israeli group opposed to relationships between Jews and Arabs has set up two "shelters" to assist Jewish women in leaving their Arab male partners.
The anti-miscegination group Lehava created the facilities in apartment buildings the West Bank and in central Israel.
"In the first days after a girl leaves an Arab man, she's extremely confused and might respond to (his) overtures and return to him," said Anat Gopstein, who is married to Lehava head Bentzi Gopstein, according to the Ynet news site. "We're here so that won't happen."
Lehava made headlines in 2014 with its protest of the marriage of an Arab Muslim and Jewish convert to Islam. At the time, Israeli President Reuven Rivlin called Lehava "rodents gnawing under the shared democratic and Jewish foundation of Israel."
In 2015 activists with the group were convicted in an arson attack on a joint Jewish-Arab school in Jerusalem, Hand in Hand.
http://forward.com/fast-forward/366451/israeli-group-sets-up-shelters-for-jewish-women-leaving-arab-boyfriends/
------
URL: https://newageislam.com/islam-women-feminism/palestinian-women-try-bring-baseball/d/110462
New Age Islam, Islam Online, Islamic Website, African Muslim News, Arab World News, South Asia News, Indian Muslim News, World Muslim News, Women in Islam, Islamic Feminism, Arab Women, Women In Arab, Islamophobia in America, Muslim Women in West, Islam Women and Feminism