New Age Islam News Bureau
18 May 2019
• Palestinian Women Have No Right to Refuse Sex to Husbands, Mufti Says
• Austrian Lawmaker Wears Headscarf to Parliament in Protest at Hijab Ban
• Triple Talaq via WhatsApp? Maharashtra Man Booked Under Muslim Women Bill
• Women In Their Twenties Smitten For Plates With Special Dates
• Women Married To Chinese Men Petition LHC For Action Against FIA
• Student Protesters In Iran Continue Their Protests
Compiled by New Age Islam News Bureau
URL: https://www.newageislam.com/islam-women-feminism/palestinian-women-no-right-refuse/d/118638
-------
Palestinian Women Have No Right to Refuse Sex to Husbands, Says the Mufti of the Palestinian Authority Muhammad Hussein
MAY 17, 2019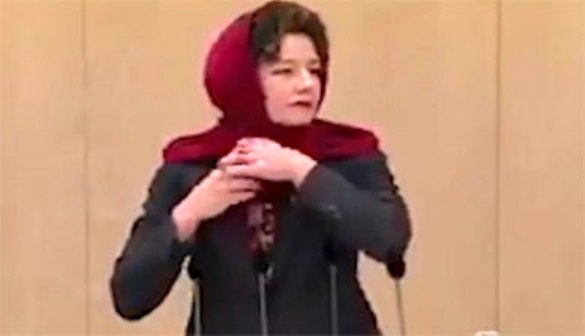 An Austrian lawmaker has worn a headscarf during her address against a controversial bill that prohibits primary school girls across the country from wearing hijab — Muslim women's modest clothing.
Palestinian Muslim women may not refuse to engage in sex with their husbands "at any time," as that is the right of a husband, a recent religious ruling stated as reported in a press release by Palestinian Media Watch (PMW).
The question was if a woman has the option to decide on her own if she wants to fast a non-obligatory fast such as in the month of Shawwal, where a six day fast is a common custom.
In Islamic culture, fasting includes the denial of sexual needs, hence the ruling is that a woman can only fast if her husband agrees to her fasting. As that would infringe upon his alleged "right" to have sexual access to her at all times.
The Mufti of the Palestinian Authority Muhammad Hussein went so far as to argue that not only can a woman not decide to fast on her own, she may not deny her husband sexual relations even on Ramadan, which is mandatory.
Even in a situation in which the man does not fast himself and the woman wishes that by preventing him sexual favors he might observe this religious duty she may not refuse him, the Mufti said in 2012.
The Mufti did admit that such a man, who does not fast on Ramadan, must be encouraged to do so and obey Allah yet even such a person has complete control over the body of the woman to whom he is married, and she may never refuse him for sex.
https://www.jpost.com/OMG/Palestinian-women-have-no-right-to-refuse-sex-to-husbands-Mufti-says-590009
--------
Austrian Lawmaker Wears Headscarf To Parliament In Protest At Hijab Ban
May 18, 2019
An Austrian lawmaker has worn a headscarf during her address against a controversial bill that prohibits primary school girls across the country from wearing hijab — Muslim women's modest clothing.
Martha Bissmann, an independent MP, covered her hair during a general assembly speech on Friday to protest the measure, saying, "Let's not allow a wedge to be driven between us."
The ban was approved after lawmakers from Chancellor Sebastian Kurz's ruling conservative People's Party (ÖVP) and the anti-migration Freedom Party (FPÖ) -- who have formed a majority government together -- voted in its favor. Under the new legislation, it would be illegal for Muslim girls under the age of 10 to wear hijab at all primary schools, including private schools.
Almost all opposition lawmakers voted against the measure condemning it as "discriminatory."
Bissmann accused the FPÖ of promoting "racism and Islamophobia" in the country over the last decade. She said that those who introduced the ban wanted to eliminate "high values such as tolerance and freedom of religion."
"This is the first step to ban headscarves in everyday life," she added.
Austria's official Muslim community organization (IGGOe) also condemned the move as "shameless" and a "diversionary tactic."
A large number of non-governmental organizations, journalists and activists also expressed their opposition to the ban.
The country is home to around 700,000 Muslims.
'Criminalizing Muslims'
Turkish lawmaker Mustafa Yeneroglu, also thanked Bissmann for supporting the Muslim community in her country and expressed his disapproval of the law, saying Austria is trying to criminalize the Muslim religion.
"Muslims in Austria are increasingly being pushed out of society and Muslim religiosity is being criminalized," the lawmaker said.
"The law is aimed exclusively at Muslims. A liberal legal system does not show its qualities with ideologically motivated prohibitions, specially in dealing with minorities," he added.
German linguist,Emel Erdem commended Bissmann for her "courageous" move.
"What a courageous gesture, what a courageous statement! They strengthen my belief in a peaceful coexistence - many thanks for that, all the best for their future and warm greetings from Germany!" she wrote in a Twitter message.
Austria's right-wing parties have proposed several controversial measures against the Muslim community, including strict controls on mosques and Muslim associations as well as an immediate closing of mosques in cases of "suspicious activity."
Austria's previous government had also prohibited full-face veils in courts, schools and other public places. It has banned judges, police officers, magistrates and public prosecutors from wearing hijab.
Similar restrictions, commonly referred to as the "Burqa Ban," have also been adopted in some other European Union countries like, France, Belgium and the Netherlands.
https://www.presstv.com/Detail/2019/05/18/596221/Austria-Islamophobia-headscarf-ban-protest
--------
Triple Talaq via WhatsApp? Maharashtra Man Booked Under Muslim Women Bill
May 17, 2019
A 28-year-old man has been booked for allegedly trying to divorce his wife by giving triple talaq on phone via WhatsApp. A case was registered after a 25-year-old woman approached Bhoiwada police station in Thane, Maharashtra.
The woman claims that her husband Nadeem Shaikh had sent the triple talaq message on March 12. Nadeem now faces charges under the Muslim Women (Protection of Rights on Marriage) Bill, 2018.
The complainant said that she had married Nadeem, from Kalyan in Mumbai, on May 18, 2014. From the initial days of the marriage, she was constantly harassed by her husband and in-laws. Her husband had also demanded Rs 5 lakh and failing to get the money, she was thrown out of the house. The couple has a four-year-old son.
According to reports, the woman tried to talk to her husband after she received the triple talaq message. But Nadeem refused to speak to her.
Senior inspector Kalyan Karpe said, "Based on the complaint, we have registered a case against her husband and in-laws under IPC sections 498-A (cruelty), 323 (voluntarily causing hurt) and 504 (intentional insult with an intent to provoke breach of peace), and the Muslim Women (Protection of Rights on Marriage) Bill, 2018."
The woman is currently staying at a relative's house in Bhiwandi. The police have put a lookout notice for Nadeem as he is absconding since his wife filed the case.
https://www.ibtimes.co.in/triple-talaq-via-whatsapp-maharashtra-man-booked-under-muslim-women-bill-797817
--------
Women In Their Twenties Smitten For Plates With Special Dates
May 17, 2019
Dubai: Woman aged between 20 to 28 are the biggest market for car registration plates with numbers that refer to special moments in life, according to recent statistics issued by the Licencing Agency of the Dubai Roads and Transport Authority (RTA).
Statistics show that most buyers opt for their date of birth, the date of their wedding or graduation or even that of a promotion.
Jamal Hashim Al Sada, Director of Vehicles Licensing at the RTA, said women make up the majority of people who use the Special Moments Number Plates service. "In 2018, we sold 659 distinguished number plates, and 55 per cent of the total buyers were women," he said. "This is in part because we have made this service available for all customers of different nationalities and age groups," he added.
The Special Moments Number Plates service allows customers to select a five-digit plate that bears numbers referring to key moments in their life, said Al Sada.
The service was first launched in 2016 at a price of Dh1,620 per plate for customers who were born from 1981 to 1998 with S-coded number plates, then it covered people who were born from 1967 to 2016. It is now open for all age groups with V, U, T, S-coded plates.
Interested customers can directly select and buy special number plates through visiting RTA customer happiness centres in Dubai, contacting service providers and strategic partners, visiting the RTA website www.rta.ae or downloading the smart app "Drivers and Vehicles".
https://gulfnews.com/uae/government/women-in-their-twenties-smitten-for-plates-with-special-dates-1.63933675
--------
Women Married To Chinese Men Petition LHC for Action Against FIA
Rana Bilal
May 17, 2019
The Lahore High Court on Friday accepted a petition by Muslim and Christian women married to Chinese nationals who sought action against the Federal Investigation Agency (FIA) for illegally keeping them from travelling to China with their husbands.
According to the petition — which has named the foreign ministry, the chief secretary for Punjab and the director of Federal Investigation Agency as respondents — Sameah Tabassum and Shabana Ashiq, who had married their respective Chinese husbands in January, were offloaded from a China-bound flight along with their husbands on May 7.
According to the petition, the women were then kept in custody by FIA officials for several hours at the airport while their husbands were forced to go back to China.
The petition stated that the women were happy with their husbands and that "a propaganda on social media was looking to bring a bad name to Pak-China friendship".
The petition sought that FIA be stopped from harassing women and their Chinese husbands, and that the petitioners' passports and other documents be returned to them.
The Federal Investigation Agency (FIA) has over the past three weeks arrested scores of Chinese nationals and their suspected local abettors from various parts of the country in connection with its investigation into a transnational gang allegedly involved in contracting fake marriages between Chinese men and Pakistani women, who are later forced into prostitution and the illegal organ trade.
The Foreign Office has backed the Chinese government's stance on the matter and said that Beijing has offered Islamabad "all possible cooperation" in the matter.
"The relevant authorities from both the governments are in close contact on this issue," the spokesperson had said in a press release. "The government of China had offered all possible cooperation on the issue, which was highly appreciated. Both sides are closely coordinating their efforts."
The FO spokesperson also appeared to endorse the Chinese embassy's statement, which said that "it is essential to avoid sensationalism" and that "sensitive matters should be reported only on the basis of established facts."
https://www.dawn.com/news/1482871
--------
Student Protesters In Iran Continue Their Protests
May 17, 2019
Student protesters held protests in Zahedan and Kashan in solidarity with the protests by students of Tehran University who protested against new veiling restrictions on campus. Young women were active in these protests.
On Wednesday, May 15, 2019, student protesters lined up their food trays on the ground at Iftar and refrained from breaking their fast to show their protest to the poor quality of the food served at the university's cafeteria.
In a protest gathering on Monday night, May 13, 2019, student protesters held a protest at Kashan University against the poor quality of food served by the cafeteria and expressed their support for student protesters at Tehran University who had held a major protest that morning against fresh rules enforcing the compulsory veil on female students.
On Wednesday, May 15, 2019, a group of engineers including many women held a protest outside the City Council of Shiraz, capital of Fars Province in southern Iran. The engineers have been working with the City Council of Shiraz since its fourth term in direct or indirect connection with the offices of Article 33. The fifth-term Council, however, has adopted a ratification which will lead to the environmentalunemploymeenvironmentalnt of these engineers. The engineers' protest was against this ratification.
The defrauded investors of the IRGC-backed Caspian financial institute in Tehran, also held a protest on Wednesday, May 15, 2019, outside the Central Bank, protesting the institute's failure to meet their righteous demands.
In another act of protest on Wednesday, a group of the residents and environmental activists of the city of Gerash, in Fars Province, held a protest gathering outside the city's governorate. The crowd, including women, protested the handing over of 400 hectares of land in Tangab recreation area to the regime agents.
The banners held by the protesters read in part, "Tangab area and its surrounding nature is the only recreational area for the residents of Gerash", "any transfer of land in this area must be rejected", "do not destroy the nature by such uncalculated handovers", "popular protest against the handover of 400 hectares of Tangab lands of Gerash to breed ostriches" and "we oppose the transfer of lands from Tangab region."
https://women.ncr-iran.org/2019/05/17/student-protesters-in-iran-continue-their-protests/
--------
URL: https://www.newageislam.com/islam-women-feminism/palestinian-women-no-right-refuse/d/118638
New Age Islam, Islam Online, Islamic Website, African Muslim News, Arab World News, South Asia News, Indian Muslim News, World Muslim News, Women in Islam, Islamic Feminism, Arab Women, Women In Arab, Islamophobia in America, Muslim Women in West, Islam Women and Feminism