New Age Islam News Bureau
29 Oct 2016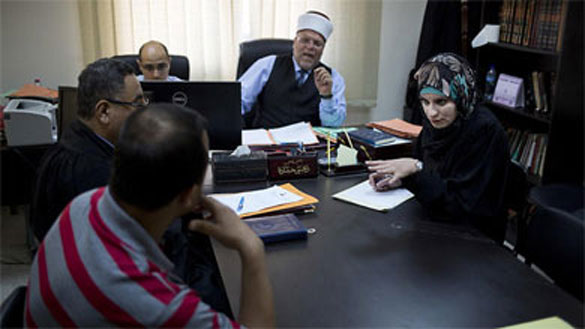 Reema Shamashneh, (R), argues a case in the Islamic family court in Ramallah (Photo: AP)
--------
• Palestinian Lawyer Fights for Women, One Divorce at a Time
• The Rise of the Muslim Female Entrepreneur in UK
• Member AIMPLB Condemns Call for Burqa Ban in Schools
• Isis Fighters Ordered To Kill Women And Children If They Try To Escape, Says Former Militant
• Mombasa Muslim Women Accuse Kadhi Court Officials of Sexual Harassment
Compiled by New Age Islam News Bureau
URL: https://newageislam.com/islam-women-feminism/palestinian-lawyer-fights-women,-one/d/108949
-------
Palestinian Lawyer Fights for Women, One Divorce at a Time
28.10.16
RAMALLAH — In a divorce court where a man's testimony is worth twice a woman's, victory for lawyer Reema Shamasneh is rare and often bittersweet.
On this morning, a young nurse is desperate to end her marriage to a truck driver who she says beat her, doused her with scalding tea and kept her from seeing her dying mother. But her husband will only agree if she forgoes all alimony, including the $14,000 stipulated in the marriage contract.
Eager to escape and claim her young son, she says yes. The man stands before a copy of the Quran, the Muslim holy book, and repeats after an Islamic judge: "You are divorced."
Shamasneh blinks back tears of relief and frustration, and then quickly composes herself.
"This is not a big victory," the 39-year-old lawyer says with an air of quiet determination. "I gave her what she wanted, but at the same time I am not happy because she gave up her rights."
Dressed in the headscarf and long robe of a devout Muslim, Shamasneh fights for Arab women in the most intimate arena of their lives: marriage and divorce.
While countries such as Tunisia and Morocco have introduced reforms, brides in others must still be represented by male guardians who sign marriage contracts. Men can divorce on a whim, while women must prove cause. And polygamy is legal only for men.
Such notions enjoy strong support, even among women. In a 2013 poll by the Pew Research Center, large majorities in seven Arab countries said a woman should obey her husband, from 74 percent in Lebanon to 87 percent in the Palestinian territories and 93 percent in Tunisia.
"We cannot copy the Western laws because the Western societies are different and they have very complicated problems," says Maryam Saleh, a representative of the Islamic fundamentalist group Hamas in the now-defunct Palestinian parliament.
But Shamasneh believes the laws are the way they are because they were passed by men.
"They were raised in a certain culture that says men are better than women, and this is reflected in the laws," she says.
Independent by avoiding marriage
As a girl in the farming village of Qatana, Shamasneh would see women get the leftovers at wedding feasts, after the men. And while her four brothers could come and go, she and her five sisters had to account for their limited movements.
"Until now, there is discrimination, even with simple things," she says. "This makes me angry."
However, her father Mohammed, a retired contractor, wanted all his children, including the girls, to get an education. Shamasneh chose law, a profession that turned out to be a good fit for her pragmatic, analytical nature.
Her 74-year-old mother Amneh, sitting across from Shamasneh, says she is proud of her daughter's success. But her mother was against her studies, Shamasneh interjects.
"At the time, it was shameful for a woman to study and have a job," Amneh says apologetically.
Amneh herself was married off at age 13, without her consent, and had her first child at 15. Four of Shamasneh's sisters married in their 20s. A fifth was forced into an arranged match at 16 and endured a prolonged divorce two years later.
Shamasneh was a child at the time. She says the bitter experience, including the lack of empathy displayed by her sister's male lawyer, fueled her interest in law.
As a single woman, Shamasneh's only socially acceptable option is to continue living with her parents. She says she would move out if she wanted to, but she likes spending time with her parents. In her childhood bedroom, law books are lined up on a shelf above her dresser.
She is fiercely protective of her relative independence. For her, this means not getting married.
"I can take care of myself," Shamasneh says. "I am a strong woman. I hate traditional marriage."
Growing number of female lawyers
On a typical day, Shamasneh arrives before 9am at the Islamic courthouse in Ramallah. One recent morning, she meets a 25-year-old client, a thin, pale woman in a frayed green robe who says she wants a divorce from her abusive husband.
Her father is also there to testify on her behalf, but her brother didn't turn up because he was sick. Shamasneh sternly cautions her client that this may hurt her case, because the court usually requires two male witnesses or a man and two women.
In a small victory, the judge rules later that day that the case can move forward.
The growing presence of female lawyers like Shamasneh has helped create more empathy for women going through divorce. When Shamasneh began practicing 15 years ago, female lawyers were rare.
Now women occasionally outnumber men in the courthouse.
There's even a female judge. Kholoud al-Faqeeh defends the law in principle, saying that it reflects different gender roles, and that women sometimes fail to exhaust their legal rights.
Still, the judge occasionally reins in men appearing before her. When a witness in a custody hearing portrays a sister-in-law as an unfit mother because she holds down two jobs, the judge, a mother of four, snaps, "Palestinian women work. Do you want us all to give up our children?"
On another day, Shamasneh challenges a male colleague's claim that Islamic law gives the same rights to men and women seeking divorce. She refuses to give in. When he appears to run out of arguments, he resorts to "It's in the Quran."
Mahmoud Habbash, the head of the Islamic courts in the West Bank, warns that the views advocated by Shamasneh and other activists could lead to the collapse of society. He argues that men and women are different by nature and require different rules.
"The problem is that in the West, you don't understand how we treat women," Habbash says. "We treat them like queens."
Only one-third of Palestinians support a wife's right to divorce at all, according to the Pew survey. Across the region, support for divorce rights for women is even lower in Jordan, Egypt and Iraq, but is backed by a majority in Lebanon, Morocco and Tunisia. Some countries allow "khula" divorce, where a wife pays the husband compensation to get out of a marriage.
'If women are free in divorce, they will divorce every day because they are emotional, while men are rational'
With so much opposition, Shamasneh knows that a long road lies ahead. Progress on legal reform has stalled, because the Palestinian self-rule government has limited authority in a West Bank that is largely controlled by Israel.
At home, her village remains deeply conservative. The local mosque preacher, Yacoub al-Faqeeh, says that while he respects Shamasneh, he sharply disagrees with demands for equal marriage and divorce rights.
If women are free in divorce, they will divorce every day because they are emotional, while men are rational," he says.
Shamasneh could emigrate and join two brothers in Douglasville, Georgia. She has visited the area seven times, traveling without a male chaperone. "People talk, but I don't care," she says.
Yet life in the West holds no allure. Everything is too easy, she says. The struggle for women in her community gives her life meaning, and she couldn't imagine doing anything else.
"People in the village are resisting change," she says. "Therefore, I invest my energies in the court."
http://www.ynetnews.com/articles/0,7340,L-4871508,00.html
--
The Rise of the Muslim Female Entrepreneur in UK
28 October 2016
However, a new crop of female Muslim entrepreneurs is defying this stereotype while cashing in on the rapidly growing market for Muslim-focused consumer goods.
Take Sabah Nazir, who started her company Islamic Moments in 2004, designing and producing mainstream greeting cards.
In 2011 she had an epiphany when she realised the market was not catering for the modern Muslim consumer, and decided to redesign all her products "around the Muslim market".
The company now has a portfolio of more than 300 Islamic design-led products from greeting cards to notebooks, and its products are sold in over 20 countries.
"I was determined to create a platform where we became that aspirational lifestyle brand for young Muslim consumers to meet their lifestyle and aspirations in accordance with their faith," she says.
Buoyant market
According to a report by Thomson Reuters, Muslim consumer spending on food and lifestyle products and services was estimated at $1.8 trillion (£1.5tn) globally in 2014 and is projected to reach $2.6tn in 2020.
And in the UK, around three million Muslim consumers contribute about £21bn a year to the economy.
Major brands such as Mango and DKNY have begun to adapt to this audience by introducing more modest clothing ranges, but it has also inspired a raft of new start-ups from within the Muslim community - many of them formed by women.
Sabah's husband Tahir is co-founder of the Muslim Lifestyle Expo 2016, a showcase for Muslim-friendly brands being held this weekend in Manchester.
He says that 60% of the 130 exhibitors taking part will be female entrepreneurs, showcasing everything from luxury prayer mats and Islamic toys, to fashion, accessories and cosmetics.
"The stereotype of Muslim women stuck in the kitchen and carrying out household chores are long gone," he says.
"According to our research, women represent 50% of the [Muslim] start-up business community and this figure is set to grow further over the next few years."
Gap in the market
One exhibitor will be the Mocktail Company, a producer of non-alcoholic drinks for Muslims founded in Watford this year.
Founder Shahin Hussain told the BBC: "I'd always known growing up in Britain that the culture of being British and being Muslim sometimes conflicted, particularly at university when a lot of my friends were drinking.
"And as I grew older I saw no-one had filled the gap in the market for non-alcoholic drinks aimed at Muslims."
The firm only launched three months ago and claims to have already sold 19,000 bottles of its non-alcoholic mojito, the Nojito. It is also planning to release two new flavours including a strawberry daiquiri-inspired drink.
However, it is not all plain sailing for female Muslim entrepreneurs.
"The traditional working-class Muslim woman doesn't often get the [financial] support to start a business and they don't use traditional crowdfunding methods," says Tahir Nazir.
And being a mum can be a big challenge, says Shahin Hussain.
"It is hard because my little ones are only two and four and obviously they demand all my attention.
"But obviously my business is like a third child, as I have to put so much energy into it. Often I have to follow up emails and orders late at night after they've gone to sleep - and I'm never getting enough sleep."
Still, with Muslim consumer demand growing so quickly, these female entrepreneurs look like they are in a good place right now.
bbc.com/news/business-37798677
--
Member AIMPLB Condemns Call for Burqa Ban in Schools
29 October 2016
The former Minister Qamarul Islam, member of the All-India Muslim Personal Law Board and founder member of the All-India Milli Council, condemned the blatant attempts of right wing student organisations to communalise college campuses in North Karnataka districts by calling for a ban on girl students wearing burkhas in classrooms.
Referring to reports in The Hindu that the such a call for the ban had been made in some of the colleges in Haveri district, Mr. Qamarul, also the founder member of the All-India Muslim Majlis-e-Mushawarat, told presspersons that such a call was an infringement on the religious rights of Muslim girls and would be opposed by the community.
Mr. Qamarul said the State government should intervene immediately and ensure the protection of the Muslim girl students in college campuses in Haveri and other parts of Karnataka. He accused right-wing student organisations of spreading communal tension prevalent in coastal districts to other parts by trying impose a burkha ban in Haveri.
Mr. Qamarul said he was confident that the State government would take stringent action against the organisations calling for a ban on the burkha in classrooms and would issue directions to all college managements not to impose any such ban. "If the State government fails to discharge its constitutional obligations, we (Muslims) will stage a protest and I will raise the issue in the assembly."
Mr. Qamarul also put an end to rumours that he was quitting Congress and joining Janata Dal (Secular). "After my stint in smaller and regional parties, I had chosen to join the Congress to get a bigger secular platform to serve the community and the people... There have been some setbacks but that does not mean I am leaving the Congress. I am a congressman," he said.
.thehindu.com/news/national/karnataka/qamarul-condemns-call-for-burkha-ban-in-schools/article9283525.ece
--
Isis Fighters Ordered To Kill Women And Children If They Try To Escape, Says Former Militant
29/10/2016
Isis jihadis are shooting women and children who try to flee areas under its control, according to a former fighter.
Abu Ahmed told how he was ordered to shoot to kill to deter others from trying to escape.
The former militant, who is being held by Kurdish forces, said people were desperate to escape the group's brutal regime.
"The thing people care about the most is their children. The hardest thing for anybody to see is their child being hurt, even if it's not with a weapon, but Isis are going to use guns on children," he told Sky News.
"People tried to flee, because of the conditions in Mosul, to Kurdistan or Baghdad but they would be blown up by IEDs and if they weren't they'd be shot at even if they were kids."
Up to 900 Isis fighters were killed this week in the offensive to retake Mosul in northern Iraq, a stronghold of great strategic importance which the group captured in 2014.
Many Iraqis who fled their homes celebrated their escape, with some being reunited with relatives from whom they were separated when Isis took control.
Crowds were jubilant in Fadhiliya, 10 miles east of Mosul, as a shopkeeper arrived with the first supplies of cigarettes for two years.
However, one resident who gave his name as Hamza, a former translator for the US military, said he feared Isis would come back.
"We are happy but we are also very scared – for the last two years I stayed in my house because I feared they would hurt or kill me as an unbeliever," he told Sky News.
Iraq's Ministry of Displacement and Migration said on Thursday that more than 11,700 people had been displaced since the operation began on 17 October.
Fears are growing for those trapped in the city with some reports suggesting Isis is using hostages as "human shields".
"Isil's [Isis] depraved, cowardly strategy is to attempt to use the presence of civilian hostages to render certain points, areas, or military forces immune from military operations – effectively using tens of thousands of women, men and children as human shields," said United Nations (UN) spokesperson Ravina Shamdasani.
The UN has warned more than 200,000 civilians could be displaced in the battle.
Reports suggest Iraqi forces have reclaimed 40 villages bordering Mosul from Isis since fighting began.
independent.co.uk/news/world/middle-east/isis-shooting-women-children-flee-mosul-iraq-a7386081.html
--
Mombasa Muslim Women Accuse Kadhi Court Officials Of Sexual Harassment
FRIDAY OCTOBER 28 2016
Muslim women have accused officials at the Kadhis' courts in Mombasa of sexually harassing them when they seek help on gender violence and divorce.
The women made the claims when they spoke to Public Service Youth and Gender Affairs Principal Secretary Zeinab Hussein during a business meeting and training in the town.
Ruksana Nooroli, the chairperson of the community-based Okoa Mama na Mtoto, said she had received several reports of sexual harassment and unsolved gender violence cases during her interactions with women.
"So many women have reported to me that some Kadhis ask them for sexual favours whenever they ask for help and if they fail to give in to the demands they are left on their own,'' she said.
Ms Nooroli added that some Kadhis also favour men in their ruling on divorce cases.
She said the women are threatened by perpetrators when they report such matters to other agencies and appealed to Ms Hussein to intervene on their behalf by speaking to Muslim clerics.
Speaking to the Nation, Chief Kadhi Sheikh Ahmed Muhdhar urged women who have been sexually harassed to file formal complaints so that the issues can be addressed.
'SERIOUS ALLEGATIONS'
"Those are serious allegations and we would not want them to go just pass verbally. Let the women come to our offices and file their complaints because harassment is an offence," said Sheikh Muhdhar.
He said appropriate action would be taken once complaints have been filed.
"The Kadhis' court is a system with officers," he added.
Ms Hussein promised to organise a meeting with Muslim clerics and Muslim women in the next two weeks to find a solution sexual violence in the county.
She added that the ministry has launched a comprehensive programme to deal with gender-based violence, adding that perpetrators would be punished.
She said to further protect sexual violence victims, the government would establish 20 recovery centres in counties that are notorious for such cases and 20 safe houses where survivors can live after leaving the centres.
Further, she added, the capacity of police and prosecutors would be strengthened.
nation.co.ke/counties/mombasa/Muslim-women-accuse-Kadhis-of-sexual-harassment-/1954178-3433328-w74a1x/
--
URL: https://newageislam.com/islam-women-feminism/palestinian-lawyer-fights-women,-one/d/108949
New Age Islam, Islam Online, Islamic Website, African Muslim News, Arab World News, South Asia News, Indian Muslim News, World Muslim News, Women in Islam, Islamic Feminism, Arab Women, Women In Arab, Islamophobia in America, Muslim Women in West, Islam Women and Feminism