New Age Islam News Bureau
17 Oct 2015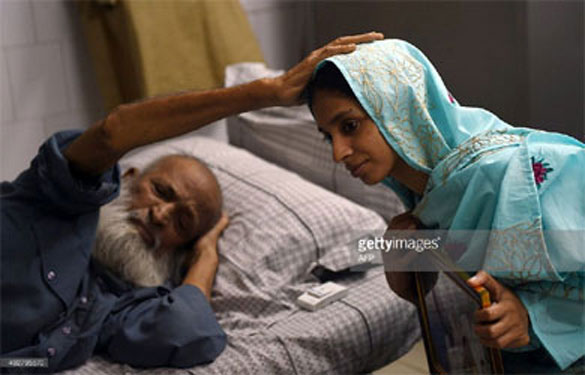 Geeta takes blessing from Abdul Sattar Edhi, the chairman of Edhi Foundation in Karachi. (AFP)
---------
• UAE Community Project Helps Women in Hospitality Sector
• Women in Pakistan Just Want To Have Fun -- Like the Men
• First Arab Female Umpire at Wimbledon
• Rosmah, Wife of Malay PM Tells Women to Band Together To Be In Power
• Unfair Dismissals Haunt Female Saudi Teachers
• Indian Muslim Women's Group against Uniform Civil Code 'If It Does Not Guarantee Freedom of Religion'
• Najib: 'When Women Succeed, We All Succeed'
• Tired Of Women Being Treated Like Sex Objects, Sarawak CM Vows To Amend Discriminatory Laws
• Compiled By New Age Islam News Bureau
URL: https://www.newageislam.com/islam-women-feminism/new-age-islam-news-bureau/pakistans-mother-teresa-with-roots-babus-kathiawar-sheltered-geeta/d/104959
---------
Pakistan's Mother Teresa with Roots in Babu's Kathiawar Sheltered Geeta
Sameer Arshad
Oct 17, 2015
NEW DELHI: Deaf and mute Indian woman Geeta is set to return home from Pakistan after 12 years, thanks largely to Salman Khan-starrer Bollywood film Bajrangi Bhaijaan's success.
The reel life story of the film's main character, Shahida aka Munni, mirrors that of Geeta's real life. Geeta was found alone on the Lahore Railway Station after she got off the Samjhauta Express.
She had mysteriously boarded the cross-border train after attending a fair on the Indian side of Punjab, where her father worked as a mason. Likewise, Munni gets off a train in the film while chasing a sheep as her mother falls asleep while the two travel to India for pilgrimage.
The waves that the film made with its rare sensitive portrayal of cross-border characters and parallels it drew with Geeta's story stirred an inert bureaucracy into action. The urgency fructified when Geeta identified her family in a remote Bihar river island village, whose photographs were arranged based on the details she managed to scribble about it in Hindi.
Geeta would be handed over to her family in Bihar after a DNA test upon her return to India on October 26 while another Uttar Pradesh couple too is claiming her as their lost daughter. Hopefully, Geeta would be able to find her real family sooner to help her reach closure after a decade-long ordeal.
But the torrid time she spent away from her family has a silver lining for Geeta as well as the love-hate and schizophrenic relationship between India and Pakistan. She was loved and cared for deeply so much so that a small temple with several deities was built for her to pray when her hosts realised she was a Hindu. She would bring the temple along with her.
The focus on Geeta's extraordinary story importantly coincides with very difficult times in usually-thorny India-Pakistan ties. It again reaffirms innate goodness - something Bajrangi Bhaijaan too underlined -- of ordinary human beings on the either side of the divide.
And such instances galore. Pakistani girl Saba, suffering from a rare disorder, returned home after ordinary Mumbai people crowd-funded her treatment on October 12. The generosity of Saba's benefactors was overshadowed by Shiv Sena's attack on activist Sudheendra Kulkarni for hosting ex-Pakistan foreign minister Khurshid Mahmud Kasuri's book launch on the same day. But typical small-mindedness of the Sena cannot outweigh love and care dozens of kids like Saba have found in Mumbai hospitals.
Mostly hate mongers hog all the limelight while men like Abdul Sattar Edhi, who has been to Geeta what Salman's character was to Munni in Bhajrangi Bhaijaan, remain virtually unknown in the either country.
Edhi and his wife, Bilquees, have been like Geeta's parents since she strayed across the border and was sheltered at one of their shelter homes. Geeta is among tens of thousands whom Edhi has helped since the 1950s when he begged on Karachi streets to buy a rickety ambulance for his charity work. Edhi's charity empire took off in 1957 when he established a tented hospital amid a flu outbreak in Karachi. The empire has come a long way since then and now owns air ambulances as well while Edhi remains go-to person for tens of thousands of have nots whom the state has consistently failed.
Edhi is, in fact, synonymous with selfless service to humanity and charitable work in Pakistan. He has been likened to Mother Teresa for his ubiquitous network of orphanages, shelter homes, rehabilitation centres, hostels and ambulances headquartered inside a small room near a Karachi slum.
Edhi's biggest contribution has been the dignity he has given to unwanted children in Pakistan. He has left cradles outside Edhi centres to encourage mothers to leave their unwanted kids there instead of killing them. The unwanted children are fed, clothed and educated at Edhi homes and call Edhi 'Abu (father)'. Edhi has embraced other outcasts -- drug addicts and mentally ill -- too and sheltered them at his homes.
Edhi, a bearded saintly figure, is known for his frugality and owns just two pairs of Qameez Shalwar. His austerity has been his hallmark, which adds to his appeal as perhaps the second most revered Pakistani after another Gujarati, Muhammad Ali Jinnah. Like Jinnah and his great contemporary, Mahatma Gandhi, Pakistan's living saint has his roots in Gujarat's Kathiawar Peninsula.
Edhi was born there in 1928 into a Memon family at Bantva, barely 60km from Mahatma Gandhi's place of birth - Porbandar. He attended a Gujarati-language school in his village before the horrors of partition uprooted from his village and forced him to migrate penniless to Pakistan in 1947.
Thousands of Gujaratis like Edhi arrived in Pakistan in a state of virtual penury after partition. But they have since then punched much above their weight to contribute immensely to the economy of their adopted country.
Gujaratis account for just 1% of Pakistan's population and are concentrated in Karachi, but contribute greatly to around 50% to the country's GDP the city alone generates. Gujarati trading communities like Memons, who belonged to Lohana mercantile caste and converted to Islam in the 14th century, Khojas and Bohras run multi-national companies, own five-star hotels, banks, multiplexes and manufacture cars in Pakistan besides dominating the country's biggest stock exchange.
This too underlines the similarities that have endured between Indians and Pakistanis despite seven decades of separation. We can ignore them at our own peril and let a handful of haters ruin the shared destinies.
http://timesofindia.indiatimes.com/india/Pakistans-Mother-Teresa-with-roots-in-Babus-Kathiawar-sheltered-Geeta/articleshow/49428393.cms
---------
UAE community project helps women in hospitality sector
October 16, 2015
Dubai: Soe Soe Min from Myanmar has always wished for an opportunity to improve her English language skills to better communicate with customers at the hotel where she works.
At times, when communicating with business travellers on the phone, she says her lack of proficiency in English lets her down. "I don't think I have enough words in my vocabulary, I can do my job better if I spoke better," she says.
Little did she know then that this opportunity would one day come to her doorstep thanks to four young women who came up with a community-led project to empower low-income expatriate women working in the hospitality industry acquire English language skills.
Today, Soe Soe and 18 other women working at the guest contact department at Dusit Thani are attending a weekly English class in the hotel to improve their communication skills as part of the Lotus Effect project.
Initiative
Lotus Effect, a project run by Aisha Al Bedawi, a 20-year-old Emirati university student, and her three colleagues, is part of the year-long E7 Daughters of the Emirate initiative, being funded by Emirates NBD.
In turn, E7 Daughters of the Emirates is an initiative set up in April this year by Emirates NBD and Promise of a Generation (POAG), a Dubai community project that was launched by four Dubai expatriate women of different nationalities seven years ago.
POAG seeks to highlight culture and heritage, education and career, enhancing opportunity for the less fortunate, environment and health, and family and women leadership.
E7 Daughters invited proposals from across the UAE for viable projects that could inspire and provide mentorship to 35 young girls living in different parts of the UAE. The year-long programme encouraged the girls to embark on creating their own projects that could have a positive impact on the UAE community.
The Lotus Effect, among other winning ideas aimed at helping the community, received a Dh20,000 funding and now Aisha's team is actively implementing the first phase with Dusit Thani employees.
Customer satisfaction
"Women working in the hospitality industry receive little to no support," said Aisha. "We came up with this project to give expat women the skills they need in their daily lives and to also increase customer satisfaction in preparation for the 20 million visitors who will visit the UAE for Expo 2020."
In a traditional classroom setting every Friday, the 'students' from the hotel spend two hours away from work in a fun and creative environment, talking, interacting and role playing with an English instructor.
In one class, students were asked to form groups for a dialogue exercise and suggest good places to visit in their home country. The instructor corrected their grammatical errors.
Soukaina Rachidi, a Lotus Effect team member, who attended the class, said, "We are doing this for [the women] not only to see the UAE be at the forefront of economic and human development, we are also doing this so the women can also help their own countries develop if they decide to return home."
As part of the Lotus Effect project, Aisha's team decided to include a mobile-learning platform where the employees can complete their assignments outside class at their convenience through their phones or laptops. "We knew two hours a week was not enough, so we thought that we since we live in a modern age, we need to exploit its advantages."
The team also joins the class in weekly shifts to boost the women's confidence and interact with them.
"We live in different emirates, but we need to show the students we care about them, this is why we join the classes," said Soukaina.
The students' curriculum was crafted by a Dubai-based English language instructor, who also takes classes, in a manner that allows the employees to get full-time exposure to the language.
Investing in employee training, said members of the Lotus Effect team, can bring the hotel plenty of benefits, such as higher profits and better quality of service.
Most of the employees at Dusit Thani are from Vietnam, Thailand, Philippines, Sri Lanka and Myanmar. Many of them seemed very eager to improve their English language skills, like Jennylove Aimee from the Philippines.
"Everyone uses English here and I want to learn how to use proper words and be able to properly pronounce them," Jennylove told Gulf News after her class. "I like the fact that we have dialogue exercises; it refreshes my mind and teaches me how to string sentences together properly."
According to a Harvard Business Report, job seekers in the developing world with exceptional English can earn 30—50 per cent more than the nation average.
Dusit Thani, which was the first to adopt the Lotus Effect, believes that English, being a universal language, is a vital tool in effective communication, especially as Dubai is a melting pot of traditions and cultures.
"With improved communication skills [clarity of speech, eloquence, choice of words] to transcend cultural differences, the team will be able to connect with our guests in a more convenient and accurate manner," said Swati Anand, a training manager at the hotel.
The team behind the Lotus Effect plan to extend the project if they continue to receive the support they need. They are open to partnering with other hotels interested in hosting the language programme as they move to phase 1 of their project in January.
"We are taking it step by step and would love to make it grow," said Soukaina. "We see the interest in adopting the programme so, if all goes well, we do want to make it not-for-profit and help as many hotel employees as we can, including men, because empowering women has to include men."
http://gulfnews.com/news/uae/culture/uae-community-project-helps-women-in-hospitality-sector-1.1600924
---------
Women in Pakistan just want to have fun -- like the men
October 17, 2015
LAHORE, Pakistan — It's largely taboo for women to walk alone on the street here. Those who dare often suffer disapproving glances, scolding or catcalls.
Now a group of young women are fighting that discrimination, one teacup at a time.
Led by Pakistani blogger Saadia Khatri, 24, the women photograph themselves at dhabas — roadside stands selling food and tea that traditionally cater to men throughout South Asia — and post their pictures on social media with the hashtag #girlsatdhabas.
Khatri started posting the images in May on a lark, after she graduated from Mount Holyoke College and found life at home stultifying when compared to her New England liberal arts school.
"What inspired me was simply the daily frustrations of facing resistance in doing the most ordinary things in our cities," said Khatri, who lives in Karachi. "It started with just venturing out in the city, among ourselves."
The women's campaign went viral.
"It has become a collective effort to reclaim spaces traditionally dominated by men," Khatri said. "We want to encourage and facilitate women to find their own voice."
Khatri and another Mount Holyoke alum, Natasha Ansari, 25, started a Tumblr blog and invited women to post photos of themselves at dhabas. The blog now features thousands of pictures of women sipping tea, chatting, eating, reading and smoking in public — routine activities in the United States but rebellious behavior in Pakistan. Women in India, Bangladesh and Nepal have also submitted photos.
"Women have to reclaim their space in every field in Pakistan, be it entertainment, sports or any other field," said civil rights activist Fouzia Saeed, who is also executive director of the Lok Virsa museum in Islamabad. "Initiatives like these are A??? must for society."
She noted that Pakistan has grown more conservative and hostile to women's rights in recent years.
"Historically, the space for women has been reduced in Pakistan," Saeed said. "In 1960s or before that — even in our mothers' era — there was more space and openness. I recall biking wasn't considered a taboo then. The space for women has shrunk over decades."
Khatri and Ansari also launched #girlsplayingstreetcricket, referring to the popular bat-and-ball game.
"Most of us could narrate childhood instances where we were either told by the boys playing street cricket that we can't play with them, or discouraged or not allowed by parents to play cricket on the streets because it was something girls aren't supposed to do," Ansari said. "So the idea came very naturally to us, and we organized a cricket match in Karachi, where 15 young girls came out to play."
Men haven't openly resisted letting women enter their traditional turf, Khatri said. But other women and some relatives have expressed doubts.
"This is a novel idea, and many find it hard to accept it openly," Khatri said. "This has led to some discouragement and safety concerns, especially from families about putting ourselves out there."
Lubna Khan, 23, of Lahore, is typical of the campaign's critics.
"If you ask me, I don't feel comfortable sitting in a men's only dhaba," Khan said. "It's my choice to not be in a place where men are smoking, cracking vulgar jokes among themselves."
"I don't have to prove my 'existence' through such an initiative," she added. "I go out and work for my well-being. That's enough for me to 'reclaim my space.'"
Women like Khan have every right to dislike dhabas, Ansari said, but she should have the right to patronize them if she wants. "We've faced negative criticism," she said. "Many times it is from people who don't fully understand our stance behind initiating this project."
The women are now raising money to open a dhaba explicitly for women in Karachi in the next year. They envision the dhaba as a place for activists to meet, share experiences and plan for the future, as well as have fun and relax over a cheap cup of hot tea.
"We want to facilitate women to come together and address issues of public space access and harassment," Ansari said. "And to plot more ways to create resistance around the issue of women's mobility and visibility in public space."
http://www.usatoday.com/story/news/world/2015/10/17/pakistan-girls-women-dhabas/73931712/
---------
First Arab female umpire at Wimbledon
Jul 12, 2015
LONDON — Wimbledon's first Arab female umpire to officiate was worried that her hijab would anger some tennis fans.
But Aseel Shaheen's fear proved to be futile as she overcame her lack of confidence.
"It's an indescribable feeling being here. It's something big, it's a challenge. I'm the first female from the Arab world to be an umpire at Wimbledon," she said in an interview with Sport360.
"I was worried that they wouldn't accept me because I wear a hijab, but on the contrary, they really accepted me. London is quite open toward hijab, but maybe it's not too common around the tennis world. But me wearing the hijab and working on court during a tennis match at Wimbledon is a sign that the world is starting to accept us more."
The 41-year-old Kuwaiti umpire has been in the tennis officiating business for a while now, having taken an officiating course in 2002.
"I told them I wanted to be an international umpire, I have the qualification and I have the language skills, because I speak good English. So I went to officiating school and I became a white badge in 2011."
Shaheen also officiated at the ATP and WTA events in Doha and had her her first experience at Wimbledon qualifying last year.
Shaheen, who became a line judge after enrolling on a course in 2002 admitted that even though she didn't a lot about tennis before enrolling for the course she finished third in her class.
"I kept going. It became a challenge for me because they would always nominate the guys and ignore me," she said.
The only drawback she said would be that line judges often receive icy stares and harsh words by the players who disagree with their decisions which can be prickly.
However, she said Hawk-Eye technology on several courts has made their job less stressful but they still need to be wary of naughty serves and often charm the crowd with their timely and graceful escapes. — Agencies
http://saudigazette.com.sa/sports/first-arab-female-umpire-at-wimbledon/
---------
Rosmah, Wife of Malay PM Tells Women to Band Together To Be In Power
BY MELISSA CHI
October 17, 2015
KUALA LUMPUR, Oct 17 — Datin Seri Rosmah Mansor urged women today to be supportive of one another, saying they should not be their own "worst enemies."
The wife of Prime Minister Datuk Seri Najib Razak said women who put each other down are among the reasons why not many women are in power today.
"Men rule because women let them.
"Male misogyny... has dreadful consequences but female misogyny is what keeps women out of power," she said during the Asean Conference on Women in Politics Kuala Lumpur 2015 luncheon at the Putra World Trade Centre.
Earlier in her speech, she admitted that she is "only the wife of a politician" and is not technology savvy but has definitely become "politically savvy" after being married to Najib for 28 years.
While she recognised the importance of social media in today's world, she clarified that she does not have a Facebook account and that those that currently exist under her name are fakes.
http://www.themalaymailonline.com/malaysia/article/rosmah-tells-women-to-band-together-to-be-in-power
---------
Unfair dismissals haunt female Saudi teachers
17 October 2015
JEDDAH: Unjust dismissals of Saudi teachers from private schools continues, in broad daylight and in full view of the Ministries of Labor and Education, so as to replace them with foreign teachers and circumvent the recent decision of the Ministry of Labor to pay teachers salaries of at least SR5,000 a month.
Since the adoption of the law, private schools have been looking for ways to avoid its implementation.
"After a painstaking time searching for a private school to work at, I was able to get a job at one, which is considered among the top schools," says Amal Al-Ghamdi, a teacher. She says she began to work with them after they requested her teaching certification, one of the conditions of employment as is the case in government schools.
"They began to request difficult tasks in an attempt to make me want to quit, such as giving lessons after my shift and working until 4 p.m. instead of 2 p.m., but I complied with demands because I urgently needed the job," she explains. "They eventually told me my students were not happy with my performance."
Suhair Al-Bouqri, a teacher with a bachelor's degree in microbiology, said she was unjustly fired from her school, where she worked on preparing lab work.
She says the employment of Saudi teachers at schools is always arbitrary, unlike foreign employees who make up the vast majority of teachers.
Al-Bouqri was herself asked to work in various departments until she was fired, prompting her to complain to the women's department at the Ministry of Labor.
She says her case is being investigated, but "I was unfortunately asked by the Labor Office to sign a pledge that I would not return to the school again. When I refused to sign, the manager fired me from the school on the first day and continued to jeopardize my prospects in other schools."
According to Sadeq Dahlaan of the Committee on International Schools at the Chamber of Commerce, the worker recognizes a probationary period for both parties, but the problem is that some school directors are quick to judge teachers from the first week. "Arbitrary firing of teachers can be a result of the director not liking the teacher, not due to her performance, and this is unjust," he said.
The law guarantees the teacher the right to appeal should he or she be fired unlawfully and submit a complaint with the Labor Office. If proven that the the dismissal occurred with no legal justification, the teacher can return to the same job, or submit a request to the Labor Office to impose a fine or penalty against the violating school.
http://www.arabnews.com/saudi-arabia/news/821586
---------
Indian Muslim Women's Group against Uniform Civil Code 'If It Does Not Guarantee Freedom of Religion'
By ZEESHAN SHAIKH
Mumbai
Oct 17, 2015
The Bharatiya Muslim Mahila Andolan, which has been seeking reforms in Muslim personal law, has opposed the introduction of Uniform Civil Code in the country. "The Supreme Court observation has emanated from the need to bring about a gender-just legal framework and not from a desire to impose or force anything on different communities. This must be read as such and not as encouragement for 'Hinduisation' of all laws and social practices," said Dr Noorjehan Safia Niaz, co-founder, Bharatiya Muslim Mahila Andolan (BMMA).
Earlier this week, the Supreme Court had asked the government if it intended to introduce a Uniform Civil Code in the country. The BMMA has claimed that it is opposed to the introduction of Uniform Civil Code without taking into account the Constitutional guarantee of freedom of religion. It has claimed that the Constitution of India, under Article 25, grants the right to all, including minorities, to have personal laws based on respective tenets of different religious communities. "It is also time that all religious minority and majority communities stated their positions on the UCC. A UCC is meant for all communities and not just Muslims. Are all communities willing to give up their personal laws? It is a question that all communities have to ask themselves and state their position in the public space," Niaz said. Rather than a Uniform Civil Code, the organisation has claimed, there is need for "gender-just reform in the Muslim personal law based on the Quranic values of equality and justice in line with Article 25 of the Constitution of India". "It is important to point out that national integration cannot happen by a common family law but by treating all citizens equally. There can be no imposition of any kind as this would impinge on the religious freedom and secularism principles enshrined in the Constitution," Niaz added. She said there was a strong fear that Hindu marriage laws could be imposed on all other religious minorities in the name of the Uniform Civil Code. The BMMA has taken on the traditional Muslim clergy in the country and has been demanding that the Muslim Personal Law should be codified so that its provisions were clear to everyone. However, the conservative clergy has claimed that the codification and banning of practices such as 'oral talaq' are tantamount to tampering with the Sharia and the Islamic way of life. Muslims in India are governed by the Muslim Personal Law (Shariat) Application Act, 1936. This law makes the application of Shariat applicable to all Muslims. However, this law is not codified and is open to interpretations by the local clergy. Women's groups have claimed that these interpretations are not gender-friendly and prone to be misused against women. The BMMA had recently published a report of a survey in which it had found that 92.1 per cent of the surveyed Muslim women wanted a ban on oral and unilateral Talaq, while 91.2 per cent did not want their husbands to have a second wife. The organisation has also come out with a draft law called the Muslim Marriage and Divorce Act, in which, for the first time, Islamic laws relating to marriage, divorce and maintenance have been codified. The BMMA is hoping the government uses this draft law to improve conditions of Muslim women in the country.
http://indianexpress.com/article/cities/mumbai/muslim-womens-group-against-uniform-civil-code-if-it-does-not-guarantee-freedom-of-religion/
---------
Najib: 'When women succeed, we all succeed'
BY MELISSA CHI
October 17, 2015
KUALA LUMPUR, Oct 17 — Prime Minister Datuk Seri Najib Razak today preached the importance of women being treated as equals to men, and urged all fathers, husbands and sons here to make the necessary changes in their respective households.
Pledging to do his best to ensure women here are given the same opportunities as men, Najib said the move towards equality must begin at home.
"If we are serious about having more equal representations of women in our legislatures, indeed if we are serious about having a female prime minister of Malaysia one day, then the change must start at home with every father, husband and every son," he said today at the launch of the Asean conference on women in politics at the Putra World Trade Centre here.
Citing a study by Oxford University, he said women are still responsible for the majority of childcare and household tasks in families where both adults are working.
The Barisan Nasional (BN) president also said women are roughly six times more likely than men to bear responsibility for the majority of household tasks and they are about 10 times more likely to be the primary childcare provider.
He said, however, that it is important for both men and women share responsibilities and tasks at home before equality can take place at work.
"Remember, when women succeed, we all succeed," he added in his speech to more than 3,000 BN Wanita members and women politicians from the region.
Najib also said that Asean countries should model themselves after countries that were at any one point led by women, and added that it was crucial to focus on how to effectively and permanently address the disparity between men and women.
"Looking forward, we must create a level playing field where women have the same opportunities to succeed as their male counterparts.
"I believe my daughter or our daughters should have the same opportunities I was granted or that we were granted, and indeed my son or our son was granted.
"It is only when she and all of our daughters have the same opportunities that I will rest easy," he vowed.
http://www.themalaymailonline.com/malaysia/article/najib-when-women-succeed-we-all-succeed
---------
Tired Of Women Being Treated Like Sex Objects, Sarawak CM Vows To Amend Discriminatory Laws
BY SULOK TAWIE
October 17, 2015
KUCHING, Oct 17 — Chief Minister Tan Sri Adenan Satem announced today that he has directed Sarawak's women's ministry to research the state's laws and identify those that contain discriminatory practices against women.
The first-term chief minister said he will move to amend these laws and policies, if any, as he wants women in Sarawak to receive the same opportunities as their male counterparts.
"I will change those legislations and practices that are not fair to the women. We must change any legislation and practice that discriminate against women in Sarawak," he said at the state-level Women's Day celebration at the Borneo Convention Centre Kuching (BCCK) here today.
"Until the ministry has completed its research and makes recommendations to the state government, we have to wait for the legislations and practices to be changed so that women are truly treated on par with men," he said.
The chief minister said women and men must be treated equally.
"I am sick and tired of people treating women simply as sex objects. They are human beings like everybody else," he said, adding like men, women have feelings and their own unique potentials.
He said it is state policy to allow women to explore their full potential, adding that he will not allow them to be ruled by "conservative, narrow-minded religious teachers or ulamas."
"These people are fond of telling what women must not do, but never telling them what they can do with their potentials," he said, adding that he does not women to feel that they are living in an inhibition society.
The chief minister also told women to stand up and be assertive if they are abused by their husbands.
"Do not suffer in silence," he said when responding to a revelation by state Welfare, Women and Family Development Minister Datuk Fatimah Abdullah that over 400 cases of violence against women were reported in Sarawak last year.
Later, Adenan launched a book titled, Sarawak Women in Politics.
http://www.themalaymailonline.com/malaysia/article/tired-of-women-being-treated-like-sex-objects-adenan-vows-to-amend-discrimi
---------
URL: https://www.newageislam.com/islam-women-feminism/new-age-islam-news-bureau/pakistans-mother-teresa-with-roots-babus-kathiawar-sheltered-geeta/d/104959