New Age Islam News Bureau
9 Jun 2016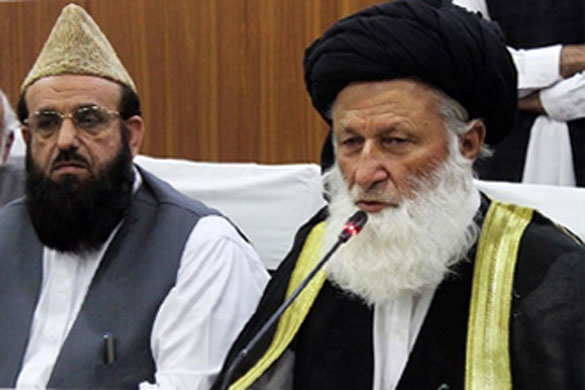 Photo: Pakistan's Council of Islamic Ideology issued a bill proposal to allow for men to "lightly beat" their wives. Citing the Qur'an, it justified abusive behavior and violence against women, so long as it aligned with specific guidelines.
-----------
• Palestinian-Jordanian Becomes First Muslim Woman in Milan's Parliament
• Fears Grow Over ISIL Recruitment of Tunisia Women
• Muslim Women Political Leaders Who'd Make Hillary Clinton Jealous
• Liberals Urged To Give Refuge to Hundreds of Yazidi Women Raped And Tortured By Islamic Militants
Compiled by New Age Islam News Bureau
URL: https://newageislam.com/islam-women-feminism/pakistan's-council-islamic-ideology-advocates/d/107582
--------
Pakistan's Council of Islamic Ideology Advocates Violence Against Women
Wednesday 8 June 2016
Chairman of the CII Mohammad Khan Sherani cited certain behaviors of women as deserving of this light beating, including refusing to obey their husbands' commands, declining to wear a hijab, speaking to unrelated males, not bathing after intercourse or menstruation, or refusing sexual intercourse without a religious excuse, or speaking too loudly.
This proposed bill also permits women to enter politics or become judges, suggests that a woman does not need a male guardian, and bans women from fighting in wars. The dramatic actions encouraged by this bill are largely backlash to the recently passed but not enacted Women's Protection Act, which enforced strict legal penalties for violence against women. This law was unequivocally opposed by the CII. Sherani said that the Women's Protection Act was un-Islamic, stating that "The whole law is wrong."
The CII was formed to provide religious oversight and commentary on Pakistan's laws. They do not, however, have the authority to pass laws.
Pakistan has a steep divide between de jure and de facto rights for women. Since independence, women have enjoyed the right to vote and drive. Benazir Bhutto, previous prime minister, represented a giant step towards gender equality. However, many of these laws are predominant in urban centers, while rural areas (including and especially the Federally Administered Tribal Area) present massive extra-legal obstacles to women seeking equal rights and opportunities as men.
This proposed law ignited fierce backlash. Political leaders and human rights activists alike have publically criticized the bill in no uncertain terms. Farzana Bari, one such activist at Quaid-i-Azam University, lambasted the bill tarnishing the reputation of Pakistan. She said that the bill "has nothing to do with Islam" and called for the CII to be dissolved.
Pakistan's Human Rights Commission stated that it is "difficult to comprehend why anyone in his right mind would think that any further encouragement or justification is needed to invite violence upon women in Pakistan." It proceeded to encourage the bill to be "condemned unreservedly by all segments of society."One weapon in the CII's political arsenal is to accuse lawmakers of blasphemy if they refuse to enact the proposed bill. If found guilty, lawmakers can be sentenced to death. This represents an unlikely extreme, but is nonetheless a legal possibility.
Media has also attacked the bill for being an archaic vestige of abusive times. Dawn, a prominent Pakistani English-language newspaper, has published many articles which criticize the CII's proposal on legal, moral, and religious grounds. Pakistani women took to Twitter to voice their opposition to the bill under the hashtag #TryBeatingMeLightly. Various threats against hypothetical abusers and expressions of indignation at the bill dominated the feed.
The CII's bill has yet to be passed in any capacity, and remains a contentious issue. The Human Rights Commission maintains that it has a very low probability of ever becoming a law.
moroccoworldnews.com/2016/06/188526/pakistans-council-of-islamic-ideology-advocates-violence-against-women/
--
Palestinian-Jordanian becomes first Muslim woman in Milan's parliament
Jun 09, 2016
After the results were released for the local parliamentary elections in Italy's economic capital, Milan, Sumaya Abdelqader took to Facebook to thank her supporters: "Thanks so much to everyone who put their confidence in me and wrote my name on the ballot Sunday".
Abdelqader, the Italian-born Muslim woman of Palestinian-Jordanian heritage, secured a position as MP in Milan's parliamentary elections last Sunday and has become the first Muslim woman to hold such a position in the city's history. It's a remarkable feat for the 38 year old Arab-Italian, whose achievements has earned her great respect in her hometown and abroad.
Abdelqader studied Sociology in her university days, and now leads a project to combat domestic violence and abuse of women called "Ai'sha" (a popular Muslim girl's name and one of the Prophet Muhammad's wives). She is a member of Italy's democratic party, which is typically characterized as center-left, and in interviews with Italian press has spoken out about her intentions to advocate for the rights and personal freedoms of women.
In a recent interview with Italian newspaper "Repubblica", Abdelqader spoke out against a recent decision by an Italian company to prohibit the hijab (Islamic headscarf) in the workplace. When asked if she would advocate for the right of women to wear the hijab after being elected, she replied:
"We will defend the rights of people and of women, especially when it comes to individual choices that do not affect social relationships and not bother anyone. The hijab should be a free choice for women, never imposed by an exterior force, an imam, or by family men."
albawaba.com/loop/palestinian-jordanian-becomes-first-muslim-woman-milans-parliament-850218
--
Fears grow over ISIL recruitment of Tunisia women
Jun 09, 2016
Tunis - About 700 women and girls are among the 5,000 Tunisians who have been recruited by the Islamic State of Iraq and the Levant (ISIL) and other armed groups.
As they travel to countries such as neighbouring Libya, they leave behind their families who quickly become distraught and anxious about their loss.
"There's no happiness or smiles in this house," says Olfa Hamrouini, a mother whose children fled to fight with ISIL, also known as ISIS.
"I wish I could die, that would be better. If I didn't have two other daughters, I would have killed myself."
One of Hamrouini's daughters married a fighter who is believed to have helped plan attacks on tourists in Tunisia last year.
But her daughters who left were later arrested and are being held in a prison in Tripoli, Libya.
Her five-month-old granddaughter is also with those arrested.
Hamrouini's two youngest daughters remember their older sisters listening to hard rock and playing the guitar.
Then, almost overnight, they wanted to switch off the music and the TV, and they started talking openly about joining ISIL.
"When they adopted this doctrine they never listened to me again. Daesh [ISIL] is the first and last for them, their mother, father, ruler everything ... their dreams and hopes," said Hamrouini.
Present priorities
Hamrouini says her priority now is to protect her younger daughters, who have themselves expressed interest in joining ISIL.
Now they are seeing a psychologist and are not allowed to speak to their elder sisters.
In May, Tunisian police arrested three girls from a school in Sidi Bouzid who had been planning to travel to Libya. They were held for almost a week, and then released.
The government would not comment on the arrests to Al Jazeera, but said it is doing everything it can to counter the message of recruiters, including offering classes on culture," said Neji Jalloul, Tunisia's education minister.
"A child has to understand they are sacred. And life is sacred. Their country, family and people need them from their cradle to their grave."
Given the difficulties of the routes from Turkey into Syria and Iraq, researchers have noticed an increase in social media messages advising potential female recruits to head to Libya.
Security crackdown
In the past year there has been a massive security crackdown in Tunisia.
Police have arrested thousands of people, and banned thousands more from travelling.
Most of those who return from fighting abroad face jail.
"When women return to Tunis, they are a widow or a wife," Mohamed Iqbal ben Rejeb, of the Rescue Association of Tunisians Trapped Abroad, told Al Jazeera.
"There's more pressure because she's considered the honour of the believers. And honour is one of the most sacred things."
He offers support to the families of fighters and says women returnees are closely watched by both the police and members of armed groups .
aljazeera.com/news/2016/06/tunisia-worry-fear-grows-young-women-join-isil-160609060147143.html
--
Muslim women political leaders who'd make Hillary Clinton jealous
Jun 09, 2016
Waleed's wife Susan Carland opens up about converting to Islam
Speaking in the July issue of The Australian Women's Weekly, the media personality and wife of this year's Gold Logie winner Waleed Aly detailed her decision to become a Muslim.
Raised a Christian, she switched to the Baptist Church as a teenager but found that didn't satisfy her quest for spiritual exploration.
At 17, she started to question her religious beliefs.
"Was it because I genuinely believed it to be true or was it because it was what I was raised to believe?" she recalled.
As she explored different religions, Carland was at first adamant Islam was not of interest.
"I thought, why would anyone want to be part of a barbaric, outdated, sexist religion?"
Two years later, at the age of 19, she became a Muslim. In those two years, she'd immersed herself in books and joined a Muslim women's group at university to make sure the religion was right for her.
"I found the emphasis on social justice appealing; I noticed there was a real concern for the vulnerable people in society," she said.
Converting did pose its own set of challenges — Carland said her mother had "hesitations," but things are "great" between the pair now.
Carland converted to Islam pre-9/11, and has now watched her religion become closely linked to global terrorism in many people's perceptions.
news.com.au/entertainment/books-magazines/magazines/waleeds-wife-susan-carland-opens-up-about-converting-to-islam/news-story/914a05c758875bb59ae304272f5ca47c
--
Liberals urged to give refuge to hundreds of Yazidi women raped and tortured by Islamic militants
June 8, 2016
OTTAWA — At least 400 Yazidi women raped and tortured by Islamic militants could have safe passage to Canada if the government would heed a proposal to rescue them, a religious freedoms organization says.
The Liberals, in their drive to resettle more than 25,000 Syrian refugees, are turning their backs on the most vulnerable — religious minorities who are often a direct target of warring factions, One Free World International says.
The group has identified 400 Yazidi women and their families, about 1,600 people in all, living in displaced persons camps in Kurdistan. It has a plan to bring them to Canada but says the proposal is being ignored.
Yazidis, ethnic Kurds whose faith dates back to ancient Mesopotamia, gained global attention in 2014 when fighters from the Islamic State of Iraq and the Levant captured the town of Sinjar in northern Iraq, forcing nearly 50,000 to flee to a mountain top.
Their situation is in part what prompted then-prime minister Stephen Harper to join international airstrikes against ISIL.
But their fate is now forgotten, said Majed El Shafie, founder of the One Free World group.
Girls as young as nine are sold into sex slavery, tortured, forced to convert or be killed and yet the Canadian government is doing nothing to help, he told a House of Commons committee on Tuesday.
"The government has failed big time in helping them," he said.
"Even if the government brought only nine cases, what will this do to the community that is facing genocide?"
A Conservative motion will be debated Thursday calling for the House of Commons to condemn the atrocities perpetrated by ISIL against religious and sexual minorities and to declare the crimes against the Yazidis a genocide.
The Tories already tried and failed to move a motion to that effect in April.
Is it acceptable to just turn around and say, 'I'm sorry, there's nothing we can do?
Three months earlier, El Shafie said he'd met Immigration Minister John McCallum at a reception, chatted with him about the group's plan and followed up a few days later with his chief of staff.
But there has been no action.
Initially Tuesday, neither McCallum nor his chief of staff could recall the meeting.
Later in the day after reviewing their files, chief of staff Mathieu Belanger said he had discussed the issue with a consultant working with the group but the government's policy remains that they directly resettle refugees selected only by the UN.
Belanger said, however, that they would take another look at the group's proposal.
The government is already working with a group in Winnipeg sponsoring Yazidis through the private system, but McCallum said refugees in places such as northern Iraq or Turkey are hard to reach and officials are doing what they can.
news.nationalpost.com/news/canada/canadian-politics/activists-want-liberals-to-give-refuge-to-hundreds-of-yazidi-women-raped-and-tortured-by-islamic-militants
URL: https://newageislam.com/islam-women-feminism/pakistan's-council-islamic-ideology-advocates/d/107582
New Age Islam, Islam Online, Islamic Website, African Muslim News, Arab World News, South Asia News, Indian Muslim News, World Muslim News, Womens in Islam, Islamic Feminism, Arab Women, Womens In Arab, Islamphobia in America, Muslim Women in West, Islam Women and Feminism