New Age Islam News Bureau
18 Feb 2019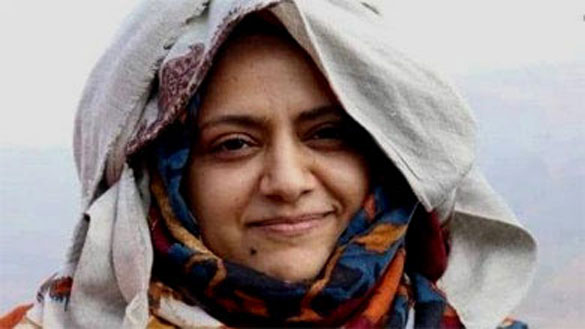 Awfa Al Naami is the Yemen country manager for UK-based NGO Saferworld. Courtesy Centre for Applied Research in Partnership with The Orient
-----
• Underage Marriage Continues To Haunt Malaysia
• Houthi Rebels Free Yemeni Activist Awfa Al Naami After Three Weeks
• UK Cannot Make Islamic State Bride Stateless, Justice Secretary Admits
• Young Afghan Girl's Valentine's Day Song 'I Kiss You amid Taliban' Goes Viral
• Saudi Women Now Occupy Nearly Half of Retail Jobs, Says Report
• Media Committee for GCC Women Football Event Meets in Saudi Arabia
• 600,000 Saudi Women Join Workforce, Says Official
• Iranian Women Actively Participate In Protests, Demonstrations
• Woman Imam Who Braved Death Threats Calls For Ban on Foreign Funding Of Europe's Mosques
Compiled by New Age Islam News Bureau
URL: https://www.newageislam.com/islam-women-feminism/pakistani-women-seek-abortions-birth/d/117781
--------
Pakistani Women Seek Abortions As Birth Control
18 Feb 2019
PESHAWAR: Pregnant, desperate, and poor, Pakistani mother Zameena faced a stark choice: risk her life by having a secret abortion, or risk her life bearing her husband a sixth child.
In the end, she opted for the former, one of more than two million women a year to do so in a country where religious leaders are critical of family planning measures and there is a lack of sex education and access to contraception.
Almost half of all pregnancies in Pakistan - around 4.2 million each year - are unplanned and around 54 per cent of those end in termination, according to a report by US research firm Guttmacher Institute.
"Three years ago, when my daughter was born, the doctor told me that I should stop having babies because it would be bad for my health," said Zameena, using an assumed name, from her home in the northwest city of Peshawar.
"But whenever I say that to my husband, he tells me to trust God," the 35-year-old added. "My husband is a religious man ... he wants to have a line of sons."
Decades ago, a family planning campaign with the slogan "do bache hi ache" or "two children is good" was rejected by religious leaders as well as nationalists who wanted a bigger population to rival the 1.2 billion people in neighbouring India.
Today with a population of around 207 million, Pakistan's baby boom is stretching resources beyond capacity and experts warn of trouble ahead.
Zameena said she frequently suggested to her husband that they practice family planning, but he refused.
"My mother-in-law had nine kids," said Zameena. "When I complain to my husband that I can't have more babies, he answers: 'If my mother didn't die, you should also stay alive'."
Abortion is allowed in Pakistan if the health of the mother is in danger. But many doctors invoke their Muslim faith and refuse to carry them out.
As a result, some women abort illegally and authorities largely turn a blind eye to the situation.
The preferred method is by ingesting Misoprostol, an over-the-counter drug used to treat ulcers, which causes the expulsion of the embryo. It can also cause serious complications for the mother.
NGO Aware Girls counsels those who call its hotline on how such drugs should be used safely and when to seek emergency or professional treatment at a clinic.
"Most of us know women who have died of an abortion," said Aware Girls co-founder Gulalai Ismail.
"WILLING TO DO ANYTHING"
Zameena was one of the lucky ones - she knew where to go for help once she decided to terminate her latest pregnancy.
At the other end of the Aware Girls hotline, counsellor Ayeesha reassured and advised her on what medicines to take and in which dosage.
They insist that women must never be alone when they attempt such procedures.
"My work saves women's lives. When they call, they are willing to do anything to have an abortion," explained the 26-year-old.
Ayeesha estimated that she fields around 350 calls a month. Most women who contact the NGO know very little about contraception. Access to condoms, the most well known option, is limited and even when they can be bought, it requires the man to agree.
According to official statistics, only around 35 per cent of Pakistani women use any form of non-abortive birth control despite them being inexpensive.
Birth control pills cost just 20 rupees (US$0.28), for example, while an IUD is available for 400 rupees.
But population control is a controversial issue in Pakistan, where large families are prized.
"Authorities have not been able to make this issue an emergency for Pakistan. It is all rhetoric and political gibberish," says Dr Haroon Ibrahim of the family planning NGO Greenstar,
Zeba Sathar, a demographer in charge of another NGO, the Population Council, branded the nation's negative attitude to contraception a "systemic failure".
"WOMEN ARE DYING"
Prime Minister Imran Khan in December acknowledged the lack of political will on the issue and promised pro-contraception campaigns using the media, cell phones, schools and mosques.
"The mullahs have a key role to play," he insisted.
But the Council of Pakistani Islamic Ideology, a religious body which advises the government, says otherwise, insisting that family planning is against Islam.
"The birth control campaign at the government level should be immediately stopped and the birth control program should be removed from the economic planning," the council told AFP.
The charity Marie Stopes, whose clinics provide post-abortion care, has profiled a typical client in Pakistan: aged in her thirties, married at 18, she is poor, uneducated and already has three children.
Such women approach the agency when backstreet abortions go wrong.
"Women are just dying ... for the lack of knowledge," said Xaher Gul, an executive at Marie Stopes.
In 2012, the year of their last study, the Guttmacher Institute estimated there were 2.25 million abortions in Pakistan with 623,000 women treated for post-abortion complications.
"We have failed women in this country," warned Hassan Mohtashami, former head of the United Nations Development Programme in Pakistan.
He added: "Abortion is not a family planning method."
https://www.channelnewsasia.com/news/asia/desperate-measures--pakistani-women-seek-abortions-as-birth-control-11252486
--------
Underage Marriage Continues To Haunt Malaysia
18 Feb 2019
SISTERS in Islam (SIS) is appalled to learn that Kelantan's shariah courts had approved 10 underage marriages between January 2018 and January 2019. Averaged, this indicates that at least one underage marriage took place almost every month in the state.
It is therefore ironic that Kelantan shariah court judge Abu Bakar Abdullah Kutty mentions that "underage marriages must be prevented from early on because it is feared that couples will face countless problems".
We are disappointed that Kelantan and Terengganu has opted to retain child marriage in the states, with Kelantan citing last November that the practice is regarded a "necessity" in the state.
Such a reckless stance not only reflects an irresponsible government willing to endanger the futures of children, but also shows a disregard for the pursuit of education as a means for economic emancipation among the more impoverished communities in the state.
Kelantan's further rejection of the Convention on the Rights of the Child and the Convention on the Elimination of All Forms of Discrimination Against Women in November 2018 is also a shameful decision, considering Malaysia's ambition to be a progressive and inclusive country with developed nation status.
The prime minister's directive
We are concerned that most states have not moved to comply with Dr Mahathir Mohamad's order for all state governments to raise the minimum legal age for marriage to 18 years for both Muslims and non-Muslims.
The prime minister issued the directive after chairing the 132nd meeting of the menteris besar and chief ministers at Perdana Putra in October 2018.
Imperfect implementation
The prime minister's directive was confirmed by Penang's Women, Family, Gender Inclusiveness and Non-Islamic Religion Committee chairperson Chong Eng. While she announced that the Penang state assembly has been instructed to process the directive, she mentioned in October 2018 that the Penang Islamic Religious Department has yet to submit its report for the decision to be finalised.
There has been no official announcement from the Penang government since on the status of this legislative amendment.
In September 2018, Selangor Menteri Besar Amirudin Shari announced that amendments to increase the age of marriage in the state was passed by the state assembly. Amendments were made to the Islamic Family (State of Selangor) Enactment and Shariah Court Civil Procedure (State of Selangor) Enactment to raise the marriageable age limit of Muslims from 16 to 18.
According to Amirudin, the new enactments, which would include a set of "strict" standard operating procedures, were to have come into effect in January 2019. However, until today, there has been no indication of what criteria have been included in the procedures.
Earlier this month, the Sabah cabinet agreed to set the minimum age of marriage at 18 in the state, citing that review of the law would involve amending the Native Courts Enactment. Nevertheless, there is no indication if amendments will be made at the state's shariah level to include Muslim children.
Need to move forward
We are encouraged by how the marriage of an 11-year-old Rohingya girl child to a 20-year old-man was recently protested by a concerned member of the public as well as enforcement and religious authorities in Penang.
This incident reflects not only a social will to end child marriage in the country, but also how anyone can be empowered to play a role in ending the practice of child marriage in Malaysia. This incident should be an impetus to more concerted efforts at the state government level towards raising the age of marriage to 18 for all children.
Federal and state governments and elected representatives, including MPs and state assemblymen, have a responsibility to protect the most vulnerable amongst us, including children. This includes keeping them safe from harm, inculcating a positive social mindset, and ensuring that they have the best possible chance of a bright future by prioritising their education. Child marriage poses an obstacle to all the above.
SIS is also concerned of the politicising of the issue of child marriage at the expense of the welfare and wellbeing of the child. We emphasise again the urgency for laws to be amended, and for these laws to include all children, boys and girls, regardless of race and religion, with no exceptions. – February 18, 2019.
* Sisters in Islam (SIS) is a civil society group working towards advancing the rights of Muslim women in Malaysia within the framework of Islam, universal human rights principles, constitutional guarantees, as well as lived realities and experiences of women.
https://www.themalaysianinsight.com/s/134156
--------
Houthi Rebels Free Yemeni Activist Awfa Al Naami After Three Weeks
Mina Aldroubi
February 17, 2019
A Yemeni humanitarian worker whose detention highlighted the intimidation and torture of activists by Houthi rebels was freed on Saturday, the UN said.
Awfa Al Naami, the country manager for Saferworld, a UK-based organisation helping people in conflict zones, was summoned for questioning at the Houthi national security office in Sanaa on January 28 and had not been heard from since.
"The Special Envoy to Yemen, Martin Griffiths, urged Awfa's release during his last trip to Sanaa where he met with Houthi leaders," a UN official told The National. "She is now reunited with her family."
Yemeni lawyers and activists also campaigned for Ms Al Naami's release and have called for an end to the rebels' intimidation campaign.
"This is only a small part of what Yemen's civil society is facing on the ground. This important space shrinking every day is what makes Yemen even darker," said Radhya Almutawakel, co-founder of Mwatana Organisation for Human Rights, a Yemeni NGO.
Ms Al Naami's detention was only the latest in a series of atrocities committed by the Houthis, according to Amnesty International. Throughout the conflict in Yemen, human-rights defenders and journalists have been harassed, threatened, beaten, arbitrarily detained and forcibly disappeared, the rights group said.
Yemen's former human rights minister Hooria Mashour welcomed Ms Al Naami's release and called for the rebels to free all detained activists.
"The Houthi should stop these crimes against innocent people," she said.
Ms Mashour said the rebels' detention of women went against the values of Yemeni society. "For the first time in Yemeni history we are seeing these crimes against women," she told The National.
Activists said this was not the first time Ms Al Naami had been interrogated, and that no reasons were given for her arrest.
"In recent months she has been subject to various threats and intimidation, as part of a larger, co-ordinated Houthi campaign against development and humanitarian workers in Yemen," the Centre for Applied Research in Partnership with the Orient said.
The Iran-aligned rebels have been battling the government of President Abdrabu Mansur Hadi, which is backed by a Saudi-led military coalition.
Ms Al Naami was known for calling on the international community to intensify efforts to end nearly four years of civil war that has created what the UN calls the world's largest humanitarian crisis.
"Peace means that no matter how much we disagree, we have to go into dialogue, I have to accept all your flaws and you have accept all my flaws," she said last March.
Ms Al Naami's release was welcomed by Yemeni activist Rasha Jarhum, founder and director of Peace Track Initiative and representative of the Women's Solidarity Network.
"To me her release is a symbol of the success of Yemen's peace process. I am grateful and my hope is restored," Ms Jarhum said on Twitter.
The development comes as Mr Griffiths tries to implement a prisoner swap deal between Yemen's warring sides, as part of efforts to build confidence in a slow-moving peace process. Both parties need to agree on the lists of prisoners to be swapped before any progress can be made.
The UN hopes the prisoner exchange and a truce in the main port city of Hodeidah will pave the way for a second round of peace talks.
A UN official confirmed to The National that Ms Al Naami's release was independent of the prisoner negotiations.
The prisoner swap was one of the least contentious confidence-building measures agreed upon at UN-sponsored peace negotiations in Sweden in December.
https://www.thenational.ae/world/mena/houthi-rebels-free-yemeni-activist-awfa-al-naami-after-three-weeks-1.826865
--------
UK Cannot Make Islamic State Bride Stateless, Justice Secretary Admits
16 February 2019
The justice secretary has conceded the government may not be able to stop IS bride Shamima Begum returning to the UK as it "can't make people stateless".
Speaking to Sky News, David Gauke warned of the risks of people returning "from dangerous parts of the world" and said the priority was ensuring the safety of the British public.
Mr Gauke's comments appear to contradict those of Home Secretary Sajid Javid who has said he "will not hesitate" to prevent the return of the British teenager.
Mr Gauke said: "Obviously we have to act within the powers that we have."
He added: "It is the case we can't make people stateless, but without getting to drawn into the specifics, the approach that we take as a government, which is the responsible one, is to ensure that we protect the British public.
"That is the key thing.
"There are clearly dangers involved when we have people returning from dangerous parts of the world where they have voluntarily gone to and we need to make sure the British public are protected."
His remarks came as Shamima Begum's family urged the UK government to help bring her home.
She had left Britain as a 15-year-old schoolgirl to join Islamic State in Syria four years ago.
Now aged 19 and pregnant, she has told British media she does not regret leaving the UK and travelling to the terrorists' caliphate, but wants to return home so her child can be looked after.
She has also pleaded not to be separated from her baby if she returns to Britain.
Speaking at refugee camp in northern Syria earlier this week, Shamima Begum revealed she is going to give birth "any day now", having married a young Dutch IS fighter called Yago Riedijk three weeks after she arrived in the country in 2015.
And her assertion she is "not the same silly little 15-year-old schoolgirl who ran away from Bethnal Green four years ago" has been highlighted as a cause for concern by some.
"I don't regret coming here," she said.
The teenager left the UK with two other friends, Kadiza Sultana and Amira Abase, and said she has been living "a normal life" in the caliphate, interrupted by "bombing and stuff".
Kadiza Sultana was reported to have been killed in an airstrike in 2016.
Speaking confidently and seemingly without any fear for her situation, Shamima Begum told The Times she had never seen an execution during her time with IS, "but I saw a beheaded head in the bin".
"It didn't faze me at all," she added.
She also said she had two other children during her time with IS, but both died young due to illness
Meanwhile, the head of MI6 has implied she is "potentially very dangerous".
While not commenting on Shamima Begum's case specifically, intelligence service chief Alex Younger said that someone who had been in "that sort of position" was likely to have acquired certain "skills or connections".
Such an individual cannot be stopped if they decide to return to the UK, he added, but public safety was the first priority.
More Britons who joined Islamic State - mainly women - are believed to have been identified at Syrian camps in the last few days.
Sky sources say it is only thought to be a small number but there could be more British nationals who have yet to be identified.
https://news.sky.com/story/justice-sec-admits-uk-cannot-make-is-bride-stateless-11638943
--------
Young Afghan Girl's Valentine's Day Song 'I Kiss You amid Taliban' Goes Viral
17 Feb 2019
The video song of a young Afghan girl has gone viral in social media as youths in Kabul and other cities of the country celebrated Valentine's Day on Tuesday, a new phenomenon which is increasingly becoming famous among the youths of the country despite differences of views exist in this regard in the society.
Composed by a young Afghan poet Ramin Mazhar, the song 'I will kiss you amid Taliban, you are not afraid' was sung by Ghawgha Taban on the eve of Valentine's Day.
The video immediately went viral and has become a hot topic in social media since it was uploaded in Facebook and Twitter
The youths in Kabul celebrated Valentine's Day with gatherings and singings but the situation remained different in Herat province, one of the key western provinces of the country.
The Police Commandment of Herat issued a statement warning the residents of the province not to celebrate Valentine's Day, insisting that marking the day is against the instructions of Islam as per the remarks of religious scholars and clerics.
"I had a simple motive to specify my personal stance against a situation dominated by Talibanism, a thing which Taliban do not have any doubt about. But the reactions were enormous. The reactions are both hopeful and concerning with the main reason being populism, I do not think those who have supported me in their reaction are anti-Taliban and it should be considered as risky, since those considering us as sacred for such a small work, can stone us to death, call us prostitutes, or torch us to death in the center of the city. A Taliban dominant social situation is nothing more than a blink of an eye where people get united at a blink of eye while some actions are condemned blindly. It is our human obligation to react against Talibanism but at the same time we should not forget the horrific reasons, reactions and individual absenteeism, this individual absenteeism is horrific. Real fight against Taliban is nothing more than an individual revitalization," Ghawgha said in a statement.
This comes as a campaign dubbed 'Will Not Return Backwards' has also been launched in social media amid rumors regarding the return of Taliban, formation of interim government, dissolving of Afghan army, and exit of the foreign forces.
The Afghan women have the most concern regarding the return of Taliban as they were deprived of their basic rights, including education and work during the Taliban regime back in 1990s.
The concerns, mainly among the women, are on the rise amid ongoing negotiations between the U.S. envoy Ambassador Zalmay Khalilzad and the Taliban political leaders.
This comes despite the assurances given by the Taliban during the Moscow Summit on 5th and 6th of February which was organized in the absence of the government representatives.
However, concerns still exist that the achievements of the past two decades would be compromised with, including the freedom of expression, political and civil rights of women, and elections, in the event the ongoing talks produce results and a peace deal is achieved.
https://www.khaama.com/young-afghan-girls-valentines-day-song-i-kiss-you-amid-taliban-goes-viral-03322/
--------
Saudi Women Now Occupy Nearly Half of Retail Jobs, Says Report
February 17, 2019
JEDDAH: The number of nationals working in the retail sector has risen to 260,000 and 48 percent of them are women, according to data issued by the General Authority for Statistics.
Around 44,000 Saudis joined the sales sector between the end of the first quarter of 2017 and the end of 2018's third quarter, representing an increase of around 20 percent.
A labor market bulletin said the total number of sales staff in the Kingdom was 537,281, of which 48.4 percent were Saudis. The remaining workers were foreigners.
The bulletin also said that the number of Saudi women in sales was 125,505 by the end of 2018's third quarter, giving them a 48 percent market share of the national workforce in this sector.
The total number of male Saudis in sales increased by 15 percent to 134,692 by the end of the third quarter of 2018, from 116,589 at the end of the first quarter of 2017.
Earlier this year, the Ministry of Labor and Social Development announced it would be providing Saudis with job opportunities in an attempt to reduce unemployment, especially in sales roles, the Saudi Press Agency reported.
http://www.arabnews.com/node/1453756/saudi-arabia
--------
Media Committee for GCC Women Football Event Meets in Saudi Arabia
February 17th, 2019
Members of the Media Committee of the Gulf Cooperation Council's (GCC) women football event met in the Saudi eastern city of Al-Khobar to discuss the tournament, due in Dammam next month.
The committee members discussed the March 1 event as well as selecting Mohammad Al-Ghamdi as chairman and Huda Seyahi as vice-chairperson.
Sanaa Al-Ateeq, director of the football event, said the committee members discussed how women would be participating in this event without undermining Islamic traditions.
She said 200 female players from 16 clubs from Saudi Arabia, Kuwait, Bahrain and the United Arab Emirates (UAE) would be taking part in the event.
Al-Ateeq said 60 girls would be performing a song in Arabic and English languages.
She thanked Saudi Princess Riman bint Bandar, chairperson of GCC's sport women committee Sheikha Naeema Al-Sabah, of Kuwait, and chairperson of the Arab woman olympic committee Sheikh Hayat Al-Khalifa, of Bahrain.
https://www.albawaba.com/sport/media-committee-gcc-women-football-event-meets-saudi-arabia-1253784
--------
600,000 Saudi Women Join Workforce, Says Official
2019-02-17
Irfan Mohammed
JEDDAH — Efforts to empower Saudi women by absorbing them in the job market have been successful, according to a top official of the Ministry of Labor and Social Development.
Nawal Abdullah Al-Thabian, assistant director general of the ministry's branch in Makkah province, has said some 600,000 Saudi women have already joined the job market.
The women workforce is not only productive but also creative despite the many obstacles and challenges that they experience, Al-Thabian said.
Delivering a lecture at a conference titled "Empowerment of Saudi Women in Light of the Kingdom's Vision 2030" at King Abdulaziz University, she said ministry had initiated 68 schemes to facilitate employment opportunities for women in the Kingdom.
Many successful Saudi women participated in brainstorming sessions and panel discussions over
two days of the conference, which was inaugurated by Prince Mishal Bin Majed, governor of Jeddah.
Al-Thabian said Labor Ministry had been introducing exclusive programs to empower women in the context of nationalization in the retail sector and the transportation project for workingwomen came as part of such efforts.
Al-Thabian revealed that ministry was concentrating on day care facilities to take care of workingwomen's children through the QARA scheme. She said the ministry was covering the cost of day care for up to four children. So far, 13,516 workingwomen benefited from the scheme, she said.
Al-Thabian said the ministry was granting charitable and cooperative societies licenses to operate such day care centers and nurseries as part of measures to support workingwomen.
Sahar Bint Hassan Khayat, professor of economics at KAU, said a total of SR344 billion had been invested in the Kingdom in 2018 through 499 licensed projects that had huge potentiality for women empowerment.
She said there was a significant growth in foreign direct investment in the Kingdom in recent years and vast opportunities awaited the women workforce.
Prominent businesswoman Nashwa Tahir said the private sector had played a crucial role in the empowerment of Saudi women by giving them a variety of options to choose jobs according to their skills.
Describing 2008 as a turning point in women empowerment in Saudi Arabia, she said women were allowed to enter the real estate and contracting sector during the year.
Tahir recommended mooting programs for systematic empowerment of women in the private sector as well as in social life through a dedicated ministry for women and child welfare.
Professor Raja Al-Qahtani said women empowerment started in the Kingdom in the 1960s itself when the first schools for women opened in the country.
Professor Huda Amal shed the light on Princess Noura University's experience in empowering women while Undersecretary of the Ministry of Education Dr. Haya Al-Awad briefed the audience about various initiatives by educational institutions in the Kingdom to empower women by offering quality education.
Al-Alwad said the Education Ministry established centers to enhance the academic experience of women in English, science, mathematics and engineering support for specialized fields.
She said the ministry also launched vocational education for women in the Kingdom.
Noted health professional Samia Al-Amoudi explained Saudi women's achievements in the healthcare field. She said from nursing to various rare medical specializations Saudi women proved their excellence. "Saudi women health professionals were recognized in regional and international levels," she added.
http://saudigazette.com.sa/article/559368/SAUDI-ARABIA/600000-Saudi-women-join-workforce-says-official
--------
Iranian Women Actively Participate In Protests, Demonstrations
Feb 17, 2019
A large group of swindled clients of Sekkey-e Samen Institute gathered across from the Central Bank in Tehran on Sunday, February 17, 2019, and held a major protest gathering and demonstration. The protesters included a large number of Iranian women. They damaged the main door of the Central Bank, chanting, "Iran is an exemplary thieves' house in the world."
Also on Sunday, February 17, 2019, nurses working at the hospital of Karaj held a gathering in protest to the hospital's failure to pay their salaries for a year. The protesters the majority of whom are Iranian women gathered at the hospital's courtyard and chanted slogans.
A group of employees working at the office of the Edalat Stocks Co. converged from various provinces and cities in Tehran and held a protest outside the Ministry of Economy to follow up on their employment status. The protesters were around 1500 people including a large number of Iranian women. They have been working for the company for 12 years but do not have any definite employment status, and they have not received their salaries for 48 months. (The state-run ILNA news agency – February 17, 2019)
On Saturday, February 16, 2019, a group of people gathered across from the mullahs' parliament to protest against the procedures of Lawyers' Examination. They urged the Legal and Judiciary Committee of the Majlis to attend to their demands. (The state-run ISNA news agency, February 16, 2019)
On the same day in Tehran, a group of members of the Housing Coop of the Ministry of Agricultural Crusade gathered in protest outside the Ministry of Labor (the official IRNA news agency – February 16, 2019), a group of plundered investors of Ramesh Car Company gathered outside the General Prosecutor's Office in Tehran, and the clients registered to purchase cars from the Bahman Motor Company held a protest outside one of the company's branches.
In Alborz Province, a group of teachers who have not received their salaries for the 2018-2019 academic year held a protest on Saturday, February 16, 2019.
Also on Saturday, the residents of Kooy-e Mahdis in Ahvaz, held a protest against water cut-off and low pressure of pumped water.
Iranian women played an active role in all the above protests and demonstrations.
https://women.ncr-iran.org/2019/02/17/iranian-women-actively-protest/
--------
Woman Imam Who Braved Death Threats Calls For Ban on Foreign Funding Of Europe's Mosques
17 FEBRUARY 2019
As the first female imam to open a mosque in Germany, Seyran Ates has endured death threats and fatwas. She even survived being shot as a young women's rights activist during her law studies at the age of 21. Now she is gearing up for a new struggle — against the Middle Eastern funding she says is fostering extremism in Europe's mosques.
Ms Ates, 55, made headlines around the world in 2017 when she set up Germany's first equal rights mosque, where men and women pray side by side, burqas are not allowed and women can lead the prayers. It brought condemnation from the traditional Muslim establishment, but a year and a half later her mosque is still going strong.
https://www.telegraph.co.uk/news/2019/02/17/woman-imam-braved-death-threats-calls-ban-foreign-funding-europes/
--------
URL: https://www.newageislam.com/islam-women-feminism/pakistani-women-seek-abortions-birth/d/117781
New Age Islam, Islam Online, Islamic Website, African Muslim News, Arab World News, South Asia News, Indian Muslim News, World Muslim News, Women in Islam, Islamic Feminism, Arab Women, Women In Arab, Islamophobia in America, Muslim Women in West, Islam Women and Feminism