New Age Islam News Bureau
5 Aug 2019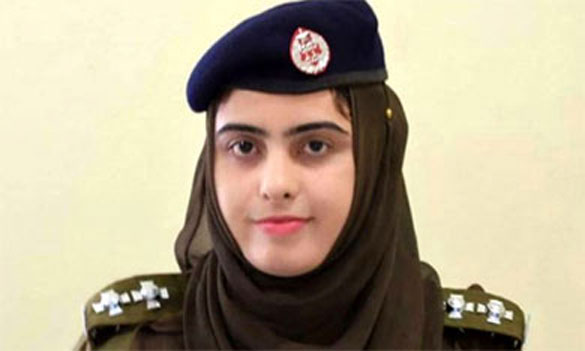 Kulsoom Fatima, A Pakistani female Station House Officer (SHO) has investigated 200 cases of rape and sexual abuse following her appointment two months ago
------
• Qatar Only Remaining GCC Country Restricting Travel for Women
• The Jubilation of Women in Saudi Arabia Was Real – And Understandable
• Blood Money Decision Advances Women's Rights in Iran
• Iranian Women Lead the Force for Change in Iran
• Incidents of Acid Throwing On Women Dropped To 50 Per Cent in Pakistan
• Banana Republic's New Line Of Hijabs Targeting Muslim Women Welcomed And Criticized
• New Rules for Women Workers In Saudi Arabia
• Expedite Work on Women's Driving School: Emir Of Asir
• Woman Comments on Life In Syria's Idlib Through Cartoons
Compiled by New Age Islam News Bureau
URL: https://www.newageislam.com/islam-women-feminism/pakistani-woman-police-officer-probes/d/119391
--------
Pakistani Woman Police Officer Probes 200 Rapes, Sexual Abuse Cases in 60 Days
August 04, 2019
Islamabad: A Pakistani female Station House Officer (SHO) has investigated 200 cases of rape and sexual abuse following her appointment two months ago, a media report said.
Kulsoom Fatima was appointed the first female SHO of Pakpattan district in Punjab province and she gave an exceptional performance in this small period, The News International reported on Saturday.
In a recent interview to the BBC, Fatima said that the incidents of sexual abuse of minor girls made her angry, but she was not able to do anything at that time.
"I hoped to be on a position one day so I could do something for the little girls. I got the opportunity when I was appointed a sub-inspector in Punjab Police after passing the competitive exams," she said.
Fatima said that she was happy to be assigned the same duty which she had always wanted to do.
The female SHO was handed over the cases that were related to women and minor girls.
District Police Officer (DPO) Pakpattan Ibadat Nisar, who appointed Fatima, said that the appointment of female police officers in Pakpattan Police will help in dispensing justice to the people.
https://gulfnews.com/world/asia/pakistan/pakistani-woman-police-officer-probes-200-rape-sexual-abuse-cases-in-60-days-1.1564908118016?utm_source=newsletter&utm_medium=email&utm_campaign=GulfNews_NewsLetter_20190804_Evening_PM
--------
Qatar Only Remaining GCC Country Restricting Travel for Women
4 August 2019
Qatar is the only GCC country that continues to implement male guardianship laws for female travel after Saudi Arabia lifted restrictions on Friday.
Saudi Arabia announced on Friday breakthrough changes to the Kingdom's guardianship laws, allowing all citizens over the age of 21 – male and female – to travel freely without a guardian's approval.
In Qatar, guardianship rules still limit women's ability to travel. According to the Qatari Ministry of Interior's website, single women under 25 years of age require a male guardian's consent to travel outside the country.
Qatari men can also apply to the courts to prohibit their wives from travelling. "Married women are entitled to travel without permission irrespective of their age. In case the husband doesn't want her to travel, he has to approach the competent court to prevent her journey," the ministry lists as another condition on its website.
For Qatari males, the Qatari interior ministry says that "no permission is required for those who are 18 years old or more as they have reached the legal age of puberty."
Under Qatar official e-Government Portal Hukoomi, instructions for citizens to renew their passports only specifies that Qatari male citizens over the age of 18 can apply for it themselves and their dependents. The website also states that they may apply on behalf of unmarried daughters and sisters, as well as for unmarried nieces.
In Saudi Arabia, Friday's decree gives women the right to apply for and obtain a passport independently. Other changes allow women to register a marriage, divorce, or child's birth and to be issued official family documents. The decree also stipulates that a father or mother can be legal guardians of children.
Neither Bahrain nor the UAE operates guardian systems for adult female travelers. Kuwaiti women gained the right to travel without a guardian's permission in 2009. Omani women are free to travel, but married Omani women need approval from their husband to receive a passport.
https://english.alarabiya.net/en/features/2019/08/04/Qatar-remains-only-GCC-country-restricting-travel-for-women.html
--------
The Jubilation of Women in Saudi Arabia Was Real – And Understandable
4 Aug 2019
The jubilation of women in Saudi Arabia was real – and understandable. Last Friday, the kingdom announced that it is allowing women to apply for passports, to travel without permission and to have more control over family matters – registering a marriage, divorce or child's birth, and being issued official family documents. These changes to the guardianship system should be genuinely transformative. But celebration can only be partial when women's rights remain so tightly constricted and the activists who have fought hard for such changes are paying so high a price.
Women will still need permission from a male relative to marry or divorce, or to leave prison or domestic violence refuges. The system needs not reform but abolition. Other laws still hold women back. And as Ms Saffaa, an Australia-based Saudi artist and activist, warned: "When women become equal to men, Saudi Arabia is still going to remain an authoritarian dictatorship that violates countless human rights."
These guardianship changes, like the lifting of the ban on women's driving last year, form part of the crown prince's promise to modernise the kingdom. Mohammed bin Salman's "Vision 2030" plan calls for a rise in women's participation in the workplace, from 22% to 30%; the new laws also bar discrimination in the workplace.
But more pertinent is surely that Riyadh wants to change the conversation and persuade the rest of the world (and especially potential investors) to see dynamic, progressive leadership – rather than the autocratic regime that led the charge into the pointless and terrible war in Yemen, is responsible for the murder of journalist Jamal Khashoggi and is still holding around a dozen courageous female campaigners, including Lujain al-Hathloul, Samar Badawi and Nassima al-Sadah. Other activists have been banned from travel, or are now in exile. It was no doubt keen too to end the embarrassment of Saudi women pleading for asylum after fleeing abroad, saying they had no other way to escape abuse.
It is not a coincidence that the female activists were detained shortly before the driving ban was lifted. Their seizure – and the torture some are believed to have experienced in custody – sent a clear message to Saudi women and men too: liberties are not to be demanded as a right, but are to be received gratefully when those in charge decide to hand them out.
Canada, one of the few countries to press for the women's release, got little backing when the kingdom lashed out in retaliation. The silence is shaming, as is the complicity of the UK and others in other regards: a UN special rapporteur recently called for a moratorium on the sale of surveillance tools used to target dissidents and activists.
The crown prince deserves no gratitude for these changes. The credit goes to the Saudi women who are still suffering for their battle. Everything possible should be done to free them.
https://www.theguardian.com/commentisfree/2019/aug/04/the-guardian-view-on-saudi-arabias-reforms-not-just-a-battle-for-women
--------
Blood Money Decision Advances Women's Rights in Iran
BY TAHEREH HADIAN-JAZY
AUGUST 5, 2019
In early June, Iran's Supreme Court upheld a law deciding that blood money—compensation paid to relatives for the death or injury of a family member—would be equal between men and women and no longer would a woman's compensation be worth half of a man's. According to this law, a fund for physical damages will make up the difference in all incidents, not just those involving car accidents.
The law was structured so as not to contradict Sharia law, which is the basis of the distinction between men and women, but it does effectively circumvent Sharia. Under Sharia law, a woman's dieh or blood money is declared to be half of that of a man's. Mandating the fund to provide the other half is a positive step toward equality for women's rights in Iran and ending discrimination based on gender.
This call for equality of dieh has been raised and argued in Iran's parliament for more than a decade. In 2008, the Iranian Judiciary ruled that blood money would be equal but only in the case of car accidents. The ruling read: "Iranian women who suffer injury or death in a car accident will be entitled to the same insurance company compensation as men under legislation passed by parliament."
The law did not address other deaths—through murder for example—or injury from other causes. The reasoning was that, "Since a person's agreement with an insurance company has contractual basis and both sexes pay equal premiums, the compensation should also be equal and the law is not in contravention of the Sharia." Thus, prior to this, the Fund for the Provision of Physical Damages—which is a government-affiliated but a legally independent insurance company—made up the difference for women only in car accidents.
However, public pressure has been building for equality of compensation in all incidents. Rights advocates have pointed to cases such as fires and to a spate of crimes in which women have had acid thrown in their faces.
During one incident in the village of Shin Abad in western Iran in 2012, a fire broke out due to a faulty heater. Twenty-eight female students were severely burned and two lost their lives. According to the law then, compensation for those who had severe injuries or died was half the amount payable for men. Eighteen students' families agreed to accept the limited compensation while others resisted. After a massive legal campaign, the families that held out were successful and their insurance companies agreed to pay the difference.
Another case that raised controversy was that of Negar Ghorbani, an undergraduate majoring in graphic design, who had gone to Eram Amusement Park near Tehran in 2014 with two of her friends. There Ghorbani fell off a ride and became paralyzed. Her family received half the compensation that would have been provided to a man.
Reaching the decision to extend equal compensation to women in all cases of bodily harm or death was not easy given resistance from traditional clerics who interpreted the action as undermining Sharia law. Grand Ayatollah Jafar Sobhani, a lecturer and member of the Qom Seminary, criticized parliament for even debating a law to equalize the amount of blood money paid to male and female victims and their families. He stated at a religious ceremony in Qom on March 7: "Parliament has no right to debate the question of equating male and female dieh." Yet those activists and MPs advocating the law since 2009 finally managed to pass it. The Guardian Council, which vets laws so they do not contravene Islam, and the Supreme Court both upheld it despite opposition from a number of top clerics.
The activists and lawyers who supported equality between men and women regarding blood money argued that it does not go against Sharia law. Peyman Haj Mahmoud Attar, a legal expert who campaigned for passing the law, said that when Islam was revealed 1,400 years ago authorities merely maintained tribal laws that were practiced prior to Islam. Blood money was one of them.
Other explanations noted that men were regarded in previous times as breadwinners who had to provide for an entire household, but women now often serve as single heads of households or make more money than their husbands. Women's rights activists who advocate for equality argue that the role women play in Iranian society these days is not at all comparable to 1,400 years ago. Hence, without rejecting Sharia law, rights activists have found ways to get around it to obtain equal rights with men.
This strategy applied in equalizing the blood money of a man and a woman without challenging Sharia law will open the door for change of other discriminatory laws involving inheritance, child custody and the right to divorce. It is thus a welcome precedent for Iranian women.
https://www.atlanticcouncil.org/blogs/iransource/blood-money-decision-advances-women-s-rights-in-iran
--------
Iranian Women Lead the Force for Change in Iran
On Aug 4, 2019
August 5, 1993, marks a milestone in the struggles of Iranian women, and the Iranian opposition, the PMOI/MEK which forms the backbone of the democratic alternative to the clerical regime, the National Council of Resistance of Iran (NCRI).
On this day, 24 women were unanimously voted to the PMOI's all-female Leadership Council to hold the helms of affairs in the organization.
Twelve years after the beginning of the Iranian Resistance when Iranian women remained steadfast despite enduring tremendous suffering and torture in their struggle for freedom and democracy; and four years after Maryam Rajavi became the PMOI's Secretary General in 1989, this long line of battle-tested women were recognized as best qualified to rise to the movement's leadership.
The landmark event drew a clear distinction between the Iranian opposition and its foe; the former striving for gender equality and women's participation in leadership and the latter thriving on subjugation of women as a main pillar of its rule.
The PMOI was convinced that if it were to overcome Tehran's religious dictatorship, it would have to cast aside all remnants of fundamentalist ideology and culture, including male-domination.
Thus, women's leadership in the PMOI/MEK was not about some women replacing men to continue in their footsteps with the same values and methods. Rather, women's participation in the leadership inspired a major cultural transformation in the ranks of the Resistance and among women all across the country who faced gender apartheid in all realms of their lives.
As a result of the struggle of these pioneering women and their valuable achievements, the world witnessed the hegemonic role of Iranian women in the course of the 2009 uprising. In fact, three major elements steered women in that path: years of struggle for freedom and equality; the misogynist nature of the ruling regime; and the presence of an organized resistance with gender equality as its ideal.
The impact of women's leadership and equal participation could also be seen in the 14-year steadfast perseverance of the PMOI/MEK in Iraq, beginning in 2003 when US invaded Iraq.
Unarmed, blockaded by an inhuman siege, and subjected to numerous military and rocket attacks by Iraqi troops at the behest of Tehran's regime, the PMOI's leading women had the task of defeating the Iranian regime's conspiracies on the one hand and tapping into the strengths of the organization while avoiding any deviation from the movement's sole focus on the mullahs' regime in Iran.
This was a time when the prospects for victory looked grim. The balance of power in Iraq and the region was clearly not in their favor. Still, they led the movement at such volatile times with no past lessons or precedents to draw on. Through their own vigilance, correct decision-making, risk taking and self-sacrifice, they led the movement at every turn.
Women's leadership, put to test 14 years in camps Ashraf and Liberty, succeeded in the face of great adversity with courage, endurance and respect for moral values. The men in this movement, who in their struggle against the male-dominated culture have reached great peaks of their own, also played a significant role in the campaign of perseverance owing to their progress in the realm of humanity.
The Leadership Council has now grown to become a 1,000-strong Central Council.
Indeed, women's leadership could not become a lasting institution and tradition without the support of PMOI/MEK men who have faith in, and are committed to, the ideal of equality.
Today, as the social conditions in our homeland, Iran, is simmering with strong discontent, the message to Iran's valiant young men is to rise up in defense of freedom and equality if they want to realize the Iranian people's freedom.
The fact that women bear the brunt of repression in Iran, reveals the regime's defensive tactic against the existential threat it feels from women. The imposition of the mandatory veil on women and flagrant discriminations against them in educational and vocational arenas are only efforts to enchain women.
Iranian women have proven their effective and growing role in the struggle against the mullahs' religious tyranny, in the scenes of confrontation with the Revolutionary Guards, in their unprecedented resistance in the regime's torture chambers and dungeons, through their presence in the first ranks of anti-regime demonstrations, in organizing the teachers and workers' protests and protests by other social strata, in organizing and leading an international social and political movement against the religious fascism ruling Iran, and in their active assumption of responsibilities in the organized movement of the Iranian Resistance.
https://women.ncr-iran.org/2019/08/04/iranian-women-lead-force-change-iran/
--------
Incidents of Acid Throwing On Women Dropped To 50 Per Cent in Pakistan
August 05, 2019
ISLAMABAD: Acid Survivors Foundation (ASF) on Sunday claimed that the reported cases of acid throwing on women have dropped by around 50 per cent as compared to the past five years.
According to ASF's data, the drop is a major success for acid violence and countering Violence Against Women and girls (VAWG) in the country.
In 2016 and 2017, there were a total of 71 acid attack victims whereas in 2018 and 2019, 62 cases related to acid throwing were reported, besides 11 cases of fire burns and four of multiple burns.
The conviction rate has significantly increased from 17.3 per cent of total registered cases from 2014 to 2019.
38 cases of acid throwing were reported from South Punjab, 11 cases were from Central Punjab, one case was from Islamabad, one was from Sindh, eight were related to Balochistan and three cases were of Khyber Pakhtunkhwa (KP).
Further, 54 FIRs were registered from 2018 to 2019 whereas 13 cases were prosecuted.
ASFP has been a leading organisation working for the promulgation and implementation of Acid and Burn Crimes Criminal Amendment 2011.
ASFP has supported not only robust monitoring of the implementation of the acid and burn crime legislation but also evidence-based programming and advocacy for acid and burn crime survivors.
https://www.pakistantoday.com.pk/2019/08/04/incidents-of-acid-throwing-on-women-dropped-to-50-per-cent/
--------
Banana Republic's New Line Of Hijabs Targeting Muslim Women Welcomed And Criticized
By Zofeen Maqsood
August 4, 2019
With Eid-ul-Adha just around the corner, the time was just right for Banana Republic to launch a collection of hijabs, head scarves worn by many Muslim women as an article of their faith. The small collection comprising four different hijab styles and colors to choose from, was immediately seen as a mark of inclusion to a large Muslim population in the United States.
It becomes especially significant at a time, when discussions on "us," " and "you" and rhetoric like "go back to your country" have been in the news directed towards those who may be dressing "different," or belonging to "another" faith or culture.
The brand also featured a model of color, Fatuma Yusuf, to showcase its newest offerings. While Muslim women and many inclusion activists were elated at the move, there were others who also saw cultural appropriation.
Some observers of hijab pointed out that in one shot the model was wearing a short sleeved t-shirt along with a hijab and in another she is wearing a slit skirt while covering her head with a hijab. Some have pointed out that the head covering should also be accompanied with modest dressing, blaming the blooper on cultural misappropriation, a blame that has often been leveled against western brands for their limited or lack of understanding of other faiths and cultures.
However, many hijabis are celebrating the new choices that they can now opt from. Among the designs offered are a turban wrap hijab, popularized by Congresswoman Ilhan Omar. Another one is a pale pink more traditional headscarf style wrap. There are also prints such as floral and leopard style to choose from to suit those who may be looking for some fun twist to their hijabs.
The hijabs are retailed at $20 and $25. The move is largely being seen as a sign of inclusion and is being hailed as an example for other brands to follow.
https://www.americanbazaaronline.com/2019/08/04/banana-republic-hijabs-targets-muslim-women-welcomed-criticized-438472/
--------
New Rules for Women Workers In Saudi Arabia
August 3, 2019
The rules would also extend to hiring people for jobs and advertising vacancies for employment.
After the news of Saudi Arabia allowing women to travel abroad without approval from a male guardian, a few other momentous decisions regarding women have come about in the kingdom.
According to a report in the Saudi Gazette, the Ministry of Labor and Social Development in Saudi Arabia has made a decision to treat the male and female workers in the country at an equal level.
Both the men and the women will now be considered as workers/people working for an employer and under his or her management and supervision in return for a wage, even if they are not within sight.
This particular amendment in the labour regulation will not allow the employers and the entities to discriminate between workers on the basis of their age, disability and gender. This rule would also extend to hiring people for jobs and advertising vacancies for employment.
Apart from this the authorities in Saudi Arabia have also nullified the retirement age rule- 60 years for men and 55 years for women. The authority has delegated that the retirement of the workers would be in tandem with the requirements of the social insurance rules and regulations.
The regulations also forbid the employers from terminating the services of the female employees or issuing them the notices of dismissal from the jobs, while they are on their maternity leaves. They also cannot be issued any kind of warning letters or get terminated in case they fall ill due to pregnancy-induced ailment or a health concern at the time of delivery. However their illness must be attested, by means of an authentic medical report and the employee's absence from work should not be over a 180 days- whether continuous or intermittent.
Saudi Arabia will now allow women to travel abroad without approval from a male guardian, the government said on Thursday (August 1).
"A passport will be granted to any Saudi national who submits an application," said a government ruling published in the official gazette Umm Al Qura.
The regulation effectively allows women over the age of 21 to obtain passports and leave the country without their guardian's permission, the pro-government Okaz newspaper and other local media reported, citing senior authorities.
Saudi women have long required permission from their male guardians to marry, renew their passports or exit the country.
The reform grants women greater autonomy and mobility, the Saudi Gazette newspaper said, hailing the decision as "one giant leap for Saudi women".
The decision was met with jubilation on social media, with the hashtag "No guardianship over women travel" gaining traction.
https://www.khaleejtimes.com/region/saudi-arabia/new-rules-for-women-workers-in-saudi-arabia-1
--------
Expedite Work on Women's Driving School: Emir Of Asir
August 4, 2019
ASIR — Emir Prince Turki Bin Talal has asked the company tasked with building a school in the region to train women on driving to expedite the implementation of the project.
He told the company to come to him if it faced any hurdles delaying the execution of the scheme.
The Directorate General of Traffic in the region has offered the project to the Holding Company for the Development of Education.
In an audience, Prince Turki received the CEO of the company, Osama Al-Haizan, and his accompanying delegation.
Haizan said soft opening of the school is scheduled for March while its full operation will be in April after the electronic linkage with the traffic department is completed, technical aspects finalized and the jobs Saudized.
He explained that there will be advanced training courses for Saudi female instructors to work in school to teach the women the techniques of safe and skillful driving.
The project will be built on an area of 70,000 sq. meters on King Fahd Road linking Abha and Khamis Mushayat.
Women will be trained according to the international standards and the school will have theoretical and practical facilities, simulators and areas for field training.
http://saudigazette.com.sa/article/573940/SAUDI-ARABIA/Expedite-work-on-womens-driving-school-Emir-of-Asir
--------
Woman Comments on Life In Syria's Idlib Through Cartoons
August 05, 2019
Idlib, Syria: Bent over a computer tablet in war-torn northwest Syria, cartoonist Amani Al Ali takes her pen to the screen to sketch life in the embattled opposition bastion of Idlib.
"I'm trying to get across what others struggle to say," said the 30-year-old artist, dressed in a long red jacket and lacey white headscarf.
Idlib, a region of three million people, has come under increasing bombardment by the regime and its Russian ally since late April despite a months-old truce deal.
Through her cartoons, Ali has boldly challenged traditions to comment on life in the anti-regime bastion, and to condemn seeming international indifference to civilian deaths.
In one, the world is depicted as an ostrich burying its head in a mound of blood-drenched skulls as red missiles rain down all around.
In another, titled "Eid in Idlib", a warplane drops candy wrappers containing TNT, instead of the sweets usually distributed during the Muslim holiday.
The sketches are etched out in black and white, with splashes of red, colours the artist says are inspired by life in the opposition stronghold.
"We see nothing but blood, darkness and destruction," she said.
The spike in violence over the past three months has killed more than 790 civilians, the Syrian Observatory for Human Rights says, despite the truce deal struck by Russia and rebel backer Turkey.
Ali has sketched this accord too, as a blood-stained paper bearing the words "the Idlib agreement".
On Thursday, the Syrian government said it had agreed to a new truce, giving at least a temporary reprieve for Idlib's residents.
'Broke with customs'
Though her cartoons have now been exhibited as far away as the Netherlands and United Kingdom, Ali had to study drawing on the sly growing up, because her father forbade it.
"I consider myself to be a girl who broke with customs and tradition," Ali said.
"I confronted my parents and managed to impose the life I wanted for myself."
Her society, she said, frowned upon women who engaged in political satire through cartoons or art.
Before civil war erupted in 2011, Ali worked as an art teacher at a private school in Idlib so she could "be close to the field that I love".
But after the region fell to rebel forces, she "started a new life" as a cartoonist, often dabbling in satire to capture the reality of a war that has cost more than 370,000 lives and displaced millions across Syria.
"I hope to convey even the smallest part of civilian suffering," she said.
But beyond regime and Russian air strikes, Ali has also criticised rebels controlling Syria's northwest - a daring move that has seen others detained or targeted.
In November, fellow cartoonist, radio presenter and vocal activist Raed Fares was shot dead by unknown gunmen.
In January, Hayat Tahrir Al Sham - a group led by Syria's former Al Qaida affiliate - took over full administrative control of Idlib.
Fans and enemies
Ali said she does not criticise HTS itself, but rather its behaviour, especially when it mirrors that of the regime.
"For eight years, we have been fighting to get rid of the habits and remnants of the regime," she said.
But even now Idlib is outside government control, "some mistakes are still happening because of a lasting regime culture," she said.
In one cartoon from last year, a bearded man in a short robe typical of ultra-conservatives inserts a giant syringe into another's ear to stuff his head with notions of what is "illicit", or religiously forbidden.
In another, she criticises overpriced higher education.
Ali's work, she said, has earned her both fans and enemies.
"Many people tell me I should be careful, that I don't know what I'm doing," she said.
"The thing I hear most is that I'm a girl and I shouldn't be drawing such things."
But abroad, people are impressed.
"During my exhibition in the UK, lots of British academics were surprised there was a girl doing drawings like this under HTS," she said.
A new exhibition has opened in France and she may soon showcase her work in neighbouring Turkey.
Though she is unlikely to attend either without the necessary visa to travel, she hopes both will help to bust stereotypes about women in northwest Syria.
Women in Idlib are not "voiceless people who are unable to leave their houses and always clad in black", she said.
"Yes, there are certain limits, but we're resisting."
https://gulfnews.com/world/mena/woman-comments-on-life-in-syrias-idlib-through-cartoons-1.1564974149094
--------
URL: https://www.newageislam.com/islam-women-feminism/pakistani-woman-police-officer-probes/d/119391
New Age Islam, Islam Online, Islamic Website, African Muslim News, Arab World News, South Asia News, Indian Muslim News, World Muslim News, Women in Islam, Islamic Feminism, Arab Women, Women In Arab, Islamophobia in America, Muslim Women in West, Islam Women and Feminism