New Age Islam News Bureau
5 Jul 2017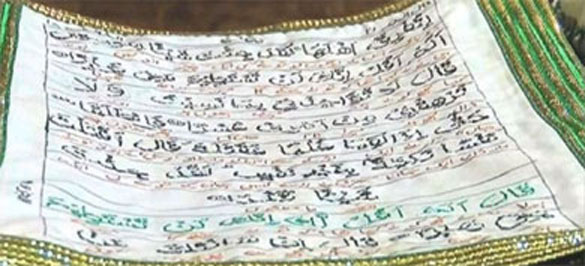 A look at the world's first hand-stiched Quran
-----
• Hamas Bans Women from Using Motorcycles
• Saudi Women Respond To Cleric's Advice On Acceptable Attire
• Saudi Woman Stands On the Stages of the Theatres of Europe
• Jharkhand: Tension in Tribal Village after Girl Marries Muslim Man
• Boko Haram Kidnaps 37 Women, Nine People Killed
• When Muslim Women Are Allowed To Wear Headscarves in Germany, And When Not
Compiled by New Age Islam News Bureau
URL: https://www.newageislam.com/islam-women-feminism/pakistani-woman-creates-worlds-first/d/111787
--------
Pakistani woman creates world's first hand-stitched Quran
July 05, 2017
KARACHI - Pakistani's love for their religion is a tale of great affection and passion on its own.
One such example is of Zamrud Khan, the Pakistani woman who most recently is reported to have created the World's first hand-stitched Quran. The Pakistani woman dedicated almost seven and a half years creating the masterpiece.
The Pashtun woman who currently resides in Korangi town Karachi, worked tirelessly to create the piece of art that shows her love and dedication for both Islam and the Quran.
The pages of stitched Quran are made of cotton and are beautifully bordered with green silk along with gold colored embroidery. Each chapter's (Sipara) outer page is also decorated in the same pattern. Even the entire text was stitched with the vibrant green color. Zamrud's epic creation weighs approximately 60 kilos.
Regarding the idea, Zamrud says that it just popped up in her head. However, she did not anticipate the project would take as long as it did.
"I started stitching the Quran with full determination without fearing about how long it will take to complete," she said. "I am thankful to the Almighty for giving me enough courage to complete the noble task. I am so happy with it. I have never been happier in my entire life," remarked Zamrud.
Her family said that they are very happy over the achievement of their daughter. They said during this entire duration, she remained away from public gatherings choosing to focus on staying at home and completing the Quran. NNI
http://nation.com.pk/karachi/05-Jul-2017/pakistani-woman-creates-world-s-first-hand-stitched-quran
--------
Hamas bans women from using motorcycles
July 4, 2017
Ramallah: Hamas's recent decision to ban women from using motorcycles has sparked controversy in Gazan society.
Opponents of the move say it violates the basic rights of poor and middle-class Gazans, who depend on motorbikes for transport.
On Monday, Hamas, which has ruled the tiny coastal strip for the past decade, announced the ban on women riding or being carried on motorcycles.
The Hamas Interior Ministry in Gaza says law enforcement authorities will force women on motorbikes to dismount, and impose penalties against them. If the woman is a pillion rider, the driver will also be held responsible.
The ministry said: "It is time for Gazan society to put an end to the phenomenon of women using motorcycles. This does not suit our society socially or morally. Nor does it fit with Muslim rules and regulations, as women's use of motorcycles can easily disclose their sensitive parts."
The ban was motivated by Sunday's death of motorbike passenger Suhair Al Louh, 43, from Deir Al Balah in Gaza.
Al Louh and her son were riding pillion behind her husband on the motorcycle when she died in an accident. Her husband and son were hospitalized with moderate injuries.
The ministry said motorcycles had been the main cause of at least half the road accidents in the strip in the past three years. According to the ministry, seven motorbike-related fatalities occurred in the strip in the first half of 2017, and dozens suffered serious injuries in other incidents.
Ebrahim Al Madhoun, a Gazan thinker and writer, said on his Facebook account that he unconditionally supported women's use of motorcycles, and condemned the ban as a serious violation of the freedom of the entire society.
He said the ban was unnecessary because when Gazan women rode motorcycles they dressed appropriately in decent clothes.
He added that women's use of motorcycles had been part of Palestinian — and particularly Gazan — culture for many years. The ban was baseless, especially when the authorities had not provided residents with alternative transport options.
Myaser Taha, a Gazan activist, said it was wrong to blame women for motorbike accidents, and pointed towards incidents of young reckless riders performing stunts on Gazan streets.
Hamas violently took over the Gaza Strip in 2007 following a brief civil war with the Fatah movement, which was ousted from Gaza.
Since then, Israel has imposed a strict air, maritime and land siege on Gaza and waged three wars on the coastal strip.
This has led to a serious fuel shortage that has forced many Gazans to opt for cheap transport such as motorcycles.
http://gulfnews.com/news/mena/palestine/hamas-bans-women-from-using-motorcycles-1.2053260
--------
Saudi women respond to cleric's advice on acceptable attire
By Rozina Sini
4 July 2017
Women in Saudi Arabia have criticised a Saudi cleric's advice that they should not wear embroidered clothes and avoid make up.
Mohammed Alarafe, a prominent Muslim scholar in Saudi Arabia, issued the advice on the abaya, a loose fitting robe which covers the whole body except the face, feet and hands. It is mainly worn in countries with large Muslim populations and can vary in style and colour.
On Sunday Mr Alarafe posted on Twitter: "O daughter: Don't buy any abaya that has any decorations. No embellishment, no slits, no openings. Please, daughter, don't show any makeup, and don't wear makeup like in Jahiliyyah (pre-Islamic) era."
You might also like:
Qatar row: Daughter named Saudia and Harrods boycott call
Hijab-wearing model appears on front page of major US magazine
'It's not like I'll be wearing make-up anytime soon'
Many women responded sarcastically to the cleric's guidance on acceptable attire by sharing pictures of their abayas and asking Dr Arifi for approval.
However, his advice has been retweeted more than 31,000 times on Arab Twitter, a large but loose collection of people tweeting in Arabic, mostly living in Gulf countries.
One woman posted a picture of her clothes and asked: "What do you think of my abaya, sheikh? Next time, I will buy a colourful, embroidered one with slits. I will try to buy an abaya that even people in the pre-Islamic era did not wear."
Another tweeted: "I would like to share a selection of wonderful revealing abayas."
While another twitter user asked whether her abaya was still unacceptable, given she did not live in Saudi Arabia: "I was just embroidering my open, crazy, bling abaya. But this is considered modest and not revealing according to the rituals of each country. I am from Palestine not Saudi Arabia."
The abaya is gaining prominence in the growing Muslim fashion industry with appearances on international catwalks and in magazines. Many shops including Harrods have also stocked abayas for their customers as designers seek to make the garment global.
But for some in Saudi Arabia the abaya is more a requirement in Islam rather than a fashion statement. The idea it can be both in the deeply conservative country is considered a contradiction, as Saudi women are expected to protect their modesty from the prying eyes of men.
In December 2016 a picture of a Saudi woman standing on a Riyadh street, without an abaya created an outcry on social media.
The picture, purportedly of a woman called Malak, or Angel, Al Shehri, prompted more than 9,000 tweets of a hashtag calling for her arrest.
http://www.bbc.com/news/blogs-trending-40493367
--------
Saudi Woman Stands On the Stages of the Theatres of Europe
4 July 2017
Maisah Sobaihi is the first Academic Saudi woman to perform in the countries of the European Union, where she has staged social and cultural one woman shows. The one man/woman show is a theatrical genre in which only one actor performs several roles, which requires multiple capacities from the entertainer.
The academic and writer Maisah Sobaihi has a PhD in English Literature from the University of London. She is an assistant professor at King Abdul Aziz University in Jeddah and began her theatrical career after graduating from the university, but her passion for this art began at an early age. She was an active member in the theater club of the school and her passion for theater followed her even in the United States.
She was able to participate in the Edinburgh Festival, one of the oldest art events in the world, held every year in the Scottish capital for more than 70 years. She was the first Saudi woman to perform a play entitled "Upside down" at the festival which revolved around the theme of "polygamy".
The image of Saudi women in the West
Maisah said that she wants to work on raising awareness of the Saudi social issues at a global level. "Changing the stereotype of the West over Saudi women is primarily the responsibility of the Saudis," she said to Al Arabiya. "There is an urgent need to advertise the image of Saudi women, instead of leaving room for the spread of misconceptions and misrepresentations."
She explained that her performance at the Edinburgh Festival was attended by a large European audience, although she presented there for the first time. The public was curious to see and hear what a Saudi woman has to say. This emphasizes how important it is for Saudis to have a presence and a permanent role in the platforms of art and plays around the world.
Despite only having performed in Europe, she said that she is looking forward to perform local shows in Saudi Arabia, especially with the emergence of interest in theatrical arts by the Society of Culture and Arts as well as by the entertainment commission saying, "I am looking forward to working with these institutions and performing plays in Arabic so that we can develop the culture of theater in Saudi Arabia."
https://english.alarabiya.net/en/life-style/art-and-culture/2017/07/04/Video-Saudi-woman-stands-on-the-stages-of-the-theatres-of-Europe.html
--------
Jharkhand: Tension in tribal village after girl marries Muslim man
Jul 04, 2017
Pankaj Kumar
The administration in Damuadih Advasi tola in Jharkhand's Jamtara district has deployed a police contingent following tension after a tribal girl married a Muslim man from a neighbouring village.
Agitated by the marriage, tribal villagers on Sunday sealed the doors of the house of the girl's parents with barbed wire after the family expressed its inability to cough up 12 maunds (one maund is approximately 37 kgs) each of rice and mutton as fine for her 'crime'.
The tribals also threatened to ostracize the family and kill them if they did not pay the penalty. The village is about 60 km from Dhanbad.
However, timely intervention by the police saved the lives of the parents and brother of the girl who had married Sabbir Ansari from a neighbouring village on June 30.
Officer-in-charge of the Naraianpur police station Surendra Singh, who reached the village before the family could be lynched, said it took few hours to persuade the agitated tribal leaders who then agreed to remove the barbed wires.
They, however, insisted that the girl's family will have to pay the fine imposed by the local panchayat.
Following police intervention, the panchayat is likely to meet on July 5 to reconsider the quantum of fine.
"It's a difficult task to convince tribals to budge from their rules but certainly not impossible," Surendra Singh.
He said armed police personnel have been deployed in village since Sunday afternoon to prevent any untoward incident.
Trouble started on June 30 when the news spread that sister of Jogeshwar Hembrom had married Ansari and that the couple was living at the groom's house at Lakhanpur village.
Angry tribal leaders of the village met the family and sought explanation, terming the marriage as an insult to tribal society.
The girl's family expressed its helplessness as she was rigid on marrying him and had left home for Ansari.
"We are being penalised for a fault committed by my sister, who is an adult and not ready to split with her husband," said Jogeshwar, who pleaded with the police to save his parents and his own life from the agitated villagers.
He said attempts to persuade the panchayat to reduce quantum of fine keeping in mind their financial status had failed.
"My parents even offered to break all relations and perform last rites of my sister and treat her as dead but they refused and still are adamant that we would have to pay fine," rued Jogeshwar.
Jharkhand has been rocked by a spate of lynchings in the recent past with Muslims mainly being the targets of tribals.
http://www.hindustantimes.com/india-news/jharkhand-tension-in-tribal-village-after-girl-marries-muslim-man/story-H8BGNz1UPZzjr41MKDHieP.html
--------
Boko Haram kidnaps 37 women, nine people killed
Jul 05, 2017
Niamey - Boko Haram jihadists have kidnapped 37 women and slit the throats of nine other people at a village in southeastern Niger, the regional governor said Tuesday.
The attack happened on Sunday at the village of Ngalewa, near the border with Nigeria, the governor of Diffa region, Laouali Mahamane Dan Dano, told state TV. "Boko Haram elements... slit the throats of nine people... they took women, 37 women, and departed with them," he said.
"The defence and security forces are already in pursuit, and we hope that in the coming days these women will be found and freed," he said.
The governor, who went to Ngalewa on Monday, said the village had been singled out because it was known for its resistance to the jihadists.
The assailants came by foot for greater stealth, he said.
The village's mayor, Abari El Hadj Daouda, told AFP by phone that the attack happened on Sunday evening, "between 10 and 11pm."
"About 30 or 40 women and children were kidnapped... (and) nine people killed," he said.
The village lies a few kilometers (miles) north of the town of Kabalewa, where there was a suicide attack last Wednesday.
Diffa, which as a population of around 600,000 people, has suffered a string of attacks by the Nigeria-based Boko Haram since 2015.
Around 300,000 people displaced by jihadist attacks have taken refuge in the region, which already grapples with grinding poverty.
In April 2014, Islamist militants seized 276 schoolgirls from the remote northeast Nigerian town of Chibok, triggering global condemnation and drawing attention to the bloody Boko Haram insurgency.
Fifty-seven escaped in the immediate aftermath. Of the 219 who did not manage to flee, 106 have either been released or found, leaving 113 still missing.
The attack on Sunday coincided with a visit to Niger's western neighbour Mali by French President Emmanuel Macron, aimed at boosting multinational efforts to fight jihadism in countries south of the Sahara.
The so-called G5 Sahel nations - Burkina Faso, Chad, Mali, Mauritania and Niger - plan to set up a regional force.
http://nation.com.pk/international/05-Jul-2017/boko-haram-kidnaps-37-women-nine-people-killed
--------
When Muslim women are allowed to wear headscarves in Germany, and when not
Emma Anderson
4 July 2017
A case before the Constitutional Court again raises the question of when and where Muslim women are allowed to wear religious clothing. The Local takes a look at the continuously debated topic.
On Tuesday the Constitutional Court shot down a Muslim trainee lawyer's case calling for a preliminary injunction against the state of Hesse's neutrality law, which bans public sector workers from wearing religious garments.
The decision was only a preliminary assessment, and the Court is set to give a final one on the woman's constitutional complaint at a later date.
In ruling against her call for an injunction, the judges gave more weight to the neutrality law than to the woman's religious freedom.
"Legal trainees act as and are perceived to be representatives of public entities, and therefore must observe public neutrality policies," the court wrote.
The Hesse state justice ministry forbids legal trainees from wearing headscarves during certain court procedures, and also from representing public prosecutors. But this regulation does not impact the majority of the training programme activities, and therefore the Court found that there was only a limited infringement upon the woman's religious freedom.
The debate about religious clothing has become especially heated in light of the record number of refugees who arrived in Germany over the last two years, most from Muslim-majority countries. The far-right Alternative for Germany (AfD) saw its popularity soar amid the influx, with calls for banning headscarves and minarets on mosques.
The lead candidate for the AfD, Alice Weidel, told Tagesspiegel in May that not only should full-body veils like the burqa be banned, but that the headscarf - or hijab - should also be prohibited from "public spaces, and on the streets".
The AfD's success in state parliament elections last year and this year arguably pushed Angela Merkel and her conservative parties to also back restrictions on religious clothing, including the passage of a partial burqa ban by the German parliament in April.
This ban only applies to public servants - including election officials, military and judicial staff - performing their duties.
Article 4 of Germany's constitutional law or Grundgesetz states that religious freedom is a fundamental right.
"Freedom of faith and of conscience, and freedom to profess a religious or philosophical creed, shall be inviolable," it states.
"The undisturbed practice of religion shall be guaranteed."
But how this principle applies in the workplace has been fiercely debated in Germany, particularly for public sector employees who fall under state neutrality policies.
Teachers and headscarves
The Constitutional Court ruled in 2015 that general headscarf bans for teachers in state-funded schools were unconstitutional. The court said that headscarves should only be banned if they were found to "constitute a sufficiently specific danger of impairing the peace at school."
The Constitutional Court reiterated this in a 2016 decision regarding a Muslim child care worker, stating that "an 'Islamic headscarf' is not uncommon in Germany," and that there was "no constitutional right to be spared from the awareness of other religious or ideological creeds".
After the 2015 ruling, some states had to revise their regulations, also because they gave preferential treatment to Christian symbols. And some Muslim teachers have won compensation in the thousands of euros from state entities for discrimination due to their headscarves, including a Berlin teacher last week.
But earlier this year, the European Court of Justice ruled that employers may ban headscarves if the company has a general ban on "political, philosophical or religious" symbols, and if there is good reason for a ban.
The Central Council of Muslims in Germany said they felt the EU ruling was in direct contradiction with the 2015 ruling regarding teachers.
The Central Council of Jews in Germany has also spoken out against bans on religious garments, which mean no kippahs worn by Orthodox Jewish men.
"I find the headscarf ban in the public sector to be problematic," Central Council of Jews President Josef Schuster told Die Welt in April. "I do not believe that it is compatible with the Constitution."
Schuster added that civil servants "should be able to wear signs of their religion as long as their decisions remain neutral and they behave neutrally."
https://www.thelocal.de/20170704/when-muslim-women-may-wear-headscarves-in-germany-an-ongoing-debate
--------
URL: https://www.newageislam.com/islam-women-feminism/pakistani-woman-creates-worlds-first/d/111787
New Age Islam, Islam Online, Islamic Website, African Muslim News, Arab World News, South Asia News, Indian Muslim News, World Muslim News, Women in Islam, Islamic Feminism, Arab Women, Women In Arab, Islamophobia in America, Muslim Women in West, Islam Women and Feminism