New Age Islam News Bureau
2 Aug 2014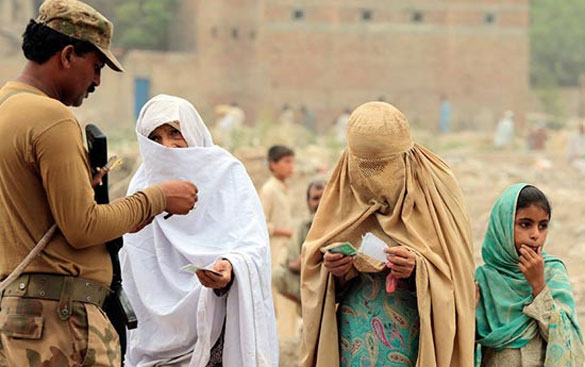 Internally displaced women beg a soldier to allow them to enter a food distribution centre set up in a sports stadium in Bannu, in northwest Pakistan. — Photo by Reuters
---------
• Egypt: Woman Activist Calls For Sex Education to Combat Harassment
• Britain Has Looked the Other Way For Too Long Over FGM
• Syrian Refugee Women Face Sexual Exploitation
• British Actress Emma Watson Joins Turkey's Laughing Women
• Headless Mannequins Conundrum in Sharjah
• Malala Yousafzai targeted in 'Systematic Propaganda Campaign'
• Israelis 'Addicted' To Killing Women and Children
• Europe in Push to Stop Violence against Women
Compiled by New Age Islam News Bureau
URL: https://newageislam.com/islam-women-feminism/pakistani-widows,-econd-wives-flee/d/98394
---------------
Pakistani Widows, 'Second' Wives Flee Fighting But Are Denied Aid
02 July, 2014
BANNU: Thousands of women displaced by fighting in North Waziristan are struggling to get food and other aid because they lack identity cards and conservative elders have forbidden them from going to distribution centres.
The women are among nearly a million people who registered for aid after the army began an offensive against the Pakistani Taliban in North Waziristan.
The army ordered most civilians to leave before the offensive began in June, and many ended up in Bannu.
No census has been conducted in North Waziristan for years, so no one knows the true scale of the problem. Government figures, however, show almost three-quarters of those seeking aid are women and children.
There's plenty of food to go around, with the World Food Programme (WFP) handing out nearly 5,000 tonnes and many other aid groups active.
But women face two problems: the lack of identity cards and an edict from elders of their Pashtun tribes forbidding them from going out to get aid. Conservative tribal traditions demand women stay at home and men fetch the food.
The same traditions prevent many women from getting identity cards, some because they are not considered the "first" wife of men who have taken two or more wives.
Some families also find the idea of a woman being photographed or fingerprinted for cards highly intrusive, even though the national identity agency runs women-only centres. Others simply lived in areas too remote to get cards.
For now, women and children without male relatives are largely dependent on handouts from neighbours who are themselves dependent on aid.
I have no chance
One woman sobbed behind her veil as she waited outside the main sports stadium in Bannu last week, watching men with wheelbarrows carry out sacks of flour and containers of water.
"They are not letting me in," the woman said. "I have no chance to enter."
The woman, Basmira, had no identity and no male relative. She stood near a cluster of women in all-covering Burqas beseeching stick-wielding police and army guards to let them into the stadium.
Another woman, Maimoona, said her husband was killed by a stray bullet three months ago.
"You see those sticks in their hands? They will beat us if we try to go in," said 30-year-old Maimoona, who like many in Pakistan uses only one name.
Two other women said they were also widows and one said her son was a drug addict. A soldier at the gate said women were welcome to go to other distribution sites around the city, but Reuters found that women were also being denied entry at four other centres.
"This lack of ID cards is a major problem for widows, second wives, and many women whose husbands are not here," said Yasmin Akhtar, regional manager for Khwendo Kor, an aid group helping about 1,000 of the women.
Muhammad Abbas Khan, the commissioner for displaced families in Bannu, was exasperated.
"We tried to resist the elders but it was like talking to a brick wall," he said. "This conservative culture overrides religion, it overrides ethics and it overrides human rights."
The government says it will set up a women-only distribution point in the next few weeks but until then, women have to rely on handouts from other hungry families.
That generosity is keeping many people fed at Bannu's Government School Number 3, where hundreds of displaced live in concrete classrooms partitioned by cotton sheets.
Shashparizada, 45, and her co-wife are at the school with their 12 children and husband, a frail 70-year-old with a long white beard.
He lay on a rope bed with a fan nearby, too weak to stand. "He is so old, it is hard for him to wait in line," Shashparizada said. "We do not have ID cards and he cannot go, so there is nothing for us."
http://tribune.com.pk/story/742941/pakistan-widows-second-wives-flee-fighting-but-are-denied-aid/
---------------
Egypt: Woman Activist Calls For Sex Education to Combat Harassment
02 July, 2014
Cairo — A rights activist has called for including sex education in school syllabi to promote awareness among students and educate them on the danger of sexual violence and the need for respecting the female body.
The call comes after the Cairo Center for Development and Human Rights, which is concerned with women's issues, said it had spotted and documented a number of sexual harassment cases during Eid al-Fitr holiday.
"Although the number of harassers this year during Eid is smaller than it was during the last few years, the harassment is more violent and severe," said Entesar Saeed, head of the center.
There is a flaw in the ethics and education system of the Egyptian society, Saeed said.
This year we spotted young harassers using sharp blades to harass females, a phenomenon that was restricted to large gatherings in public squares, she stated.
Most harassers are young boys between the ages of 12 and16, Saeed added.
The UN Women, a UN organisation dedicated to gender equality and the empowerment of women, conducted a study in 2013 that showed that 99 percent of Egyptian women have been subject to a type of harassment.
In November 2012, the National Council for Human Rights said that more than 70 percent of Egyptian women are harassed in streets and public transport.
Egypt's former President Adli Mansour decreed last June the amendment of some penal code articles to expand the definition of harassment and to toughen its punishment.
http://allafrica.com/stories/201408010898.html?aa_source=sptlgt-grid
------------
Britain Has Looked the Other Way For Too Long Over FGM
02 July, 2014
The Prime Minister's Girl Summit showed that the Government is slowly waking up to the issue of female genital mutilation (FGM). Yet this encouraging step forward stands in the shadow of a much larger question: how is it that our fear of offending "culture" has allowed 137,000 girls living in England and Wales to have their genitals cut off? These hundreds of thousands of girls living in Britain – whose quality of life has been sacrificed to an ancient ritual of sexual control – deserve a clear answer.
For decades, those responsible for protecting the well-being of our British girls have looked the other way, choosing to protect the supposed cultural identity of groups rather than the human rights of the individual. According to FGM campaigner Leyla Hussain, "the biggest barrier has been lack of political will", followed by our need to "use the 'correct' language" when talking about FGM.
This reluctance to confront FGM has meant that, until this year, not one successful prosecution had taken place, despite the fact that specific legislation against FGM was put in place 30 years ago. Instead, we have left it to left it to members of communities affected by FGM – and not afraid of speaking out - to drag us up to speed. 17-year-old British student Fahma Mohamed has spent her teenage years getting in front of policy makers and demanding they take the issue seriously. This year she led the nationwide campaign against FGM – which was followed by a Home Affairs Committee report on FGM in the UK, and now Girl Summit.
The authorities' lack of action until now has not been due to a lack of awareness. In 2010, the in-depth study on FGM and other 'honour'-based violence, Crimes in the Community, called for an end to cultural relativism. And, over the past decade, there has been an average of almost three articles per week discussing FGM in the British press, and has been raised in parliament on over 45 occasions, according to the British campaign, Justice for FGM Victims UK.
Yet, despite being armed with all the information, local authorities and the wider majority have not only stayed silent for fear of being called racist or "Islamophobic", but have spoken out in defense of the very traditions that are harming British girls. Londoner and FGM survivor Leyla Hussein hit the nail on the head with a recent social experiment, whereby she exposed the extent at which cultural relativism has taken root on our streets. When asked to sign a petition in favour of FGM in order to show support for the protection of Leyla's "culture, traditions and rights" all but one member of the British general public agreed in the first half hour.
In Honor Diaries, the award-winning film screened by the Henry Jackson Society recently, Raheel Raza, a Muslim human rights activist, completely dismisses the term 'Islamophobia' – the very concept that has paralysed any Western action against FGM up until now – as "a recent construct", its sole purpose "to deflect any criticism of Islam and Muslims". Sherizaan Minwalla, another activist from the film, agrees: "they shouldn't be afraid of helping someone because they are afraid of insulting or offending a community". Raza urged the audience to put speaking up against oppression above the potential consequences: "being called a racist isn't going to kill you", she said, whereas being too afraid to speak out "could cause someone else's life to go".
Other countries do not share this fear and, as a result, the UK has lagged behind both in Europe and sub-Saharan Africa – in its efforts to deal with the problem. In Kenya, where FGM is a deeply engrained tradition, the practise decreased by 10 per cent in ten years, falling from 38 per cent in 1998 to 27 per cent in 2008. According to FGM activists, prosecutions have been crucial to this success. According to, Khady Koita, a campaigner at the Group for the Abolition of Sexual Mutilation (GAMS), stronger law enforcement has given people the strength to stand up to their community in their refusal to continue the practise and that, "thanks to the prosecutions, they have an argument".
Furthermore, the contrast between France's common sense, zero tolerance approach and its British neighbour is so stark that, according to Bindel, Britain is becoming a safe haven for those wanting to mutilate children and get away with it. "Migrants occasionally resort to sending their daughters to Britain to have them mutilated," she writes. France, on the other hand, has successfully prosecuted a long line of perpetrators. It has no specific FGM laws, rather bringing a total of 29 cases to court under existing child abuse and cruelty legislation. This success is largely due to France's robust approach to collecting evidence – doctors are protected by the law in breaching patient/doctor confidentiality and are made aware that failure to report FGM makes them complicit in the crime itself. This one-law-for-all approach has allowed successful convictions to act as deterrents against future perpetrators.
Muslim activists, who have kept women's rights at the centre of their work rather than cultural identity, have been left baffled by the West's fear of acting against FGM. This fear of offending culture and tradition is shrouding brutality against African girls being cut in the UK, to the extent that the West is no longer considered a place of refuge for women around the world – but a hub for those wanting to mutilate girls and get away with it. For too long, African girls and women living in the West have paid the terrible price for this fear, which appears to be engrained throughout the very authorities supposed to be offering its citizens protection against FGM. Only when FGM is seen for what it is – serious child sexual abuse of the most heinous kind – and is treated accordingly, can there be any hope of undoing the damage already done.
Emily Dyer is a research fellow at the Henry Jackson Society
http://www.telegraph.co.uk/news/religion/11000437/Britain-has-looked-the-other-way-for-too-long-over-FGM.html
---------------
Syrian refugee women face sexual exploitation
02 July, 2014
The Syrian refugee woman huddled in the latest room she calls home, a peeling, run-down place outside a north Lebanese village. The mother of six doesn't know how she'll pay the rent. She's gotten by over the past year by taking a series of lovers who would pay for her housing.
But then a few months ago she was arrested for prostitution. That put a scare in her - that and threatening mobile messages from a former lover - so she's trying to go it alone.
"I could never imagine that I'd reach this point," said 38-year-old Samar, who lived a middle-class life back in Syria with a husband who has disappeared since his arrest by Syrian troops.
Syrian women and girls are growing more vulnerable to sexual exploitation in Lebanon as their exile drags out and poverty increases, relief workers say. Some women are driven into outright prostitution. Others like Samar engage in what relief workers call survival sex, striking up sexual relationships with men who can provide rent or food. With Syrian women seen as vulnerable, they face sexual harassment in the streets and exploitation by bosses, landlords and charity workers on whom they rely, as described by more than a dozen refugee women interviewed by The Associated Press.
Some mothers push daughters in their early teens into marriage, either because they can't afford to care for them or because they hope a husband will protect them, only to have the girls abused by their much older husbands.
Women and children make up 80 percent of the 1 million Syrian refugees in Lebanon. They are crammed into cheap apartments, garages and unfinished buildings in towns around the country. The poorest live in informal tent encampments that dot the countryside.
Measures of the extent of sexual exploitation are difficult to come by since women are reluctant to come forward with complaints of abuse for fear of stigma.
But in one sign of their vulnerability and desperation, prostitution has increased significantly in Lebanon, said a police officer in the country's vice squad. As of July, 255 people, mostly Syrian women, have been arrested this year on prostitution charges, more than the 205 who were arrested during all of 2013, said the officer, who spoke on condition of anonymity in line with police regulations.
Women typically charge $7 to $10 for sex - a sign that it's out of desperation, the officer said. "Most of them have children, and they say, It's to survive, it's to feed my children."
Saba Zariv, of the International Rescue Committee, which runs centers advising women of their rights, said the organization is hearing "more and more" accounts of sexual violence as its workers establish themselves in the refugee community. She said economic insecurity, lack of shelter and broken social networks "are all contributing factors for a woman's vulnerability and are risk factors for sexual violence."
One factor several relief workers pointed to was that rent aid which many refugees once received - usually about $200 a month - had dried up. That has left many women more vulnerable to exploitation as they seek housing and try to cover costs.
At a center run by the International Rescue Committee, a group of 12 refugee women described how sexual harassment is a constant in their lives, on multiple levels - from tiny gestures in the street to outright exploitation. They spoke on condition they remain anonymous or be identified only by their first names because of the stigma connected to the abuse.
It begins in the encampments, where men sometimes peer into tents to see if women are alone. Two of the women who live in a camp in eastern Lebanon said a teen was raped in a field near her tent.
Several said that men - after realizing they are Syrian - had offered them money like prostitutes, as they waited for a bus. One woman said her friend fled the dentist after he kept sliding his hand down her shirt. He still charged her for the visit.
A landowner ordered refugee women working on his land to wear tighter clothes, said one woman. Eight women, earning $2.60 a day, were fired when they refused, she said. "They all have children to feed," she sighed. Many of the women said they were sexually harassed by men distributing aid from charities.
One of the women said she so feared for her 14-year-old daughter's safety that she pushed her into marriage, hoping a husband would protect her.
"What can I do?" the woman wept. "It's hard, but I can't protect her."
But such marriages often turn abusive. Manal, a refugee girl in northern Lebanon, told the AP she was married at 15 to a 23-year-old man. Her impoverished family of seven lives in a single room in a building crammed with refugees. Her parents couldn't care for her, and she wanted to marry, she said.
Her husband began beating her soon after - once because she was using a mobile phone.
Manal was reluctant to talk about the reasons for other beatings, saying only: "I was afraid, I didn't know him and I had never sat in the same corner with a man before."
But a social worker present at the interview said Manal was beaten after refusing to do sexual acts that she saw as degrading.
The social worker requested anonymity, because identification would affect her ability to work with sexual violence victims.
A month later, after another beating, Manal ran away. Her husband snatched back the gold he had given her as a wedding gift and burned her clothes.
"He left me with nothing," Manal said.
Many of the women complained of the reputation Syrian refugee women are burdened with in Lebanon. Umm Jamil, a 44-year-old widow living in the northern Lebanese village of Halba, said she was falsely accused of prostitution when police confused her for another woman they were searching for. She was arrested but quickly released without charge. But she said the humiliation gives her constant nightmares.
"I was dragged like a criminal, like a woman who is –" she burst into tears before finishing her sentence.
Samar, the 38-year-old woman living in another northern Lebanese town, described her ordeals with the series of men who paid her rent. Though released after her arrest, she could still face prosecution on prostitution charges. She's now living in the apartment of a friend, after severing contact with her last lover. She fears another former lover who has been sending her threatening texts will harm her.
"I did all this to keep the standards that I was used to," Samar said. "Now I just want to care for my children."
http://english.alarabiya.net/en/perspective/2014/08/01/Syrian-refugee-women-face-sexual-exploitation.html
---------------
British actress Emma Watson joins Turkey's laughing women
02 July, 2014
British actress Emma Watson has joined a Twitter campaign in solidarity with thousands of women who post their photos of themselves in defiance of a call by a Turkish politician for them to stop laughing in public.
Watson shared a photo of herself on July 31 with his 13.8 million Twitter followers. Watson's post with the campaign's hashtag, #direnkahkaha (resist, laugh), was also shared on her official Facebook page.
Best known for her role as Hermione Granger in the 'Harry Potter' film series, Watson was named a goodwill ambassador by the United Nations organisation UN Women last month. She has been involved in the promotion of girls' education for several years.
"Chastity is so important. It is not only a name. It is an ornament for both women and men. [She] will have chasteness. Man will have it, too. He will not be a womanizer. He will be bound to his wife. He will love his children. [The woman] will know what is haram and not haram. She will not laugh in public. She will not be inviting in her attitudes and will protect her chasteness," Turkish Deputy Prime Minister Bülent Arınç had said during an Eid el-Fitr meeting on July 28.
"My speech was not just about a few reminders for women; it was targeting men, too," Deputy PM had said on July 30, after hundreds of women took to the social media to protest him.
"There are some artists who now laugh artificially and send me their photos. Real laughs relieve a person, but these are artificial ones. Those who go for a vacation with their lovers while leaving their husbands behind and can't wait to climb poles when they see one," he had added in a curious reference to gossip news stories related to a celebrity.
http://www.hurriyetdailynews.com/emma-watson-joins-turkeys-laughing-women.aspx?pageID=238&nID=69851&NewsCatID=339
---------------
Headless Mannequins Conundrum In Sharjah
02 July, 2014
Sharjah Municipality issues reminder to shops to abide by rules which ban use of mannequins with heads
Have you noticed mannequins with indecent clothes or with heads attached to them at shopping malls and retail outlets in Sharjah? Well, they are illegal in the emirate as per a Sharjah Municipality directive issued in 2008. After the directive, headless mannequins had replaced the existing ones with full features across Sharjah, but mannequins with heads are slowly, but surely, making its way back in the emirate.
Many Sharjah shoppers have noticed that the owners of garment shops and showrooms in malls and shopping centres are not abiding by these municipality rules that ban the use of mannequins with heads attached for window displays.
The Sharjah Municipality had issued a circular in 2008 stipulating that the display of clothes should be decent and the mannequins should be headless. The circular was sent to all shops stating that the mannequins were forbidden to display underwear as so to uphold the traditional and religious values of the emirate.
The Sharjah Municipality had implemented the ban seven years ago following a fatwa issued by the Islamic Affairs Department.
"Mannequins in Sharjah shops should be headless and only model 'decent' clothing," the Sharjah Municipality circular had stated.
Reminders circulated
A top official at the Market Control section at the Sharjah Municipality said the civic body recently distributed circulars to remind the owners of garment shops and showrooms of the existing rules. Some shops were issued warnings to respect the rules and directives issued by the government.
Following the reminder, he said, the municipality, as part of its regular inspection to control the market, would ensure all shops are abiding by the rules. "The reminder was necessitated by the fact that some outlets had stopped abiding by the rule. Shop owners should respect the rules and culture of the emirate," he commented.
The municipality intensified its inspection campaign during this Ramadan and Eid and found some shops displaying naked mannequins or those with only lingerie. They were issued warnings and hefty fines were levied on them. "The municipality issued the ban because it was a religious issue that raised many complaints from residents, who were against shops displaying men's and women's undergarments on mannequins," he said.
He urged shopkeepers to abide by the ban.
Another official at the Sharjah Economic Development Department said the Market Control section has ordered shops to follow the rules and instructed all shops and shopping centres to use headless mannequins and hire only female employees to sell women's undergarments.
Shoppers speak
Fatma Al Shamsi, a Sharjah resident, shopped at Al Shaab Village where she found several mannequins with heads. According to her, earlier a lot of people complained against the display of mannequins with heads or sporting indecent clothing as it is against Islamic teachings and offensive to the Muslim community in the emirate. "Now, however, due to lack of inspection from the authorities concerned, the shops are displaying the banned mannequins," she said.
Mohammed Sharafa, another resident of Sharjah, said most of the shops at Sharjah City Centre and other malls violate the rules set by the government to respect the sentiments of the Muslim community.
Khalid Attiah, another resident, said: "I realised that many shops are not following the rules due to lack of inspections and follow up from the authorities concerned."
Resident Awatif Hamid said some of the shops are displaying underwear in an "embarrassing and offensive way" which is not acceptable in the emirate. "I entered a shop with my older son and felt shy and embarrassed when I saw some mannequins displaying underwear in an indecent way," she said.
'Expensive' mannequins
Shop owners Khaleej Times spoke to expressed their helplessness at the directive and said these mannequins are expensive and tend to attract shoppers "only when they have heads".
A garment shop owner in Al Shaab village said they buy these expensive mannequins from France and China. "They do not make headless mannequins. When we bring them here it's very difficult to remove its heads. Shoppers will be attracted to our shops only when they see the garment wore by mannequins with full features.
"Some shoppers do not like to go to the fitting room to try the clothes; they are satisfied with the display on mannequins."
http://www.khaleejtimes.com/kt-article-display-1.asp?xfile=data/nationgeneral/2014/August/nationgeneral_August1.xml&section=nationgeneral
---------------
Malala Yousafzai Targeted In 'Systematic Propaganda Campaign'
02 July, 2014
LONDON- Ziauddin Yousafzai, father of famous education activist Malala Yousafzai, claims his daughter is the victim of a "systematic propaganda campaign" in their home country, Pakistan.
"A small number of people who are supper active on social media criticize Malala and even hurl abuse at her," Yousafzai told the US-funded Radio Mashaal. "They are mainly critical of her international stature and role."
The invective often aimed at Malala on Pakistani social media and in comment sections of news websites reflects the ambiguous image the girls' rights campaigner has in her own country, despite being lauded for her work in the West.
In recent weeks, Malala has been criticized for not being quick enough to publicly condemn the killing of Palestinian civilians in the ongoing Israeli offensive against Hamas in the Gaza strip. Her detractors complain she has been more involved in the effort to release the hundreds of Nigerian schools girls abducted by the hard-line Islamist Militia, Boko Haram in April than she has been in the Gaza conflict. "Did you just realize that Israel and Palestine are at war after you were strongly condemned for not speaking out earlier? Your fan ratings have seriously fallen," a reader going by the name Sana Imran commented on the online version of a story by a leading paper.
Another commentator, using the name "John M" accused her of being a "drama queen" and a "propaganda tool." "I didn't buy the BS story anyway when she was allegedly shot by the so-called Taliban in the head," he wrote.
Malala rose to prominence after she was shot by a Taliban gunman on her way to school in a 2012 assassination attempt. A Pakistani journalist's recent positive account of meeting Malala in Norway immediately attracted scorn. "She was picked to bash and humiliate Pakistan. It was a Western propaganda tool against Pakistan. She may get respect from the West [but] not from Pakistan," a reader, identifying himself as Abdul Rauf Akhtar, commented on the online version of the story in a Pakistani paper. A large number of negative comments on social media label Malala and her father as Western agents. In a recent post on Malala's Facebook page, someone posting as Wajid Kamal accused her of fooling innocent Pakistanis "to make more and more money."
Malala's father says that though the "campaign" of negative comments has been going on since she gained international notoriety after the assassination attempt, it has intensified since the release of her biography last October. "There were people who examined the book under a microscope to find flaws to magnify them as controversies," he said. "I am Malala" was intensely criticized by conservative commentators on Pakistani television talk shows and newspaper columns for describing Pakistani religious and ethnic minorities as disadvantaged and questioning the country's security forces.
Yousafzai said a lack of security prevented Malala from returning to Pakistan this year, and that threats from militants have prevented their Malala Fund NGO from funding major projects in their home district, Swat. "The reason she is being criticized is for opposing ideologies and policies that have pushed Pakistan into its current abysmal state," he said. "We have challenged the ideas and actions that result in further marginalizing underdeveloped ethnic groups in the country."
http://www.nation.com.pk/national/31-Jul-2014/malala-yousafzai-targeted-in-systematic-propaganda-campaign-ziauddin-yousafzai
---------------
Israelis 'Addicted' To Killing Women and Children
02 July, 2014
In an attempt to smear Israel and justify his organization's prolonged terrorist campaign against it, Hamas official Osama Hamdan claimed on Lebanese television that Jews have "become addicted to" killing children and women. He also argued it was "not a figment of imagination" that Jews used Christian blood in their Passover bread.
"The Israelis concentrate on killing children," he said. "I believe that this is engraved in the historical Zionist and Jewish mentality, which has become addicted to the killing of women and children."
"We all remember how the Jews used to slaughter Christians in order to mix their blood in their holy matzos," he continued. "This is not a figment of imagination or something taken from a film. It is a fact, acknowledged by their own books and by historical evidence."
Hamdan is speaking of blood libel, which has been a pretext to slaughter Jews for centuries in Europe. He says their own books and evidence acknowledge it, but if he actually read the books, he would see the Ten Commandments in the Torah forbids murder. Additionally, the use of any blood is not allowed in kosher dietary laws. For meat to be kosher, the animal must be drained of all its blood, and no human can consume it. Magen Tzedek reports:
Eating blood is forbidden. Blood is blood, whether it comes from a human being or an animal. In prohibiting the consumption of blood, the Torah seems to be concerned that it can excite a blood-lust in human beings and may desensitize us to the suffering of human beings when their blood is spilled. In the passage in which the prohibition against eating "flesh with its life-blood in it" is first found, we also see the prohibition against murder: "Whoever sheds the blood of man/By man shall his blood be shed" (Genesis 9:6). Because life--even an animal life--is sacred and "the life of the flesh is in the blood" (Leviticus 17:11), the blood of animals must not be eaten; it must be disposed of carefully.
It may shock Hamdan, but over the centuries, the Catholic Church and other sects of Christianity found no evidence of blood libel and concluded it was a myth to deny Jews freedom and seize their property. One of the earliest findings of the myth was from Pope Innocent IV in 1247.
Hamdan did not accuse the IDF soldiers of using the blood of Palestinian women and children to make bread, but it is definitely implied. It was Islamic Jihad spokesman Daoud Shihab who told Lebanon television the IDF soldiers used the blood.
"I would just like to remind you of the ruling by the Israeli rabbis, who have instructed the soldiers to knead the bread that the Jews eat with the blood of Arab and Palestinian children," he said.
http://www.breitbart.com/Big-Peace/2014/07/31/Hamas-Official-Israelis-Addicted-to-Killing-Women-and-Children
---------------
Europe in Push to Stop Violence against Women
02 July, 2014
PARIS — The Council of Europe is taking new steps to combat violence against women under a newly ratified convention that came into force Friday. Fourteen European states are committing themselves to better fight violence against women following the signature of the so-called "Istanbul Convention."
The convention comes into force on Friday in 11 member states (Turkey, Albania, Italy, Montenegro, Bosnia and Herzegovina, Serbia, Austria, Andorra, Spain, and Denmark) and will be joined by France, Sweden and Malta in November.
"Violence against women remains one of the most widespread human rights violations which take place every day in Europe", said Nils Muiznieks, Council of Europe Commissioner for Human Rights, in a statement published this week. The convention obliges participating governments to take steps to counter domestic violence, forced marriage, stalking and sexual violence.
At least 12 women are killed by gender-related violence in Europe every day, according to the Council of Europe. In 2013 domestic violence claimed the lives of 121 women in France, 134 in Italy and 143 in the United Kingdom, according to national statistics.
The convention also targets female genital mutilation, forced abortion and forced sterilization, sexual harassment, and crimes committed in the name of "honor."
Signatories must "ensure that victims have access to services facilitating their recovery from violence" including "services such as legal and psychological counselling, financial assistance, housing, education, training and assistance in finding employment," according to the convention.
Independent experts will monitor governments' compliance with the convention. Another 22 nations in the 47-member Council of Europe have signed the convention but not yet ratified. Eleven have so far ignored it, including Russia.
http://www.saudigazette.com.sa/index.cfm?method=home.regcon&contentid=20140802213302
------
URL: https://newageislam.com/islam-women-feminism/pakistani-widows,-econd-wives-flee/d/98394