New Age Islam News Bureau
6 Oct 2017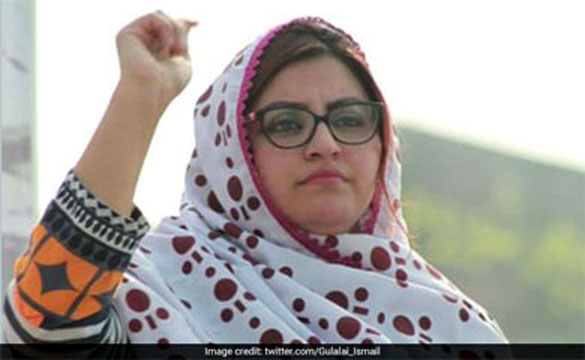 Gulalai Ismail, a women's rights activist from Swabi, Khyber Pakhtunkhwa
-----
• Pakistani Rights Activist Gulalai Ismail Wins Anna Politkovskaya Award
• Two Women Charged With Recruiting, Promoting ISIS in Jordan
• German Girl Who Joined ISIS Tells Her Harrowing Tale
• Radicalised Woman Who Followed Son to Syria Goes On Trial In France
• Travel Vlogger Changes Stereotypes about Arab Women
• USAID Offers Promote Medical Scholarships to Afghan Women
• Iran: Women Teachers Live Way Below the Poverty Line
• Woman's Murder Prompts Mass Eviction of Syrians from Lebanese Town
• Amid Twists and Turns, Happy Ending Eludes Indian Girl Brought From Pakistan
• Hunt On For Attacker Who Stabbed 11 Women in Pakistan
Compiled by New Age Islam News Bureau
URL: https://www.newageislam.com/islam-women-feminism/pakistani-rights-activist-gulalai-ismail/d/112790
--------
Pakistani rights activist Gulalai Ismail wins Anna Politkovskaya Award
Oct 06 2017
Gulalai Ismail, a women's rights activist from Swabi, Khyber Pakhtunkhwa, has been awarded the Reach All Women in War (RAW) Anna Politkovskaya Award alongside the late Indian journalist, Gauri Lankesh.
At the age of 16, Gulalai co-founded a non-governmental organisation, Aware Girls, with her sister Saba Ismail in 2002. The organisation aims to challenge cultural violence and oppression of women in rural Khyber Pakhtunkhwa by strengthening leadership skills of young people, especially women and girls.
Driven by a passion to challenge inequality, intolerance and extremism, Aware Girls began running workshops to enable girls and young women to challenge oppression and fight for their rights to education and equal opportunities.
Nobel laureate Malala Yousafzai was an attendee of Aware Girls programmes in 2011.
Malala, who won the Anna Politkovskaya Award in 2013, paid tribute to Gulalai on the accolade.
"I am proud to support my sister Gulalai Ismail, a fearless advocate for girls' education and equality in Pakistan. Through Aware Girls, Gulalai is training young women to advocate for their rights. Her work is fostering the next generation of female leaders in our country. Despite discrimination and danger, Gulalai is continuing her fight to see every girl to go to school. She has been my friend for many years and I wish her congratulations on this distinguished honour."
Malala's father Ziauddin Yousafzai also congratulated Gulalai, terming her a brave activist.
Indian journalist Gauri Lankesh ─ a known critic of right-wing groups ─ was fatally shot by unidentified attackers in Bengaluru in September.
The Anna Politkovskaya Award was established to remember and honour Russian journalist Anna Politkovskaya, who was murdered in Moscow on October 7, 2006 over her reportage of the second war in Chechnya. She was 48 years old.
https://www.geo.tv/latest/161420-pakistani-rights-activist-gulalai-ismail-wins-anna-politkovskaya-award
--------
Two women charged with recruiting, promoting ISIS in Jordan
5 October 2017
Two women charged by a Jordanian State Security Court with recruitment for and promotion of a terrorist organization appeared in court on Wednesday.
The two women stand accused of attempting to recruit members within Jordan to ISIS and promoting them through social media.
According to Jordanian news agency Petra, the lawyer of the second defendant denied the accusation to court stating that his client does not even have a social media account on Facebook, adding that she is the mother of four children, the youngest of whom is three years old.
The court also heard a witness who claimed to receive a message on social networking application Whatsapp in August, from a phone number belonging to the first defendant attempting to recruit him to ISIS.
Petra reported that the court last week reduced the charges against the second defendant to promoting a terrorist entity instead of recruiting for.
The court will reconvene to review the case on Wednesday October 11.'
https://english.alarabiya.net/en/News/middle-east/2017/10/05/Two-women-charged-with-recruiting-for-ISIS-and-promoting-them-in-Jordan.html
--------
German girl who joined ISIS tells her harrowing tale
5 October 2017
After being arrested last July by Iraqi forces, following the liberation of Mosul from ISIS, many stories broke out about Linda Wenzel, a German girl found under the rubble of a house in Mosul, who was only 16 years old when she joined ISIS.
In an interview with Al-Qatha'a, a newspaper run by Iraq's Supreme Judicial Council, Linda revealed the details of her grooming.
She revealed that she has been groomed by a Jordanian girl called Fatima who put her in touch with a Sheikh living in Germany called Abu Khaled.
The girl who appeared in the court two days ago stated that Abu Khaled, an Imam in a mosque in southern Germany, told her that he could not meet her because she is a woman and it's not permissible to be alone with her. Furthermore, she disclosed that he gave her some books about Islam written in German while Fatima involved her in a number of extremist forums.
Linda, who appeared in court with a veil on her head, added that she later discovered that Abu Khaled did not meet her for security reasons as he was under surveillance by the German security services.
According to the magazine, Linda, now 17 years old, is most remorseful about leaving her country. She has spoken directly to the judge and confirmed that she wishes to return to her country.
Marriage over the phone
Linda made the acquaintance of ISIS fighter Abu Usama al-Shishani through these forums. He convinced her to join the organization and to travel to the "land of the caliphate" promising to marry her.
After her relationship with her family deteriorated, Abu Usama advised her on how to rig travel documents to get to Turkey. When Wenzel arrived in Turkey, Abu Usama had fled to Syria but the promise of marriage stood firm and they got married over the phone.
After the marriage, the bridegroom asked her to go to the Turkish-Syrian border where she found a group of Chechens who took her on foot for 3 hours journey through illegal smuggling routes to Syria.
From Syria to Mosul
After meeting with her husband, the ISIS bride spent one day near the 'big house' in Syria, after which all the married women and children were brought into Iraq, to Mosul, the stronghold of the 'Caliphate'.
In Mosul, Linda lived in a large camp for a month. After that, she moved to her marital home, where she sometimes reunited with Abu Usama. She spent most of her time alone and the only visitor was the wife of the head of the organization's administrative board for the distribution of food and necessities.
3 months later, Linda received the news about her husband's death.
A while later, as Iraqi forces approached Mosul, Linda claims that she wanted to go back to Germany but the organization prevented her and gave her $ 200 in compensation for her husband's death.
As Iraqi forces approached, the organization gathered women in a hospital where she was found and taken to the Iraqi Judicial authorities.
https://english.alarabiya.net/en/features/2017/10/05/German-girl-who-joined-ISIS-tells-her-harrowing-tale.html
--------
Radicalised woman who followed son to Syria goes on trial in France
5 October 2017
A radicalised French woman who followed her son to Syria, where he was fighting for Islamic State, went on trial in Paris on Thursday and could face 10 years in jail if convicted.
Christine Rivière, 51, nicknamed "Jihadi Granny" by investigators, has said she wanted to support her son and spend time with him in case he met an early death. She is charged with criminal conspiracy with a view to preparing terrorist acts..
Rivière, from Troyes in eastern France, is the oldest of around 30 women being held on suspicion of links to terrorism over journeys they made between France and Syria. Whereas most of the women are young, Rivière's case stood out for her radicalisation alongside her son.
Rivière grew up in a family that travelled France working on fairgrounds. At 16 she began a job in a factory, and later she had two sons whom she raised alone. Her youngest son, Tylor Vilus, converted to Islam in 2011, aged 21, and became radicalised, moving to Tunisia to engage with jihadist groups there. Rivière followed him to Tunisia, also converted and adhered to her son's radicalised views.
Vilus left for Syria in 2013 with his mother's support and encouragement and she sent him money. When he told her – in messages later seized by investigators – that he was moving up the ranks of Islamic State, she is said to have replied: "I knew you'd do well, you're made for that." She allegedly tried to put him in touch with potential brides, women interested in joining Islamic State.
Rivière was arrested in July 2014 when she was allegedly preparing to move permanently to Syria after three previous visits to her son in Isis-held areas in 2013 and 2014. She told judges she felt good in Syria and preferred living there to France, "despite the bombings and shootings", according to court papers published in Le Monde.
Rivière reportedly told investigators: "I wanted to make the most of [time with] my son before he dies … I know that will happen, of course, and if it does I'll be happy for him because I know what that means for him. I know he will have a place in paradise … I want what he wants, like every good mother."
Rivière has denied she financially supported Islamic State, telling investigators it was "normal" that she sent her son money. She also denied personally fighting for Islamic State. Questioned about pictures showing her heavily armed in Syria, she said she carried a weapon there "like everybody else". Violent propaganda images were found on her computer, court papers state.
Vilus was arrested in July 2015 in Turkey, travelling on a Swedish passport, and is in prison in France awaiting trial. An investigation is ongoing into his role in Islamic State. Rivière's trial is expected to last for two days.
https://www.theguardian.com/world/2017/oct/05/christine-riviere-woman-who-followed-son-to-syria-goes-on-trial-in-france
--------
Travel Vlogger Changes Stereotypes about Arab Women
October 06, 2017
Storytelling in the digital world has a powerful influence in connecting the world and breaking stereotypes. For travel influencer Haifa Beseisso, her YouTube channel documents her adventurous trips around the world, offering her the chance to also exchange knowledge about her culture with locals.
A rare Arab female vlogger amid the social media influencers in the region, she gained popularity with over 380,000 subscribers to her channel 'Fly with Haifa', a library of colorful videos of her visits to islands, wildlife, and cultural experiences, among others.
"The content I share on my social media platforms reflects the reality I see in front of me," she says. "It shows the world as is and opens people's eyes on matters that they are not familiar with or had an incorrect misconception about. The messages I receive from my non-Arab audience are heart-warming as they break these assumptions and explore the true value of my travels."
Haifa, now representing Canon's #Liveforthestory campaign in the Middle East, invited a young audience to share moments of their life as part of the company's brand re-launch. Three winners - Yousra Mahdi from Jordan, Fouad Mofleh from UAE and Sabine K.Sebaali from Lebanon – have been selected to travel with her to Oman, Jordan and Morocco and will join her in upcoming videos.
Haifa added, "I believe with the power of the Internet and social media each person owns a mic and a platform, it is an open communication, a creative dialogue that one can have with their audience which makes it really powerful and beautiful!"
Her audience, mainly youth between the ages of 17 and 35, are from various countries, including Saudi Arabia, Morocco, United States, Malaysia, Indonesia and Turkey.
Asked about her impact on social media, she said: "I was able to change stereotypes that have accompanied Arab Muslim women for centuries. I showed that women have a voice that should be heard loud and clear, and they have a choice to pursue their hearts' greatest desire, and the power to make anything happen."
On her future goals, she says she'll continue to travel but may also write a book or host a TV show.
http://saudigazette.com.sa/article/518726/TECHNOLOGY/Arab-women
--------
USAID Offers Promote Medical Scholarships To Afghan Women
October 06, 2017
Officials from United States Agency for International Development (USAID) on Thursday said the agency, within the framework "Promote Scholar Program" and in joint venture with Women in Economy (WIE), is offering medical education scholarships to help Afghan women.
According to USAID this will help women further their studies in the medical sector and help deal with the shortage of female medical workers.
USAID also said the program was launched in joint cooperation with a number of institutes and private hospitals in Kabul, and that the program will be expanded to Kandahar, Herat and Balkh provinces.
Meanwhile, a number of graduates who completed their education under the Promote program have said the program not only helped improve their skills but also helped them secure jobs.
On Thursday, at least fourteen graduates who studied in the Doppler ultrasound field graduated in Kabul where they stressed the need for the program to be expanded to more regions across Afghanistan.
"We live in a society where citizens go abroad due to the lack of expertise in the Doppler ultrasound field, so this program is basically a solution to remove the problem," said one Promote graduate Sharifa Nazari.
"Millions of dollars flows out of Afghanistan due to the lack of resources and our patients go abroad for treatment, therefore the Women in The Economy project and Promote Program have stepped up efforts to make some contributions in the medical field so that doctors can get professional training," said Mirwais Sahra, technical deputy head of Women in Economy.
Meanwhile, officials from the Ministry of Public Health (MoPH) have said that Afghanistan is still among the ten countries in the world where the outbreak of contagious diseases is high.
They said that launching of such programs could help to upgrade the skills of medical workers to help diagnose diseases correctly and know what treatment to dispense.
"Government and the private sector should carry out practical work in the country to resolve healthcare issues and there is a need for more coordination between them," said Sayed Haseeb, head of the department of non-infectious diseases at the ministry of public health.
According to officials from Promote, more than 880 female graduates have completed their education under the program since 2015 with the majority of them now working at 200 health centers in 34 provinces.
This comes at a time that access to higher education for women in Afghanistan has been challenging. It is even harder for professional women in the workforce to obtain higher degrees or additional certificates.
The Promote professional certification program helps Afghan women obtain internationally recognized certificates that broaden their employment opportunities in both the public and private sectors.
http://www.tolonews.com/business/usaid-offers-promote-medical-scholarships-afghan-women
--------
Iran: Women teachers live way below the poverty line
October 06, 2017
October 5, marks the World Teachers' Day. It is a day to mobilize support for teachers and their rights.
Teachers have the greatest impact on the culture, spirit and thoughts of future generations. Therefore, their status bears tremendous importance for everyone especially the government. The situation of teachers in Iran, however, is just the opposite.
Women make up almost half of the teachers' population in Iran. They are inflicted with severe poverty and at the same time face numerous social and legal discriminations because of their gender.
Every official employee of the Ministry of Education earns 1.4 million toumans per month ($400) while the poverty line stands at 4 million toumans ($1180). That means that teachers officially earn less than half of what they need to subsist.
To avoid paying even this meager salary to the teachers, the Iranian regime refuses to officially employ them. Despite long years of experience, many teachers work on temporary contracts and their monthly salary is between 300-450,000 toumans ($88-133). They do not enjoy any benefits. This income is way below the minimum wage of 930,000 toumans ($275), and still, it frequently happens that teachers do not receive any salary for months.
Contract teachers fill in for the shortage of teachers at schools. The Ministry of Education prevents leakage of information on the number of contract teachers and their gender. In light of the fact that women face numerous legal obstacles in employment and the fact that the majority of Iranian women are engaged in jobs in the private and unofficial sectors, and also from the combination of participants in the protests, it is concluded that women comprise a large portion of contract teachers.
To take further advantage of women, the Iranian regime does not retire women who have more than 25 years of work experience. (The state-run Afkar news, May 2, 2016)
Presently, many teachers work two or three shifts to be able to provide for the needs of their families. Obviously, this situation has occupied teachers, leaving them with no energy to concentrate on the education of children.
In the past two years, the Teachers Union has called for nationwide protests on a number of occasions to express their general demands. These protests have taken place in cities all across the country, including Tehran, Karaj, Hamedan, Kerman, Shahriar, Qom, Mashhad, Bojnourd, Ferdows, Torbat-e Heydarieh, Mazandaran, Sanandaj, Saqqez, Marivan, Qorveh, Tabriz, Ardebil, Zanjan, Shiraz, Boushehr, Isfahan, Kermanshah, Kangan, Dehgolan, Lordegan, Ahwaz, Aligoudarz, and Kohgilouyeh-va-Boyer Ahmad.
Women have actively participated in these protest demonstrations despite being brutalized and arrested by the state security forces.
Teachers have been protesting to low wages, temporary employment, difficult working conditions, lack of insurance and non-payment of past due wages for consecutive months. They also demand freedom of imprisoned teachers rights activists, and balancing of retirement pensions, elimination of discrimination, full enactment of Article 41 of the Labor Act, and immediate increase of the salaries of working and retired workers and teachers based on the Minimum Expenditure Basket (MEB).[1]
Recently, a Ministry of Education directive was leaked out to the media which outlined the qualifications for the employment of teachers. The directive containing 17 articles listed a series of unjustified restrictions imposed on applicants for teaching positions. Gynecological problems, infertility, extra facial hair, shortness of one leg, heavy accent, were among the long list of illnesses and problems mentioned as reasons for rejection of applicants. Although the Ministry of Education backed down and withdrew this directive under the pressure of public opinion, but a spokesman for the Ministry admitted that the directive had already formed the basis for the employment of teachers for a good number of years. (The state-run Fars news agency, August 23, 2017)
[1] Article 41 of the Labor Act has obliged the Supreme Labor Council to designate the minimum wage every year based on the percentage of inflation. This minimum wage must be enough to provide for the expenses of a family.
http://women.ncr-iran.org/articles/4359-iran-women-teachers-live-way-below-the-poverty-line
--------
Woman's murder prompts mass eviction of Syrians from Lebanese town
5 October 2017
Abu Khaled had lived in the Lebanese town of Miziara for almost 20 years until a woman's suspected murder by a Syrian refugee led to his expulsion alongside several hundred other Syrians.
"They gave us notice to evict at 2 a.m.," said Abu Khaled, standing outside a bare building in a nearby village with some of his 13-strong family, who were all forced to leave on the orders of the local authorities.
"I don't know how we left - we carried our stuff on the road and then found this warehouse and we put ourselves here," he told Reuters.
More than six years into the Syrian war, 1.5 million Syrians account for one quarter of Lebanon's population. But patience is wearing thin with their presence and the strain it has placed on local resources.
The Lebanese army has previously carried out evictions of Syrian refugees, citing security concerns.
At the local level, ill feeling has surfaced intermittently in recent years, with councils imposing curfews, telling Lebanese not to rent houses to Syrians, or outright asking them to leave an area.
The Miziara council went a step further by using trucks to move people out, said George Ghali, programmes manager at the Lebanese rights group ALEF.
The decision was prompted by last week's arrest of a Syrian man for the murder of 26-year-old Rayya Chidiac in Miziara, a wealthy Christian town in north Lebanon.
Chidiac had been found dead in a relative's home on Sept. 22 showing signs of bruising, strangling and sexual assault, security forces said.
The refugee, in his 20s, had worked as the building's caretaker, and confessed to her murder.
"They are devouring us"
While the crime shocked Syrians and Lebanese alike, the locals said they must protect their own and could no longer risk living alongside Syrians.
"We are giving them food and they are devouring us. We cannot welcome them here any more," priest Yousef Faddoul told Reuters. "Let them set up tents for them elsewhere."
But the Syrians say they are being punished collectively for one man's crime.
"If I don't go back to my work, what can I do? In my country there is a war ... two days ago, a rocket exploded near my house," said Sobhi Razzouk, a Syrian from Idlib who had worked in Miziara for 15 years before being expelled. Like Abu Khaled, he was had joined in Lebanon by his family after the war began.
"We condemn this horrific act ... but the way we were expelled - we never expected this."
In response to questions from Reuters, the United Nations' refugee agency UNHCR called for "restraint from collective reprisals against refugees", and said it was in touch with local authorities and refugee families.
Miziara's municipal authority said on its Facebook page that Syrians could now only be in town during daytime working hours - if they had work permits. Landlords can only rent accommodation to those with residency permits.
Another post from the municipality encouraged Miziara landlords and those who sponsor Syrians to evict them or annul their guarantees.
"We support evicting Syrians in a legal way and evicting all those who break the law and anyone who has no business being in Miziara," said Maroun Dina, the head of the municipal council, said.
"This is a problem across Lebanon. If the government doesn't take the necessary steps then the public will and I cannot control the public," Dina said.
Precarious status
Many Syrians in Lebanon live in a precarious legal situation, with proper residency and work documentation expensive and hard to obtain.
Lebanon has resisted the establishment of organised refugee camps for Syrians, fearing a repeat of its experience with around half a million Palestinians, most still living in refugee camps set up after the creation of Israel almost 70 years ago.
That has left Syrians scattered across the country in tented settlements or urban areas - without any clear definition of their rights, and at the mercy of local authorities.
Their long-term presence is a particularly sensitive issue for Lebanon, where the addition of so many predominantly Sunni Muslim Syrians would upset the delicate sectarian balance with Christians, Shi'ite Muslims and other groups.
As the Syrian government regains control of more Syrian territory, calls have increased in Lebanon for Syrians to return home, although Prime Minister Saad al-Hariri has said there can be no forced return.
Last week, the north Lebanese town of Bsharri cited Chidiac's death as a reason to clamp down on Syrians, saying the situation in Syria had improved to the point where they no longer needed to be in Lebanon.
It issued a statement saying Syrians must not gather in public squares, must not go out after 6 p.m., and would be barred from renting properties in the area from Nov. 15.
https://english.alarabiya.net/en/features/2017/10/05/Woman-s-murder-prompts-mass-eviction-of-Syrians-from-Lebanese-town.html
--------
Amid twists and turns, happy ending eludes Indian girl brought from Pakistan
5 October 2017
There is a new twist in the sad tale of Geeta, the differently-abled young woman who was flown back from Pakistan in 2015 amid great fanfare with the objective of reuniting her with her family in India.
But even after two long years the 25-year-old hearing and speech challenged woman with large-expressive eyes and a ready smile, is still staying with a non-governmental organization (NGO) in Indore as all attempts by Prime Minister Narendra Modi's government to trace her family have drawn a blank so far.
This week, External Affairs Minister, Sushma Swaraj, who was instrumental in Geeta's return, issued an emotional video appeal to all Indians to assist authorities in locating Geeta's family. Swaraj even offered a reward of Indian Rs100,000 for anyone who helps find Geeta's parents. Swaraj's new move elicited an unexpected response from Pakistan which has left many in India speechless.
Soon after Swaraj announced a financial reward, Karachi's Edhi Foundation, Pakistan's highly respected social welfare organization which was Geeta's home since 2002 when she was found wandering in Lahore near the Indian border until her return to India in October 2015, has offered to take back Geeta, stating emphatically that if she has a traceable home in the whole world, it is the Pakistani NGO which adopted her and where she lived happily for 13 years.
Unresolved difficulties
Geeta's unresolved difficulties have left many wondering whether her hyped up repatriation was a case of over-activism by India's External Affairs Ministry."Such initiatives should be thought through to their logical end. This sort of venture has many possible pitfalls", Nirupama Subramanian, The Hindu's Islamabad correspondent from 2006 to 2010, told Al Arabiya.
"Although we had photo-ops in the first rush of enthusiasm, it seems nobody had imagined what a challenging exercise it was going to be to find her parents. Such India-Pakistan decisions should be guided by sound judgment rather than a rush of emotions", added Subramanian who is now the Indian Express Resident Editor in Chandigarh and a neutral foreign policy analyst.
"Both countries seem to go for high-profile photo-ops rather than improve the bilateral relationship substantially and in a rational manner." Since her return, several couples have claimed Geeta as their lost daughter but DNA tests nailed their lies. Before her return, she had identified Janardhan Mahato from Bihar as her father from one of many photographs sent to her by the Indian High Commission in Islamabad. But a DNA test quickly eliminated Mahto.
As the Indian government's goal of reuniting Geeta with her family remains unfulfilled, Swaraj in her new video appeal urged the woman's parents to come forward and own their daughter, promising that Geeta's expenses, from studies to marriage, will be borne by the government.
"Your daughter is restless to meet you," she said, addressing the parents. Swaraj specially urged people from Bihar, Jharkhand and Orissa to step forward with information about her family as Geeta seems to belong to these provinces in eastern India.
The Karachi connection
Even as the search continues, Karachi's Edhi Foundation - founded by late philanthropist Abdul Sattar Edhi and now run by his wife Mrs Bilquis Edhi who accompanied Geeta to India in 2015 – has announced that it would be happy to have her back.
"We have always maintained that Geeta will have a home in Edhi Foundation forever and she can return to us whenever she wishes. Mrs Bilquis Edhi and the rest of us will welcome her if she chooses to return to us any day", Anwar Kazmi, a senior Edhi Foundation official told an Indian newspaper.
Significantly, Modi was full of praise for Edhi Foundation in 2015 and donated Rupees Ten million to the charity which however declined the offer saying that it had only done its duty towards a child stranded in a foreign country.
Even as India sizes up Edhi Foundation's new offer, TCA Raghavan, India's former High Commissioner in Pakistan who facilitated her repatriation, said that Geeta's problems "are part of her process of adjusting to a new environment in India".
Raghavan says that finding Geeta's parents won't be a quick process. "I and other Indian officials met Geeta several times and it was very clear that she wanted to return to India. We expected that there would be ups and downs in her adapting to a new environment, especially since she had lived for years in Karachi in the protective care of the Edhis", the ex-envoy was quoted as saying.
https://english.alarabiya.net/en/perspective/features/2017/10/05/Amid-twists-and-turns-happy-ending-eludes-Indian-girl-brought-from-Pakistan.html
--------
Hunt on for attacker who stabbed 11 women in Pakistan
5 October 2017
KARACHI: Pakistan police announced a reward of nearly $5,000 Thursday for information that could help them nab a serial attacker who has stabbed 11 women so far in the port megacity of Karachi.
The attacks began late last month when a man on a motorcycle began sporadically wounding women walking on streets in the eastern part of the sprawling city.
They escalated late Wednesday when the attacker targeted five women in different parts of the neighborhood, bringing the total number of women assaulted to 11 and alarming authorities.
CCTV footage of one attack shows the man stabbing a burqa-clad woman from behind and then fleeing, police said.
"It is the pattern that he attacks on the women from rear with some sharp pointed object... We have arrested at least eight individuals having similarities with the appearance of the attacker," Samiullah Soomro, a senior police officer, told AFP.
Police also announced a reward of 500,000 rupees ($4,700) for information leading to the attacker's arrest.
"Our full focus in on this case and we hope to find the culprit soon," Soomro said.
The attacks echo a similar spree in the garrison city of Rawalpindi last year, when a man stabbed 17 women over a series of months, killing one, because he wanted "revenge" for a cruel stepmother.
"I hate women," 22-year-old Mohammad Ali told police when he was finally arrested in August.
Women in Pakistan have fought for their rights for years, in a patriarchal society where so-called "honor" killings and attacks on women remain commonplace.
http://www.arabnews.com/node/1172851/world
--------
URL: https://www.newageislam.com/islam-women-feminism/pakistani-rights-activist-gulalai-ismail/d/112790
New Age Islam, Islam Online, Islamic Website, African Muslim News, Arab World News, South Asia News, Indian Muslim News, World Muslim News, Women in Islam, Islamic Feminism, Arab Women, Women In Arab, Islamophobia in America, Muslim Women in West, Islam Women and Feminism