New Age Islam News Bureau
11 Dec 2017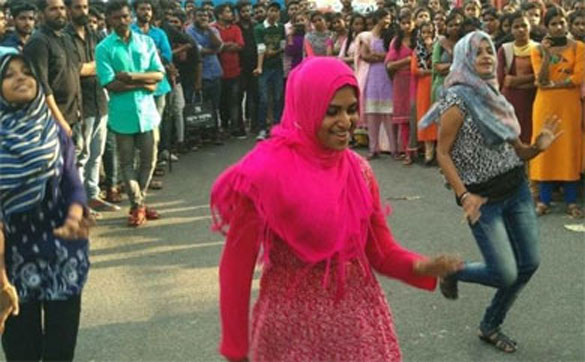 Trolled By Islamic Fundamentalists For Their Flash Mob On Aids Day, Kerala Muslim Girls Shut Down Haters With Dances Across The State - Indiatimes.com
-----
• Zohra: Inspiring Sounds of Music in War-Torn Afghanistan
• More Hijab-Clad Girls Join Kerala Flash Mobs
• Spending Power of Malaysian Muslim Women Fuels Beauty Industry
• Harassment All Around, Afghan Women Weigh Risks of Speaking Out
• Rape Of Rohingya Sweeping, Methodical, AP Investigation Finds
• Saudi Women Break Youth Monopoly of Telecom Sector
• Few Women Opt To Go For Haj Unescorted
• Evidence Suggests Women Safer Drivers than Men: Expert
Compiled by New Age Islam News Bureau
URL: https://www.newageislam.com/islam-women-feminism/pakistani-origin-ex-gangs-target/d/113528
--------
Pakistani-Origin 'Sex Gangs' Target White Girls in UK: Report
Dec 10, 2017
LONDON: Gangs of Pakistani-origin men lure white girls with alcohol and drugs before raping and sexually abusing them as they fail to integrate within British society due to their Asian heritage, an anti-extremism think-tank has said in a new report.
The study by UK-based Quilliam group calls for greater government support to help integrate British Pakistani people into modern UK society.
"We began thinking we would debunk the media narrative that Asians are over-represented in this specific crime. But, when the final numbers came in we were alarmed and dismayed. For both of us being of Pakistani heritage, this issue is deeply personal and deeply disturbing," said Muna Adil, one of two authors of the report called 'Group Based Child Sexual Exploitation: Dissecting Grooming Gangs'.
Quilliam looked at 58 cases of grooming gangs identified in the UK between 2005 and 2017, which led to 264 convictions.
They discovered that 222 of those convicted, or 84 per cent, were men of Asian origin and mostly of Pakistani heritage. Only 22 were black and 18 were white with two offenders not having an identified ethnicity. The findings are in stark contrast to the fact that Asians make up only seven per cent of the UK population, the study noted.
"There has been a lot of coverage of grooming gangs recently, ranging from the politically correct, who don't want to talk about it, and the bigots who want to use it for hate. Not talking about it doesn't make the problem go away, and letting bigots hijack the debate creates further division in society. We as a society need to tackle this head on," noted Haras Rafiq, chief executive of Quilliam.
The study found that while girls from the Asian community were seen as "protected" because chastity was linked to "family honour", young white women were deemed "easy targets" and "open to sexual relationships with a little persuasion".
They also identified how men in the gangs had shared a common view of their sexual abuse, having collectively justified their behaviour, according to the new study quoted in the UK media.
"The notion that certain cultures are out of bounds when it comes to criticism is not just misguided and misinformed, but often allows the most vulnerable individuals from society to continue to be victimised and abused," the report notes.
Since 2011, groups of men - mostly of Pakistani origin - have been prosecuted for organised sex-grooming crimes against hundreds of girls across cities of England like Rochdale, Rotherham and Birmingham.
https://timesofindia.indiatimes.com/world/uk/pakistani-origin-sex-gangs-target-white-girls-in-uk-report/articleshow/62010376.cms
--------
Zohra: Inspiring sounds of music in war-torn Afghanistan
Dec 11 2017
New Delhi: Little over five decades after the brave saga of the Von Trapp family surviving the loss of their homeland was immortalized in the American musical drama Sound of Music, Zohra, an ensemble of women, youngest of whom is a teenager, from war-torn Afghanistan has embarked on a similar mission.
This time, not just to reclaim their homeland from the clutches of the cultural tyranny of the Taliban, who still remain in possession of large tracts of the country, but also to resurrect the 1,000 year tradition of music in Afghanistan. Performing at the 15th Hindustan Times Leadership summit last week, they captivated everyone with their music and pluck.
"Music is my life. I strongly believe that I have a future in this," says 13-year old Mena Karimi, the youngest member of the all-girls' orchestra.
Karimi's musical instrument of choice is the cello which she handles with the ease of a professional. The spectacled teenager, from Kabul, was among the 30-odd members who performed in New Delhi last week. They performed at other venues in the capital too, showcasing the less familiar musical heritage of Afghanistan—a country now mostly in the news for brutal suicide bombings and unending civil strife.
Mena says she enrolled at the Kabul-based Afghanistan National Institute for Music (ANIM) three years ago at the age of 10—with the support of her mother. Her father was opposed to her learning music at ANIM, a school that includes music as a subject in the regular curriculum of students.
ANIM is the brainchild of Ahmad Sarmast, an Afghan professor of music who was living in Australia but who returned to Afghanistan in 2008. And in 2010, it opened its doors to pupils, some of whom are the most disadvantaged in Afghan society—street children, orphans and girls.
Afghanistan, Sarmast says, has had a long tradition of music—dating back centuries. But the invasion by Soviet troops in 1979 and then the rule by the Sunni hardline Taliban that viewed music as a corrupting influence—erased any evidence of this tradition, he says.
"I strongly believe in the soft power of music," says Sarmast, 54, whose father was also a musician. "For me, music is not just a type of art. It is a powerful force for transforming lives, societies, economic development, building bridges between cultures and nations, it is a healing force," he says.
The Zohra ensemble—named after a goddess in Persian literature—has brought together girls from across the diverse ethnic mosaic of Afghanistan. Mena is a Tajik, others in the ensemble are members of the Pashtun, Hazara and Nuristani ethnic groups—who have traditionally shared an uneasy relationship with each other.
"This is an ensemble that represents the future of Afghanistan—living in peace and harmony, one that gives every group equal opportunities," says Sarmast referring to the ethnic diversity in the group.
For the girls being part of the ensemble is an opportunity to dream big—in a country where even stepping out alone without a male companion is dangerous for women.
"I am learning music in order to help other children of my age and those younger than me. I want to set the example to show them that music is good, there is nothing wrong with learning music and it brings opportunities," says Mena says.
Her role model, she says, is 20-year-old Negin Khpalwak, who hails from eastern Kunar province.
At her age, Khpalwak has already earned a unique distinction of being the first female music conductor of an orchestra in Afghanistan, thanks to ANIM and Zohra.
Initially she kept her musical adventure a secret, but then later confided in her father, who was encouraging. But the reaction from the rest of her conservative family, including her mother and grandmother, was hostile. "They say, 'How can a Pashtun girl play music?' More so in our tribe, where even a man does not have the right to do it," she says.
"But I am luckier than most girls in Afghanistan. Girls in my village have no access to education and are married off before they reach my age. I may be the only girl from my village and even my province who has access to education and who can see a bright future for herself," she says.
When asked what keeps her motivated, Negin puts it down to the audience response at the end of a performance. "The applause, the warm reception makes me feel very proud and makes me want to do better," she says. "Whenever people applaud, I say that one additional achievement has been obtained in the name of Afghanistan," she says.
But then life as a musician, especially for a woman is risky business in Afghanistan. In 2014, an ANIM student concert was targeted by a suicide bomber. One person was killed and Sarmast lost his hearing, temporarily.
But the enthusiasm of the von Trapps of Afghanistan is not easily curbed. For them life, despite the risk of bodily harm, is a cup that is half full. "Afghanistan has progressed a lot and I am sure things will get better from here," says Negin.
http://www.livemint.com/Politics/W5cjh03oJWP97aoGdmH2OM/Zohra-Inspiring-sounds-of-music-in-wartorn-Afghanistan.html
--------
More hijab-clad girls join Kerala flash mobs
Dec 11, 2017
KOCHI: Protesting against the vile trolls targeted at three hijab-clad Muslim dental students who participated in a flash mob, a group of youths organised a similar performance on Saturday, with many of them wearing the traditional Muslim headwear as they performed to the tunes of a popular Malayalam song.
This unique way of registering protest saw the participation of at least 20 students, many of who wore hijabs, at Tagore Theatre in Thiruvananthapuram, one of the venues of the ongoing International Film Festival of Kerala (IFFK). Organised by the Student Federation of India, the student wing of Communist Party of India, the flash mob danced to the same song ' Entammede jimikki kammal', that Muslim girls had performed 10 days ago.
On December 1, the three hijab-clad girls had participated in the flash mob as part of World AIDS Day awareness campaign in Malappuram. Their courage had irked the conservative sections of the community, with many of them abusing the girls on social media. Subsequently, the Kerala Women's Commission registered a suo motu case against the trolls, directing the police cyber cell to take immediate legal action against them. However, a lot of people, including some prominent Muslims, stood up for the three girls.
"It is very unfortunate that some people consider women only as objects. A small section is behind such absurd criticism denying individual freedom. They should realise that abusing girls in public is also against their religious beliefs," Dr Shimna Azees, a government medical officer in Malappuram, posted on Facebook.
https://timesofindia.indiatimes.com/city/kochi/more-hijab-clad-girls-join-kerala-flash-mobs/articleshow/62014780.cms
--------
Spending power of Malaysian Muslim women fuels beauty industry
08 DECEMBER, 2017
KUALA LUMPUR — Drive along the highways in Malaysia and one will see giant billboards advertising a plethora of products targeted at Muslim women, from beauty, personal care and health products to the tudung and fashionable clothes.
The jostle for advertising space in the real world carries over into cyberspace, with fashion and cosmetics entrepreneurs using social media to peddle their wares.
The mushrooming of the retail industry specifically targeted at Muslim women, or Muslimah in Arabic, is reflective of this consumer group's increasing spending power.
The results of a study by marketing communications company, J Walter Thompson (JWT), released in September, found that young Muslimah in South-east Asia were becoming more influential figures in fashion and tourism because of their technological and entrepreneurial know-how.
The study polled women between the ages of 18 and 39 as well as those over 40.
In Malaysia, 60 per cent of the population are Muslim, and 24 per cent of young Muslim women shop for clothes and cosmetics every week, while 58 per cent do so every month.
Hoping to tap into this market, Ms Aen Syahera, 24, produced her own line of beauty products and supplements called Syahera Beauty Care while she was still in university.
"For a year, I sold other people's products — I was a dropship," she said, referring to the practice of transferring a customer's orders and shipment details to a manufacturer, retailer, or wholesaler, who then ships the goods directly to the customer.
"I saved the profits, to start my own line," said the Universiti Teknologi Mara hotel management graduate.
"My crowning achievement was when I was selected to be a young entrepreneurs icon at a young women's festival that was launched by Prime Minister Najib Razak last year."
She said she marketed her products online, and most of her orders were from the east coast of peninsula Malaysia, and some were from as far as the Thai border.
Ms Aen, who is from the east coast state of Kelantan, said social media was a vital component in her marketing strategy, and she made sure she was active on these platforms so that she could indirectly market her wares.
"I would upload videos of my thoughts on social media, or share useful tips or talk about current events. From there, people would share my content, and followers would grow."
HALAL PRODUCTS ONLY
Among the Muslimah, the JWT survey found that nine in 10 women said it is "very important" that products sold are certified halal, or permissible in Islam.
Ms Feirouz Azalia Muhamad Noor, 45, the founder of the Naifa line of beauty products, runs a factory in Kuala Terengganu that produces raw materials for cosmetics.
"Each product must be made from halal ingredients that follow the standards set by the Malaysian government. My factory uses only halal materials that are safe," she said.
Ms Feirouz Azalia said she started her business after seeing her friends develop their own brand of products. She got herself involved in the research for new products.
"I also found that there are a lot of poisonous products on the market, so I felt a calling to provide something that was of better quality. I started with a capital of between RM8,000 (S$2,651) and RM10,000," she said.
Ms Feirouz Azalia not only sells her own line, she also supplies products to other entrepreneurs who market them under their own brands.
For some entrepreneurs, the booming beauty industry for Muslim women is a chance for them to share, package and profit from age-old and traditional beauty secrets passed down from their elders.
Ibu Pati Putih founder Janna Suzanna, 40, said it took her 10 years to grow her business via social media, but hers was a product she was confident of.
"I am interested in cosmetics and beauty secrets that have been handed down by my grandmother. I share these with people, but what is important is that I test them on myself first."
Among her products are face and body creams which have Good Manufacturing Practice certification and are approved by the Health Ministry.
PRICE NO LONGER MATTERS
A few years ago, no one would have thought the humble hijab — or commonly called a "tudung" in Malaysia — could be sold at thousands of ringgit, but Bawal Exclusive founder Haliza Maysuri is doing just that.
The most expensive hijab she sells costs RM33,000.
Ms Haliza, 40, said the steep price was because of the Swarovski crystals festooned on the head covering.
"The more crystals and decorations on the tudung, the higher the price."
Bawal Exclusive claims to be the first hijab maker in the country to have an official partnership with the Swarovski brand.
Ms Haliza said she started her business in 1998 with her husband. At the time, they sold their hijab at a shopping arcade in the heart of Kuala Lumpur.
Bawal Exclusive's main marketing strategy is more conventional, which is through word of mouth.
"But, with the Internet today, social media has made things easier. Sometimes, I would make a video or take a photo of me wearing the latest tudung I have made, and upload that on social media. That will attract attention, and people will ask, Where did you buy that?" THE MALAYSIAN INSIGHT
https://www.todayonline.com/world/spending-power-malaysian-muslim-women-fuels-beauty-industry
--------
Harassment All Around, Afghan Women Weigh Risks of Speaking Out
By ROD NORDLAND and FATIMA FAIZI
DEC. 10, 2017
KABUL, Afghanistan — "You're ugly, Maryam, everyone says so, but I guess you're a virgin so when you're ready to have sex, let me know and I will be glad to …" Her male co-worker, writing on her Facebook account, finished the sentence obscenely.
It was 10 a.m. on a normal day in the life of an Afghan working woman. The journalist Maryam Mehtar, 24, said she had already that morning been harassed or assaulted at least five times: in the bus to work, on the street waiting for the bus, by a man who grabbed her buttocks, by another man who asked how much she charged and by a young boy who said she had a "pretty vulva."
Finally in the relative safety of her own office, she opened her computer to read the Facebook offer from one of her colleagues to deflower her.
Emboldened by the uprising of women in America and Europe against sexual harassment, a few particularly courageous Afghan women are speaking out, too, in the face of a problem long just accepted as commonplace and unsolvable.
"Most of my friends are silent," said Ms. Mehtar, who works for the Afghan news agency Sarienews. "They think if they talk everyone will blame them, and they're right."
Ms. Mehtar is one of the few Afghan women willing to name and shame her abusers, something most are afraid to do — and not just because of fear of public humiliation.
When women speak up, they take a big risk, said Shaharzad Akbar, 30, who works as an adviser to President Ashraf Ghani and says she was sexually assaulted when she was an intern early in her career. "In Afghanistan, women can't say they faced sexual harassment. If a woman shares someone's identity, he will kill her or kill her family. We can never accuse men, especially high-ranking men, without great risk."
They fear not only the vengeance of the abusers, but sometimes even that of their own families, Ms. Akbar and others said.
Zubaida, 26, was a police officer whose superior groped her breasts and demanded sex. She quit her job, but does not dare give her own full name or her abuser's. "If I said his name, definitely he would kill me or one of my family members," she said. Worse, if it became public, she said she would fear that her own family members might carry out an honor killing against her.
Even rape victims are sometimes killed by their own relatives, who believe the shame attached to rape is worse than the suffering of the rape victim.
"In Afghanistan, we are both the victim and the criminal," Zubaida said. "I can't even tell my own family that I quit because of sexual harassment. Western women are so lucky."
One 31-year-old woman, who feared that she and her children could be killed if her name were used, had returned to Afghanistan after years of living in Iran. She had done well in school there, and as an educated woman she quickly found work, first in a provincial government office in Ghazni Province.
On her first week at work, the director of her department threw her over a piece of furniture and tried to sexually assault her; she fled the office and quit. In Kabul, she went to buy a plot of land from the government, and the director of the department began sending her nude photographs of himself and asking her for sex, mostly via Facebook messages.
The harassment many of them face extends even to Afghan employees of international and Western institutions, according to numerous women interviewed for this article.
One woman gave up on government employment after repeated harassment and started her own nongovernmental organization. She began applying for grants from the United Nations, the United States Agency for International Development and various Western embassies.
"Every time the same thing: The Afghan staff would say, 'I'll approve your proposal, if you have sex with me,'" she said, asking that her name not be used because she still hopes to find a grant and does not want to anger potential donors. "Everyone thinks that those women who work outside the home are whores, and Afghan men can say and do anything they want with them."
Women in the media are particularly frequent victims, in part because they have public profiles, and often use social media with their real identities. That often attracts men who hurl sexual abuse at them with abandon — often not even bothering to disguise their names. The abuse frequently includes sexually explicit photographs.
When Ms. Mehtar posted on Facebook her view that "Afghan women are not safe even in their own homes," she was deluged with a mixture of hate mail and sexually abusive comments. She received hundreds of Facebook and Twitter messages — which she has archived. One came from an Afghan writer named Jalil Junbish, who described himself as an authority on women's rights. It read: "You're a whore and have had sex with many men."
Contacted by Facebook Messenger about the abuse, Mr. Junbish not only confirmed that it came from him, but repeated his accusation. "Maryam is a whore," he replied to a female Afghan reporter for The New York Times. "Why are you her friend?" He added, "You're a whore, too."
When the reporter contacted Mr. Junbish by telephone, he confirmed that the Facebook account was his own, but he then claimed that it had been hacked by someone else who sent the abusive messages.
The Afghan entrepreneur Hamid Samar this year came up with the idea of starting a television station, Zan TV, pitched at millennials. All of the on-air personalities, newscasters and producers are young women, 35 to 40 of them, with far fewer men behind the scenes (although they are the ones in charge). Some American officials enthusiastically praised the idea, and the station is seeking American funding.
Zan TV ("Women's TV") launched with a staff of all female presenters and producers in #AFG. Read more via @Reuters | https://t.co/IwZuVzRg46 pic.twitter.com/nJqkYmdBEY
— USAID Afghanistan (@USAIDAfghan) June 6, 2017
Within only a few months, however, rumors began to circulate that many women were complaining of sexual harassment at the station, and there was a wave of resignations, according to two women who said they were among those who quit because of that. They were interviewed in the past week on the condition of anonymity because they feared being unable to find another job if they spoke out.
Afghan women risk their lives for new TV channel, Zan TV (Women's TV) is dedicated to women. Video by TRT World
Mr. Hamid, the owner, said sexual harassment was not tolerated at Zan TV. "Zan TV is a safe place for women," he said. "Families trust us and send their daughters outside to work for us, and we never break their hearts."
Sulieman Samar, the public relations coordinator for Zan TV, and a brother of the owner, denied that there had been any resignations over harassment. "Everyone who works here signs contracts promising not to sexually harass anyone," he said. "Sexual harassment is wrong."
In one of the country's most outrageous cases, last month, an Afghan air force colonel was accused of demanding sex from a subordinate. The woman secretly videotaped his assault on her, with his face and identity clear. Posted on Facebook anonymously, that video and a more explicit second one went viral in Afghanistan.
Maj. Gen. Dawlat Waziri, the spokesman for the defense ministry, said that Col. Ghulam Rasoul Laghmani had been detained and was under investigation, but so far no one has formally accused him of harassment. General Waziri said the authorities had been unable to find the woman, whose identity in the video is unclear.
The Afghan government has made some efforts to combat sexual harassment, which is widely seen as one of the main reasons the country has never been able to meet its goals to recruit female police officers and soldiers, who are still less than 1 percent of the security forces.
Recently, the Ministries of Interior and Communications jointly set up hotlines to report sexual harassment, with separate numbers for women (989) and men (999). Since the interior ministry is in charge of the police, many assumed the hotlines were for reporting problems with police officers.
A woman who answered the 989 number said that was not their role; they handle only phone harassment cases of the heavy-breathing type. "If a policeman harasses you," the hotline operator said, "you should slap him, or ask other women to slap him. We can't help you."
Fahim Abed and Najim Rahim contributed reporting.
https://www.nytimes.com/2017/12/10/world/asia/afghan-metoo-women-harassment.html?mtrref=www.google.co.in&gwh=54602D5BA87BF6B94CEF2ACD4029517C&gwt=pay
--------
Rape of Rohingya sweeping, methodical, AP investigation finds
11 December 2017
UKHIA, Bangladesh:The newlyweds were asleep in their home in western Myanmar in June when seven soldiers charged in.
The woman, a Rohingya Muslim who agreed to be identified by her first initial, F, knew enough to be terrified. She knew the military had been attacking Rohingya villages, as part of what the United Nations has called ethnic cleansing in the mostly Buddhist nation. She heard just days before that soldiers had killed her parents and that her brother was missing.
Now they had come for her. The men bound her husband with rope, and tied her scarf around his mouth. They yanked off her jewelry and tore off her clothes. They threw her to the floor.
And then, she says, the first soldier began to rape her.
She struggled against him, but four men held her down and beat her with sticks. Her husband finally wriggled the gag out of his mouth and screamed.
And then she watched as a soldier fired a bullet into the chest of the man she had married only one month before. Another soldier slit his throat.
Her mind grew fuzzy. When the soldiers were finished, they dragged her outside and set her bamboo house ablaze.
It would be two months before she realized her misery was far from over: She was pregnant.
The rape of Rohingya women by Myanmar's security forces has been sweeping and methodical, the Associated Press found in interviews with 29 women and girls who fled to neighboring Bangladesh. These sexual assault survivors from several refugee camps were interviewed separately and extensively. The women gave AP their names, but agreed to be publicly identified only by their first initial, citing fears they or their families would be killed by Myanmar's military. They ranged in age from 13 to 35, came from a wide swath of villages in Myanmar's Rakhine state and described assaults between October 2016 and mid-September.
Yet there was a sickening sameness to their stories, with distinct patterns in their accounts, their assailants' uniforms and the details of the rapes themselves.
The testimonies bolster the UN's contention that Myanmar's armed forces are systematically employing rape as a "calculated tool of terror" aimed at exterminating the Rohingya people. The Myanmar armed forces did not respond to multiple requests from the AP for comment, but an internal military investigation last month concluded that none of the assaults ever took place. When journalists asked about rape allegations during a government-organized trip to Rakhine in September, Rakhine's minister for border affairs, Phone Tint, replied: "These women were claiming they were raped, but look at their appearances — do you think they are that attractive to be raped?"
Doctors and aid workers, however, say they are stunned at the sheer volume of rapes, and suspect only a fraction of women have come forward. Medecins Sans Frontieres doctors have treated 113 sexual violence survivors since August, a third of them under 18. The youngest was nine.
Each woman interviewed by the AP described attacks that involved groups of men, often coupled with other forms of extreme violence. Every woman except one said the assailants wore military-style uniforms, generally dark green or camouflage. The lone woman who described her attackers as wearing plain clothes said her neighbors recognized them from the local military outpost.
Many women said the uniforms bore various patches featuring stars or, in a couple cases, arrows. Such patches represent the different units of Myanmar's army.
Though the scale of these attacks is new, the use of sexual violence by Myanmar's security forces is not. Before she became Myanmar's civilian leader, Aung San Suu Kyi herself said Myanmar's armed forces used rape as a weapon to intimidate ethnic nationalities.
Yet Suu Kyi's government has not only failed to condemn the recent accounts of rape, it has dismissed the accounts as lies. In Dec. 2016, the government issued a press release disputing Rohingya women's reports of sexual assaults, accompanied by an image that said "Fake Rape."
More than three months after the men burst into F's home, she was living with her neighbors — a couple and their 5-year-old son. The timing of her rape left little doubt that the baby growing inside her belonged to one of the men who had caused all her grief.
She could only pray that things would not get worse. And then, one night in mid-September, they did.
The men broke down the door. There were five of them this time, F remembers. They slashed the boy's throat, and killed the man.
Then they turned to the man's wife, and to F. And her nightmare began again.
They stripped off the women's clothes and threw them to the floor. F's friend fought back, and the men beat her so viciously the skin on her thighs began to peel away.
But the fight had gone out of F. She felt her body go soft, felt the blood run between her legs as the first man forced himself on her, and then the second. Three men savaged her friend.
When it was over, the women lay on the floor for days.
Finally, F hauled herself to her feet, pulling her friend up with her. Hand in hand, the women stumbled to the next village, and then began the 10-day journey to Bangladesh.
Which is where F lives now, in a tiny bamboo shelter between two filthy latrines. And it is here that F prays her baby will be a boy — because this world is no place for a girl.
The child will be the only family F has left. For her, the most haunting reminder of the agony she endured also, somehow, represents her last chance at happiness.
"Everybody has died," she says. "I don't have anyone to care for me. If I give this baby away, what will I have left? There will be nothing to live for."
http://www.arabnews.com/node/1207211/world
--------
Saudi women break youth monopoly of telecom sector
Rodolfo C. Estimo Jr.
11 December 2017
RIYADH: Saudi women have broken the youths' monopoly of the local telecommunications sector and have undergone training in sales and maintenance of cellphones in the wake of the Kingdom's Saudization program.
"More than 5,000 have been trained and entered the labor market, either through small- and medium-sized enterprises or by doing business from homes," said Fadwa Al-Atwi, a Saudi woman trainer.
The Communications and Information Technology Commission (CITC) said that the local telecommunications sector is estimated at SR180 billion ($48 billion) annually. The women took up training courses prepared by economists to be the nucleus of work in the field of sales and maintenance of all mobile devices and help increase the employment rate among Saudi women. The Ministry of Labor and Social Development announced that the total number of Saudi female employees in the wholesale and retail sectors crossed 159,588 by the end of 2016.
They were also encouraged to be entrepreneurs and not wait for government jobs in accordance with the guidelines set forth under the Kingdom's Vision 2030 program.
As a trainer, Al-Atwi — who runs courses in America, Jordan, and Egypt — told Arab News earlier that the courses in mobile maintenance and other technology skills began five years ago.
She added: "The Saudization of the telecommunications sector has increased the involvement of Saudi women in the labor market significantly."
Al-Atwi said the demand for Saudi women in the telecommunications sector in the Kingdom is large and consistent with the challenges of the Saudi labor market.
On the other hand, Asma Al-Qurashi, who owns a shop selling mobile phones and offering their maintenance, said there is no doubt that the local telecommunications sector is undergoing a major transformation.
"The experience of Saudi women working in the field of maintenance and sale of mobile phones is a modern but fruitful experience and I benefited from training courses for a whole year," she said.
She said that she was well-qualified to work in the maintenance of mobile phones and thankful that "I now have a shop specializing in this field. I have the ambition to expand my business. I have undergone a course for trainers and have been able to run girls' courses in mobile maintenance."
Al-Sharif Mohsen Al-Srori, a member of the investment committee of the Makkah Chamber of Commerce and Industry, said the telecommunications sector is attractive for both young men and women. "The entry of women in the maintenance of mobile phones has great advantages in terms of financial income and privacy that they are looking for," he was quoted as saying in a report.
He added that it will contribute to the orientation of many girls to self-employment instead of waiting for lists of government or private employment.
Al-Jawharah Al-Qahtani exemplifies this. She was studying at the Princess Noura bint Abdulrahman University in the Saudi capital when she saw a need for a mobile repair shop tailored specifically for women.
Women in the Kingdom tend to dispose of damaged mobile phones. Instead of getting their phone sets fixed, they decide to buy a new one. They do so to maintain the confidentiality of the personal data on their phones. Seeking to fill that gap, Al-Jawharah opened a Twitter account in 2013 through which she offered phone and laptop maintenance services to her colleagues.
Seeing it was welcomed with great support, after one year, she established a store inside the campus to fix mobile phones and sell accessories.
As of 2015, her Twitter-fix and store turned into a startup called Fixtag. Operating under her entrepreneurial idea are an online store and two physical stores.
http://www.arabnews.com/node/1207101/saudi-arabia
--------
Few women opt to go for Haj unescorted
11th December 2017
NEW DELHI: For the first time ever, Indian Muslim women above 45 will be allowed to travel in groups of four or more without a male guardian following recent changes in the national Haj policy. But instead of a flood of applications, the Haj Committee of India (HCoI) has received barely a trickle.
Of the total applications for Haj 2018, the proportion of women opting to go without a male guardian (mehram) is not even one per cent. Most of these one per cent applications are from Kerala. Not even one application under the revised norms has been received from many states and Union Territories, including Lakshadweep, Assam and Bihar – regions with a relatively high proportion of Muslims.
According to Census 2011, Muslims comprise over 96 per cent of the total population of Lakshadweep. In Assam and Bihar, Muslims comprise 34.22 percent and 16.87 percent of the total population respectively.
So why is it that Muslim women mostly from Kerala have warmed up to the revised Haj policy? Better online connectivity, high literacy rates and prevalence of a 'progressive' sect of Islam may be some of the reasons.
Maqsood Ahmed Khan, CEO of the Haj Committee of India said most applications received from Kerala had been online, and that such applications are processed immediately as compared to offline applications.
"Most of these applications have been processed online. For last year's Haj too, 98 per cent applications from Kerala were received online. Most applications from states such as UP and Bihar usually are filed offline, so they show in our records only a day or two before the final date for submission of forms," he said.
Also, the literacy rate of Kerala is much higher than that of Uttar Pradesh, Bihar and West Bengal where almost half (47 per cent) of the total Indian Muslim population lives.
Haj Committee of India sources said another reason why there are more such applications from Kerala could be because most Muslims in the state belong to the Shafii sect of Islam, which is considered more progressive compared to other sects such as the Hanafi sect. There was also opposition from some Muslim groups and organisations when the new category was proposed by a special Haj committee as part of the new policy.
The Haj Committee of India has received 2,29,519 applications for Haj 2018, of which only 908 applications fall under the new category. Committee Chairman Mehboob Ali Kaiser told Express that the application process was yet to be completed and around 3,000 applications were expected under the new category.
The application process for Haj 2018 began on November 15. The last date of application was December 7. That date has now been extended to December 22.
http://www.newindianexpress.com/nation/2017/dec/11/few-women-opt-to-go-for-haj-unescorted-1723983.html
--------
Evidence suggests women safer drivers than men: expert
10 December 2017
RIYADH: Traffic Department Director General Brig. Gen Mohammed Abdullah Al-Bassami has said that women are more respectful of traffic regulations and more deserving of leadership.
Al-Bassami was speaking at the launch of the "Safe Leadership" project of the Ministry of Education, in cooperation with the Department of Public Affairs, for its teaching staff.
"Evidence suggests women are safer drivers, so we're looking forward to women showing men a thing or two on the road," Rebecca Lindland, car industry analyst, told NBC News in connection with an article that referred to the lifting of the Saudi ban for women to drive.
She also expected that new Saudi women drivers will be drawn to "smaller cars that are fit for one to four people."
The same sentiment was aired by Amanda Stretton, former British race car driver and motoring editor of the Confused.com website.
"Women driving cars will transform traffic safety to educational practice, which will reduce human and economic losses caused by accidents," Interior Minister Prince Abdul Aziz bin Saud bin Naif was quoted by local media as saying in the ministry's Twitter feed.
Maj. Gen. Bassam Al-Attiyah of the Interior Ministry earlier told Arab News that there was an accident every minute, a death every 20 minutes and four injuries per hour, and 70 percent of accidents happened outside of cities.
The project is implemented by the Agency for Girls Education and represented by the General Administration of Training and Scholarship, in coordination with the Ministry of Interior.
The first phase of the project includes a training workshop to teach women the rules and important instructions regarding traffic.
The next phase involves a training program in the Saudi capital for trainers from each region and governorate, including workshops on values and good citizenship, problem-solving and risk management skills, as well as self-esteem and empowerment.
The project includes awareness lectures for 20 percent of the educational staff in the regions and governorates, an interactive e-learning platform as well as a training package.
The project's three stages will include preparation, training and evaluation.
http://www.arabnews.com/node/1206666/saudi-arabia
--------
URL: https://www.newageislam.com/islam-women-feminism/pakistani-origin-ex-gangs-target/d/113528
New Age Islam, Islam Online, Islamic Website, African Muslim News, Arab World News, South Asia News, Indian Muslim News, World Muslim News, Women in Islam, Islamic Feminism, Arab Women, Women In Arab, Islamophobia in America, Muslim Women in West, Islam Women and Feminism