New Age Islam News Bureau
27 May 2013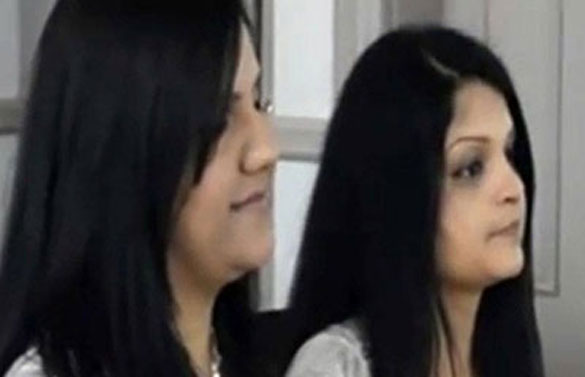 Rehana Kausar, left, and Sobia Kamar said they had met while studying. (Photo courtesy: The Independent)
-----------
• MBBS, so near yet so far for daughter of daily wager, for the lack of fees
• Iranian Women Are Second-Class Citizens
• Educated Saudi Women Willing To Do Menial Jobs
• Women in Khartoum's Informal Job Market Face Struggle For Rights
• Private school faces Dh5m lawsuit after sex attack on girl, 7, Abu Dhabi court told
• Mentally impaired Emirati Woman case: Five-year prison sentence of rapist upheld
• Abu Dhabi Cook gets 3 years for abusing two-year-old
• Death sentence for man who killed Dubai woman over Dh25,000 worth of jewellery
• UAE family's race against time to raise Dh600,000 to save cancer girl
• Lebanese Women Race towards Empowerment
• Saudi Women's Heirs Protected
• Death of Muslim lady educator mourned
Compiled by New Age Islam News Bureau
URL: https://newageislam.com/islam-women-feminism/pakistani-lesbian-couple-defy-death/d/11759
--------------
Pakistani Lesbian Couple Defy Death Threats, Become First To Get Married In UK
Kounteya Sinha, TNN | May 27, 2013
LONDON: Two former students from Pakistan — Rehana Kausar, 34, and Sobia Kamar, 29, took their vows at a registry office in Leeds earlier this month.
They have now applied for political asylum since homosexual relations are illegal in Pakistan.
Relatives of the couple said to the Independent that the women, who studied in Birmingham, had received death threats both in the UK and from opponents in their native Pakistan.
During the ceremony the couple reportedly told the registrar that they had met three years ago while studying business and health care management at Birmingham, having travelled to the country on student visas, and had been living together in South Yorkshire for about a year.
Ms Kausar, originally from Lahore, also holds a master's degree in economics from Punjab University.
"This country allows us rights and it's a very personal decision that we have taken. It's no one's business as to what we do with our personal lives," she originally told the Birmingham-based Sunday Mercury newspaper.
"The problem with Pakistan is that everyone believes he is in charge of other people lives and can best decide about the morals of others but that's not the right approach. We are in this state because of our clergy, who have hijacked our society, which was once tolerant and respected individuals' freedoms."
Homosexual sex is illegal under Pakistani law, said the Independent. There are also no laws prohibiting discrimination or harassment on the basis of sexual orientation.
In recent years in Britain, some Muslim gay and lesbian couples have opted for a nikah, an Islamic matrimonial contract, which is officially the reserve of heterosexuals.
These services, conducted in Arabic with additional duas - prayers - are not recognized in the UK unless accompanied by a civil ceremony. Homosexuality is strictly forbidden in the Islamic faith and the notion of same-sex marriage is abhorrent to many Muslims, Independent said.
A relative of one of the women told the Sunday Mercury: "The couple did not have an Islamic marriage ceremony, known as a nikah, as they could not find an imam to conduct what would have been a controversial ceremony. They have been very brave throughout as our religion does not condone homosexuality. The couple have had their lives threatened both here and in Pakistan and there is no way they could ever return there."
Ruth Hunt, deputy chief executive for Stonewall, said: "There is a very cautious step towards social visibility for some gay men in Pakistan but lesbians are completely invisible. Pakistan is not necessarily a safe place for couples to be open about their love."
http://timesofindia.indiatimes.com/world/uk/Pakistani-lesbian-couple-defy-death-threats-become-first-to-get-married-in-UK/articleshow/20284451.cms
--------------
MBBS, so near yet so far for daughter of daily wager, for the lack of fees
M. K. ANANTH
27 May 2013
Prema has a score of 198 out of 200, but no money to pay her fees
She has enough marks in the higher secondary exams to join medicine but her mother is not in a position to pay for the course.
P. Prema (18), daughter of a daily wager who lives in a tiled roof house in Erumapatty, has a cut-off score of 198 out of 200 and aspires to become a cardiologist to serve the needy.
"Heart diseases are on the rise and persons belonging to financially-backward families are not exempted. They are unable to get treatment because they don't have money and I want to serve them", she said.
She scored 1,168 marks (97.33 percent) in the Class XII board exams this year – Maths (199), Biology (199), Chemistry (198), Physics (196), Tamil (193) and English (183).
But this girl from Scheduled Caste (Arunthathiyar) community needs some assistance to pursue higher education and realising her dream of helping the needy. .
Her mother P. Jothimani (38) is a daily wager who earns about Rs. 2,000 a month.
Prema's father – a conductor in the Tamil Nadu State Transport Corporation - abandoned his family when she was a child.
Since then, she and her sister have been living with her mother's parents in a tiled house at Erumapatty.
REASON BEHIND DECISION
She was in Class XI when she went to a private hospital in Namakkal where she saw relatives of poor patients in tears and struggling to raise money by selling their belongings to save their dear ones.
"It was then I decided to become a doctor and I knew that getting high marks was the only way to become a doctor. I have heard about much about Madras Medical College and want to wear the white coat there", she said.
She studied in Barathi Higher Secondary School, a government aided school on the Thuraiyur Road near Namakkal Town, from Standard I to Plus Two.
She was determined to pursue MBBS and prepared well for the Class X board exams, though family circumstances always worried her.
"I scored 483 out of 500 (96.6 percent) in the SSLC in 2011," she said. She was among few students who got a free seat in the same school. Free hostel accommodation helped her concentrate on her studies.
Though she studied in Tamil medium from Classes I to XII, she is confident that she will be able to pursue MBBS in English medium. "A friend of mine who studied in a matriculation school till Class X taught me how to communicate in English."
HELP NEEDED
The Indian Medical Association (Namakkal) has given her Rs. 15,000 as its contribution. But she needs a lot more money to pay tuition and hostel fees.
Interested persons can contact her on her mother's mobile number 9600751696.
http://www.thehindu.com/news/national/tamil-nadu/mbbs-so-near-yet-so-far-for-daughter-of-daily-wager/article4753600.ece
----------
Iranian women are second-class citizens
May 27, 2013
Asieh Amini is one of Iran's most famous women's rights activists. For about a decade, she has been fighting her country's judicial system, which systematically discriminates against women - at high personal cost.
Today Asieh Amini can see perfectly well but she almost lost her sight a few years ago. She was at the end of her tether, both physically and psychologically. "The doctors said I was in shock," she explains. "Every day I had to face another difficult task with one of the women on death row. I was very close to them; some of them were like my children. It became too much, too terrible for me with time."
From journalist to activist
Amini was working as a journalist at a newspaper when she came across the case that would change her life in 2003. She discovered a 16-year-old girl who was in jail because of extramarital sex. She had been sentenced to death through stoning. Atefeh Sahaleh had been raped regularly since the age of 10 and been given money to keep quiet. "After some time, she saw it as her job." She was locked up for prostitution. "The judge decided she should die. I found out that the case had not been given enough attention to justify this sentence."
Amini wrote an article about Atefeh's plight but her newspaper did not dare publish it. She also made sure the 16-year-old had a lawyer and gave support to her family, but she was not able to prevent the execution. "I learned something important," she recalls. "We have this terrible law in Iran - a sexual relationship is enough to kill us."
Gradually, Amini discovered that stonings were taking place regularly but in secret because the government had succumbed to international pressure and said they would be abolished. The journalist became a human rights activist. She lost her job and went underground. In 2008, she co-founded the "Campaign against Stoning," which has saved many people from this fate.
Legal discrimination
Amini met women in jail who had defended themselves against rapists or been sentenced to death for "unchastity." Others had been abused by their husbands but could not escape. "I met women who killed their husbands because they could not divorce them. They wanted to but could not obtain a divorce. Their families did not support them."
In the male-dominated legal system, it is sometimes very difficult for women to obtain a divorce if their husband does not agree. Many judges refer to passages in the Koran that only allow husbands to divorce unilaterally, simply by pronouncing a formula three times.
Girls can be tried as adults from the age of nine, whereas for boys, the age is 15. Daughters only inherit half of what sons do. Women do not get custody of their children. They have no right to alimony if their husband divorces them. They have to get permission from their husband if they want to work or go abroad. Men, on the other hand, are allowed by law to have up to four wives.
"These are the areas that women refer to when they say the legal system in their country treats them as second-class citizens," says Katajun Amipur, Professor for Islamic Studies at Hamburg University. She says that the the systematic discrimination has fatal consequences for society. "If there is such a legal system and small children are taught as much in school, how can young people grow up thinking women are worth more?"
Repression and control
The situation has become worse during Mahmoud Ahmadinejad's presidency says exiled Iranian jounalist Mitra Shojaie. Anyone who campaigns for women's rights or democracy is in great danger. "Many activists are in jail. Others are scared. They are watched round the clock."
Asieh Amini also experienced this in 2009. "All of our daily activities were monitored. Our friends were arrested. We couldn't work anymore although we tried to. It got even worse after he was re-elected. We couldn't phone anyone, send emails or even meet people." She left her home country four months after Ahmadinejad was re-elected, going into exile in Norway.
Although she is not very hopeful about the country's politicians, she does believe the people will bring about change. "I hope that the experience of discrimination will help us and bring us closer to democracy. Democracy has to come from the people. Nobody can think and act for us - we have to do that for ourselves. The people will decide on change. That will happen after the elections."
In the meantime, the tireless activist continues to write articles, blogs and books to improve women's rights in Iran.
http://www.dw.de/iranian-women-are-second-class-citizens/a-16817367
--------------
Educated Saudi women willing to do menial jobs
May 27, 2013
AL-AHSA — Although they hold diplomas in different fields, some Saudi women who could not obtain jobs that match their qualifications found themselves in a situation that forced them to work as cleaners, Alsharq daily reported Sunday.
Most of these women hail from poor family backgrounds and had to accept such low-paying jobs to make a living.
Sheikha Ahmed is one of these poor women who went through difficult circumstances during her study. She was able to complete a diploma course in computer science even though she had to sell her gold to pay for the tuition and cut down on living costs to get by with her children.
After graduation, she discovered that the money she paid and the hard circumstances her children and she lived through in order for to finish her study did not bear fruit. She looked for jobs at government agencies and the private sector but to no avail.
"I'm a married woman and have kids. My husband works as a waiter and his salary barley gets us by. We have four kids," she told Alsharq.
Ahmed does not mind working as a cleaner. The problem was the Ministry of Civil Service could not create a job opportunity for her. She did not give up and kept searching for a job until she found one. It was a cleaner job and the monthly salary was SR700, Ahmed said.
She works for a charitable organization cleaning bathrooms, wiping floors and arranging tables and chairs, all this for a meager SR700.
Fatima Saeed holds an English diploma but works as a cleaner at a private hospital, wiping floors and cleaning toilets.
Her monthly salary is SR1,500. She says people feel pity for her when they know she holds a diploma in English language. "I come from a poor family and I need this job so badly."
Laila Saud, another diploma holder, faces a similar problem. She could not find a decent job and had to accept work as a cleaner at a public school. She is married and her husband's salary is SR2,000 and both live with their children in a rented apartment. She also takes care of her parents and provides for them.
http://www.saudigazette.com.sa/index.cfm?method=home.regcon&contentid=20130527167432
--------------
Women in Khartoum's informal job market face struggle for rights
May 26, 2013
KHARTOUM) - Gisma Abdel el-Shafe dreams of one day owning a house of her own.
But though she works six days a week, 12 hours per day, she is still no closer to fulfilling that goal.
Shafe is one of thousands of Sudanese and migrant women who work in Khartoum's informal labour market – as tea ladies, dressmakers, or as street vendors selling nuts, sweets and grilled meat.
They work by the roadside, in parklands, along the banks of the Nile and inside the city's sprawling souqs (markets).
Their hands are constantly in motion, stitching cloth, turning meat, expertly spooning sugar into slender glasses; their workplace often little more than a shaded sliver of pavement.
Full report at:
http://www.sudantribune.com/spip.php?article46641
--------------
Private school faces Dh5m lawsuit after sex attack on girl, 7, Abu Dhabi court told
Haneen Dajani
May 27, 2013
ABU DHABI // A cleaner at a private school raped a seven-year-old pupil on multiple occasions, a court heard today.
IK, 56, from India, scared the girl into keeping silent about the attacks by threatening to kill her mother, but he was arrested after the young Emirati's aunt noticed her bleeding from one particularly brutal assault and called police.
The family is seeking Dh5 million in damages from both the school and the cleaner, citing the loss of the girl's virginity, the psychological trauma she went through and the stigma she will be saddled with.
Full report at:
http://www.thenational.ae/news/uae-news/courts/private-school-faces-dh5m-lawsuit-after-sex-attack-on-girl-7-abu-dhabi-court-told
-----------
Mentally impaired Emirati Woman case: Five-year prison sentence of rapist upheld
Marie Nammour / 24 May 2013
The Court of Appeal upheld the five-year prison term given by a lower court to a bus driver, who sexually assaulted a young woman with special needs when he was taking her home in Al Warqa at a late hour.
The court also upheld the deportation order against the 26-year-old Pakistani man.
The victim, an Emirati, is severely mentally impaired and does not reason like adults as per a medical report from Rashid Hospital. The incident was reported by a Filipina woman, 39, who said in the prosecution investigation that she worked as the supervisor of the bus for a sports club.
Full report at:
http://www.khaleejtimes.com/nation/inside.asp?xfile=/data/courtroundup/2013/May/courtroundup_May61.xml&section=courtroundup
-----------
Abu Dhabi Cook gets 3 years for abusing two-year-old
27 May 2013
A 55-year-old domestic cook was sentenced to three years in jail followed by deportation for molesting his sponsor's nearly two-year-old girl in his room at the family house.
The details unfolded when the house watchman was walking by the cook's apartment. Taking a glance in to check the room, the watchman was startled to see the cook, 55, sitting on his bed, groping the undressed toddler.
Full report at:
http://www.khaleejtimes.com/nation/inside.asp?xfile=/data/crime/2013/May/crime_May87.xml&section=crime
-----------
Death sentence for man who killed Dubai woman over Dh25,000 worth of jewellery
Wafa Issa
May 27, 2013
DUBAI // A killer who slit the throat of a woman before stealing her jewellery and escaping wearing her husband's shirt has been sentenced to death.
AM, 28, an accountant, was linked to the murder by forensics experts who found traces of his blood at the scene. The woman had fought back during his attack and managed to cut his face, drawing blood.
Prosecutors told the Criminal Court that the killer waited until the woman's husband and son had left the flat in Al Raffa before knocking on the door on September 26 last year. He was wearing gloves and concealing a knife.
Full report at:
http://www.thenational.ae/news/uae-news/courts/death-sentence-for-murderer-who-brutally-killed-dubai-woman-over-dh25-000-worth-of-jewellery
-----------
UAE family's race against time to raise Dh600,000 to save cancer girl
Jennifer Bell
May 27, 2013
ABU DHABI // When Martina Thomas turned 11 on June 4 last year there was no birthday party. Instead, the little girl began chemotherapy.
She had been admitted to hospital a few days earlier with a high temperature and pain in her limbs.
Dolly Mathew expected her eldest daughter to be suffering from a fever or an infection. Her world shattered when initial tests showed Martina's symptoms were far more serious.
Martina, who was born in India, was found to have an abnormally high white blood-cell count and was transferred to Sheikh Khalifa Medical City in Abu Dhabi for further examination. Full report at:
http://www.thenational.ae/news/uae-news/health/uae-familys-race-against-time-to-raise-dh600-000-to-save-cancer-girl
-----------
Lebanese women race towards empowerment
26 May 2013
Thousands of woman raced on the streets of Beirut on Sunday in a competition entitled ''You are really strong'', just a few hours after two rockets hit a Beirut suburb - a reminder of the volatile political situation in the country.
But the women put politics aside and many of them ran the 10 kilometer stretch on Beirut's waterfront to raise awareness for a number of causes that matter to Lebanese women from healthcare issues to demands for new legislation to give women more rights.
The race was organized by the Beirut Marathon Organization which holds the annual marathon in Beirut as well as other community-based challenges and races across the country for a number of charitable causes.
Full report at:
http://english.alarabiya.net/en/life-style/healthy-living/2013/05/26/Lebanese-women-race-towards-empowerment.html
--------------
Saudi Women's Heirs Protected
27 May 2013
The heirs of Saudi women married to foreigners are entitled to the same benefits as all other subscribers under the current rules of the General Organization for Social Insurance (GOSI).
Abd Al-Aziz Al-Habdan, deputy governor of the GOSI, said the regulations do not discriminate against the heirs of a woman Saudi subscriber who was married to a non-Saudi, according to the Saudi Press Agency.
Full report at:
http://www.arabnews.com/news/453071
--------------
Death Of Muslim Lady Educator Mourned
By Ali G. Macabalang
May 27, 2013
COTABATO CITY – Thousands of people from various walks of life are mourning the death of a Muslim lady educator, Dr. Hadja Sittie Nurlayla Emily M. Marohombsar, regarded as an "icon" of peace building, good governance and quality education for the Bangsamoro.
The Moro Islamic Liberation Front leadership led the mourners, posting in its official website –luwaran.com – a message of condolence and a tribute to Marohombsar, the first woman state peace panelist it had dealt with during the stormy days of the MILF-government peace talks.
"I know her very well (as) a very amiable personality and so easy to deal with… We would miss another good person and may Allah bless her soul," MILF chief peace panelist Mohagher Iqbal said in the online message.
Full report at:
http://www.mb.com.ph/article.php?aid=14019&sid=1&subid=2
--------------
URL: https://newageislam.com/islam-women-feminism/pakistani-lesbian-couple-defy-death/d/11759