New Age Islam News Bureau
14 Nov 2014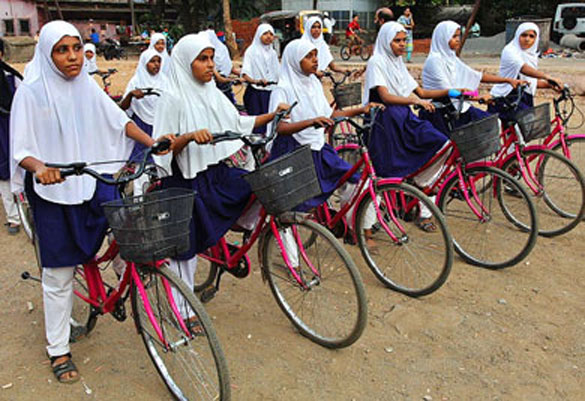 TMC Urdu school girls practise cycling in Mumbra (Praful Gangurde/HT photo)
-----------
• Bangladesh Sleuths Concerned Over Rise in Number of Female Militants
• Muslim Girls of Maharashtra, India, Teach Other Girls to Cycle, Reclaim Public Spaces
• UK woman jailed for sending cash to jihadist husband in Syria
• Malawi Muslim Women Fight Gender Abuse
• New Play about Muslim Female Boxers Proves Knockout Hit in Manchester
• Saudi Women's Bank Deposits Cross SR375b
• STC Launches First Women-Staffed Saudi Call Center for Female Customers
• Young Girls Are Lined Up To Undergo a Tribal Circumcision Ceremony in Kenyan Village
• Struggle For Education: Malala To Build School, College In Shangla
• More Girls in Pakistan Are Going To School Now Than 10 Years Ago
• Meet Pakistan Woman War Pilot Ayesha Farooq
• Egypt Launches First Feminist Comic-Strip
• 'Womenomics' Is Starting To Transform the Muslim World
Compiled by New Age Islam News Bureau
URL: https://newageislam.com/islam-women-feminism/pakistani-hindus-claim-girls-were/d/100011
-----------
Pakistani Hindus Claim Girls Were Abducted and Forcibly Converted To Islam
By REEMA ABBASI
November 14, 2014
Whether 12-year-old Anjali became Salma of her own free will remain wrapped in mystery.
This week, the Hindu community, activists and the media have held noisy protests, including a strike in Sukkur, over the forced conversion of three Hindu girls from the Meghwar, Bheel and Kohli clans in Sindh.
One, 12-year-old Anjali, who is in the spotlight because of her age, was sent to a shelter home for 10 days by a judge.
She is said to have been taken to a remote Dargah of Bharchoondi Shareef in Interior Sindh, where she allegedly converted to Islam to marry a Muslim man.
Her family says she was abducted; activists suspect the shrine's keepers were party to her Nikah, and the Dargahs keepers say they don't subscribe to force.
Meanwhile, the incensed Mukhia (leader) of the Meghwars is clear that as Anjali is a child of 12, she cannot marry or convert to any other religion by choice.
"Therefore, the police must ensure the girl is returned to her parents," says Jaswant Meghwar.
On the other end, rightist voices emphasise that Islam forbids force, be it conversion or marriage.
In Anjali's context, force comes in many forms – promises of prosperity and defined political claims from landlords or traders, and also through threats, kidnapping and violence.
Either way, the caste system and absence of definitive edicts for religious communities in Pakistan makes easy prey of minority girls.
However, fortune does favour Anjali in other ways – her case is simpler to settle given that under-age marriages are criminalised in the province.
And, with Sindh being the seat of a supposed secular party, PPP, this should come easy.
But the fact that a law for minors has to be evoked to defend the right to a faith is worrisome.
http://www.dailymail.co.uk/indiahome/indianews/article-2833664/Pakistani-Hindus-claim-girls-abducted-forcibly-converted-Islam.html#ixzz3J5gjSahw
-----------
Bangladesh Sleuths Concerned Over Rise in Number of Female Militants
14 November 2014
The trend towards using female operatives in the Islamist militant outfit in the country is alarmingly growing.
The militant outfits are using their female members as a distraction technique to pull the wool over the eyes of law enforcers.
Such tendency is largely adopted by the banned organisation Jamaat-ul-Mujahideen Bangladesh (JMB). This phenomenon also abounds in West Bengal of India.
The technique is known amongst the militant outfits as couple module. The JMB planned to set up their den in West Bengal by using this technique.
In such module the members of a militant organisation make a pair with one female and one male identifying themselves as husband and wife, said a high official of the Detective Branch of Police yesterday.
Arrested JMB member Sujana in Bardhaman blast case is one of the members of such couple module. His husband is none other than Dr Shanur Alam, the most wanted militant activist on the list of the National Investigation Agency (NIA) of India, said the official.
Brig General M Shakhawat Hossain, a security analyst, said this is not something new in Islamist militant organisations. At least 30-40% such activists could be found in the Liberation Tigers of Tamil Eelam (LTTE), a now defunct organisation based in northern Sri Lanka.
The LTTE launched a secessionist nationalist campaign to create an independent state in the north and east of Sri Lanka for Tamil people.
"Recently, we have found the trend growing in Bangladesh. Here in our country female operatives are mainly motivated and indoctrinated by their husbands or brothers involved in militancy."
The trend first came to the notice of law enforcers after the series bomb blast across the country on August 17, 2005.
Rapid Action Battalion (RAB) personnel arrested then JMB ameer Abdur Rahman, Siddkul Islam Bangla Bhi and other militants with their wives.
Since then hundreds of women have been arrested by RAB and police who are either wives or sisters or daughters of leaders of militant outfits. Some female members even hold major posts in the organisation, says officials in the RAB and police.
Female operatives are chosen as they are more trustworthy than male ones. The latest report of Indian media says investigators are facing difficulties in extracting information from Bardhaman blast arrestee Sujana Begum.
But it was much easier in case of her male colleague and prime suspect Shaikh Rahmatullah, Indian investigators said.
Investigators found Shakil and Hasem living with their wives Rajia and Amina in the house where the blast took place in West Bengal on October 2.
Another militant Nasirullah set up a den in Beldanga area of Murshidabad with his two wives –Fatem and Manzila.
The NIA investigating the West Bengal blast also found involvement of another 13 couples, according to reports of Indian media.
In 2009, the RAB arrested Boma Mizan and his wife Lota from Shewrapara area of Dhaka with huge explosives. The RAB men had to make the arrest after almost four hours as Boma Mizan's wife continued to hurl bombs from inside the house.
Monirul Islam, joint commissioner of the DB police, told the Dhaka Tribune, female operatives are mainly found in the JMB and Huji-B in Bangladesh.
These organisations use women to carry arms and bombs as it is easy for them to dodge law enforcers, says the DB chief.
Meanwhile, the five JMB members including Chief Coordinator Abdun Nur arrested by RAB officials from Shirajganj on October 31 were sent to jail yesterday.
Hayder Ali, sub-inspector of Shirajganj Government Railway Police Station, said the arrestees told them that they were planning to resort to destructive activities in bordering areas in Sirajganj as such places have lax security.
http://www.dhakatribune.com/bangladesh/2014/nov/14/sleuths-concerned-over-rise-number-female-militants#sthash.OdLwe2Tj.dpuf
----------
Muslim Girls of Maharashtra, India, Teach Other Girls to Cycle, Reclaim Public Spaces
14 November 2014
For more than a year after they were distributed by Thane Municipal Corporation (TMC) to the girls of the Muslim-dominated suburb of Mumbra, most of the pink bicycles were gathering dust. A well-intentioned initiative had remained just a token measure in the conservative Mumbra area, where young girls are seldom seen venturing out on bicycles, an act that could earn them parental wrath or societal frown.
As a result, some were used by brothers or fathers, while some were even sold off or rented out. "Ever since the distribution of these cycles we started seeing men and young boys riding pink cycles," laughs Sabah Khan of Parcham, the not-for-profit group that the girls came together to form.
This, till the motley group of girls marched into the TMC office, stating their intention: permission to teach the girls how to ride bicycles. A few weeks, innumerable lessons and an equal number of falls and stumbles later, the girls are all set to do the unthinkable: on Friday, nearly 120 girls will take out a cycle rally on the streets of Mumbra. The rally will be flagged off by TMC chief Aseem Gupta and local legislator and former minister Jitendra Awhad.
After the TMC approved the effort, the girls approached principals of two civic-run schools in Mumbra, who in turn convened a meeting of parents of all girls. "That's when a lot of parents criticised us for the effort and asked us why they should take the effort of sending their girls in cycles," said Muskaan.
A diktat from the principals meant that most parents agreed and as a result, the four girls found themselves training more than 200 girls to ride bicycles. Training all these girls wasn't easy, especially due to societal concerns. "While we would practise, guys on motorbikes would try and intimidate us. Hence, the girls waiting for their turn started forming a human chain around those taking lessons," said Khan.
The girls also spent nearly Rs. 5,000 in fixing the cycles, many of whom were lying defunct.
Come Friday, most of these girls will, for the first time, ride cycles on the streets. "The idea is that women must reclaim public spaces. This will ensure that women realise they have an equal share in public spaces," said Khan.
The young girls have also taught an important lesson to policy makers in ensuring that policies don't remain on paper and are adjusted to local conditions.
http://www.hindustantimes.com/india-news/mumbai/in-mumbra-a-first-teenage-girls-teach-other-girls-to-cycle-reclaim-thane-s-public-spaces/article1-1285835.aspx
-----------
UK woman jailed for sending cash to jihadist husband in Syria
14 November 2014
A British woman who tried to send 20,000 euros ($25,000) to her husband fighting with Islamic State (IS) group in Syria was on Thursday jailed for 28 months and seven days.
Amal El-Wahabi, 28, became the first person in Britain to be convicted of funding the jihadists following a trial in August, which heard how she persuaded a friend to smuggle the cash in her underwear.
The friend, Nawal Msaad, was found not guilty. She had been stopped in January at London's Heathrow Airport, where she was trying to board a flight to Istanbul, with the bank notes concealed in a condom.
entencing El-Wahabi at England's Old Bailey central criminal court in London, judge Nicholas Hilliard said her drug dealer husband Aine Davis had clearly gone to Syria to fight with IS.
"I am also satisfied that you knew he was engaged in violence with guns for extremist religious and ideological reasons and knew the money you were sending was destined for that purpose," he said.
He said Davis had posted a profile picture on his WhatsApp social media account showing him brandishing an automatic weapon, and also sent El-Wahabi other similar photos.
The judge accepted that the jihadist had the idea to transfer the cash and El-Wahabi had agreed because she was "infatuated" with her husband, with whom she has two children under five.
But he rejected calls to give her a suspended sentence.
"You even contemplated taking your children to Turkey to be nearer their father, when it should have been obvious to you it was in their interests they should be as far away from him as possible," the judge said.
"He had no true regard for you. Any interest he had in you was only engaged when there was some advantage to him."
http://english.alarabiya.net/en/News/world/2014/11/14/UK-woman-jailed-for-sending-cash-to-jihadist-husband-in-Syria-.html
----------
Malawi Muslim Women Fight Gender Abuse
14 November 2014
LILONGWE – Malawi Muslim women are mobilizing themselves to advocate for the enforcement of harsher penalties against perpetrators of Gender Based Violence (GBV), seeing them as the only means to minimize escalating rates of the social problem.
"Despite the existence of laws which criminalize gender based violence in the country, there are rising incidences of GBV. Women and children are dying silently in this country due to violence," Fatima Ndaila, National Chairperson of the Muslim Women Organization, told OnIslam.net.
"This situation has compelled us to take an action. We are trying to lobby the judiciary and lawmakers to enforce stiffer penalties for perpetrators of violence against women. We believe this is the only way we can guarantee safety of women in the country. The present situation is quite worrying."
Concerned about the situation in Malawi, Ndaila said they plan to contact lawmakers to enforce new laws against gender-based abuse.
"What we are doing is sharing our concerns with people who make laws and those who enforce them. We are appealing to all Malawians of goodwill to join us in this cause," she said.
"This is not about Muslims and Islam. It's about the life of women which is at stake.
"We should all join hands and eliminate GBV in our midst. Malawians of diverse religious views should stand side by side to make Malawi a safe haven for both women and children," said Ndaila.
She warned that some people aren't afraid to perpetrate violence against women and children because the courts in the country were lenient when passing out penalties.
"Most of these penalties aren't enough to provide stern lessons to offenders; as a result, they continue subjecting women and children to untold suffering," she said.
"It is for this reason that we have been compelled to take an action to address this situation."
Noble Cause
The government of Malawi has welcomed the initiative describing it as a "noble cause."
"As government, we are very much concerned wth rising incidences of GBV in the country. The figures are quite alarming. Much as we can't interfere in the operation of the judiciary, we commend this initiative," Patricia Kaliati, Minsiter of Gender, Community Services and Social Welfare told OnIslam.net.
"This is a noble cause, which as a nation, ought to support. We need to rise above religion and save lives of women and children regardless of where they fo for worship.
"As a mother and a woman, I'm very much disturbed at a rate, we are losing women and children in this country due to violence. Women and children aren't safe right in their homes and in the society. Some men have made the life of women unbearable. This initiative therefore is a path towards addressing this trend," said Kaliati.
"My ministry, will support all measures, some sectors of the society are implementing towards protecting the lives of women and children in this country. We share the pain of those who are being victimized. We stand with them in solidarity."
Concurring with Ndaila, Seodi White, former Country Director for Women and Law in Southern Africa (WILSA) Malawi Chapter, noted that weak areas of the law were exacerbating GBV in the country.
"At WILSA, we have all along been advocating for enactment of stiffer penalties towards perpetrators of GBV. What we have discovered is that some men were taking advantage of weaker areas of the law to unleash terror on women," White, a renowned lawyer and gender activist, told OnIslam.net.
"There is an escalation of violence against women and children in Malawi because our laws are very soft. This has created a fertile ground for violence to flourish."
White added: "As a nation, we should therefore, join this cause to advocate for stern penalties for the perpetrators, otherwise, women will live persistently in fear. Some of the penalties the courts were giving out to offenders were a mockery to the dignity of women."
About 2 years ago, the Malawi government enacted laws criminalizing GBV. However, despite the existence of such laws, the social problem is still on the rise in the country.
Muslim Support
Sheikh Muhammad Idrissa, National Chairperson of Muslim Association of Malawi (MAM) applauded the initiative.
"As a religious organization, we are very disturbed with how women are being subjected to pain and torture. The rate at which women are suffering in this country is quite alarming," Sheikh Muhamad told OnIslam.net.
"GBV has lowered women's dignity and reduced them to second class citizens. We therefore applaud this cause and we pledge our continued support towards its success, so that safety of women irrespective of their religious inclinations is safeguarded. WE can't sit idle while women are abused within their homes outside. As religious people, we need to take a step to reverse this trend."
Muslim Forum for Democracy and Development (MUSFORD), which has been advocating peaceful co-existence between men and women as potential partners in socio-economic development of the country, has thrown its weight behind the initiative.
"We support this development to the letter. We are quite aware of the devastating effects that gender based violence has caused to the women folk in the country. We believe that only punitive measures will deter offenders," Alhaj Jafalie Kawinga, President of MUSFORD, told OnIslam.net.
Alhaj Kawinga added: "AS MUSFORD, we are advocating for zero tolerance on gender based violence. We are advocating for a society where both men and women will co-exist without any group being subjected to any form of pain. This cause is in line with what our organization is doing."
"Malawi is one of the few countries in Africa where GBV is on the increase. Unless, we have in place measures which punish perpetrators, women will still find life very painful."
Malawi is officially a secular nation. Islam is the second largest religion in the country after Christianity. Muslims account for 36% of the country's 16 million population.
About 65% of the country's population is women.
"We ask everyone to rise up to the challenge of GBV. We shouldn't rest until this war is won. We are not going to rest until women in this country are free from any form of oppression," said Ndaila.
http://onislam.net/english/news/africa/479741-malawi-muslim-women-fight-gender-abuse.html
-----------
New Play about Muslim Female Boxers Proves Knockout Hit in Manchester
14 November 2014
In the second of a series of articles highlighting the work of Contact, we take a look at the development of new shows at the Manchester theatre
Every year, Contact develops new performances with some of the most important theatre-makers in the country.
These shows tell untold stories, celebrate under-represented groups or give young people a public platform to explore ideas about issues that affect us all.
Recently that has included Salford's Quarantine creating new work performed by 40 local residents of all ages, and artist Bryony Kimmings creating a new, non-sexualised pop star with her niece Taylor.
Last week, a new show Contact has supported from inception came to Manchester for a sell-out run.
No Guts, No Heart, No Glory shares the experiences and challenges experienced by young female Muslim boxers. It shows young people doing something the world doesn't expect; something empowering, exciting and scary.
Common Wealth, the company behind the show, make theatre that tells real stories, often performed by the people concerned, who are usually not trained actors - 'real people' if you like.
They make surprising and moving shows that attract those least likely to attend arts events, as well as regular theatre-goers.
No Guts lets young, Muslim women aged 16 to 22 tell a story that challenges assumptions about the life choices available to them.
It's clear this doesn't mean compromising on quality, as the show's awards and four star reviews in the national press show.
In a nutshell, as with many Contact shows, it challenges what makes excellent theatre, whose stories it can tell and who gets to perform it.
As Joyce McMillan, the journalist who presented the show with a prestigious Fringe First award in Edinburgh put it in her introduction to a book about the show, published last week, No Guts 'gives a platform to vivid, important young voices that urgently need to be heard... its overwhelmingly positive message - about young British Muslim women determined to empower themselves - forms an interesting counterpoint to the torrent of negative language and imagery.'
That's down to the young cast (Seherish Mahmood, Freyaa Ali, Mariam Rashid, Nayab Din and Saira Tabassum), writer Aisha Zia, and perhaps especially to national boxing champion, Ambreen Sadiq, who played a vital role connecting the company to stories of how boxing is empowering women nationwide.
Undeniably part of the show's appeal is the setting. It's about boxing, and is presented in a working boxing gym.
In Manchester, that was Moss Side Fire Station Boxing Gym and the impact of this was clear.
As one audience member commented: "I used to be a boxer and I have never been to the theatre before. I really enjoyed it and it will encourage me to come to the theatre again."
he firefighters whose gym Contact took over were also knocked out by the show.
Gym owner and firefighter Nigel Travis said: "It's thought-provoking and makes you want to push your own boundaries. There are thousands of stories out there that are not told, ever, and that's why it's so important."
As cast member Seherish Mahmood, 17, puts it: "Scattered throughout the play are important messages - be brave, be smart, be yourself, be a woman, be curious, never apologise and push away the stereotypes. Put on your warpaint and fight like a girl."
The show's Manchester run has received considerable acclaim, with runs being planned for London, Cardiff and Birmingham.
Contact shows in development include a commission with London's Southbank Centre by poet Inua Ellams and Manchester director Benji Reid, working with basketball players.
http://www.manchestereveningnews.co.uk/whats-on/new-play-muslim-female-boxers-8097176
-----------
Saudi women's bank deposits cross SR375b
November 14, 2014
RIYADH — Disposable cash belonging to Saudi women in commercial banks has exceeded the SR375 billion mark, according to official statistics by the Ministry of Commerce and Industry published on Wednesday.
Though their deposits are high, women only account for 7.3 percent of commercial registrations issued by the ministry, reported local daily Al-Madinah.
Meanwhile, the Council of Saudi Chambers' female division will organize a number of workshops this month in Riyadh, Dammam and Jeddah to promote women's participation in economic and trade activities.
The workshops will carry the theme of ways and means of further promoting investments by women in the Kingdom.
The recommendations of the workshops will be forwarded to the second National Conference of Saudi Women in Riyadh in March.
A number of businessmen, businesswomen and lawyers will be talking in the workshops on various topics of concern, including how to providing women in business with support to boost their ventures. The workshops will also discuss hurdles facing Saudi businesswomen with a view to finding solutions to them.
According to the statistics, about 5.1 percent of manpower in the labor market are women, who account for about 49.6 percent of the total population.
Women represent 2.9 percent of the Kingdom's workforce and their investments account for only 6 percent of total investments in the country.
http://www.saudigazette.com.sa/index.cfm?method=home.regcon&contentid=20141113224310
-----------
STC launches first women-staffed Saudi call center for female customers
November 14, 2014
IN order to support and empower Saudi women to work in the customer service field, Saudi Telecom Company (STC) has launched the first female call center to serve female customers.
The center has been made possible by cooperation with Contact Center Company, a subsidiary of the STC Group.
Women are one of STC?s most important customer groups, and the company seeks to meet their needs in a way that aligns with the religion and traditions of the Kingdom.
Amer Al-Shehri, Assistant Vice President For Public Relations and Marketing at Contact Center Company, expressed his pleasure in the project and the advanced levels of responsibilities undertaken by women employed by the new center.
He emphasized that the company continues to seek female talents to work in the customer service field.
Maram Alhotan, the manager of the new center, indicated that the center serves female STC mobile customers from 8:00 a.m to 8:00 p.m. daily. She asserted that the training department has fully prepared the new employees with the skills they need to meet the needs of customers and will continue to oversee the center to ensure that the highest levels of customer service are continuously provided.
Badriya Al-Enizi, an employee at the center, expressed her delight on her new position. She felt that the center has provided a very positive and motivational work environment for her to provide optimal service to STC customers.
With over 3,000 employees in branches across 6 Saudi cities, the Contact Center Company is one of the largest customer service companies in the Kingdom and the Middle East region.
http://www.saudigazette.com.sa/index.cfm?method=home.regcon&contentid=20141114224372
-----------
Young Girls Are Lined Up To Undergo a Tribal Circumcision Ceremony in Kenyan Village
November 14, 2014
But in many African tribes, traditions are more important than laws and circumcision is considered a rite of passage that marks their transition into womanhood so they can marry.
Reuters photographer Siegfried Modola captured this ceremony in rural Kenya for four teenage girls of the Pokot tribe, in Baringo County.
Draped in animal skin and covered in white paint, the girls squat over large stones in the remote village after being circumcised - a life-threatening custom banned in the country three years ago.
More than a quarter of Kenyan women have undergone the ordeal, despite government efforts to end the practice in the East African country.
'It's a tradition that has been happening forever,' the father of one of the girls, who asked not to be named fearing reprisal from the authorities, told Reuters from the isolated Pokot settlement some 80km from the town of Marigat.
'The girls are circumcised to get married. It's a girl's transition into womanhood,' he said.
Wrapped in bright coloured shawls, the girls spent the night huddled around a fire in a thatched-roof house as local women gathered to sing and dance in support.
One woman fell into a trance after sipping a local wine.
Circumcision is heavily practiced among the Pokot community, and one of the girls' mothers believes it is a sign of strength.
'The pain will make her strong. She can show the rest of the community that she can endure it,' the woman said after having her daughter circumcised by a Pokot elder donning a beaded neck collar and large brass earrings.
'I'm proud of my daughter for doing this,' she said.
At its most extreme, circumcision, also known as female genital mutilation, involves cutting off the clitoris and external genitalia, then stitching the vagina to reduce a woman's sexual desire.
Anything from razor blades to broken glass and scissors is used.
The U.N.'s Children's Fund, UNICEF, says more than 125 million women have been cut in the 29 countries in Africa and the Middle East where genital mutilation is carried out.
Kenyan law provides for life imprisonment when a girl dies from the procedure, which in addition to excruciating pain can cause haemorrhage, shock and complications in childbirth.
It set up a prosecution unit in March and is currently investigating 50 cases.
Officials are optimistic they can force a change in attitude but still worry that the practice is too ingrained for legal threats to have an impact.
'We face a myriad of challenges,' said Christine Nanjala, who heads the prosecuting unit. 'You will find the practice is something highly valued. You will keep quiet and you will not report it - if you do, you face reprisal.'
Still, Nanjala was optimistic that genital cutting would be eventually wiped out. 'Not tomorrow but it will end, she said. 'At the end of the day, without hope, you have nothing.'
http://www.dailymail.co.uk/news/article-2832793/Tearful-frightened-young-girls-lined-villagers-undergo-tribal-circumcision-ceremony-Kenya.html#ixzz3J5h8D5GX
-----------
Struggle for education: Malala to build school, college in Shangla
November 14, 2014
SHANGLA: Nobel Prize winner Malala Yousafzai announced on Thursday to build a school and a college in the Shangla district of Khyber-Pakhtunkhwa.
"Hundreds of children are without education in my hometown. Soon I will construct a standard college and school for them," Malala said in a telephonic speech to students at her ancestral village, Shahpur, in Shangla on Thursday.
Malala was born in 1997 in the Shangla district where she spent her childhood till her parents migrated to the adjacent district of Swat.
The students of Government High School Shahpur had arranged the event to pay tribute to their hometown girl.
Malala, talking to the students via telephone, said she still remembers and misses Shangla. She said that it was her childhood wish that all the children in her village get education and no one should be left out. "I am sorry that in my hometown there are so many without education. Not that they don't want education, but because they don't have schools," Malala said and explained that she has dedicated all her funds for the education and she has started this step from Shangla by taking academic tests of 25 children and that she will afford all the education expenses of those children.
She said that all other basic facilities will be provided to children in Khpal Koor Model School.
Malala's uncle, Syed Ramaz, who was present at the event, shared with the students the struggle of his niece for education.
http://tribune.com.pk/story/790988/struggle-for-education-malala-to-build-school-college-in-shangla/
-----------
More Girls in Pakistan Are Going To School Now Than 10 Years Ago
November 14, 2014
LAHORE: The Plan International Pakistan released a report on Thursday showing a slight improvement in the state of girls' education in the country.
According to the report, titled Because I am a Girl, more girls are now going to primary schools. In 2000, it says, there were only 92 girls in schools for every 100 boys. By 2011, this had increased to 97 girls for every 100 boys.
The report was launched at a seminar hosted by Plan International Pakistan and the National Rural Support Programme.
It focuses on bringing a sustainable change for adolescent girls. The new edition is the eighth in the series. The report examines attitudes within families towards girls and their education, their leadership and empowerment.
It points to discrimination being faced by women across the world. It says over a third of women in the world experience gender-based violence from an intimate partner. One in three girls in the developing world is married by her 18th birthday, according to the report.
The Plan International had launched a petition a couple of years ago to urge the United Nations to place girls' education on its post-2015 development agenda to replace the Millennium Development Goals.
Addressing the seminar, Plan International Pakistan Acting Country Director Imran Shami said efforts should be made to end discrimination and violence against girls. The government should increase the annual budget to educate them, he said.
"If given a chance, girls can excel in every walk of life. How can we ignore 50 per cent of our population?" Shami said. He stressed the need for empowering girls by providing them an environment conducive for their growth.
He said girls' education had become a global priority.
Shami told the participants that the Plan International's Because I am a Girl campaign aimed at providing education and skills to four million girls.
The campaign advocates at least nine years of quality education for girls across the world.
Education Minister Rana Mashhood Ahmad Khan said the government gave importance to children education. He praised the Plan International and the National Rural Support Programme for establishing more than 100 Early Child Education centres in three-flood affected districts of Muzaffargarh, Layyah and Rajanpur.
Khan said the government had passed a law for free and compulsory education.
He claimed that the Punjab was ahead of other provinces in terms of providing education to children. He said several challenges in the education sector had been addressed after the government had announced an 'education emergency' in the province.
Population Welfare Minister Zakia Shahnawaz said meaningful participation of women and girls towards progress and development of nations was vital. She stressed the need for educating girls.
Directorate of Staff Development Programme Director Ehsan Bhutta said there was a need to upscale the early child education model in Pakistan. He said all departments and education agencies should assist the government in this regard.
http://tribune.com.pk/story/790854/right-direction-more-girls-are-going-to-school-now-than-10-years-ago/
-----------
Meet Pakistan Woman War Pilot Ayesha Farooq
November 14, 2014
KARACHI: Becoming the first and only female war pilot in the Pakistan Air Force (PAF) can't possibly come easy, but Ayesha Farooq makes it seem otherwise.
Being a woman and engaging in war, undergoing rigorous training, dealing with 'brutal seniors', and living in a country – or world – where females are commonly known as the second sex, Farooq has indeed defied the glass ceiling.
The slim framed and soft spoken war pilot said she was inspired by her mother, a housewife and a widow, who for Farooq, is "the ultimate symbol of strength."
"My mother raised me to be strong, to a point that if one day, I was left alone, I would be able to take care of myself," she said while addressing a crowd at the Aga Khan University (AKU) in Karachi, adding that her achievement comes as a consequence of her mother's support.
She also spoke fondly of a pilot who taught and inspired her, saying, "He taught me to touch the skies."
Of her life and experience in PAF, Farooq spoke about fun-filled experiences with her juniors and seniors, rigorous training and emotional goodbyes.
"Life at PAF wasn't just about hardcore training and brutal seniors; it included fun memories with friends," Farooq said.
In response to a question about the physical training one undergoes at the flight school, Farooq briefly explained: "You have to wake up for a one-mile run every morning at about 4:30am – so you'd run first, and then you'd wake up."
She added that they had to carry an MG3, a machine gun, which weighs about four kg- for two hours. "You wouldn't think 4kg is heavy," she said. "But carry something of that weight for two hours, and you will realise it is."
After that, Farooq said the students would have to undergo the theory part of the course, and then take part in compulsory games, Farooq chose swimming and horse riding, then it was prep time followed by "lights off."
Offering advice to young women, the war pilot said that instead of looking up to role models become one yourself.
She encouraged women and girls to come out of their houses, telling them that men and women could, in fact, compete on the same level.
Regarding facing gender discrimination, Farooq said, "I didn't face that at all, but of course I had to work harder to prove myself. Being inducted as a female fighter pilot was a great experience, but all eyes were on you at that point."
For a woman who came across as soft-spoken and who is qualified to engage in combat, Farooq also displays her sense of humour.
When asked whether she would rather have been a transport pilot as opposed to a fighter pilot, she responded with a laugh, "definitely a fighter pilot."
"I visited the cockpit of an airline once, and when I walked in they were sitting and eating donuts," she said, to raucous laughter from the audience. "I asked them what they were doing eating donuts, and they casually replied "oh it's, on autopilot."
http://tribune.com.pk/story/790817/excuse-me-while-i-touch-the-sky-meet-war-pilot-ayesha-farooq/
-----------
Egypt launches first feminist comic-strip
14 November 2014
Egypt launched its first feminist comic-strip magazine, aiming to break the silence about taboo topics in society, the London-based al -Sharq al-Awsat reported Friday.
The publication, produced by the organization Nazra for Feminist Studies, will be called al-Shakmagiya magazine and will focus on gender-based violence and women's rights.
"Al-Shakmagiya is different from all other comics in Egypt because it pertains to women's affairs and the daily events here," Makhlouf, a cartoonist said.
"One of my caricatures was published in the first issue; it was a compilation of pictorial stories and caricatures," he added.
The first issue of the magazine, which is due to be issued quarterly, will focus on sexual harassment and violence against women.
http://english.alarabiya.net/en/media/print/2014/11/14/Egypt-launches-first-feminist-comic-strip-magazine.html
-----------
'Womenomics' Is Starting To Transform the Muslim World
14 November 2014
The first convert to Islam was a businesswoman. She was a wealthy trader who inherited her father's business and later expanded it into an even more impressive enterprise. At one point, she offered a job to a man. He accepted and conducted a trading mission from Mecca to Syria under the tutelage of his female boss.
Her name was Khadija. He was the Prophet Muhammad, and the two later married. Khadija's personal loyalty to the Prophet and her financial independence were essential pillars of support in the early days spreading the message of Islam.
High quality global journalism requires investment. Please share this article with others using the link below, do not cut & paste the article. See our Ts&Cs and Copyright Policy for more detail.
These facts highlight the unusual economic independence of the woman Muhammad married – and his approval of her sovereign existence. This history is often missing from the narrative within and about Islam – one of many reasons why women have not been a significant economic force in the Muslim world. But this is rapidly changing.
Today's Muslim world is comprised of 1.6bn people. That is nearly a quarter of the global population, and they contribute about 16 per cent of global gross domestic product, growing at 6 per cent annually. It includes rich petro-states at the cusp of dramatic change such as Saudi Arabia, UAE and Qatar, as well as members of what Goldman Sachs calls the "Next 11": Pakistan, Bangladesh, Egypt, Turkey, Indonesia and Iran.
Half of these people – 800m – are women. There is an untold, unfolding story hidden in their classrooms, in their careers, and in their purses. In just a generation or two, a widespread education movement has elevated the prospects of millions of women in these countries, from Tehran to Tunis.
Most governments in the region, especially those that possess oil wealth, have made massive investments in education over recent decades – rapidly closing primary and secondary education gender gaps from abysmally large starting points only 40 years ago.
The shift has also come in higher education. In Qatar, Bahrain, Kuwait, Algeria, Oman, Jordan, Lebanon and Saudi Arabia, university enrolment rates for women exceed those for men.
These accelerations are massive, underreported and current. In Egypt, 10 years ago there were three women for every four men in university. Today those numbers are nearly equal. In resource-rich countries the figures are dramatic. In the UAE, women enrol in university at three times the rate of men. In Saudi Arabia, the university enrolment rates for women are higher than those in China, Mexico or Brazil.
What does all this mean? As female education becomes rooted and normalised, the next wave of change has come: women are now going to work. The past 10 years have triggered an exponential change that will one day be the stuff of history books. Nearly 40m more Muslim women are in the labour force than just a decade ago.
Millions of ordinary women and men have made conscious, and often deeply personal and brave decisions to break tradition, sometimes shunning cultural pressures. These myriad individual decisions will add up to a new segment of the labour market – and an unprecedented consumer power.
A movement has started where economics trumps culture. Changes that took half a century in the US are being compressed into a decade in today's Muslim world, where they are set to continue at a significantly faster pace. Imagine if the US, in just a few years, had transformed from the 1950s era of The Feminine Mystique to Lean In in the 2010s. That is the magnitude of the change sweeping the Muslim world.
This is an extract from the entry that won the FT/McKinsey Bracken Bower Prize for a business book proposal. The author is a World Economic Forum senior director
http://www.ft.com/cms/s/2/1caaf96a-68b8-11e4-9eeb-00144feabdc0.html#axzz3J5ktTkKU
-----------
URL: https://newageislam.com/islam-women-feminism/pakistani-hindus-claim-girls-were/d/100011