New Age Islam News Bureau
13 Sept 2017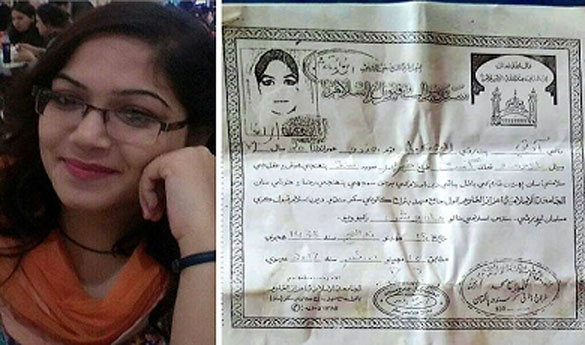 Photo: Pakistani Hindu girl, Arti Kumari, is said to have been abducted at gunpoint. Source: Naila Inayat/Twitter
---------
• Forced conversions of Christian girls in Pakistan make a mockery of its constitution
• The hijab in Indonesia: From oppression to high fashion
• Iran: Women's Groups Slam Violence Against Rohingya Muslims
• Woman beaten by cop arrested
• New proposal calls for granting licences to men and women alike
• Woman drowns in failed attempt to save son
• Singapore's First Female President Will Be A Hijab-Wearing Muslim Woman
• Girls outshine boys in HSC part-II result
• Police investigate connection of woman linked to hoax syndicate with Anies
• Egyptian girl uses mobile to document harassment on public transport
• Tunisian women's rights plan rattles Muslim traditionalists
• 6 women offer massage to men online in Dubai, rob them
• Saudi Woman Showcases her Experience in Attorneyship in United States
• Iran: Kurdish woman arrested in Mahabad
• Woman arrested, ASI let off scot-free
Compiled by New Age Islam News Bureau
URL: https://www.newageislam.com/islam-women-feminism/pakistani-hindu-girl-allegedly-abducted/d/112513
--------
Pakistani Hindu girl allegedly abducted, converted and married off against her will in Sindh
September 12, 2017
A 19-year-old Hindu girl is said to have been kidnapped from near her home in Pakistan's Khairpur district in Sindh this Saturday.
The girl has been identified as Arti Kumari, a teacher at Qasim Model School. Reports have it that she was abducted at gunpoint by a feudal lord named Ammer Wassan.
An AP correspondent from Pakistan tweeted that Arti has been converted and renamed as 'Mahwish'.
The reported also claims that she has been "married off to a local Muslim boy".
A Newsgram report further claims that Arti was "coerced into signing an affidavit claiming that she married Bux and converted out of her own free will,".
The report quotes Arti's uncle saying, "Arti is engaged to be married in November and is the second girl to be kidnapped in my family,".
ANTI-CONVERSION BILL
The anti-conversion bill was unanimously passed in the Sindh Assembly. The bill criminalised forced religious conversions and guaranteed protection of minorities in Pakistan.
As per the bill, those who attempt forced conversion could get up to seven years imprisonment and those who facilitate the conversion could get up to five years in jail. Another clause in the bill said that adults considering converting to Islam must be provided a safe house to live for 21 days, during which they can introspect and ensure they are not doing it at will.
In December, shortly after the bill was passed, religious hardliners warned the Sindh government of agitation, describing the anti-conversion bill as an "anti-Islam bill". A multi-party conference was held and by a consensus resolution, the parties called pushed the government to repeal the bill with immediate effect.
"The bill binds youngsters in Sindh to keep their ancestral religion till the age of 18 years, which is in open defiance of Islam. It also binds newly Muslims not to disclose their Islam till 21 days and to spend this period at a safe house being run by the government where they will be briefed about other religions," The Dawn quoted.
In January 2017, the Sindh governor returned the anti-conversion bill, under pressure from Islamic hardliners. A News International report said that the Sindh chief minister told the governor that the government wanted to make certain changes in the language of the bill.
indiatoday.intoday.in/story/hindu-girl-abducted-pakistan-arti-kumari-sindh-khairpur/1/1046277.html
--------
Forced conversions of Christian girls in Pakistan make a mockery of its constitution
By Cynthia Sohail
Sep 13, 2017
In a famous speech on August 11 1947, Pakistan's founding father and first governor general, Muhammad Ali Jinnah, addressed that the new country was being built on the idea of religious tolerance.
But 70 years later, a trend of forced conversions in the country is making a mockery of the constitution of Pakistan, which offers equal rights to all religious minorities.
Last seen a video on Facebook in which a young Boy and Girl were leaving the court premises. The Girl's family was endeavoring to quit dragging her, yet the Girl was going ahead with sharp strides. The court enabled her to remain with her with her husband. The family demanded that the girl's age was only 14 years and she was not in the period of marriage at this moment under Pakistan laws. Be that as it may, the judge enables them to wed.
Unfortunately, the girl belongs to Christian family of Lahore; her family is much known in area and active in Church activities. Research uncovered that this incident was displayed a year ago. As per the Marriage Act, 1929 of Pakistan no boy or girl could marry at eighteen years old without parents' consent, while guardians concurred on the off chance that, this age must be no less than sixteen years of age.
As indicated by a report from the Women's Foundation, printed in 2015, just about 1,000 girls are admitted to Islam consistently in Pakistan. As per the National Commission claims, seven hundreds of them are Christians while whatever remains of them have a place with Hindu religion.
There is a demonstration of 1929 in such manner; the Christian Act of 1872 likewise exists. In any case, this issue is not of the law or the courts.
Observing the other case as indicated by the sources On October 10, 2016 Sidra Javed, 19 got a message on mom's cell phone." It was Muhammad Atif, the landlord's son, who had been messaging Sidra – on the phone her mother left behind in case of an emergency – and threatening her for two weeks.
Sidra slipped out of the door of her quarters in Joseph Colony, Badami Bagh, and saw Atif in the darkening dusk. With a gun to her head, Sidra sat behind him on his motorbike, and was driven to a house on the outskirts of Lahore in which she was sexually assaulted. At that point she was taken to a law office,followed by signing a nikah nama or Islamic marriage certificate. "The lawyer, Maulvi Sahab, and others there did not request my introduction to the world testament or ID card. I revealed to them I'm Christian, the girl of a minister, and I wouldn't have any desire to change over — the four or five men there were incensed to hear that, and When they asked me to recite the First Kalima, I did," Sidra says. Sidra could escape following two months of marriage.
Ayra Indreas, who teaches Women's Studies at Kinnaird College in Lahore, says, "Last year, there was a case where a Christian girl, her new Muslim husband and a lot of influential Muslim men, big cars and Kalashnikovs in tow, came to the court. And the Christian girl's family was fearful, poor, few in number, standing on the other side of the room. I know the judge was under a lot of pressure." Men like to witness the success of a conversion and marriage, often perceived as a religious victory.
In Pakistan, madrassas have played a key role in forced conversion and in Sindh some madrassas have become infamous for facilitating such conversions, where a forced conversion and marriage is contracted. Maulana Tahir Ashrafi, member from the Council of Islamic Ideology (CII), says a forced conversion is not permissible in Islam. Yet, he says, "If someone comes to me, and wants to be a Muslim, I'll look at the background but I won't turn her away." Not even if she's a minor.
In fact that the Punjab government, specifically, has Darul Aman ladies' safe houses where a Christian young lady may live amid the traverse of a trial, commonly it will bring about more pressure on young girls.
Muddying the waters additionally is the subject of what happens if and when the Christian lady who is persuasively changed over and hitched happens to as of now be hitched to a Christian man under the Christian Marriage Act. In Pakistan, isolate individual laws, including marriage laws, are set up for Muslims and non-Muslims. Consider the possibility that a Christian girl needs to marry a Muslim. On the off chance that she's as of now wedded under the Christian Marriage Act, she is not permitted to re-wed any other person.
Even if she is unmarried, the Christian Marriage Act will in any case apply in an interfaith marriage. How does a Muslim man who needs to constrain a Christian lady to wed him go around this without breaking the law? It's as basic as forcing her to change over to Islam, after which a marriage contracted under personal laws for non-Muslims will be superseded by a nikah nama.
Courts in Pakistan do precisely the same as in any nation in which there is no law implementation framework. The above mentioned incident is in front of you. The law was given to the judges, but the judge heard only his heart. Perhaps this is because of the judge's own discipline.
Actually our attention should be on our own community. What is the society doing in this regard? Those judges who judge with such offense are also related to the same society. What's more, the Jagirdars who wed Hindus and constrained them to receive Islam, they are additionally the creation of this general public.And all powerful people who kidnap women's honor, abduct them, and make low-cost girls Muslim, they live around us. And that which makes a false certificate of acceptance of Islam and the registrar who enrolls the marriage, and sitting on both sides, those who sign this marriage as a witness, they do not come from any other planet.
What's more, the individuals who call themselves journalists yet don't report such news reports, or the columnists who stop such news or fear getting representatives under the control of the individuals who dread such thing.
Pakistani politicians who have attempted to combat forced conversions have been unsuccessful. In November 2016, the Sindh provincial government passed a bill against forced religious conversion. The bill recommends a five-year punishment for perpetrators, three years for facilitators of forceful religious conversions, and also it makes it a punishable offence to forcibly convert a minor.
But after an outcry by some forceful Muslim religious groups who declared the bill un-Islamic and demanded its withdrawal.
pakistanchristianpost.com/detail.php?articleid=2995
--------
The hijab in Indonesia: From oppression to high fashion
SEPTEMBER 13, 2017
Some observers of the dynamics of religiosity in Indonesia have argued that there has been a conservative turn in Indonesian Islam.
What is defined as Islamic conservatism is a type of religiosity closely associated with Wahhabism, Salafism or even radicalism. It is akin to bringing back dated Islamic culture and practising it in the contemporary era.
What is often neglected in understanding this kind of conservatism, which is different from other forms of conservatism, is its association with capitalism, market forces and global trends.
In fact, this kind of association allows religious conservatism to manifest itself in pop-cultural forms. Adopting it does not make one feel old-fashioned; instead, it allows one to experience a sense of religious piety and being trendy at the same time.
Conservatism, packaged and marketed through global capitalist channels, is no longer shrouded in a veil of backwardness, but brandishes the face of a new modern culture. One salient example of this trend is the donning of the Islamic headscarf, commonly known as the hijab.
Previously, the hijab was seen as a symbol of oppression, an awkward outfit that constricted the freedom of women.
In certain quarters of society, it was even seen as a strange practice or was taboo.
Now, the image of the hijab has taken an about-turn, as the headscarf takes centre stage in fashion shows, being displayed or exhibited as fashion accessories in five-star hotels in Jakarta and other major metropolitan cities around the world.
Thus, the hijab is getting more ubiquitous in Indonesia not just because Muslim women are getting more conservative, but because they are getting more fashionably conservative.
To wear the hijab is hip, and those that wear it are known as "hijabers".
But as we begin to see the hijab donned more commonly in public spaces in Indonesia, have Muslim women in general really taken to the headscarf, and has it really become a standard part of their attire?
A recent nationwide survey commissioned by the Iseas–Yusof Ishak Institute seems to suggest that this is indeed the case. Over 82 per cent of respondents agree that Muslim women should wear the hijab, and the proportion differs little where gender is concerned.
That is, more than 80 per cent of Muslim women think that they should wear the hijab, which means that it is not simply a practice imposed on them by Muslim men. Indeed, 78.2 per cent of the Muslim women surveyed claim to wear the hijab.
Contrary to practices during the New Order era, particularly in the 1980s when wearing the hijab in public schools was prohibited, female Muslim teachers and students are now strongly encouraged to don the hijab.
In fact, movie stars, politicians, businesswomen, police officers, military personnel and even female national athletes wear the hijab in their daily and professional lives.
Currently, the types of hijab available on the market are not only the conventional ones sporting modest designs, but are also exquisite and luxurious ones that fetch high prices. Several nationally-acclaimed designers have dabbled in creating these trendy headpieces, while fashion models, artistes and movies stars have taken part in marketing these fashionable headscarves through various outlets, both online and offline.
Some of them are religiously motivated, while others, including non-Muslims, are motivated by profit. Whatever the motivation, the business of the hijab in Indonesia is big business, and the religious market is one that cannot be ignored.
Another interesting finding from the survey is related to the income and education of hijabers.
In contrast with common assumptions concerning those who wear the hijab, the survey shows that almost 95 per cent of Muslim women with a high education wear the hijab, compared with less than 80 per cent for those with medium or low education.
At the same time, the survey shows that the higher the income level of the Muslim women, the more likely they are to wear the hijab.
In short, the trend seems to be that Muslim women of higher socio-economic status are more likely to be wearing the Islamic headscarf as part of their regular attire.
This result also underlines the transformation of the meaning of the hijab and religious piety.
Being religious, as expressed through donning the hijab, is no longer seen as hindering the education and career of Muslim women.
Instead, for some Muslim women, the hijab is even perceived as a symbol for educated women and professional success.
Thus, the fact of the matter is that the hijab is not merely a sign of conservative Islam imposed by Muslim men on less educated and low-income Muslim women.
On the contrary, the hijab may be seen as trendy and the in-thing to wear, and a sign of independence for Muslim women in Indonesia.
todayonline.com/commentary/hijab-indonesia-oppression-high-fashion
--------
Iran: Women's Groups Slam Violence Against Rohingya Muslims
September 13, 2017
Some 125,000 Rohingya Muslims have fled to Bangladesh from Myanmar's Rakhine state since violence intensified on Aug. 25.
Several Iranian women's groups have written a letter to the United Nations condemning ongoing violence perpetrated against Rohingya Muslims in Myanmar.
The groups urged the international body, as well as fellow Muslim governments and human rights activists, to take immediate steps to end the aggression carried out by Myanmar's security forces, according to the Tehran Times.
The letter argued that the international community has been deeply shaken by Myanmar's "vile treatment" of the Rohingya people, especially women and children. It noted that broadcast images of massacres, burnt bodies and assaults against civilians are reminiscent of grave human rights abuses, "the likes of which the world doesn't want to see repeated."
The latest document comes on the heels of a previous letter sent to Executive Director of U.N. Women Phumzile Mlambo-Ngcuka on September 7. Written by Vice President of Iran for Women and Family Affairs Masoumeh Ebtekar, the letter slammed the "horrific acts of violence" committed against the Rohingya.
"I appeal to you in utmost sincerity that you take whatever measures within your powers to prevent this ongoing human catastrophe," Ebtekar wrote.
Some 125,000 Rohingya Muslims have fled to Bangladesh from Myanmar's Rakhine state since violence intensified on August 25, according to the latest U.N. figures. Myanmar officials claim violence broke out after Rohingya insurgents attacked dozens of police posts and an army base.
Rohingya activists, however, dispute that version.
Myanmar rejected a ceasefire by the insurgents, declaring that the country does not negotiate with "terrorists."
At least 400 people have been killed as a result of the ensuing military counter-offensive.
Warning about the risk of ethnic cleansing and destabilization of the region, U.N. Secretary General Antonio Guterres has appealed to Myanmar's authorities to put an end to violence perpetrated against Rohingya Muslims.
telesurtv.net/english/news/Iran-Womens-Groups-Slam-Violence-Against-Rohingya-Muslims-20170912-0006.html
--------
Woman beaten by cop arrested
A Correspondent
September 13, 2017
SIALKOT: The Daska police arrested on Tuesday a woman who was filmed being beaten up by a police official at the Daska judicial complex on Monday for 'beating the assistant sub-inspector (ASI).
The Daska City police registered a case against Ruqaiya Bibi on the report of Satrah ASI Sarwar Ali that the woman in question had attacked the ASI in the courtyard of the magisterial court of Daska and beat him besides tearing his official uniform.
The first information report states the accused also tried to snatch Saania Akhtar (her daughter-in-law) from police custody after the police did not allow Ruqaiya to meet her. Footage of the incident, which went viral on social media sites, showed that the woman was beaten black and blue by the ASI in the presence of several bystanders.
Daska police arrested Ruqaiya while her daughter-in-law Saania is also in the Satrah police custody. She was rescued by police from her captors.
The family of Ruqaiya expressed grave concern over the "highhandedness" of Daska police, saying she was the victim of police torture.
They appealed to Chief Minister Shahbaz Sharif to provide her justice
HELD: The Federal Investigation Agency (FIA) offloaded a passenger from an international flight (EK-612) traveling to France via Dubai from Sialkot international airport on fake visa documents. FIA Deputy Director Khalid Anees told Gujrat-based Muhammad Usman was traveling on fake visa documents.
dawn.com/news/1357255/woman-beaten-by-cop-arrested
--------
New proposal calls for granting licences to men and women alike
September 12, 2017
Manama: A recommendation to allow Saudi women to drive will be submitted to the Shura Council within one month, a member of the Saudi advisory body has said.
"A high number of Shura members are interested in the issue, and 20 members have expressed their open support to it," the member who was not named said, quoted by Saudi daily Okaz on Monday.
Supporters are hoping the recommendation will this time be endorsed by the 150-member council.
In 2013, members Haya Al Maniie, Lateefa Al Shaalan and Muna Al Mushait submitted a motion to the Shura calling for allowing Saudi women to drive, within a religious framework.
However, the motion was turned down by the Council
"The new proposal calls for amending Article 36 of the Traffic Law on the conditions to acquire a driving licence. Under the new proposal, a new paragraph will be introduced, stipulating that "the driving licence is a right for men and women alike when conditions are met, the Shura member said.
"The proposal was accompanied by a note explaining it, based on a comprehensive study showing the importance of establishing this requirement according to a scientific vision that took into consideration the social, economic, cultural, legal, security and other dimensions. The legal basis for the proposal is consistent with the system of state governance."
There is legal text banning women from driving in Saudi Arabia and the issue is related mainly to social traditions.
The de facto ban has been at times challenged by women who drove on roads and highways, alone or with relatives, but they were accused of "stirring up public opinion" and made to sign commitments not to drive again. The women were held accountable for not holding valid driving licences.
The debate over allowing women to drive has been omnipresent on social media in Saudi Arabia with both camps using religious, social, cultural and economic arguments.
The presence of thousands of males to drive mainly Saudi women and girls has been regularly used by supporters of allowing women to drive to highlight negative social and economic problems.
The Saudi Shura Council comprises 30 women.
gulfnews.com/news/gulf/saudi-arabia/new-proposal-calls-for-granting-licences-to-men-and-women-alike-1.2088908
--------
Woman drowns in failed attempt to save son
September 13, 2017
THATTA: A young boy committed suicide by jumping into the KDA Canal while his mother drowned in an attempt to save his life here on Tuesday near Gharo town.
Identified as Azeema Khanyo, the woman jumped into the canal to save her son Eid Mohammad aka Eidu.
According to residents of Khanyo Mohalla in the town, the young boy took the extreme step after he had developed some differences with his family over a petty issue a couple of days ago.
On Tuesday at around 11am, he announced his decision and rushed towards the nearby canal. Sensing the gravity of the situation, the mother ran after him, but failed to catch him. When he jumped into the running water, she followed him trying to save him.
Local divers had taken out the body of the boy after hectic efforts, but his mother's body could not be found till filing of this story.
dawn.com/news/1357237/woman-drowns-in-failed-attempt-to-save-son
--------
Singapore's First Female President Will Be A Hijab-Wearing Muslim Woman
12/09/2017
Singapore is set to welcome its first female president ― a hijab-wearing Muslim woman named Halimah Yacob.
Yacob was the only candidate to meet the stringent qualifications for presidency set up by Singapore's Elections Department, the Straits Times reports. That means she's likely to become president-elect after nominations close on Wednesday, and take her oath of office on Thursday.
Since Yacob was the only candidate left standing, she'll effectively win the presidency without an election ― a fact that has led to heated criticism from citizens of the city-state about its electoral process.
"I can only say that I promise to do the best that I can to serve the people of Singapore and that doesn't change whether there is an election or no election," Yacob said about the news on Monday, according to Channel News Asia.
The 63-year-old politician is the youngest of five children, raised by a single mom who worked as a food cart seller. She graduated from the University of Singapore with a law degree and went on to work for a national trade union organization. Yacob entered local politics in 2001 and rose to the rank of Speaker of Parliament in 2013. She resigned from that post in August.
In Singapore, the prime minister is the most powerful political leader, while the president's role is largely ceremonial. However, the president does have some important responsibilities, such as the ability to block key public-sector appointments, investigate allegations of corruption, and appoint a prime minister.
In 2016, Singapore's parliament decided that the post of president will be reserved for a candidate from a particular racial group if no one from that group has been president for five continuous terms, or 30 years. That meant that this year's election was reserved for someone from Singapore's minority Malay community. The last time Singapore had a Malay president was in 1970.
Presidential hopefuls are required to submit applications to Singapore's Presidential Elections Committee. Although other candidates submitted applications, the committee announced in a press release that it was only issuing a certificate of eligibility to one candidate. Yacob was reportedly the only one who met the committee's requirements ― which include either experience in a top public post, or experience managing a private company with a specific minimum in shareholder equity.
Eugene Tan, an associate law professor at Singapore Management University, told The New York Times that there has been a "groundswell" of criticism online about the lack of an election.
"A contest would have added to her legitimacy," Tan said.
Although Yacob is set to make history for Singapore as a hijab-wearing woman, the city-state still has bans against hijabs in some government schools and public sector jobs. According to Reuters, Yacob hasn't often spoken publicly about this ban.
On Monday, Yacob said that she believes the President's role is to act as a "unifying force."
"Obviously there is work that I have to do, but the most important thing for me is I would like Singaporeans to work together with me," she said, according to Channel News Asia.
huffingtonpost.in/entry/singapores-first-female-president-will-be-a-hijab-wearing-muslim-woman_us_59b6e081e4b0349d072bc45e
--------
Girls outshine boys in HSC part-II result
September 13, 2017
HYDERABAD -The Controller of Examinations Board of Intermediate and Secondary Education (BISE) Hyderabad Tuesday announced the result of Higher Secondary Certificate Part-II Pre-Medical, Pre-Engineering and General Science groups annual examinations 2017.
According to announcement, the girls clinched all three positions of Pre-Medical group examination out of 26997 male and female candidates. Yasal Qadri d/o Sabir Hussain of Superior College of Science Hyderabad clinched first position while Maham Noor d/o Muhammad Naeem Rajput of Al-Tahir Institute of Modern Studies (AIMS) Higher Secondary School Matli and Asra d/o Irfan Ali of Government Girls College Tando Muhammad Khan achieved second and third positions respectively.
In Pre-Engineering group examination, Syeda Aisha d/o Syed Liaquat Ali of County Girls College Hyderabad has secured first position while Talha Jamal Ghori s/o Muhammad Kamal Ghori of Superior College of Science Hyderabad and Maliha Talpur d/o Mir Shahjehan Talpur of County Girls College Hyderabad bagged second and third positions respectively.
In Science General group examinations, Sheeza Muhammad Naeem d/o Muhammad Naeem of Government Nazareth Girls College Hyderabad achieved first position while Agha Safeerullah Khan s/o Agha Aftab Ahmed and Haseeb Ahmed s/o Nadeem Ahmed both of Federal Government Degree College Hyderabad Cantt: have secured second and third positions respectively.
A total of 26997 candidates including 13711 female candidates were appeared in Pre-Medical group examinations of them 484 have been declared pass with A-I grade, 3605 with A grade, 6026 with B grade, 7548 with C grade and 1886 candidates have been declared pass with D grade. A total of 7104 male and female candidates have been declared fail in different subjects.
The results of 243 candidates have been withheld due to copying in the examination while the results of 77 candidates have been withheld by the Conduct Branch of BISE Hyderabad on different reasons.
In Pre-Engineering group examinations, a total of 18024 candidates including 1942 girls were appeared of them 176 candidates have been declared pass with A-I grade, 2649 with A grade, 5303 with B grade, 4845 with C grade and 1142 candidates have been declared pass with D grade. A total of 3493 candidates have been declared failed in different subjects. The results of 263 candidates have been withheld due to copying in the examination while the results of 76 candidates have been withheld by the Conduct Branch of BISE Hyderabad on different reasons.
In General Science group examination, a total of 985 candidates including 360 girls were appeared of them only one female candidate who secured first position has obtained A-I grade. Besides 29 candidates have been declared pass with A grade, 174 with B grade, 285 with C grade and 150 candidates have been declared pass with D grade. A total of 316 candidates have been declared failed in different subjects. The results of 13 candidates have been withheld on charge of copying in the examination while the results of five candidates have been withheld by the Conduct Branch of BISE Hyderabad on different reasons.
nation.com.pk/karachi/13-Sep-2017/girls-outshine-boys-in-hsc-part-ii-result
--------
Police investigate connection of woman linked to hoax syndicate with Anies
September 12, 2017
The National Police are investigating whether there is a connection between a housewife suspected of being linked to Saracen, a news syndicate accused of spreading hoaxes and fake news, and the Jakarta governor-elect Anies Baswedan.
The police's cybercrime division arrested housewife Asma Dewi on Monday on suspicion of uploading hoaxes and hate speeches on her Facebook account, as well as transferring Rp 75 million [US$ 5,682] to Saracen.
On her Facebook account, Asma made a post stating that she supported Anies and running mate Sandiaga Uno in the polarizing Jakarta gubernatorial election in April.
"[Investigation into her link to Anies] will be one of our points in further investigating the case," police spokesman Insp. Gen. Setyo Wasisto said as quoted by tribunnews.com.
However, he said the police did not want to make any preliminary conclusion about a possible connection.
The police, Setyo further said, had yet to find any evidence that Asma was active in Tamasya Al-Maidah (Al-Maidah Tour), in which conservative Muslim groups deployed members to "safeguard" polling stations during the runoff election on April 19.
Muslim conservative groups supported Anies in the election against incumbent governor Basuki Tjahaja Purnama, who was later imprisoned for blasphemy. (agn)
thejakartapost.com/news/2017/09/12/police-investigate-connection-of-woman-linked-to-hoax-syndicate-with-anies.html
--------
Egyptian girl uses mobile to document harassment on public transport
12 September 2017
An Egyptian girl used her mobile phone to document what she described as an incident of sexual harassment and groping on public transport.
She shared on social media photos showing a man in the seat behind her attempting to reach her.
"This is the first time I'm convinced we have no real men [in this country], this has just happened and the first thing I did was to take a picture of it so when [the harasser] says he did not do anything, I will know how to respond," the woman wrote on Facebook.
When she began shouting, the woman claimed that people around her did not offer help, and instead told her "khalas" or forget it.
Refusing to get over the incident, the girl wrote: "When old men ask me to remain silent when someone puts his hand on me...then I'm calling on all girls to stand up for themselves and be tough, and let me see someone come to me and say 'it's what you are wearing that's provocative.'"
"Will you be willing to lock girls inside their homes because you cannot control yourselves?" she asked in her post.
"I'm not wearing tight clothes and my face is barely visible, find other excuses to justify what happened."
english.alarabiya.net/en/features/2017/09/12/Egyptian-girl-uses-mobile-to-document-harassment-on-public-transport-.html
--------
Tunisian women's rights plan rattles Muslim traditionalists
September 13, 2017
TUNIS, Tunisia (AP) — Some denounce it as a violation of Islamic law, others embrace it as revolutionary: An initiative by Tunisia's president to make inheritance and marriage rules fairer to women is reverberating around the Muslim world, and risks dividing his country.
The 90-year-old president, Beji Caid Essebsi, argues that Tunisia needs to fight discrimination and modernize. He's gambling that he could shepherd through such changes because his secular party is in a coalition with an Islamist one, and because his overwhelmingly Muslim country has a history of relatively progressive views toward women.
In a speech last month, Essebsi proposed allowing women the same inheritance rights as men, instead of the current system based on Islamic Shariah law that generally grants daughters only half the inheritance given to sons.
The president also suggested allowing Muslim women to marry non-Muslims; currently Muslim men are allowed to marry non-Muslims but not the other way around. He announced the creation of a commission led by a woman lawyer and rights activist aimed at drafting revised rules.
Just raising the call for changes is a dramatic move. Mainstream Muslim clerics almost universally see the inheritance rules as enshrined in the Quran, Islam's holy book, and consider the rules on marriage to be equally unquestionable in Shariah. Most Muslim-majority countries in the Mideast and Asia enforce the rules since they use Shariah as the basis for personal status and family law. Some worry that such changes could stir up extremist anger in a country that has already suffered deadly attacks.
The president argues that existing practice violates Tunisia's constitution, adopted in 2014 in the wake of the Arab Spring revolution, and that he wants Tunisia to reach "total, actual equality between men and women citizens in a progressive way," as called for in the charter.
He said wants to fight discrimination in a country where half of engineers are women, as are a majority of medical, agricultural and textile workers and those with higher education.
The first president of independent Tunisia, Habib Bourguiba, championed a landmark social code in 1956 that set a standard for the region by banning polygamy and granting new rights to women unheard of in the Arab world at the time. But even he didn't dare push for equal inheritance.
The chief editor of daily Le Maghreb, Zied Krichene, expressed hope that Essebsi's initiative would bring a "second revolution."
But in Egypt, the world's foremost seat of religious learning for Sunni Muslims, Al-Azhar, swiftly rejected the proposals.
"Calls for the equality of men and women in inheritance do an injustice to women, don't do women any good and clash with Shariah," Abbas Shoman, Al-Azhar's second most senior cleric, said in a statement.
In defense of the ban on non-Muslim men marrying Muslim women, Shoman said that while Muslim men were likely to respect the beliefs of their non-Muslim spouses and freedom to worship, non-Muslim men were unlikely to do the same for their non-Muslim wives. But the proposals sparked a heated debate on social media networks among Egyptians. Supporters of Essebsi's initiative said Al-Azhar was showing its true colors as a bastion of religious militancy.
Muslim parents who see the inheritance laws as unjust often resort to putting assets in their daughters' names during their lifetimes. In Lebanon, some Sunni men convert to Shiism to take advantage of what they see as the minority sect's more equal treatment of women when it comes to inheritance. Tunisia is overwhelmingly Sunni.
Moroccan academic Nouzha Guessous welcomed the Tunisian proposal as "a beautiful bright spot in the grim political and social skies in Morocco and elsewhere in the Muslim world." Writing in the Moroccan magazine L'Economiste, she said the Tunisian president could "go down in history ... as an enlightened Muslim leader characterized by a political conscience and attuned to the changes in society."
She expressed hope Tunisia could set a precedent across the Muslim world.
"As a proud, full-fledged Moroccan woman, I must admit that today, yes, I would have liked to be Tunisian," she wrote.
There are some Muslim theologians who argue that the one-half inheritance for women is not absolute in the Quran and that it is open for reinterpretation to fit the Quran's requirements for justice and equality.
Still, the mainstream view is deeply entrenched. In Tunisia, the country's leading imams and theologians issued a statement denouncing the president's proposals as a "flagrant violation of the precepts" of Islam.
Tunisia's Islamist party Ennahdha hasn't taken an official line yet, but party No. 2 and former prime minister Hamadi Jebali warned against anything that would "threaten social peace" and said the president's ideas aren't taking into consideration the feelings of all Tunisians, just a liberal segment of the population.
"Either the chief of state doesn't know that a text codified by the Quran cannot be subject to interpretation, or it is a political calculation," he said on his Facebook page.
Several analysts suggest the president is trying to win back support from women who supported him widely in 2014 elections for his modernizing program, but then grew disillusioned after he allied with the Islamist party.
Tunisian professor Mohamed Hédi Zaiem said the proposals give a new impetus to moderate Islam.
"The only moderate Islam is that which recognizes the need and the right not only to interpretation but also to evolution," he said, calling the battle for renewing religious discourse "the mother of all battles."
bgdailynews.com/news/international/tunisian-women-s-rights-plan-rattles-muslim-traditionalists/article_15774e8a-090d-5594-84a4-b94603c68fc8.html
--------
6 women offer massage to men online in Dubai, rob them
Marie Nammour
September 12, 2017
The gang is on trial at a Dubai court
Six women stood trial on Monday at a Dubai court, accused of forming a gang that would lure men online by offering sex and massage services and later rob them in their apartment.
The Court of First Instance was told the women - all Nigerians on visit visas aged between 29 and 58 - would initiate a chat on Tango while using beautiful women's pictures and then invite the men over for massage or lure them for paid sex.
The women broke down in tears in court as the charges were read to them. They admitted to the charges of forcible theft, using others' names during police interrogation and overstaying with expired visas.
The women were spotted by an Emirati witness on the street on November 25, 2016. "I saw the African women entering a building and they smelled like they had been drinking liquor. Shortly later, I saw a man coming down with an injured hand. He told me he was assaulted by them, so I called the police," the Emirati, 24, said.
"We received a report around 1am about a problem at the Financial Centre area. We were told about some women running a prostitution den where they would assault and rob customers of cash and valuables. We learned every man would come out of that flat beaten up and robbed," a police sergeant said.
The police raided the flat with a public prosecution warrant and arrested the women and seized the knife they used to threaten the men with.
"I received a friend request from an unknown woman on Tango and accepted it. That woman told me she offered massage services at her hotel apartment and gave me her address. When I reached there, I could not find the woman who had talked to me earlier. But I was surprised to see six African women locking the door. They cornered and grabbed me and I knew there was no way out. I handed them Dh500 but one of them snatched Dh650 and $200 before letting me go," said a 28-year-old Iraqi on a visit visa.
A 27-year-Syrian told the prosecutor of a similar story of how he was lured on Tango into having sex for Dh600 on November 24, 2016. "I went there but I could not spot the beautiful European woman with whom I had the date. One of the women snatched my phone while they threatened and assaulted and searched for money. I gave them 1,000 Saudi Riyals so they let me out."
A 31-year-old Saudi, who also fell victim to the women accused, said he went there for a massage.
khaleejtimes.com/news/crime/6-women-offer-massage-to-men-online-in-dubai-rob-them
--------
Saudi Woman Showcases her Experience in Attorneyship in United States
September 13, 2017
Riyadh – A family dispute determined the journey of Saudi Shihana Alazzaz, who has made her mark in the legal world.
Alazzaz recently showcased her experience in Salt Lake City in the United States as part of the "Bridges to Saudi Arabia" initiative launched by the King Abdulaziz Center for World Culture in cooperation with the Middle East Institute in the United States.
The initiative is aimed at finding positive action in the American cultural and educational circles by introducing the Saudi elite to American society, so it becomes more familiar with the Saudis' distinctness in the fields of knowledge.
During the event, the young Saudi lawyer spoke about her entry into the legal field, which began unofficially at the age of 16, when she was forced to plead a family case. This took place before Saudi women were allowed to practice law in Saudi Arabia.
She said this incident was a great incentive for her to study law and to obtain her license in 2013.
Alazzaz is considered among the first Saudi women who have been enrolled in this field.
The US event also included an interactive discussion in which Alazzaz discussed the difficulties and obstacles she faced during her career. She also talked about the development of Saudi women's in the workforce, the opportunities they have to play an efficient role in various areas and the impact of globalization on this role.
Alazzaz worked on many initiatives to motivate Saudi women to enter the legal profession, including the 450-member "Ambition" (Toumouh) initiative, and she is currently working on building channels of communication between youth.
The "Bridges to Saudi Arabia" initiative includes four programs: Saudi Art Galleries, which are held at the most prominent museums and art centers, the "Bridges of Dialogue", which presents Saudi elites to American society, and the Saudi Film Festival to celebrate Saudi filmmakers by screening their films in international festivals, and the "comedy tour" that highlights Saudi comic shows.
english.aawsat.com/theaawsat/news-middle-east/saudi-arabia/saudi-woman-showcases-experience-attorneyship-united-states
--------
Iran: Kurdish woman arrested in Mahabad
12 September 2017
Five residents of Mahabad, western Iran, including a Kurdish woman, were arrested by security forces on Sunday, September 10, 2017. The woman was identified as Kobra Khalandi. The activists were arrested for participation in a gathering in support of Baneh residents who are protesting the arbitrary killing and shooting deaths of Kurdish porters by security forces.
A number of Kurdish citizens have been arrested over the past few days by security forces in Baneh, Sanandaj, Kermanshah and Mahabad in protest rallies against the arbitrary killing of porters.
women.ncr-iran.org/iran-women-news/4284-iran-kurdish-woman-arrested-in-mahabad
--------
Woman arrested, ASI let off scot-free
September 13, 2017
SIALKOT-Police arrested Ruqaiya Bibi who had allegedly clashed with an assistant sub-inspector (ASI) of police on the premises of New Judicial Complex Daska the other day while her family protested against the police action.
The Daska City police have registered a case (No 777/2017) under sections 186, 353, 337-A(i) and 337-F(i) PPC against accused Ruqaiya Bibi, on the report of ASI Sarwar Ali deputed at Satrah police station.
The FIR revealed that the woman had attacked the ASI in the courtyard of a local magisterial court Daska besides beating him badly and tearing his uniform. The ASI added in the FIR that the accused also tried to snatch her daughter-in-law Saania Akhtar from police custody as the police had not allowed the women to meet.
Earlier, a video in this regard had gone viral on the social media. The police have sent the woman behind bars. Departmental action has yet been taken against the ASI Sarwar Ali by the senior police officials. Meanwhile, the grieved family of Ruqaiya Bibi has expressed grave concern over the alleged "highhandedness" of Daska police.
The family told the newsmen that she was the victim, but the police lodged an FIR against her. The family urged Punjab Chief Minister Shehbaz Sharif and Sialkot District Police Officer (DPO) Abid Khan to provide her with justice.
Meanwhile, the Federal Investigation Agency (FIA) offloaded a passenger from a flight bound for France via Dubai at Sialkot International Airline due to fake visa documents.
FIA Divisional Deputy Director Khalid Anees said that Gujrat-based accused Usman was trying to travel to France via Dubai from Sialkot international airport on flight EK-612. Over suspicion, the FIA checked him and found his visa documents fake.
FIA offloaded the accused. He said that the FIA has sent the accused behind bars after registering a case against him.
nation.com.pk/national/13-Sep-2017/woman-arrested-asi-let-off-scot-free
--------
URL: https://www.newageislam.com/islam-women-feminism/pakistani-hindu-girl-allegedly-abducted/d/112513
New Age Islam, Islam Online, Islamic Website, African Muslim News, Arab World News, South Asia News, Indian Muslim News, World Muslim News, Women in Islam, Islamic Feminism, Arab Women, Women In Arab, Islamophobia in America, Muslim Women in West, Islam Women and Feminism