New Age Islam News Bureau
10 Dec 2017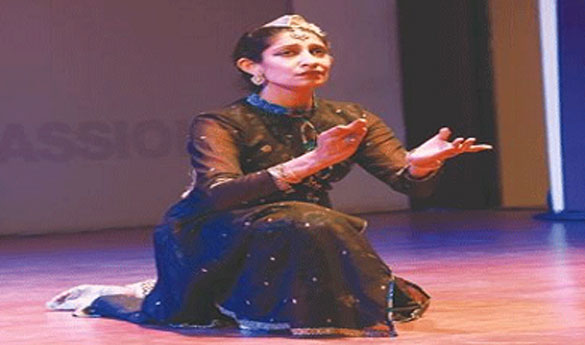 Photo: The Pakistani-American dancer performed in Lahore earlier this month and wowed local audiences with the dance-drama
-------
• Our Marriage Proves That Idea of Love Jihad Is Fake, Says Indian Hindu Woman Who Wed Muslim Man
• Jerusalem … From Hitler to Trump, Between Them, Women's Fashion And Guns
• CEO Of Twofour54 Honoured As Role Model for Women
• Causes Week 2017: Code For Success: Getting Women to Be Techies
Compiled by New Age Islam News Bureau
URL: https://www.newageislam.com/islam-women-feminism/pakistani-ameri-kathak-dancer-farah/d/113515
-----------
Pakistani-American Kathak Dancer Farah Sheikh Gives Captivating Performance On Mughal Empress Nur Jahan's Life
SUMERA S. NAQVI
The Pakistani-American dancer performed in Lahore earlier this month and wowed local audiences with the dance-drama
It is an open secret that Mughal history of the subcontinent has been (and continues to be) sabotaged by a flurry of facts fabricated deliberately for various (read nefarious) designs. While there is a deliberate smearing of a glorious era, the onus falls upon us to discover stories of glory, especially stories of women empowerment.
Luckily enough, people such as the Pakistani-American Farah Yasmeen Sheikh, the beautiful classical dancer and kathakar (storyteller) are carrying the torch ahead in revealing facts of history that lend a positive image of the past. While Sheikh conceived the idea of this dynamic dance drama, The Forgotten Empress, it was the famous American playwright Mathew Spangler who wrote a well-researched script about the powerful Mughal empress, Nur Jahan.
Recently performed at Habib University as a fundraiser for the Habib University Foundation and Murshid Hospital and Health Care Centre, The Forgotten Empress brought to the fore some very interesting facts of history that unfortunately are not part of our usual discourse. Spangler, who also has the play The Kite Runner to his credit, wrote the story with a sense of responsibility and caution, keeping at bay any controversial facts around Emperor Jahangir and Empress Nur Jahan.
California-based kathak dancer Farah Yasmeen Sheikh wowed local audiences with a dance-drama on the life of Mughal Empress Nur Jahan.
The Forgotten Empress is about the journey of Mehrunnisa who was born in the 1600s in a refugee camp and went on to become the Mughal empress Nur Jahan and to rule 'one-third of the world's population.' However, the journey of the future empress was not an easy one: the baby girl, born to an impoverished refugee couple from Persia, was left in the difficult terrain of Afghanistan on the family's way to South Asia. "May Allah keep my daughter safe," prayed the father as he walked away from the baby. However, as fate would have it, a hunting team led by a noble merchant Malik Masud, found the baby and then the caravan on which the family was travelling, and returned the baby to the parents.
In 1594, the caravan of round 500 people settled in the alien environs of Lahore. Thanks to the generosity of Malik Masud, the baby girl's father Mirza Ghias Beg was inducted in the royal court of Emperor Akbar. And the rest, as they say, is history.
As Mirza Ghias Beg rose to importance in the Royal Court, Mehrunnisa grew to become a beautiful young woman well-versed in the arts and who possessed the virtues of astuteness and sagacity. These virtues would later be valued by her beloved second husband, Emperor Jahangir (Saleem) who would rescue her from a brutal Quli Khan, and marry her as his twentieth wife. He would also give her a new name: Nur Jahan. In due course, the emperor lost himself to opium and alcohol, leaving the kingdom to be run solely by Nur Jahan.
The ensemble's execution of accompaniments was well done. Music director Salar Nader composed a beautiful musical score combined with multimedia backdrops that rendered the right moods of warmongering, melancholy, chauvinism, romance and endearment. Salar Nader, a 'disciple' of tabla virtuoso UstadZakir Hussain and a vocalist himself, was accompanied by female vocalist DeeptiWarrier, with Ben Kunin on the sarod and RaginderMomi Singh playing the violin and were a pleasure to listen to. Radhika Rao narrated the story with complete command over her vocals and a pleasant voice grain.
Of course, Sheikh's choreography corresponded exceptionally well and in perfect timing with the thaap of the tabla. Her impeccable foot work told the story with ease, and her bodily gestures emphasised the narrative as she smoothly changed into various roles.
Sheikh reached Pakistan with her ensemble in November to launch this enthralling dance drama in Lahore which received huge audiences. On her return Farah wrote on her Facebook page: "We offer our gratitude to this great country (Pakistan) in the best way we know how — through our gifts of dance, music, theatre all wrapped up in our performance on the life of the great Empress Nur Jahan and the powerful story that surrounds her."
We would like to see more of such mesmerizing performances by Sheikh, based on the stories of other empowered Mughal women: for instance Jahan Ara, Shah Jahan's eldest daughter, who vociferously supported her brother Dara Shikoh in all political decisions. She also contributed to developing the famous market place in Delhi in India — Chandni Chowk. Perhaps Sheikh's penchant to be a Kathak dancer comes with a sense of purpose which is not just to promote the arts but to tell stories from a glorious collective past.
images.dawn.com/news/1179010/kathak-dancer-farah-sheikh-gives-captivating-performance-on-mughal-empress-nur-jahans-life
--------
Our Marriage Proves That Idea Of Love Jihad Is Fake, Says Indian Hindu Woman Who Wed Muslim Man
December 10, 2017
"We are a legally married couple, and I am glad that court endorsed our union. No one can separate us now."
That was 24-year-old Sruthi Meledath's reaction to the Kerala High Court verdict on October 19 affirming her marriage to 26-year-old Anees Hameed. Meledath is Hindu, while Hameed is Muslim.
The couple shot into the spotlight earlier this month when Meledath testified in court about the physical and mental torture she had undergone at the SivasaktiYoga vidya Kendram in Ernakulam district.
The Yoga vidya Kendram is among a handful of so-called reconversion centres functioning in Kerala in which Hindu women who have fallen in love with men from other religions are subjected to a variety of strategies, including coercion, to bring them back to Hinduism.
In the couple's first media interview since they were reunited, Meledath told Scroll.in that she will continue to live as a Hindu while her husband will follow the faith into which he was born.
"This is our reply to proponents of fake 'love jihad' campaign," Meledath said.
Love jihad is a term frequently used by Hindutva organisations to allege a conspiracy by Muslim men to marry women from other religions solely to convert them to Islam.
In addition to Meledath and Hameed, two other inter-faith couples have been dragged to court in recent months as Kerala experiences a wave of panic about religious conversions.
But as Justices V Chitambaresh and Satish Ninan noted when they endorsed Meledath's marriage to Hameed, every case of inter-religious marriages cannot be classified as love jihad. They also ordered all reconversion centres to be shut down.
Long fight
Hameed and Meledath, who hail from middle-class families in Kannur district, registered their marriage under the Special Marriage Act on October 9. "We never expected that our love affair would be termed as love jihad," Meledath said. "Our only aim was to get married and live together."
It took Hameed a six-month legal battle to absolve himself of the charges that he had married Meledath with the aim of taking her to Syria to fight for the militant Islamic State (IS) group.
"It will be difficult to forget all those tormenting days, but I am happy to be reunited with Sruthi," Hameed said.
Love blossoms
Meledath and Hameed met at the Pilathara Arts and Science College, which affiliated to the Kannur University, where they both studied physics from 2010 to 2013. Their friendship grew into love.
After they graduated, Meledath enrolled for a masters in physics at the Taliparamba Arts and Science College, which is also under the Kannur University. Hameed decided to do a professional certificate course in quality control in Kozhikode. After completing it, he signed up for a masters in business administration through correspondence. In 2015, he got a job as a marketing executive in a company in New Delhi.
Meledath's parents began to pressure her to get married soon after she completed her masters degree, Hameed said. "So I went to her home along with my mother in May this year," he said. "I told them that I am in love with her. But they were reluctant to accept me."
When it became clear that her parents would not approve of the marriage, the couple decided to leave for New Delhi on May 16. "We had lived in Sonepat for a month," said Meledath.
During that time, rumours began to spread in Kerala and in social media that a Muslim man had taken a Hindu woman with him to join the IS.
"I called her parents and told them that we were safe in New Delhi, and assured them that our plan was to live together and not to go to Syria," Hameed said.
But Meledath's parents filed a police complaint. "A police team came to New Delhi," she said. "They arrested us and brought to Mangalore by flight on May 20. It was a harrowing experience."
Hameed alleged that the police played a dirty trick to place Meledath in the custody of her parents. "The police officials told me that they would produce her before the Judicial First Class Magistrate on May 21 at 11 am," he said. "But they produced her at the residence of the magistrate at 10:15am. The magistrate took note of my absence and asked Meledath to go with her parents."
Tough times
Meledath's parents immediately took her to the YogavidyaKendram.
"It was the beginning of a two-month ordeal," she said. "I was taken to a torture hub."
She said that the people who ran the centre would wake her up at 4am every day by pouring water on her face. "They forced me to do all household chores," she said. "I didn't get enough food to eat. More than 60 women who had fallen in love with men from other religions were at the centre at that time. All of us lived a miserable life."
Even as Meledath was in the centre, Hameed was waging with the legal battle to get her back.
Based on a habeas corpus petition he filed in September, Meledath was produced in court, giving her an opportunity to talk about her experiences in the centre June 26 to August 22. She also insisted that she wanted to live with Hameed. The court spoke to her on October 10 before allowing her to go with Hameed.
In its order, the court observed that:
"We have observed that Sruthi [Meledath] has been in love with Anees [Hameed] for long which has blossomed into a permanent relationship leading to a marital tie. Sruthi [Meledath] with a sindoor one her forehead asserted that she would remain as a Hindu till death and that Anees [Hameed] would remain as Muslim and their marriage has now been registered too.
"We applaud the extraordinary courage shown by Sruthi [Meledath] to live up to her conviction and decry the attempt of her parents to deflect the course of justice by misleading litigations."
Hameed now hopes Meledath's family will accept them. "We want to have a good relationship with her parents," he said.
'Can they get me a job?'
Despite being reunited, the couple's troubles aren't over. Hameed said the Kerala Police officer who came to New Delhi to arrest them had ruined his career. "They had told my reporting manager that I was a member of IS and lured a Hindu girl to take her to Syria," he said.
He isn't sure he will get his old job back, or be able to find a new one soon.
What worries Meledath are the threatening posts about her on the Yoga Vidyakendram's Facebook page. "I am worried whether they will plan a revenge attack on us," she said. "The thought makes me nervous. They have people everywhere."
But Anees has been telling her not to worry. "We got a favourable verdict from the High Court," he said. "It clears the air about love jihad and gives a boost for inter-faith marriages."
He added: "So our immediate task is to throw a party for our friends and relatives who stood with us during the difficult times."
This article originally appeared on Scroll.in and has been reproduced here with permission.
scroll.in/article/855145/our-marriage-proves-that-the-idea-of-love-jihad-is-fake-says-kerala-hindu-woman-who-wed-muslim-man
--------
Jerusalem … from Hitler to Trump, between them, women's fashion and guns
DEC 10, 2017
HAS Jerusalem become Israel's capital for eternity after the recognition of the United States of America's President Donald Trump and the US decision to relocate its embassy there?
The answer can be borrowed from history — what Adolf Hitler did in 1940 when his troops took over Paris. At the time, he visited Napoleon Bonaparte's tomb and bowed in full respect saying, "Dear Napoleon, forgive me for defeating your country, but you need to know that your people were busy measuring women's dresses; whereas my people were busy measuring the length of cannons and gun barrels."
The Nazi leader's statement has been applicable to the Arab and Islamic world since 1948. It firmly rooted itself in 1956, during the tripartite aggression on Egypt when Zionists were convinced that the US is the only superpower in the world.
During that time, the Soviet Union threats were not enough to stop the aggression; let alone the statement issued by the then US President Dwight D. Eisenhower which would have warranted immediate ceasing of military operation and withdrawal of tripartite forces from the battlefield.
In contrast, Arab coup plotters rode on the Palestinian issue to spread revolutionary slogans, statements and speeches. The revolution of Abdul-Nasser in 1952 was based on the liberation of Palestine and throwing Judaism into the sea. The same happened in Iraq, Syria, Libya and other countries where revolution was a fraud.
The coup plotters used the issue as justification to depose regimes as "agents' capital." They used the justification to repress their people and freed thieves to steal resources of their countries, while Israel continued to expand within the occupied territories in 1948 or the one invaded in 1967. Instead of liberating Palestine, they accepted reverting to the fifth border in June 1967.
Arabs and Muslims, who are pleased with gradual compromise over Palestine, issued massive statements to condemn and denounce the recent US decision forgetting that Israel is their original enemy. If Palestine has enough strength to face the challenge, the US decision would not have been a natural occurrence due to Jewish influence on the United States.
This is done through the IPAC organization which is influential in presidential elections such that the manifestoes of candidates include affirmation on alliance with Tel Aviv and increase of aids. The Congress even enacted a bill in 1995 to recognize Al-Quds (Jerusalem) as capital of the occupied State and approved relocation of the US Embassy there.
All these happened due to fear of Jewish influence in America, because they are capable of removing presidents as in the case of Richard Nixon or assassinate them like what happened to John Kennedy. However, Muslims did not try to lobby for themselves in Washington.
In the last seven decades, American presidents did their best to obtain Israeli cordiality by all means against the Arab and Islamic worlds. They prioritized the security of Israel over any other favor. Former American president Barack Obama adopted the full Zionist project called 'Creative Chaos' and its fruits were manifested in the so-called Arab Spring, in addition to his insistence to settle the nuclear treaty backed by Israel.
This helped Tehran in extending its terrorist activities practiced in Arab countries. Tel Aviv considers such conditions part of the successful strategy that pours in Israeli favor, following the rule: "Let terracotta break terracotta." This means that while Muslims are fighting each other, preparations are ongoing towards the declaration of the Jewish State and Israel is enjoying peace and safety.
The Palestinian issue has two turning points that had great impact on conferences, statements and negotiations. First was the 'Intifada' uprising which started in 1987 and forced the Israelis to sign the Oslo Peace Treaty as well as the declaration of the Palestinian National Authority. Second was the Aqsa Intifada in 2000 that forced Israel to cancel procedures concerning Al-Aqsa Mosque. Any other action had no influence at all.
In 1948, the late King Abdulaziz (may Allah be merciful to him) realized that real support for Palestinians was to supply them with all equipment needed in their fight with the Jews without the intervention of Arab armies. This is because the Jews have no State and their wars against the Arabs are based on guerrilla ways, so similar methods and similar weapons must be adopted in the confrontation. He realized that the military issue in Palestine must be handled only by Palestinians in order to not give a chance for foreign intervention in favor of the Jews.
Later, after the year 1948, it was proven that the vision of King Abdulaziz was right. This was after he was accused of betrayal and causing deterioration for expressing his point of view.
Today, after the United States' recognition of Jerusalem as the capital of Israel, what has changed? Nothing. The whole world has rejected this decision. European countries have also refused to relocate their embassies, insisting there is no way to solve the conflict unless through the two States.
Yes, what the US president has done is against all international decisions and resolutions, but at the same time this should not make us forget that our first and last enemy is Israel; or else, the issue only becomes the US decision to relocate its embassy. Perhaps, another US president will come and revoke the decision. This is what the Arab and Muslim leaderships pointed out in their statements and positions which were wise, prudent and in the best interest of Palestinians.
However, the position of Hamas was so rash and impetuous. They threatened to strike US interests, a move similar to abandoning their position towards the occupiers of Palestine.
Finally, we have to be realistic and aware that Israel's power and influence within the ranks of the United States are results of the failure of Arabs and Muslims to deal with the US. At a time the Arabs and Muslims are busy insulting America and burning its flags, Israel works calmly to bolster Zionist lobby in the United States and elsewhere. It is expanding its forces to the extent that we see the slogan, "Throw the Jews into the sea," being applicable to Arabs. With this scenario, I do not rule out the possibility that the boat of those running away from the hell of Arab wars to Europe is just the beginning.
arabtimesonline.com/news/jerusalem-hitler-trump-womens-fashion-guns/
--------
CEO Of Twofour54 Honoured As Role Model For Women
ABU DHABI, 1 hours, 34 minutes ago
The CEO of Media Zone Authority – Abu Dhabi and twofour54, a promoter of Abu Dhabi's media and entertainment industry, has been recognised at the Arab Woman Awards for her work in helping build the media industry in the UAE.
Maryam Eid AlMheiri received the Media Award at a ceremony held at Emirates Palace in Abu Dhabi for both her work in the sector and her prominence as a role model for young women.
The Arab Woman Awards were launched in 2009 with the aim of raising awareness of the significant achievements of Arab women across the GCC. So far, more than 300 women have been recognised for their work in fields such as media, the arts, fashion, and business.
The awards are held in four Gulf countries, including Saudi Arabia and the UAE, and the recipients are chosen by a panel of judges drawn from a variety of fields. The criteria for each award includes that nominees have achieved something outstanding in their field over the past 12 months, as well as having contributed positively to society and act as an inspiration to young women who might follow in their footsteps.
One of the goals of twofour54 is to develop local talent, which is key to building a sustainable media sector. It has launched initiatives focused on raising awareness of career opportunities as well as programmes to help young people on their journey to becoming the storytellers of the future by developing their skills and experience. This include creative lab, which has 13,000 members, and the annual twofour54 Summer Camp, which allow young people to work alongside media professionals as well as create their own projects.
AlMheiri said: "I am honoured to have received the Media Award at the Arab Woman Awards. This award is as much a reflection of the inspiration I have received from the wise leadership of our country and the support of my family and colleagues as it is of my own professional achievements."
"It is an intrinsic part of our society to dream and to plan for the future, something that has been instilled in all of us since we were children. It is why we have achieved so much as a nation in such a relatively short period of time.
"So, I urge young people across the Arab world to also follow their dreams, to share their stories, and ensure their voices are heard. I urge them to look for opportunity around every corner so they can realise their full potential," she added.
As the CEO of Media Zone Authority – Abu Dhabi, AlMheiri is responsible for its strategic agenda, building a sustainable media industry that contributes to the economic and cultural development of Abu Dhabi, while positioning the emirate as a focus for global media.
MZA's subsidiaries include both media hub twofour54and Abu Dhabi Film Commission. twofour54's thriving community includes global names such CNN, Cartoon Network, Apple, Ericsson and Ubisoft.
Looking to the future, AlMheiri is leading the move of twofour54 to its state-of-the-art home on Yas Island, which will allow the community to sustain further development and build on its success.
twofour54's new home will be30 per cent larger at 77,000 sq m, with the option to expand in phases to up to 300,000 sq m by 2030. It will feature state-of-the-art offices, TV studios, retail and recreation on a campus built for purpose that encourages collaboration and creativity. – TradeArabia News Service
tradearabia.com/news/MEDIA_334044.html
--------
Causes Week 2017: Code for success: Getting women to be techies
DEC 10, 2017
NurulJihadah Hussain, 30, founded The Codette Project in 2015 to get minority women into Science, Technology, Engineering and Mathematics (STEM) fields.
Inspired by a movement in the US, Ms NurulJihadah Hussain started The Codette Project, in 2015, hoping that under-represented women will become a common sight in the computer coding industry.
The 30-year-old wants to see more representation from minority groups - such as Malay-Muslim women, women of mixed race and single mothers - in the Science, Technology, Engineering and Mathematics (Stem) fields.
"I was inspired by similar organisations in the United States like Black Girls Code," she said. Black Girls Code provides opportunities for African-American women to learn about Stem subjects so they can enter such professions.
She added: "I personally did not know any minority women in tech when I started The Codette Project. In Singapore, only 30 per cent of the tech workforce is female, and fewer than 5 per cent of start-up founders are women, and some minorities, like the Malay-Muslim minority, are practically invisible."
With a core team of about six women, the project has been holding free coding classes at Myspace in Arab Street, equipping mothers and even their daughters with basic skills.
These range from actual coding to other skills such as Web design and social media navigation.
The classes are targeted not just at women who want to enter Stem fields, but also those who want to use technology more effectively in their daily lives.
"We have had women come to our classes wanting to learn skills for school and home and work and everything in between. We don't think tech is just limited to the workplace. Tech is everywhere, and using it more effectively will help all of us get to where we want to be," said Ms Nurul, who engages volunteers to train the women.
The courses offered include designing for social media, Hypertext Markup Language (HTML) and social media and branding.
There are also a #HeforShe panel discussion, done in collaboration with the Singapore Committee for UN Women, and a workshop to teach women how to excel in the workplace.
Madam Yee Dew Eng at her new Cassia Crescent home last month with Cassia Resettlement Team members (from left) Lee Wei Ting, 20, Lim Jingzhou, 20, and Ng Xiang Yun, 17. CRT volunteers visit her on Saturdays and help her pack her medication.
As for the targeted numbers they hope to reach out to, Ms Nurul said: "My measure of impact is simple - one person. As long as one woman feels like she has benefited from our workshops or our events, then that to me is a measure of success."
She added: "The benefit is in the long term. For The Codette Project, we want to see more alternative narratives of success for minority women, by minority women, and for this to be present across industries including tech."
Their coding session on Dec 2, which taught mothers and daughters to appreciate technology alongside each other, drew eight adults and 11 children.
Ms Sameera Begum, 20, an SIM Global student, took her younger cousin to the session. She said: "I believe it's important to learn how to code regardless of gender... However, there is a gender bias in this field. It's a male-dominated industry and I hope in the future, we have more females working and succeeding in the IT industry."
Her cousin, 10-year-old primary school pupil NurFahima, said: "The session was very fun for me. The best part of the session was making my very own animation clip."
Ms Sarah Bagharib, 26, who helped set up The Codette Project, said they hope to have bigger sessions in the future, with more participants each time.
"Our workshops are limited by rental costs constraints," she explained.
"We have an agreement with the Muslim Youth Forum to use their premises for a reduced rate. This space holds about 15 to 20 people, and we have reached ticket capacity for all our workshops. Our larger-scale one-off events like networking sessions have been held at spaces like Google, and we have had 50 to 60 people."
The Codette Project has drawn more than 800 followers on Facebook and about 350 on Instagram.
straitstimes.com/singapore/code-for-success-getting-women-to-be-techies
URL: https://www.newageislam.com/islam-women-feminism/pakistani-ameri-kathak-dancer-farah/d/113515