New Age Islam News Bureau
4 March 2014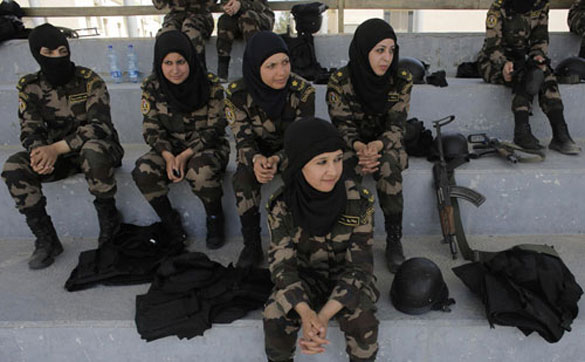 Majdi Mohammed/AP - A Palestinian woman holds a sign that says "Protecting women from violence is an official and social responsibility" during a 2012 rally held at the spot where a woman's throat was slashed by her husband
--------------
• Princess Nourah Says Saudi Women Playing a Meaningful Role
• Women Banned From Wearing Panties to Church by Nairobi Pastor
• In Indonesia (Bandung), Activists Fight Adolescent Prostitution
• 100 Female University Students in Asir to Donate Organs
• Honour Killings Rise in Palestinian Territories, Sparking Backlash
• Female Pupils in Sirte to Wear the Hijab under Awquaaf Ruling
• Facebook Group Tracks How Many Women Have Been Detained In Egypt
• Fizza Malik, 24: A Life Snuffed Out In Suicide Bombing In Islamabad
• Indonesia Pushes For More Women in Power
• Saudi Nurses Call For Right to Scholarships
• Libyan Women Find Out More about Self-Development
• Makkawi Women Seek Active Role in Development Plans
• Women Come Out To Take Part in Anti-Draft Prayer in Jerusalem
• 'Agunah Summit' To Question State's Role in Reaching Solution on Issue of 'Chained' Wives
• Seminar Draws Roadmap for Minority Women's Education in North East India
Compiled by New Age Islam News Bureau
URL: https://www.newageislam.com/islam,-women-and-feminism/new-age-islam-news-bureau/pakistani,-afghan-sports-officials-hail-fifa-s-headscarf-move/d/55982
-------------
Pakistani, Afghan Sports Officials Hail FIFA's Headscarf Move
AFP
4 March 2014
Pakistani and Afghan sports officials have hailed a decision by football's world governing body to lift a ban on head coverings, saying this will allow more Islamic girls to take up the sport. -
FIFA on Saturday officially authorised the wearing of head covers for religious purposes during matches, allowing women who wear a veil in everyday life to cover their heads during matches and men to wear turbans.
Rukhsana Rashid, the captain of the all-women's Dia club in Pakistan's southern province of Sindh, said Monday the move would help the sport to grow.
"I want to pay my gratitude to FIFA because this will allow female players from remote areas to take up the game because their parents were not allowing them without their head covered," she said.
Saadia Shaikh, secretary of the Sindh's women's football association, added it was a "very good decision for female players from Islamic countries".
Former military ruler General Pervez Musharraf cleared the way for women's events at national level in 2005.
In all, nine national women's football championships have been held and the country now boasts 22 women's football clubs with around 400 players.
But male spectators unaccompanied by female relatives are banned from entering the stadium.
In neighbouring Afghanistan, Mohammad Yousuf, a senior official in the Afghanistan football federation, said the decision "shows respect to the culture and religion of others. This is respect and tolerance and we in Afghanistan welcome this."
"If it was not allowed, this could be a problem for Afghan women and for the women in the Islamic world in general," he added.
The Taliban, who ruled Afghanistan from 1996-2001, allowed only men's football but sometimes used the national football ground in Kabul to carry out public executions before matches.
Pakistan's women's team will start a training camp next month to tune up for friendly home and away matches against Qatar.
Pakistan will host the South Asian Football Federation cup in December this year, with neighbouring countries like Afghanistan, India, Bangladesh and Nepal expected to feature. Both men and women will compete.
http://www.themalaymailonline.com/sports/article/pakistani-afghan-officials-hail-headscarf-move#sthash.yVNVUOKF.dpuf
-------------
Princess Nourah says Saudi women playing a meaningful role
4 March 2014
BURAIDAH — Princess Nourah Bint Mohammad said it is evident that Saudi women are making a telling contribution to society.
In an interview with Makkah daily, the princess noted that women have ventured into scientific innovation and hold the patents to many inventions.
"Saudi women have realized a high status in the medical sector and a number of younger women have ventured into the industrial, services and commercial sectors," the princess said.
She added this participation was growing and hoped that women would soon compete with their counterparts from other countries.
"My involvement in voluntary social work began in Asir many years back and continues now in Qassim," she said.
She explained women are productive by nature and women in Abha are usually entrusted with painting the interiors of houses in beautiful heritage colors and designs.
She said: "Women in Qassim are participating in many events and exhibitions and are performing distinct social roles for societies and establishments.
"Our plans are derived from Custodian of the Two Holy Mosques King Abdullah's vision to develop Saudi society and his continued recommendations of including women in the development plans of the country."
The princess stated caring for the families of soldiers lost in the line of duty was a priority of the women's committee in Qasim.
She pointed out the committee has presented a study of those families' conditions five years ago and is now reviewing the results to develop plans for their future benefit.
She explained Herfa cooperative society, a national campaign for productive families and preserving Saudi heritage, has launched the Al-Roushen program in coordination with Princess Nourah University's arts college.
"The program calls for women students to design products that are then produced by craftswomen to cater for the needs of our modern times," she added.
She noted the Al-Roushan program would be repeated with other universities around the Kingdom.
"Herfa is conducting periodic studies on the condition and status of craftswomen to develop them and its college will provide training for such craftswomen," she said.
"The craftworks of Qassim women have received a lot of attention from women visitors from Gulf countries and we hope that mutual visits will continue to exchange expertise and facilitate participation in events and exhibitions," she concluded.
http://www.saudigazette.com.sa/index.cfm?method=home.regcon&contentid=20140303197396
-------------
Women Banned From Wearing Panties to Church by Nairobi Pastor
4 March 2014
Nairobi pastor Reverend Njohi has introduced a form of worship at his Lord's Propeller Redemption Church in which female members of the congregation are banned from wearing underwear so God can enter their bodies easily.
After a recent meeting of the church's elders, to debate the matter Reverend Njohi passed an edict banning the wearing bras and panties when attending service.
Defending the law, Reverend Njohi claims that when going to church, people need to be free in body and spirit to receive Christ.
Describing the wearing of underwear to church by women as ungodly, Reverend Njohi warned his members of dire consequences if they secretly did so.
According to one of the church's members, last Sunday, all the female members of the congregation came to the service without any panties or bra as the pastor ordered.
Mothers were advised to check their daughters when coming to church on Sundays so as to ensure they obey the edict and can receive Christ too.
Reverend Njohi's church is located in Dandora Phase Two, an eastern suburb of Nairobi, which was listed by the Blacksmith Institute as one of the most polluted sites in the world.
Following the passing of the edict local Dandora residents' frog marched one of the senior pastors to the church where they ordered him to open its doors.
They stole money and the pastor's mobile phone and the walls and windows of the church were badly vandalized.
Dandora was established in 1977, with partial financing by the World Bank in order to provide decent housing to Kenyans but the estate has turned into a high-density slum with massive unemployment.
http://www.spyghana.com/women-banned-wearing-panties-church/
-------------
In Indonesia (Bandung), Activists Fight Adolescent Prostitution
4 March 2014
Bandung. A call to Cimoy's cellphone interrupts our interview and almost immediately, without excusing herself, she answers it. The conversation is brief, and from where I'm sitting all I can hear is a mumbling as she tries hard to keep her conversation private.
"A client?" I ask to confirm my suspicion. Cimoy, who refuses to provide her full name, nods without a word. Her eyes remain fixed on her phone. She makes a call to one of her "ladies," asking her to go to a place the client has specified: a karaoke parlor in the central Bandung area. "A [political] party official is having a birthday," Cimoy says; the client has requested eight escorts.
Cimoy is in her early 20s, but has since the age of 14 been pimping out a harem of 19 teenage girls to paying customers.
She says it all started when she was tricked by her sister's boyfriend into coming to a hotel. Her sister's boyfriend told Cimoy to pick him and her sister up.
"When I got to the room my sister wasn't there. Instead, there was a man," she says. He tried to rape her and she fended him off. "I punched him. But eventually I told him that I knew a friend who might be willing [to sleep with him]. He said OK."
Cimoy soon realized that she could make a lot of money pimping her friends. Initially she recruited four of her friends to run the business, and over time the number grew to 19, most of them aged 15 and 16 years old.
Cimoy's girls are among the thousands of underage prostitutes working in Bandung today, according to Hadi Utomo, chairman of the Bahtera Foundation, which fights sexual exploitation and trafficking.
The foundation and two other nongovernmental organizations have interviewed more than 700 underage prostitutes and concluded that like Cimoy, most are not in it just for the money.
"Our research has dismissed all these expert opinions that suggest that [prostitution] is driven by economic pressure," Hadi says.
Instead, most of the underage prostitutes operating in Bandung come from a broken family, the interviews found. Prostitution provides the girls with an escape from the domestic problems at home and allows them to be independent, living on their own.
Cimoy says there is strong demand for escorts and prostitutes, particularly from public officials and businessmen, who often stage meetings and seminars in the scenic West Java capital. A number of hotels in Bandung even keep a list of her girls along with their rates, she says.
Cimoy says that when she started six years ago, her girls were commanding fees of Rp 300,000 to Rp 500,000 ($26 to $43) for each encounter with a client. Today, they charge from Rp 1 million to Rp 2.5 million per date. Cimoy says she makes Rp 30 million a month.
With very little protection from law enforcers, victims of sexual violence in Indonesia can wind up in a vicious cycle that pushes them into prostitution.
Sixteen-year-old Putri (not her real name) says she was raped by her boyfriend when she was 13 and had to undergo an abortion.
She says that after she was raped, she was stigmatized. Not even her teachers offered any comfort or counseling let alone protection, and her friends at school called her a whore. At home, neighbors whispered all sorts of things about her. She dropped out of the eighth grade a few months later.
She began working as a hostess at a karaoke parlor in north Bandung. Putri says the job offered her freedom, away from the shame she felt at home and at school. But the hours were long, lasting until 3 a.m., and she was often harassed by clients. "Once there was someone who tried to undress me. I hit him with a glass," she says.
Putri says her stated salary was just Rp 750,000 per month, but she made substantially more in tips. The money was enough to feed herself, her mother and two sisters, but the temptation to earn more always lurked.
After several months of working at the karaoke parlor, she agreed to have sex with a customer who offered to pay her more than what she made in a month.
Hadi says sexual exploitation and trafficking in Bandung have reached alarming levels, and accuses the government of doing little to stop them. Authorities at the national, provincial and municipal levels have enacted laws and regulations to prevent sexual exploitation, "but they are just words without actual implementation because there is no institution tasked specifically to enforce out these [regulations]," he says.
The police have their own unit for women and children, which deals with underage prostitution, and there are institutions like the National Family Planning Coordination Board (BKKBN) and the Indonesian Commission for Child Protection (KPAI), but they each only deal with narrowly defined aspects of this complicated issue, Hadi says.
The government's Social Affairs Ministry has a program to rehabilitate prostitutes by giving them vocational training. Bandung Mayor Ridwan Kamil also plans to build a seven-hectare facility to provide counseling and get underage prostitutes off the streets by teaching them sewing, cooking and hairdressing skills.
"This is a problem of damaged souls, morals and emotions, but they try to fix these with skills. This won't lead to improvement," Hadi says.
Ridwan acknowledges that addressing underage prostitution is not high on the list of issues facing the teeming city of Bandung. "But that doesn't mean we ignore [underage prostitution]. I've only been mayor for three months," he reminds the Jakarta Globe recently.
"We all know West Java, and Bandung, is a major route for human trafficking. I want to invite NGOs so we can formulate a solution together. The bottom line is… I am also concerned about this."
Hadi says it takes patience and persistence to combat sexual exploitation, a mind-set he says is lacking among government agencies and officials.
"We need to treat the girls as dignified human beings, without prejudice or arrogance that they are prostitutes," he says.
"Only when mutual respect is earned can we start to discuss with them the dangers of their profession."
Hadi's foundation has been tirelessly advocating for protection for children against sexual exploitation since 1995. Roni, one of just 10 volunteers working for the foundation, says he spends most of his time talking with these girls who often feel abandoned by their family.
By engaging gradually with them he gains their trust. Only after one or two years of getting to know them do they talk more openly about their sexual activities and how they are trapped in their profession, allowing Roni to map out just how deeply they have been exploited and identify the culprits.
Roni says he counsels around 200 prostitutes, all of whom are between 13 and 17 years old. Most are like Putri, working at karaoke parlors, officially as hostesses but in reality as escorts and prostitutes.
For most it is hard to escape life as a prostitute.
"According to these kids the job is easy… and profitable compared to being a store clerk, for example, who only makes Rp 1.5 million a month," Roni says. "They know the risks… but they consider them challenges or occupational hazards."
Cimoy knows the risks all too well. Her relationship with her family is shattered. She hasn't seen her parents in ages. At one point she developed a drug addiction, and today has three children with three different men.
"The government won't do anything to stop this from happening. They are the very people who use my services," she says.
Roni remains hopeful about the Bahtera Foundation's advocacy, saying that 40 percent of the girls he talks with are slowly starting to move away from prostitution, including Putri.
Putri recently quit her job at the karaoke parlor and plans to look for steady work. Cimoy, meanwhile, swears that she only provides escorts and doesn't sell sex, but Roni is apprehensive.
"Most of the time they return back to their old profession, because it's like an addiction," he says.
He says the girls are under the illusion that they are enjoying freedom. But what they don't understand, he says, is at what price that freedom comes, and what happens next for them.
http://www.thejakartaglobe.com/news/in-bandung-activists-fight-adolescent-prostitution/
-------------
100 Female university students in Asir to donate organs
4 March 2014
ABHA — As many as 100 female university students in Abha have signed special pledges to donate their organs after death, Makkah daily reported on Monday.
The students signed the commitments during a campaign to promote organ donation.
The initiative was organized by the female students at the faculty of pharmacology at King Khaled University in Asir in collaboration with the Saudi Society for the Donation of Organs.
Held under the slogan, "Reward for you, hope for them", the campaign was recently held at the Asir Mall in Abha.
Chairwoman of the campaign Tala Qadah, who is studying clinical pharmacology, expressed happiness over the success of the initiative and said it had been well received by society.
"We will continue this campaign until it has achieved all its purposes," she said.
Asked about the difficulties that the campaign had faced, Qadah said most visitors were aware of the importance of the organ donation but did not know the Shariah rule on the issue.
"We explained to these people the fatwas (religious edicts) that permitted organ donation and told them that Allah would reward them for their good deed," she said.
A video film showing the activities of the campaign since the university launched it was displayed during the function.
A number of doctors and consultants were present to answer queries from visitors.
http://www.saudigazette.com.sa/index.cfm?method=home.regcon&contentid=20140304197527
-------------
Honour killings rise in Palestinian territories, sparking backlash
4 March 2014
AQQABA, West Bank — The news spread at dawn, and people in the village made their way to the olive tree where the bruised body of a young mother of six was hanging, her veil torn off. She had been killed in the name of honor.
"For two weeks, her children were incapable of sleeping, crying for their mother," said Ahmad Abu Arra, a cousin of the victim. "We want justice."
Here in this northern West Bank mountain town of breathtaking views, the relatives of Rasha Abu Arra, 32, who was killed in November after rumors spread that she had committed adultery, are adding their voices to an outcry against honor killings in the Palestinian territories.
Twenty-seven women are thought to have been killed last year in the West Bank and the Gaza Strip by family members claiming reasons of "honor" — more than double the 13 cases documented in 2012. The age-old rationale can serve as a cover for domestic abuse, inheritance disputes, rape, incest or the desire to punish female independence, according to Maha Abu-Dayyeh, the general director of the Women's Center for Legal Aid and Counseling, a Palestinian human rights group that tracks the killings.
Honor killing, once hidden behind a curtain of silence and shame, is beginning to generate condemnation of its perpetrators, public support for its victims and vows to stop the practice.
"The entire society is incensed by the increase," said Rabiha Diab, the minister of women's affairs in the West Bank. "It is a very worrying situation, not just in the occupied Palestinian territories, but all over the Arab world."
There is no agreement on whether this increase reflects an uptick in killings or better reporting of incidents by the news media, activists and authorities. Some suggest that urbanization and technology have fueled social tensions in the deeply traditional Palestinian society.
In December, the Palestinian Authority, which governs much of the West Bank, began training police and hospital staff to detect and report such abuses and threats as part of an effort to combat violence against women. Diab is pushing to require prosecutors to involve her ministry in investigations of suspected honor crimes, and she is seeking to purge the Palestinian legal code of laws that guarantee light sentences for honor killings.
A slow groundswell
The suspected honor killings of two teenage girls in Gaza in recent days drew a rebuke from Hanan Ashrawi, a top official with the Palestine Liberation Organization, who called for immediate legal amendments that impose "maximum sentences" for those convicted of killing women.
"The woman is not an emblem of honor for the man or her family," Ashrawi said in a statement. "The categorization of such crimes under misleading labels constitutes the exploitation of women, and in turn, it safeguards the offenders and promotes more crimes of this nature."
In recent years, other suspected victims have included a young Gazan mother of five who was bludgeoned to death by her father because he suspected she was using her cellphone to talk to a man. In September, a mentally disabled 21-year-old in the West Bank city of Hebron was allegedly killed by her mother after she was sexually assaulted. Another West Bank woman, who had divorced an abusive husband, allegedly was strangled by her father after being accused of "disgraceful" acts in a petition that news reports said was signed by a legislator from the Islamist militant movement Hamas, which rules Gaza.
Muslim clerics have become some of the most vocal critics of the killings, women's groups say. Sheik Yousef Ideis, head of the Palestinian Islamic-law court, has warned that "innocent women" were being killed by relatives on the basis of hearsay that would be ignored if they were men. He also said that the killings are a discriminatory practice that violates the teachings of the Koran.
"Citing honor as a justification to kill is completely rejected in Islam," Ideis wrote in an article published on his court's Web site, according to the Palestinian news agency Maan. "This tradition was spread during the pre-Islamic
pagan era, and Islam fought it."
As police become more vigilant, and neighbors even in small, close-knit villages such as Aqqaba speak up, the perpetrators have begun to disguise the killings as accidents, such as falling off a roof, Abu-Dayyeh said.
Palestinian news media have begun to report more on honor killings, adding to the sense of outrage over the crimes.
In 2011, Palestinians were shocked by the television coverage of the killing of a popular university student, Aya Baradiya, 20, allegedly thrown into a water well in Hebron and left to die by an uncle who disapproved of her suitor. There were protests, with some students describing her as a "martyr."
In the fallout, Palestinian Authority President Mahmoud Abbas annulled a law dating to Jordan's occupation of the West Bank that allowed sentences of no more than six months for honor killings.
But similar laws remain, some dating to the Ottoman Empire. And pardons and suspended sentences are common, according to women's groups that are publicly demanding a legal overhaul to end honor pleadings. Some activists blame the slow progress on a reluctance to offend conservatives.
A close-knit community
The killing of Rasha Abu Arra shocked Aqqaba. In the village, most families share one of three last names and steer their daughters through tradition-bound lives even though they live just a few miles from the Arab American University, a private institution where thousands of young Palestinian women study for careers.
The local imam, Sheik Mustafa Abu Arra, denounced the killing, saying that those who suspect religious violations "should respect the rule of law."
The victim's husband and brother are jailed as suspects, and other family members have been detained for questioning, according to Aqqaba Mayor Jamal Abu Arra.
"People were outraged," he said. "This is not accepted by our religion or our traditions. We need legislation to support and protect women."
The mayor said the killing should be pursued as first-degree murder, without the pleas of honor that can shorten a prison sentence to less than a year. In the past, honor killings didn't even make it to the courts, he said.
"It was a terrible shock for all the children," he said. "Every child has a mother. She represented all the mothers of the town. It had a very destructive psychological impact."
It was no secret here that Rasha Abu Arra and her husband, a police officer, weren't getting along. Some townspeople said the victim's in-laws spoke maliciously behind her back.
People saw her talking on her cellphone. They began to whisper that she was secretly carrying on with a man, who has since disappeared, though some of her relatives deny there was adultery.
She left the house with her brother one day in late November and didn't come back, the mayor said. Her husband told his family that she had disappeared, but he waited two days to report it to the police, the mayor said.
Rasha Abu Arra's oldest son, Adham, 13, waited for hours with townspeople under the olive tree for investigators to arrive and collect evidence. The victim's mother took to her bed, paralyzed by grief.
Baker Abu Arra, 43, a cousin of the victim, said the killing brought back terrible memories of two local girls who were raped when he was a boy and then killed by their families to cleanse the stain on their honor; the rapists went unpunished.
"This killing has destroyed a whole family," he said.
Nisreen Abu Zayyad contributed to this report.
http://www.washingtonpost.com/world/middle_east/honor-killings-rise-in-palestinian-territories-sparking-backlash/2014/03/02/1392d144-940c-11e3-9e13-770265cf4962_story.html
-------------
Female Pupils in Sirte to Wear the Hijab under Awquaaf Ruling
4 March 2014
Female pupils in Sirte are to wear mandatory hijabs under an order issued by the town's Ministry of Awqaf and Islamic Affairs office.
Primary and secondary school students are obliged, under the new ruling, to wear the Islamic jalabia and a scarf covering their hair. News agency Al-Wasat reported that the decision was made under pressure from Ansar Al-Sharia which, it claimed, had influence within Sirte's education authority.
The ruling has provoked mixed reactions on social media networks with some welcoming the move and others claiming it is the first step in turning Libya into a more Islamic state. Some criticised the move as restricting women's freedom, pointing out that such freedom was one of the principal goals of the 17 February Revolution.
http://www.libyaherald.com/2014/03/03/pupils-in-sirte-to-wear-the-hijab-under-awqaf-ruling/#ixzz2v1wJqqme
-------------
Facebook Group Tracks How Many Women Have Been Detained In Egypt
4 March 2014
(WOMENSENEWS)-- A Facebook group called Egypt's Queens: Imprisoned has been keeping an online list of women detained by Egyptian security forces since the July 2013 military ouster of President Mohamed Morsi.
The group says more than 2,500 peaceful protestors, men and women, have been killed and at least 15,000 political opponents have been detained, persecuted and tortured since last summer.
The group, which does not disclose any political affiliation, says "human rights violations have reached unprecedented records."
When Egyptians took to the streets to oust President Hosni Mubarak in 2011, they demanded the end of the dictatorship, the corruption, the difficult conditions of life and violations of human rights.
Three years later, those democratic longings are smashed, said Fatima Said, spokesperson for the London-based organization British Egyptians for Democracy. "It is definitely much worse than under Mubarak," she said during a Skype interview last week. She described the treatment of women in detention as "horrific, absolutely horrific."
Said denounced the "double standard" by media groups who treat the abuse of female detainees linked to the Muslim Brotherhood as less newsworthy. "When the women belong to the Islamist camp there is much less regard towards them, not so many people want to cover the story because it is more palatable to have someone who is described as liberal and who is being repressed." She insists that women from all parts of the society have been assaulted by the current military regime.
Said recalls women being arrested during protests organized by liberal groups late last year. "The women were harassed while being detained and after being detained the police took and drove them out into the desert, dumped them there and told them to make their way back home," she said.
PUBLIC ASSEMBLY RESTRICTED
A protest law restricting the right to public assembly signed in late November by interim President Adly Mansour has given the Interior Ministry wide discretionary powers over protests, including the use of firearms against peaceful protesters. Protesters convicted of breaking the law can face up to five years in prison and fines of $14,513.
Large numbers of the young women arrested since July 2013 are students, some as young as 15, Said told Women's eNews. Since they are minors, they are being detained in juvenile centers but they are still going through the same kind of sexual abuse, torture and harsh treatments meted out to adults.
Egypt's Queens: Imprisoned's data--based on personal anecdotes collected through its member network--include stories of what women have suffered in detention.
In a Feb. 1 post, the site tells the story of Dr. Mervet Galeela, a radiologist, who "has been beaten and arrested while working at her hospital . . . for having a small Rabia symbol pinned to her clothes." The doctor is currently detained and under interrogation.
Rabia means fourth in Arabic and at first the sign was used to signal outrage at the events of Aug. 14, 2013, when thousands of men, women, children, infants and older people were killed in Rabaa al-Adawiya Square in Cairo during a pro-Morsi protest. Since then it has been adopted more generally as a symbol of resistance and protest against military regimes worldwide.
Along with the leaders of several other groups, British Egyptians for Democracy's Said said "trumped up" political charges are being used against detainees. She said mere possession of a camera, wearing badges that say "down with military rule in Egypt" or making the four-finger "Rabia sign" can lead to arrest and conviction.
In a Skype interview, the spokesperson for Egypt's Queens: Imprisoned, who asked not to be named for safety reasons, said female demonstrators on college campuses are being threatened by security and police officers. "'We are going to rape you and get you pregnant,' they say to the women," said the spokesperson.
STRONGMAN TACTICS RETURN
When Morsi was ousted by the Egyptian military last summer some liberal protest factions held back from decrying it as a military coup. But popular discontent with strongman tactics associated with the regime of ousted President Mubarak is now spreading.
Egypt's current president named a new prime minister on Feb. 25, a day after his predecessor, Hazem el-Beblawi, resigned abruptly without stating his reason. El-Beblawi was appointed after Morsi's ousting in July 2013.
Abdel-Fattah al-Sisi, commander-in-chief of the Egyptian Armed Forces and the minister of defense, is widely seen as the favorite to win the presidential election expected this year but not yet scheduled. In April 2012, al-Sisi, who led the anti-Morsi coup, defended the practice of submitting female protesters, those who demonstrated against the military in the aftermath of the Mubarak's ouster, to virginity tests. He argued they were carried out "to protect the girls from rape, and the soldiers and officers from accusations of rape."
A couple of weeks ago, an Egyptian woman, in a video posted by Rassd News Network on Youtube, added to the tableau of violence against women. She said she gave birth handcuffed to her hospital bed after being randomly arrested on her way to the hospital on Jan. 14. Dahab Hamdy, 18 years old, was eight months pregnant when she accidentally got caught up in an anti-coup protest. She faces charges of taking part in an illegal protest, rioting and disrupting the polling process.
Earlier this month, Amnesty International called for the release of three women arrested on Nov. 12, 2013, after clashes erupted on the campus of Mansoura University between supporters and opponents of the Muslim Brotherhood.
"They are facing fabricated and illegitimate charges simply for exercising their rights," Hassiba Hadj Sahraoui, deputy Middle East and North Africa program director at Amnesty International, said in a press statement.
In a statement on their website, the rights group said: "The authorities have displayed a brazen disregard for the right to peaceful assembly in recent months and have sought to clamp down on any form of dissent with a restrictive new protest law." After four adjournments, the trial for the three women is now scheduled for March 28.
Earlier this month, the Ministry of Interior denied the allegations of arbitrary arrests and torture in jail since the protest law was issued in November, Ahram Online reported Feb. 12. The Egyptian online publication said that 16 human rights organizations are demanding "swift investigations into what they described as "increasing and shocking allegations of torture and sexual assaults against those detained at police stations since 25 January."
STUDENTS' FAMILIES RECOUNT ABUSE
The London-based Arab Organization for Human Rights said in a Feb. 10 press statement that it had received complaints from the families of 12 students imprisoned in Egypt. "Families reported that the girls were assaulted, tortured, sexually harassed and had their Islamic head covers removed by security and police officers following their arrest. The girls were also subjected to virginity tests several times at Nasr police station in addition to being tortured there before being transferred," the statement said.
Said, the spokesperson for British Egyptians for Democracy, said women who are victimized in detention can be blamed and stigmatized for the rape and other sexual abuses they suffer. That makes it hard to track what's happening. The same stigma and rejection is even worse for men, making those stories even harder to document.
Women Against the Coup is a group that belongs to the National Alliance Supporting Legitimacy, which describes itself as an Islamist coalition. However, Alaa Hosni, the group's spokesperson, said not all of its members are Islamists.
Hosni's group has documented 1,500 cases of abuse against female detainees since Morsi's ouster in July 2013. The number is considered low due to the difficulty of tracking the incidents in the context of pressures and intimidations by security forces, Hosni said in a Skype interview this week. She said the group has documented 150 cases of women who are currently detained.
Among them, 30 women have been subjected to a pregnancy test and around five were subjected to a virginity test. Hosni has heard rumors about women getting pregnant after being raped in detention, but so far she cannot confirm or refute them. She could not provide an estimate of the number of women and girls who have been missing or kidnapped since the past summer.
Hajer Naili is a New York-based reporter for Women's eNews. She has worked for several radio stations and publications in France and North Africa and specializes in Middle East and North Africa women in Islam.
http://www.huffingtonpost.com/2014/03/03/egypt-protests_n_4891089.html
-------------
Fizza Malik, 24: A Life Snuffed Out In Suicide Bombing In Islamabad
March 4, 2014
ISLAMABAD: Fizza Malik, 24, did not live long enough to see her licence to practice law arrive in the mail.
Malik, a recent law graduate from the London School of Law, was among 11 people who were brutally killed during a suicide bombing and firing attack at the Islamabad district courts on Monday.
"Fizza had started working as a junior lawyer at the courts two months ago. I saw her 10 minutes before she was killed in the attack," lawyer Mohsin Khan Kiyani, whom Malik worked with, told The Express Tribune.
Fizza had applied recently for a licence to practice law which was being processed, Kiyani said, but he said she was really excited about getting accepted for LLM in the United Kingdom.
Social media networks saw an outpouring of grief on Malik's death. She was an only daughter.
Her colleagues and friends also showed up in large numbers to grieve her loss at the Pakistan Institute of Medical Sciences.
"She died in front of me but I'm unable to accept that she is no more," said one of her colleagues.
Malik worked at a call centre in Islamabad before quitting the job to start a career in law. She is survived by her parents and two brothers.
http://tribune.com.pk/story/678623/fizza-malik-a-life-snuffed-out/
-----------
Indonesia pushes for more women in power
4 March 2014
More than 80,000 women will be running for office in this year's presidential election in Indonesia, encouraged to be part of the country's plan to have more women in power.
More than 80,000 women will be running for office in this year's presidential election in Indonesia, encouraged to be part of the country's plan to have more women in power.
A women's political training program funded by the United States is being run twice in five different regions of Indonesia, including some of its most remote areas.
Organisers have been stunned by the turnout to these workshops, with some women travelling for hours just to attend.
Around 170 women are learning to run for office in a conference hall of a hotel in Banda Aceh, Indonesia's northernmost point.
While their discreet Islamic dress might signify an unlikely group to step up and take charge, their vision is more radical.
"By becoming a legislative member, I have more chances to fight for women, because I would be the one who creates the law, and monitors it," United Development Party candidate, Sri Gustini, said.
Michelle Bekkering, the International Republican Institute's resident country director in Indonesia, is the lead trainer of the workshops.
She has spent 12 years in Washington's hot-house politics, including time on former president George Bush's national security council.
Ms Bekkering says she has never worked with a more attentive group of women.
"They soak everything up ... they come early, they stay late, they write everything down," she said.
Resistance at street level
It's no easy task for women to build a political profile in one of Indonesia's most conservative regions.
"Men often told us if there is an event to wait at home, to cook, that this is men's business, as if there is a division of work between men and women," Golkar candidate, Saida Afrida, said.
While there might be resistance on the street, female politicians are encouraged at the high levels of law, in the province's sharia office.
"In sharia's perspective a woman entering politics is something good," Professor Syahrizal Abbas from the Islamic Shariah Department said.
"It gives everyone a chance to take care of this country, and there is no discrimination between men and women."
Indonesia's women are backed by regulations on affirmative action.
Since 2008, a law has required that one-third of political candidates must be women and the country's electoral commission is blocking reluctant parties from running if they don't meet the rules.
The names of 83,000 female candidates will be on Indonesia's ballot papers in the upcoming election.
Michelle Bekkering says she hopes more women will be elected this year.
"We really want to change public perception and show them a positive image of women as public leaders," she said.
Aceh's women step up
Banda Aceh is a city better known for the devastation caused by the tsunami in 2004, but the women of Aceh don't have to look far for inspiration.
Illiza Sa'aduddin Djamal won a place in parliament well before the female quota was set.
She is now the deputy mayor of the provincial capital of Banda Aceh and she has won the support of the region's senior male scholars of Islamic law - the ulama.
"Women's activities were never attended by the leaders in Banda Aceh. Every time that leaders or prominent figures were invited, only a representative would come," she said.
"But I won people's trust at the election, by spending most of my time with my people, especially women. I always make them my priority."
It was a defining moment for the region, but also its women.
The sectarian violence that had plagued the province for 30 years came to an end, a peace accord was signed, and international recovery funds poured in.
Aceh's women stepped up, picking up the pieces of communities wracked by both war and natural disaster.
"I'd say it's a country where women haven't been overly encouraged to get active in the public sphere," Ms Bekkering said.
"But things like the tsunami ... taking leadership roles in their communities, helping with reconstruction effort... women here have had long experience in being active for public life.
"Now they're just ready for the next step which is elected office."
National Aceh Party candidate, Cut Nurlina, says she wants to make a difference in her area.
"I really hope that by being elected I can do something for people in my area," she said.
People not only have to contend with patriarchal attitudes, but in some parts of Aceh, old rifts have led to violence.
"When I heard that there is intimidation, murder threats ... it doesn't make me afraid or want to back down," Cut Nurlina said.
"I know there are groups who want Aceh to not be peaceful, and they don't understand how to do politics properly."
Doing politics properly is no easy task in a democracy that's still taking shape, but these women are going to give it a go.
http://www.radioaustralia.net.au/international/2014-03-04/indonesia-pushes-for-more-women-in-power/1274240
-------------
Saudi nurses call for right to scholarships
4 March 2014
JEDDAH — Replacing expatriates with Saudi nurses without proper training or gradual development will be counterproductive, several Saudi nurses have said.
Participating in a recent symposium at Okaz headquarters here, several Saudi nurses discussed a plethora of issues including extending to them the same financial privileges and allowances enjoyed by doctors. They also demanded a new criteria for health practitioners.
They also recommended establishing a continued education unit to develop the nursing profession. They said they should have a right to be sent on scholarship, go for postgraduate studies and be independent from the rest of medical staff. This is aside from establishing a legislative council and an occupational society and laying down laws and regulations to train nursing staff.
The participants acknowledged a change in society's attitude toward female nurses over the past few years. For the earlier negative image, the participants blamed nurses who wore tight clothes, used excessive make-up and were always busy with their mobile phones during working hours. They called for implementation of regulations and monitoring of these inappropriate actions that have harmed the reputation of workers in the nursing field. The participants said an appropriate uniform code should be strictly adhered to.
On the issue of replacing expatriate nurses with Saudis, the participants said it could be possible if implemented gradually and after properly training the Saudi workforce. In major cities like Jeddah, Riyadh and Dammam, a nurse caters to the need of about 10 patients while this ratio goes up substantially in remote villages. This is in contrast to regulations in many advanced countries where a nurse is required to offer services to not more than four patients.
The participants said the Tajseer Program for completing studies to obtain a bachelor's degree has not been implemented in all universities. In Jeddah, 30 nurses are enrolled annually through "wasta". Furthermore, the conditions for admission are very complicated. They said the pressure of work and lack of job rights have caused a drain among female nurses, who are preferring administrative jobs. About 34 percent of the qualified Saudi nurses have opted for administrative jobs, they said, calling for an end to nepotism in their field of expertise.
Dr. Sabah Abu Zinadah, consultant in nursing and head of the scientific department for nursing, said Saudization in the nursing field has reached 34 percent. About 97 percent of the Saudi manpower hold diplomas and half of them are males, she said.
There has been a substantial increase in the number of qualified Saudi nurses. But, she said, they have not witnessed an increase in efficiency that contributes to upgrading health standards in the Kingdom.
http://www.saudigazette.com.sa/index.cfm?method=home.regcon&contentid=20140304197525
-------------
Libyan women find out more about self-development
4 March 2014
TRIPOLI – Libyan women of all ages and from a range of backgrounds gathered this weekend to participate in a self-development program.
The four-day event, part of the British Council's Springboard programme, was held at the Mahari Radisson Blu hotel and attracted women from civil societies and business women, as well as individuals interested in self-development.
Workshops covered areas including skills assessment, goal-setting, confidence-building, image-building and networking. Through the programme women assess themselves, and learn ways to set goals, develop practical skills and enhance the self-confidence needed to achieve those goals.
The main aim of the programme was to give women the skills to make a positive contribution to society, said the vice president of British council in Libya and manager of the Springboard programme, Awatef Shawesh.
So far, she added, the women's development programme had reached more than 300 women in Libya, and over 15,000 throughout the Middle East and North Africa. The international programme has been tailored to fit with Middle Eastern society and culture.
Springboard was launched in Libya last year, when five Libyan women were sent to Lebanon for training, so they could bring ideas and methodologies back to Libya. Two of the trainees, writer and researcher Turkia Alwair and dentist Huwaida Diab, also the president of a youth and women forum, gave speeches at the event.
The Springboard programme includes four initial workshops followed by another in six months' time. – Libya Herald
http://www.saudigazette.com.sa/index.cfm?method=home.regcon&contentid=20140304197472
-------------
Makkawi women seek active role in development plans
4 March 2014
MAKKAH/JEDDAH — Women in Makkah are seeking an opportunity to participate in the drafting of the strategies and plans aimed at developing the region.
They asked for the establishment of more cultural centers in districts and residential areas so as to spread awareness and monitor the needs and requirements of the residents.
Azizah Abdul Qadir, a businesswoman, said Makkah lacks special parks where women can practice sports and other social activities.
She recalled that the Makkawi women were happy when such parks were established in certain areas in the holy city, but said these parks lacked the simplest of services and had soon become playgrounds for illegal expatriates who destroyed their beauty.
"We need spacious parks for entertainment and also for getting together to socialize, play sports, listen to lectures and attend training sessions," she said.
Azizah said these parks should be established inside residential areas so that women are able to reach them easily without having to face the difficulty of transportation.
She noted that most of the public parks in Makkah have small areas which are quickly filled with picnickers. "Most Makkawis prefer to spend most of their time in the Grand Mosque because it is spacious and has the required services including water and toilets," she said.
Azizah stressed that the women in Makkah are not demanding large and expensive parks. "We do not need more than a spacious green land which is properly lighted and has enough couches and chairs," she said.
Fatima Qurban, chairperson of the craftswomen committee of the Makkah Chamber of Commerce and Industry, called for the creation of a special market for the craftswomen to sell their products. "This market will carry the motto of 'made in Makkah' where women sell their products to pilgrims and visitors," she said.
She also called for the establishment of a factory to produce gifts and souvenirs for pilgrims who usually take them when traveling back to their respective countries.
Qurban recalled that the committee, which was established about five years ago, is now sponsoring more than 400 productive families and said under the umbrella of the chamber, the productive families had organized a number of successful exhibitions and fairs where various national products were displayed.
Ghadah Abbas Ghazzawi, another businesswoman, said women usually face a lot of complications to obtain permits to organize their own activities during the official events in Makkah. "We need to address a large number of government departments before we are granted the licenses to hold our activities, while women in other areas are easily given these permits without any difficulty," she said.
Ghadah asked for appointing a single government department to grant all the required licenses and said the issue of obtaining permits is a big headache for businesswomen in Makkah.
Fatin Hussain, a mutawif, said the basic infrastructure in Makkah needs to be revamped completely. "The sewage system, the draining of the flood and rain water and the power supply in Makkah are still far from being perfect in some of the vital areas," she said.
Fatin called for expediting the implementation of a number of development projects including the Jeddah-Makkah Express Train. "It is important to closely follow up the execution of the development projects and finish them very quickly because they have narrowed the streets and resulted in traffic jams," she said.
Fatin also called for restoring old names of the districts and areas which were renamed under the ongoing development and expansion projects. "By doing so, we will be maintaining our history and Islamic identity," she said.
She asked for appointing women in the local and municipal councils and said this step will resolve a number of issues facing the districts and residential areas in Makkah.
Fatin asked businessmen and traders to shoulder their social responsibility by becoming more involved in charity and development projects.
Nawal Al-Zahrani, a psychiatrist, asked for involving young men and women in the formulation of the development plans and strategies and said the youth have more creative powers and skills.
She called for enabling the youth to have their own homes by paying low prices and said this will help them undertake their role in development.
http://www.saudigazette.com.sa/index.cfm?method=home.regcon&contentid=20140304197516
-------------
Women come out to take part in anti-draft prayer in Jerusalem
4 March 2014
Early Sunday afternoon hundreds of girls and women turned out to participate, while secluded to their own side, in the mass demonstration against government efforts to draft haredi men.
"My husband came today so I came as well. He's far away on the other side of the street," said a 25-year-old Orthodox woman from Jerusalem who attended the prayer. "When Israel made this country, it was a base rule that the Orthodox don't go to the army. And it's nice to see all the girls. I'm seeing friends here and it's fun."
The women's side of the demonstration was lively with chatting, children chasing each other and girls taking pictures of themselves and others on their camera phones. Like a parade of different colored but dark school uniforms and scarves, they gathered to support their brothers and husbands.
"Women have a huge power here. The only reason a woman wouldn't be here is if she has to look after the toddlers at home, otherwise women have a huge power and should definitely be here. There hasn't been a gathering like this, of Jews, since second temple times. Of course you want to be a part of history," said a newlywed haredi (ultra-Orthodox) woman from South Africa.
Hani Steinmetz, 18-yearsold, from Cleveland, Ohio, said: "I think the turn out of girls is amazing. I think it's not just affecting the boys who are going to go to the army. It's affecting all of us as religious people so we came to show our support for our brothers and brethren."
"I think it's not supposed to be a loud protest. We don't want to be a bunch of hooligans, but we want to say we think it's wrong and we're not doing this to be anti-government. We're not doing it to be rebellious. We just came out here to show we're going to do this calmly but we don't believe this is the way the government should deal with this," she said.
As the afternoon wore on, the crowd became more serious.
Some women and girls were in tears as they recited prayers in silence. A booming voice echoed all throughout the square from huge, mounted speakers and playing children. Voices and shouting could be heard from down the street, from the men's side of the protest, but the women remained mostly quiet.
"Our life our children, we want to see them learning Torah. It saddens my heart. I have my girl and my boy with me here," said Dvora, a 23-year-old Jerusalem resident who lives just down the street from the site of the demonstration. In her arms she was holding a crying infant girl.
She takes a moment to offer the girl a daisy, but it does nothing to calm her.
Dvora hands the girl a prayer book, which succeeds in calming her daughter down as she continues talking.
"For kids like her it's very important to be here" she says pointing to her five-year- old. "This is something that will be in her heart for many years."
http://www.jpost.com/National-News/Women-come-out-to-take-part-in-anti-draft-prayer-344060
-------------
'Agunah Summit' to question state's role in reaching solution on issue of 'chained' wives
4 March 2014
The conference will bring together representatives from aguna activist organizations, rabbis, members of Knesset, academics.
Over the past several decades, some progress has been made to relieve the plight of agunot, literally "chained women" whose husbands refuse to grant them a get, a religious writ of divorce. Yet the progress has been too little and too late for many who find themselves in this intolerable situation.
The Second Agunah Summit – organized by Bar-Ilan University's Faculty of Law, the Tikvah Center for Law and Jewish Civilization of New York University, the Jewish Orthodox Feminist Alliance (JOFA), and the Israel Democracy Institute (IDI) – aims to address the institutional aspect of the problem of agunot and more specifically the responsibility of the state toward these "chained" women.
The conference, set to take place on Monday at Bar-Ilan University, will bring together representatives from aguna activist organizations, rabbis, members of Knesset, academics, and scholars for a day of discussions exploring the current situation in Israel, where religious marriage and divorce is the only official track recognized by law.
Blu Greenberg, founder of JOFA and one of the organizers of the summit, has worked on the aguna issue for over three decades.
"Like many others who have tried to help agunot, I feel as though I have moved along the wrong path for so many years," Greenberg told The Jerusalem Post on Sunday.
"The solutions have been partial and not comprehensive. Fines, civil court solutions, shaming, and community sanctions have not ended the problem. I realized that while I am celebrating these small gains there is a continual flow of agunot. The problem will not go away until and unless we moved to another path, that of systemic halachic solutions that could address the breakdown in the system," she said.
Greenberg explained that while progress has been achieved in the form of prenuptial and tripartite agreements, which aim to protect a woman's right to a divorce, these solutions cannot be considered comprehensive for another 50 years, even if they were to become mandatory today.
Prof. Yedidia Z. Stern, vice president of research at the Israel Democracy Institute (IDI) and former dean of the Bar-Ilan Law Faculty, told the Post on Sunday that the conference will ask a very specific question: "What is the responsibility of Israel as a Jewish, democratic state regarding this issue?" The issue of agunot remains under the authority of the rabbinical courts, a legal system which gives Orthodox rabbis a monopoly on administering the marriage and divorce laws for Jews in Israel. Nevertheless, the professor insists there are a number of solutions being debated today that the state can readily implement to alleviate this problem.
One option, according to Stern, is for the state to appoint more liberal rabbis, within the framework of Halacha, as religious court judges.
In addition, Stern said the state could push for the implementation of prenuptial agreements, which moderate a husband's right to deny a get. Even though prenuptial agreements of this sort have been available for nearly a decade, most couples are unaware of this option. Stern argues that the Chief Rabbinate should divulge this option to all couples intending to marry.
A third option is for the state to advance tort laws that impose significant fines on husbands who refuse to grant their wives a divorce. While individual rabbis and rabbinical courts have used this practice, Stern said the state could push this issue in a more "serious and convincing" systemic manner.
An additional option, and one that the IDI and Stern have consistently advocated, is the brit hazugiot, or civil spousal covenant, offering a parallel option to Halachic nuptials.
According to the professor, this option would grant "full protection and human rights" to those who decide not to or who cannot marry under Jewish religious law. Unfortunately, explained Stern, this would only partially resolve the problem, as roughly 65-70 percent of couples in Israel prefer to marry in a traditional Jewish ceremony officiated by an Orthodox rabbi.
The final approach and the one that Greenberg has advocated, calls for the establishment of "an International Beit Din that would take a look at a full halachic range of possibilities," she said.
According to Greenberg, such a religious court should operate according to "totally transparent halachic methodologies" to rescue agunot.
The state has an important role to play in legitimizing the full range of halachic solutions to the problem, Greenberg explained. This is a unique moment in Jewish history – the existence of a democratic Jewish state that respects and honors Jewish tradition and law is vital to the resolution of agunot.
In contrast, Stern said he does not believe that such an approach should be adopted and said he would rather change the existing system and push the Chief Rabbinate to interpret Halacha in a way that "honors basic human rights."
Today, a committee of some 150 people, comprised mostly of Orthodox rabbis, as well as political and local authority figures, appoints the Chief rabbinate.
Instead, Stern proposed a democratization of the vote, so that the leading, influential religious figures in Israel will be appointed by the people.
These suggestions and many more aim to be addressed, discussed, and debated at this year's conference in an effort to improve the plight of agunot.
Even after decades of struggling with this issue, as well as other problematic issues plaguing Jewish life, both Greenberg and Stern remain optimistic.
"The Knesset and the public are ripe," said Stern. "They have had enough with this problem and everybody understands now that there is a problem."
http://www.jpost.com/National-News/Agunah-Summit-to-question-states-role-in-reaching-solution-on-issue-of-chained-wives-344050
-------------
Seminar Draws Roadmap for Minority Women's Education in North East India
4 March 2014
Guwahati: The University of Science & Technology Meghalaya (USTM) hosted a national seminar on 'Educational status of Minority Women in North East India: Challenges & Future Prospects' in Techno City in the outskirts of Guwahati. The event was supported by the Union Ministry of Minority Affairs.
The welcome address was delivered by Dr Alaka Desai Sarma, Dean, School of Business Management USTM following which SH Mazumdar, former Director, Planning & Development, Government of Assam made a presentation on the role of Government departments and organisations in promotion of education among minority women. Prof Monirul Hussain, Department of Sociology, Gauhati University in his keynote address gave a perspective of historical and political aspects that affect the spread of education among the minority communities of the region. The inaugural session was presided over by Prof PK Abdul Azis, VC, USTM.
Two technical sessions were held simultaneously in the administrative and academic blocks of the university. In the session titled 'Situational analysis of minorities in NE India – Equity in education, employment and participation', Prof Abdul Mannan of Gauhati University acted as the chairperson and Dr Alaka Desai Sarma as the moderator. NI Laskar, Inspecting Authority, Maulana Azad Education Foundation, New Delhi acted as the chairperson and Dr Satish Kumar as moderator in the session on 'Schemes and programmes relating to empowerment of women and role of Govt and non-Govt sectors.' All together 25 papers on diverse topics and relating to different states of the North East were presented in the technical sessions.
Among the papers that drew a lot of appreciation from the stakeholders were 'Reproductive health needs of Assamese Muslim women: a case study of Bongaon Block' by Prateeti Barman; 'Minority Muslim girls in Manipur: an analytical study of their enrolment in elementary education' by Anu Devi; and 'Need for counseling among minority women affected by ethnic violence in Assam' by Tahera Hoque Mazumdar.
Dr Maqbul Ali, HoD, Sociology USTM made the rapporteurs' presentation at the valedictory session in which the keynote address was delivered by Allen Brooks, Member, Assam State Minority Commission. In his valedictory address, Mohbubul Hoque, Chancellor USTM urged the research scholars and stakeholders to now direct their work at district and sub divisional levels so that awareness benefits could percolate to the grass root people.
http://twocircles.net/2014mar04/seminar_draws_roadmap_minority_women%E2%80%99s_education_north_east.html
-------------
URL: https://www.newageislam.com/islam,-women-and-feminism/new-age-islam-news-bureau/pakistani,-afghan-sports-officials-hail-fifa-s-headscarf-move/d/55982