New Age Islam News Bureau
22 Jun 2013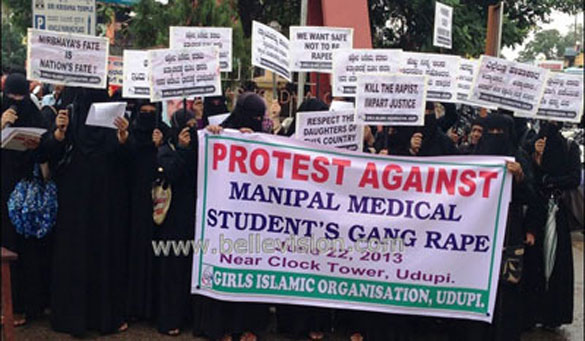 Photo: Girl's Islamic Organization Protests Condemning Gang Rape of Medico at Manipal
----------
• Girl's Islamic Organization Protests Condemning Gang Rape of Medico at Manipal
• Lowering Marriageable Age of Muslim Women by Karnataka Govt. Flayed
• Female Journalist Sexually Assaulted in East Jakarta
• Bikini-Clad Woman Joins Standing Protesters in Istanbul's Taksim Square
• Safe Houses Fail to Protect Battered Saudi Women
• More Urban Women Join the Workforce in Turkey
• Hannah Yeoh Malaysia's First Woman State Speaker
• AMU Women Teachers Present Papers in Hong Kong University
• Another Feat for Saudi Women Professionals
• Woman in Pakistan Set On Fire 'By Husband, In-Laws' Critical
• Birth Anniversary of Sufia Kamal a Pioneer of Women's Rights in Bangladesh Observed
Compiled by New Age Islam News Bureau
URL: https://newageislam.com/islam-women-feminism/pakistani-actress,-bushra-burned-acid/d/12221
----------
Pakistani Actress, Bushra Burned In Acid Attack
AFP | Jun 22, 2013
PESHAWAR: A young actress suffered burn injuries in an acid attack in northwest Pakistan on Saturday, her relatives and police said.
The 18-year-old, known as Bushra and popular in the northwest for her film, television and theatre appearances, was attacked while asleep at her home in the town of Nowshera, 148 kilometres (92 miles) northwest of Islamabad.
"A man climbed the wall of our house in the early hours, threw acid on my sister and fled," Bushra's brother, Pervez Khan said.
A local police official, Sultan Khan also confirmed the incident.
The teen was immediately taken to Lady Reading Hospital in Peshawar where Dr Suhail Ahmad said she had suffered 33 per cent burn injuries, on her face and shoulder, but was in a stable condition.
Her brother Pervez Khan has lodged a complaint against a local TV drama producer, Shaukat Khan, over the incident saying that the producer was unhappy over Bushra's refusal to marry him.
Last year, popular Pakistani singer Ghazala Javed, 24, was shot dead by gunmen as she left a beauty salon in Peshawar over a dispute with her ex-husband.
Acid attacks are common in Pakistan with scores of such assaults taking place each year.
The plight of acid attack victims and survivors became the focus of a 40-minute Oscar-winning documentary Saving Face by a Pakistani woman Sharmeen Obaid-Chinoy in 2012.
http://timesofindia.indiatimes.com/world/pakistan/Pakistani-actress-burned-in-acid-attack/articleshow/20713408.cms
----------
Girl's Islamic Organization Protests Condemning Gang Rape of Medico at Manipal
By Mohd. Marakada, Bellevision Media Network
Jun 22 2013
Udupi, 22 Jun 2013: Girl's Islamic Organization (GIO) Karnataka – city unit staged a protest on Saturday June 22 at clock tower, located besides service bus stand, here to condemn the gang rape on a medical student hailing from Kerala of KMC, Manipal.
Addressing the protesters, Jamaat-e-Hind state advisory Committee member and Anupama – Kannada women's monthly magazine editorial Committee member Kulsoom Abubakker said that it's the most heinous crime and demanded the accused gets harsh punishment. She also urged to put an end to drug abuse, carefree attitudes and sexual obsession. The religiousness can restrain such evil characters, said Kulsoom.
GIO convener Navida Hussein Asadi welcomed the gathering. The women wing district convener Sameena Shukoor, Idris, Anwar Ali, Mohammed Moula, Yassin Udupi, Abdul Aziz, Aslam Hoode and others were present at the occasion.
The protesters presented a memorandum to SP Dr Boralingaiah in this regard.
http://www.bellevision.com/belle/index.php?action=topnews&type=6311
----------
Lowering Marriageable Age of Muslim Women by Karnataka Govt. Flayed
22nd June 2013
The State Government decision to lower the marriageable age limit for Muslim women to 16 has been flayed by several organisations.
The All-India Democratic Women's Association (AIDWA) in a press release here states that it was after much discussions and studies that the government had decided on the age of the bride to be 18 and that of the bridegroom to be 21.
The decision was also based on several healths, educational and social reasons. Hence the decision to lower the age cannot be agreed with in any manner.
The Association pointed out that this decision would encourage child marriages and that the social status and security of the girls would be affected.
This will only add to increase anti-social trends in the society.
Hence the decision has to be withdrawn immediately, the AIDWA said.
The Purogamana Kala Sahithya Sangham (Pukasa) termed the decision as another form of harassment towards women. In a country where child marriages are banned, the decision of the State Government will not only take the state back by centuries, but will also amount to giving an official nod to child harassment, Pukasa alleged.
The decision, taken to mollify the traditional sections, should be withdrawn immediately, Purogamana Kala Sahithya Sangham demanded.
http://newindianexpress.com/cities/thiruvananthapuram/Lowering-marriageable-age-of-Muslim-women-flayed/2013/06/22/article1647092.ece
----------
Female Journalist Sexually Assaulted in East Jakarta
Jun 22 2013
The Jakarta Police are hunting down a teenager who allegedly attacked and raped a female journalist in East Jakarta.
Comr. Didik Haryadi, a spokesman for the East Jakarta Police, said the incident took place in an alley next to the Pramuka bus stop in Matraman on Thursday evening.
The victim, a journalist with a national media organization, was on her way back from work to meet her husband when a man punched her in the face and dragged her into an alley.
"The victim was beaten until she passed out and then she was raped," Didik said.
The suspect was wearing black and is thought to be in his late teens.
"Before she lost consciousness, the victim tried to scream for help but nobody was there to assist her," Didik said.
The victim's husband found her lying on the ground, and the couple immediately filed a report with the East Jakarta Police.
The woman is now being treated at Sukanto Police Hospital in Kramat Jati, East Jakarta. The police said she was seriously injured after the attack.
"She is still in shock, but we have been able to question her," Didik said.
Didik said that, according to the victim's explanation, the suspect did not appear to be under the influence of alcohol or drugs.
If found and proven guilty, the perpetrator could be charged under Article 285 of the Criminal Code and face 12 years in prison.
— An earlier version of this story stated that the incident took place in North Jakarta, when it actually happened in East Jakarta. The Jakarta Globe regrets the error.
http://www.thejakartaglobe.com/news/jakarta/female-journalist-sexually-assaulted-in-north-jakarta/
------------
Bikini-clad woman joins standing protesters in Istanbul's Taksim Square
June 22, 2013
A woman in a bikini joined protesters June 20 to support the dissent in a new form of civil disobedience inspired by a performance artist's solo act, in which he stood still for eight hours in Istanbul's Taksim Square.
As Turkey entered its fourth week of nationwide protests, Mine Dost suddenly appeared in front of the many demonstrators – who were standing silently looking at the Atatürk Cultural Center or reading – wearing only a bikini and running shoes.
Dost, who later said she was a doctor, did not stand imitating the other protesters but started to dance while listening to music. She said she had been born in Germany and intended to "bring freedom to Turkey." "I wanted to make people think with my dance. Freedom has to come to Turkey," she said.
However, many of the protesters did not react well to her initiative. Some protesters accused her of "making a show of herself" while one woman shouted angrily both at Dost and those who were watching her. As she was taken away from the square by police officers, Dost put her clothes back on to prevent the incident from escalating further. She left the square but said she would return.
Dost reappeared at the square in the evening hours and repeated her act. This time, however, the police stepped in and detained her, taking her to the Taksim Police Department for questioning.
The "standing protests" have now entered their fifth day, after Erdem Gündüz – now dubbed "the standing man" – became an icon with his solo protest on June 17. Since his act, people in many cities have gathered in small numbers to stand for a while, in a show of silent support for the protests.
http://www.hurriyetdailynews.com/bikini-clad-woman-joins-standing-protesters-in-istanbuls-taksim-square.aspx?pageID=238&nID=49195&NewsCatID=341
--------------
Safe Houses Fail to Protect Battered Saudi Women
By: Hayat al-Ghamidi
June 22, 2013
Caught between an unknown fate and a bitter reality, Falwa al-Kahtani, a 35-year-old battered woman, ran away from the "Social Protection House" (a safe house for battered women) in the city of Abha, in southern Saudi Arabia. She had been sent there after she was beaten by her father, who had been insisting on marrying her off to a rich old man in hopes that he could take advantage of the marriage.
So, Falwa found herself forced to live with a husband who was 30 years her senior, following the failure of her first marriage, which resulted in a 4-year-old child whom she hasn't seen for four years.
Falwa said that she ran away from the social safe house after having filed a complaint to the province of Asir about the safe house's management, which deprives women of many rights. Women are not allowed to go out for work or study, and they cannot use cell phones inside the house. This is not to mention the bad "subsistence level" and the lack of allowances. [Falwa notes that] they are not allowed to go out for shopping or for a stroll, while the Ministry of Social Affairs claims that they are permitted to do so.
Falwa said that the province referred her to a mental health hospital, which made her finally decide to escape. The security services are still looking for her.
Falwa was referred to the hospital because the province received letters from the safe house's management confirming that the battered woman had attacked their staff. She was referred to a psychiatrist three times to make sure she did not suffer from any mental disorders. The psychiatrists' report confirmed that she is mentally sane.
Falwa is among many other battered Saudi women who are deprived of their right to live on their own and be independent when they are separated from their husbands or if they are abused. The safe house is their new house, where they suffer from a new kind of abuse in their lives.
Noda, a battered woman who was brought to the safe house after her father beat her, found herself more miserable in "an elegant prison," as she described it.
Amal, 29, and her sisters Hasnaa and Aisha were brought to the safe house after being beaten and held captive by their father and brother for four years. This is despite the presence of their mother, who has demanded that she gain custody and have them live with her.
Yet, the father who battered them objected to them living with their mother, which kept the case in limbo between the local government, the department of social affairs and their mother.
After the issue escalated in the media, they were handed over to their mother, who had been deprived of them since their early childhood. Amal said that they stayed in the safe house for nearly a year, as it turned into a new prison, succeeding that of their father.
Amal talked about the low standards of living and lack of personal hygiene supplies, and said that they were prevented from having a normal life. These were her main grievances regarding the safe house, which was supposed to be dedicated to their protection and psychological care.
Rania al-Qahtani went to the safe house following nearly four months spent in the Social Care House, after her father said that she ran away. Previously she used to live with her children in an apartment that a charitable organization provided her with in her city, by virtue of an order by the provincial government. This was after she obtained a legal order requiring their father to provide financial support, which they use to fund monthly expenses.
This order confused the children and they returned to their father, who is married to another woman. Qahtani fears that her children may be subjected to violence as well. Here she is, spending her days in the safe house and working to recover her children and live with them independently. Her father and brothers, however, are staunchly opposed to her living alone.
http://www.al-monitor.com/pulse/culture/2013/06/saudi-women-in-battered-womens-shelters.html#ixzz2WvxNlDQy
----------
More urban women join the workforce in Turkey
Mustafa SÖNMEZ
June 22, 2013
The number of employed women in urban areas, excluding agricultural jobs, has reached 4.8 million, a 50 percent increase in six years. These women, whose total share in employment rates has reached 25 percent, are mostly employed in the service sector
Recent figures indicate that the growth in the number of employed women has sped up, while the gap between women and men is narrowing somewhat. When we leave aside the agricultural sector, the number of employed women, which was 3.2 million in February 2008, rose to around 4.8 million in February 2013, amounting to an approximately 50 percent increase within six years. We are talking about an increase of over 1.5 million women employed in urban areas within the last six years.
Full report at:
http://www.hurriyetdailynews.com/more-urban-women-join-the-workforce-in-turkey.aspx?pageID=238&nID=49240&NewsCatID=347
----------
Hannah Yeoh Malaysia's First Woman State Speaker
BY RITA JONG
JUNE 21, 2013
Subang Jaya assembly member Hannah Yeoh has busted another glass ceiling for Malaysian women, becoming the youngest and the first woman to be appointed as the Speaker for the Selangor State Legislative Assembly.
Speaking to The Malaysian Insider, Yeoh said: "This is recognition not only to women, but also to the youth leadership."
She said she felt honoured to do the job when the state legislative assembly convenes. "I thank everyone who had voted for me and I give my assurance to give all assemblymen room to debate issues that concern the people."
Yeoh, 35, was sworn in as Speaker this morning while, Nik Nazmi Nik Ahmad, 31, who is the Seri Setia assemblyman, was appointed as deputy state Speaker. The duo was installed at the start of the assembly this morning.
Full report at:
http://www.themalaysianinsider.com/malaysia/article/selangor-first-woman-state-speaker-in-her-own-words/
----------
AMU Teachers Present Papers in Hong Kong University
June 20, 2013
ALIGARH: Dr. Sami Rafiq, Associate Professor and Dr. Shahla Ghauri, Assistant Professor, Department of English, Aligarh Muslim University presented papers in the 15th Biennial Symposium on Literature and Culture in the Asia-Pacific Region held at the Hong Kong University.
Dr. Shahla Ghauri's paper titled"Daring to Risk: Women in Kamila Shamsie's Broken Verses", presented in the third session, titled "Women and Representation in the Age of Risk" highlighted the risks in the lives of Muslim women in Pakistan and was well received.
Full report at:
http://nvonews.com/2013/06/20/sami-rafiq-shahla-ghauri-present-papers-in-hong-kong-university/
----------
Another Feat for Saudi Women Professionals
June 22, 2013
JEDDAH — Aisha Jafari successfully obtained an aircraft dispatcher license, becoming the first Saudi woman to pass the professional tests of the General Authority for Civil Aviation (GACA).
Ja'fari is the first of nine Saudi female aircraft dispatchers to pass the test. The remaining eight women are still undergoing final examinations, according to media reports.
Commenting on Ja'fari's achievement, Saleh Bogary, vice president for charter flight operations at Nexus Flight Operations Services, said GACA approved aviation courses for women about a year ago following a proposal submitted by his academy, which received a large number of inquiries from young Saudi women interested in the profession.
Full report at:
http://www.saudigazette.com.sa/index.cfm?method=home.regcon&contentid=20130621170697
----------
Woman in Pakistan Set On Fire 'By Husband, In-Laws' Critical
June 21, 2013
FAISALABAD: A woman was in critical condition on Thursday after she was allegedly set on fire by her husband and his mother and sister. The in-laws said she had tried to commit suicide.
A case has been registered at the Ghulam Muhammadabad police station but no one has been arrested.
Police said they were waiting for the medico-legal report.
The woman's father, the complainant in the case, said that Najamus Sahar, 25, married Imran Raza, a resident of Bhutto Chowk in Jameel Town, five years ago. He said they didn't get along quite well and quarrelled frequently. He said they had two children, a two-year-old boy and a year-old girl.
Full report at:
http://tribune.com.pk/story/566044/violence-against-women-woman-set-on-fire-by-husband-in-laws-critical/
----------
Birth Anniversary of Sufia Kamal a Pioneer of Women's Rights in Bangladesh Observed
June 22, 2013
June 20 marked the 102nd birth anniversary of late Sufia Kamal, a renowned poet and a pioneer of women's rights movement in Bangladesh.
Different socio-cultural organisations held various programmes, including discussion and cultural function, to pay tribute to the poet.
Born in Barisal on June 20, 1911, Sufia Kamal dedicated her life to empowering women. She was at the forefront of all political, social and cultural movements during her lifetime to establish human rights and achieve women's emancipation.
Full report at:
http://www.thedailystar.net/beta2/news/sufia-kamals-102nd-birth-anniversary-observed/
----------
URL: https://newageislam.com/islam-women-feminism/pakistani-actress,-bushra-burned-acid/d/12221