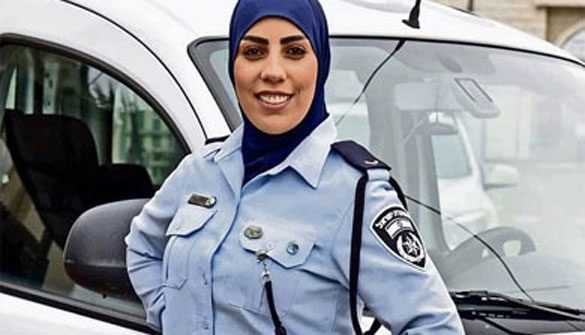 Sabrin Sa'adi wants not only to be the first police officer to wear the Muslim head covering, but also a role model for other Arab women
-----
• Israel's First Muslim Female Detective Wants to Be First Chief with Hijab
• And They're Off: Saudi Cup Is Historic Moment for Sportswomen in the Kingdom
• Pakistani Female Major Says Working with UN Peacekeeping Mission An Honour For Women
• First Female Fire-Fighters In Egypt's History Join Civil Protection Authority
• Stop Harassing Female Activists, Women's Groups Tell Cops as Marina, Ambiga Probed after Fadiah
• Muslim Woman Called "Muzzie Scumbag" As She Walked Near King's Cross Station, London
• Arab Women Making Strides: Her Excellency Sheikha Lubna Al Qasimi
• AR Rahman to Form All-Female Orchestra and Open Music Studio At Expo 2020 Dubai
• Saudi Arabia Burnishes Reform Image With Women's Football League
• Egyptian women's participation in public jobs higher than global average: Min.
Compiled By New Age Islam News Bureau
URL: https://newageislam.com/islam-women-feminism/pakistan-women-move-lhc-get/d/121211
--------
Pakistan Women Move LHC to Get Aurat March 'Regulated' To Ensure Implementation Of Citizen Protection (Against Online Harm) Rules, 2020
March 03, 2020
LAHORE: Six women 'activists' approached the Lahore High Court on Monday with a request to 'regulate' forthcoming Aurat March to ensure implementation of Citizen Protection (Against Online Harm) Rules, 2020.
Chief Justice Mamoon Rashid Sheikh is set to resume on Tuesday (today) hearing on main petition against the march moved by Advocate Azhar Siddique.
On last hearing, senior lawyer Hina Jillani had appeared before the court in defence of the participants in the march and questioned the maintainability of the petition. The police ordered to submit a report on security to be provided to the marchers and on law and order situation.
"If the previous Aurat March is taken into account, it can clearly be observed that the so-called march is nothing but an anti-state activity aimed at tarnishing dignity of women and tarnishing the image of Islam," said the women in a civil miscellaneous application they filed through Advocate Siddique to become party in the pending main petition.
Applicants Ayesha Mubashir, Asia Yousaf, Seema Quratulain, Farah Naz, Amina Ameer and Ume Kalsoom claimed that they have been striving for the betterment of women and enforcement of their rights.
They submitted that the concept being spread through the Aurat March was fully opposite to teachings of Islam and culture of the country. They said main motive of the march was to create lawlessness and vulgarity in the society.
The applicants stated that the march missed its direction or desired trajectory and obviously, failed to raise grave issues faced by women that included gender equality, education, employment, workplace safety issues and domestic violence.
The activists pleaded that they wanted the Aurat March to be reformed into an event that would provide basic knowledge to women of their rights and spread awareness regarding enforcement of their rights through seminars, workshops and positive slogans.
https://www.dawn.com/news/1537922/women-move-lhc-to-get-aurat-march-regulated
--------
Israel's First Muslim Female Detective Wants to Be First Chief with Hijab
March 3, 2020
Sabrin Sa'adi wants not only to be the first police officer to wear the Muslim head covering, but also a role model for other Arab women
POLICE MASTER SERGEANT Sabrin Sa'adi, an investigator for the juvenile division in the northern Arab village of Kafr Kanna, will become the first hijab-wearing religious Muslim female to be a police investigation officer.
Sa'adi was born and raised in the northern Bedouin village of Basmat Tab'un and studied in Haifa. After graduating from high school, Sa'adi volunteered for national service in the police, trying to enlist after her service was up.
Since at the time there were no open positions, she worked as a retail manager for a clothing store in Haifa in the meantime.
Everything changed after three years ago, she received a phone call from Deputy Commissioner Jamal Hakrush for the Israel Police Northern District, who offered her to join the force after positions were open to religious Muslim Arab women.
Sa'adi leaped on the opportunity, enlisted and went through basic and investigation training at the National Police Academy in Bet Shemesh.
https://plus61j.net.au/panel-picks/want-first-israeli-police-chief-hijab-says-first-muslim-female-detective/
--------
And They're Off: Saudi Cup Is Historic Moment for Sportswomen in the Kingdom
March 03, 2020
RIYADH: History was made twice at the King Abdul Aziz Racetrack in Riyadh last weekend. A $20 million total prize purse meant it took the crown as the sport's richest event. It was also the first time that female jockeys publicly competed against men in Saudi Arabia.
New Zealand's Lisa Allpress, who took part in Friday's International Jockeys Challenge, became the first female jockey to win a race in the Kingdom. That same day Switzerland's Sibylle Vogt came second behind Mike Smith in the challenge, another milestone for first-time female participation.
"Where I come from it's not a crazy thing for a woman to be riding in big races but this means a lot," Allpress told Arab News. "I'm just happy to be here and doing my thing. I came here with an open mind and I'm extremely thankful to be asked."
Nora Al-Yusuf is chief strategy officer at Al-Nahda Philanthropic Society for Women and used to race on the Saudi Endurance team. She described the weekend meeting as an emotional moment because of female participation. "The irony was that I represented my country but could not race in my country because at the time women were not allowed to be in mixed public races," she told Arab News.
"To see this now penetrating the sports industry and the equality between men and women being implemented in sports in general is incredible. Equestrian sports is one of the few where you can compete against men."
The Jockey Club of Saudi Arabia opened more than five decades ago, in 1965, and there was an annual event for local families who had racing investments and interests.
"I grew up in Riyadh and I didn't know that there were races each weekend," communications specialist Salwa Abuljadayel told Arab News. "It was a family affair. There's a big difference between those races and this first Saudi Cup. It's quite extraordinary. This area of Riyadh was largely undiscovered. What is beautiful about the Saudi Cup is that it revealed this beautiful racetrack to the rest of the world. When I started working for the Saudi Cup on Instagram the track had less than 10 posts and now it has thousands. It's nice to find Saudis finally competing with international jockeys on home turf."
Dalma Malhas is Saudi Arabia's leading female equestrian and there was much talk over the weekend about the possibility of her competing in a future race.
"I think these mixed races have given Saudi women the possibility now of owning and competing with their horses," Abuljadayel added.
Away from the racetrack there were exhibitions and entertainment to engage visitors. There was artwork from Nabila Abuljadayel and Roksanda Ciurysek-Gedir, as well as a fashion show staged by Princess Nourah University featuring local designers that was judged by Prince Bandar bin Khalid Al-Faisal, who is chairman of the Jockey Club of Saudi Arabia.
"Many prominent women attended this year and that is new," said Abuljadayel. "The event is used to having just males attend the race and so facilities for women weren't really something that was highlighted until this year."
Maximum Security was the winner of the inaugural Saudi Cup, claiming the prize of $10 million. Luis Saez rode the Jason Servis-trained four-year-old to a victory many had predicted, leaving Midnight Bisou in second to collect $3.5 million, while Godolphin's Benbatl walked away with $2 million in third.
While the event represented history being made in the Kingdom, it also represented a dream come true.
"I raced here at the club around 18 years ago and I have always considered this to be the best track I've ever ridden on," said former Irish racing jockey Michael Kinane who was at the Saudi Cup. "If you had asked me more than 18 years ago if we would have been here at a $20m international race 20 years later I would have said: 'Not in your wildest dreams.' So to see this actually happen and to be put together in six to eight months is fantastic as well as to see the support it got from the regional and international community. You put the prize money there and the horses will come."
https://www.arabnews.com/node/1635921/sport
--------
Pakistani Female Major Says Working with UN Peacekeeping Mission An Honour For Women
Mar 03 2020
A Pakistani female peacekeeper has said that working under the flag of United Nations for peace and stability is an honor for the women peacekeepers.
Pakistan Army's Major Samia Rehman's experience as a peacekeeper in the Democratic Republic of Congo was shared on the official Twitter of the United Nations Organisation Stabilisation Mission in the DR Congo (MONUSCO).
"Working under UN flag and wearing blue beret for peace and stability in the DRC is an honour for the women peacekeepers," said Major Rehman. The major has been carrying out intelligence, surveillance and reconnaissance missions for effective air operations in the war-torn country.
MONUSCO
@MONUSCO
#DRC : "Working under UN flag and wearing blue beret for peace & stability in the #DRC is an honor for the women peacekeepers," says Maj Samia Rehman of 🇵🇰#Pakistan Army #MONUSCO. She conducts intelligence, surveillance & recce missions for effective air operations #WPS2020 #A4P
View image on Twitter
34
9:49 PM - Mar 2, 2020
Twitter Ads info and privacy
17 people are talking about this
Pakistani female peacekeepers deployed in DR Congo have been lauded by the UN and US officials multiple times.
Last month, Pakistan's female peacekeepers, part of MONUSCO, were awarded a UN medal at a ceremony in Adikivu in South Kivu, one of the provinces of the central African country.
The team of 15 female officers, who serve at the ranks of major and captain, have been stationed in the war-torn country since June last year.
The officers are psychologists, stress counsellors, vocational training officers, gender advisors, doctors, nurses, operations officers, information officers and logistics officers.
Also read: Award-winning team of female peacekeepers from Pakistan inspire US diplomat Alice Wells
Pakistan has a long history of sending its troops to various UN peacekeeping missions and has also been recognised as one of the largest contributors of troops and police for decades.
According to the UN, Pakistani troops are currently serving in seven UN operations, with the vast majority of them deployed in the Democratic Republic of the Congo, the Darfur region of Sudan and the Central African Republic.
https://www.geo.tv/latest/275384-pakistani-female-major-says-experience-with-un-peacekeeping-mission-is-an-honour-for-women
--------
First Female Fire-Fighters In Egypt's History Join Civil Protection Authority
March 2, 2020
Egypt's first all-female firefighting team made history on Sunday when they joined the country's Civil Protection Authority,
as part of events organized by Egypt's Interior Ministry in celebration of World Civil Defense Day.
The celebrations were held at the headquarters of the Civil Protection Authority on Cairo-Suez road, in the presence of a number of leading officials from Egypt's security sector.
Led by Captain Manar Diab, the all-female firefighting squad showed high-level skill in putting out fires during demonstrations as part of World Civil Defense Day, while bomb squads showed attendees how security forces deal with threats of explosives.
Major General Hany Gerges, Assistant Interior Minister, said that the ministry's strategy, under the supervision of Major General Mahmoud Tawfiq, aims to improve security and emergency response services and ensure public safety, especially with regard to the implementation of major national projects.
He expressed confidence in the political leadership and the government, highlighting the efforts made by the armed forces and the police to protect public safety and boost security across the country.
For his part, Director of the Civil Protection Authority Mohamed Gabr said that the authority had addressed about 6,000 emergency calls during 2019, praising Egypt's policemen for honorably serving their country.
At the end of the celebration, the Ministry honored a number of former minister assistants, distinguished police officers, injured civil protection workers, and the families of police officers and others killed in the line of duty.
Women are the main breadwinners of 14 percent of Egyptian families, according to statement from Rania Al-Mashat, Egypt Minister of International Cooperation. However, statistics released by the Central Agency for Public Mobilization and Statistics (CAPMAS) in 2019 show that labor force participation for Egyptian women aged 15 to 65 stands at only 22.9 percent.
In June 2018, Egypt's Ministry of Interior deployed the largest number of female police officers that it had ever dispatched as part of efforts to improve security and curb sexual harassment during the Eid al-Fitr holiday.
Women were allowed to join the Egyptian Police College for the first time in 1984, but the college stopped accepting women just six years later in light of low interest and the perception that women are ill-suited for police work. Women with university degrees in relevant fields are able to enter the Police College's Faculty of Specialized Officers, however.
https://egyptindependent.com/first-female-firefighters-in-egypts-history-join-civil-protection-authority/
--------
Stop Harassing Female Activists, Women's Groups Tell Cops as Marina, Ambiga Probed after Fadiah
02 Mar 2020
BY ZURAIRI AR
KUALA LUMPUR, March 2 — A coalition of women's rights groups have urged authorities to halt its investigations against activists Datin Paduka Marina Mahathir and Datuk Ambiga Sreenevasan for joining a rally last night.
The groups said they are deeply concerned with seemingly intimidation and harassment of female activists, after Fadiah Nadwa Fikri was similarly singled out for speaking at a peaceful protest at Dataran Merdeka on Saturday.
"This intimidation and harassment of women activists is a dangerous trend — and it must stop," said the Joint Action Group for Gender Equality (JAG).
"All of us have the right to express our views and to gather peacefully, as guaranteed by the Constitution. And we condemn any attempt to trample on these rights in the government's attempt to crack down on dissent."
JAG also demanded that Putrajaya respects and protects the public's constitutional rights to freedom of expressions and freedom of associations and assembly.
The statement was endorsed by 13 groups, including Women's Aid Organisation, All Women's Action Society, EMPOWER, Sisters in Islam, Justice for Sisters, and Women's Centre for Change.
Earlier today, the police confirmed that Ambiga and Marina are both under police investigation for their alleged involvement in a gathering expressing disapproval of Tan Sri Muhyiddin Yassin's appointment as the prime minister.
Inspector-General of Police Tan Sri Abdul Hamid Bador confirmed the investigations today but did not specify the specific offences involved.
The investigation against Ambiga, Marina and the organisers of yesterday's protest came just a day after the authorities launched a sedition probe into another protest organised by Fadiah Nadwa Fikri.
Fadiah had organised a peaceful protest on Saturday against the power grab that triggered the fall of the Pakatan Harapan government.
Civil society groups have raised concerns that the sedition investigation against Fadia could signal a return of the uncompromising rule under Barisan Nasional, which is now part of the ruling Perikatan Nasional coalition led by Tan Sri Muhyiddin Yassin.
However, Abdul Hamid assured Malaysians today that the authorities will not curtail the freedom of expression and would allow the public to assemble as long as this was in accordance with existing laws.
https://www.malaymail.com/news/malaysia/2020/03/02/stop-harassing-female-activists-womens-groups-tell-cops-as-marina-ambiga-pr/1842713
--------
Muslim Woman Called "Muzzie Scumbag" As She Walked Near King's Cross Station, London
Mar 2, 2020
A Muslim woman walking near King's Cross station was racially abused by an older white male who, in a tirade of abuse, called her a 'muzzie scumbag'.
The incident occurred at around 18:00 GMT on February 3. Feeling unsafe, she increased her walking pace to get away from the individual.
Upon returning home, she reported the incident to the Metropolitan Police through the online reporting platform True Vision.
She described the man as being white, middle-aged, around 55 to 65-years-old.
Speaking to Tell MAMA, the woman, who consented to have their story told anonymously, had mentioned that she had never experienced such abuse before, adding that prior, it was a mixture of hostile stares and glances.
She thanked Tell MAMA for their service and for the difference the organisation is making.
The targeting of Muslim women for their religious clothing demonstrates, which in this example, concerns the hijab, and reflects the gendered nature of othering and racialisation Muslim women face.
The framing of the hijab as a cultural oddity, othered for its perceived foreignness, means having to navigate constant questions of their cultural values, according to some academics. As others point out that the hijab (and, by extension, other religious clothing on Muslim women) embodies "all that is perceived to be wrong, problematic and threatening about Islam and Muslims."
Tell MAMA has long documented how the dehumanising slur "muzzie" which gained notoriety in the English far-right has become more normalised, in everyday discussions, even amongst neighbours in recent years. In our annual report for the 2017 reporting cycle, a racist neighbour mocked a Muslim individual who, when informed that their anti-Muslim and Islamophobic behaviour would become a police matter, suggesting that the police had 'no interest' in helping a 'Muzzie'.
https://tellmamauk.org/muslim-woman-called-muzzie-scumbag-as-she-walked-near-kings-cross-station/
--------
Arab Women Making Strides: Her Excellency Sheikha Lubna Al Qasimi
By Sarah Zuhair
Mar 1, 2020
International Women's Day is a global celebration that takes place on the 8th of March every year to celebrate women's achievements, success, and glory. So we decided to start our celebration today, continuing until the 8th. Every day we're going to shed light on one of our favorite Arab women who are making important strides in changing our societal perceptions on gender role and equality.
And today we feature Sheikha Lubna Al Qasimi, one of Forbes Most Powerful Arab Women 2015 list and the UAE's Minister of State for Tolerance. She is also an Emirati politician, a princess of the Royal family of Sharjah in the UAE, and most importantly, the first woman to be involved in the ministerial decision-making process.
Her Excellency's current position goes in line with the UAE's new cabinet mission to promote tolerance and install its core principles as a fundamental value in the UAE community and global levels.
Previous to Sheikha's current role, in 2004 her excellency was named as Minister of Economy, and was actually the first woman in the UAE to hold a ministerial position. And in 2008 she was appointed as Minister of Foreign Trade and was also tasked between 2013 and 2016 as Minister of International Cooperation and Development.
Besides her ministerial position, Sheikha Lubna also holds several distinguished positions that include President of Zayed University, The Emirates Nuclear Energy Corporation, and The Emirates Foundation for Youth Development. Her Excellency is also a member of the Governing Board of Lee Kuan Yew School of Public Policy at The National University of Singapore, and many local and international organizations. According to United Arab Emirates Cabinet.
Sheikha Lubna's continuous efforts and ambition made it all possible for all young women to dream bigger and set their goals in holding high-ranking positions in the government; nothing is impossible.
https://scoopempire.com/arab-women-making-strides-her-excellency-sheikha-lubna-al-qasimi/
--------
AR Rahman to Form All-Female Orchestra and Open Music Studio At Expo 2020 Dubai
Ramola Talwar Badam
Feb 29, 2020
Oscar and Grammy-winning musician AR Rahman is on the lookout for exceptional talent from the Middle East to perform in an all-female orchestra at Expo 2020 Dubai.
India's music maestro will mentor the musicians he believes will help dash pre-conceived notions of Arab women with powerful, standout performances.
Auditions for the Firdaus Women's Orchestra, with a 12-strong core group and 50 to 100 members, will begin soon.
The celebrated composer is also setting up a recording studio at the Expo Dubai South site that will remain as a permanent fixture after the world fair ends in April 2021.
"For me this is probably one of the most exciting things in this decade," Mr Rahman said of the studio and orchestra, during a recent visit to the expo site.
"We want this orchestra to be unique. We are hoping we can set an example because, from this part of the region, you always hear a certain narrative about women. But this [orchestra] will demolish all those preconceived narratives; it will be a whole new philosophy."
To qualify, the women must live in the Middle East, be able to sight-read music and should be "extraordinary musicians."
"It will be multicultural, they can be Emirati, Chinese, Indian, Western, it's about how they embrace this place and make music," he said.
The troupe will play classical and fresh compositions in concerts beginning October.
They will hold performances in different areas of the Expo 2020 and lead workshops for children.
Finer details about the number of instruments and performances are yet to be determined ahead of the fair.
"I don't want to limit myself to one genre of music," said Mr Rahman, who received the nickname Mozart of Madras, the city he lives in, early in his career.
"In the workshops, we want children to learn how music is made from composition to arrangement to recording."
Mr Rahman has won two Academy Awards, two Grammy Awards and a Golden Globe for compositions that cross film genres, languages and industries.
One of his best-known songs Jai Ho from the Oscar winning rags-to-riches movie Slumdog Millionaire. Music from Bollywood hits such as Lagaan and Taal remain popular anthems more than a decade later.
"Music is a medicine to me," he told The National. "It speaks when words fail and keeps me going."
The singer and songwriter plays many instruments and has collaborated with global artists including Mick Jagger and the Pussycat Dolls.
Mr Rahman hopes the state-of-the art studio Firdaus, which translates to paradise from Arabic, will attract world-class talent.
"Anybody who wants to score movies or documentaries can use the facility," he said
"I conceived the studio, its function, the quality, what equipment needs to be kept there."
With a minimalist design and a sound wave across the façade, the structure will hold about 100 people.
His ambition is for the space to inspire new scores and record soundtracks for Hollywood, Bollywood and other movie industries.
Mr Rahman conceived the idea when Bollywood director Shekhar Kapur, an advisor with the Expo 2020, asked him to team up with the world fair.
When a female ensemble was suggested, Mr Rahman put forward the concept of a studio.
"Why don't we build a studio and a lab where we can experiment?" he asked.
"It's not only about music but also about neural healing and mental healing with music. I want to bring different aspects to the studio so we can go deeper into music."
Expo officials said they were looking forward to working with Mr Rahman.
"This will be special and critical in context of the Dubai Expo because World Expos should have that quality that people keep as memories forever," said Marjan Faraidooni, chief pavilions and exhibitions officer at Expo 2020 Dubai.
"This collaboration will create a very big element of legacy which is a very important to us."
Dubai government granted the land for the studio and Mr Rahman said he was grateful to a country that was a second home to his countrymen.
"For me the fascinating thing about Dubai is that it's the hope for the Middle East," he said.
"I see how everything coexists, you see bikinis and burqas both and [people] are okay with that."
He said the country gave people the opportunity to shine as it embraced multiculturalism.
"It's a beautiful thing that is inspiring in today's divisive world. It's like a beacon of light for many people to follow."
Female musicians, from intermediate to semi-professional level, can find out more by visiting the Expo 2020 website
https://www.thenational.ae/uae/ar-rahman-to-form-all-female-orchestra-and-open-music-studio-at-expo-2020-dubai-1.985848
--------
Saudi Arabia Burnishes Reform Image With Women's Football League
28.02.2020
Tom Allinson
Saudi Arabian officials announced the country's first women's soccer league on Monday.
The move is part of a series of reforms that tread the line between balancing conservative and liberal elements in Saudi society and international pressure. Until recently, Saudi women have largely been barred from practicing sports in public.
Creation of the Women's Football League (WFL) was condemned by Amnesty International as a distraction from an "abysmal human rights situation" but cautiously welcomed by experts, who saw it as an achievement for Saudi women.
The country was trying to use the glamour of sport as a public relations tool to improve its international image, said Amnesty's Lynn Maalouf. The "drive to improve the overall situation of women in Saudi Arabia can only be welcomed when it goes hand-in-hand with the inclusion of the brave individuals who fought for decades for this change," she added.
Charlotte Lysa, who recently completed a PhD thesis on women's football in Saudi and Qatar at the University of Oslo, said while "it's very important to keep attention on those who are in jail who have been working for women's rights for years, this is not the only way of promoting women's rights." While public relations may be a component of Saudi authorities' efforts, "it's not the whole story either," she said.
Starting in March, the WFL competition for women over 17 will be staged in Jeddah, Riyadh and Dammam. It will involve preliminary rounds, leading to regional winners competing for a WFL Champions Cup, with a total prize money of 500,000 riyals (€120,679/$133,333).
Slow change
A national women's team represented the kingdom in a regional indoor competition last year, but the first local clubs were established at places like universities as far back as 2006. Some players from those clubs have complained of criticism in the ultra-conservative kingdom where many women still refuse to play due to family and social pressure. But a different type of discrimination also came from outside the country: FIFA, the game's governing international body, only began allowing players to wear hijabs during matches from 2014.
Women were first permitted to watch soccer matches in separate "family" areas in 2018. The following year gender segregation in restaurants was lifted, and women were given the right to drive and travel without a male guardian.
But Saudi women still face harsh restrictions in their daily lives. Women can still be imprisoned or flogged for disobedience. Their status as minors in the eyes of Saudi courts means that their testimony is given less weight than men's, and their inability to file lawsuits or leave government-run shelters on their own leaves them open to domestic violence. They also need permission to marry or open a bank account and face arrest by religious police for wearing immodest clothing.
Mahfoud Amara, a sports policy professor at Qatar University, said the WFL may be about testing the waters.
"This is sending a strong signal internally — particularly to the conservative wing in Saudi Arabia — that now the authorities are serious about moving forward with regards to their reforms," he said. "Maybe they are just trying to start with this as a first step and see how this is going to be received and then move to another level."
As Saudi Arabia recognizes the economic and soft power aspects of sports, it wants to be seen as meeting international standards for equal representation in sports, including by having women in decision-making in sports organizations, Amara said.
Activists jailed
It is precisely that soft power aspect that Amnesty's Maalouf says is used to obscure "the abysmal situation for the very women and men who fought for such change."
A number of prominent women's rights activists remain in prison even after some of the changes they fought for have become reality. Loujain al-Hathloul, for example, was arrested in May 2018 for campaigning against the guardianship system and for the right to drive. She has said she was tortured while in detention and is currently facing trial. Amnesty International reported this month that Samar Badawi, Nassima al-Sada, Eman al-Nafjan and Aziza al-Yousef were all awaiting trial.
Last year the authorities allowed foreign stars popular among more liberal Saudis, such as Mariah Carey, to perform, which drew international attention. It doesn't necessarily reflect more prosaic realities in the kingdom.
The governor of Mecca last week ordered the arrest of female rapper Ayasel Slay for "insulting the customs" of the holy city with her music video, in which she praised women from the city as "powerful and beautiful." The video sparked an instant negative response on social media, with many users posting racist tropes insulting her based on her Eritrean background.
After Slay took down the video in response, a Deutsche Welle journalist who had reported on the story found herself the victim of a smear campaign in Saudi media. DW's Ruwa Hallak was accused of having been secretly commissioned by a well-known media company from the Gulf region that is seen as hostile to Saudi Arabia.
DW rejected the accusation on Twitter, expressing surprise Hallak had been exposed to a "campaign without any foundation … [Hallak] works exclusively for DW contrary to what has been claimed in this campaign."
Legitimizing grassroots change
Charlotte Lysa said the efforts to increase the inclusion of many other Saudi women in sports would have a big impact on the ground.
"In Saudi Arabia, as in many other places, you have people who are working within the system, against the system and with the system in different ways. So being against or for the government is not necessarily the only way to try and change one situation or the situation for their country,"
"To what degree they will find support from all of society is difficult to say, but legitimizing the idea of women's sports from above makes it easier for them to try and change [conservative] attitudes at a grassroots level."
https://www.dw.com/en/saudi-arabia-burnishes-reform-image-with-womens-football-league/a-52555617
--------
Egyptian women's participation in public jobs higher than global average: Min.
Mar. 2, 2020
CAIRO - 2 March 2020: Minister of Planning and Economic Development Hala el Saeed said Egyptian women hold 45 percent of public jobs, while the world's average is 32 percent.
She made her statements at a forum held on Sunday to discuss the status of Egyptian women under the State's plans to enhance women representation in leading positions.
The minister detailed that there are eight female ministers representing 25 percent of all heads of the ministries, while the representation of women in the parliament increased from 2 percent in 2011 to 15 percent in 2020.
El Saeed said the unemployment rates reached its lowest levels among females in Egypt in 2018.
She added that the Egyptian women got 51 percent of loans allocated for micro enterprises.
https://www.egypttoday.com/Article/3/82193/Egyptian-women%E2%80%99s-participation-in-public-jobs-higher-than-global-average
--------
URL: https://newageislam.com/islam-women-feminism/pakistan-women-move-lhc-get/d/121211
New Age Islam, Islam Online, Islamic Website, African Muslim News, Arab World News, South Asia News, Indian Muslim News, World Muslim News, Women in Islam, Islamic Feminism, Arab Women, Women In Arab, Islamophobia in America, Muslim Women in West, Islam Women and Feminism