New Age Islam News Bureau
10 October 2020
• Woman Lecturer of the Swat University Has Accused the Registrar, Deputy Registrar and Provost of Sexually Harassing Her
• 'All Women Are Represented' In Juba Peace Agreement, Says Fawateh El Nur
• Tehran Ambassador to Denmark Accused of Forcing Islamic-Style Divorce on Women
• Emiratis, Israelis Meet in Dubai as Part of Women's Forum Event
• Bangladesh PM Urged To Take Action on Rape Cases
• Pakistan Woman Cricketer Tests Positive for Covid-19 Ahead Of National Camp
• Woman Planning Suicide Attack Arrested In Philippines: Military
Compiled by New Age Islam News Bureau
URL: https://www.newageislam.com/islam-women-feminism/pakistan-launch-crackdown-mercury-used/d/123103
--------
Pakistan to Launch Crackdown against Mercury Used Cosmetic Products
9 Oct 2020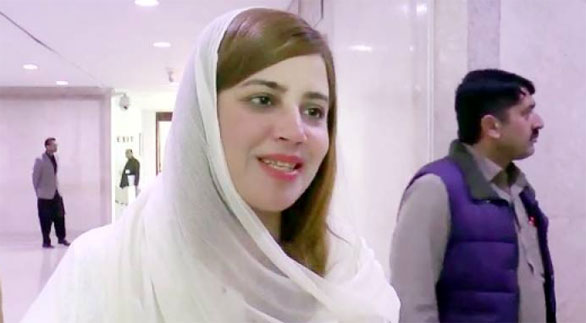 Pak to lauch crackdown on injurious cosmetic products, particularly the whitening creams in the market after December
-----
ISLAMABAD, Oct 9 (APP): Minister of State for Climate Change Zartaj Gul Friday said the government would launch crackdown against production, marketing and sale of injurious cosmetic products, particularly the whitening creams in the market after December.
She said the decision was taken on media complaints regarding the use of mercury in beauty creams as the main reason of skin infections and diseases among women.
Talking to a private news channel, the state minister said the ministry would hold a workshop with skin experts and CEOs of the national and international brands to convince them for phasing out mercury from their products in accordance with the government's compliance, before imposition of ban on marketing of such illegal products.
The government has no plan to close down the cosmetic industry rather, it has proper plan for abandoning the sub standard products on one side and surviving the industry on the other side, she expressed
https://www.app.com.pk/national/govt-to-launch-crackdown-against-mercury-used-cosmetic-products-zartaj-gul/
--------
Woman Lecturer of the Swat University Has Accused the Registrar, Deputy Registrar and Provost of Sexually Harassing Her
Fazal Khaliq
10 Oct 2020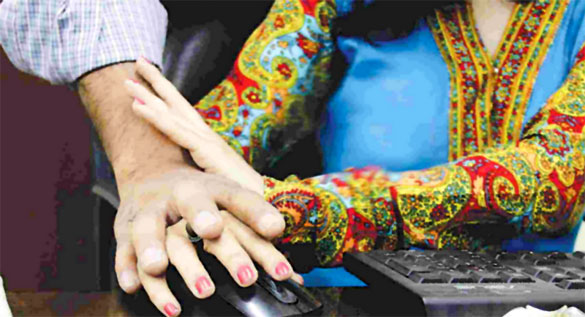 SWAT: A woman lecturer of the Swat University has accused the registrar, deputy registrar and provost of sexually harassing her.
Assistant Professor Dr Zakia told reporters that the university's registrar and deputy registrar had harassed her asking her to accept their 'illegal demands', and on refusal, she was removed as the head of the women's campus and was transferred to the men's campus.
"I have done PhD but the VC and registrar demoted me and promoted a lecturer with MA degree to head the women's campus, which is an injustice. When I raised voice, the registrar and deputy registrar began threatening me with dire consequences. Now, the registrar is repeatedly calling me to issue threats," she said.
The lecturer said she had reported harassment and threats to the Kanju police station.
"I need protection from the registrar, deputy registrar and others, who are threatening me," she said.
SHO of the Kanju police station Mujeeb Alam confirmed that he had received a harassment and threat complaint from Dr Zakia against the university's registrar, deputy registrar and provost.
"We have begun a proper inquiry into the matter and once it is complete, we will register an FIR under the relevant sections of the law and will take action," he told Dawn.
When contacted, public relations officer of the university Rafiullah Khan denied the assistant professor's allegations and called the matter a minor one.
"Dr Zakia was neither harassed nor threatened and she was only transferred to the main campus," he said.
The PRO said instead of going to the police station and media, Dr Zakia should have approached the university's grievances committee for the resolution of the issue.
https://www.dawn.com/news/1584189/swat-varsity-teacher-accuses-registrar-others-of-harassment
--------
'All Women Are Represented' In Juba Peace Agreement, Says Fawateh El Nur
October 10 – 2020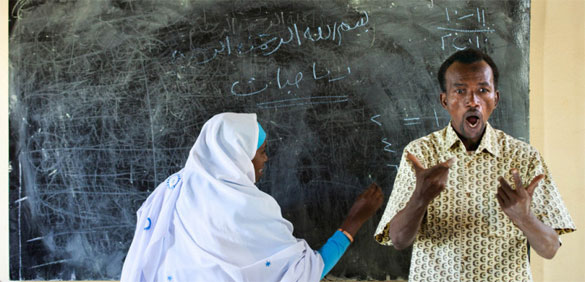 (Albert Gonzalez Farran / UNAMID)
-----
The main beneficiaries of the Juba Peace Agreement will be women living in conflict and marginalised areas in Sudan, says Fawateh El Nur, member of the peace negotiations committee of the Sudan People's Liberation Movement-North faction headed by Malik Agar (SPLM-N Agar) in Blue Nile state.
According to El Nur, Member of the Tripartite Committee for the Implementation of the Humanitarian Issues Agreement and the official spokesperson for the Security Arrangements Committee during the peace negotiations in the South Sudanese capital of Juba, women in these areas are most in need of peace. They have lost their husbands and children to the war and have become the head of the family and the breadwinner.
Because of the war, girls did not have access to education. "The war also led to the marriage of minors, meaning marriage at a very early age due to the lack of any opportunities for women in war zones".
In an interview with Radio Dabanga on Thursday, El Nur said that all SPLM-N Agar women, "wherever they live, in camps for the displaced, in refugee camps, or in war zones, are happy with the agreement and say that the agreement will provide us with representation and a decent life".
The government and most armed movements in Sudan signed the peace agreement last weekend. All major armed movements in Sudan are involved in the peace agreement, except Sudan People's Liberation Movement-North led by Abdulaziz El Hilu (SPLM-N El Hilu*) in South Kordofan and parts of Blue Nile state and the mainstream Sudan Liberation Movement under the leadership of Abdelwahid El Nur (SLM-AW**).
The signing ceremony was witnessed by a number of heads of state and governments, and representatives of the African Union and the United Nations.
Addressing all issues
She added that the agreement does not ignore women "as it is rumoured", but rather addresses all women's issues "from the causes of the marginalisation to enhancing their capabilities through education for themselves and their children".
This opens space for women to rely on themselves, she said, indicating that organizations will contribute to rehabilitation, training, and economic empowerment. This will also mitigate the chances of war breaking out again, she said, referring to United Nations Security Council Resolution 1325.
She also stated that peace contributed to the return of families to their original areas. "It happened that families were literally divided by the war, one part was living in areas freed by the movement, and the other part in government-controlled areas. The opening of the routes in Blue Nile state contributed to the return of the displaced and refugees to their families they did not see for 10 years."
The agreement will also help ensure delivery of aid to the displaced, restore traffic, and provide treatment for those affected by the consequences of war.
Participation
On the participation of women in the peace process, she said that the SPLM-N Agar women were just like men in the negotiations. "We demanded fair representation and our participation was real and not fake," she said.
"We were also successful in getting the UNSC Resolution 3125 to be inserted in the Constitutional Document."
The women also managed to raise the percentage of women in all levels of government in Sudan to 40 per cent. The priority for women now is psychologically overcoming the consequences of war, social integration, return for the displaced, services and education, eliminating differences between various groups, and stability, according to El Nur, "in addition to any other things that will contribute to enhancing job opportunities."
As for compensation, she emphasised that the agreement dealt with the causes of material and in-kind compensation. The representative of the peace agreement will compensate all people who lost their money and housing. Compensation will also be provided for missing persons.
"The time has come to bridge the gap between the women in the centre of the country and the marginalised women in the peripheries", said El Nur at the end of the interview. She appealed to all women to come together and especially help those in conflict areas.
https://www.dabangasudan.org/en/all-news/article/all-women-are-represented-in-sudan-peace-agreement
--------
Tehran Ambassador to Denmark Accused of Forcing Islamic-Style Divorce on Women
October 09, 2020
On Wednesday, October 8, Denmark summoned Tehran's ambassador to Copenhagen, Afsaneh Nadipour, over reports that the Iranian Embassy had allegedly contacted Iranian women living in the Scandinavian country and pressured them to accept divorce terms drawn up by local clergies and Mosque Imams.
The summons follows recent reports in Danish media about Muslim women being forced to accept divorce deals made by imams in Denmark. A contract made by one imam said that a woman, among other things, had to admit that if she remarried, she would lose the custody of her children, Associated Press reported.
"I take the rumors extremely seriously that the Iranian Embassy, unsolicited, had contacted women living here to pressure them to have their Danish divorce papers religiously validated," said Danish Foreign Minister Jeppe Kofod. "That is also why we react as quickly and as clearly as we do."
Kofod added that the Scandinavian country would "in no way accept if an embassy is involved in cases that are contrary to Danish law — and contrary to our basic democratic values in Denmark."
"The kind of religious control that we have heard about in the media does not belong in Denmark," he said.
Tehran has not yet responded to the summoning of Nadipour to the Danish Foreign Ministry.
Wrapped in Islamic hijab, Nadipour presented her credentials to Queen Margrethe II of Denmark on Monday, February 8, 2020. She had earlier served in the Islamic Republic's representative offices in Tokyo, Geneva, and the Organization for the Prohibition of Chemical Weapons in The Hague (OPCW).
This is not the first case of summoning an Iranian Ambassador to the Danish Foreign Ministry.
Denmark announced in late October 2018 that the Iranian ambassador to Copenhagen, Morteza Moradian, had been summoned to the Danish Foreign Ministry following Danish security forces foiling an Iranian plot to kill an exiled Iranian dissident.
Earlier, a Norwegian citizen of Iranian origin was arrested on October 21, 2018 on suspicion of helping an unspecified Iranian intelligence service '"to act in Denmark" and allegedly becoming involved in an assassination plot, Danish security service chief Finn Borch Andersen said.
Denmark recalled its ambassador to Iran after the country accused Tehran of plotting to kill three Iranian dissidents living there.
Prime Minister Lars Loekke Rasmussen and Foreign Minister Anders Samuelsen both called the alleged Iranian attack in Denmark "totally unacceptable."
https://en.radiofarda.com/a/tehran-ambassador-to-denmark-accused-of-forcing-islamic-style-divorce-on-women/30884806.html
--------
Emiratis, Israelis meet in Dubai as part of women's forum event
October 09, 2020
LONDON: A group of Emirati and Israeli women met in Dubai for the first time, in a meeting held as part of the Gulf-Israel Women's Forum.
The group, co-founded by Jerusalem's Deputy Mayor Fleur Hassan-Nahoum and the co-founder of the Jewish Women's Business Network Justine Zwerling, is a division of the newly formed UAE-Israel Business Council.
"I believe that women are natural peace builders. We created the Gulf-Israel Women's Forum in order to facilitate people-to-people, grassroots peace building," Hassan-Nahoum said.
"It was an honor to host this very memorable and historic meeting of Israeli and Emirati women in Dubai, creating bonds and making a better future for our children."
The UAE-Israel Business Council, which was founded in June, has grown to almost 2,000 members since the announcement in August of the UAE and Israel normalizing relations, according to Hassan-Nahoum.
To date there are 250 Israeli companies trading with the UAE, and the council aims to help increase that number over the next couple of years.
In September, the energy ministers and tourism officials from the UAE and Israel discussed possible cooperation, travel opportunities and investment openings.
Also in September, Dubai's Al-Habtoor Group announced plans to open a representative office in Israel, and the Abu Dhabi Investment Office said it will open its first office outside the UAE in the city of Tel Aviv.
https://www.arabnews.com/node/1746526/business-economy
--------
Bangladesh PM Urged To Take Action on Rape Cases
October 09, 2020
DHAKA: There were protests in Bangladesh on Wednesday against recent incidents of rape and sexual violence, with some demonstrators demanding that the prime minister introduce the death penalty for convicted rapists.
According to data from the human rights group Ain O Salish Kendro, 975 women were raped between January and September this year, with 208 of those subjected to gang rape. Forty-five women were killed after being assaulted, while 12 were reported to have killed themselves.
"It's happening due to the existing system of lawlessness in society," Asmani Asha, a spokesperson for the civil society group Bangladesh Against Rape (BAR), told Arab News. "The whole system in the country needs an overhaul to ensure a safe environment for women."
The protests followed two gang-rapes in the country's Noakhali and Sylhet districts.
In the first case, which took place on Sept. 2, the victim was attacked at her home. The perpetrators filmed the assault and shared it on social media. There have been six arrests in Noakhali so far.
On Sept. 25, a woman who was with her husband at a college campus in Sylhet city was abducted and gang raped in a dormitory. Police have arrested six people, who are reported to be student leaders in the ruling Awami League (AL) party headed by Prime Minister Sheikh Hasina.
"The ruling party's activists were found accused in connection with rape incidents, and many cases didn't come under the purview of legal systems. Our prime minister is a woman too. So we expect a bold initiative from her to protect the women of the country," Asha added, demanding the death sentence for the perpetrators. "Our protests will continue until the demands are met."
There is no provision for the death penalty for sex-related crimes in Bangladesh, and individuals are sentenced to life imprisonment if convicted.
The government has pledged to bring all perpetrators to justice "irrespective of their political and social affiliations."
Officials on Wednesday expressed their solidarity with the victims.
"I am very saddened over the recent rape and violence incidents in the country … I express my solidarity with the protesters and personally believe that the culprits should be awarded capital punishment," Fazilatun Nessa Indira, minister for women and children affairs, told Arab News. She urged Bangladeshis to "boycott" the rapists.
"A pervert mindset instigates people in such heinous misdeeds. Our law enforcement agencies are working relentlessly to prevent the miscreants. Our parents should be more caring to teach children about morality and they should be more vigilant about their children's movement and activities."
AL general secretary and government minister Obaidul Quader urged people to be patient and to inform authorities about any incidents of violence against women.
"I will tell everyone to be patient, no need to protest," he told a party meeting on Tuesday. "The government is not releasing anyone involved. That is why the government is bringing the perpetrators to justice to solve the problem."
But rights groups are pushing for the Women and Children Repression Act to be revised and for authorities to make necessary amendments so that perpetrators cannot exploit loopholes to evade justice.
"We need to see the whole situation from a holistic approach," rights activist Khushi Kabir told Arab News. "The authorities in charge should keep in mind that their duty is to serve the state, not any political party."
She said that the government alone could not stop violence against women, and that authorities should call for social unity to make people aware of crimes against women.
Sheikh Hafizur Rahman Karzon, a law professor at Dhaka University, said there needed to be a change in the existing trial process for rape cases.
"In some cases, the laws are not women-friendly," he added. "The victims have to face another round of embarrassment during the trials."
Loopholes in the legal process meant that 3 percent of rape cases tried in court resulted in convictions.
"If we don't change the procedures, we can't ensure justice for the victims."
https://www.arabnews.com/node/1746521/world
--------
Pakistan Woman Cricketer Tests Positive for Covid-19 Ahead Of National Camp
October 10, 2020
A Pakistan women player has returned positive in the second round of Covid-19 testing, just ahead of the of the team's high-performance camp scheduled to begin on Saturday in Karachi.
The player, whose identity has not been revealed, has been removed from the bio-secure bubble and placed in self-isolation, stated Pakistan Cricket Board (PCB) in a statement on Friday.
Additionally, another player and a player support personnel have also been withdrawn from the bio-secure bubble as a precautionary measure after they both showed symptoms of Upper Respiratory Tract Infection.
"The three squad members' progress will be regularly monitored by the PCB's medical panel," the PCB statement read.
"They will be allowed to reintegrate with rest of the squad after complete recovery subject to retesting with negative results as per PCB domestic Covid -19 SOPs," it added.
The camp, which commences at the National Stadium, has been set-up to help the players in their skill and match fitness. The camp serves as an opener of the women's domestic and international cricket season 2020-21.
Pakistan women's cricket team last played competitive cricket during the T20 World Cup in March where they bowed out in the group stage itself after winning just one out of four games.
https://www.khaleejtimes.com/sport/cricket/pakistan-woman-cricketer-tests-positive-for-covid-19-ahead-of-national-camp
--------
Woman Planning Suicide Attack Arrested In Philippines: Military
October 10, 2020
Arrest comes less than two months after a pair of female suicide bombers blew themselves up on Jolo island.
An Indonesian woman suspected of planning a suicide bomb attack in the southern Philippines was arrested Saturday in a pre-dawn raid, the military said. The arrest comes less than two months after a pair of female suicide bombers blew themselves up on Jolo island in the Muslim-majority Sulu province, which killed 15 people and wounded 74 others.
Security forces blamed the August 24 attack on the Abu Sayyaf militant group.
The Indonesian woman was identified as Rezky Fantasya Rullie and was the widow of an Indonesian militant killed in Sulu in August, the Joint Task Force for the restive region said in a statement.
She is also believed to be the daughter of two suicide bombers who killed 21 people in an attack on a Catholic cathedral in Jolo early last year, it added.
That attack was blamed on a group linked to Abu Sayyaf.
"We have been pursuing foreign terrorist suicide bombers in Sulu after the twin bombing of Jolo town (in August)," said Brigadier General William Gonzales.
"Rullie was first on our list since we have received intelligence reports that she is going to conduct (a) suicide bombing."
A vest rigged with pipe bombs was seized along with other improvised explosive device components from the Jolo island house that is believed to be owned by an Abu Sayyaf leader, the military said.
Rullie was detained along with two women who are married to members of Abu Sayyaf, it added.
Listed by the United States as a terrorist organisation, Abu Sayyaf is a loose network of militants blamed for the Philippines' worst terror attacks and kidnappings of foreign tourists and Christian missionaries .
https://www.khaleejtimes.com/world/philippines/woman-planning-suicide-attack-arrested-in-philippines-military
--------
URL: https://www.newageislam.com/islam-women-feminism/pakistan-launch-crackdown-mercury-used/d/123103
New Age Islam, Islam Online, Islamic Website, African Muslim News, Arab World News, South Asia News, Indian Muslim News, World Muslim News, Women in Islam, Islamic Feminism, Arab Women, Women In Arab, Islamophobia in America, Muslim Women in West, Islam Women and Feminism