New Age Islam News Bureau
27 Oct 2014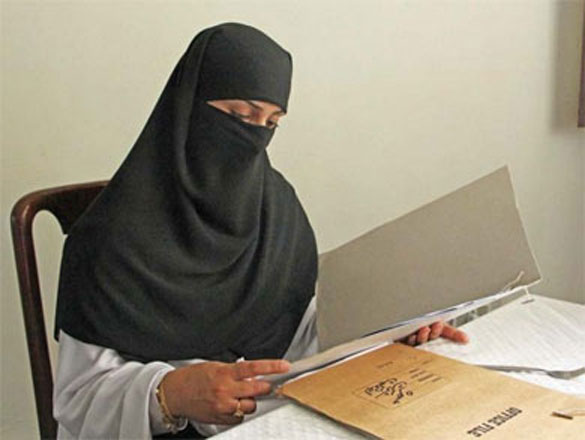 Twenty-eight-year-old Humaira, first Woman practicing lawyer in Swat, at work. Photo: Fazal Khaliq/Express
---------
• Women Workers from Bangladesh Welcome In Saudi Arabia
• Retno Is First Female Foreign Minister of Indonesia
• Saudi Women Demand Strict Anti-Harassment Laws
• Escaping Boko Haram: How Three Nigeria Girls Found Safety
• Pakistan: Woman Poisons Her Whole Family
Compiled by New Age Islam News Bureau
URL: https://newageislam.com/islam-women-feminism/pakistan-swat's-first-woman-lawyer/d/99745
-----------
Pakistan: Swat's First Woman Lawyer Shows It's Not Just a Man's Job
By Fazal Khaliq
October 27, 2014
MINGORA:
It was difficult to ignore the roaring gunfire outside her classroom and focus on the lesson at hand, but that didn't stop Humaira from realising her dream of becoming the first woman to become a practicing lawyer in Swat.
Back when she was studying, education for women was banned by the oppressive Taliban who controlled the area, but Humaira never skipped class. Even when "security forces were battling it out with militants outside."
Objection overruled
Now 28, Humaira started her practice in 2010. Since then only three other women have joined her in the legal 'fraternity', even though more than 100 of them are qualified to practice. The running assumption is that the women feel restricted by cultural expectations.
Humaira was no stranger to stereotyping and had to battle her way through the initial stages of her career.
"When I started practicing, some of the men remarked women could not become lawyers, but I proved we can do it even better than them," says Humaira with pride. "I was hesitant—there were no other women at court. However, my seniors helped me through the initial phase and I was able to adjust." She now hopes more women will join the field.
You've come a long way
Humaira has come a long way since starting her career and now walks shoulder-to-shoulder with the men of her field. She is a member of the Swat Bar Association and fights cases in both the district and high courts of Swat. Apart from her regular practice, she is also a human rights volunteer and an adviser in a UNDP legal aid programme in Swat.
Her dream of becoming a lawyer was shared by her mother and the whole family played a pivotal role in pushing her towards her goal.
She did her Bachelors of Law (LLB) from the co-educational institute Muslim Law College. "Initially, it was difficult to study with men but again, it was all about adjusting," she tells The Express Tribune.
For Humaira, the most rewarding experience is dealing with women's cases. It was these that piqued her interest in learning more about the issues faced by them.
However, the versatile attorney has a diverse portfolio. Humaira handles all manner of cases and is swamped with work. "People have trust in me and come with their cases. Though most of them are related to family matters, I have taken on many civil and criminal cases successfully."
A place where dreams are born
One of the main reasons Humaira wants to see more lawyers like herself is because she believes clients who are women are hesitant to hire attorneys who are men.
"Many women share their personal problems with me openly and then I fight their cases. My clients are very happy and satisfied," she says.
The lawyer is willing to guide any woman seeking a career in the legal profession and help her navigate through difficult challenges the way she has.
Swat is a place where thousands of girls dream of careers—especially after Malala Yousafzai setting a remarkable precedent. But few of these girls feel they can realise their dreams like Humaira has.
Even though there are only four qualified lawyers who are woman, Humaira believes the legal fraternity is beginning to warm to the idea of women lawyers. She and her colleagues are trying to overcome the hurdles of stopping women from pursuing careers, whether they are in the legal profession or otherwise.
Having it all
Speaking about her own practice, Humaira looks fondly upon the time she spends at the high court. "Even the judges welcome us and treat us with respect during proceedings," she says, adding it has been a great learning experience.
As with most successful career women, she has to perform a balancing act between her professional and personal life, but manages it rather well. "I make enough time for my family and friends daily," she says.
If her future goals are anything to go by, Humaira will remain an inspiration for some time to come—not just for women, but society as a whole.
"I want to become a trusted lawyer, serve the community and earn respect in the field," says Humaira.
"I will show the world a woman can be successful in a male-dominated society," she asserts.
http://tribune.com.pk/story/781541/girl-in-the-black-coat-swats-first-woman-lawyer-shows-its-not-just-a-mans-job/
-----------
Women Workers from Bangladesh Welcome In Saudi Arabia
October 27, 2014
The United Arab Emirates yesterday inked a deal for recruiting between 1,000 and 2,000 female household workers a month from Bangladesh, which is being considered a major breakthrough.
Dhaka is considering the move as the resumption of manpower market in the oil-rich Gulf nation, the second largest manpower destination for Bangladesh.
Manpower export to the UAE had almost stopped after it refrained from issuing visas to Bangladeshi workers since August 2012, alleging malpractices in recruitment process and the use of fake documents by Bangladesh nationals.
Senior officials travelling with Prime Minister Sheikh Hasina's delegation in the UAE told The Daily Star yesterday that the UAE agreed to initially hire at least 1,000 female workers a month and the number could be gradually increased.
With the signing of the Memorandum of Understanding, female workers could be sent to the UAE on favourable terms and conditions so that the security of the workers could be ensured, they said.
"The female workers will be given protection … like their safety and security, salary and allowances, safe accommodation and travel," Secretary Khondaker Showkat Hossain of the Ministry of Expatriates Welfare and Overseas Employment said.
Each worker would receive minimum 950 Dirham, about Tk 19,633 a month.
Advertisement
The workers would go to the UAE after completion of all necessary procedures, including registration and training with Bureau of Manpower Employment and Training.
In the first phase, the workers recruited would be of 14 categories, including housemaids, drivers, and gardeners.
The MoU was signed in Abu Dhabi between the BMET of Bangladesh and Amala, the UAE government authorised manpower company, which was formed through the social security fund of the UAE home ministry.
Director General of BMET Shamsun Nahar and Chairman of Amala group Humaid Mohammed Al Muhiri signed the MoU on behalf of their respective sides.
Dhaka is expecting to sign several deals with the UAE during the official talks between Prime Minister Sheikh Hasina and UAE Vice-President, Prime Minister and Ruler of Dubai Sheikh Mohammed bin Rashid Al Maktoum in Abu Dhabi around noon local time today. The deals include security cooperation, transfer of sentenced prisoners, handing over a plot to UAE embassy in Dhaka, foreign office consultation, an agreement on establishing a hospital by Al-Nahyan Foundation in Rangunia of Chittagong, an agreement on visa exemption for diplomatic and official passport holders, another MoU on cooperation in higher education and scientific research.
The two countries were likely to sign a joint statement.
"We will take the agreements for signing at the official talks, but we are not yet sure whether all will be signed," said a senior official at the foreign ministry.
LABOUR ATTACHÉ IN DHAKA
The UAE is planning to appoint a labour attaché to its mission in Dhaka early next year to ease the manpower import process from Bangladesh, reports UNB from Abu Dhabi.
UAE Foreign Minister Sheikh Abdullah bin Zayed Al Nahyan said this as he met Prime Minister Sheikh Hasina at her hotel there.
"The UAE foreign minister during the meeting told the prime minister that they've a plan to appoint a labour attaché to their Bangladesh mission," Foreign Minister AH Mahmood Ali said while briefing reporters after the meeting.
Mahmood Ali said the plan to appoint a labour attaché by the UAE is a positive move as well as a positive development. "We're working and we're discussing to get a joint communiqué at the end of the visit," he said.
http://www.thedailystar.net/frontpage/women-workers-welcome-47547
-----------
Retno Is First Female Foreign Minister of Indonesia
Oct 27, 2014
Jakarta. Indonesia has a female foreign minister, a first in the country's history, following the appointment of veteran diplomat Retno Lestari Priansari Marsudi to the post on Sunday.
Retno was Indonesian ambassador to the Netherlands before being recalled by President Joko Widodo as he began shaping his cabinet. She has nearly three decades of experience in the Foreign Ministry and she is also among the few female ambassadors in the nation's male-dominated diplomatic service.
"Indonesia has so much to offer the world and we should gain a lot from our international relations," Retno, 52, told the Jakarta Globe in Amsterdam recently. "We must work hard to maintain and continue to boost our global standing."
Retno, who was named as one of the nation's 99 most powerful women by Globe Asia, is married to architect Agus Marsudi, and they have two children together. She has a bachelor's degree from Gadjah Mada University in Yogyakarta and a master's degree in law from the Hague University of Applied Sciences.
She became Indonesia's ambassador to Norway and Iceland when she was 42 years old and served as the Foreign Affairs Ministry's director general for the Americas and Europe before being assigned as ambassador to the Netherlands in 2012.
Known as a Foreign Ministry sweetheart by her colleagues, Retno hails from the same batch of diplomats as Marty Natalegawa, the previous minister. Retno is seen by many as the most appropriate choice to replace Marty, who is considered highly successful as foreign minister in the administration of former president Susilo Bambang Yudhoyono.
"She is tough and has very strong character," says Bantarto Bandoro, an international relations expert at the Indonesian Defense University.
"I believe she can carry the torch from Marty, and, most importantly, that she can realize Jokowi's idea of making diplomacy economically — beside politically — beneficial to the nation."
Retno's signature success as a diplomat was to bring relations between Indonesia and the Netherlands back to one of their highest points after Yudhoyono canceled a trip there in 2010 over fears that he could be arrested for alleged human rights abuses. Relations between the two countries then plunged.
However, Retno managed to convince the Dutch government to restore ties with Indonesia and restate this country's economic and geopolitical importance to the Netherlands, peaking with the visit of Dutch Prime Minister Mark Rutte to Jakarta just last year. "Indonesia and the Netherlands must have equal relations. Each of us must benefit from cooperation," Retno said at the time.
http://thejakartaglobe.beritasatu.com/news/retno-first-female-foreign-minister/
-----------
Saudi women demand strict anti-harassment laws
26 October 2014
Saudi women are demanding harsher and more official regulations against sexual harassment as they enter into new work domains.
Families, social institutions and mosques are being urged to join forces in the campaign against harassment.
Women who frequent malls and shopping centers face all types of woes, especially ladies whose jobs involve direct interaction with men.
While some simply ignore, most concur that their lives would be a whole lot better if it stopped.
Ahlam, who works at a mall, says she suffers from this problem every once in a while.
While she doesn't hide her resentment over being objectified, Ahlam says she has no choice but to turn a blind eye to the menace.
"I pity their lack of education and decorum," she told Arab News.
Legal consultant Abdulaziz Dashnan said that anyone who has been arrested and convicted on harassment charges is treated as a criminal in the eyes of the law.
"The social affairs committee has finalized an initial proposal for fining harassers SR500,000 and putting them away for up to five years," he said.
Some say that women's continued silence over harassment is only encouraging men to up their game.
"They know that women won't report the harassment and so they don't stop," Mayyas, another employee, told Arab News.
"Women find themselves in a lose-lose situation. If they tell their parents, they'd force them to quit, while employers often urge them to keep quiet for the sake of making profits."
Several, nevertheless, have told Arab News that the support of the Shoura Council in criminalyzing harassment can help put an end to their suffering.
Um Abdullah, a receptionist at a medical clinic, agrees that the problem must be resolved through legal means.
"We are subject to childish gestures and have no specialized entity to turn to for our rights," she told Arab News.
"Company owners sometimes even blame us for the abhorrent behavior of others."
Some men, however, have different views on this issue.
Husam Al-Khaled, a worker in the private sector, blames women's lack of respect for tradition for attracting what he termed as wrong types of attention.
"A lot of women fail to respect local rules and traditions in the way that they dress and carry themselves in a manner," he said.
Some women even agree with this view.
Tahani Al-Youssef said that while women with interactive jobs may be most subject to harassment, what female staff wear and the level of their make-up may have a direct link to possible harassment.
"Some women think that laughing, putting on heavy make-up and making small talk will help them advance at workplaces," he said.
Khaled Jelban, a professor of family and community medicine at King Khaled University, told Arab News that families and social institutions should join forces in stopping this phenomenon.
"Families, mosques and social media websites need to openly condemn harassment," he said.
http://www.arabnews.com/featured/news/650806
-----------
Escaping Boko Haram: How three Nigeria girls found safety
27 October 2014
For six months the world has waited for news of the fate of more than 200 girls abducted by Nigerian militant group Boko Haram. As the Nigerian government insists a deal to release the "Chibok girls" is being negotiated, three girls who escaped their captors have told their story to BBC Hausa.
Lami, Maria and Hajara were at school in Chibok, north-eastern Nigeria, when they were kidnapped in April. Best friends Lami and Maria escaped by jumping from the back of a truck. Hajara was taken to a camp but later fled with another girl.
To protect the girls' identity we have portrayed their story as an animation, and provided an edited transcript of their account below.
The girls' names have been changed for their protection.
Animation by Luis Ruibal.
The BBC's 100 Women season runs online, on BBC World News TV and on BBC World Service radio from 27-29 October.
Lami: It was Monday night. We had exams the following day. Then we started to hear shootings in the town. So we went out. We phoned our parents to tell them what was happening in the town. They told us to run away when we got the chance. We told them that the town was already surrounded so there was no way we could run.
Maria: Lami woke me up saying: "Maria didn't you hear what's happening? Haven't you heard sounds of shooting from the town?"
I said we should climb the wall and run away. She said: "No. No-one has run away. We should gather in one place and wait to see what's going to happen."
Other girls said nothing would happen to us. "We're girls. They don't do anything to girls. We should wait and see what God would do."
Lami: We were at the school when suddenly three Boko Haram members entered.
They said: "If any of you attempt to leave we'll kill all of you." When we went out they were everywhere. They gathered us where we have our school assembly. As we were there they kept burning the school. They burnt everything.
Hajara: They asked us to get out of the gate, saying that when we were out they would let us go back to our homes. They said whoever did not have a headscarf or shoes should go and get them. They then asked us to climb on to a lorry, on top of the food loaded in it. The lorry was so high that we couldn't easily climb on.
Maria: They said to us: "You're only coming to school for prostitution. Boko (Western education) is haram (forbidden) so what are you doing in school?"
We kept quiet. I think there could have been about 100 Boko Haram members - they were all over the school. They outnumbered us. They took us away in their vehicles. We were sitting on oil drums in the vehicle. Our vehicle was really overloaded. We were saying to one another that we should throw away our shoes and scarves so that if our parents came they would know the road we had taken.
Hajara: The vehicle became full before I could get on. There were about 100 of us walking. We stopped at one town and people brought us water. I saw one of those who brought us water changed his clothes and joined the Boko Haram men. They then put us in other vehicles.
They put the rest in the boots of cars. Some of the Boko Haram members were so small that if I were to grab their necks I could break them. Some couldn't even carry their guns properly.
Maria: We were wondering where we were being taken to. When we entered the vehicle, Lami said to me: "Shouldn't we jump out of the vehicle here so that we may possibly escape? There are no other vehicles close by."
Hajara: I thought, it's preferable to have these people shoot me as I run than have them humiliate me. They kept saying to us: "Make sure you put on your scarves. Make sure you put on your scarves. We'll shoot any girl we see without a scarf. And any girl who jumps out will die."
I was about to jump out when one girl held me back and said they'd shoot me if I did.
"What's the difference," I said. "Is it not to the same death we're going? They should shoot me here and let my corpse be collected."
I was crying and praying until we reached the camp.
Lamia and Maria jump from the truck
Lami: There was a lot of dust on the road, they couldn't see us. When we jumped out, we started to run. We were running without shoes. We found other people. We started to run away from them thinking they were Boko Haram. But they too had run from the town.
Hajara: Boko Haram gathered us in a forest around noon. Some of the girls were tired and were lying down. But I couldn't lie down. The spirit of God was asking me to go. It was telling me: "Get up and go. Get up and go."
So I went. Another girl followed me. When we were going I saw some of them [Boko Haram members] performing ablutions. We stooped as if we were trying to pull out thorns from our shoes, as if we were just going to wee. We'd walk a little then bend down for a little while as if we were looking for something we'd lost.
After walking for a while they couldn't see us properly since it was forest. We then started to run. After we had run for a short distance, we heard them saying "catch those girls." We kept running. Whether they came after us not, we didn't know.
Hajara: We kept going and our shoes were ripped. We found a house, where a girl could speak Hausa. Her parents gave us a place to sleep. We reached the Chibok area in the morning. A man looking for a relative among the missing girls drove us on motorbike into town.
When I saw my elder and younger brothers, I fell to the ground crying. My mother and father were crying and all members of my family cried. Before I reached home it was as if there was a death in the house. Mats were spread. People were consoling my father and mother thinking that I had died.
line
Founded in 2002
Initially focused on opposing Western education - Boko Haram means "Western education is forbidden" in the Hausa language
Launched military operations in 2009 to create Islamic state
Thousands killed, mostly in north-eastern Nigeria - also attacked police and UN headquarters in capital, Abuja
Some three million people affected
Declared terrorist group by US in 2013
Lami: The people we met said: "Your town is far away. You can't go there now. Come here and wait until morning when we'll take you into the town to get transport back home." We stayed there till morning when they asked us to get up so that we go to the town. We couldn't walk. Our feet were full of thorns.
They said: "Let's go find a vehicle to take you home."
Maria: The men who helped us took us to Chibok, and I cried. It was the second time that something like that had happened to me. My dad was a pastor; Boko Haram went to our house and killed him. They also shot my mum in the stomach; they gave her 2,000 Naira ($12) to have the bullet.
Lami: My parents warmed up water and cared for my feet. I was taken to the hospital and it was two weeks before I could stand up.
Maria: I continued to live with the thought that Boko Haram members were coming to get me. I couldn't sleep.
Hajara: I was having nightmares every day. There was even a day when I dreamed that they gathered all of us who fled in one place, and said to us: "You girls have defied us and fled. We're now going to burn you alive."
I haven't forgotten about the other girls who are still in the hands of those people. I keep praying for them.
Lami: God will never make us meet these people again. And for our sisters who are still in the forest, may God help them. And may the whole world cry out for these girls to get out so that we continue with our education in school again.
Maria: They should pray to God to forgive them their sins. I'd also ask them to bring back the girls they have kidnapped because their parents are in distress. Some of the parents of the girls have already died. It was the thought of their girls that killed them.
Hajara: God will do what he wills, but I don't want to look at them because of what they have done to my life. They think they've ruined me, but God willing, they haven't ruined me. I'll continue with my education.
http://www.bbc.com/news/world-africa-29762252
-----------
Pakistan: Woman Poisons Her Whole Family
October 27, 2014
Rawalpindi- A woman poisoned her two children and husband today, before committing suicide over domestic dispute in Rawalpindi.
The woman strangled herself at home after giving poison to her five-year-old son, a six-month-old daughter and husband. Area people informed the police and rescue teams. The bodies were shifted to Benazir Bhutto hospital for medico-legal formalities.
http://nation.com.pk/national/27-Oct-2014/rawalpindi-woman-poisons-her-whole-family
-----------
URL: https://newageislam.com/islam-women-feminism/pakistan-swat's-first-woman-lawyer/d/99745