New Age Islam News Bureau
23 Jan 2019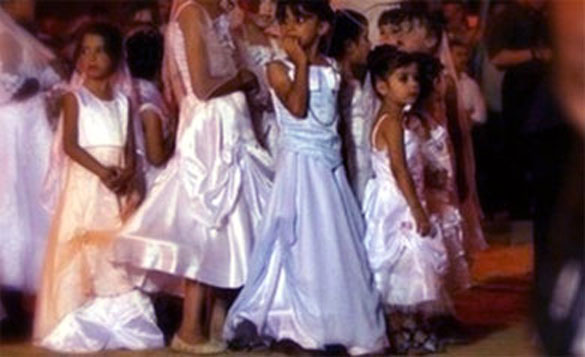 Girls can be as young as 11-years-old when they get married, and often come from poor rural villages. | Photo: Reuters
------
• Marriage of Hindu Woman and Muslim Man Irregular; Child Born Is Legitimate: SC
• Seeking Women's Rights outside Saudi Arabia?
• Egyptian Government's Efforts To Fight Early Marriage
• Houthis Kidnap Women In Sanaa To Collect Ransom Payments
• Role of Women Journalists In Society Praised
• Activists Demand Justice for Abused, Arrested and Tortured Christian Domestic Workers in Pakistan
Compiled by New Age Islam News Bureau
URL: https://www.newageislam.com/islam-women-feminism/pakistan-software-company-prefers-hiring/d/117539
--------
Pakistan Software Company Prefers Hiring 'Non-Hijabi' Employees
Jan. 23, 2019
Nextbridge (Pvt) Limited, a software house located in Johar Town area of Lahore, wants to hire employees/interns who are willing to "wear business attire" without abaya and/or scarf.
A screenshot of their latest vacancy was circulating on social media with the caption "If it is not safety requirement or job requirement or it violates basic social decency people should allow wearing whatever they think appropriate #Shame #Discrimination."
The company had listed a vacancy for an IT Intern on jobs portal Rozee.pk, wherein the "requirements" section, it stated that "an ideal candidate must be willing to wear business attire without an Abayah, veil or scarf".
This is not the first incident where there is discrimination against women wearing religious attire; people all over the world have faced various levels of discrimination over the same and some of them are set on breaking these stereotypes.
https://www.pakistantoday.com.pk/2019/01/22/local-software-company-prefers-hiring-non-hijabi-employees/
--------
Marriage of Hindu Woman and Muslim Man Irregular; Child Born Is Legitimate: SC
Jan 22, 2019
NEW DELHI: A marriage of a Hindu woman with a Muslim man is not a "regular or valid" but the child born out of such wedlock is legitimate, the Supreme Court on Tuesday held.
It also said that the legal effect of such an irregular marriage is that a wife is entitled to get dower but cannot inherit the husband's property.
The court held that the child born in an irregular marriage is legitimate just like in the case of a valid marriage and is entitled to inherit the property of the father.
A bench of justices NV Ramana and MM Shantanagoudar upheld the order of the Kerala High Court by which it was ruled that the son of a couple - Mohammed Ilias and Valliamma (who was Hindu at the time of marriage)- was legitimate and was entitled for share in his father's property according to law.
"We conclude that the marriage of a Muslim man with an idolater or fire worshiper is neither a valid nor a void marriage, but is merely an irregular marriage. Any child born out of such wedlock is entitled to claim a share in his father's property," the bench said.
The top court while dismissing the appeal against the high court order said that since Hindus are idol worshippers, which includes worship of physical images or statues through offering of flowers and adornment, it is clear that the marriage of a Hindu woman with a Muslim man is merely an irregular one.
It was hearing a property dispute matter in which Shamsuddin, son of Ilias and Valliamma, claimed share in the ancestral property through inheritance after the death of his father.
It said "the legal effect of a irregular marriage is that in case of consummation, though the wife is entitled to get dower, she is not entitled to inherit the properties of the husband. But the child born in that marriage is legitimate just like in the case of a valid marriage, and is entitled to inherit the property of the father."
The court said that on other hand the effect of a void marriage is that it does not create any civil right or obligations between the parties and the children born out of such wedlock are illegitimate.
The bench said that under Muslim law, a marriage is not a sacrament but a civil contract and there are three types of marriage -valid, irregular and void.
The court said that high court relied on principles of Islamic law to conclude that such rules do not treat the marriage of a Muslim with a Hindu woman as void, and confers legitimacy upon children born out of such wedlock.
Referring to this law, the bench said that a marriage which is not valid may be either void or invalid.
"A void marriage is one which is unlawful in itself, the prohibition against such a marriage being perpetual and absolute. An invalid marriage is described as one which is not unlawful in itself, but unlawful for something else...(like absence of witnesses)," the bench said.
Shamsuddin's claim over property was opposed by his cousins who alleged that his mother was not the legally wedded wife of Ilias and she was a Hindu by religion at the time of marriage.
They claimed that she had not converted to Islam at the time of her marriage, and thus Shamshuddin being the son of Valliamma, is not entitled to any share in Ilias's property.
The top court said that it was not disputed that Valliamma was the wife of Ilias and contrary to the claims, birth register records maintained by statutory authorities indicate that Shamshuddin was their son.
"On the contrary, he is the legitimate son of Mohammed Ilias, and consequently is entitled to inherit the shares claimed in the estate of his father," it said.
It said that it was also not denied that Ilias and Valliamma were living together as husband and wife at Thiruvananthapuram.
"Under these circumstances, in our considered opinion, the trial court and the high court were justified in concluding, based on the preponderance of probabilities, that Valliamma was the legally wedded wife of Mohammed Ilias, and the plaintiff (Shamshuddin) was the child born out of the said wedlock," it held.
The bench also upheld the finding of the high court that though Shamshuddin was born out of a 'fasid' (irregular) marriage, he cannot be termed as an illegitimate son of Ilias.
https://timesofindia.indiatimes.com/india/marriage-of-hindu-woman-and-muslim-man-irregular-not-valid-child-born-is-legitimate-sc/articleshow/67644994.cms
--------
Seeking Women's Rights outside Saudi Arabia?
2019-01-23
Ekleel Badr Sallam
I left Saudi Arabia when I was 18 years old to continue my education in the United Kingdom. I thought that I would find everything smoother and easier than at home. However, I did not really value home until I travelled abroad, and realized the rights and respect that women have in Saudi Arabia.
Nowadays, the issue of women's rights has been politicized and the media is stereotyping Saudi Arabia as not supporting these rights, while in fact developed countries are still suffering from "unequal payment" while Saudi women who work are paid the same as men.
Women in Saudi Arabia are given the priority in everything, even in the matter of waiting in queues. Saudi men also support and respect women especially in this remarkable period of the Kingdom's Vision 2030. Women nowadays are working in all fields and have achieved very high positions, keeping in mind that Saudi women are not the breadwinners of a family.
The Kingdom of Saudi Arabia is cosmopolitan and it has a diverse number of nationalities. I have met diplomats, expats, students and foreign residents who live here peacefully and enjoy their rights.
In terms of transcultural feminism, there are global harms that all women share. No matter where you are in the world, some women suffer and that affects all women. However, women everywhere in the world, not only in the East but also in the West, struggle everyday with the violence pervading our societies.
Moreover, a central dilemma is that countries, or more accurately politicians, have an assortment of humanitarian situations with political interests, and women who were once promised freedom and equality are the victims.
Therefore, looking at the issue of belonging does not only revolve around the liberties given to women. Nevertheless, family issues should not be politicized and taken out of context.
Whoever runs away from Saudi Arabia seeking so-called freedom will regret leaving such a safe, developed, wealthy, well-educated and encouraging community. As a Saudi female, I am proud to be a citizen who enjoys all rights with a feeling of freedom, security and belonging.
http://saudigazette.com.sa/article/557496
--------
Egyptian Government's Efforts To Fight Early Marriage
By Walaa Ali
Jan. 23, 2019
CAIRO – 23 January 2019: Marriage at an early age is one of the most serious social problems in various Arab and African countries as it represents a form of violence against women.
According to the Egyptian Child Act 2008, the minimum age for marriage is 18 years for females and males. In order to counter this phenomenon, the Egyptian government imposed more severe penalties on people who back the marriage of minors, who can be imprisoned for 7 years and pay a fine.
Recently, a statistical study revealed that Beheira governorate ranks first in terms of early marriages, followed by Fayoum and Dakahlia. Because of this phenomenon, about 21,400 students dropped out of education.
In June 2018, Egypt's government proposed a new draft law that includes amendments to the child law article 12 of 1996 which states cases in which parents could be deprived of the authority of guardianship over the girl or her property.
A father who participates in marrying his daughter or son who is under 18 years of age shall be punished by imprisonment for a period not less than 1 year and deprived of his guardianship over her or him. Any person who signs the marriage contract shall be punished by the same penalty.
A marriage registrar who witnesses a case of child marriage shall notify the Attorney General. A marriage registrar who doesn't notify the Attorney General shall be subjected to imprisonment for a period no less than a year.
A marriage contract may be authenticated for a child who is under 18 years old, but the contract may not be validated without the approval of the competent family court upon the relevant request of the Public Prosecution.
The Egyptian law stated that a father is the natural guardian of his minor legitimate children, both sons, and daughters. A father cannot be deprived of the natural guardianship of his minor children unless he has been found unfit.
The marriage registrar, who documents child marriages, will be prevented from officiating marriages or will pay a fine, and if it's proved to be a repeated action, he might face a jail penalty of 1 year.
"Child marriage affects both boys and girls. So, the proposed bill is against it for the protection of both genders. We cannot specify one gender, as it contradicts with the constitutional equality principle," Hawary said. The current law prohibits but does not criminalize the registration of child marriages.
The draft bill follows calls by Egyptian President Abdel Fatah al-Sisi on September 30, 2017, to impose disciplinary measures on the customary marriage of underage girls. "I was surprised that the number of married 12-year-olds was not low," Sisi said during a ceremony marking the population census that took place in April.
Sisi wondered how these young girls can assume the responsibility of marriage and a household. "This is something that pains me and pains anyone with a real conscience who cares for their sons and daughters," he said.
According to the 2017 national census released by the Central Agency for Public Mobilization and Statistics (CAPMAS), the total number of women over the age of 18 who could legally get married has reached 27.7 million, with 23 million women married, including119,000 girls who have been married before reaching the age of 18.
Meanwhile, 18,000 women got married before the age of 16, representing 15 percent of girls who got married before the legal age of marriage. The Ministry of Health reported that 500,000 children are born every year to adolescent mothers.
Among Egypt's efforts to control the phenomenon, a 5-year national strategy to prevent child marriage was launched in 2014. The process was led by the National Population Council, a governmental body that establishes national population policies and strategies in Egypt.
This strategy aims to recognize child marriage as a health and population issue to reduce the prevalence of early marriage by 50 percent within 5 years, and to fight the proposals to lower the minimum age of marriage.
On October 15, 2017, Egypt's National Council for Women launched the "No to Underage Marriage" campaign in cooperation with the Ministry of Religious Endowments and Christian clerics. The campaign's main objective is to curtail undocumented marriages of minors.
http://www.egypttoday.com/Article/2/63762/Government%E2%80%99s-efforts-to-fight-early-marriage
--------
Houthis Kidnap Women In Sanaa To Collect Ransom Payments
Ali Mahmood
January 22, 2019
Houthi rebels are kidnapping and detaining women in the rebel-held capital of Sanaa in order to secure ransom payments from their families, residents and activists have said.
The violations are the latest in a series of atrocities committed by the rebel group, including detaining journalists, torturing captives, stealing humanitarian aid and training child soldiers.
It underscores the extent to which Houthis have violated humanitarian law and continue to benefit from a war economy that is filling up their coffers at the cost of those residing in areas under their control.
Huda Al Sarari, a member of an association set up by the mothers of those kidnapped by rebels, told The National that there are "dozens" of women who have been kidnapped by Houthis. She says that activists are monitoring the cases of these female detainees and are trying to publicise violations against them on social media networks.
The latest accusations were first raised by the Yemen Organisation for Combating Human Trafficking last week. The head of the Sanaa-based anti-trafficking group told The Associated Press that women are being captured by Houthi rebels on charges of prostitution and collaborating with the Arab coalition. He cited reports from families, former female detainees, and other sources.
The group said that Houthis are carrying out violations such as "abuse, torture, and forced disappearances of women and girls in secret and illegal prisons."
The head of the anti-trafficking group Nabil Fadel said that such violations against women and girls started after Houthis launched a crackdown on alleged prostitution rings.
Women who had been rounded up in the crackdown and subsequently granted release were sent to secret detentions in villas across the Yemeni capital, instead of being set free, according to The Associated Press.
A Sanaa-based activist who heads a local anti-corruption organisation said that these women are not put on trial and many are being detained arbitrarily. The activist who spoke on the condition of anonymity said Houthis are detaining these women to request large sums of money from their families in return of their release.
He said only some the women detained by Houthis are actually prostitutes. He also said that it remains unclear exactly how many women are currently being detained because their families are reluctant to speak on the issue.
Fares Saeed, a Yemeni journalist, told The National that he was contacted by a female student at Sanaa University who claims that she was forcibly kidnapped by Houthi gunmen along with one of her friends in November last year.
The girl, Saeed said, was held in a detention facility where she was beaten and threatened with rape, on the charge that she incited protests against rebels. She was released ten days later after her father agreed to pay a ransom fee and vowed to not speak of his daughter's detention.
https://www.thenational.ae/world/mena/houthis-kidnap-women-in-sanaa-to-collect-ransom-payments-1.816583
--------
Role of Women Journalists In Society Praised
January 23, 2019
QUETTA: Adviser to the Balochistan Chief Minister on Sports, Culture and Youth Affairs Abdul Khaliq Hazara has highlighted the importance of media in the development of society, saying the face of Pakistani media is being changed and women are the catalyst of this transformation.
"The media-persons always work with devotion and highlight the issues faced by the province," said the CM's adviser while addressing the closing ceremony of the five-day training programme organised by the Pakistan Women Media Centre for Mass Communication students of different institutes at the Quetta Press Club on Tuesday.
"The government is working towards resolving the difficulties faced by the media and is taking serious steps for the welfare of the journalist community," said Hazara, adding that the print and electronic media should highlight the steps and policies adopted by the government for development, welfare and stability of the province in addition to resolving the issues of the public.
He lauded the efforts made by the Pakistan Women Media Centre for enhancing professional capabilities and skills of women journalists.
The CM's adviser urged the female journalists to launch a campaign for creating awareness among women about the importance of their vote and increasing their participation in the decision-making process.
"It is impossible to accomplish development goals if women are denied meaningful political participation," he said. "No country can reach its optimal potential if its female citizens are denied full equality."
He said countries that were successful today had involved women in the decision-making processes and that was improving their living standards and ensuring development.
"As the state has the responsibility to put in its effort, individual women also have a responsibility to use their right to vote and play their rightful role as a key agent of change," he added.
Elaborating further, he said an industry that was traditionally run by men was witnessing a gender shift as "more women have entered the Pakistani news media industry during the last decade".
The number of women journalists was increasing in urban centres in English-language newspapers and in news channels, he added.
Terming corruption as the biggest obstacle in the path of development, he urged the media to play its full role in eradicating "this social evil from our country".
Underscoring the details of the five-day training programme, WMC head Fauzia Shaheen said, "Female journalists in Balochistan, though accomplishing tasks in diverse sectors, need to expand their professional capabilities and join politics also."
She said in this way they could help Balochistan's women have equitable opportunities of participation in political set-up.
https://tribune.com.pk/story/1894581/1-role-women-journalists-society-praised/
--------
Activists Demand Justice for Abused, Arrested and Tortured Christian Domestic Workers in Pakistan
01/22/2019
by Shafique Khokhar
Faisalabad (AsiaNews) – A human rights group has appealed to the Supreme Court of Pakistan to intervene on behalf of two young Christian women, one underage, who were victims of abuses by their employer and tortured by police officers who arrested them on false charges of theft.
Saima Niaz, 20 (picture 2), and her 11-year-old cousin Suneha Mushtaq, have been in jail in the Faisalabad District Prison since 9 January, the day of their indictment.
They were moved after spending almost two weeks of illegal detention in the house of the man they worked for and the men's section of Chak Jhumra police station. On the same day, police also filed theft charges against Saima's mother Rehana Kausar, and two unnamed persons.
The women had been working for Rana Saif Ullah Khan for three years. In November 2018, Saima informed him that she was going to quit the following month because she was going to get married in February 2019.
On 27 December, after the Christmas holidays, Saif Ullah forcibly restrained the two women to prevent them from leaving his home. He then called police and filed a complaint accusing them of stealing gold objects worth 1.9 million rupees (US$ 13,800).
The police arrested the women on the spot and held them behind bars without a formal arrest warrant for 13 days, until 9 January.
When their parents, accompanied by Christian community leaders, went to the station to bail them out (picture 1), they were told that they were still investigating the case and that they would not release them until the investigation was over.
During their detention, Saima and Suneha were tortured to extract a confession. Human Rights Focus Pakistan (HRFP) has condemned the women's treatment and is helping them by providing legal aid. The case is now before the Lahore High Court.
"The police brutally tortured Saima, forcing her to swallow boiling water," said HRPF president Naveed Walter. "The agents undressed in front of the women. Sexual harassment and use of offensive language showed the true face of the policemen."
"Suspending the station house officer is not enough. Those responsible have some explaining to do vis-à-vis the two innocent women's complaint. Both come from very poor families and must be allowed to go home and obtain justice."
http://www.asianews.it/news-en/Activists-demand-justice-for-abused,-arrested-and-tortured-Christian-domestic-workers-46041.html
--------
URL: https://www.newageislam.com/islam-women-feminism/pakistan-software-company-prefers-hiring/d/117539
New Age Islam, Islam Online, Islamic Website, African Muslim News, Arab World News, South Asia News, Indian Muslim News, World Muslim News, Women in Islam, Islamic Feminism, Arab Women, Women In Arab, Islamophobia in America, Muslim Women in West, Islam Women and Feminism